I'm continuing my remodel series (finally). Sometimes as a blogger I get too caught up in new ideas and forget about the old ones I've started. I recently promised myself that I would continue on with my remodeling our home series… So, today's feature is my dining room and how I was able to decorate it for about $200.00!
Before: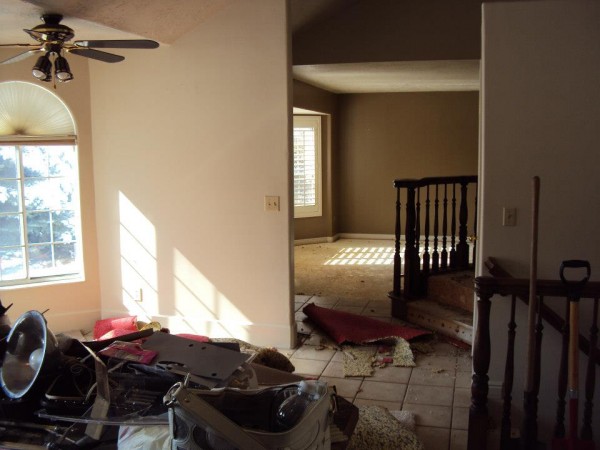 After: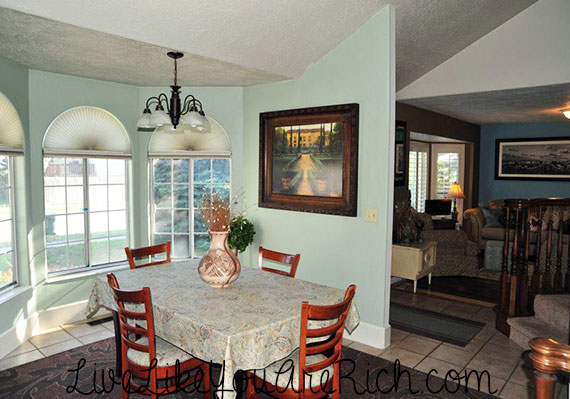 Behind the table after: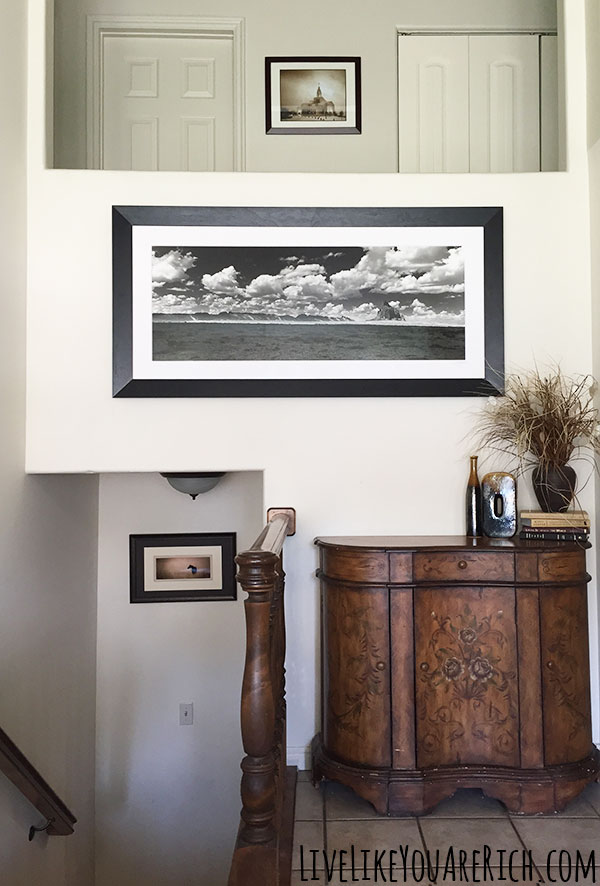 Unlike most of the rooms in our house, this one required very little renovation. So I simply painted it, we changed the lighting, and then I decorated and furnished the room.
Here is the breakdown of what everything cost:
I had the chairs and rug from before (the rug I bought on classifieds for our previous apt.). The chairs my grandma gave me. I bought the high quality table that I love (and it has a leaf) for $25.00 at a yard sale! Then I sold my old table for $40.00 (Net $15.00 profit).
The metal art on the wall was free from a yard sale that I showed up late to (she gave me many things for free that she was just planning to donate).
The other piece of art work on the wall across from the metal art (not pictured in the photos above but shown below) was $4.00 at a yard sale and I used an old frame I already had and made it metallic (tutorial here).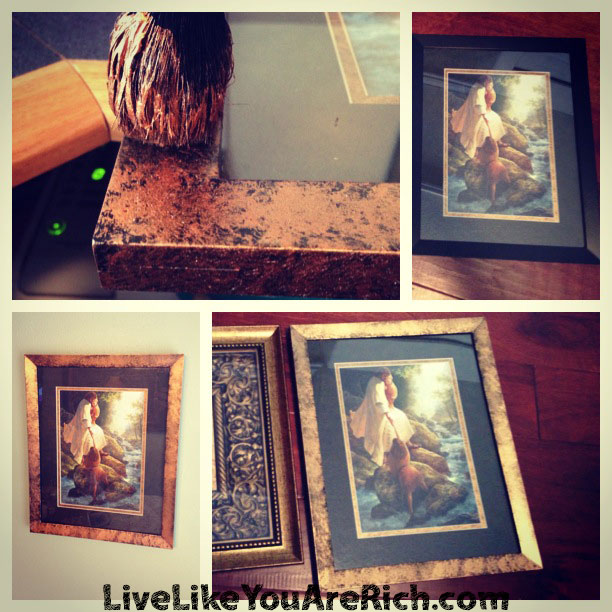 We received the vase on the table as a wedding gift. I re-upholstered the chairs and sewed the table cloth using fabric from JoAnns that I bought on sale with coupons. Totaling: $82.00
The wall I painted with a mis-tinted 1/2 galloon of paint from Kwal for $1.00.
The chandelier was a garage sale find and after I sold the fan that I replaced it with, it was only $17.00.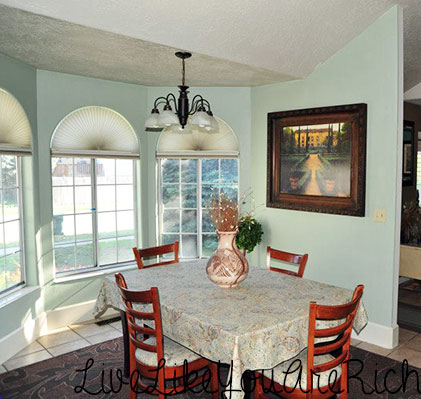 The little tree that is kind of hard to spot (in the corner below the metal art) was $5.00 on classifieds.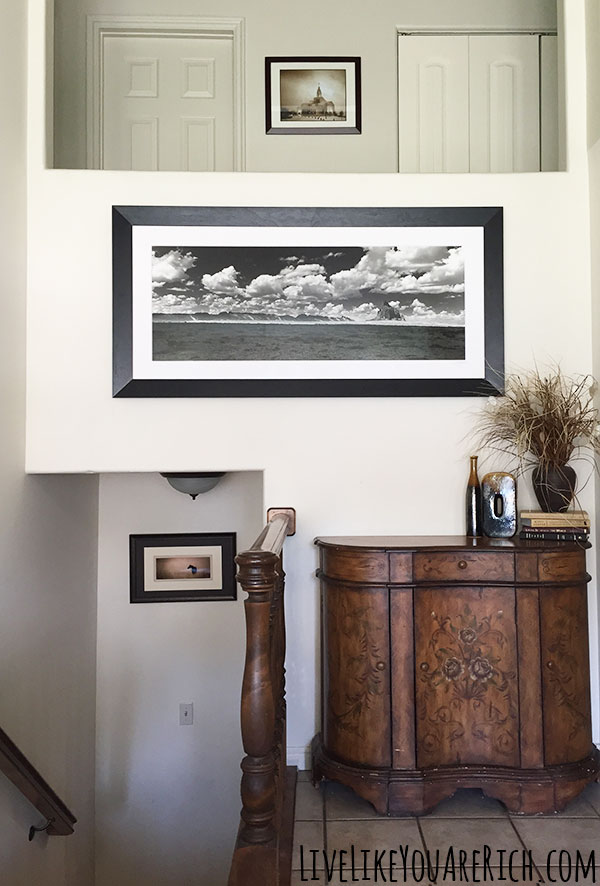 On the buffet:
I already had the books. I just took off the plastic wrap-arounds so they were much nicer looking.
The brown vase with filler was a gift and the two decorative vases were $2.00 each ($4.00) at the thrift store.
The light fixture lighting the way downstairs was $1.00 at a garage sale.
And I was super lucky, about 1 1/2 years after moving in, I was out garage selling and found the beautiful buffet that matched the room and fit perfectly for $75.00 (retail over $500)! Yes, it is a tiny bit scratched around the base but I'm planning on spot staining those areas.
The artwork (of the LDS temple) I had it printed, framed, and matted for $23.00.
The horse image in the hall going downstairs is a Shane Knight print and was a gift.
Finally, the large black and white image are now replaced. It is my ex-husband's. It is part of his photography inventory and it rotates in and out of our house as he sells and then prints others. We've had 4 different panoramic prints this size over the years we've lived here. Some are more colorful than others so I stuck with neutral decor on this side of the dining room to accommodate the varying pieces of art we showcase. And because we profit off of them I do not count it in the cost of the dining room.
By using what we had, re-upholstering the chairs, sewing the table cloth, thrift store and garage sale shopping, etc. I was able to furnish, light, paint, and decorate my dining area for $197!! Not to mention, we love the space.
Check out my other posts showing each and every room before and afters and how we saved tens of thousands on our home renovation here: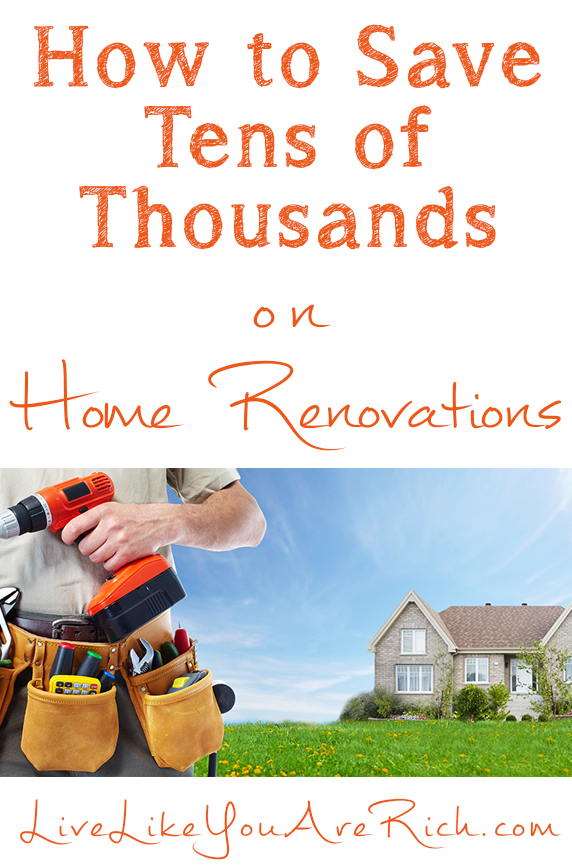 Don't miss my garage selling tutorial on how to save thousands garage selling efficiently here.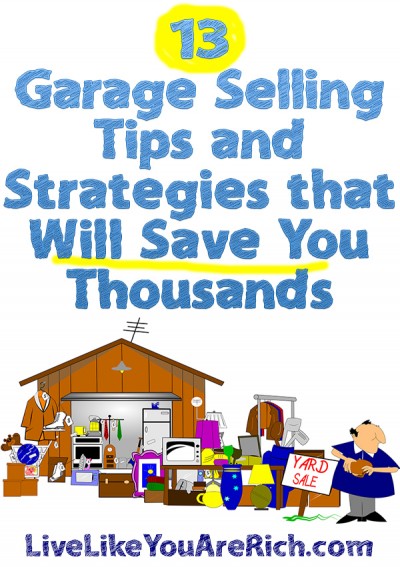 For other 'rich living' tips and DIY projects, please subscribe, like me on Facebook, and follow me on Pinterest and Instagram.