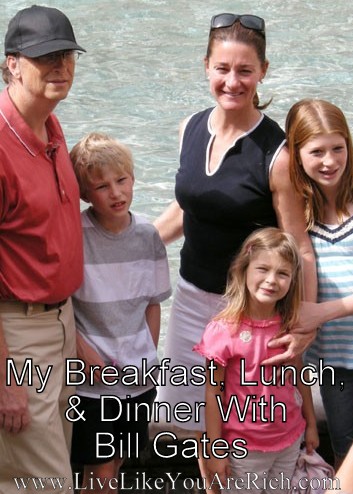 A few years ago, I worked at a very exclusive resort as a fine-dinning waitress. I met many celebrities; Katy Perry, Anne Hathaway, Susan Somers, Russell Brand, world leaders, famous entrepreneurs, etc. Each hotel room cost on average $2,500 a night and with gratuity, dinning, room service etc. it ended up being about $4,000 a night per couple. Some rooms were over $5,000 a night!
One evening after introducing myself, to a couple seated in my section, the Assistant General Manager came up to me and asked, "Do you know who that  is?!" I didn't recognize them because the man was facing away from me , I mostly spoke with the woman. I told him I didn't. "It's Bill Gates and his wife Melinda."  he replied. "Really?!?" I asked. "Yes, take care of them". "I will." I replied.
That was the first of multiple experiences I had with Bill Gates and his family. I served them breakfast, lunch, and dinner over the course of the next 4 days. The family seemed to have a great time at the resort and as a result of our interactions, I had the opportunity to learn a few surprising lessons from one of the most influential men of our time.
1- Being rich can not only be a blessing, but a curse. The family couldn't let anyone know when precisely they were coming or leaving. They reserved the rooms for multiple days and never notified the hotel of which day they would arrive. Further, they had to book and pay for three different activities at the same time and never informed anyone of those activities and if they would arrive or not. This was to keep their anonymity and protect their family, especially their children.
For example, they booked a hot air balloon flight, a river rafting tour, and a guided slot canyon tour. They informed their driver last second of which they would attend. They traveled with multiple security guards. When we would deliver their breakfast or meals if it was room service we were surrounded by security guards on the way into the room, as we were setting up, and on our way out.
After seeing the extent they had to take to protect themselves and their children, I realized that being so rich meant taking a lot of extreme measures to ensure safety.
2- Money doesn't buy you healthy choices. Even being very wealthy they still had to discipline themselves and make good food and health choices. Every morning they would exercise.  The food they ordered was very healthy. Bill's wife Melinda especially used a lot of discipline in her food choices. She would have the cooks make sure the meals were certain portions and drank only water or non-sugar beverages. It was impressive to me how disciplined they were in their health choices.
3- You are never too rich for good manners. When the kids dined with the family they had rules for the children to abide by and exercised table manners. They also were learning to play a card game and Bill was explaining the rules as the kids listened and tried to play. They had very everyday conversations and were very down to earth. They always treated me with respect and were appreciative of my work.
When I was first seating them I didn't know that the couple was Melinda and Bill Gates. I saw Melinda's beautiful dress and I genuinely complimented it. I said, "Your dress is so cute!". She was genuinely appreciative and gave me a sincere , "Thank you!" with a smile. I pulled out her chair and seated her and then Bill. When I found out a few minutes later that I had just complimented Melinda Gates on her dress I was pretty surprised. Even more so, I was surprised at how kindly she accepted the compliment. It was nice to observe such genuine kindness  from one of the wealthiest families in the world.
I think we could all benefit from the things I learned by my interactions during breakfast, lunch, and dinner with Bill Gates.

  For other 'rich living' tips please subscribe, follow me on Pinterest, and like me on Facebook.