Top 15 Pandora Stations That Will Uplift and Calm Any Mood or Day
Are you wanting a radio station that has uplifting, calm, and fun music? All you need to do is go to Pandora and type in one of the 15 artists below.
Not in the mood for any of the calming artists below?
Check out my:
Top 15 Alternative/pop Pandora Stations (coming soon)
Top 15 Instrumental/Classic Pandora Stations,
Top 15 Rock Pandora Stations (coming soon)
Top 15 Country Pandora Stations
The best part about Pandora is that it is FREE! You just need to sign up using an email and password. I've been using Pandora for the last 10 years and I still love them today. If you have never used Pandora (or heard of it before) they match the artist that you pick (the station) to similar artists. You can vote and say you like or don't like each song if you want and unlike normal radio, you can skip the song if you don't like it.
I have quite a few Pandora stations saved on my account but there are a few that I immediately click on when I need to be uplifted or calmed down.
#1- Jack Johnson– Soothing yet catchy with great uplifting lyrics.
#2- Enya– Calming music, unique, mystical.
#3- Creedence Clearwater Revival– Fun music that will have you drumming along with the beat.
#4- IZ– Soothing with uplifting lyrics. Easy listening.
#5- Mumford & Sons– Folk rock music, blue grassy style. Super happy music.
#6- Matt Costa– Upbeat, great lyrics, light and enjoyable.
#7- Paul Cardall– Piano and other instrumental music. Beautiful soundtracks to popular movies. Very relaxing and calming.
#8- Elephant Revival– Beautiful vocals and lyrics. Relaxing and fresh.
#9- Ben Harper– Smooth Alternative.
#10- Josh Groban– Deep and rich yet uplifting (more of an opera style at times).
#11- Priscilla Ahn– Easy listening, great vocals, catchy tunes.
#12- James Taylor– An oldy but goody. Great lyrics and guitar music.
#13- Bon Iver– Wonderful soothing and very unique sounds.
#14-
Michael Buble
– Fun, catchy, upbeat, and uplifting station.
#15- Cherie Call–
Motivational and enlightening lyrics with great music.
I hope these free radio stations brighten up, calm, and uplift your tough days.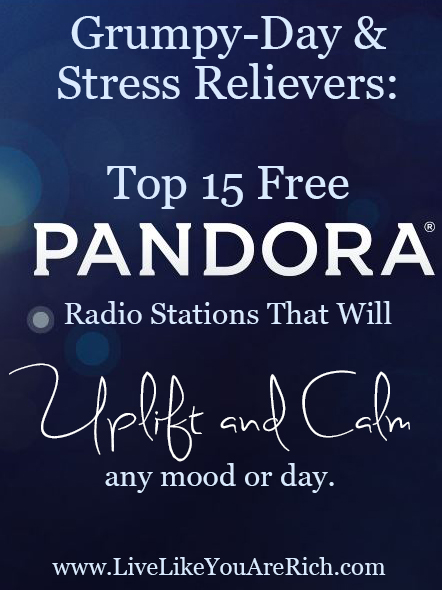 For other 'rich living' tips please subscribe, like me on Facebook and follow me on Pinterest.
P.S. You can sign up here: www.Pandora.com