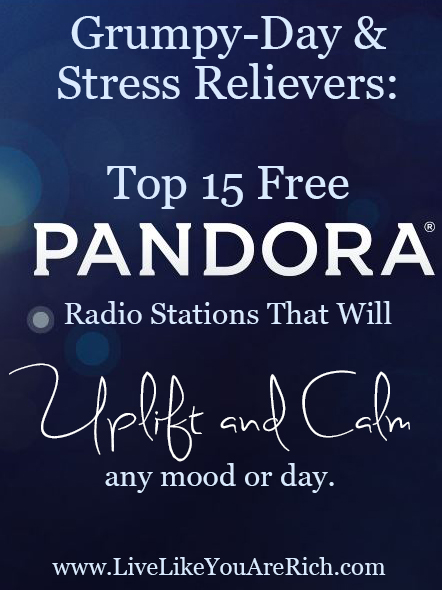 My son has gotten 6 molars in the past 2 weeks. Which means we have been dealing with lots of crying, whining, and poor sleeping.  That, along with everything else has been enough to tip my mood from its normally pretty happy and calm state to a bit of a grumpy and anxious state. Yes, I admit I've been a little grumpy and stressed out. When I realize that I'm not in the best of moods I'll pull out my phone or turn on the computer and listen to one of my 'Top 15 Pandora Stations That Will Uplift and Calm Any Mood or Day'. Immediately after listening to any one of these stations, I start feeling much much better. There is something amazing about the power of music. It can instantly turn a drab hour into a fun filled hour in the day. It even helps cranky children enjoy life more as well :).
The best part about Pandora is that it is FREE! You just need to sign up using an email and password. I've been using Pandora for the last 6 years and I still love them today. If you have never used Pandora (or heard of it before) they match the artist that you pick (the station) to similar artists. You can vote and say you like or don't like each song if you want and unlike normal radio you can skip the song if you don't like it.
I have quite a few Pandora stations saved on my account but there are a few that I immediately click on when I need to be uplifted or calmed down.
#1- Jack Johnson– Soothing yet catchy with great uplifting lyrics.
#2- Enya– Calming music, unique, mystical. Love Enya.
#3- Creedence Clearwater Revival– Fun music that will have you singing and beating along to the sounds in no time.
#4- IZ– Soothing, uplifting lyrics, and easy to listen to.
#5- Mumford & Sons– Folk rock music, blue grassy style. Super happy music.
#6- Matt Costa– Upbeat, great lyrics, light and enjoyable.
#7- Paul Cardall– Piano and other instrumental music. Beautiful soundtracks to popular movies. Very relaxing and calming.
#8- Elephant Revival– Beautiful vocals and lyrics. Relaxing and fresh.
#9- Cherie Call– Motivational and enlightening lyrics with great music.
#10- Josh Groban– Deep and rich yet uplifting (more of an opera style at times).
#11- Priscilla Ahn– Easy listening, great vocals, catchy tunes.
#12- James Taylor– An oldy but goody. Great lyrics and guitar music combined into awesomeness.
#13- Bon Iver– Wonderful soothing and very unique sounds.
#14-
Michael Buble
– Fun, catchy, upbeat, and uplifting station. 
#15- Weepies– Relaxing contemporary.
I hope these free radio stations brighten up, calm, and uplift your tough days.

For other 'rich living' tips please subscribe, like me on Facebook and follow me on Pinterest.
P.S. You can sign up here: www.Pandora.com