My cousin, Kerby, and his wife, Aubree, have been so kind to share with you their personal experience using the innovative Owlet Baby Monitor.
Welcome, Aubree…
Hi! Thanks for having me. First, I'll describe what the Owlet Baby Monitor is/does, and then I'll share our story which can be found in the 'Our Story' section below.
What is the Owlet Baby Monitor?
The Owlet is a heart and oxygen monitor using pulse oximetry. Pulse oximetry is what they use in the hospitals to get your oxygen and heart readings from your blood by clamping the device to your finger. It is an easy and painless way to make sure oxygen is being received in all parts of your body especially the areas furthest away from your heart.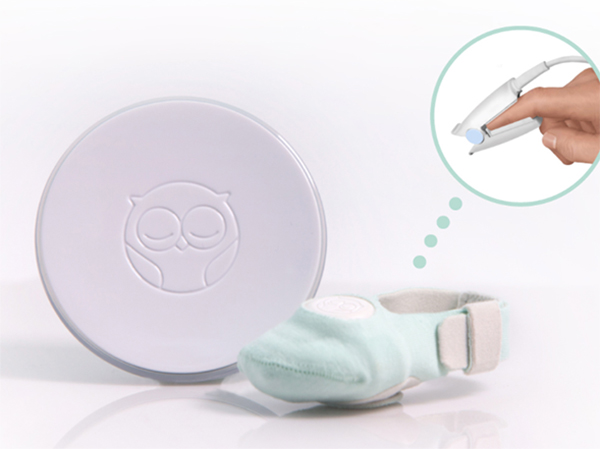 The Owlet has three components; the base station, the sock, and the app. The base station will be the primary source of communication. The base station communicates through sound, light, and color. The app on your phone will provide the current levels it is reading.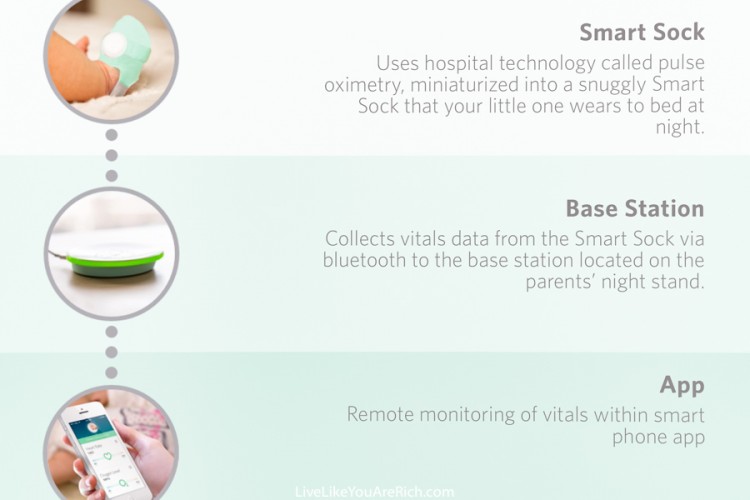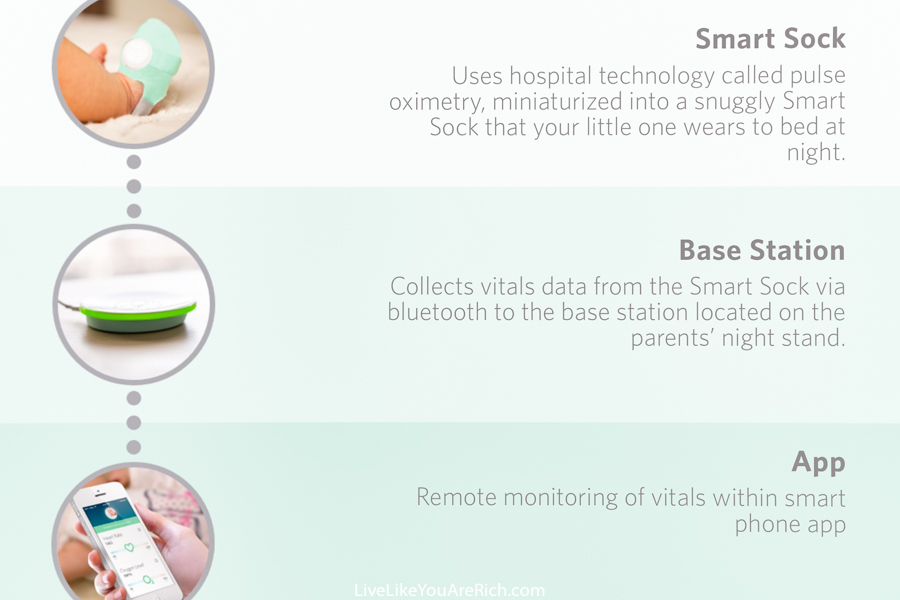 There are four colors and three alarms: green, blue, yellow, and red. The green light means everything is normal. The blue alarm alerts you if the Wi-Fi or Bluetooth gets disconnected. The yellow alarm alerts you if the sock falls off, the battery is low, or something is blocking the connection. The red alarm is designed to alert you when those levels fall outside of range.
The red alarm: The red alarm is designed to alert promptly if one of the following occurs: 1. Oxygen levels under 80%; 2. The heartbeat is lower than 60 bpm (beats per minute); 3. The heartbeat is higher than 220 bpm.

The app will tell you the readings for your child but is not required for monitoring. Remember to plug the Owlet sock into the base station throughout the day to make sure it has enough charge for the following night.
I am impressed with the customer service Owlet provides. It is nice to talk to a company whose employees have experience with the product firsthand.
In the end, from all the Owlet Gift Certificates and money we received from the baby showers, we only had to pay $20 out of pocket. The price of the Owlet is $249. It is pretty pricey for one baby item, but totally worth it. We feel blessed and appreciate the help we received from our family and friends. You can buy an Owlet here.
Our Story
In my first trimester, when I was pregnant with our son, I received news from a close friend they had lost their two-week-old son to SIDS. I was devastated for her. I cried and cried for her and wondered in fear if the same would happen to our baby.
Their story is what sparked my search for the best baby monitor available. I got overwhelmed with the never-ending options for baby monitors. None of them seemed to calm my troubles until I ran across the Owlet. I had never heard of the Owlet before; I was intrigued.
My nerves and our peace of mind were one of the main reasons we value the purchase of the Owlet. I do not know about you, but even when I am looking at our son, I could not tell if he was breathing. I woke him up many times just to make sure he was okay.
I had a tough pregnancy, so we did not order the owlet in time for our son's birth. By week two we had the Owlet in our hands. The set up was easy and quick. I slept so much better knowing I would be woken up to have a second chance to save our son.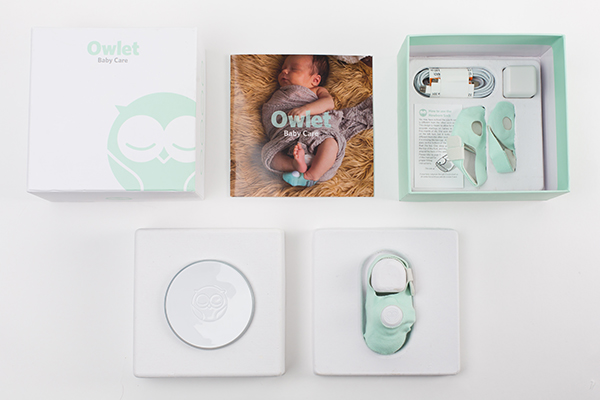 When my son was about a month old, the only alarms at the time we had heard were the blue and yellow alarms, but when the red one went off there was no doubt what that meant.
We were getting ready for bed, and my husband went to the kitchen to grab some water. I just checked our son and turned out the lights to go to sleep. I heard him cough a little and wondered if I should get up. Thirty seconds later I was still trying to listen and debated whether or not to check on him again. (I was anxious as a first-time mother, so I was always checking on him.)
The red alarm started flashing so I quickly jumped up and went to our son. He was not waking up. I pulled our son from the crib and brought him over to the changing pad on the dresser nearby, so we had better access to him. He seemed to be breathing, but he was not reacting to our efforts to wake him.
I undressed him quickly and tried to get him to respond. I was not happy with the results, so I threw on a cold, wet wipe and he still did not show any improvement. After rubbing him down with our hands, he finally woke up and began to cry. Oh, how the sound of a baby cry can bring such sweet relief!
I suggest baby CPR classes to prepare for these emergencies. As they say, "knowledge is power" as it will help you know how to check the vital signs and act accordingly. We did not know what to do or even how to address the problem. We were close to calling the ambulance for guidance.
Some of you might be asking, how come you did not check the app to see what was wrong? At the time they did not have the Android app, but they did have the Apple app for the Owlet. We were able to use it by itself without the app. The Android Owlet app is now available, and we love it! Seeing the readings in the normal range gives us such peace of mind.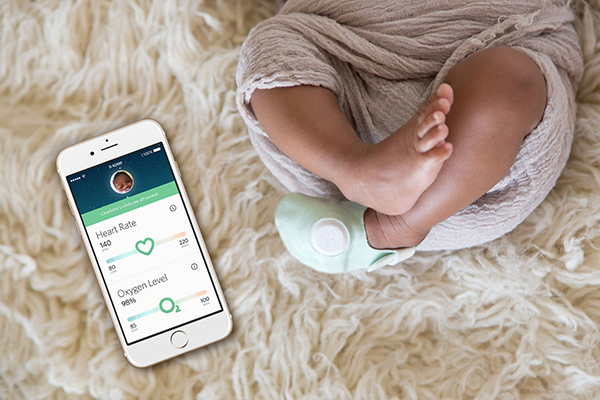 The following day I took our son to the pediatrician's office to just make sure everything was okay. Everything turned out alright and luckily it has not happened since. The pediatrician informed us sometimes babies can have sleep apnea, sickness or other issues that can lower or raise their heart rate at this delicate stage of life.
It could have been serious, but we will never know, and frankly I do not want to think about what could have been if we did not have the Owlet. Every parent who wants a second pair of eyes on their baby while they sleep should seriously consider the purchase of the Owlet, especially those who are "safety nuts" like me.
About 6 months after our son's birth and regular use of the Owlet each night and at nap time, it started being a little finicky. We found out that it was because our internet router was going bad/was bad. The router was broken and kept turning the internet off and on, thereby affecting the Owlet (not the use of it because it works with the base station even without wifi) but with the notifications to our phones. After replacing the router we have had no issues with it working or functioning as it should.
Update: Recently we needed the sock replaced, and their customer service shipped us a new one very quickly. We were pleased with the timeliness of their response.
We love the Owlet and tell all of our friends who are having babies about it. It has given us such peace of mind and comfort.
You can buy an Owlet by clicking here.
*Please note, because the cause of SIDS is unknown, Owlet cannot and does not claim to prevent it. Owlet is intended to provide peace of mind. It is not intended to diagnose, treat, mitigate, cure, or prevent any disease or condition.
Thank you, Aubree, for sharing your story with us!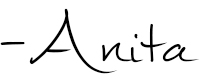 For other 'rich living tips' please subscribe, like me on Facebook, and follow me on Pinterest and Instagram.