Peso from Octonauts Costume—DIY Hat and Collar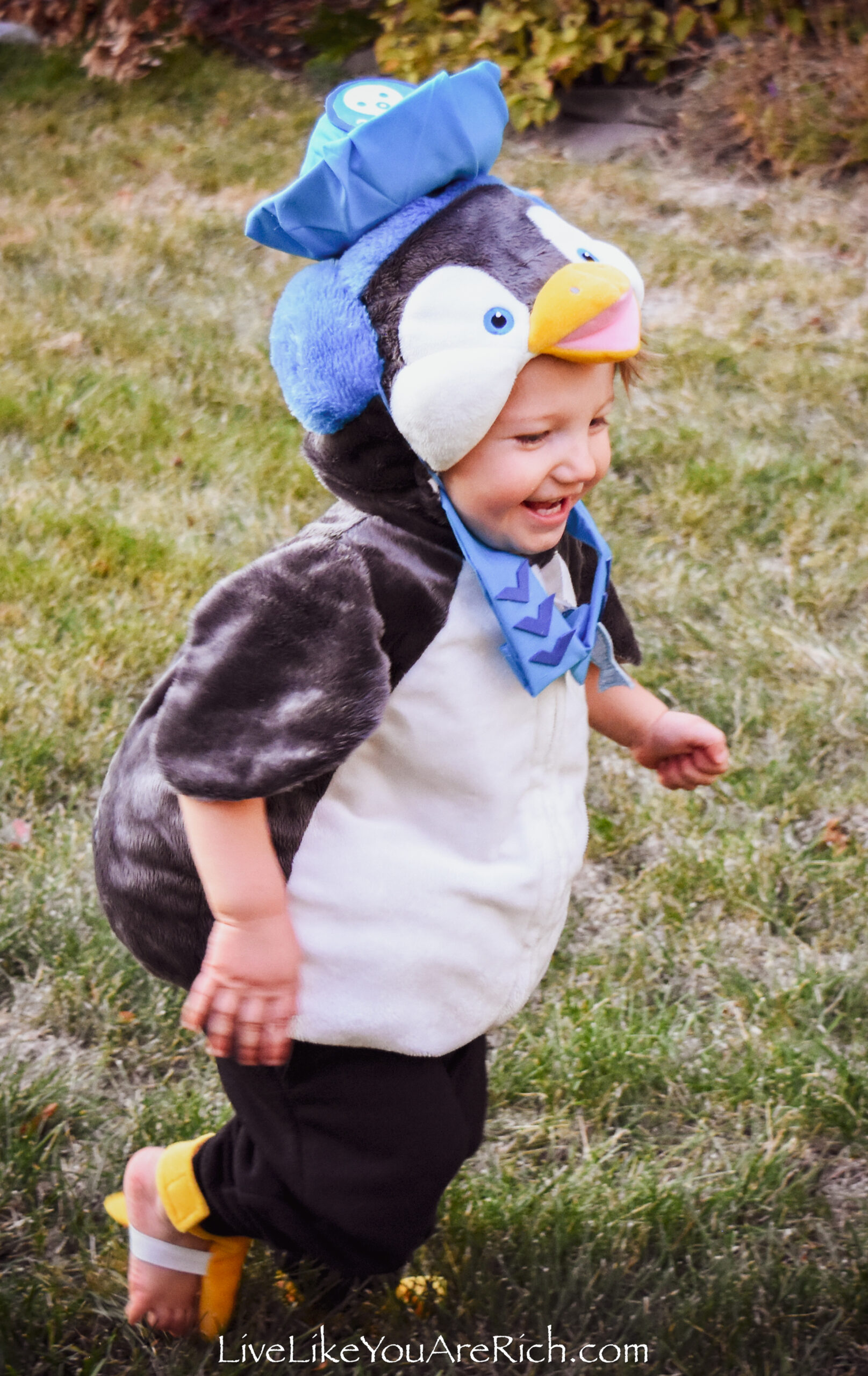 Creature Report, Creature Report…
This is my son's Octonauts Peso costume.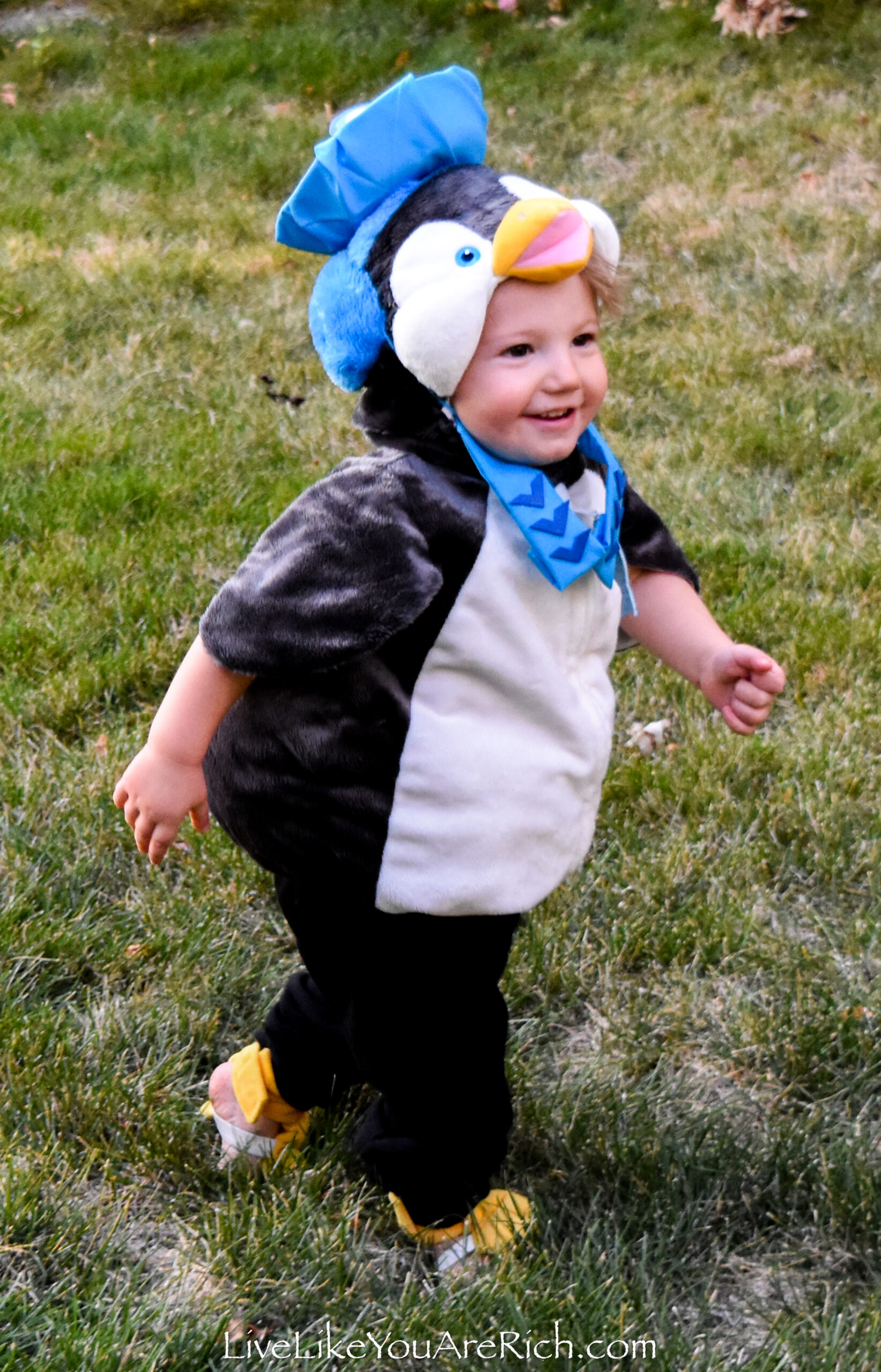 My son, Brighton, and his sister, Amelia love to watch Octonauts.
Amelia kept asking to be Tweak for Octonauts.
I couldn't find a ready-made Tweak costume; I finally decided to give making one on my own a try.
I was able to make it without breaking out my sewing machine either. See the No-Sew Tweak costume tutorial and video here.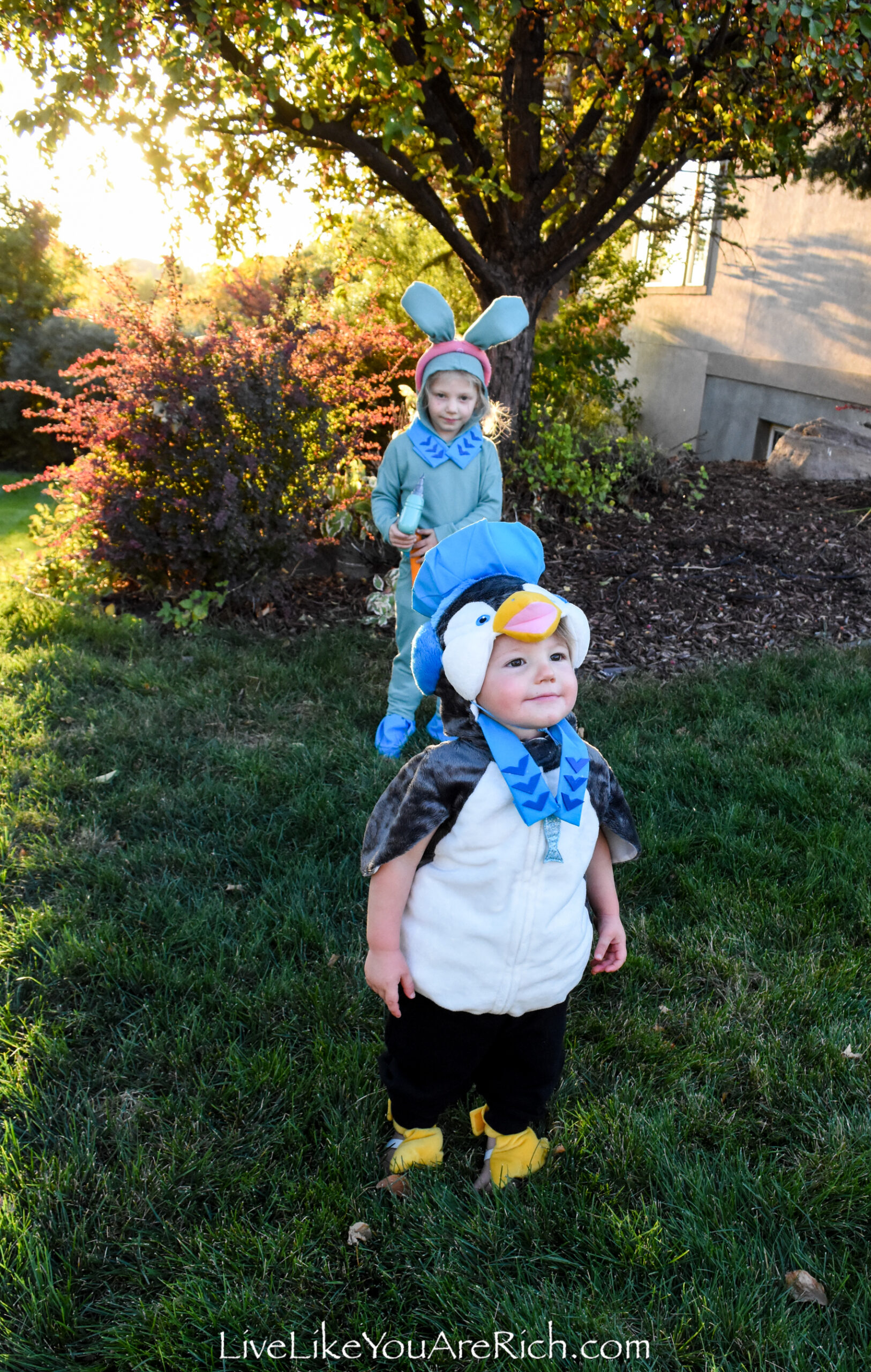 I love quick no-sew costumes! Peso's costume was even faster to make than Tweak's—provided you can find a base Penguin costume for your child to wear.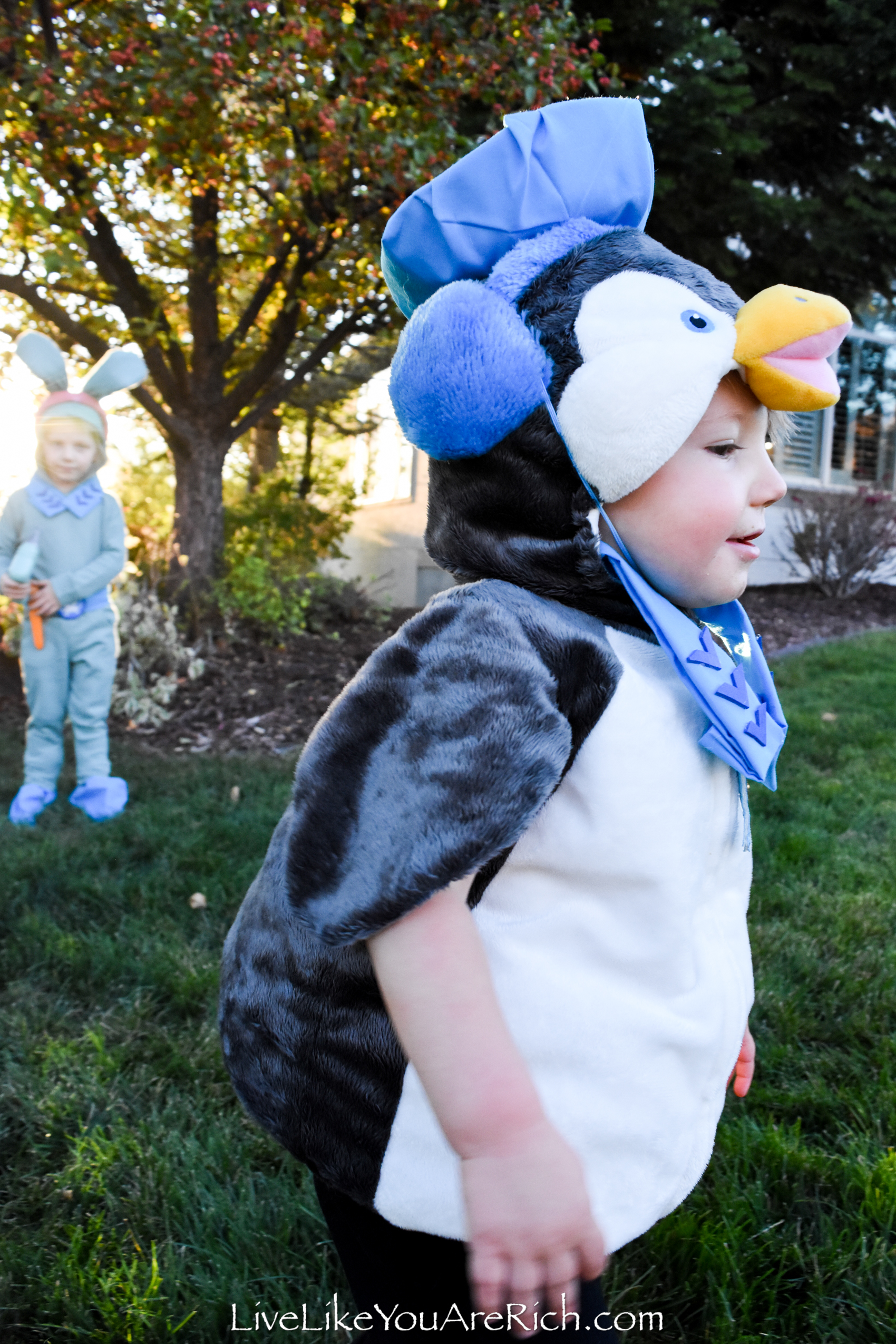 The Peso costume is really easy to make and only costs a few dollars—in addition to a penguin base costume. I got my son's penguin costume used off of a local classified ad for $14.00.
I've seen a few of these exact same costumes on eBay and Mercari.
Supply List for Peso from Octonauts Hat and Collar
1 yard of blue fabric (I found 2 yards in the pre-cut area for $5.00 at Walmart)
printer, ink, and paper to print the Octonuats emblem
safety pin (for the collar)
pen to trace the emblems
scissors
standard-sized paper bowl
foam brick crafting cube 3″x3″x3″
serrated knife
How to Make a Peso from Octonauts Costume—DIY Hat and Collar
To see how to make this costume it would be MOST HELPFUL to watch the attached video tutorial.
If you'd rather, you can continue reading the typed instructions below…

1. Base Outfit- Get a penguin costume that fits your child. I had him wear black sweatpants because the costume was a bit short without them.
2. Collar. Note-My son was struggling a lot when I first tried to put his costume on. So, I didn't take the time to put the collar on the outside of his penguin costume hood… At the Halloween Party we went to, I put the collar on the outside of the hood and it looked a lot better. See the photo below…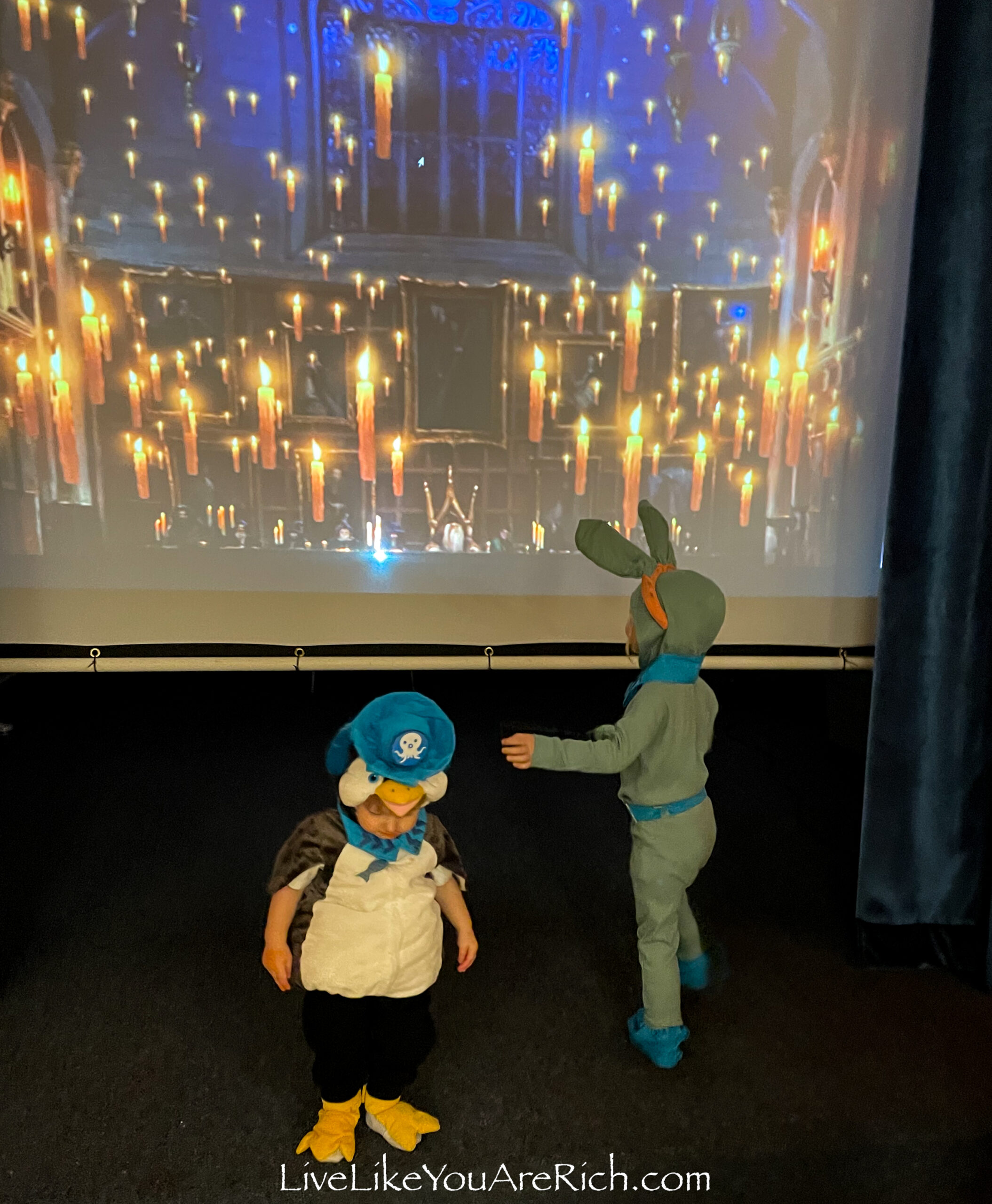 To make the collar you'll follow these steps…
Fold blue material up about 1.5-2″ for a small collar for a baby or a toddler or about 2.5″+ for a child, glue the crease and then fold it again. The length of this collar will vary based on your child's neck. I didn't have my kids around (I hired a babysitter for 2 hours so I could make these), so, I just made sure to make it plenty long, and then when I had my child there, I cut it to size adding about 3″ on both sides so that I could fold them under and glue them.
As mentioned, you'll glue down the first fold, then fold it again. Next, you'll cut about 1/4″-1/2″ of extra material along the top of the second fold so that you can glue down the rough edge (to make a nice finished edge). See the video if you are all confused about this step.
On the ends, you will fold the collar under 3″ at a bit of an angle so it looks thicker and more collar-like at the ends.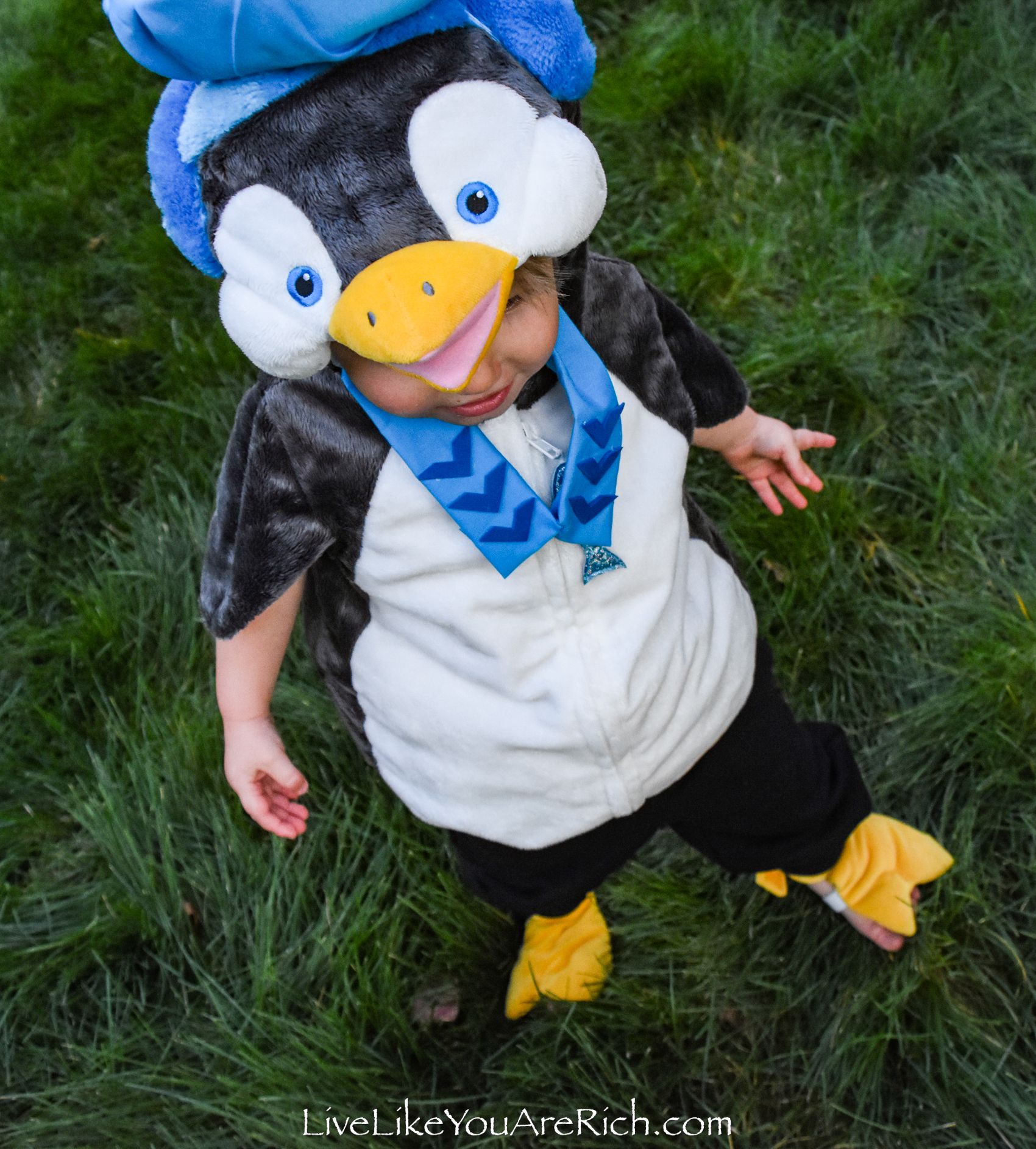 Cut the arrow designs (six of them) out of dark blue foam. Trace one arrow-looking design to make all six the same size and dimensions.
Hot glue 3 arrow designs onto each end of the collar about 1/2 inch apart.
To put the collar on. Do not make the mistake I did—don't hot glue this collar together, simply use a safety pin to take it on and off of the child each time they wear the costume. The collar hurt my daughter's head sliding it on and off as it was pretty snug.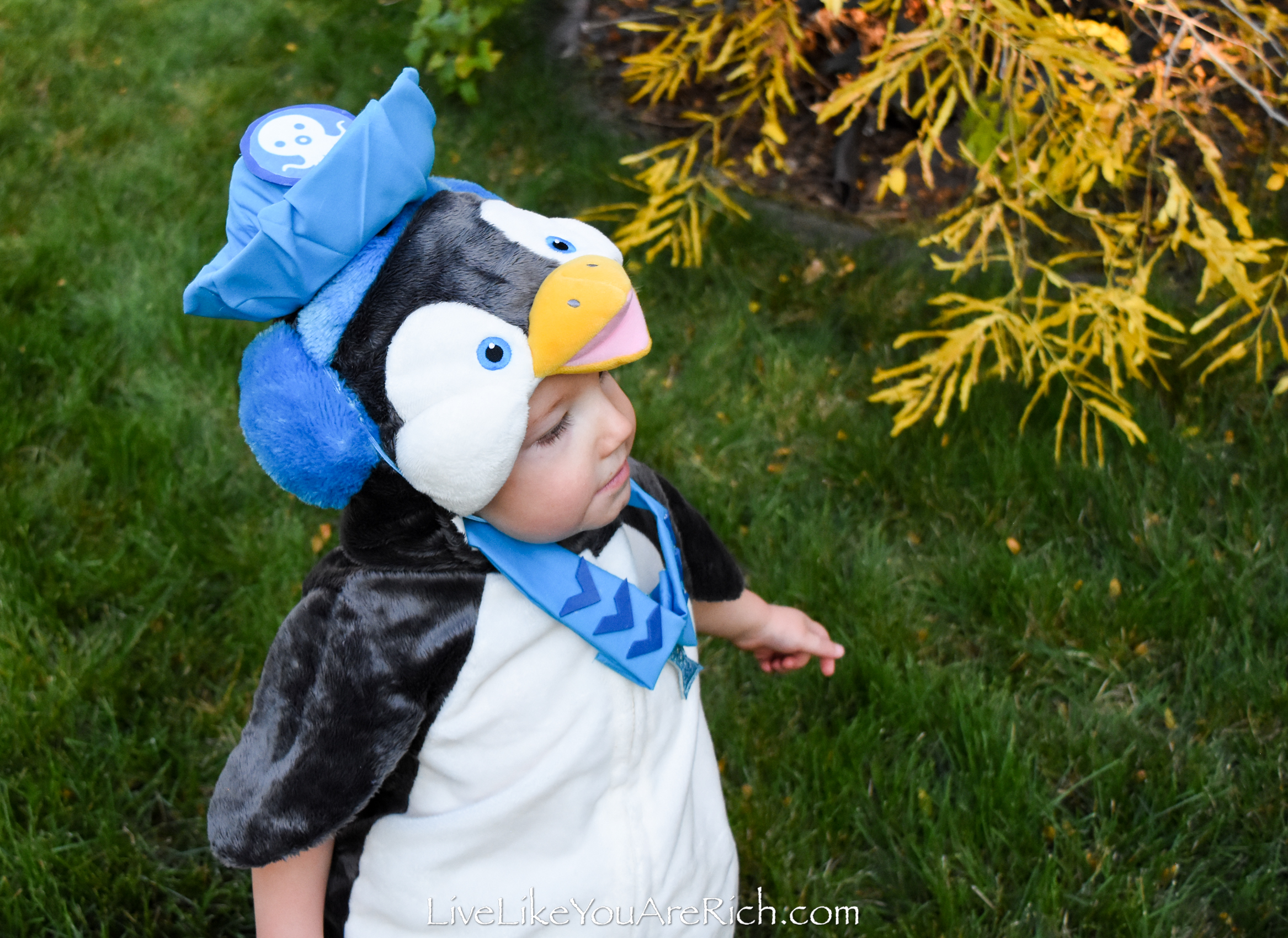 3. Peso's Hat–
Cut the edge off of a paper bowl. Place the bowl on the material to get an idea of how much material you will need to cover the bowl in the material. Next, cut excess material and hot glue blue material up the sides and glue it down in the middle of the inside of the bowl.
Take a 3″ cube foam craft brick and with a serrated knife cut away at it to make a dome shape. Smooth sharp edges away with the knife.
Glue the material over the dome and secure it on the bottom of the dome.
Glue the foam brick into the center of the hat.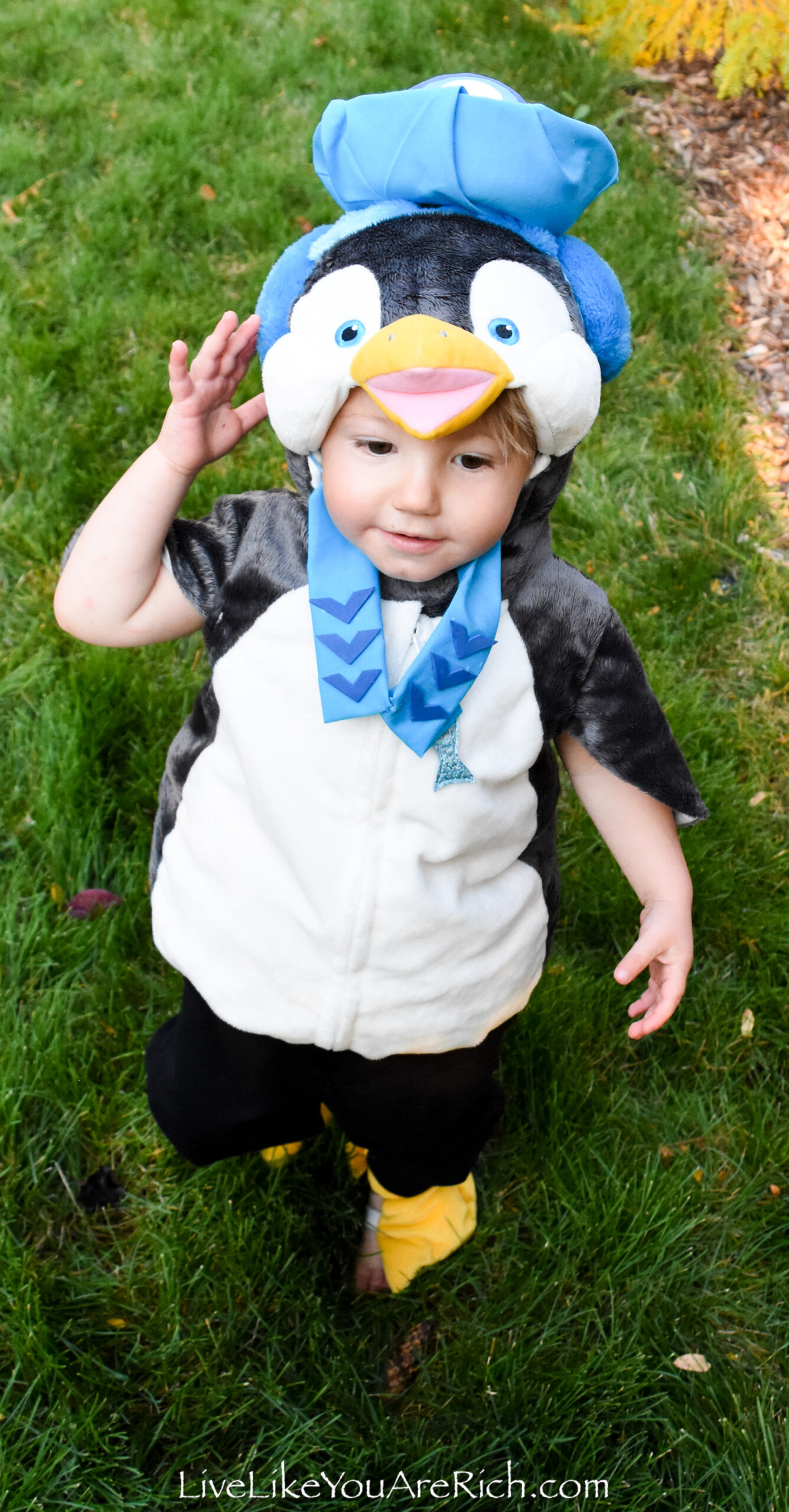 Using an elastic string (Dollar Tree) that is strong enough to hold a hat on a child's head, secure it to the top to form a hat.
I used 3 strings for each side of the head. I could have just kept it one long strand but I knotted the 6 strings together and cut down the center to make 3 strands for each side of Brighton's head (see video if this is confusing). Next, put the hat down on a thick piece of cardboard or a cutting mat, and using the top edge of a knife, make a hole on either side of the brick foam in the hat to thread the elastic strings into.
This was actually pretty tricky to thread the elastic strings through the material, paper plate, and the top material. In order to accomplish this without breaking out a huge sewing needle, I had to put a bigger hole on either side of the hat than I was expecting.
Once the elastics were pulled through, I knotted them multiple times (four) so they wouldn't pull through the hole. Then I cut off the excess strings and hot glued the knot so it wouldn't unravel. Then I hot-glued the knots by the hole for extra security so that they wouldn't slip through.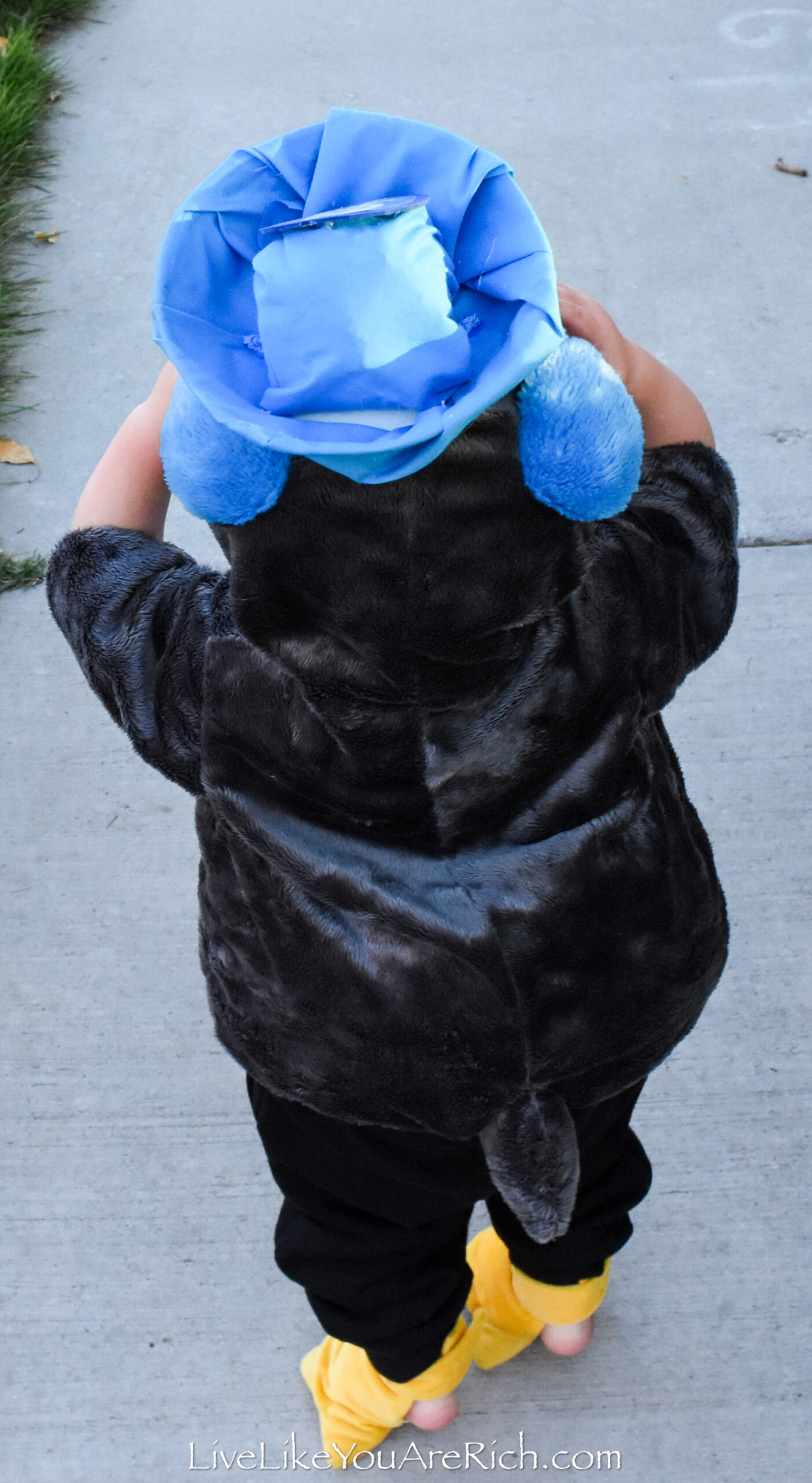 For the Octonauts emblem, print this image, and in the print options select "9 images per page", this will give you the size I used.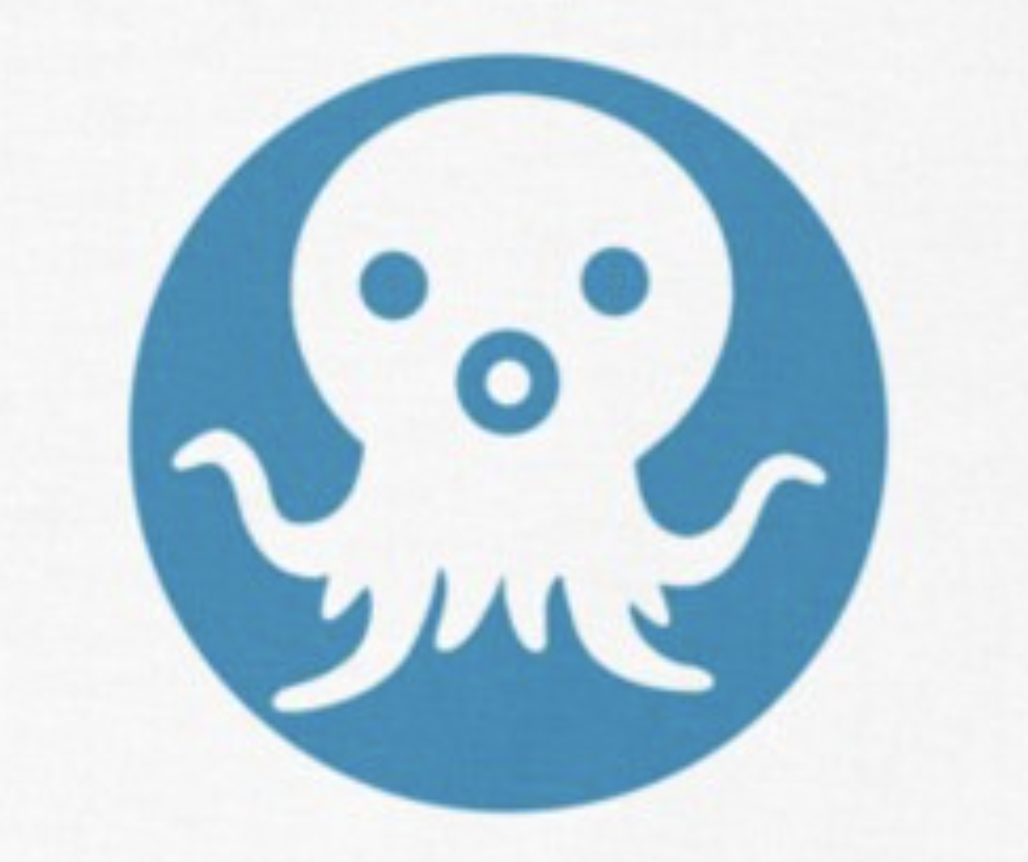 Alternatively, if you are making this for a larger child you may want to select "6 images per page", when printed.
Cut out the emblem and then cut out a dark blue foam sheet in a circle that is a little larger than the paper emblem you have cut out. I find leaving about 1/4″ edge on the foam makes it look more like a badge.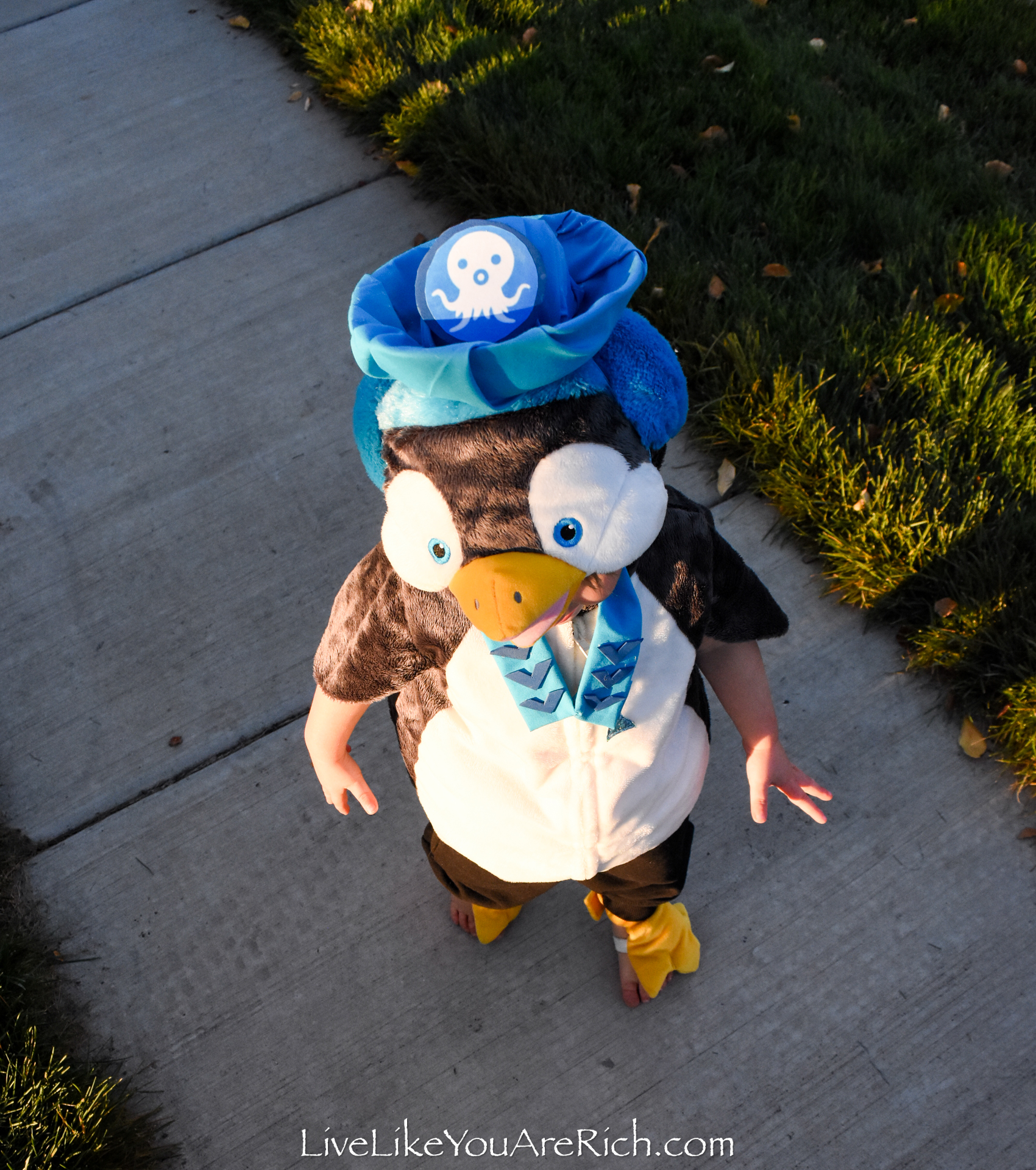 Using a foam brush, brush a light layer of mod podge onto the foam and then set the emblem face up on top of the mod podge on the foam sheet in the center and then mod podge over the paper. If there are any air bubbles smooth them out and dab mod podge over to make it uniform.
Once this has dried, your emblem is ready to glue onto the hat. There is a plastic type of backing on some foam sheets which will prevent the foam sheet from adhering well. If there is backing, peel off the back. Hot glue the emblem onto the foam block on the hat.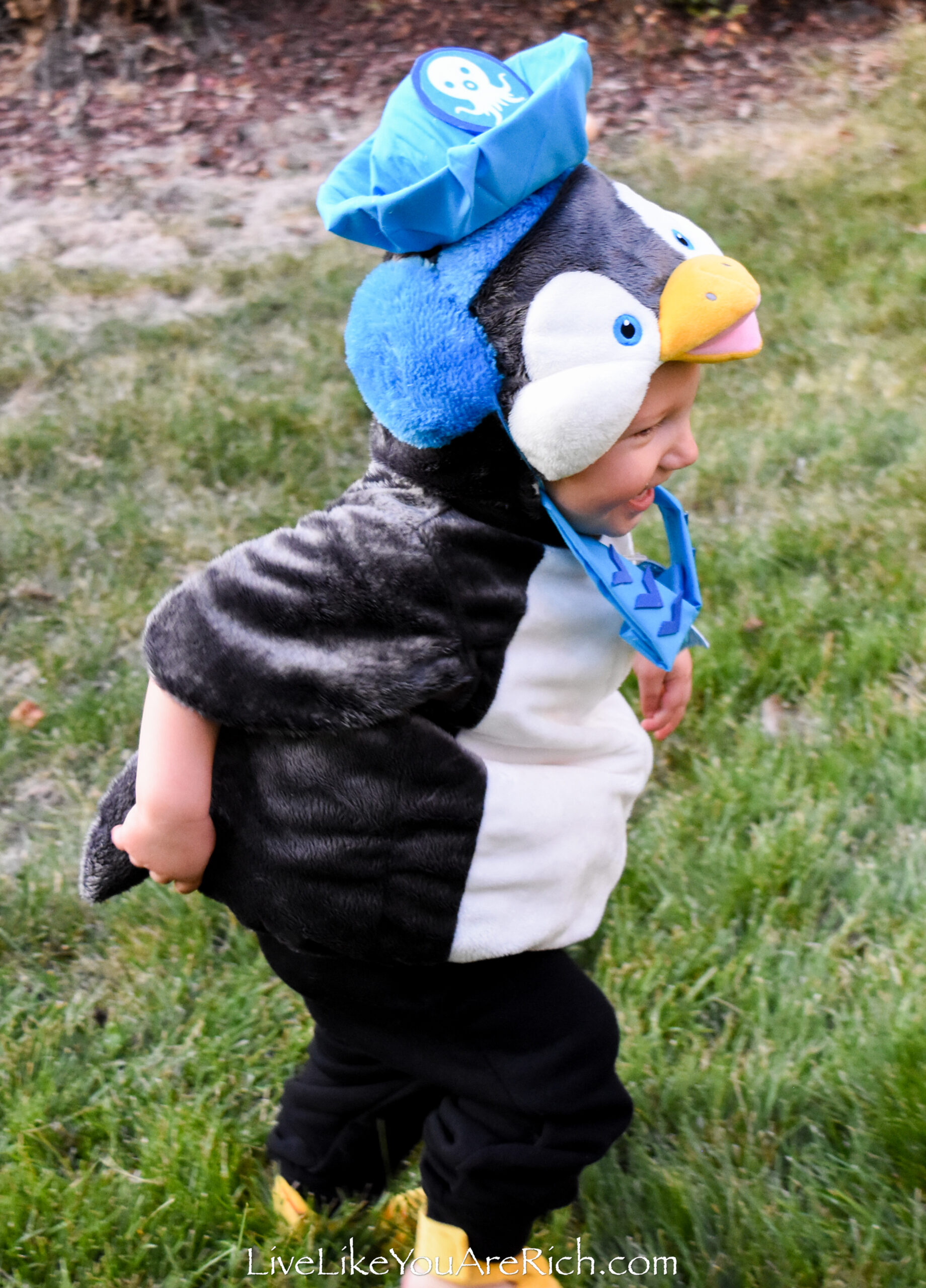 Optional- Peso's hat in the movie has a line that runs around the bottom 1/4 of the hat. If you want to, you could cut some foam and make that band and hot glue it on.
That's it. Now you have a penguin costume, collar, and hat.
Peso doesn't wear the boots that most of the other Octonauts wear, he just has his flippers, so that makes this an even-easier-costume to make than the other Octonats.
Total Cost for Peso from Octonauts Costume—DIY Hat and Collar
paper bowl .04
elastic .20
paper and ink for 1 badge- nominal
foam sheet .08
mod podge- nominal
foam brush .06
material $2.00
Hot glue .40
Penguin base costume $14.00
$16.88
The time it took to make Peso from Octonauts Costume—DIY Hat and Collar
It took about 30 minutes to make the collar and hat for this costume.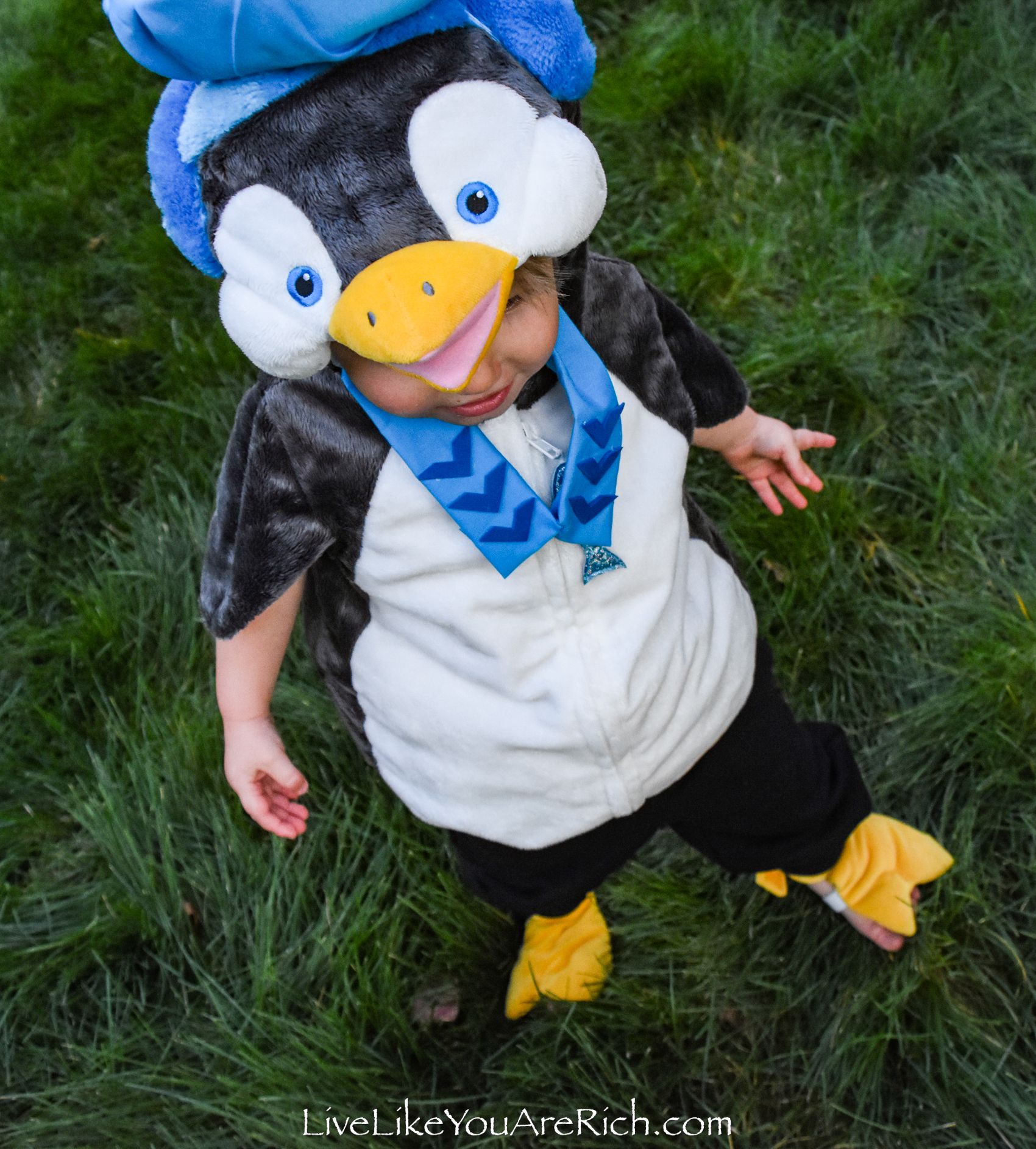 I hope this gives you a great idea of how you can make a Peso from The Octonauts costume as well.
If you have any questions about this Peso from Octonauts Costume—DIY Hat and Collar tutorial, please leave them in the comments below.

For other 'rich living' and D.I.Y. decor tips please subscribe, like me on Facebook, and follow me on Pinterest and Instagram.