Easy No Sew Tweak From Octonauts Costume.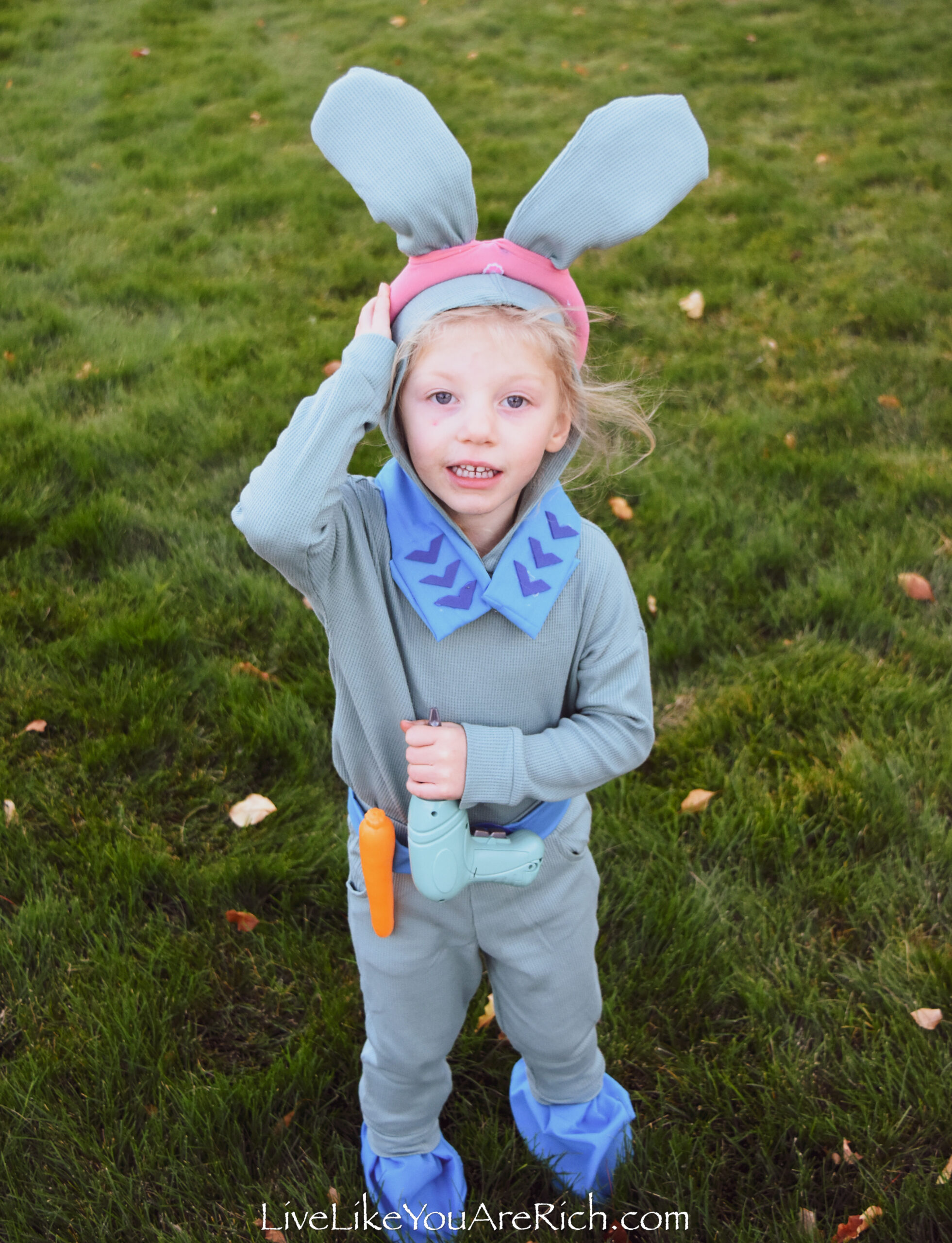 My toddlers love the show, Octonauts. I actually like it—as far as kid shows go as well.
My three-year-old daughter has asked me many times to be Tweak for Halloween.
Tweak's character is a bunny who fixes equipment that the Octonauts use to rescue marine life.
She uses a variety of tools to fix items and so this costume will work with any kid-friendly tools your child may want to carry with him/her.
I have been looking online for a Tweak costume that I could buy—without luck.
Even searching for used costumes on local classifieds, eBay, and Mercari, I could not find anything.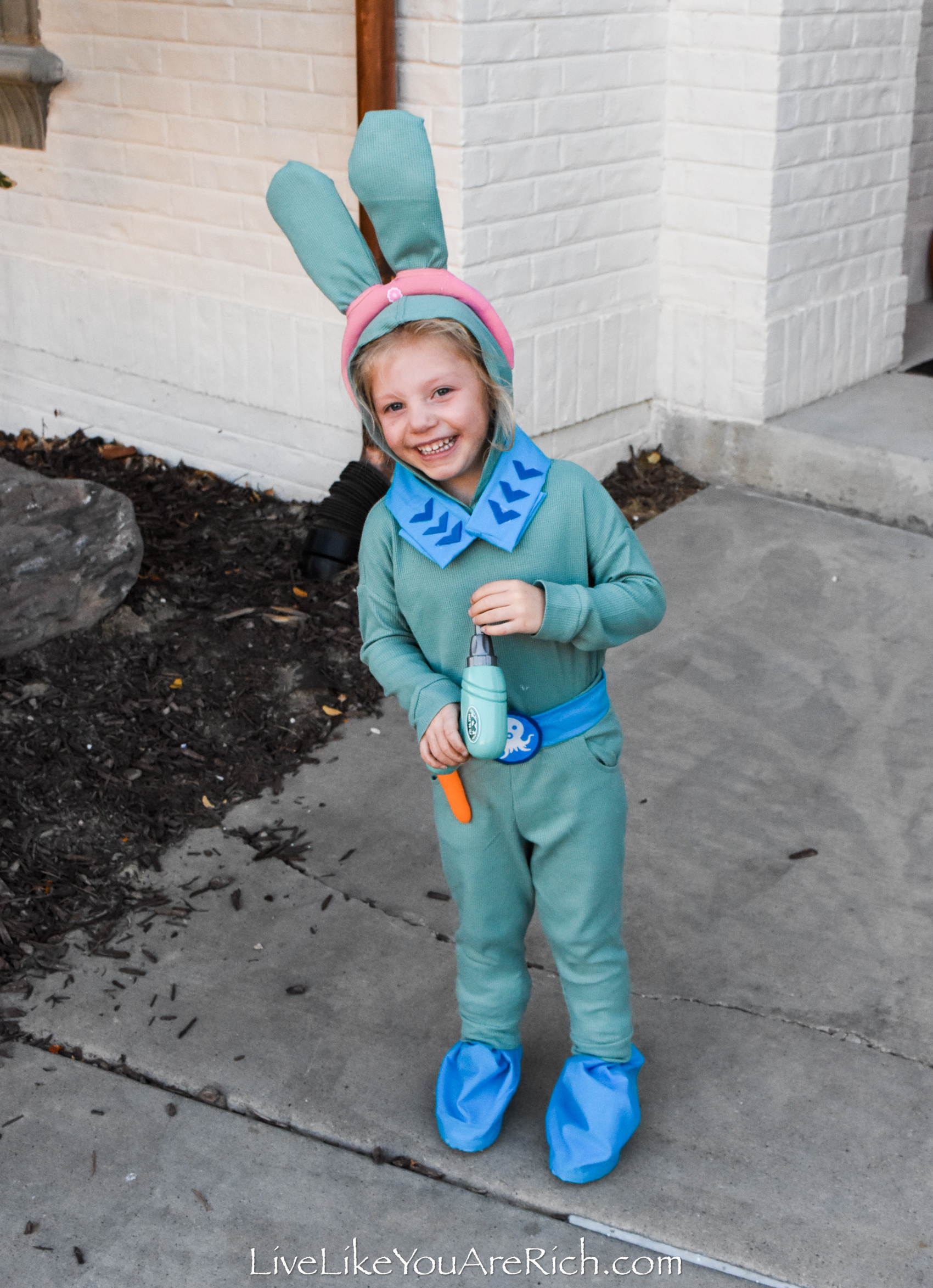 Although I often do, I didn't know if I had the time to make a handmade costume this year. I have been extremely busy and I knew that if I was going to make something, I needed a costume for her that could be made easily—without breaking out my sewing machine, cutting mats, patterns, etc.
With a Halloween party coming up in a few days, I knew it was now or never to give it a try.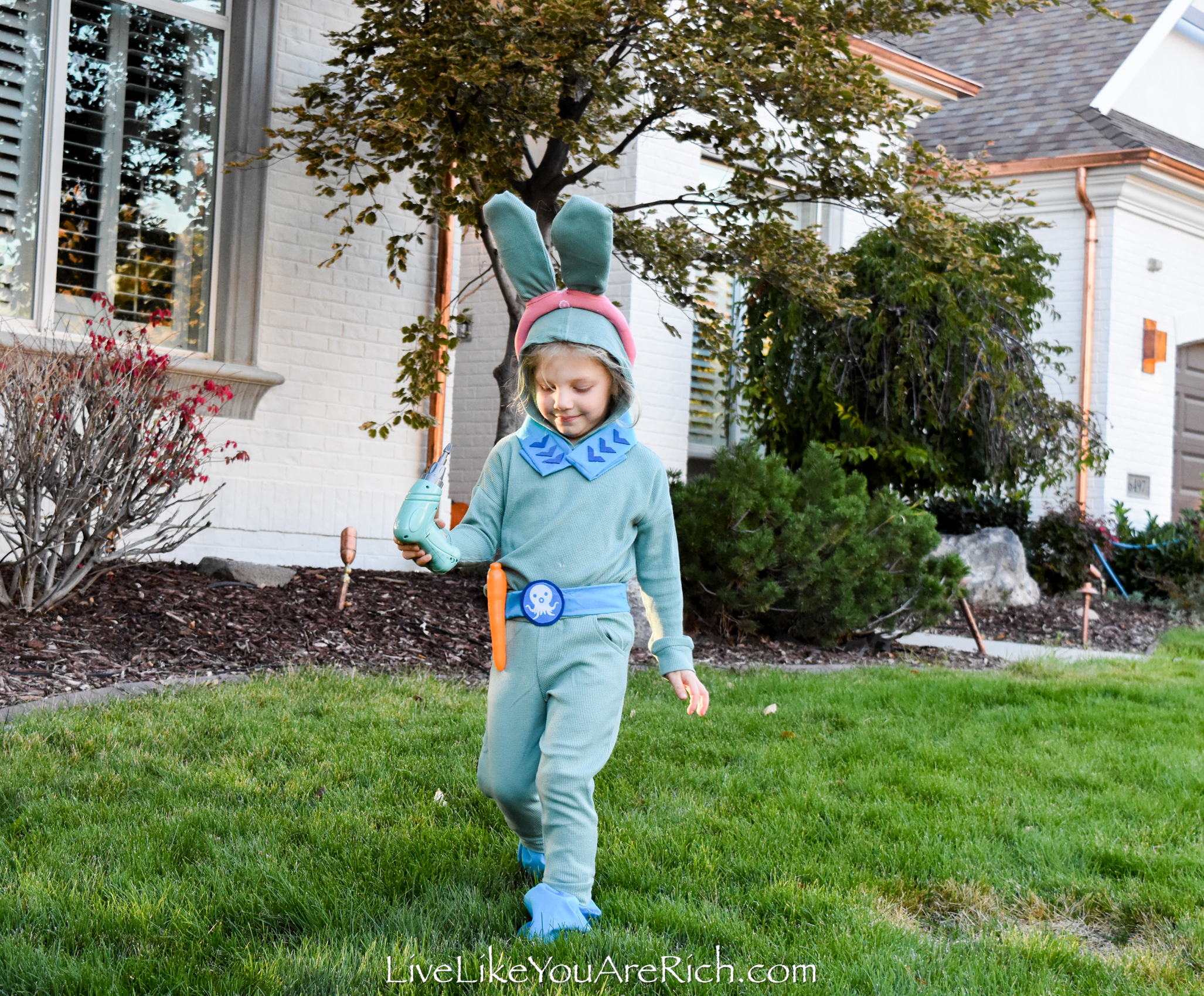 Since Amelia was so adamant about being Tweak, and since I found a penguin costume (used on local classifieds) for my son that I could alter for Peso's costume (an Octonaut's character), I decided to give a No-sew Tweak costume a try.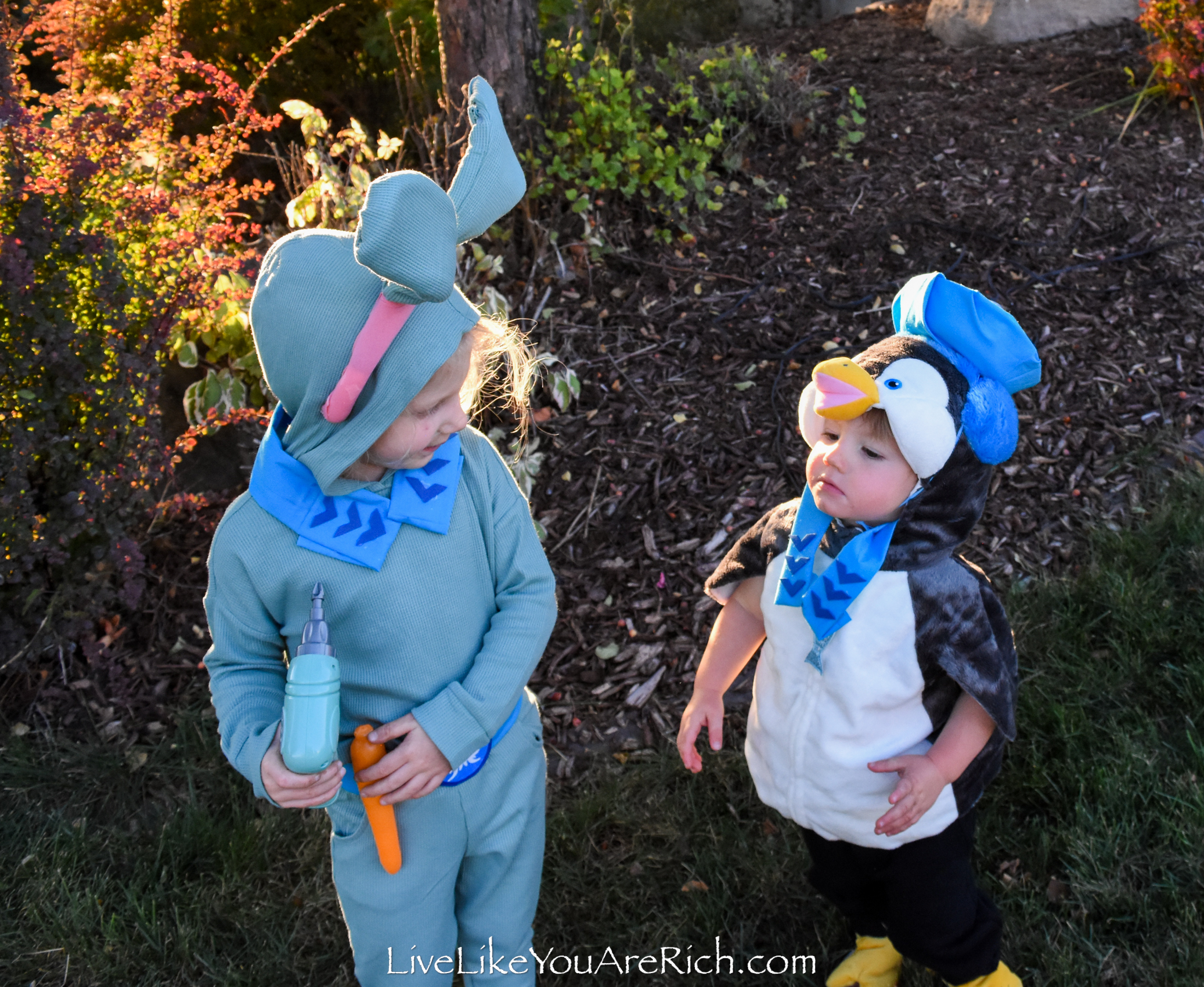 I took a quick trip to Walmart and was able to find everything (in addition to what I had on hand), that I needed to make this Quick Easy No Sew Tweak From Octonauts costume.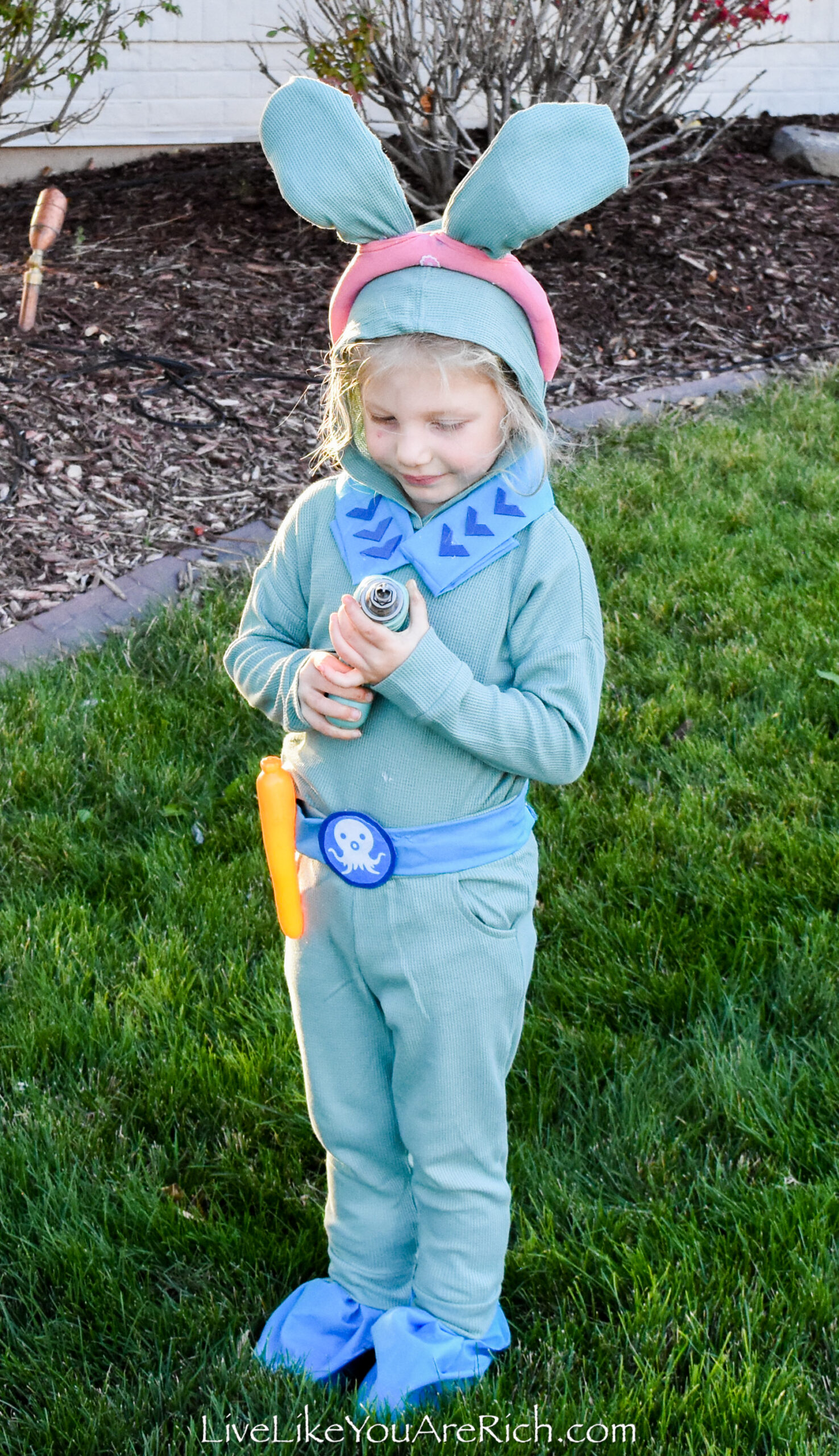 Better yet, I didn't need to break out the sewing machine!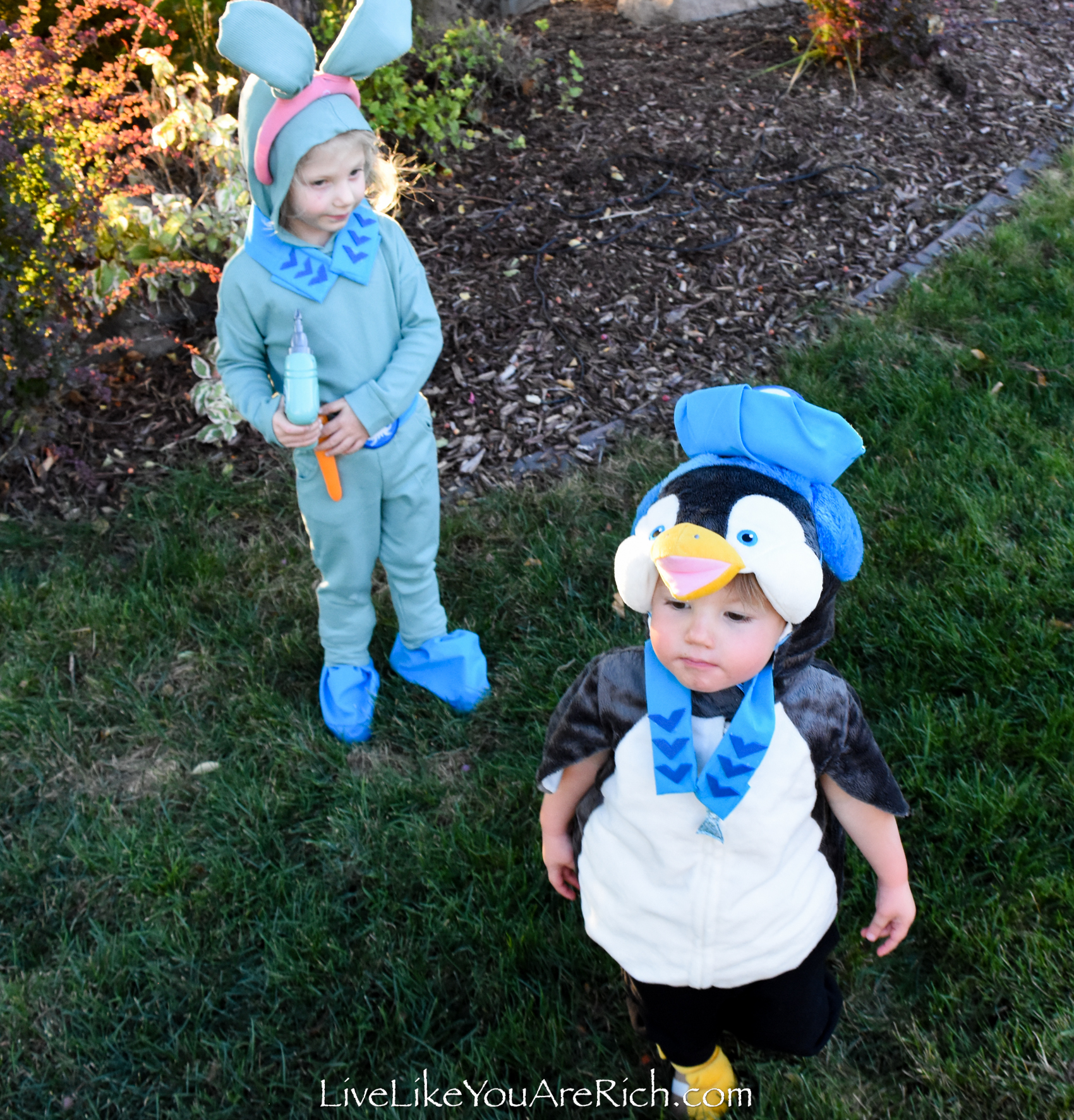 I was able to make both costumes with a glue gun and glue sticks and safety pins.
This is Peso and Tweak as seen on Octonauts.
I could have sewn a few items very easily (the belt and the collar would have been quick)…but the glue gun was more convenient and it holds really well.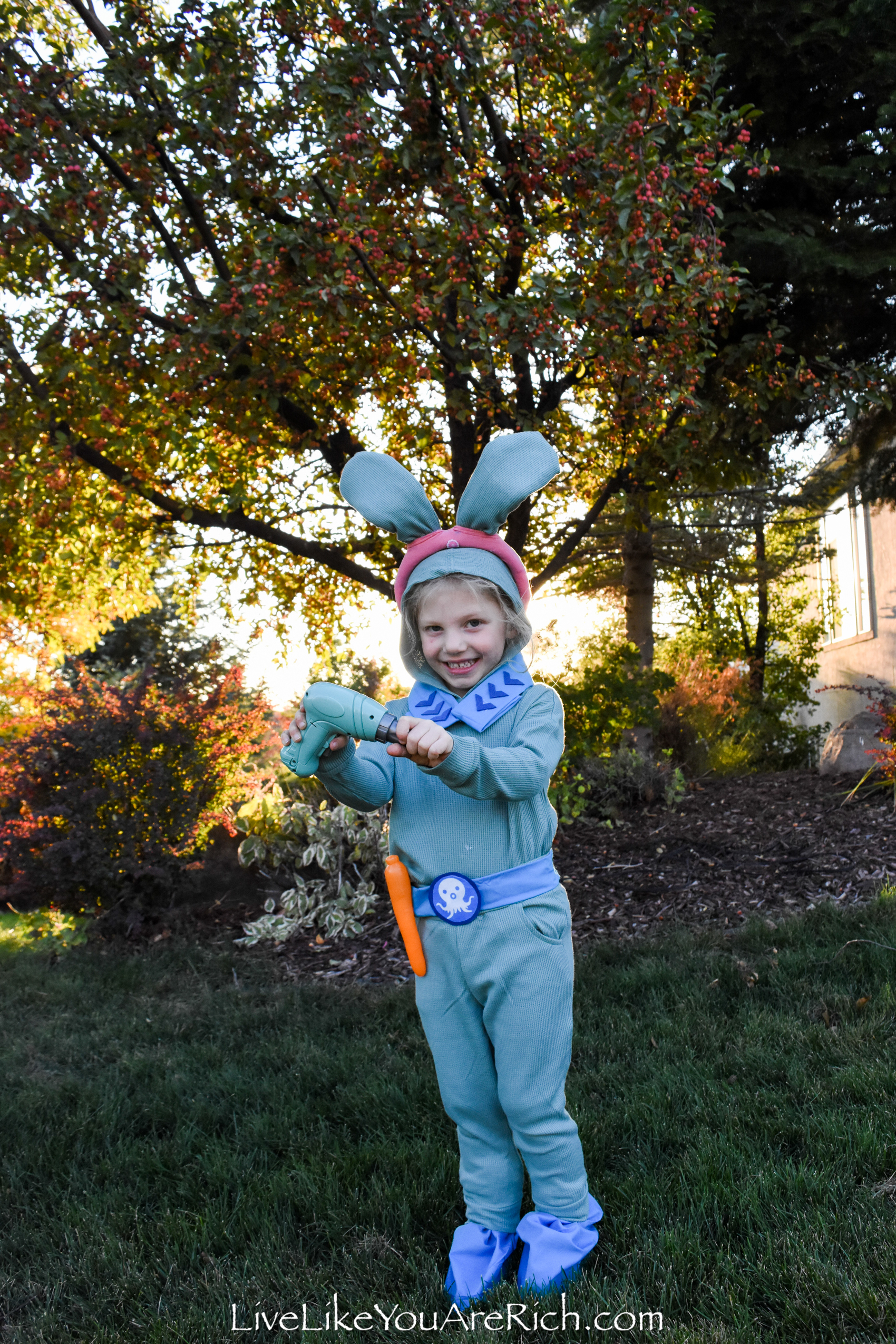 Supply List for this Easy No Sew Tweak From Octonauts Costume
2 pairs of light green pants (one that fits the child and the largest you can find that is the same price)
1 light green hoodie that matches the pants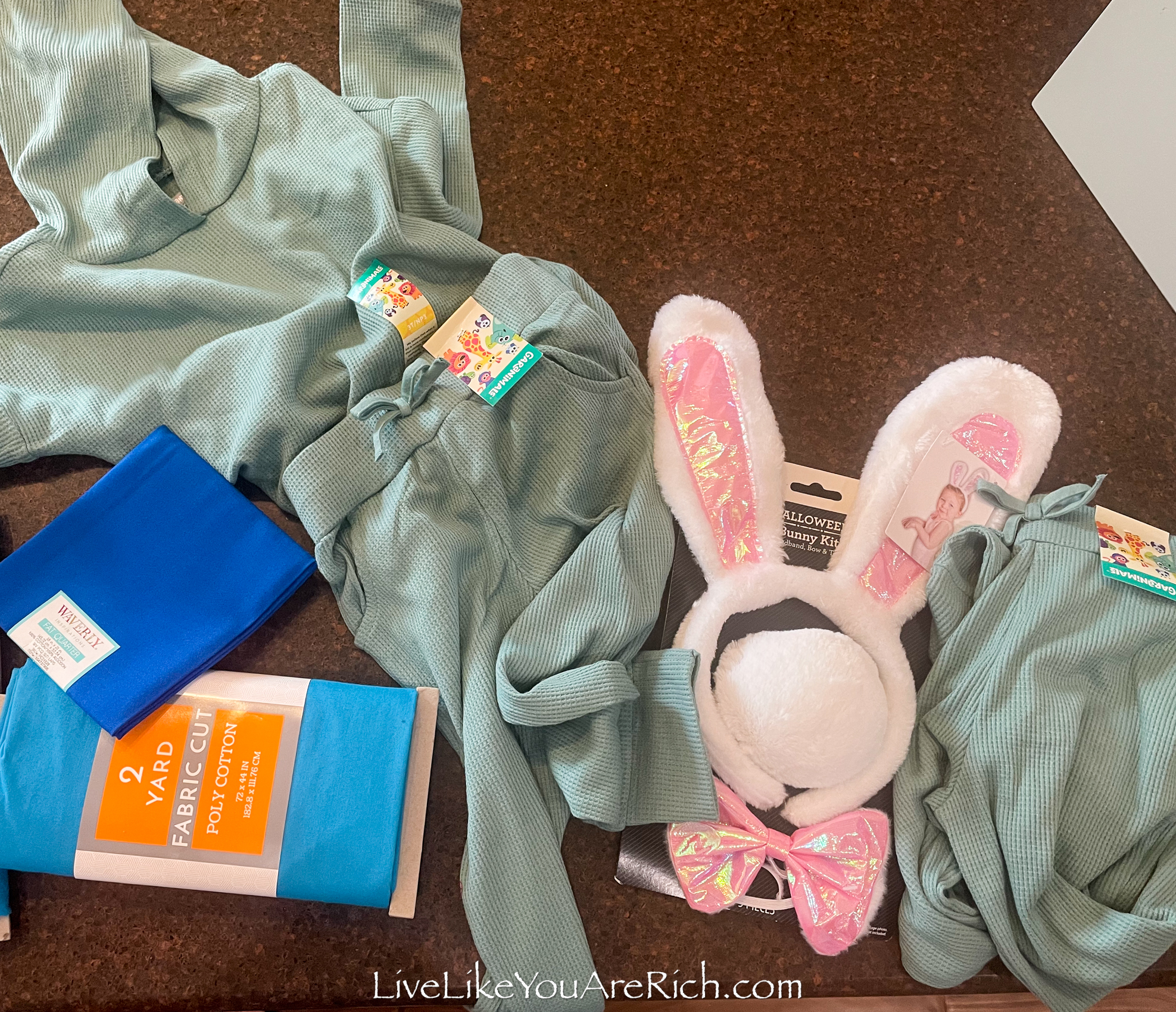 2 yards of blue fabric (I found this in the pre-cut area for $5.00 at Walmart)
printer, ink, and paper to print the Octonuats emblem
old shoes that still fit
safety pins (for the belt and the collar)
pen
scissors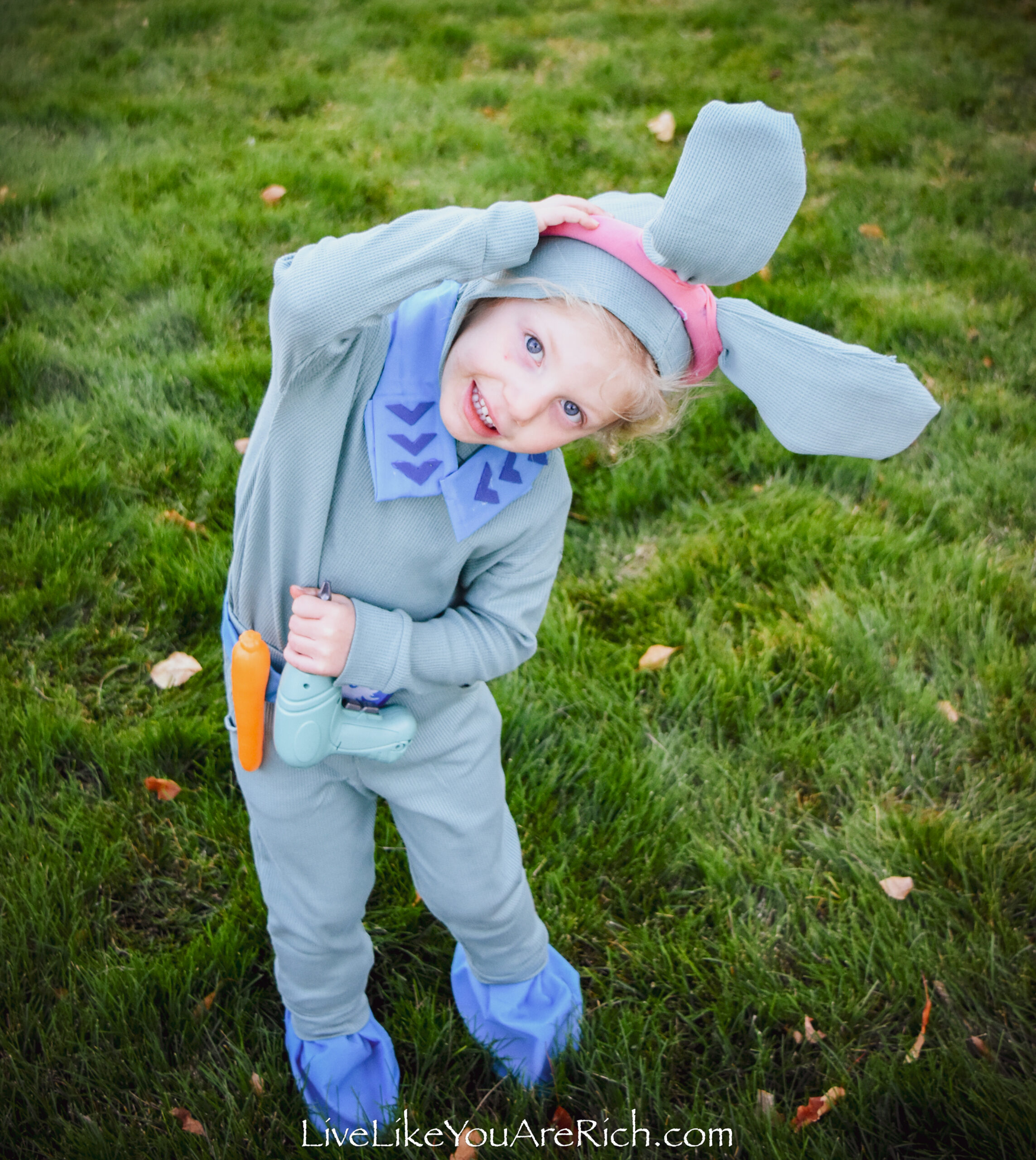 The time it takes to make this Easy No Sew Tweak From Octonauts Costume
Tweak's costume took about one and a half hours to make.
I bet it would be faster for someone following my tutorial and/or video because I did some experimenting on how to make things work while making it for the first time. Someone following the video tutorial or instructions won't have to do this. If I were to make this again, I would be able to make it in under an hour.
Instructions on how to make this Easy No Sew Tweak From Octonauts Costume
MOST HELPFUL would be to watch the attached video tutorial. If you'd rather, you can continue reading the typed instructions below…
1- Base Outfit- Get a top with a hood and pants that match, fit your child, and are light green. This is your base outfit. I got mine at Walmart for $5.98 for the top and $5.98 for the bottoms.
2- Bunny Ears- Get your bunny ears that are wired (so they are strong enough to hold up the added material and be twisted into a direction you want). Make sure the bunny ears are a headband (Walmart had a great headband for $5.98 in the Halloween costume aisle sold in a bunny kit), you'll also need the extra pants as well as scissors, hot glue, and the pink stretch headband.
Using the extra pair of pants, cut off the bottom cuff/hem and cut the inside seam up 1.5 inches. Put one bunny ear up one leg of the pant and cut the top of the pants leaving a few inches of material so that you have extra fabric to fold and tuck on both the top and bottom of the bunny ears.
I put the inside seam of the pant legs as the inside seams of the bunny ears as they are clean-looking and look nicest where they are most visible. As you glue the pants onto the bunny headband, trim extra material away and tuck and glue the rough edges as you hot glue it on.
IMPORTANT Note- do not put hot glue where the headband will sit on the child's head. You don't want sharp clumps on the headband where it may irritate your child's head.
3- See the video tutorial to see how I did this. Tuck and glue in a nice and neat way making sure unfinished edges are folded in so the ears look nice.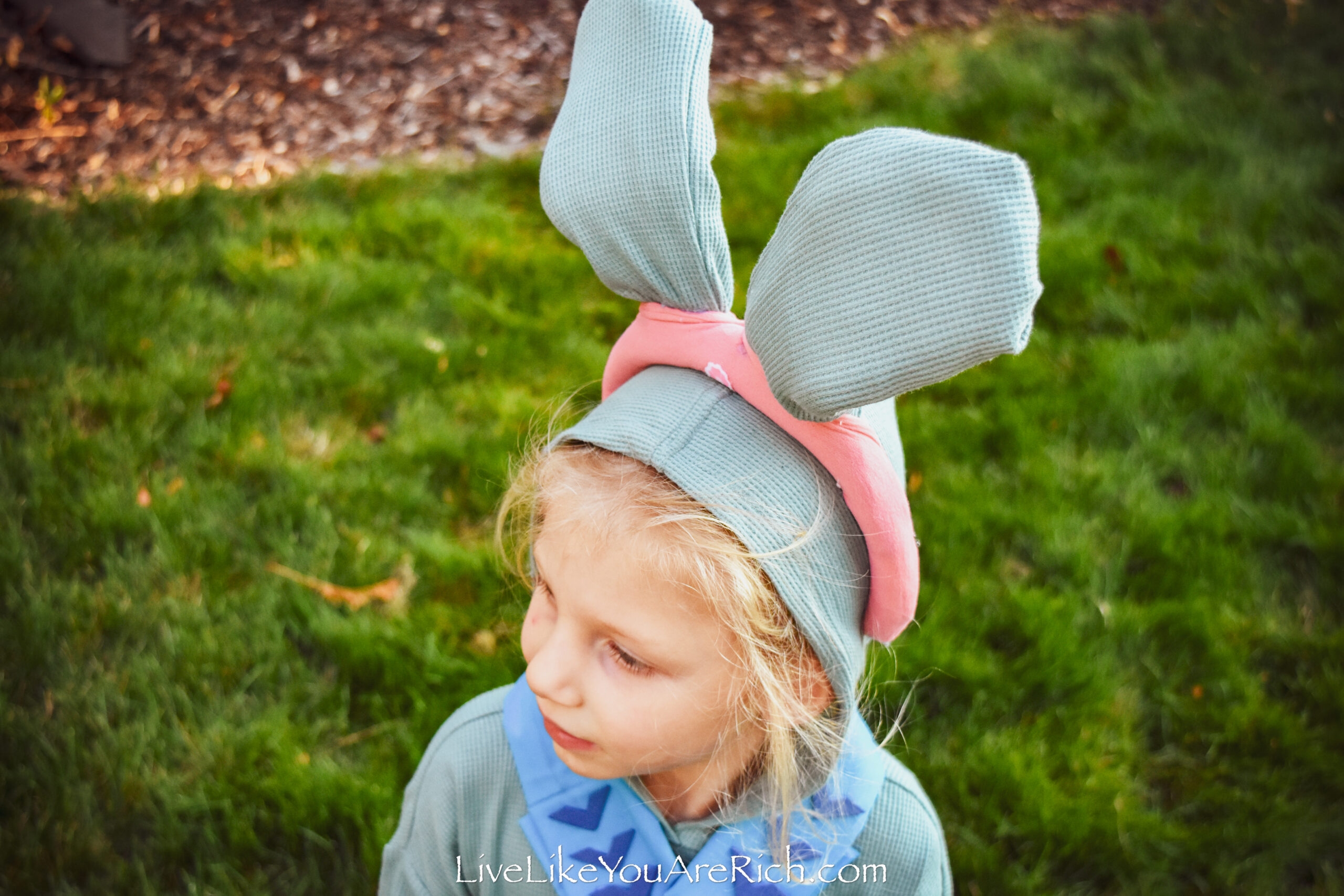 4- Cut a stretch headband in half and somehow discreetly mark the middle so you are sure as you are gluing it that you have enough material for it to stretch the entire headband. Glue the pink headband from one end to the other, making sure you are gluing it down in the back.
The headband that we had in the house had a little flower emblem on it that I couldn't get off, so I just used that as if Tweak had a little flower on her headband.
5- For the belt and collar you'll follow these first steps.
Fold blue material up about 1.5-2″ for a small collar for a baby or a toddler or about 2.5″+ for a child, glue the crease and then fold it again. The length of this collar will vary based on your child's neck. I didn't have my kids around (I hired a babysitter for 2 hours so I could make these), so, I just made sure to make it plenty long, and then when I had my child there, I cut it to size.
As mentioned, you'll glue down the first fold, then fold it again. Next, cut about 1/4″-1/2″ of extra material along the top of the second fold so that you can glue down the rough edge so it is a nice finished edge. See the video if you are all confused about this step.
You'll do this again for the belt, only make it thicker than the collar.
6- Belt continued…Once you have the belt made, you will hot glue it to the pant. Glue ONLY ONE side of the belt to the back of pants, then you will have your child try it on the pants and cut the belt to size (leaving a little extra length so you can safety pin the two ends together). Each time your child puts on the costume, you will safety pin the ends together and to the pant when the child wears the costume.
Do NOT hot glue both belt ends onto your child's costume or they may have difficulty putting the pants on or taking them off.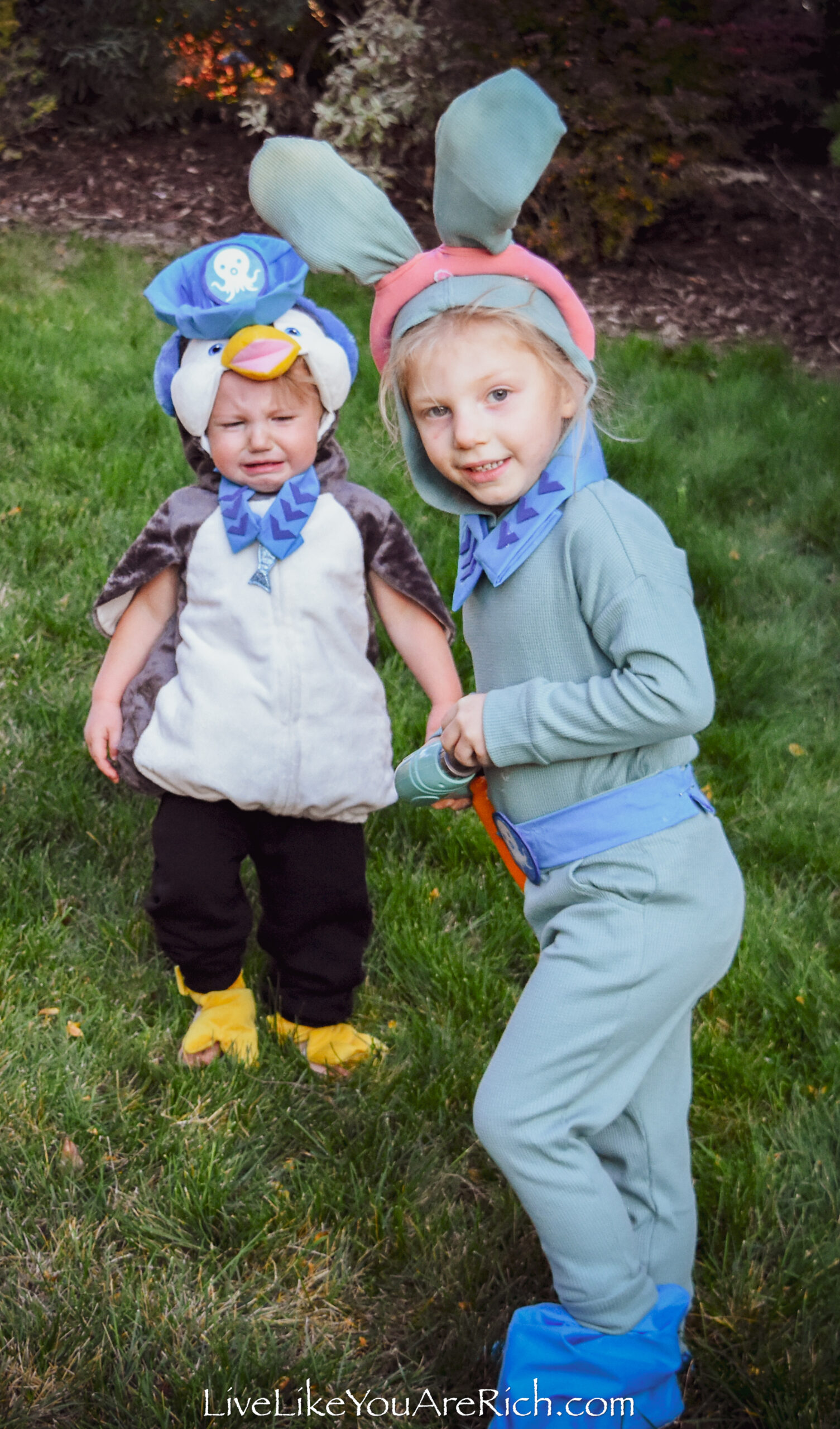 7- For the Octonaut belt buckle print this image and in the print options select 9 images per page, this will give you the size I used.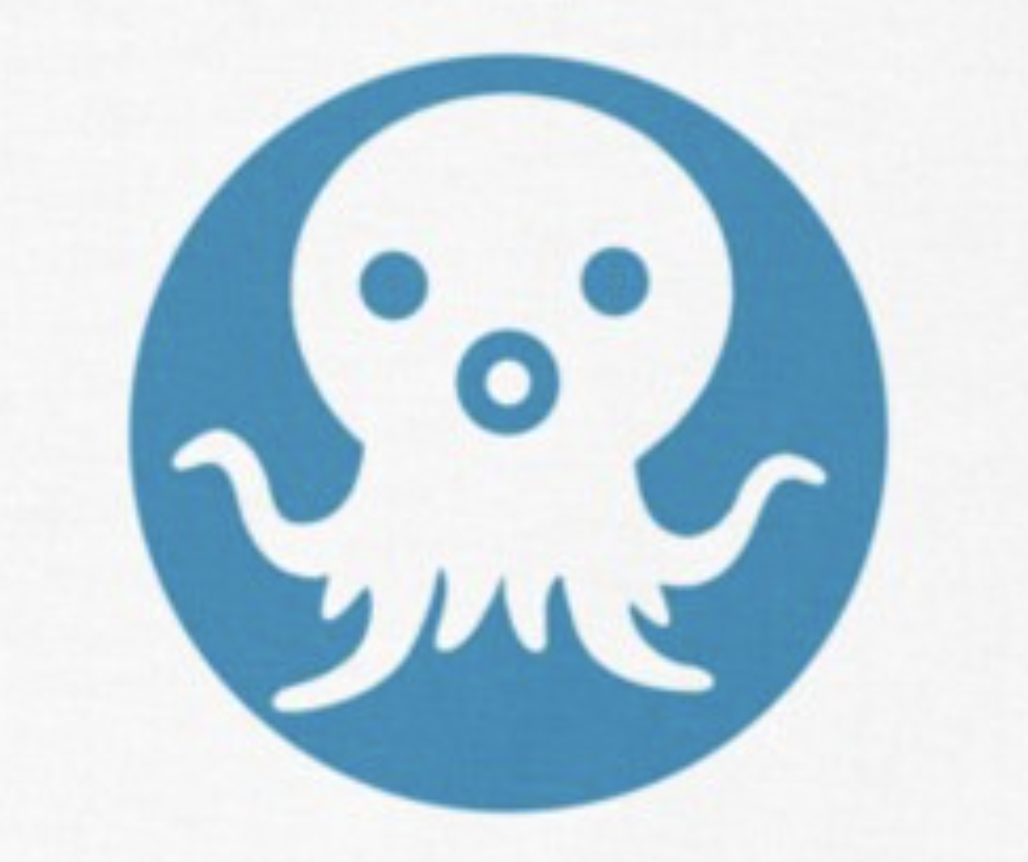 Alternatively, if you are making this for a larger child you may want to select 6 images per page when printed.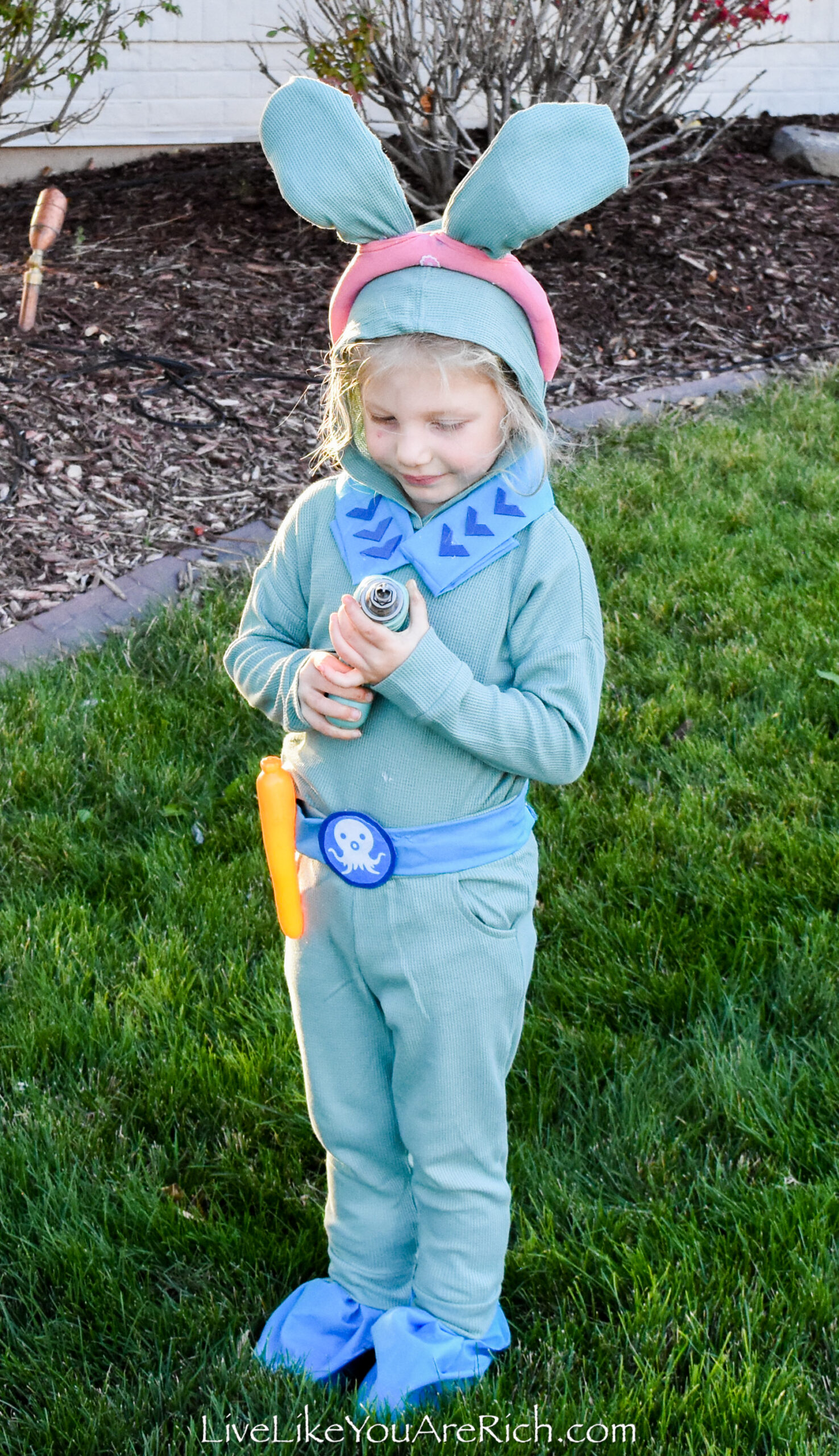 Cut out the emblem and then cut out a dark blue foam sheet in a circle that is a little larger than the paper emblem you have cut out. I find leaving about 1/4″ edge on the foam makes it look more like a badge/buckle.
Using a foam brush, brush a light layer of mod podge onto the foam and then set the emblem face up on top of the mod podge on the foam and then mod podge over the paper. If there are any air bubbles smooth them out and dab mod podge over it again.
Once this has dried, your belt buckle is ready to glue onto the belt. There is a plastic type of backing on some foam sheets which will prevent the belt buckle from adhering well. If there is backing, peel off the back.
Hot glue the Octonaut belt buckle onto the middle of the front of the belt.
8- Belt options. You could hot glue a plastic carrot onto the side of Tweak's belt as well as a plastic kids' wrench. We have a kid wrench somewhere but I couldn't find it, so Tweak is using an impact drill to fix imaginary things during this photoshoot.
I will add the plastic kids' wrench to her costume for the Halloween party we go to this weekend if I can find it.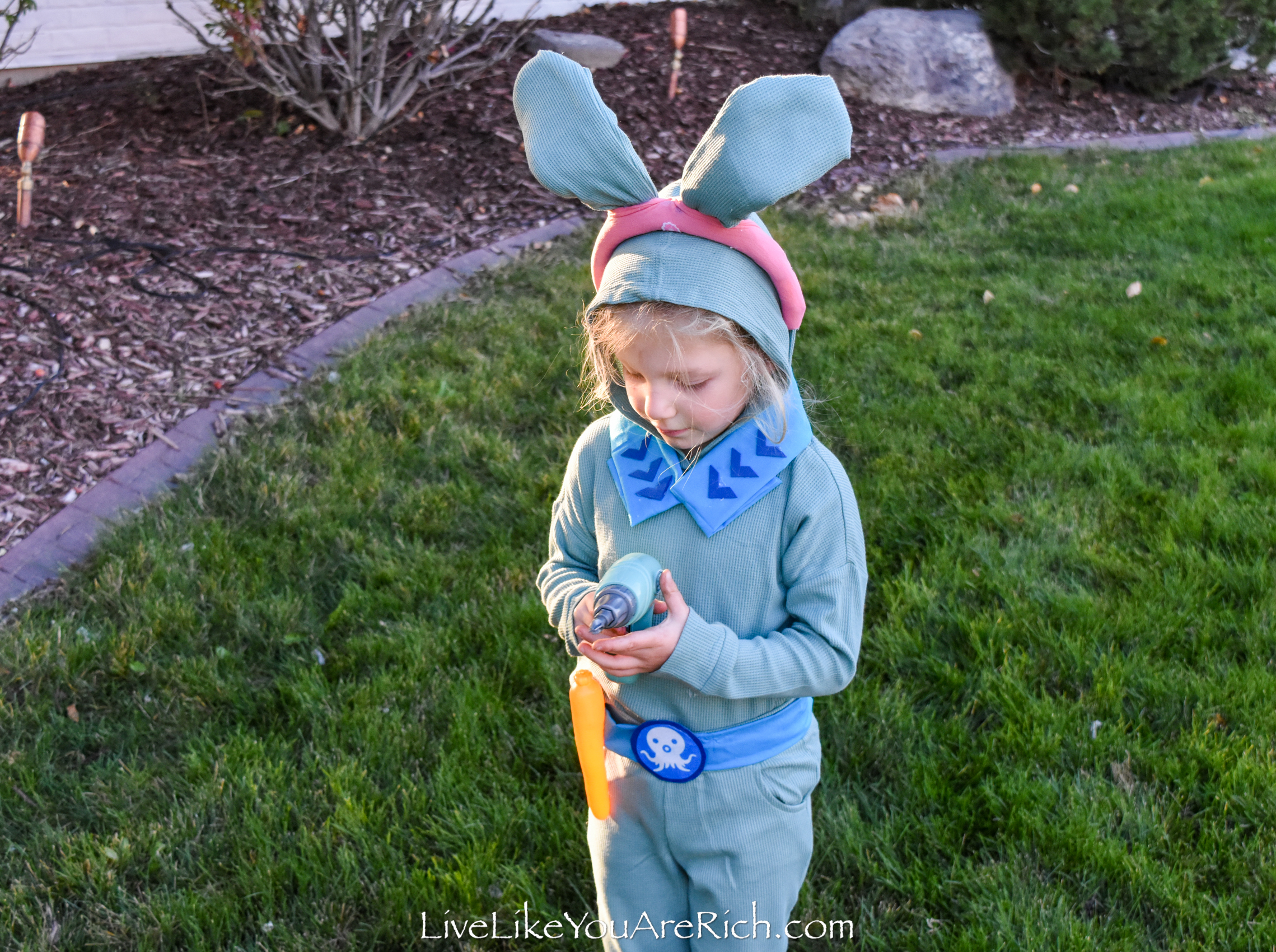 9. Collar continued- You will make the collar similar to the belt (see the video tutorial if it is unclear how to do this). On the ends, you will fold the collar under at a bit of an angle so it looks thicker and more collar-like at the ends.
Cut the arrow designs (six of them) out of dark blue foam. Trace one arrow-looking design to make 6 of the same size and dimensions.
Hot glue 3 arrow designs onto each end of the collar about 1/2 inch apart.
To put the collar on…Do not make the mistake I did—don't hot glue this collar together, simply use a safety pin to take it on and off of the child each time they wear the costume. The collar hurt my daughter's head sliding it on and off as it was pretty snug.
10- For the shoes… You'll take a finished edge of the blue material and hot glue it around the base of the shoes that will soon be too small or your child or are old…these shoes will likely not come back to wearable status after this.
When you have made it all the way around the shoe, cut the fabric. Then fold in and glue the unfinished edge. Do not worry about finishing the top edges. All we did from here was hot glue the fabric together and then tucked the material into Tweak's pants.
Alternative shoe…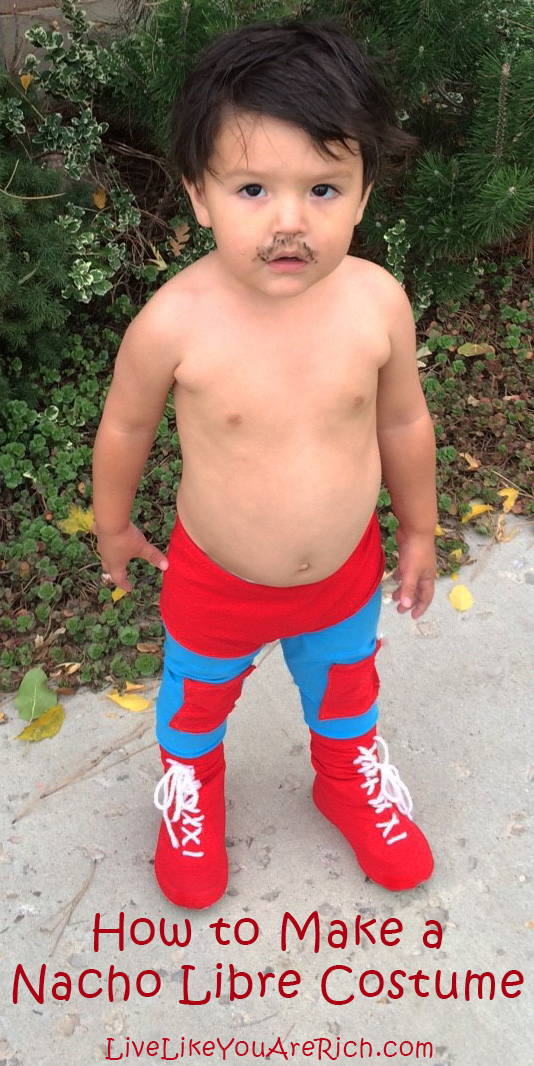 If you want a better way of doing this and you can find leggings that match the material you use for the belt and collar, and follow the tutorial where I used leggings to make boots for my son's Nacho costume here. They can be made using hot glue as well.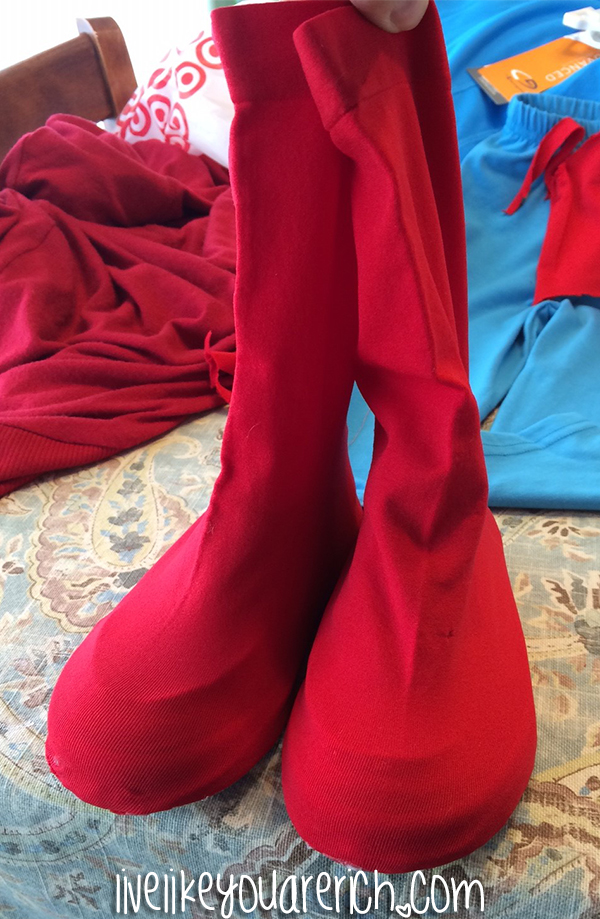 Total Cost for this Easy No Sew Tweak From Octonauts Costume
The Walmart total was $29.00 but this also included material for Peso's costume. So, accounting for what I used for Peso, the total for this costume was $26.50. Everything else I had at home.
However, if you do not have a hot glue gun and hot glue sticks, old shoes, a plastic carrot, blue foam sheets, a printer and paper, and a kid's tool it would be more.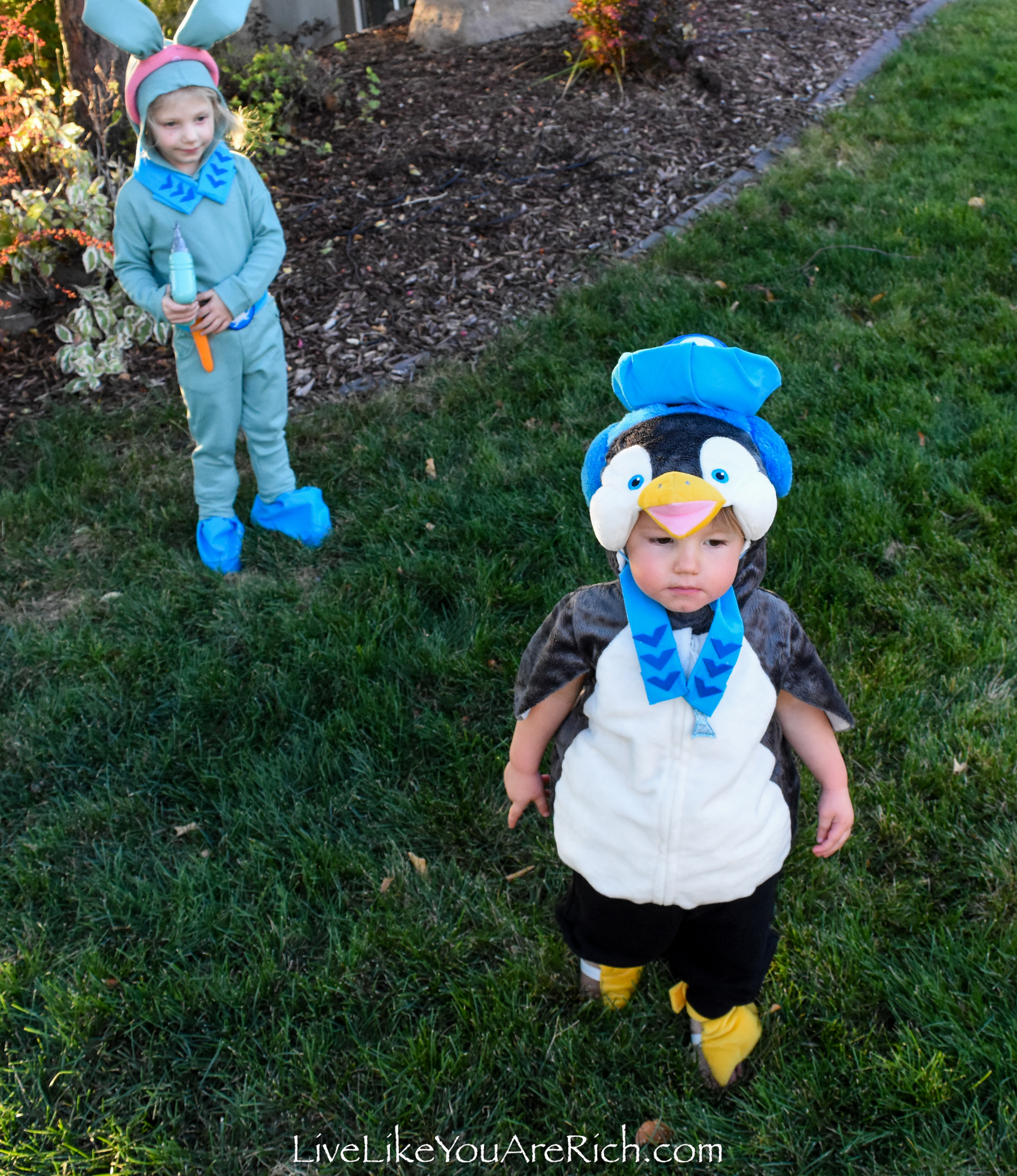 I'll be posting soon how to make this Peso costume this week.
That's all there is to making an Easy No Sew Tweak From Octonauts Costume.
If you have questions, feel free to leave them in the comments below.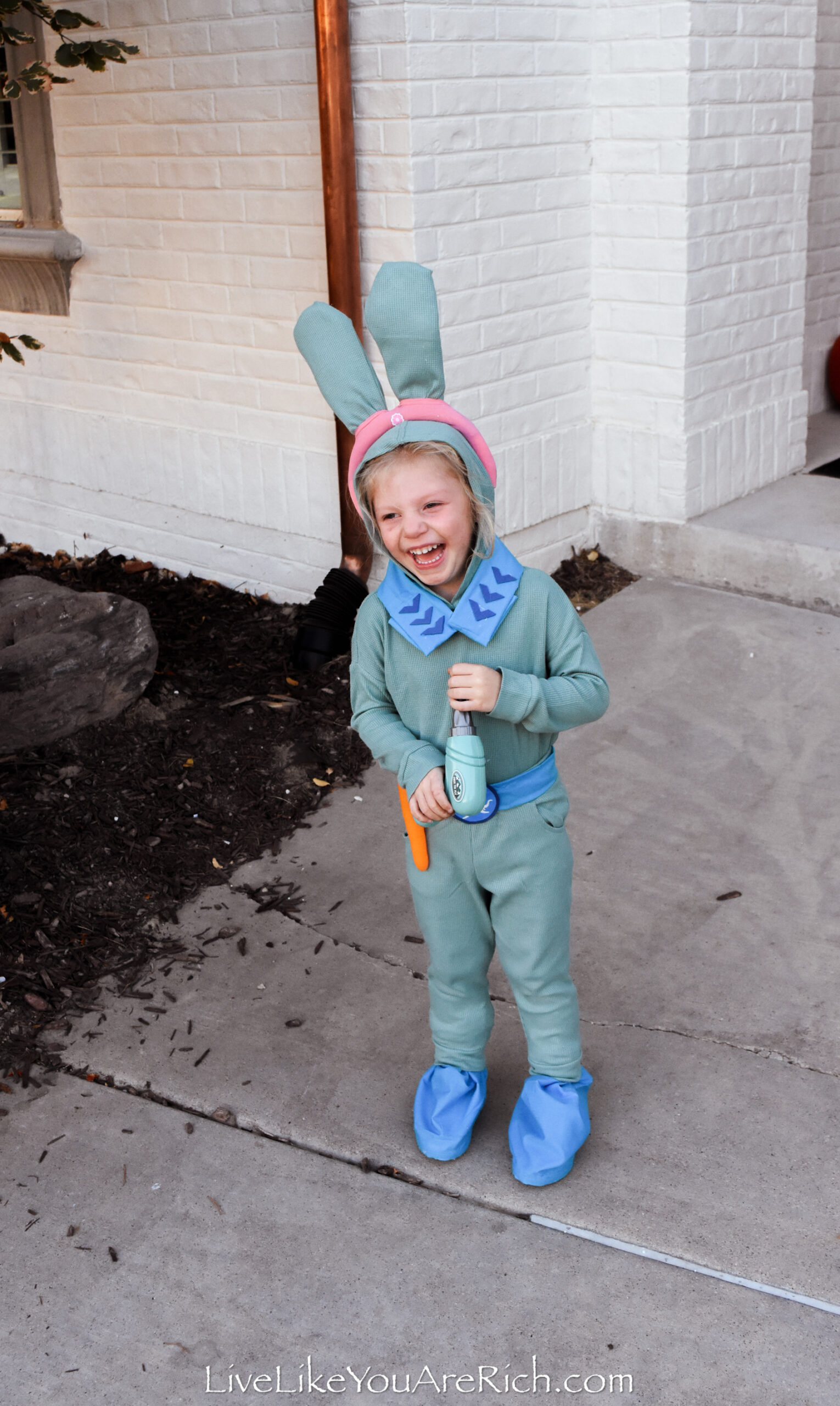 Check out Peso's costume here.

For other 'rich living' and D.I.Y. decor tips please subscribe, like me on Facebook, and follow me on Pinterest and Instagram.