How to Make a Nacho Libre Costume.
Making this Nacho Libre costume was pretty straightforward and for someone who can sew, it is very easy.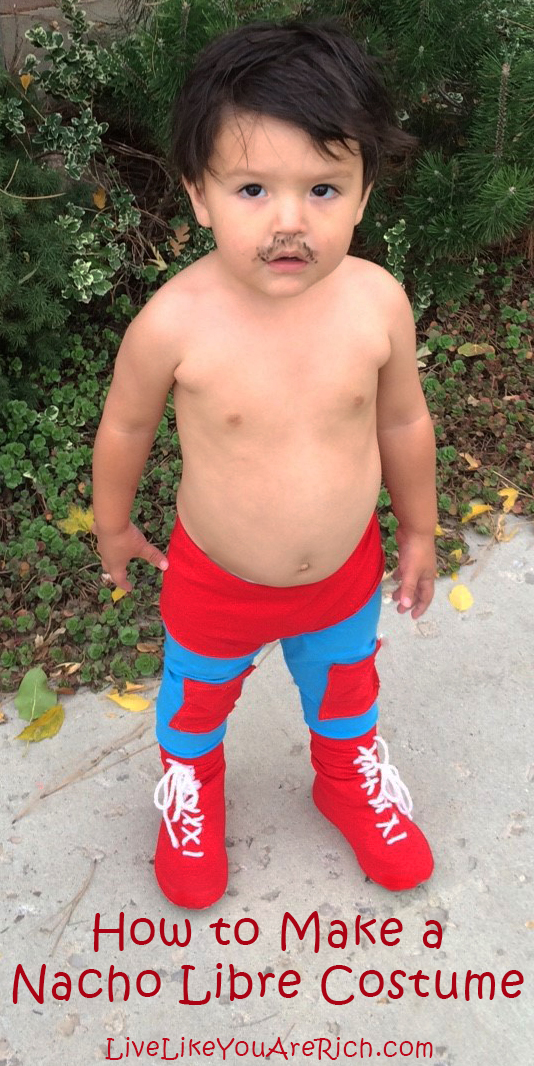 My son is such an active little dude. He doesn't stop moving, jumping, running around, etc. That said he is not even two years old so some of his 'moves' are a little funny to watch. One day I got the idea to dress up him as Nacho on "Nacho Libre" on Halloween. If you haven't seen the movie, I highly recommend it… but only if you like stupid humor like Napoleon Dynamite.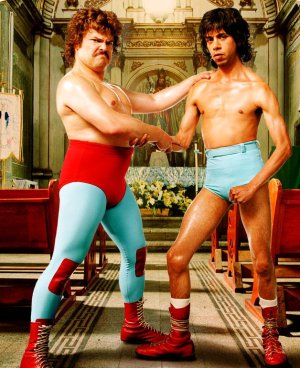 Here's how to make this Nacho Libre costume.
Supply List
What you will need:
You will need 1 pair of blue leggings, kids found here, adult found here
1 pair of red leggings (kids found here), adult found here
a sewing machine,
pencil or fabric chalk
a needle with a big eye-lit,
scissors
super glue or super glue gel (I used the gel)
brown makeup pencil (for mustache)
shoes (preferably converse-like style).
Optional,
you can order a nacho mask here,
and a curly wig,
you can also make or order a cape here.
NOTE: My son would not wear a cape. I tried multiple times. Because of this, I decided not to make one. I was also almost sure he wouldn't wear a wig either so I just put a bunch of moose in his hair and made it messy looking.
hot glue gun and sticks
Directions
Note- If you don't want to sew or do not have a sewing machine, this costume can be done using hot glue. Check out this no sew Tweak costume that is holding up really well despite everything being hot glued vs. sewn. I know this costume is easy enough to make into a no-sew one as well.
1. Have the person put on blue leggings or thick tights. Then have them put the red leggings over them. Mark with fabric chalk where the cuts should be made for the loin area. Cut but make sure to leave a little longer to be able to hem it up.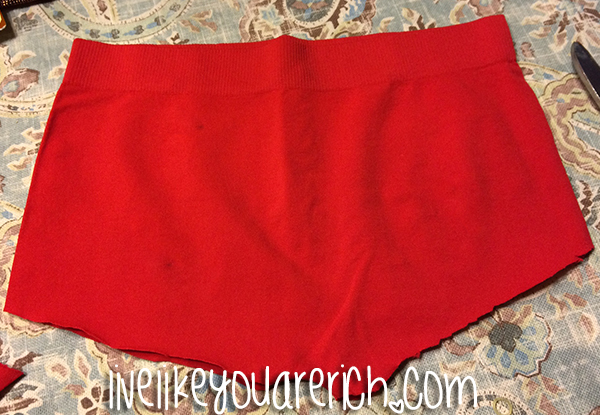 2. Next, turn the red diaper shape inside out and hem the edges with a sewing machine.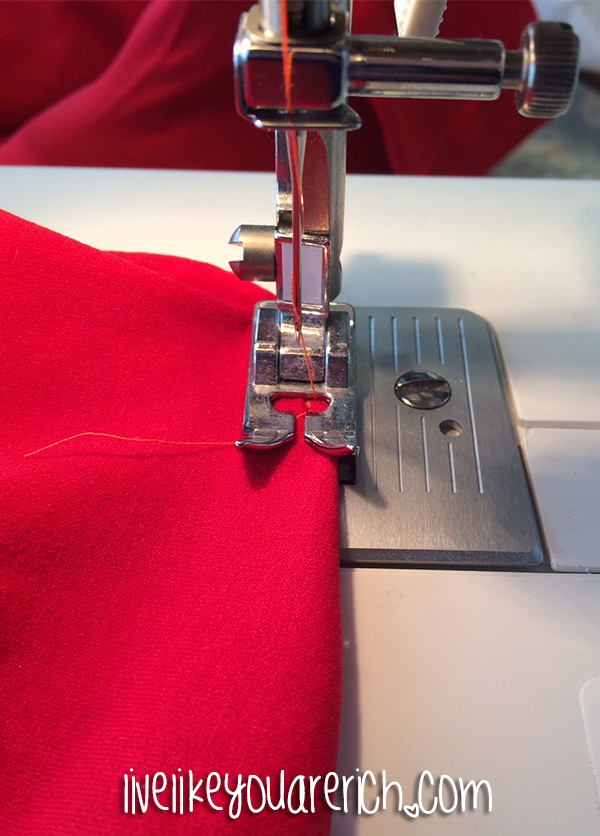 3. Have a person wear just the blue leggings and mark with fabric chalk or pencil wear knees are. This is for the red knee patches. Then do the next step before cutting out the knee patches.
4. It's important to do the shoes before doing the red knee patches so you have plenty of red legging material left to work with. So, for this step put the shoe inside the legging. Make sure the bottom of the legging (already hemmed part) is at the top above the shoe. Leave enough room for the legging to fall about mid-calf on the person.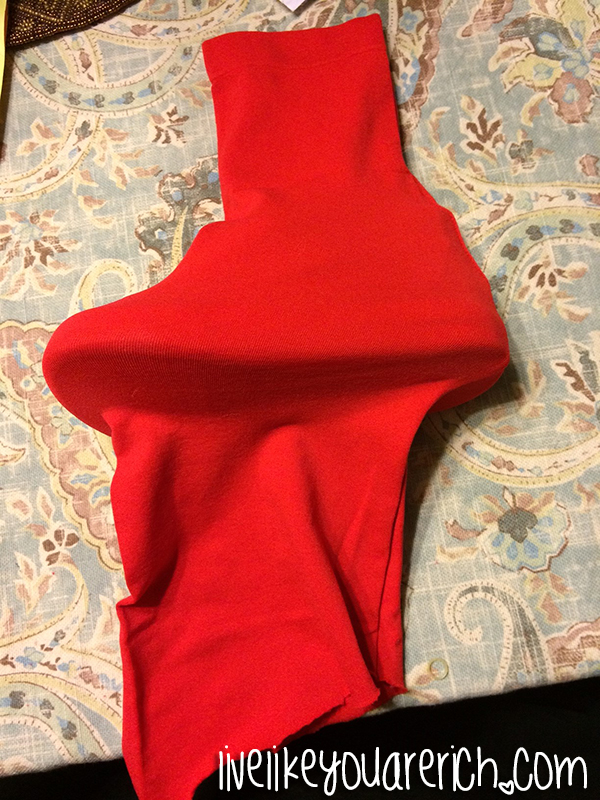 5. Next, cut the legging on the bottom of the shoe as shown below: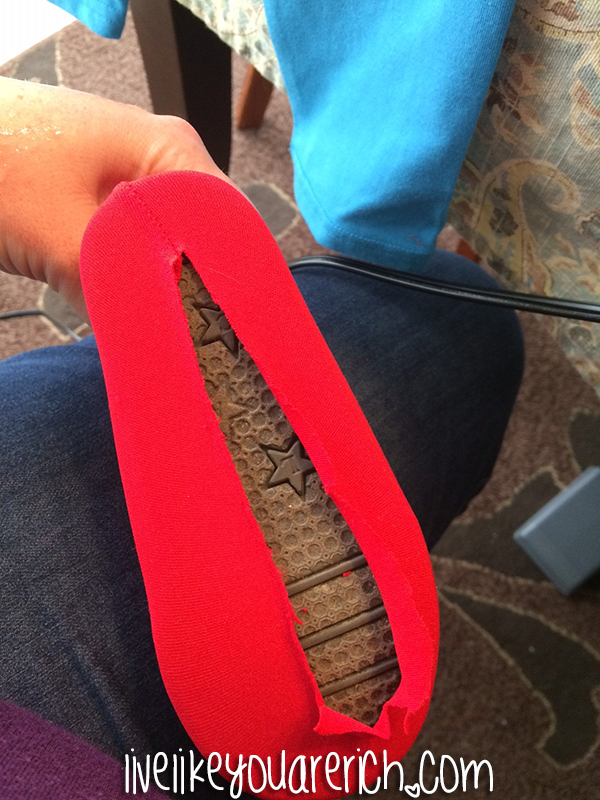 6. Now, fold the extra material under to form a nice edge and super glue (I like using the super glue gel) or hot glue the fabric to the shoe, just above the sole so the person still has traction from the shoe.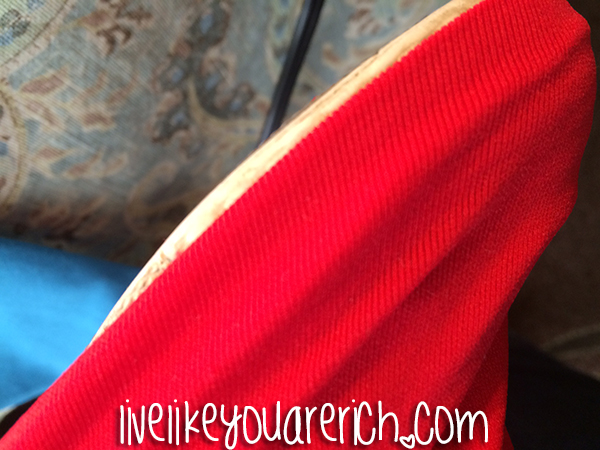 NOTE: I tried warm glue first and it would work well for a non-walker (a baby) but for anyone who walks, a warm/cool hot glue will not hold. You need to use super glue or high-quality hot glue.
I got these shoes for $3.00 at a thrift store so I wasn't worried about them. I'd recommend only using old shoes or shoes your child is about to outgrow.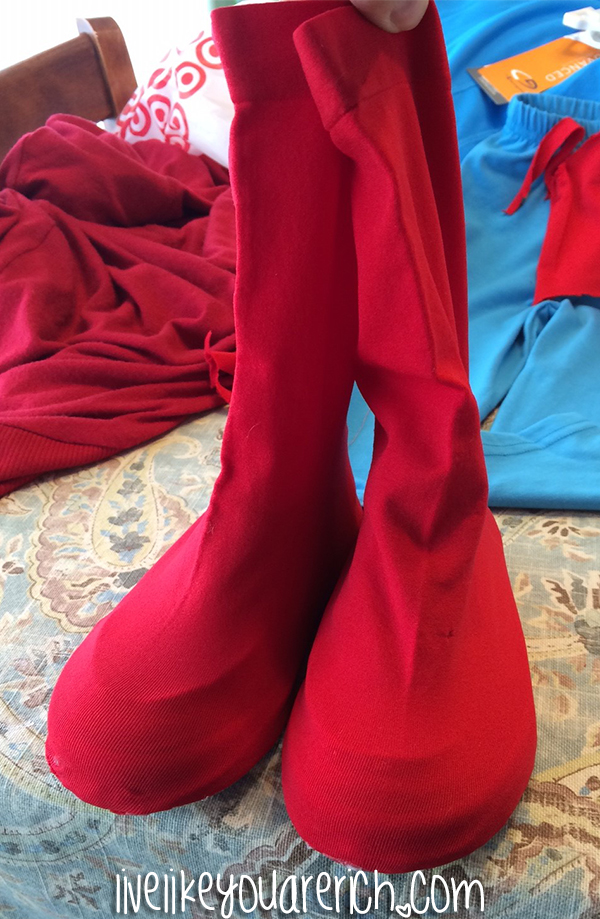 7. After you have the shoes and boot cover glued together, get white yarn or a white shoelace and a yarn needle (or a needle with a big eyelet) and lace the shoes with the laces or yarn. I used thick yarn because that is what I had on hand.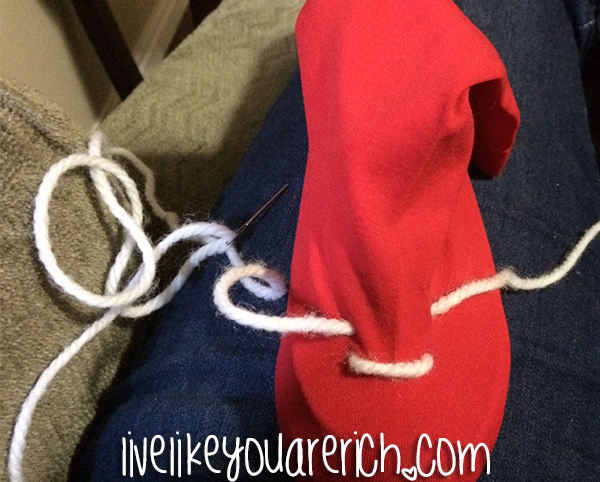 8. Now, with the leftover material from the red leggings, cut out rectangles that will fit over the knee area, making sure to leave room to sew the edges under and finish them with a sewing machine. Alternatively, you can use a hot glue gun to do this as well.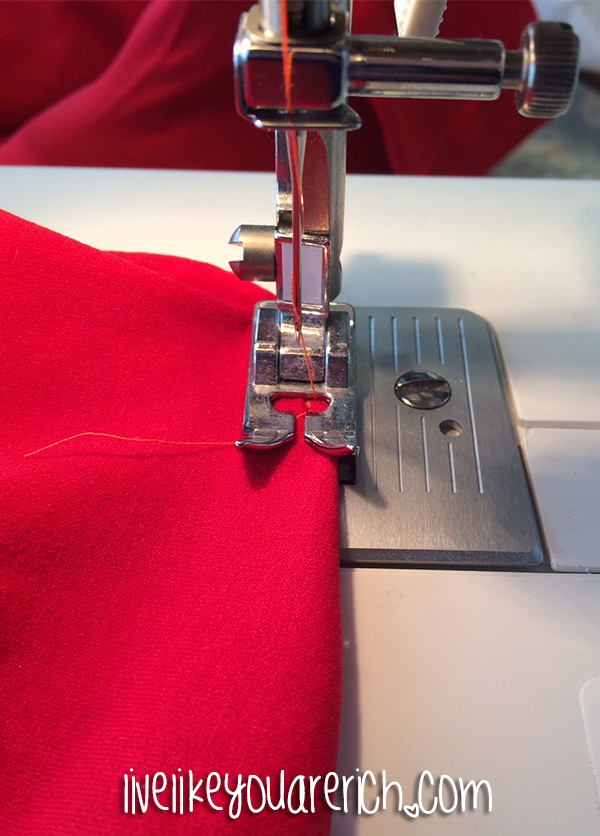 9. After you sew all four edges under on both knee patches you will either need to hand sew them onto the leggings… or you can break a bunch of sewing rules like me and sew them on with the machine by feeding the leggings under the presser foot as shown. You can also attach them using hot glue.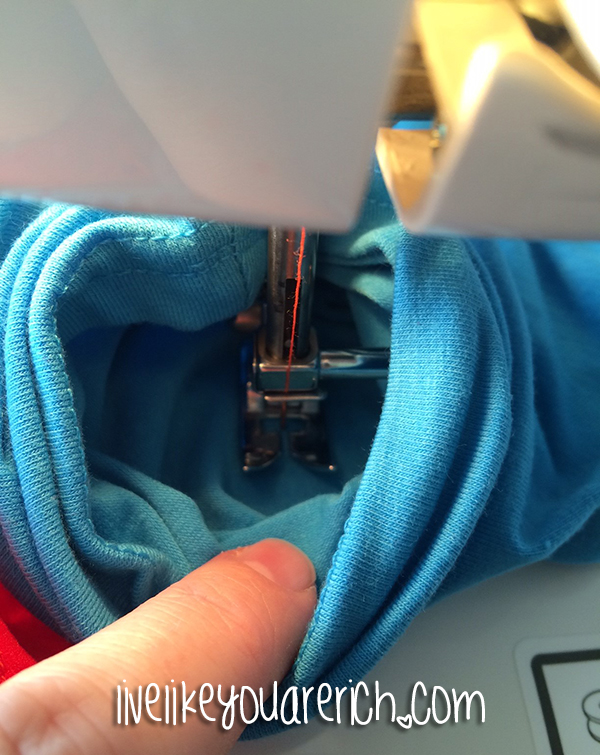 10. After you sew on one knee patch fold the pant in half and make a few marks so the other knee patch is at the same spot on the other legging and sew the other knee patch on.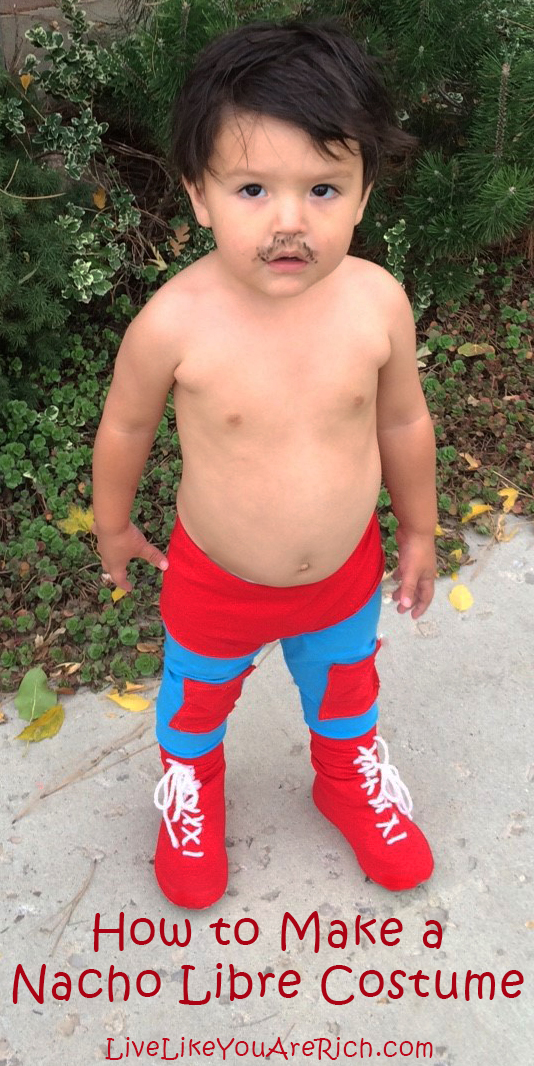 Put on all pieces of clothing, draw a mustache on and you are ready to go. To add more to the costume you can order this mask (there are kids and adult sizes), get a wig if desired, and this cape (adult and kid sizes) if desired.
Happy Halloween!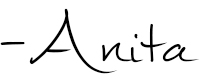 For other 'rich living' and D.I.Y. tips, please subscribe, like me on Facebook, and follow me on Pinterest and Instagram.