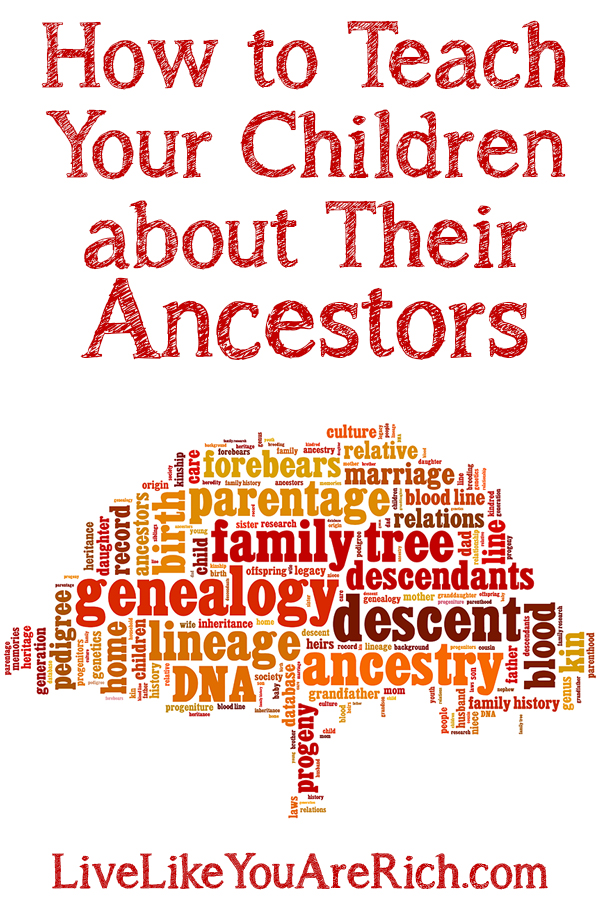 *Article written by Karen Jensen, my sister and co-author of our book Living a Rich Life as a Stay-at-Home Mom: How to Build a Successful Financial Foundation for You and Your Children.
My second grade daughter has been assigned to do a presentation on her family tree in school. She was asked to go back three generations – to her great grandparents. I have been really amazed at how much she-and I-have learned through this project.
We started out by printing pictures of each person on the family tree and then she wrote in the names and the dates. Since six of her eight great grandparents are deceased, she wasn't as familiar with their names as I thought she might be. After she completed the tree portion she had to find out one story and tell it to her class.
She chose to call my mother-in-law and ask her to tell her a story about when she was a little girl. I couldn't believe the story she told! She said when she was young she lived in a mining camp because her father was a miner.
She said her mother cooked for all the miners in the camp because she was the only wife living there. She said she remembered that whenever she used the outhouse there was a little bunny rabbit waiting there for her.
She also said in her free time she went out with her brother and collected tarantulas. (I have a very hard time picturing my mother-in-law holding massive spiders so I was pretty surprised). She said her mother would warm water on their wood stove and pour it in a tub so she could take a bath. She said at the end of the day she would hear the dynamite blast and that was her cue that her father was done for the day. She would go down the path and meet her father walking home from the mine.
What an eye opener that story was to me and my daughter! What a rough life people lived just a generation or two back! It really made us appreciate our indoor plumbing, electric stove, and hot water heater!
We happened to have a funeral in our family this last weekend and when we were at the cemetery I noticed my daughter reading the headstones. To my surprise she recognized the headstone of her great grandparents! She never would have been able to do that before this family tree project. She proceeded to gather her cousins around her and tell them that this was where their great grandparents were buried.
I then showed them a headstone of one of their great uncles as well. The rest of the time was spent with me walking around the cemetery with her, her brother, and her cousins, looking at headstones. I pointed out dates and showed them special things like those who served in wars, those who died as a child, or those who were born back in the 1800's.
They were all fascinated by the history and the things they learned. Even though they didn't know who the people were, they felt sympathy for those who lost young children or who died serving our country.
After her assignment was given there happened to be a family history fair event held in our local community. I was interested in it and I thought I could learn a little more about family history so I attended the event. Wow! There are so many resources out there for learning about your ancestors!
I learned about the website familysearch.org. They have over 3 billion records on the site with over 12 billion searchable names! They have been collecting records for over 100 years! I learned how you can attach records, stories, pictures, and even audio files to your ancestors.
My husband's family used a tape recorder to tape his grandmother speaking about each one of her children before she died. Through this website we can actually attach those audio files to her and to each of her children. That is really amazing!
There is another website I learned about called ancestry.com that also has a bunch of records to search. I have been playing around with each of these sites and just over the course of a few hours have learned a whole bunch about mine and my husband's ancestors. It actually gets kind of addicting, searching through the records and learning about when and where they lived, what they did for a living, how many children they had, etc. I feel like it is a very productive way to use my time at the computer.
Family history has become much more meaningful to our family in just the last month that my daughter received this assignment. I encourage everyone to do research on their own ancestors and I believe anyone can learn a lot about who they were and how their lives affected your life. Also, make sure you teach your children the things you learn.
They taught us at the family history event that it only takes a few generations for people to become just a name, a birth date, and a death date. Don't let this happen to your ancestors. Learn who they were, their stories, their struggles, and how what they did affected you. It will be a very rewarding experience!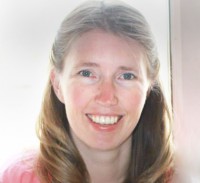 Karen Jensen is married to her best friend Jacob and stays at home with their three darling kids. Ever since she was young Karen has had a knack for finances. Throughout her childhood she often started up little money-making ventures that kept her and her younger siblings busy. She graduated with a Bachelor's of Science degree in Business Management with an emphasis in Entrepreneurship. After graduation she moved to Nevada where she successfully turned a financially failing company into a profitable business. She also started up and ran other businesses until she had her first baby at age thirty. At that time she sold her business and quit her full time job in order to stay at home with their children. Karen loves sports, especially water-skiing and biking. She is an avid journal writer and home re-modeler (she and her husband have remodeled four different homes that they have owned). She is a member of Marriot School of Management Las Vegas chapter, has given lectures in her local community on finances, and has an 800 point credit score. Further, her family, despite being young and living on a middle class income, has no debt besides their mortgage.
Thanks Karen!