Recently, with the frigid temperatures, 51 car pile ups, people stranded in gorges over night in sub zero temperatures, etc., it is more important than ever to be prepared! If you are traveling anywhere this winter you will want survival items with you. These 72 Hour Survival Kits may be useful not only for you, but for others as well.
I assembled our 72 hour kit and car emergency kit a few years ago, and so far we have used them over 20 times for important situations. I wrote about some of our experiences using these kits as well as how you can make one…As you will see the kits I created have been tested, tried, and proven! (Photos and Kit lists below.)
Many people have their kits in their homes. Yet, I thought long and hard about where I wanted our kits. We live on a fault line and the most threatening event that could happen would be a large earthquake. Unlike many other natural disasters, there are no warning signs for earthquakes, so having the 72 hour kit near at hand would be virtually impossible. So I keep ours in the car.
When I set out to make our kit I had no idea it was going to benefit so many other people, not just my family, and that I would be using the kit multiple times to help others in cases where there was no natural disaster.
We have also had a few instances (not really emergencies) but times when we needed some cash (all we had on us were credit, debit cards, and/or checks) and we were able to pull the cash out of the 72 hour kit. Once we forgot the diaper wipes (heaven forbid) and were able to use the 72 hr kit wipes.
What I have come to realize is that our kits are also a convenience kit, a save money kit, a save yourself time kit, a help others kit and most importantly a survival kit.
Here are 8 guidelines when making a kit.
#1- Get a durable bag that will hold the weight of the kit (preferably something you can strap to your back and carry a long distance if you need to).
#2- Set a time once a year (a date you will remember) to look through the kit, replace expiring items, check batteries, and update any documents you have.
#3- Change out the clothing if you lose or gain weight.
#4- Add more food and items as you need to keep up with the growth of your family. Replace anything you use.
#5- Customize the kit to your needs. If you are always hiking you may want to have a snake bite kit in your 72 hour kits. A snake bite kit is not necessary for most city dwellers but if you have specific personal issues or are often in abnormal situations take those into account. For example, if there are medications you will need, inhaler, insulin, etc. you should make sure you have current unexpired extras with you in case of emergency.
#6- My experience after all the research I have done is that people want to make a 72 hour kit but keep it as small as possible. They cut out things that may be necessary because they don't want the kit to be bulky. If you need to, get a bigger bag or just use two bags. I like to go by this saying, "It is better to have and not need, than to need and not have." And that is especially true when an emergency arises.
#7- Use Ziploc bags and put anything that could break, leak, melt, etc. in them.
#8-Provide a backpack or portable container that each member of the family can carry in case you get separated.
List of Contents of 72 Survival Kit ( I used SEVERAL lists, my own thoughts, and YouTube videos as my resources).
Water for 72 hours (experts recommend 1 gallon per person per day).
Food for 72 hours per person. The food should be nonperishable items that do not need to be cooked. You may also want to pack utensils, can openers, plates etc. Here is a video on how to open a can without a can opener or knife and will prove very helpful to know how to do this in an emergency.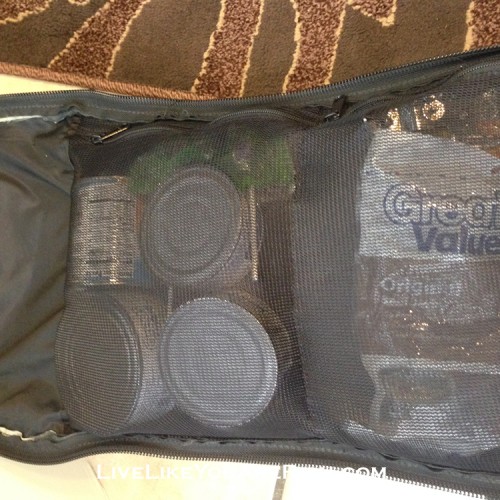 Clothes and shoes for each person. Warm clothes can be modified by ripping them. So I packed sweats, 1 T-Shirt, heavy sweat shirts, 1 pair of underclothes, socks, and shoes.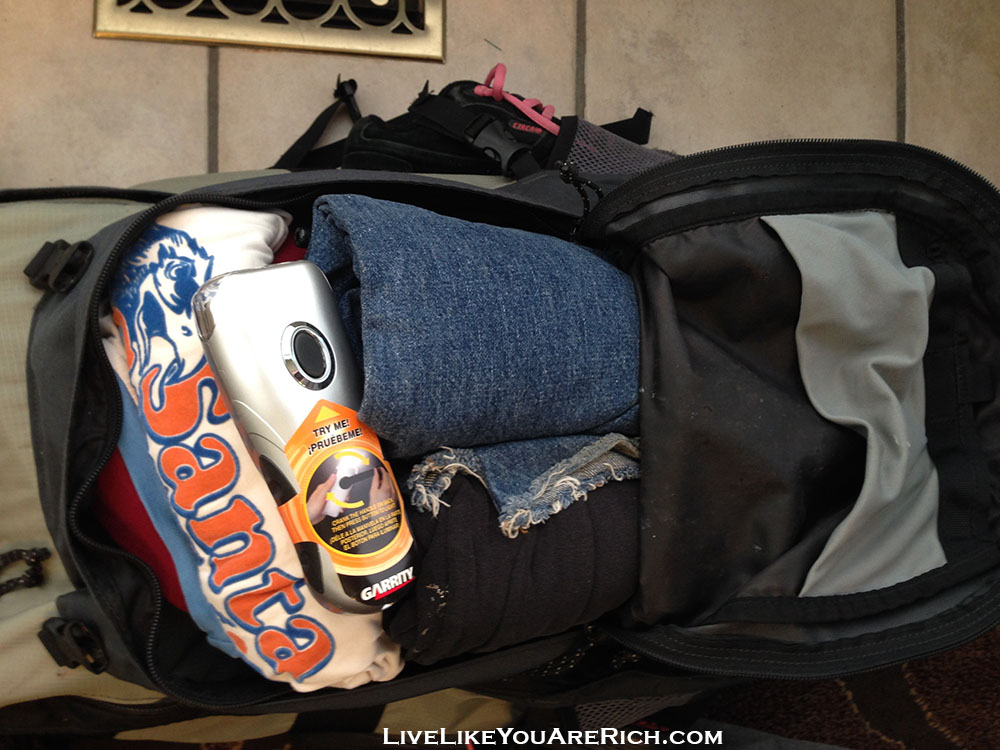 Change (at least $3.00 in quarters and small change in case you are stranded without a powered cell phone).

A Water-Tight container that contains the following items that need to stay dry: (the following items cash through flashlight should be in the water-tight container and anything else that could be damaged by water)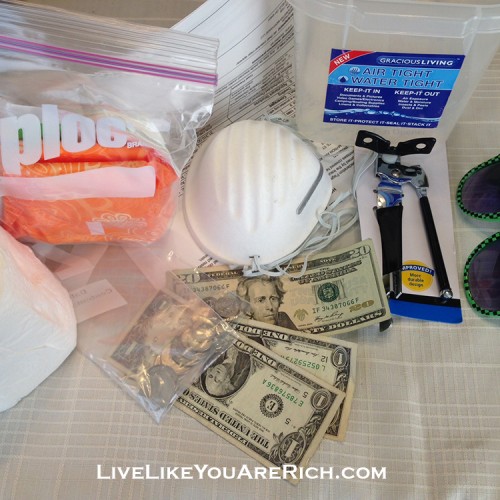 Cash (We keep about $20-$30 but you may want to have slightly more than that).

A list of multiple cell phone and landline numbers. Even if you have a few numbers memorized write them down and keep them in a water tight container, just in case you can't reach the people whose numbers you remember or if you suffer any trauma you may forget.

Small scriptures or inspirational small book. Kids entertainment is also important. Pack a deck of cards or perhaps a sticker book or something that will help them stay occupied.

Cell phone charger

Photo copies of important documents. Passport, Birth certificates, Medical history list, Health, Home and Car Insurance information, etc.

First Aid manual

Pen or pencil

Water proof matches

Flashlight-

We have a crank flash light so that we don't need to worry about batteries. If you have a battery powered one make sure to pack extra batteries and replace each year.

Work gloves

Pepper spray/bear spray

Plastic sheeting and Duct tape to make a shelter

Ear Plugs

Lip Balm

Heat blanket

Hand warmers

Whistle

small mirror to signal an aircraft and perhaps starting a fire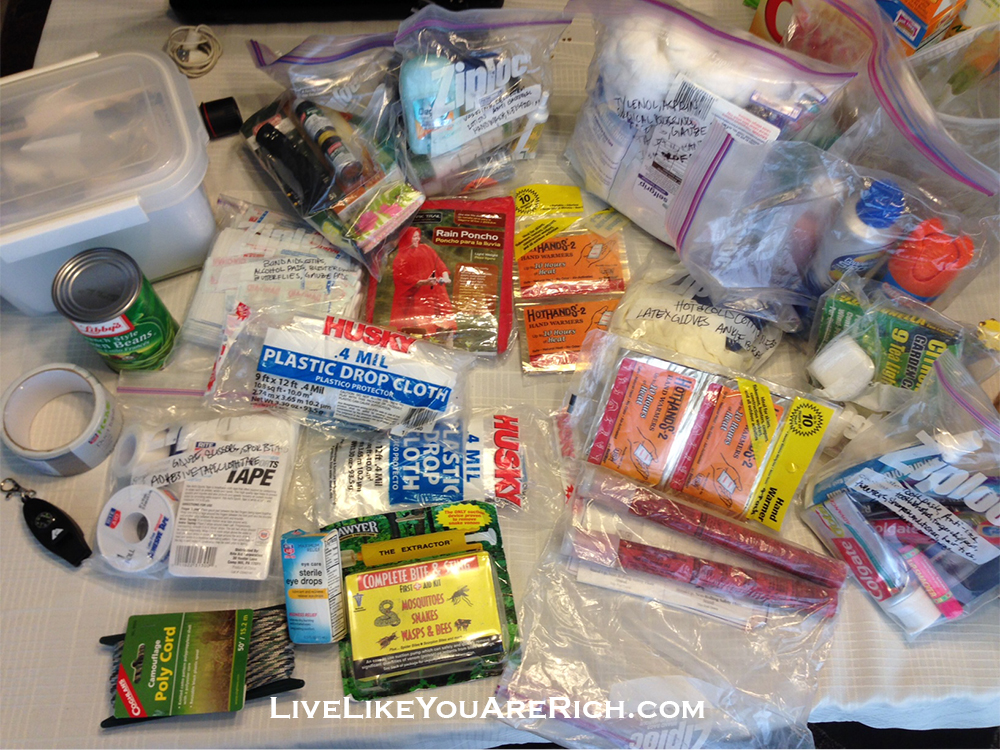 Real Blanket- we put this on top of our 72 hour kit in the car.

Baby wipes/moist towelettes

Dust masks

Sunglasses

Water sanitation drops or bleach

Knife

Twine/rope

Compass

Feminine supplies

Sunscreen

Medications

Bayer aspirin

Tylenol

Rain poncho

Bug repellent

Toilet paper

Razors

Hygiene needs: small shampoo, soap, hand sanitizer, toothbrush and toothpaste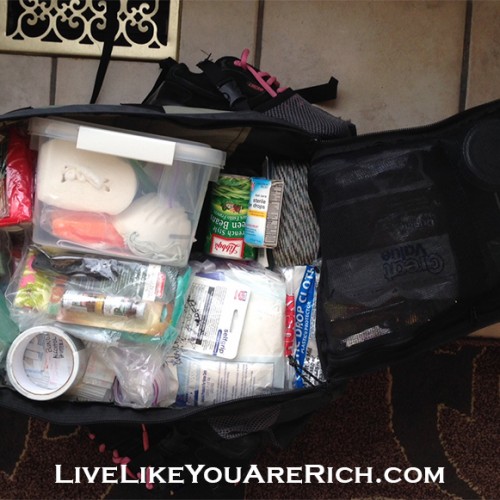 First Aid Kit containing the following:
Two pairs of Latex or other sterile gloves if you are allergic to Latex

Sterile dressings to stop bleeding

Cleansing agent/soap and antibiotic towelettes

Antibiotic ointment

Burn ointment

Anti-itch cream

Rubbing alcohol

Adhesive bandages in a variety of sizes

Eye wash solution to flush the eyes or as general decontaminate

Thermometer

Cotton balls and/or Q-tips

Scissors

Tweezers

Tube of petroleum jelly or other lubricant

Hot/cold packs
Extra Needs
For Baby: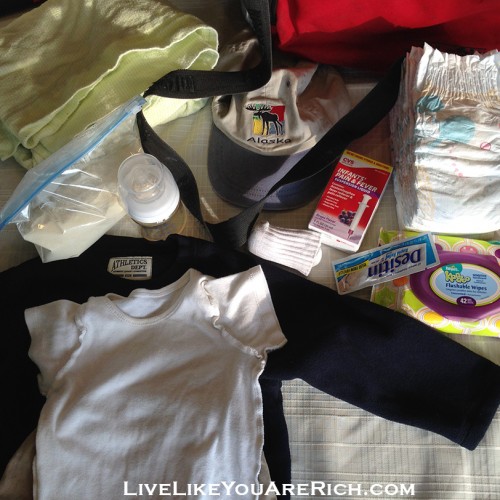 Diapers

Bottles

Powdered milk/Formula

Medications

Moist towelettes

Diaper rash ointment

Change of clothes
Blanket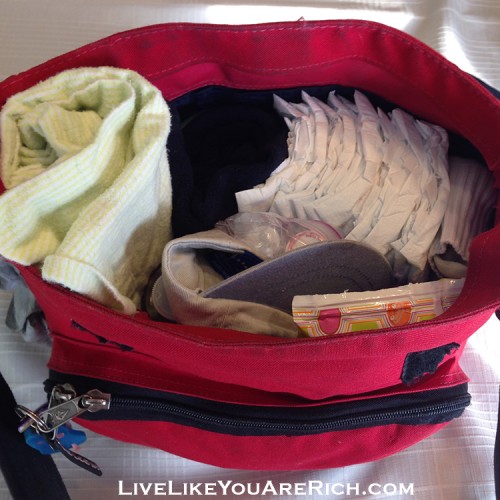 For Elderly:
Denture cream

Extra eyeglasses
Car Emergency Kit: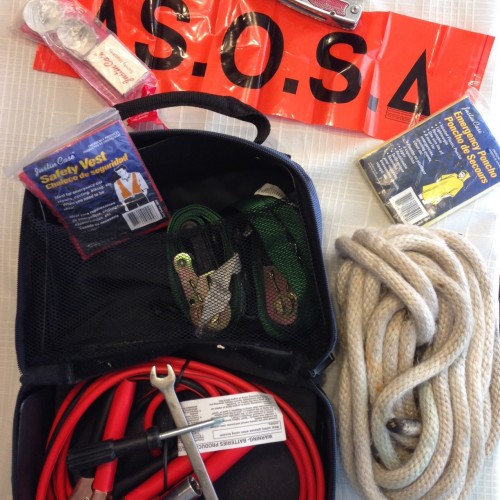 Tools

Cable Ties (zip ties)

Wrench for lug nuts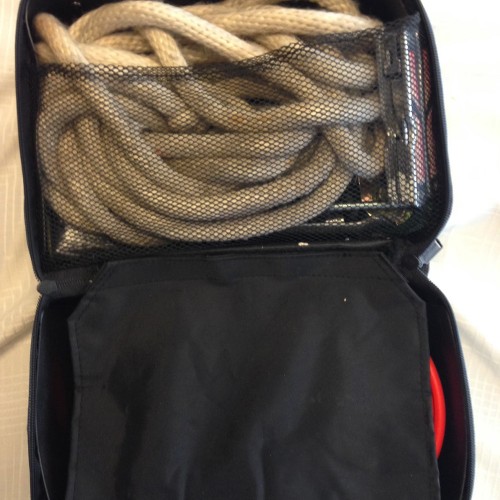 Socket for lug nuts (especially if you have special lug nuts that need a specific socket).

Warning Triangle

Car Jack (usually this is in the car already) But check to make sure.

Reflective tape, vest or bright colored shirt.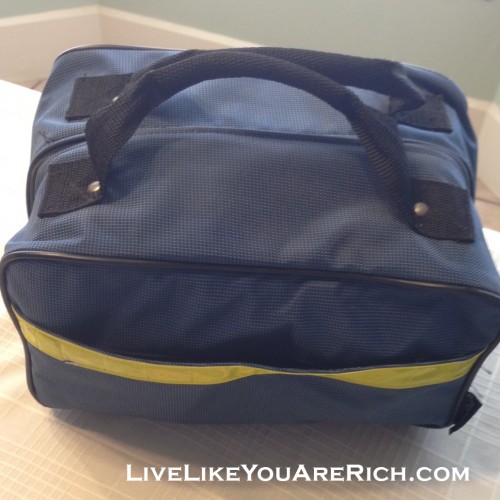 All three kits stay in my personal car: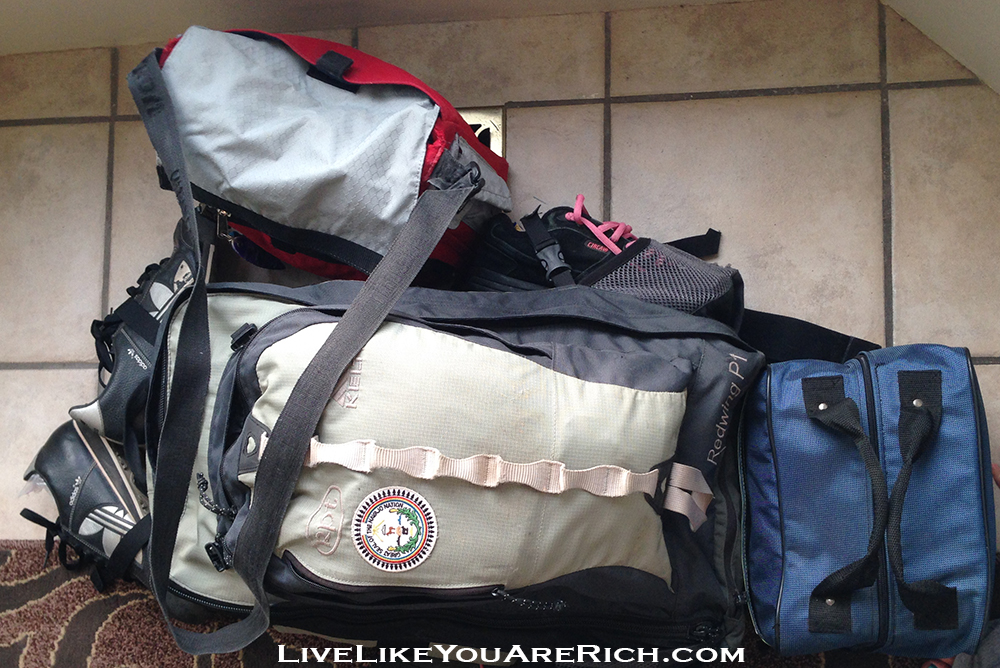 And even in a small sedan the kits + the water leave quite a bit of room in the trunk.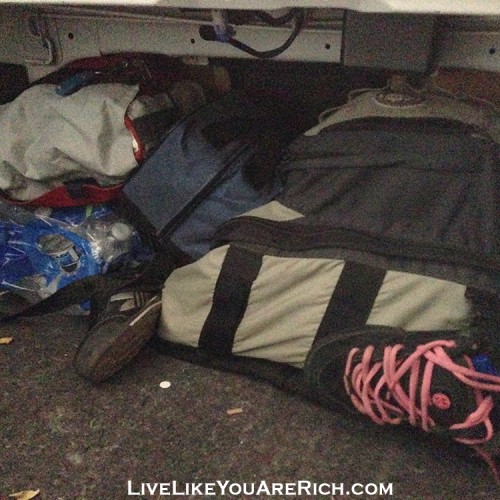 At home you will want to have the following ready for 72 hours:
Free Download: List of Contents of 72 Survival Kit
These don't have to be expensive: I gathered coupons, watched for sales. I used two of our heaviest duty bags that would work as backpacks in case we had to leave our vehicle and began assembling them. I was able to get many of the things in the kit around our house or for .99 cents each or less at Walmart, Dollar Tree, Target, etc. Some things you will need to spend some money on. I.E. Knife, Tow Rope, flares, etc. But, if you shop smart you will not need to dish out a fortune for these kits. Being frugal and using items you have around the house, each kit will require an investment of about $40.00-$70.00 + any cash you put into to for emergencies.
If I have forgotten anything, I'd love to hear it and add it to the list. Please comment below if I missed something.
I like to keep these two quotes in mind as I am thinking about preparedness:
"It is better to have and not need than to need and not have."
"If you fail to prepare you prepare to fail."
I hope these kits prove themselves useful for you, your family, and even people you meet who need assistance like they have for us.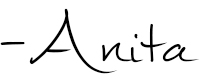 For other 'rich living' tips and preparedness tips please subscribe, like me on Facebook, and follow me on Pinterest and Instagram.