Being the frugal gal I am, it is rare for me to have a centerpiece full of fresh flowers and real cranberries.
Yet, I couldn't pass up the opportunity when I realized this arrangement would cost me $2.50. ($4.50 if I had to buy the vase and dish, which I didn't) and it only took me 10 minutes to make. Inexpensive, Beautiful, and Fast… can't beat that.
Follow these very easy steps if you would like to make one as well.
I bought one bunch of a few-day-old-flowers in an arrangement for $2.00 at Smith's.
I had the vase but it came from Dollar Tree for $1.00
I got the cranberries on sale with a coupon for .50 cents.
and finally, the crystal dish came from a thrift store for $1.00.
Totaling a whopping $4.50… but if you already have a vase and a dish (as I did), you could make it for around $2.50.
These are the steps I took:
1. Arrange the flowers in a vase the way you like them.
2. Fill the vase up 1/3 to 1/2 full of water.
3. Lift up flowers completely out of the vase holding in one hand and pour 3/4 bag of cranberries in the water with the other hand.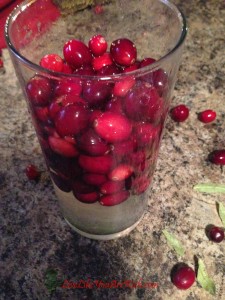 4. Carefully put the flowers back into the vase slowly and allow the cranberries to work their way around and in between the flower stems.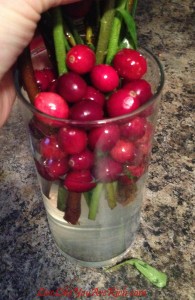 5. Add the remaining cranberries to a dish to cover up the base of the bottom of the vase (no matter how hard I tried I couldn't get cranberries to the very bottom so I added the dish and cranberries on the outside to complete the look). Then if desired, place a few cranberries around the dish/vase on the table.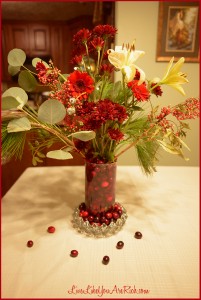 Enjoy,

For other 'rich living tips' please subscribe, like me on Facebook, and follow me on Pinterest and Instagram.