A lot of families consider traveling to be too expensive for them. Mention the words "Disney World," and most scoff at the idea of ever being able to take their family there. It isn't going to be cheap, but planning and budgeting for such a vacation can make it attainable! Besides booking with my friends over at Get Away Today (they are a great resource for finding the best deals at Disney World), here are an additional 9 top tips for saving money at Disney World: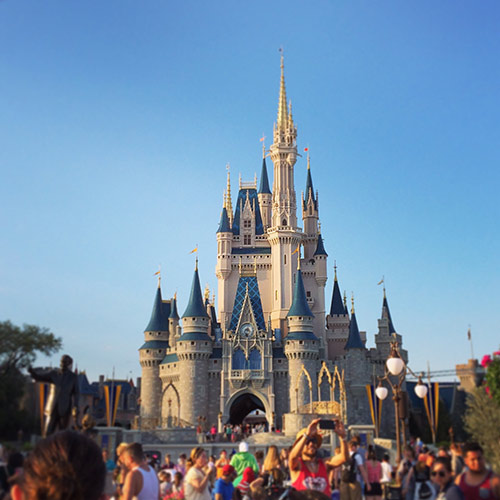 Book in advance.


It is always better to book sooner rather than later, especially when it comes to Disney World. If you wait to book closer to your travel dates, you run the risk of losing availability, which causes the prices to rise. I suggest booking early and making sure you can make changes to your package. That way if an offer is released after you have booked, you may be able to add it to your existing reservation and save some extra money. Plus, when you book early with a deposit, you have more time and motivation to save and pay for the vacation!

Bundle tickets and hotel.


Disney World tickets are some of the hardest tickets to find discounts for. The best deals are normally found when you package the tickets with a hotel. Sometimes you can even find packages that include airfare and other features at a great cost as well.

Book on property.


A lot of people think booking on property is counter-intuitive to saving money at Disney World, but it really isn't. Booking on property comes with so many great benefits that make it worth the money!

First, you get free transportation to and from the airport, which can save your family a couple of hundred dollars on a car rental right off the bat. You also get free transportation to and from all of the Disney parks and your hotel. If you do end up renting a car, you will enjoy free parking at your hotel. By taking advantage of parking and transportation benefits of booking on property you are saving into the hundreds.

Second, you get extra magic hours. The extra magic hours at Disney World are much better than the Disneyland magic hour. Not only do you get an hour early in one park, but another park will also have extended hours for one or two hours after they close. And the only way to get it is to stay at a Disney hotel!


Another benefit is that you get a Magic Band included for each guest when you book a Disney property and tickets. A Magic Band is the new wrist band that holds your tickets, room key, and can hold your credit card as well if needed. If you want one but aren't staying at a Disney hotel, you'll pay at least $13 per person. The benefits of staying on property are substantial. Also, be sure to check out the Disney value hotels. They are cheap, but still really nice.

If you decide to stay off property, make sure to look for a hotel that has a shuttle to the parks or free parking at the hotel to avoid those charges.

Watch for the free dining plan offer.


When you book on property, you can add on the Disney Dining Plan that pre-pays for your food. Two of the options even include character dining within their plans! The worth of this is often debated, but it is a no-brainer when you can get it for free. Disney World likes to offer the plan each year, usually on select dates September – November, although it has happened in January and February as well. When you book a value property, you get the Quick Service Dining Plan and when you book a moderate or deluxe property, you get the Regular Dining Plan for free. This is a great offer and one that always sells out within a week of being released!

Pre-purchase Disney souvenirs.


Inexpensive souvenirs within the Disney World parks are hard to find. One tip is to search your local stores for Disney merchandise or find Disney Souvenirs here on Amazon. Then surprise your kids with them on your vacation. Most dollar stores or big chain stores carry Disney themed items at a fraction of the cost and your kids won't know the difference!

You can also keep an eye out for free souvenirs within the parks. Epcot offers all kinds of art projects within its "Around the World" exhibit for kids. It's a great way to spend some time if you are waiting for a Fastpass, plus the kids have something else to take home!

Plan a budget ahead of time.


This is one of the most important parts of saving money on a Disney World trip. Make sure to create a budget for souvenirs, food, activities, etc. before you go. That way, especially if you have your credit card linked to your Magic Band, you have a plan to follow and won't overspend like you would without a planned budget. It's important to remember that your family is going to remember the memories more than they remember an over-priced toy. Don't feel bad about limiting souvenirs, treats, and other park purchases. Your family is in Disney World and will have the time of their lives!

Share meals.


This is a great idea for families not using the dining plan and any with smaller children. Disney World food is absolutely amazing, and almost all of their menu items have so much food! You can save so much money just by splitting meals between your kids instead of paying for two separate meals that don't get finished.

You may be able to pack a lunch in a cooler and eat it outside the park together as well.

Pre-purchase the Memory Maker.


This is one extra that is truly worth it. The Memory Maker includes downloads of all the pictures taken by the Photo Pass cast members within the parks, plus all the pictures that are taken on the rides as well. The best part is that those downloads are unlimited and you have the option to add borders and other special effects for no extra cost. By buying it in advance, you save about $20. If you have more than one family or multiple rooms traveling at the same time, it can be shared between parties so you'll save even more by splitting the cost.


Compare ticket options.


While some people love the Park Hopper ticket option (being able to go to multiple parks in one day), others prefer the Base ticket option (only being able to visit one park each day). There isn't much of a price difference between the two options when you are doing longer length tickets like six to eight days. But, the cost difference can be significant if you are doing shorter tickets like two or three day stays. Think about your family and how likely you are to visit more than one park in one day, keeping in mind that the parks are much more spread out than in Disneyland. If you want to have the ultimate flexibility, then the Park Hopper is for you! But if you know that your family isn't going to want to travel to more than one park, the Base ticket is a better option for saving some money.
Traveling doesn't have to be expensive and hopefully, these tips will help you plan your next family vacation to Disney World. Make sure to visit Get Away Today or give them a call at 855-GET-AWAY. I'd love it if you let them know that you heard about them from me (Live Like You Are Rich). Their vacation experts can find the best deal for you and help you get the most out of your Disney World vacation!

For other 'rich living' tips, please subscribe, like LiveLikeYouAreRich on Facebook, and follow on Pinterest.