Universal Studios Orlando in 1 Day—How to Get your Must-Do's done in one day in the park without paying for a fast pass.
At 1 p.m. at Universal Studios Orlando, Florida my daughter and I had done everything on our must-do list. This allowed us 8 hours of extra time to re-ride rides, ride other rides we weren't planning on, and have two sit-down meals. This was at the beginning of August with no fast pass!
We did not expect this to happen. I watched a lot of YouTube videos and read a lot and almost everything I read was about how you have to buy a multi-day pass—especially in the summer to do all of the Harry Potter attractions and more.
We did not have enough days in Florida to go to Universal Studios for more than one day… nor did we have it in our budget as my other kids wanted to do SeaWorld, Gatorland, and Busche Gardens, and I wanted to swim with manatees…
So we decided we would get as much done in one day as we could.
In the end, we were able to do everything on our long "must-do" list and more. Plus, the park shut down for a few hours when it was raining.
We had a blast!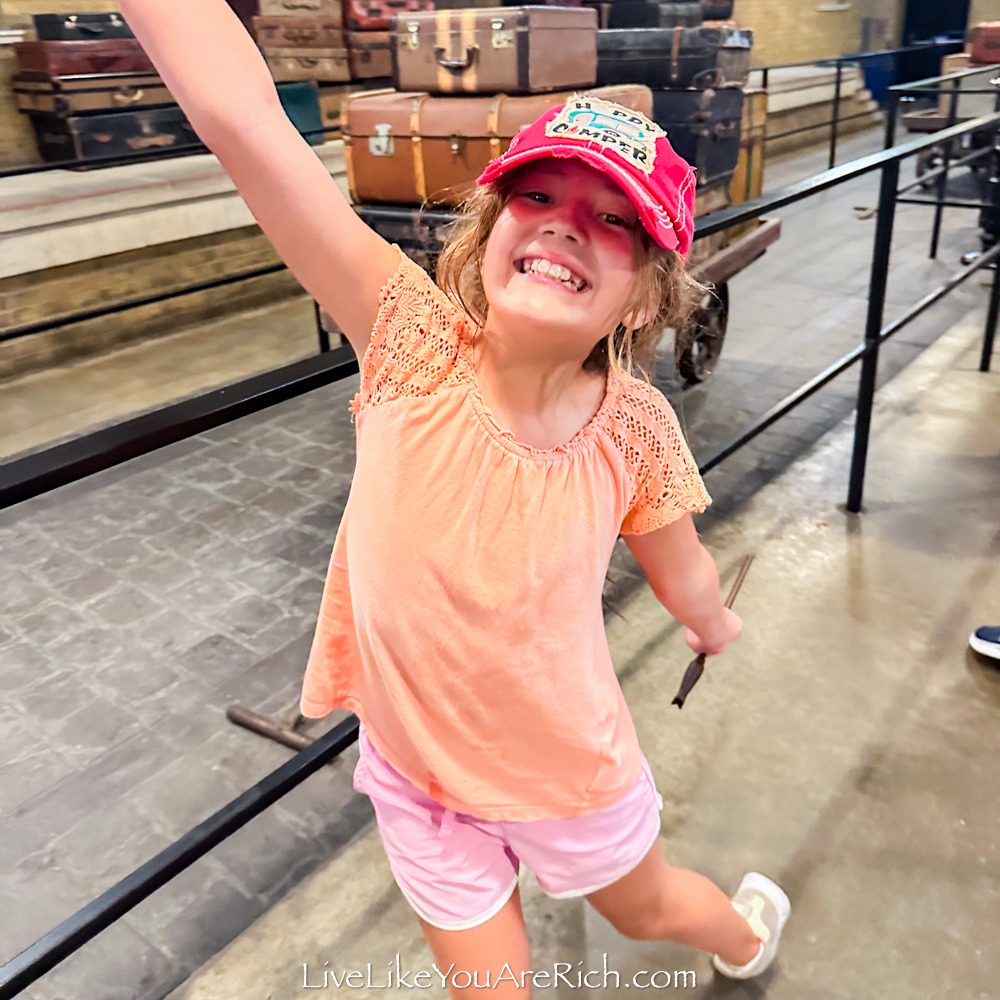 What we did in 1 day at Universal Studios Florida in August without a Fast Pass:
Flight of Hagrid 1x
Harry Potter and the Forbidden Journey 2xs
Flight of the Hippogriff 4xs
Velocicoaster 1x
Hogwarts Express 2xs
Harry Potter and the Escape from Gringotts
Despicable Me Minion Mayhem 1x
Villian-Con: Minion 1x
Jurassic Park River Adventure 3xs
Camp Jurrasic 1x
Pteranodon Flyers 1x
Olivanders Wand Ceremony 1x
Tale of Three Brothers Beedle the Bard Puppet show 1x
Gringott's Money Exchange 1x
All of the wand interactive sites 1x-5xs each
Brunch at the Leaky Cauldron 1x
Call to Ministry of Magic in The Phone Booth 1x
Visit Nightbus 1x
Dinner at The Three Broomsticks 1x
Dr. Suess Train 1x
and we visited many shops and took a few rests.
Here's how we did all of this in 1 day without a fast pass…
#1- You need to buy a Universal Studios ticket that has Early Admission built-in as a perk.
You do not have to stay at a hotel on site or pay extra for this perk. You just buy the ticket (often cheaper than on the official site) from a vendor that has an arrangement with Universal to offer buyers early admission as part of their ticket…
I can't stress enough how arriving early enabled us to do everything we wanted to do.
We did not have to pay extra either. We just bought tickets off of the website Park Prodigy (and you automatically get one-hour early admission—so long as Universal is opening early that day).
There are some other blogs and websites that also have early admission built into their referral program with Universal Studios buying their tickets works too.
Just be sure it is a reputable site that has early admission built into the ticket.
This was my receipt from theparkprodigy email for August. It was $10.00 cheaper than ordering on Universal's site and it had early admission, unlike Universal's tickets for the non-hotel-stay buyer.

#2- Try to choose a weekday and a sunny day that has a low chance of rain in the forecast.
Since we were spending $570 for the two of us (find the breakdown of costs below), we chose to go on a weekday.
We also looked at the forecast and chose the day we'd be in Florida that had the least percentage/chance of rain.
Even then, the park did eventually get really busy and the rides did shut down for about two hours when there were thunder showers.
So, even with a rain shutdown and a busy summer day, you can still get your must-do list done in 1 day at Universal Florida.
#3- Buy a Park-to-Park Ticket.
If you are trying to do it all in one day—especially the Harry Potter attractions, you'll need a park-to-park ticket.
They are more expensive but they do allow you to accomplish it all in one day and to go back and forth between the parks faster and more easily. Plus, the train is fun to ride.
#4- Get there early!
I have four kids, however, for Universal Studios Day I just took my daughter (she earned the ticket) and the other three kids hung out at the pool at our Airbnb with Shane.
My son opted to earn a ticket to Gatorland and my husband doesn't love parks, so everyone was happy with this arrangement and I got one-on-one time with my two older kids at different attractions. It was fantastic.
Anyway, my daughter and I got up around 6:15 AM and got to the park at 6:45 AM—the recommended time for early entry is to get there about 45 minutes before the park opens… We were the first car in line and parked on the front row of standard parking when they opened up the parking lot at 7:15 AM.
On the 15-minute walk to the turnstiles, we stopped to take photos of things along the way to the gate, and by then others had passed us up.
However, we still were about the 10th in line at our turnstile and inside the Islands of Adventure about 2 minutes after it opened (8:02 AM for us in August).
IMPORTANT NOTE- Only one park opens early so be sure you are at the right one!

#5- Download the Universal App so you can see wait times on rides, order food, etc.
The app helps to know ride and wait times. The app provides you with a map of the park, the ability to order food, and more.
What to Take with You.
The top things to take (at least for me) are a cell phone, a small backpack/bag that will fit into the small free lockers with a few non-meltable/non-chocolate
Cliff or granola bars
,
collapsible water cups
so you can get water and share a butter beer,
sunscreen
, credit card, a hat, and really, really good walking shoes.
#6- Get on Hagrid's Flight, VelociCoaster, or your favorite ride that opens early first.
Not every ride is open early. However, a lot of the newer and more popular ones do open early.
Hagrid's and VelociCoaster are newer rides and so are the busiest and from what I have read they are usually open early. Universal's website will indicate which rides are open early.
My daughter and I wanted to do mostly Harry Potter stuff and we did not want to have to wait in long lines. We b-lined it straight to Hagrid's and walked on—it was awesome!
It turns out that this was a wise decision (to ride Hagrid's first) as later that day the wait was 3 hours long and at one point in the day ~5 PM, the ride stopped for the rest of the day.
We counted ourselves lucky that we got to ride it.
#4- Go to Olivander's wand ceremony before the park opens to the general public.
After Hagrid's, ~8:15, we went to the Harry Potter Hogwarts ride wasn't open yet so we went to Olivander's. Sometimes rides will say they will open early and they weren't open all that early. So, be open to switching around your itinerary. Just make sure to make the most of the early admission hour.
My daughter really wanted an interactive wand and wanted to see the play-act. There was no line and only 4 kids in the presentation. I enjoyed the wand ceremony/presentation a lot—even if you aren't buying a wand I felt like the performance is worth seeing!
#5-Next we went on the Hogwarts castle ride.
After Olivander's ~8:40 the Harry Potter ride was opened we headed there.
I loved the details of the Hogwarts castle. If you are prone to motion sickness, you can walk through and see all of the decor and intricate details. You can then exit or wait in the waiting room for someone you are with to ride.
Note, that Hogwarts Castle has a weight limit/girth limit for riding.
#6- Next we went on the Flight of the Hippogriff.
After Hogwarts castle ride ~ 9:15, the line was short and very quick to the Flight of the Hippogriff and my daughter really liked this little roller coaster so we rode it twice.
Later in the evening, we rode it two more times.
#7- Get Butter Beer or Butter Beer slushie after you ride the intense rides and as you are walking to the Hogwarts Express.
At ~10 AM We bought butter beer slushies as we knew we could drink it on the Hogwarts Express.
They were incredibly good!
Note, that my daughter and I both agreed that we could have shared just one slushie; neither of us could finish the whole thing.
Later that evening on our way out of the park, we bought just one to share and had a collapsible cup that worked great to share it in.
Surprisingly the Hogwarts Express was shut down and so this really added a good chunk of wait time to the morning, but we were drinking our butterbeer so we stayed in line. We arrived at Diagon Alley about 10:45.
#8- If you have an interactive wand, stop and do some of the interactive sites if they have no line both in Hogsmeade and Diagon Alley.
My daughter and I loved looking at the map of the interactive wand (the map comes with it), finding the interactive magic wand sites, and casting spells—I was living my inner child that day!
You'll especially want to do the interactive wand spells in Hogsmeade if you don't plan on coming back from Diagon Alley.
#9- Upon arriving at Diagon Alley we got right on to the Gringott's ride.
It was a fun ride with only about a 15-minute wait.
#10- We explored Diagon Alley.
At about 11:15 we visited the shops, Weasleys' Wizard Wheezes, saw the dragon breathe fire, went to Gringott's bank for a money exchange, and did the interactive wand magic tricks.
#11- Get breakfast/brunch at the Leaky Cauldron
At 11:45 we ate at The Leaky Cauldron.
If you don't eat a lot, consider ordering off the kid's menu. It is great and cost-effective. It was only about $7.50 for the meal which in Universal Studios is quite a good deal.
You order on the app and the employees bring it out and put it on the table so they don't know if you are eating it or not (maybe you have another kid in the bathroom, who knows? and no one really cares).
The portions were pretty large—for the kids' meals. I was fine with ordering off of the kids' menu because we could've also just brought food in so it wasn't like other parks where you are forced to eat their food.
The fish and chips and chicken fingers and fries were amazing!
The prices for adult servings are reasonable (for park prices) as well.
#12- Watch a play/puppet show on the stage in Diagon Alley.
~12:00 I was very excited that we got to see Beedle the Bard Tale of Three Brothers puppet show.
It was amazing and they did such a good job on it.
It is a show that plays on the stage in Diagon Alley. It's my favorite
Beddle the Bard
tale (and yes I've read the book).
#13- Don't miss out on visiting Knockturn Alley.
~12:20 We got to go around the dark area of Diagon Alley, Knockturn Alley, and see some creepy things and cast some creepy spells.
The decor all over is amazing!

#14- Return to Kingscross on the Hogwarts Express.
~12:45 The ride is different both ways riding on The Hogwarts Express and are fun to see.
After we were finished at Diagon Alley, we went back to King's Cross Station.
#15- Check out the Harry Potter Sites outside of Hogsmeade Kings Cross Station (the London side).
~ 1:00 We saw the Nightbus, Number 13 Grimmauld Place, and dialed the Ministry of Magic from the red phone booth.
Believe it or not at this point we had checked all of our must-do's off and it was only 1 PM!
this point it was starting to get crowded so we went to explore some of the other Universal rides and attractions.
We got to do and see a lot of things we did not expect to do.
#16- We got to do both of the Minions attractions (the new ride and the blaster ride).
These were fun rides and cooler than the outdoor ones which was great for this time of day.
#17- Jurrasic Park River ride (three times) to cool off.
We rode this ride around 3 PM three times (my daughter loved it).
Two times we did the single rider lines to make the wait shorter.
#18- We rode Pteranodon Flyers and my daughter played in the ropes course at Camp Jurassic.
It was about ~4:00 PM when the rides shut down due to rain for a bit so we sat and cooled off for about an hour.
#19- We rode the Velocicoaster (1.5-hour wait but worth it),
With the rain delay and then choosing to wait in line for the Velocicoaster (I wished we had run here after Hagrid's and we could've packed more into our day) at 7 PM we finally rode the Velocicoaster.
It was almost worth the wait as it was a crazy-intense rollercoaster. But they were advertising a 45-minute wait on the app and it turned into a 1.5-hour wait which was just too long!
#20- Hogsmeade at night.
~7:30 PM We came back to Hogsmeade and ate dinner at the Three Broomsticks, did some interactive wand spells and took some photos of the castle at night. It was magical in Hogsmeade at night. Don't forget to see the castle show if that is important to you.

#21- We rode The Flight of the Hippogriff twice and rode the Harry Potter ride again.
We roade these and bought a souvenir from 8:00-8:50 PM.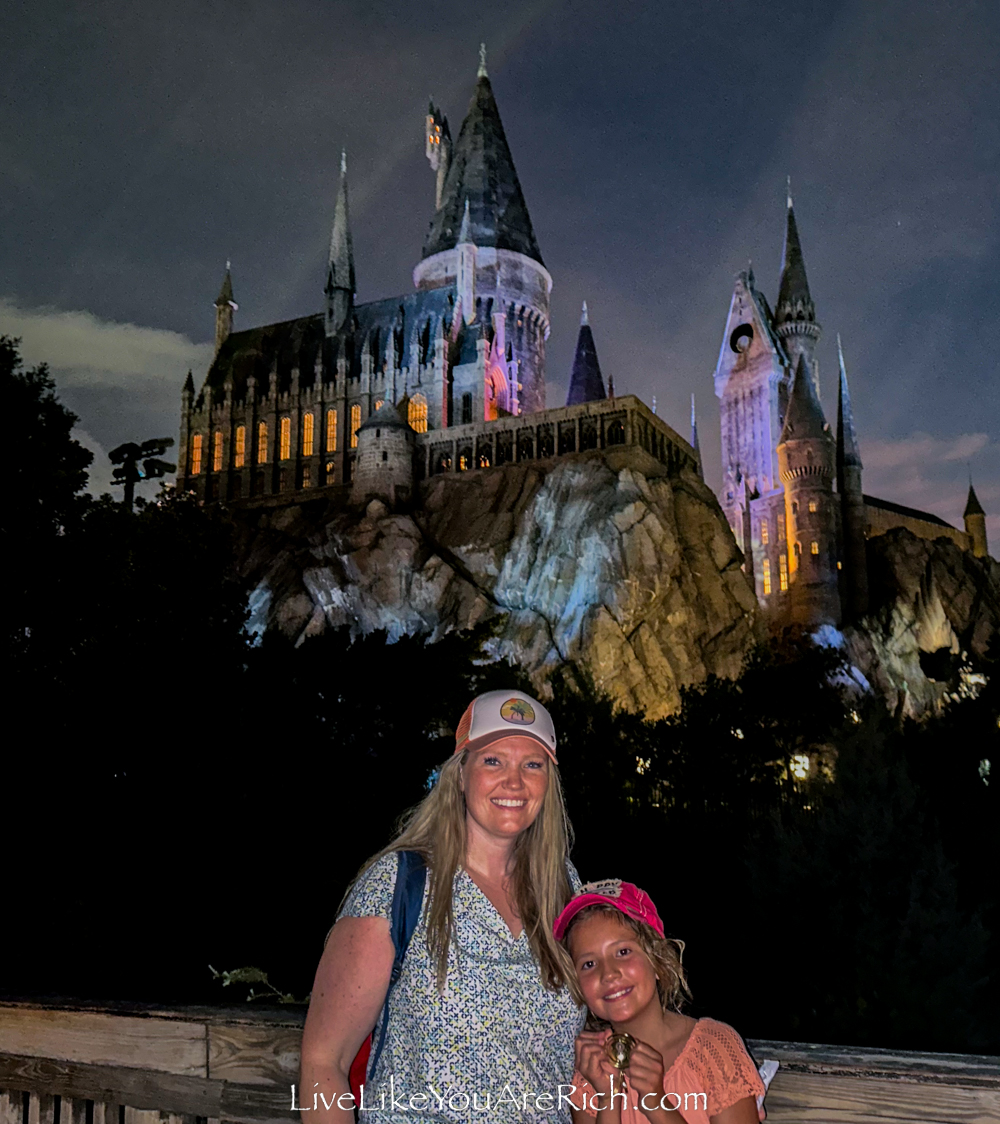 #22- Last call for Butterbeer!
I couldn't leave the park without another Butterbeer slushie so my daughter and I split one.
As we were walking out of the park at 8:55 PM my daughter spotted Dr. Suess land and the train ride.
#23- Dr.Suess train.
~8:58 (you can ride as long as you are in line by closing time).
My daughter begged me to ride the Dr.Suess train and for some reason, this ride took forever to get to… I regretted trying to ride it as I was tired and wanted to go. It was fun to see the park from above in the dark but I was glad when we got done.
#24- We left the park…
At 9:45 PM we left the park with blisters starting to form on our feet and huge smiles on our faces.
We both agreed that this was the Best Mom and Daughter Date EVER!
Cost Breakdown, How much did 1 day at Universal Orlando cost for two people?
It costs us a total of $567.00 for 1 adult and 1 child.
$418.00 was for 2 park-to-park early admission tickets,
$60.00 for the interactive wand,
$30.00 for 4 kids' meals—yes I bought kids' meals as I don't eat a lot,
$25.50 for 3 frozen butterbeer,
$6.50 Butterbeer ice cream
$27.00 parking,
& my daughter brought her own $20 to exchange for Gringott's money and buy a souvenir.
I'm pretty thrifty/frugal so wouldn't say this after spending $570 in a day on just one child and me if I didn't really mean it; it was totally worth it!
My daughter and I had the time of our lives and it was a day I'll always remember having with her.
So, long story short, it is DEFINITELY possible to do Universal Studios Harry Potter Attractions plus many more rides in one day with early admission and park-to-park tickets at Universal Orlando.
You could do even more than we did in one day if you don't have rain interruption if you choose to ride Velocicoaster early with early admission, and if you avoid the delays we experienced.
I hope you are able to fit in all of your must-do's at Universal Studios Orlando in 1 Day as well.

For other 'rich living tips' please subscribe, like me on Facebook, and follow me on Pinterest and Instagram.