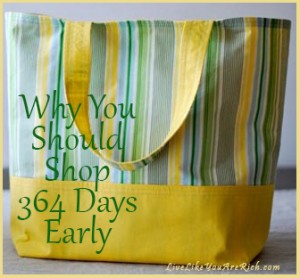 Thrifty people look for deals any time of the year. Even if the deals are for holiday goods 364 days early. You can save big by buying holiday items after the holiday has just past.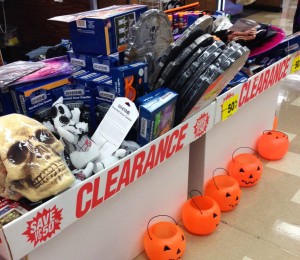 Usually stores will discount their holiday merchandise the day after that holiday has past. This is the best time to stock up for next year. If you are limited on storage you may want to be more selective about what you buy. If you look hard you can find a lot of the decorations, costumes, cards, bows, ribbons, etc. that are small enough to store easily.
Some of the discounted candy is not holiday specific and can be used for the next holiday or party. If you are going to stock up on candy, remember to look for candy coupons and couple them with the clearance prices. Recently on clearance, Halloween themed soap and Ziploc bags paired up with coupons, making them close to free.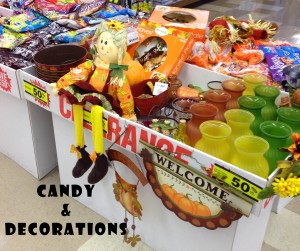 Grocery stores usually clearance their items 50% off the first week after the holiday. Each subsequent week they will more heavily clearance the items until they are gone.
Some stores like Target clear out fast. If you see something you want to get on clearance at Target you should get there as early as possible the day after the holiday to grab it before it's gone.
Other stores like Smiths(Kroger), Rite Aid, Walgreens, and many others have sections of holiday goods that last a while and get less and less expensive each week.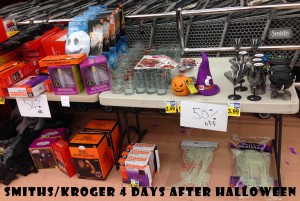 A few examples of things I bought last year at anywhere from 50-90% off are: Christmas cards, wrapping paper, ribbons, bows, ornaments, serving trays,  a pumpkin that holds candy for Halloween, an Easter basket with a blue bunny and a few other toys for this coming Easter, and 4th of July paper plates.
If something on clearance is still too expensive, check back a week later or ask the manager when they are going to more heavily discount that item. If you want to save big on holiday items, start shopping 364 days early.

For other 'living rich' and couponing tips subscribe, like me on Facebook and follow me on Pinterest.