When it's time for your baby to start drinking water or transition to milk, sippy cups are the way to go. Here is a round up of the 15 Best Sippy Cups for Babies for water, milk and juice.
1. Dr. Brown's Options Wide-Neck Sippy Spout Baby Bottle with Silicone Handle – These are great. I own two! The silicone handles are removable and one can place them on other bottles and sippy cups which is really handy for a baby just learning how to hold a bottle! I love the spout and the softness of the bottle and handle. My baby did well with drinking from these at about 8 months, until then I would have to help her. So, for a younger baby who is just learning to drink water, I'd recommend one of the smaller sippy cups below. These come in two different designs and sizes which is also nice. I bought both.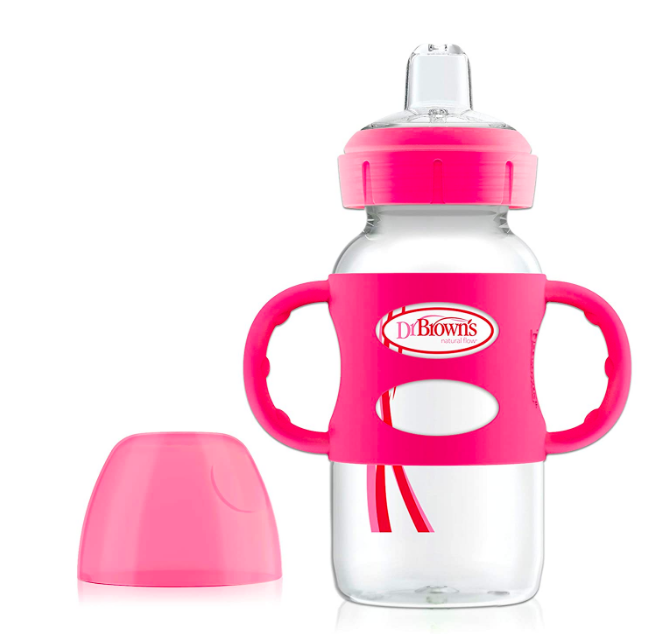 2. Munchkin Gentle Transition Trainer Cup – Perfect for a young baby with a soft flexible spout that moves with baby's abrupt awkward movements at this age. Great for introducing water.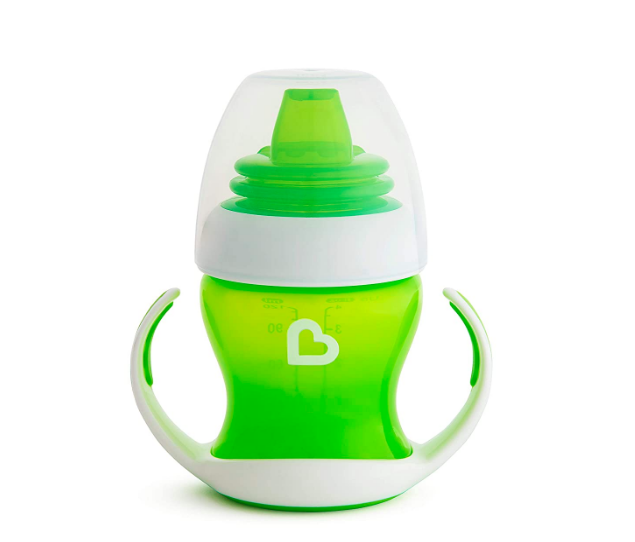 3. Tommee Tippee Closer to Nature First Sips Transition Cup – BPA free and for 4+ months this is a great sippy cup that allows you to switch nipples as the baby grows older. A wonderful option for introducing water to your sweet lil' one.

4. Playtex Sipsters – Playtex Sipsters have different stages so you can slowly move your child out of the baby sippy cups into toddler ones. These are also easy to clean.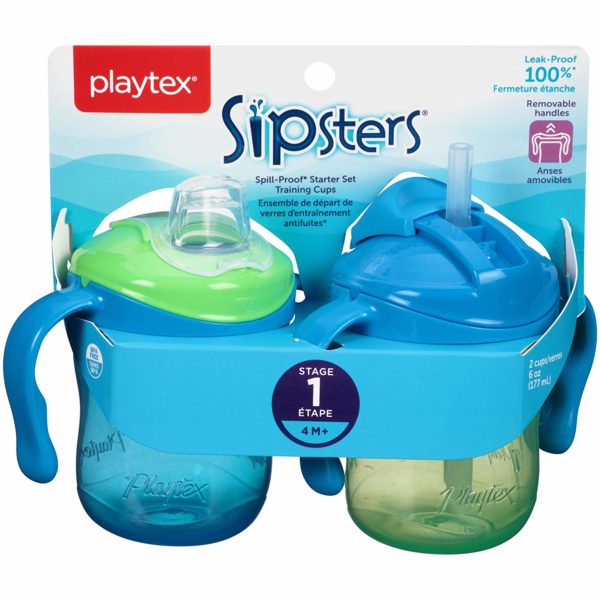 5. MAM Learn to Drink Cup – . Easy to hold with small non-slip handles and spill-free! Extra soft spout. For 4+ month olds. Great for when your baby wants to sip on water.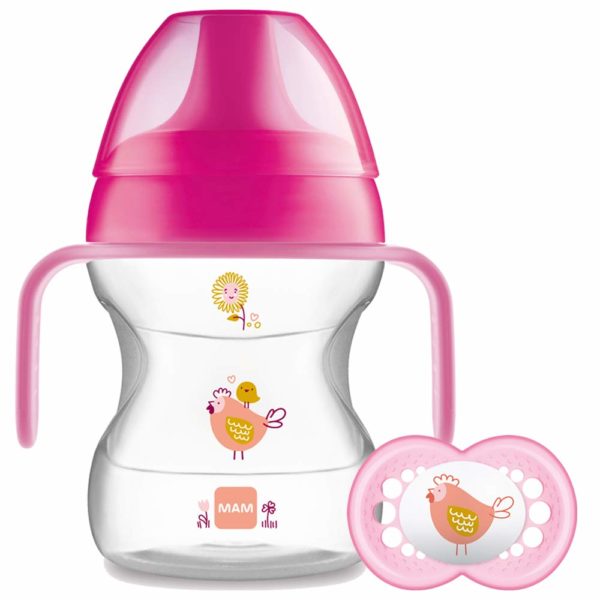 6. Nuby Non-Drip 3-Stage Wide Neck Bottle to Cup– I have this sippy cup one for my baby and l really like it! It is easy to hold, has soft handles and has a bottle nipple with non-drip with teething nubs. Can we switched out later for a more traditional soft sippy nipple. In my experience it is good for 6-7 months or older. I'd recommend a smaller sippy cup for a 4 month old.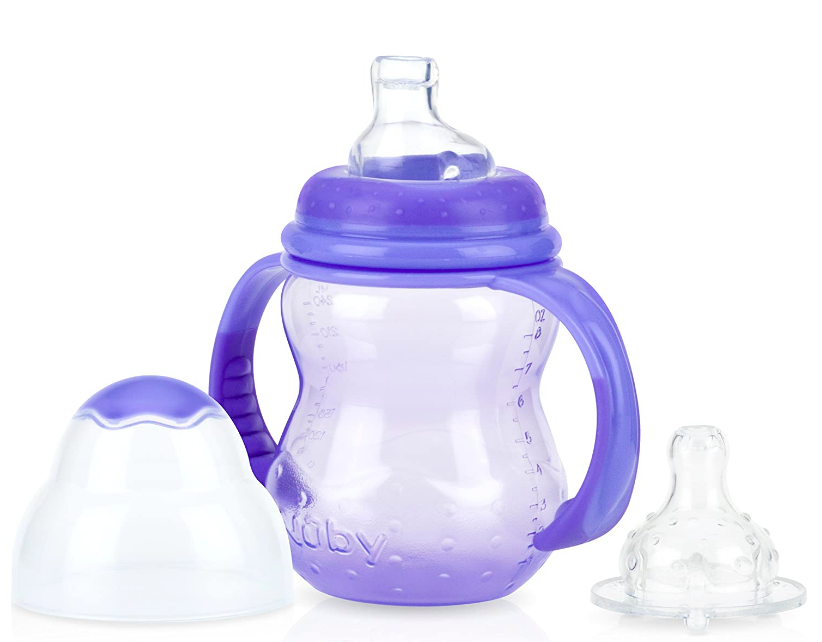 7. Philips Avent My Natural Trainer Cup – This Avent sippy cup is perfect for your baby's first sippy cup. Comes with two unique spouts designed to transition your baby. And since the handles feel soft, they're easy to grip too. All pieces are dishwasher safe for easy cleaning.
8. NUK Disney Learner – Use the NUK Learner Cup to easily promote your baby to start drinking water. This unique cup features a soft spout that is gentle on teeth & gums and easy to grip handles that are removable and grow with your child. You will love it too because it is also spill-proof.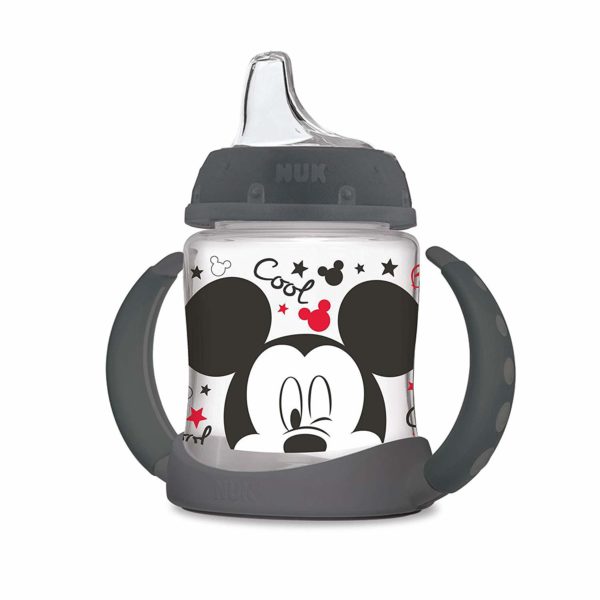 9. Philips Avent Premium Spout- Great for small babies who are learning to drink water. Dishwasher safe, leak proof, soft handle, soft spout, and easy to hold.
10. The First Years Teethe Around Sensory Trainer Sippy Cup– A teether and a sippy cup in one! Very practical for babies who are learning to drink water and teethe around the same time frame. Easy to clean and spill proof.

11. Green Sprouts Glass Sip & Straw Cup – The Sip & Straw Cup made from Glass allows your baby to safely handle a glass cup during mealtime. Liquids only touch glass and silicone on the inside, while the outer plastic shell and shock-absorbing base help to prevent breakage. A silicone sippy and straw spout are included for extended use and to grow with baby. Please use under adult supervision and check for breakage often.
12. Nuby 2-Pack Two-Handle No-Spill Super Spout Grip N' Sip Cups – The Nuby Grip N' Sip cup has two handles that are perfect for a baby's transition to self drinking. The durable handles are designed for small hands and are comfortable and easy to hold. The unique, one-piece no-Spill soft silicone spout is easy to use and easy to clean.
13. Thinkbaby Thinkster Sippy Cup – This convertible sippy cup is an excellent choice for practical parents. No-spill spout features cross-cut design that mimics breastfeeding.
14. Philips Avent My Easy Sippy Cup – This no-spill cup has an ergonomic design that is easy to grasp, and the soft silicone spout is gentle on gums and teeth.
15. ZoLi BOT Straw Sippy Cup – The BOT is unlike other sippy cups. A weighted straw moves to the liquid and no valve means sipping is easy even for young ones. The handle is easy to grip, and there are also fewer parts to keep track of, and the dome cover protects the straw from getting dirty.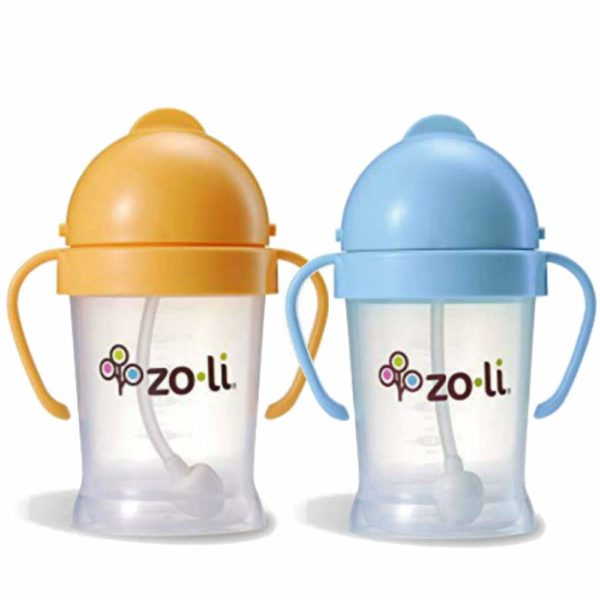 All of these are great options of sippy cups for when your baby is starting to drink water and transition to milk and juice. Do you have a favorite? Please let me know in the comments below.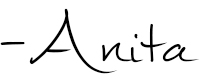 For other 'rich living tips' please subscribe, like me on Facebook, and follow me on Pinterest and Instagram.