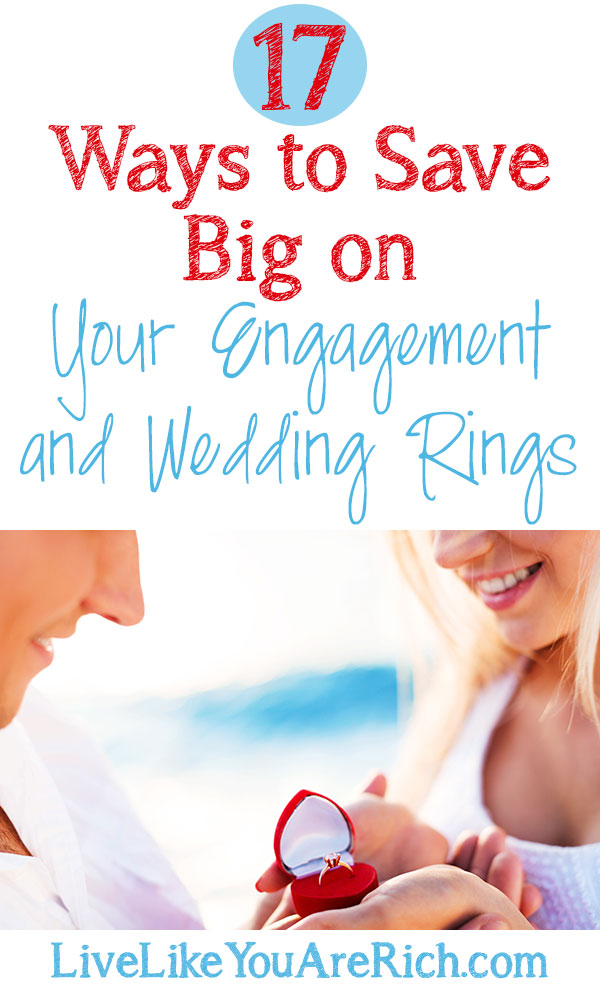 There are a ton of ways to save money on a wedding/engagement ring. Here are 17…
1- The way you'll save the absolute most and score the best deal is kind of tricky because you both have to know you are getting married and both have to be on board with it, it is to buy a used ring.
If you are on board, search a site like Ksl and Craigslist search different terms like diamond, diamond ring, engagement ring, etc. This is in part to people putting their used rings in random categories all the time. Just make sure to have it appraised at a local jeweler so you don't get swindled. Providing the document with diamond quality etc. is a bonus but don't trust it until it's looked at by a jeweler.
2- Buy the ring out of state, on classifieds, or many places online to avoid sales tax.
3- Most people are looking for a certain weight like a 1 carat or a 2 carat diamond. If you buy a weight just under that you are going to save significantly for about the same thing. For example, if you'd like a .50 carat buy a .45 carat or a 1 carat buy a .95 carat diamond you'll get a better deal. Jewelers discount these 'almost official weights' significantly.
4- Another thing that will save is to buy a ring with the main diamond consisting of multiple pieces. Getting a 1 carat ring is pricey. Getting a 1 carat consisting of 4 quarter diamonds is significantly cheaper and they do such a great job at it these days it's sometimes hard to tell that the diamond is multiple pieces.
5- Buy online. Amazon and Groupon also have engagement rings that are very reasonably priced. Just make sure there is a guaranteed refund policy and diamond certificate if you go this route. There are other online retailers that are very competitive. Read reviews, talk to someone in person, due your due diligence to ensure you are not getting scammed.
6- Consider a different stone. Diamonds are expensive. Moissanite is also a close neighbor to a diamond so that is another option. But be careful, don't buy a moissanite, crystal, or cubic zirconium as a pretend diamond without your future fiance being okay with it.
7- Replace a current stone with a larger used stone. You could take a diamond that you got for almost half off from a used ring and have it set in your current setting (if the setting will allow—consult a jeweler). Then sale the original diamond to offset costs.
Or just purchase a new band and set a used diamond in the band.
If you have someone make you a ring buying a used diamond is an option too.
Obviously no one could ever tell that you have a used diamond and put it in a new ring setting. You can also just buy the rock online (at a reputable place) and have it set at a local jewelers to save on a completely new set.
8- Many of the men I know have lost multiple rings. Because of this, I'd recommend just buying a nice ring from Amazon here. They range from a few dollars to a few hundred with most in the $40.00 range.
9- Look at boards at universities. Many college kids are in the marriage age. As a result many are proposing and selling rings from break-offs. Every time I pass an ad board on a college campus I always see new rings that cannot be returned and are being sold at a discount.
10- Consider gold and white gold over platinum because it is coming back as a trend and is less expensive. 14k gold is almost just as good as 18k and costs less.
11-Diamonds in the H/I color and SI clarity range offer the best value.
12- If you choose to buy the setting from a jeweler ask them to include free servicing (dipping & cleaning) and resizing if necessary. Many jewelers will offer these lifetime benefits for buying the ring from them and it will save about $20-40 a year.
13- Consider buying from a diamond wholesaler they are a great bang for the buck.
14- Pay in cash. You can often get discounts for paying in cash and you'll save on interest charges. Always ask for a discount for paying in cash.
15- Buy rings that haven't sold for awhile at jewelers or that are on sale. Some jewelers sell their inventory that hasn't sold for awhile. Often the ring has sold in other sizes but that particular size hasn't sold so they discount it. This will save significantly. Then pay the nominal fee to have it resized. Some jewelers have large annual sales. Call them and ask when theirs are and buy during that time.
16- Avoid name brand rings. Name brand rings will add at least one to a couple grand more to the price tag.
17- Trade. If you have a service or own a high value item you don't mind giving up, sometimes you can trade for the ring.
What have you done to save on your engagement and wedding rings?

For other 'rich living' and money-saving tips subscribe, like me on Facebook, and follow me on Pinterest.