I've been earning gift cards to Amazon, iTunes, Paypal, etc. for over two years now doing regular things that I normally do online. I've been able to make hundreds and pay for a good portion of my monthly internet bill itself by joining and using SwagBucks.
How does SwagBucks work? You earn SwagBuck points (SB) that you can redeem for gift cards to over 140 brands to choose from by doing the following 7 things:
1. Watch Videos, Movie Trailers, the News, and Other Videos.
You can watch videos, movie trailers, news, celebrity watch, and more to earn points! Easy right?
2. Use Printable and Online Coupons
Another way I earn money is by printing off coupons and use them to save money while grocery shopping. If you don't know how to coupon, check out this post here: Couponing for Beginners: 11 Tips that Will Save You Thousands and make sure to print from SwagBucks.com. Simply click Shop>Coupons>Printable and sift through tons of high valued coupons and start racking in the SB points. You earn 10 SB for every coupon you redeem at your local grocery store! Making money while saving is pretty cool.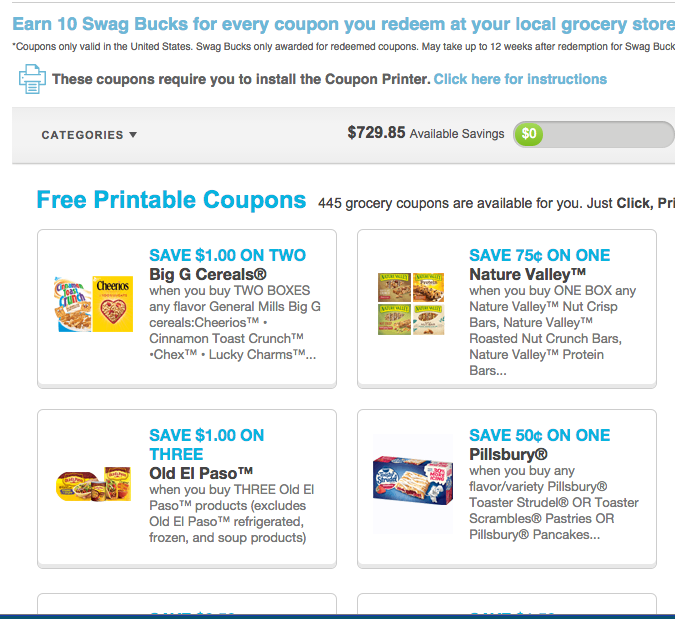 3. Leave a Review/Take a Survey
Do you love to share your opinion? SwagBucks awards you for taking surveys. Some surveys reward you more points than others. Some you'll have to qualify for first. More info on surveys: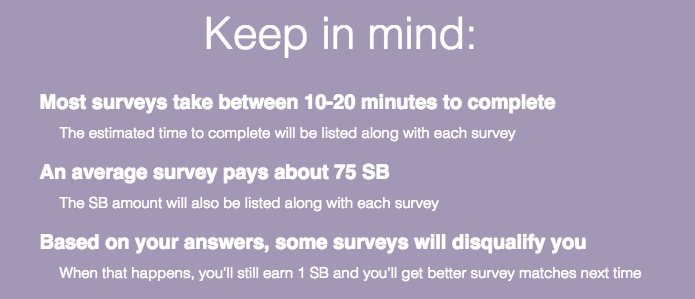 There is also a super quick 'Daily Poll.' Answer an easy question and earn one SB point!
4. Shop
Online shopping is so convenient. Head over to SwagBucks and click on the store before ordering. Stores display how many SB points you'll earn per dollar spent. I appreciate knowing what I will earn back before buying. There is no sense in not trying this if you ever shop online!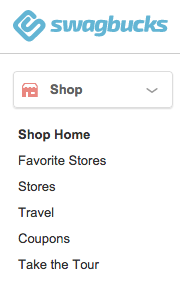 5. Book Your Travel
You can earn SB by booking through Expedia, Hotels.com, Priceline, Orbitz etc. through the SwagBucks website! I love many of these sites and use them almost every time we travel. If you are going to use these travel sites anyway, make sure to earn SB points while doing it!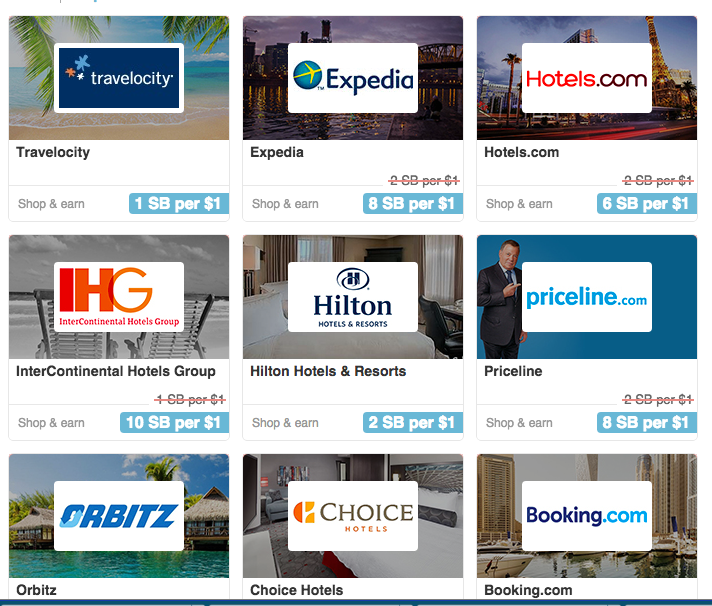 6. Search
SwagBucks has a search bar powered by Yahoo!. It is similar to Bing, Google, etc. By searching for terms, information, ideas, etc. you can earn SB points!

7. Try Out or Skip Online Offers
Thinking of trying an online offer such as an Audibles subscription or Proactive face wash? Search SwagBucks to see if the program you want to try is offered. Many of these have rules and things you need to be careful about, so keep that in mind.
Finally, there are daily tasks you can do (they reset every day) to earn easy SB points. Take the Daily NOSO. NOSO allows you to earn SB points just by signing up for OR skipping online offers. I just got a 20% off coupon to JoAnn's and a 15% off coupon to Crayola.com by completing the NOSO. Just be sure to click Skip if you aren't positive you want to try the offer out.
Once you have 300 SB's, You can redeem them for a $3.00 gift card. I just cashed in enough SB's for a $10.00 Amazon gift card. I'm almost to $3.00 again!


The points add up quickly (especially if you print the printable coupons from the site). And you can also get points by referring your friends and family to try out SwagBucks too!
Once you are ready to get your gift card, just click Rewards under the Redeem section and search for the company you want a gift card too! Add it to cart, verify it via the email confirmation and once it's approved you can spend your earnings.

By the way, you can earn SB on any device. Your phone, tablet, desktop, and laptop.
Like I said, I've earned hundreds through SwagBucks over the past couple years. It's an easy, free, legitimate, and convenient way to earn money online.

For other 'rich living' tips and craft projects, please subscribe, like me on Facebook, and follow me on Pinterest and Instagram.