Today I am partnering with Lenovo® to share a great deal with you.
It has never been more important to be able to connect electronically than in the days we are now living in. Luckily, you can connect anywhere with Verizon® network capability with the Lenovo® Flex™ 5G. This laptop is the first in the world that works with both 5G and 4G LTE through Verizon®'s network. The internet is connected directly to your laptop (no need to connect to Wi-Fi—although it can do that too).
I wanted to share this great Black Friday deal because the promotion is running from 11/19/20-11/30/20. During this time, you can save $400 on the Lenovo® Flex™ 5G PC. This amazing deal is about 30% off of the retail cost of the PC!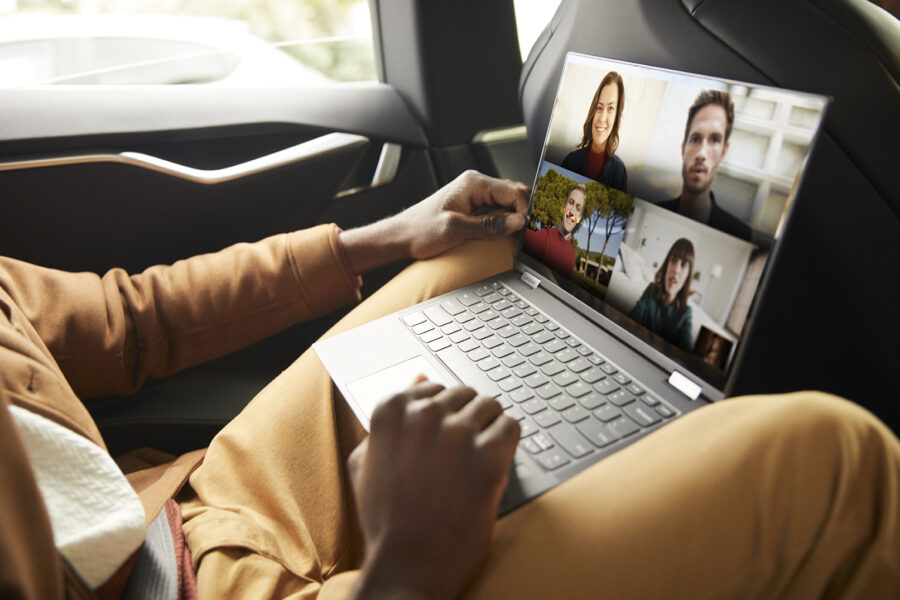 Not only is the Lenovo® Flex™ 5G a personal computer, it is also a tablet. The hinges allow the 14″ screen to swivel open into an A frame…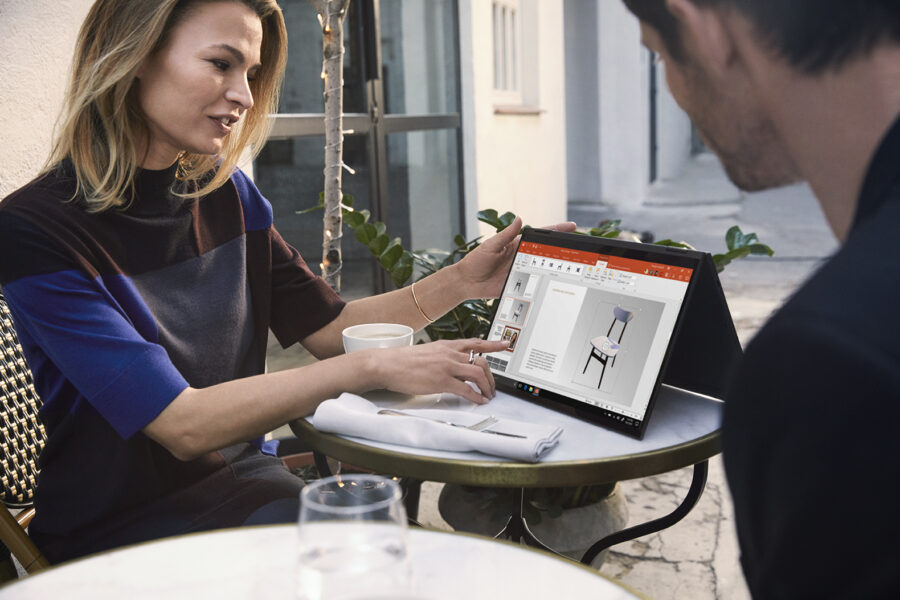 and keep swiveling to fold open flat. Once folded flat, the touch screen functions as a tablet, yet it still has the power and capabilities of a desktop computer.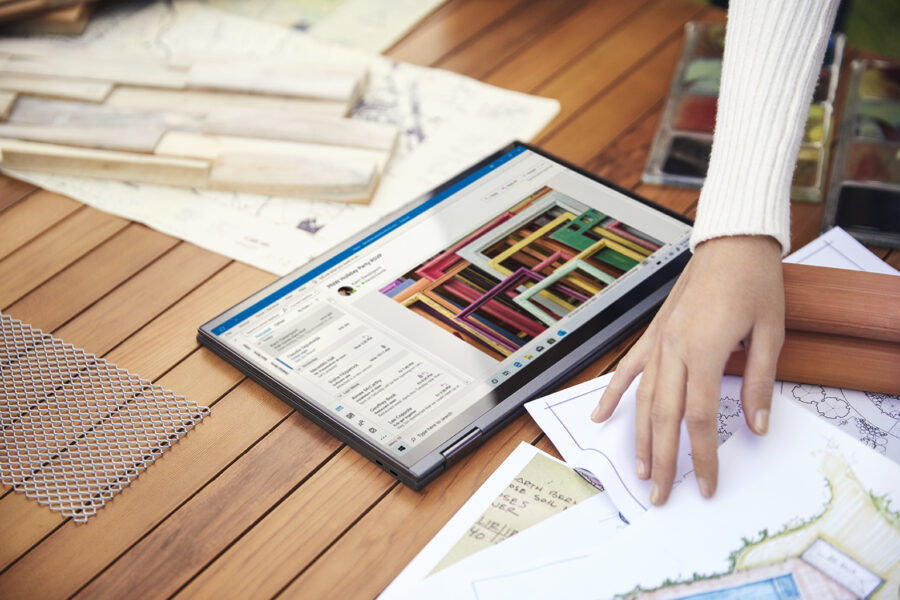 How is it so compact yet powerful? The Flex™ 5G is powered by the Snapdragon™ 8cx with an integrated X55 modem. The Flex™ 5G enables lightning-fast download speeds of up to 2 gigabits per second! That's 10 times faster than a 4G data connection. This makes it so you can easily connect, share and stream virtually from anywhere with internet connection.
My husband and I are often working on the go. This would be such a great device for us as I don't like to work on tablets because I find them much less efficient to do my typing on. However, my husband likes the functionality of a tablet. This is a great go-between and offers both the features of a tablet and laptop with fast internet connection and desktop-style power. Plus, it is super secure as it has facial and fingerprint recognition and being connected directly to 5G means you don't have to connect to a potentially-compromised Wi-Fi network.
I am a mother of three, soon to be four, and the capability of being able to connect to the internet while waiting at soccer practice or dance lessons, or even being able to work at the park while the kids play, is an amazing capability that I wish my old laptop had. The Flex™ 5G would help work-at-home mothers become much more productive during the hours of waiting-time we experience each week.
Because I like to take my laptop with me on the go, weight and size of the device are big issues for me. I typically carry my laptop in my larger purses. The Lenovo® Flex™ 5G checks those requirements for me. Weighing in at just 2.9 lbs. and 14″ screen makes it light and travel friendly.
I do a lot of photo editing for work. The Flex™ 5G can create, edit and multitask due to its powerful 2.84GHz Qualcomm® Snapdragon™ 8cx Compute Platform. This offers twice the performance of the previous generation, it's designed to go head-to-head with competing processors but at a fraction of the power consumption.
My laptop is constantly out of batteries, no joke, just today when I tried to turn it on it was completely dead despite having a full charge yesterday. With Lenovo® Flex™ 5G you won't have that problem. It is fan-free (super quiet) yet a single charge can get you 24 hours of video playback time! This is possible due to the Qualcomm® Snapdragon™ 8cx compute platform which uses 60% less power than the previous generation. It is just amazing to me how technology is so rapidly improving.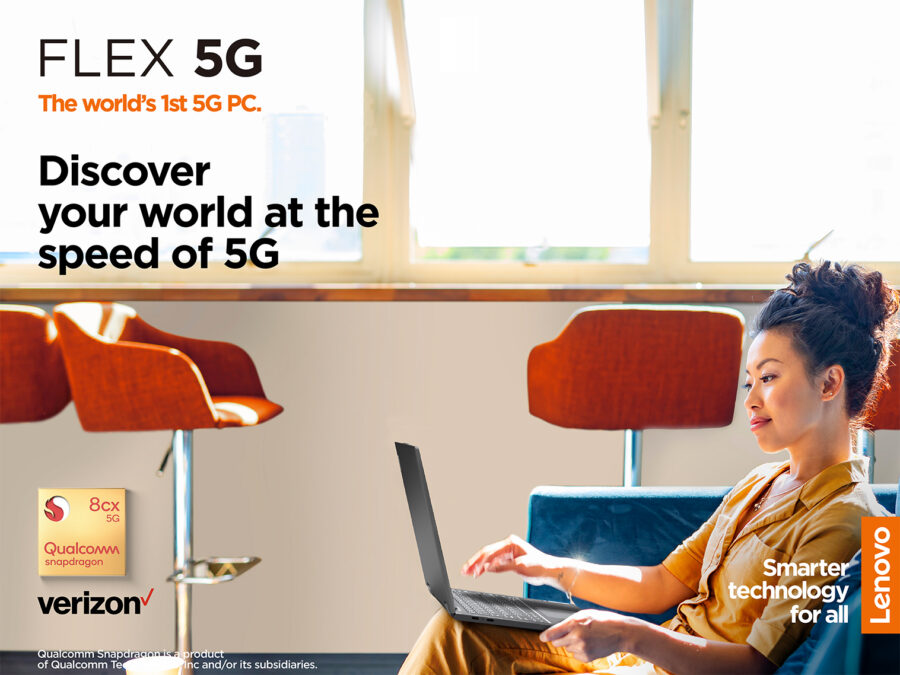 Another great deal to add to the $400 off is, when you purchase the Lenovo® Flex™ 5G during this time (11/19/20-11/30/20), you will get a free one year of Microsoft 365 Personal software included. This will ensure that you'll always have a secure way to share files.
There has never been a more important time to be able to connect virtually and Lenovo® Flex™ 5G definitely delivers in so many vital areas to make that not only a possibility, but a convenience. Its cutting-edge features, the free year of Microsoft 365, plus the $400 off deal make this a great time to buy. Get it quick as the Black Friday Deal is from 11/19-11/30.

Today I am partnering with Lenovo® to share a great deal with you.
Qualcomm Snapdragon is a product of Qualcomm Technologies, Inc. and/or its subsidiaries. Qualcomm and Snapdragon are trademarks of Qualcomm Incorporated, registered in the United States and other countries.