I am always on the lookout for Classy Neighbor Christmas Gifts for Under $2.00 each.
If you are like me, you don't have hundreds of extra dollars in your Christmas budget for neighbor and friend gifts.
We are in this position about every year as we have three—soon to be four children and large families on both sides.
I have a lot of wonderful neighbors and friends. The number of people/families to gift something to is usually around 50 each Christmas.

While I would absolutely love to give each of them $10.00-$20.00 gifts each year, and they do deserve much more than that for being amazing friends, I do not have an extra $500-$1,000 in our Christmas budget for them.
I budget about $100 each year for neighbor gifts so I'm constantly looking for nice, classy, useful or delicious neighbor gifts for under $2.00 each.
Many of my neighbors and friends have gifted me gifts that I have really appreciated and my estimate is that they spent ~$2.00 on each one as well. Some gifts I have received are much more expensive and I appreciate those too! I just have to do what my family can afford and make the best of our budget.
I do try to make them nice, useful or delicious to show my love and appreciation. Plus, the old adage is true, it is the thought that counts!
So, here are my favorite classy neighbor Christmas gifts I have given or received.
Some gifts listed are handmade, some are baked, many are store bought. They are all nice looking and I would appreciate all of them this year!
17 Classy Neighbor Christmas Gifts for Under $2.00 Each:
1. Clementine Wreath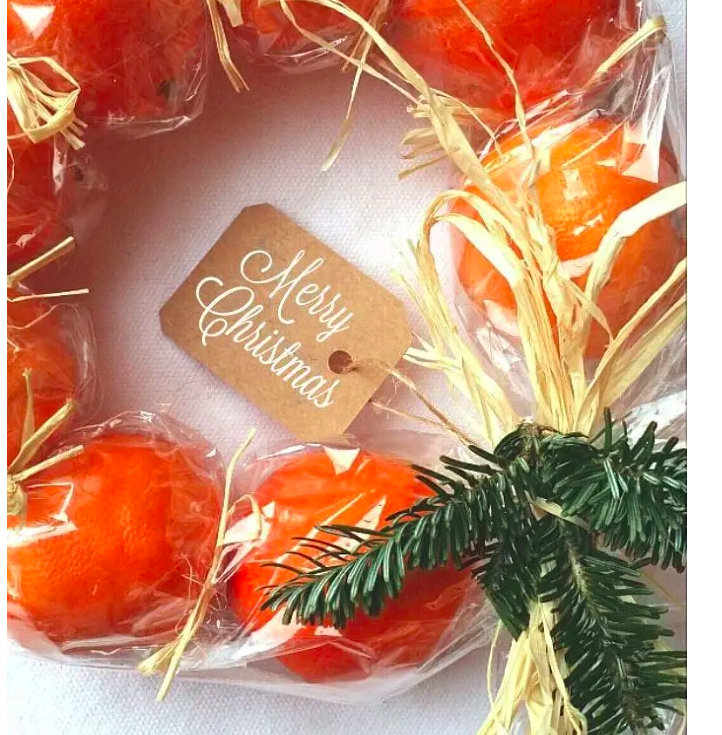 This is a darling and healthy festive gift that most recipients are sure to love.
To make: Clementines, cellophane, string/straw or twine, pine needles and a paper tag. They cost less than $2.00 each if clementines are bought whole sale (Costco) or on sale. Instructions for assembly here.
2. Homemade Potpourri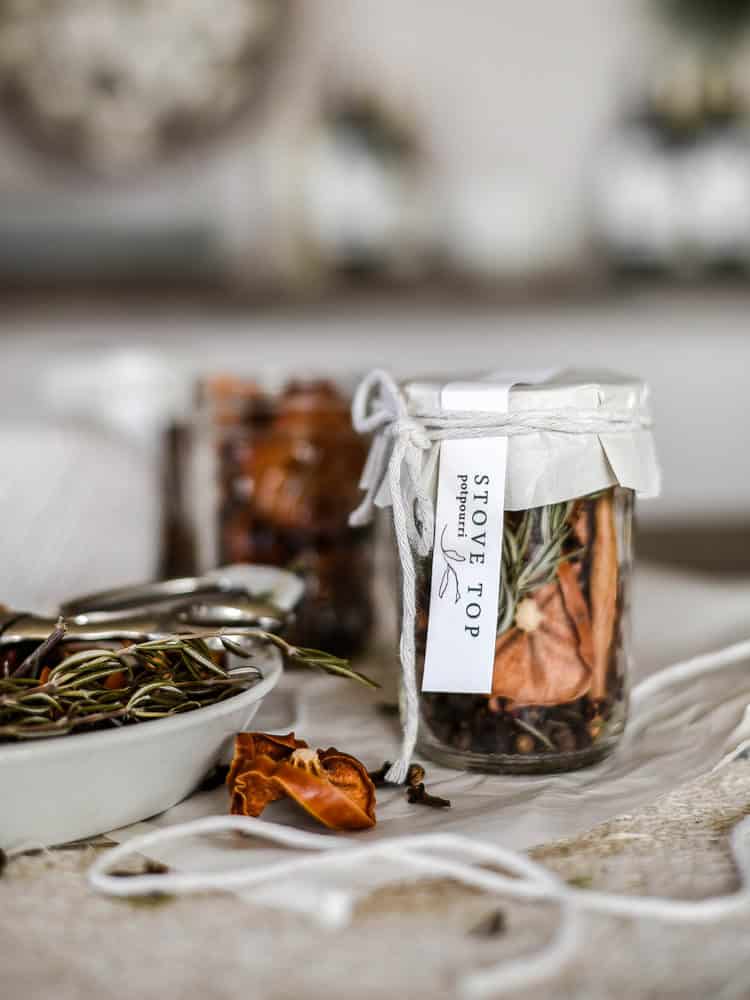 Some of my all-time favorite gifts I've received from neighbors are homemade potpourri mixes. They make my home smell like Christmas and are so easy to use. You just pour the mix into hot water and simmer ingredients on a stovetop.
To Assemble: Jar (try a thrift store or Dollar Tree) or a clear gift bag, slices of citrus fruit, cinnamon sticks, cloves, star of anise, pine needles, cranberries. Free printable tag and instructions here.
3. Nice Looking Tree Ornaments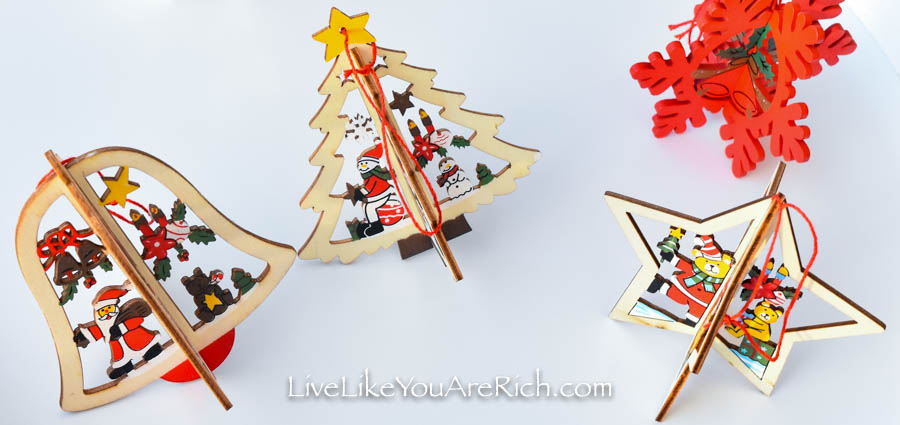 After spending Christmas in Germany, I love wood ornaments. I found these darling ones for an amazing price. They are the size of the palm of an adult hand and cost less than $1.00 each! Paired with a story, card, or even a treat, makes this a great gift for just about anyone.
To buy: Wood ornaments found here.
4. A Bottle of Martinelli's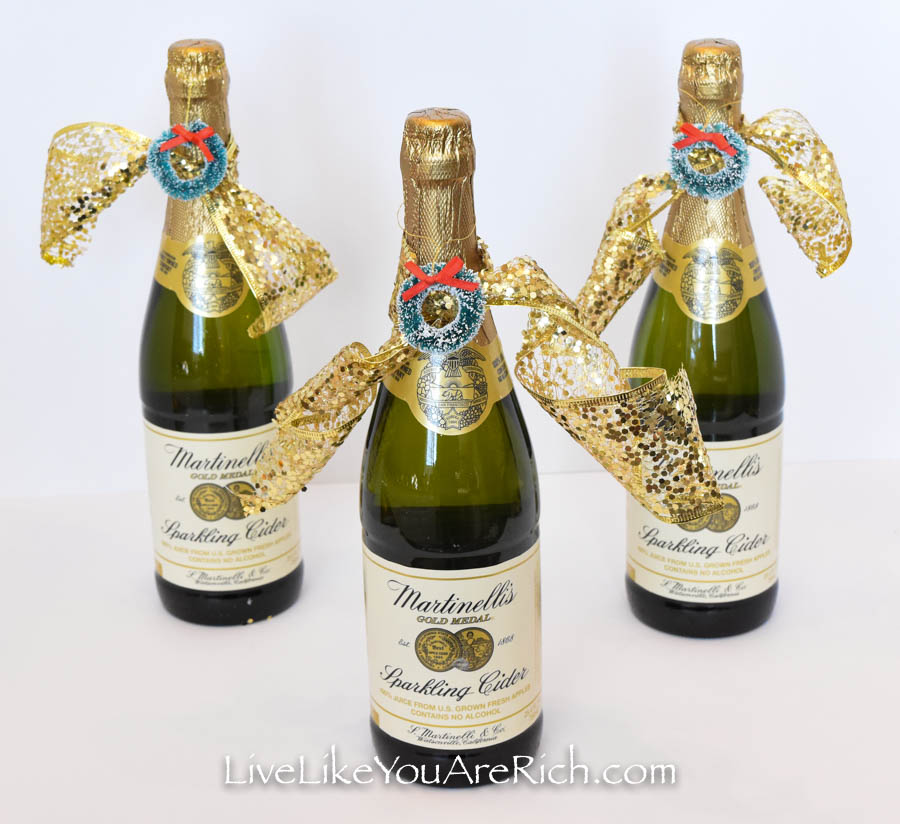 Almost everyone I know loves a glass of cold crisp Martinelli's. This a very simple, nonalcoholic yet delicious gift most people will enjoy. I gave these out last year as neighbor gifts.
To Buy: Martinelli's (The large bottles are often on sale for $1.50 at Costco and Walmart around the holidays). Optional: add a free printable tag found here.
5. Soap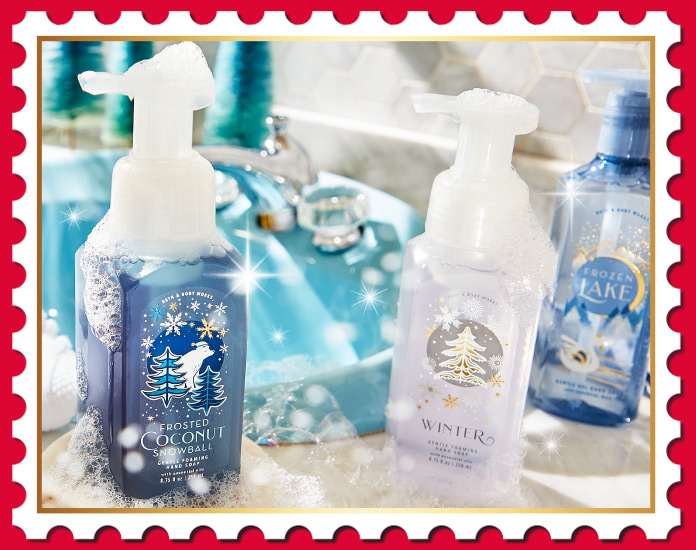 One of my favorite neighbor gifts is a foam soap dispenser with wonderful-smelling soap. I love Bath and Body Works Christmas soaps. Around Black Friday you can sometimes get the full size with a coupon buying in bulk for about $2.00 each. There are many stores that sell soap for less than $2.00 a dispenser (it doesn't have to be a Christmas theme).
To Buy: Soap. You can also add a cute tag that says, "We wash you a Merry Christmas" or "Just Soap'N You Have a Merry Christmas".
6. Pineapple
I received a pineapple as a gift last year from a neighbor and I thought it was a great gift; simple, classy, and delicious.
To Buy: Often Costco sells pineapples for $1.50 each. Rarely, do I see them at Costco for more than $1.99 so these are always an inexpensive gift. Optional: add ribbon and a Free Printable tag here
7. Homemade Caramel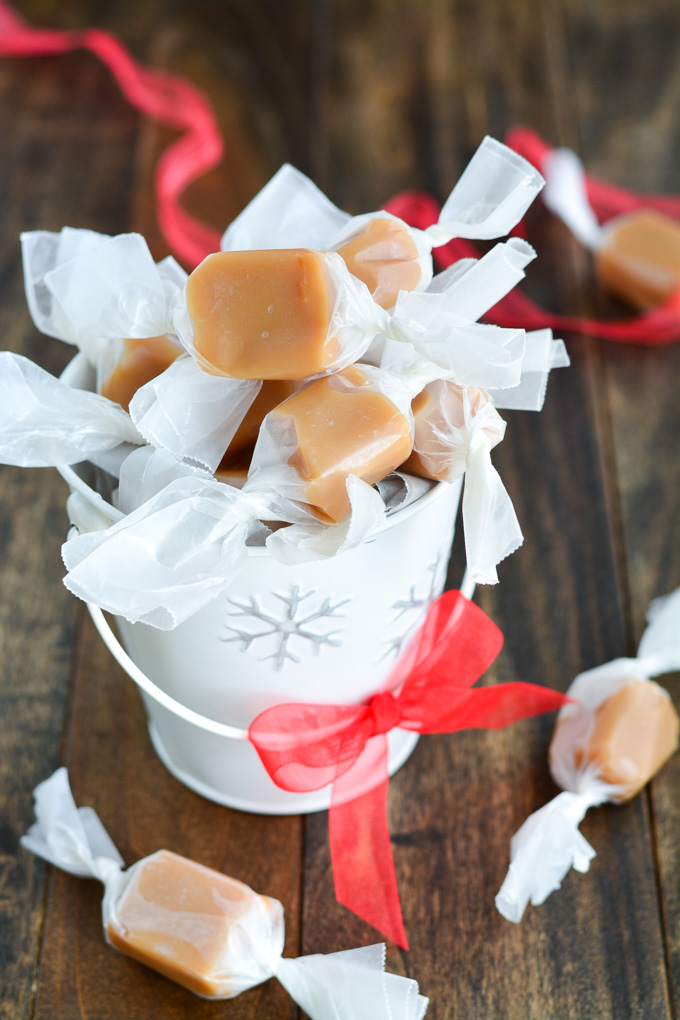 This was a favorite Christmas gift I received one year as well. I have since given these out as Christmas gifts as well.
The only downside to caramel gifting is that it is very time consuming to: make, allow to set, cool, cut, and wrap. So just know going into this project (especially if you have a lot of people to gift to), it will take plenty of time to prepare.
To Make: Homemade caramel.
8. Candy Dish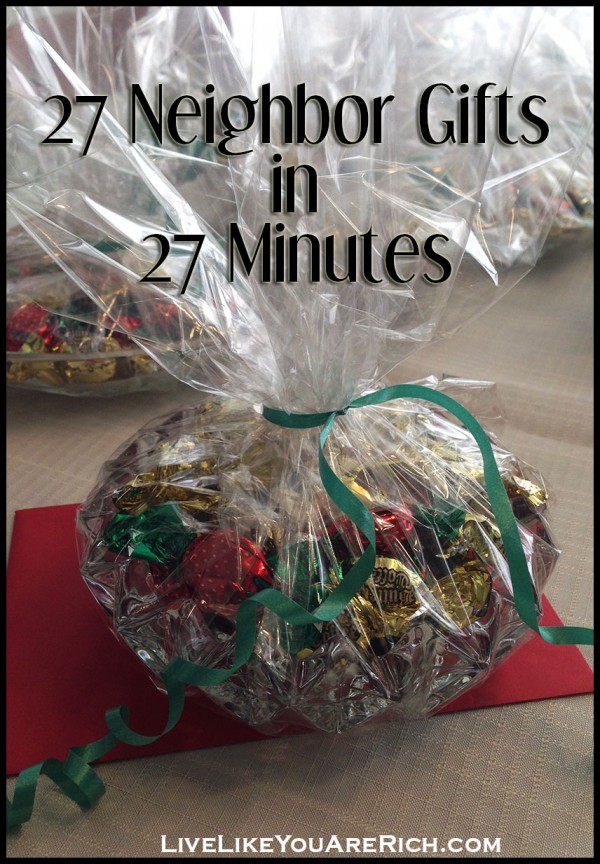 To Buy: Candy dish (thrift or Dollar store), candy, cellophane, and ribbon. More details here. I have also made candy dishes with paper dishes (not as classy, but still cute) found here.
9. Homemade Turtles
To Make: chocolate, caramel, pecans, gift box. Delicious-looking recipe here.
10. Homemade Bread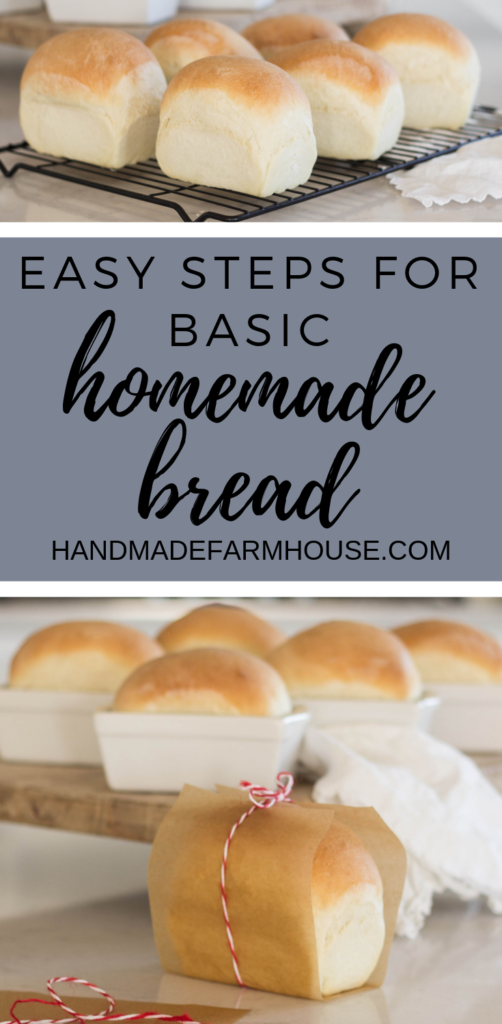 Growing up, my mom would often make small loaves of bread for neighbors for Christmas. I would often help her. I still remember it as a fun tradition.
To Make: Bread pans, a good bread recipe (banana bread, zucchini bread, peach bread) or this delicious-looking white bread.
11. Basket of Fruit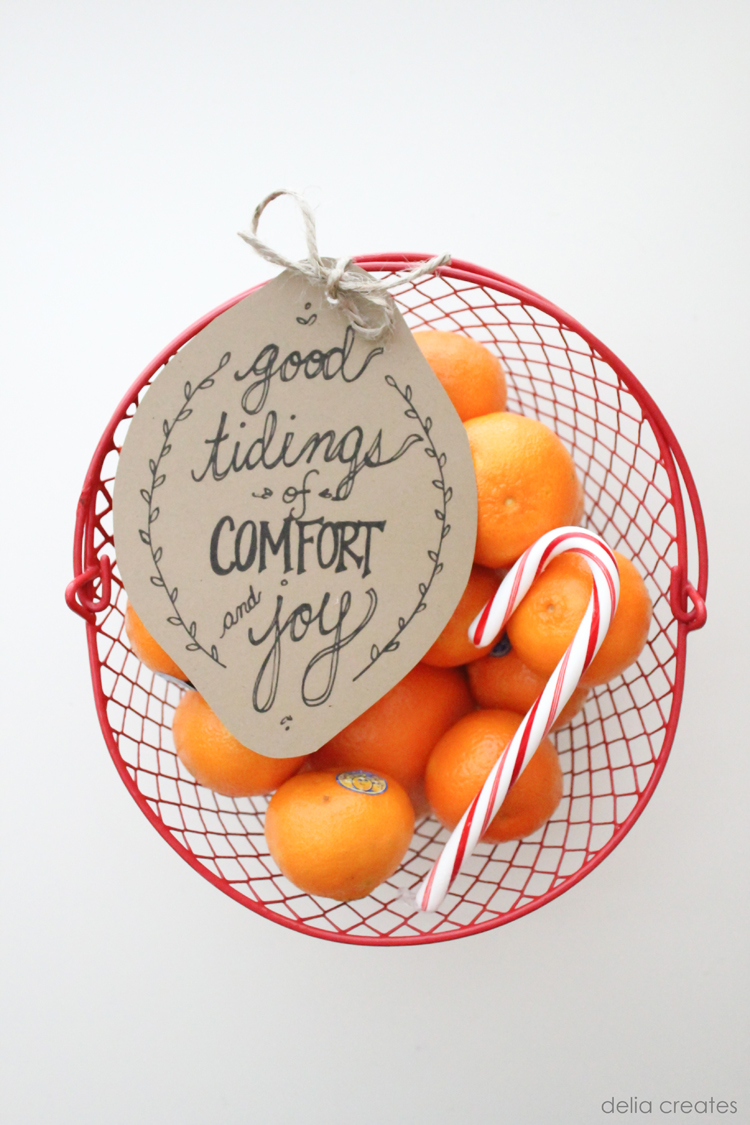 This is a simple yet healthy gift and the basket can be reused.
Wire basket from Dollar Tree, clementines, tangerines, oranges (whatever is on sale). If you find oranges and other citrus on sale this could be a $2.00 gift. Otherwise, it may run you a little more depending on region you live and prices of citrus. Free printable here.
12. Rolo Pretzels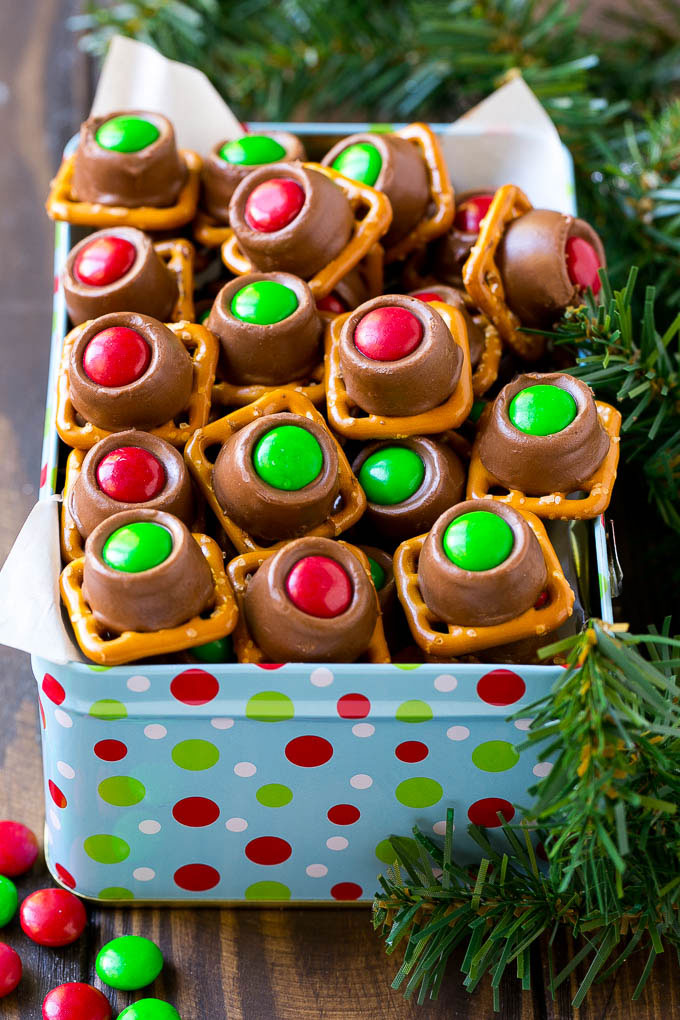 I received these as a gift last year as well. They are so delicious.
To make: Gift tin from Dollar Tree, pretzels, Rolo's, Christmas M&M's. Recipe here.
13. Movie Night Gift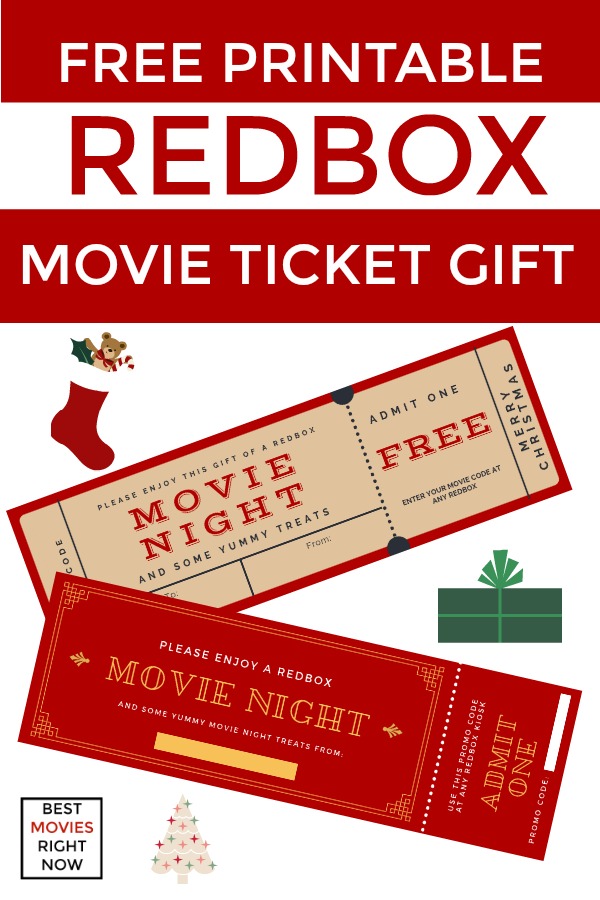 If you have a RedBox in your area, this may make a fun gift.
To Make: Popcorn bag or 2 Liter of soda, free Printable movie tickets, Redbox Promo Codes.
14. Hot Cocoa in a Jar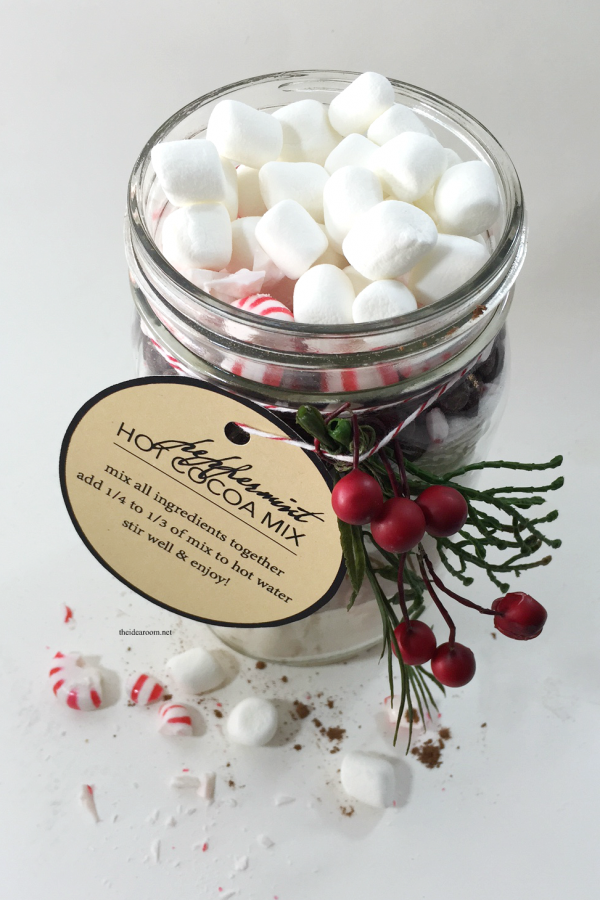 Hot cocoa is a nice treat for a winter's day.
To Make: Mason Jar (thrift store or Dollar Tree), mini mallows, powder milk, cocoa powder (or ready made hot cocoa powder bought bulk at Costco/SamsClub), candy mints, and chocolate chips. Recipe and free printable here.
15. Pretzel Rods
These caramel chocolate pretzel rods are a delicious and festive treat that is sure to please.
To make: Gift Tin from Dollar Tree, sturdy pretzel rods, caramel, chocolate. Recipe and instructions here.
16. Hand Sanitizer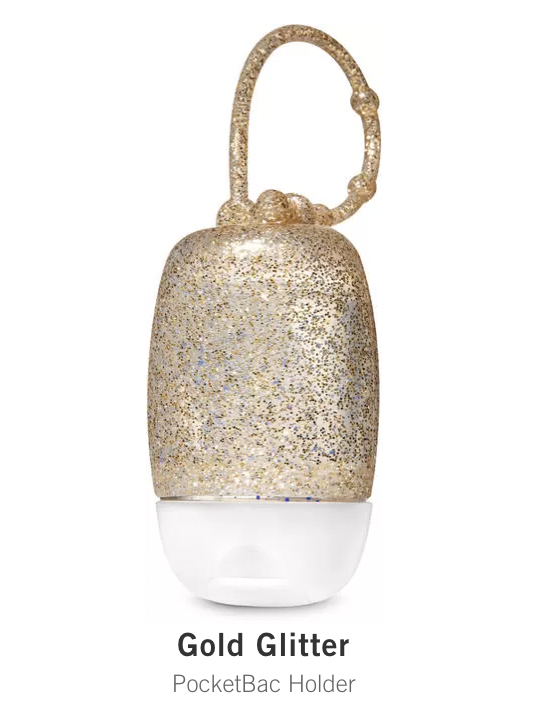 To Buy: Hand Sanitizer from Bath and Body Works PLUS their glitter pocket hand sanitizer holder. Yes, you can buy both for under $2.00 (see this post for how I got them over 1/2 off).
17. Frosty the Snowman Candles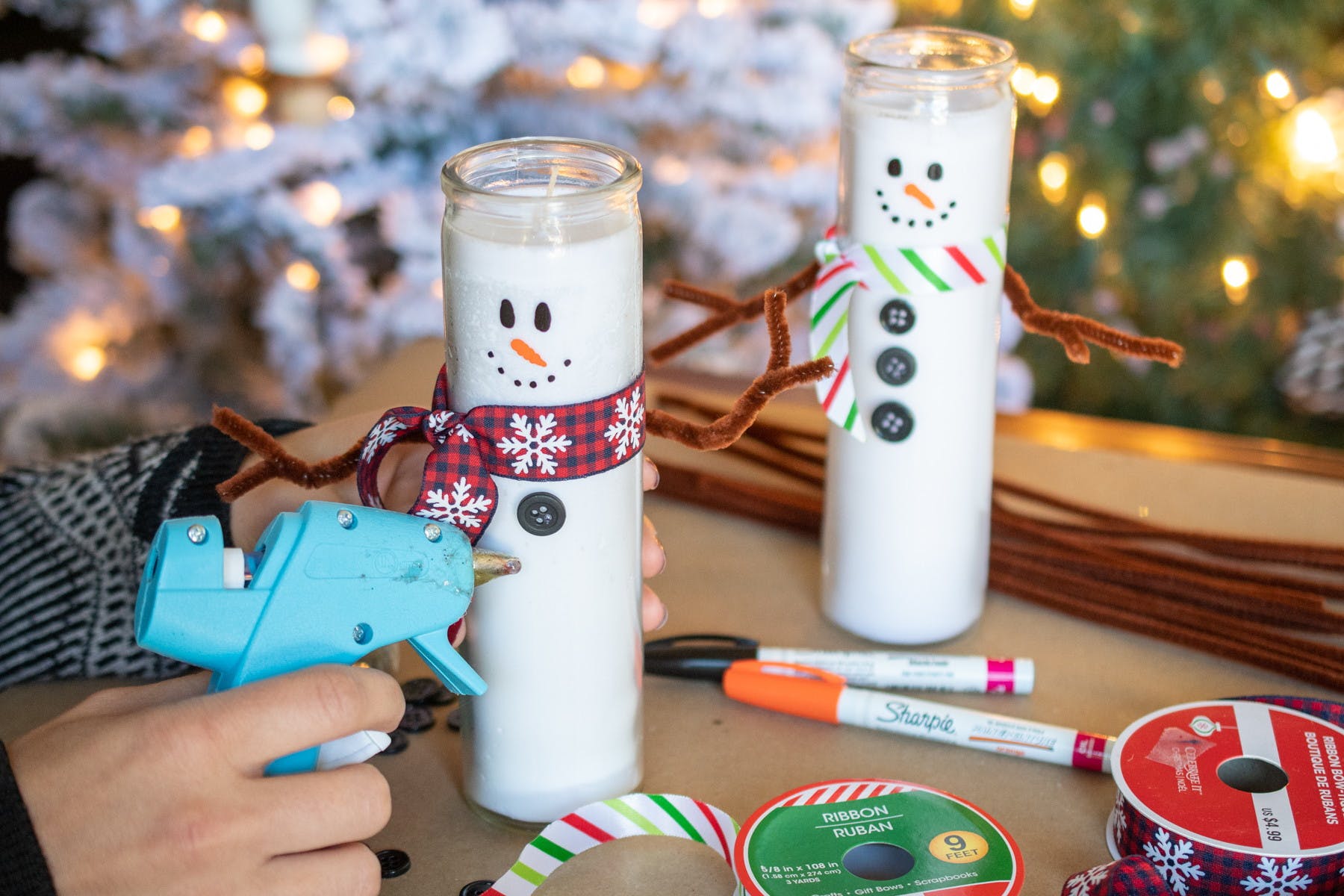 If your friend/neighbor has kids in the home, they may enjoy these candles. They will see it eventually melt away like Frosty.
To Make: Dollar Tree candle, buttons, ribbons, brown pipe cleaner, glue gun and glue sticks, and sharpie paint markers. Cute and costs less than $2.00 dollars.
18. Nativity Statue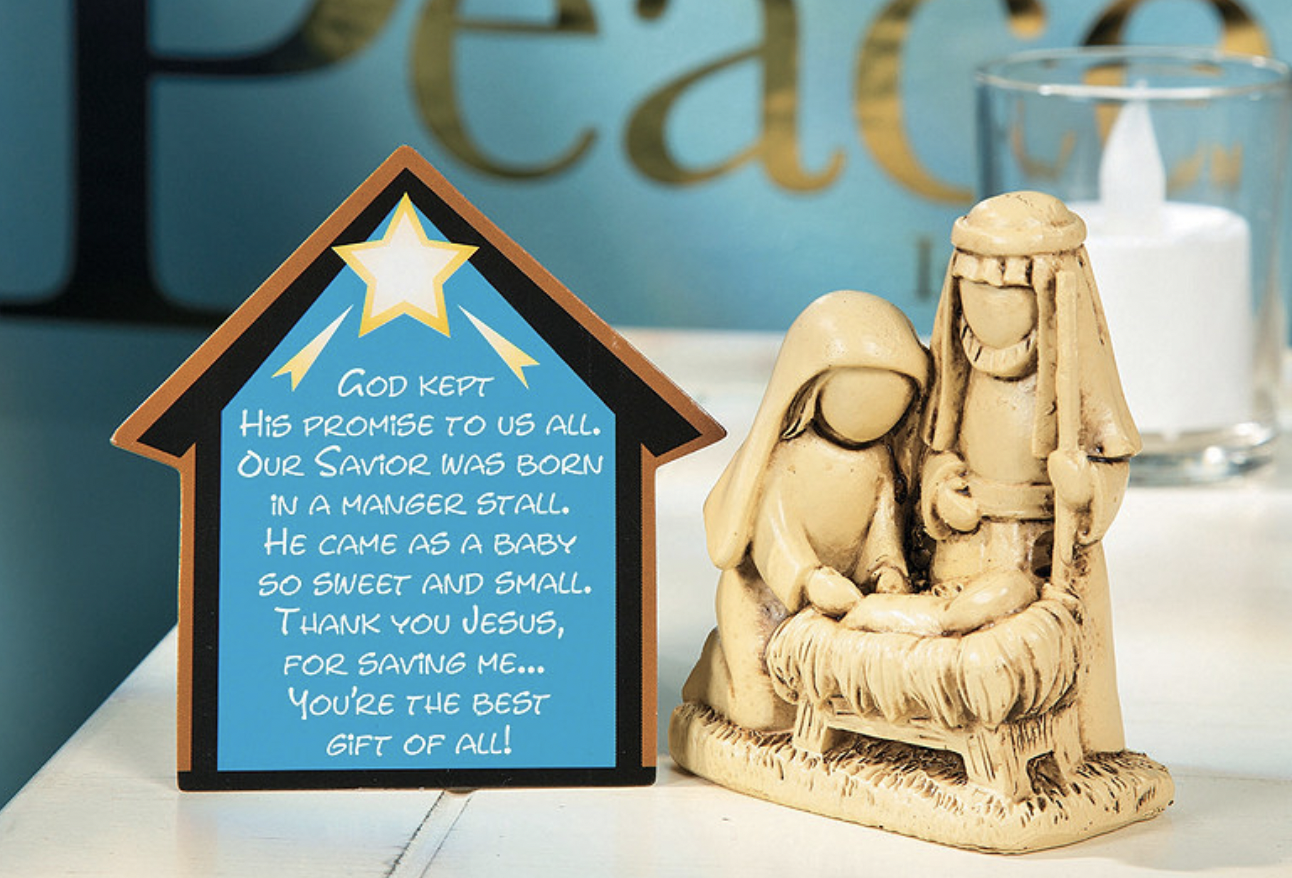 Oriental Trading has a few really cute nativities for under $2.00. I've seen them as inexpensive as $1.00 each. However, typically they cost about $1.50. If you know your neighbors are Christian, this would make a nice gift.
19. A Puzzle
I gave a puzzle to my neighbors with a bow. I found them on Bits and Pieces for $3.00 each with a coupon code and shipping. Normally, I don't spend more than $2.00 per person, but this one was a great deal for a high-quality puzzle.
20. Kid Melt Bead/ Perler Bead Christmas Craft Pack—
You could print off the free Christmas Perler bead printables here, add a square of parchment paper and a Perler bead form with beads. Then gift as many per family as each family has kids.
Although this would take a little bit of sorting and preparation, it would cost very little if you buy Perler/melt beads in bulk, a large roll of parchment paper, Christmas gift bags, and melt bead peg forms (when i googled-shopping them in bulk I found them for .50cents each).
Do you have any Classy Neighbor Gifts for Under $2.00 ideas? I'd love to continue adding to this list.

For other 'rich living' tips and inexpensive gift ideas, please subscribe, like LiveLikeYouAreRich on Facebook, and follow on Pinterest, and Instagram.