This Clementine Wreath—Cellophane Wrapped is a nice way to show appreciation to a friend, relative or neighbor for Christmas.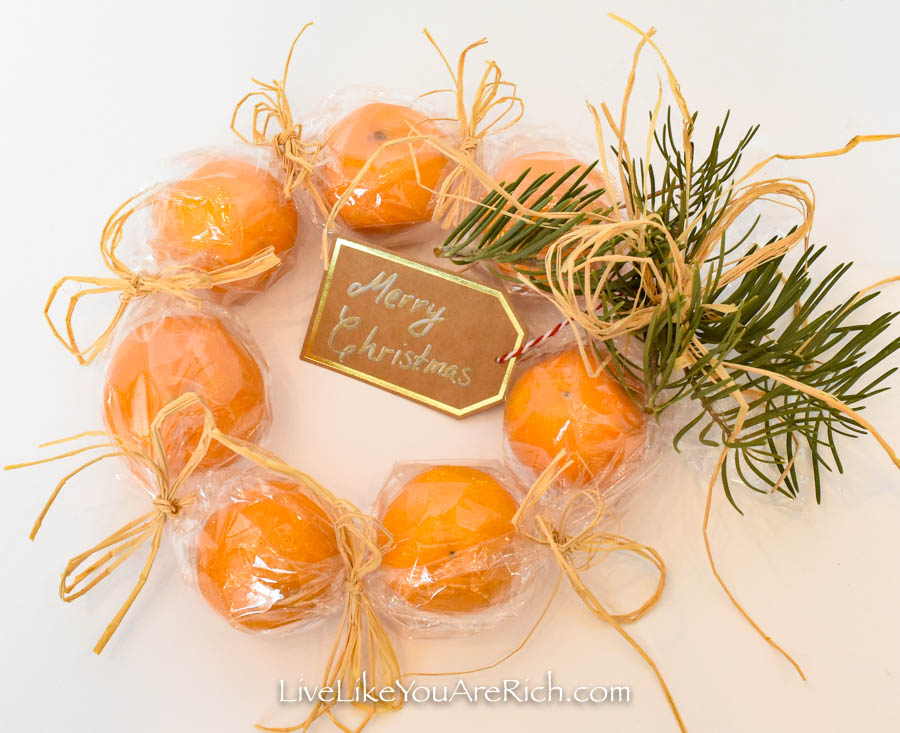 Giving neighbors, friends, or family a clementine wreath is usually well received as a gift.
The reasons are that most people like fruit, it looks cute/classy, and citrus is traditionally a winter-time food.
Another great thing about this project is that you only need a few supplies.
These are easy to make—albeit a bit time-consuming. They take about 10 minutes each if you are making them alone.
Supply List for a Cellophane Clementine Wreath
Clementines (7-8 per wreath)
String or natural raffia paper ribbon
Pine springs (I just cut them from my tree outside)
How to make a Cellophane Clementine Wreath
First, take a good roll of cellophane and roll it out on the table. Don't use super thin cellophane; anything 2+ Mil thick or thicker will hold the clementines just fine.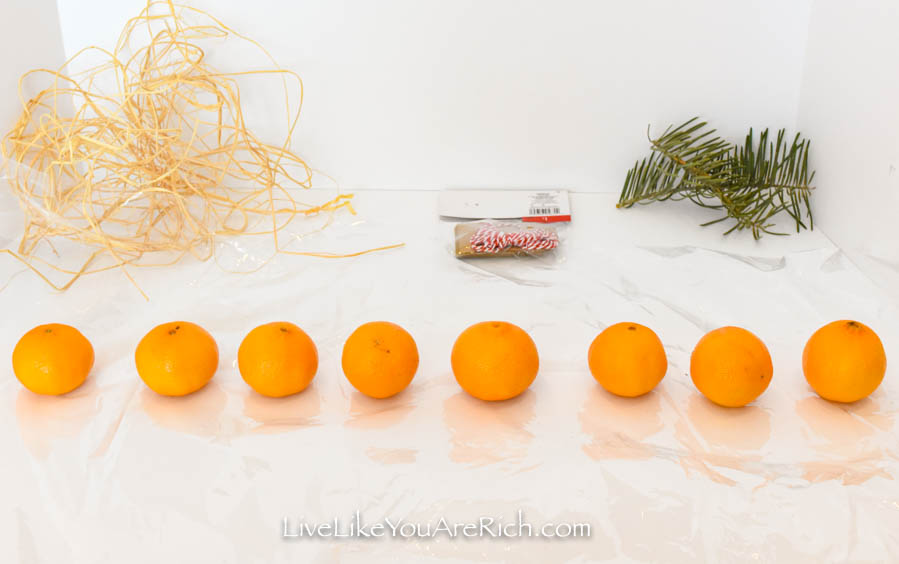 Next, place 7-8 clementines on it in a row leaving an inch and a half in between each clementine and about 6 inches on either end.
Cut the cellophane to size.
Tip- You could now use this length to cut out many sheets of cellophane if you are making many of these wreaths.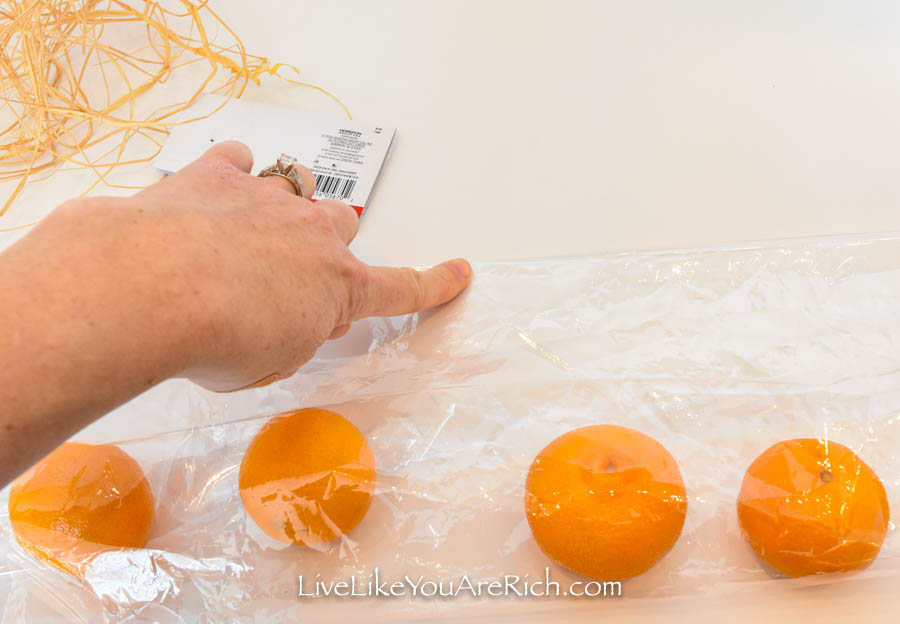 Fold over one side and kind of roll the clementines on top of the folded edge to hold it down.
Then, fold over about an inch of the exposed side to make it look nicer when you fold that over the clementines to wrap them up. The folded edge just makes it look a lot nicer than the exposed edge.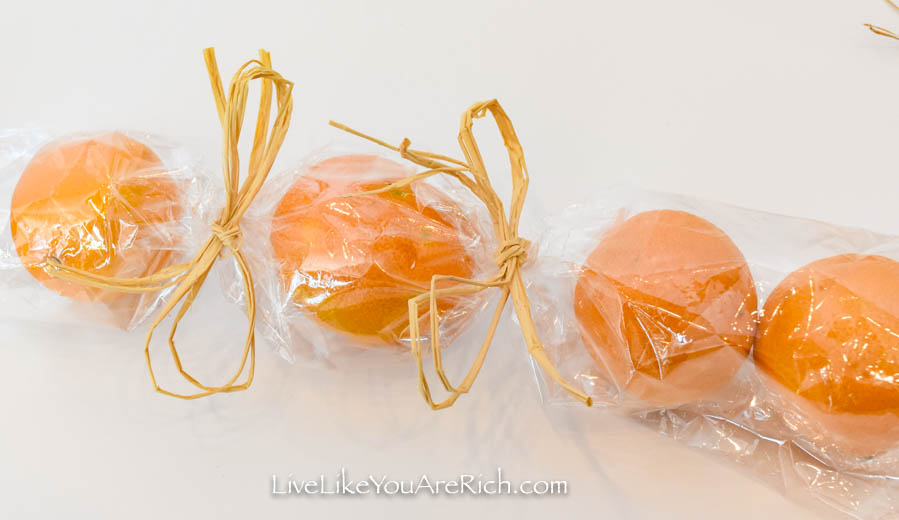 Begin tying string or twine in between each clementine in the middle and work your way out to either side.
I started with 8 clementines and ended up using only 7 because I felt it made a nice wreath size and the fewer I used the more wreaths I could make.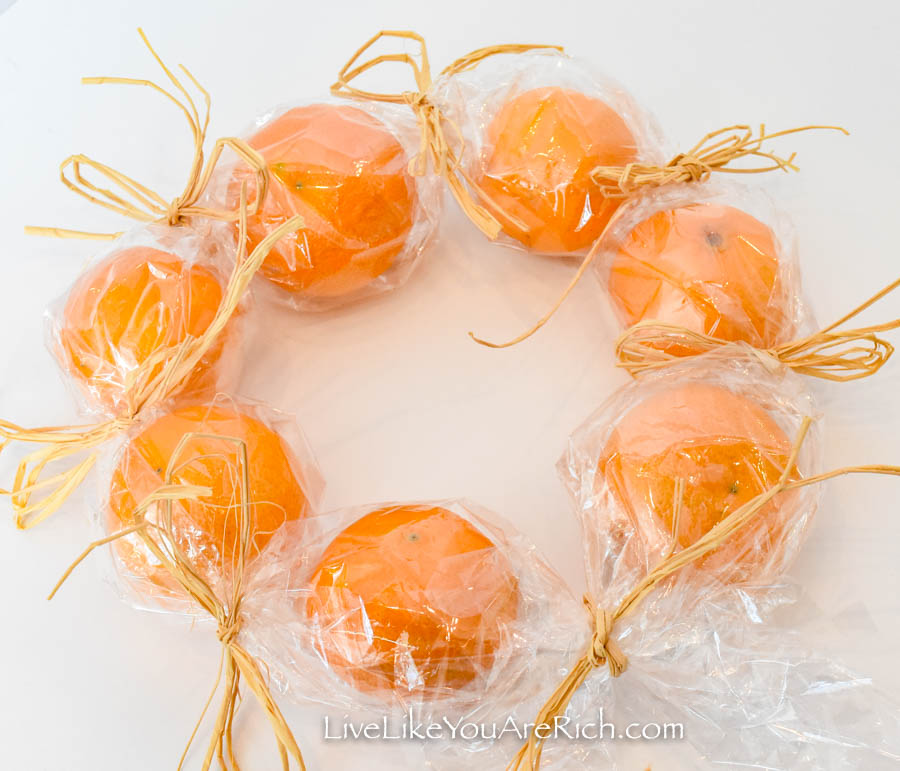 Once you have tied a bow in between each clementine, bring the two ends together and tie a double knot with twine leaving 10+ inches of twine on each end to make a big bow once the tag and pine needles have been added.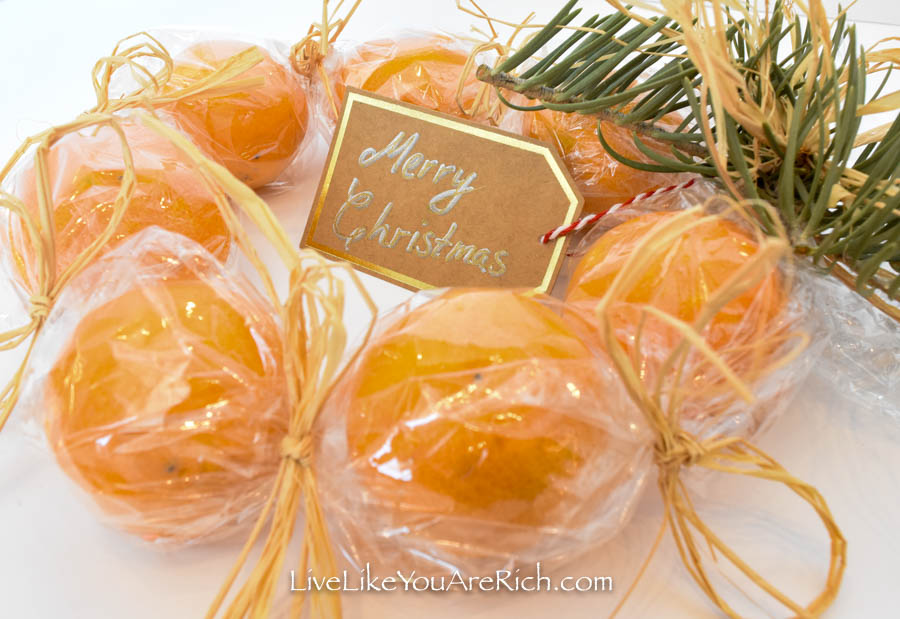 At this point, I made the tag.
I used these two markers to write Merry Christmas in silver and then gold.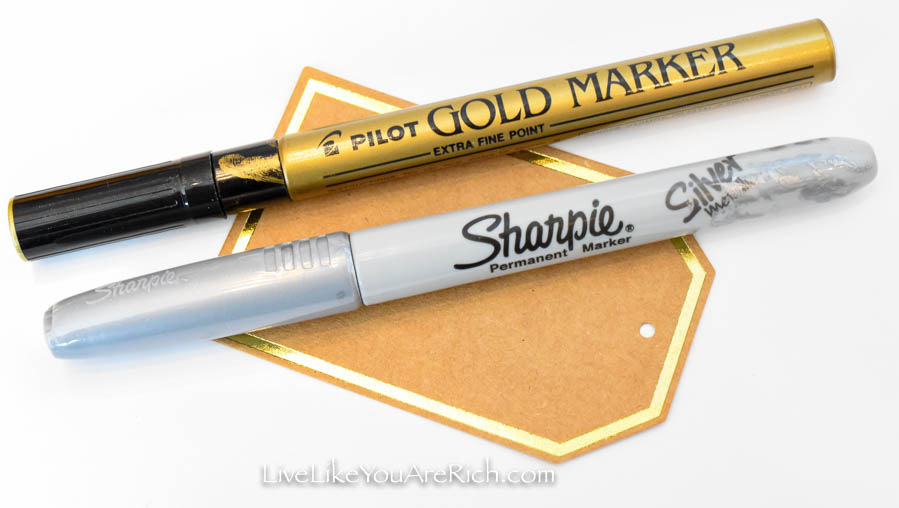 I liked the layered look of both because each alone was just not looking the best.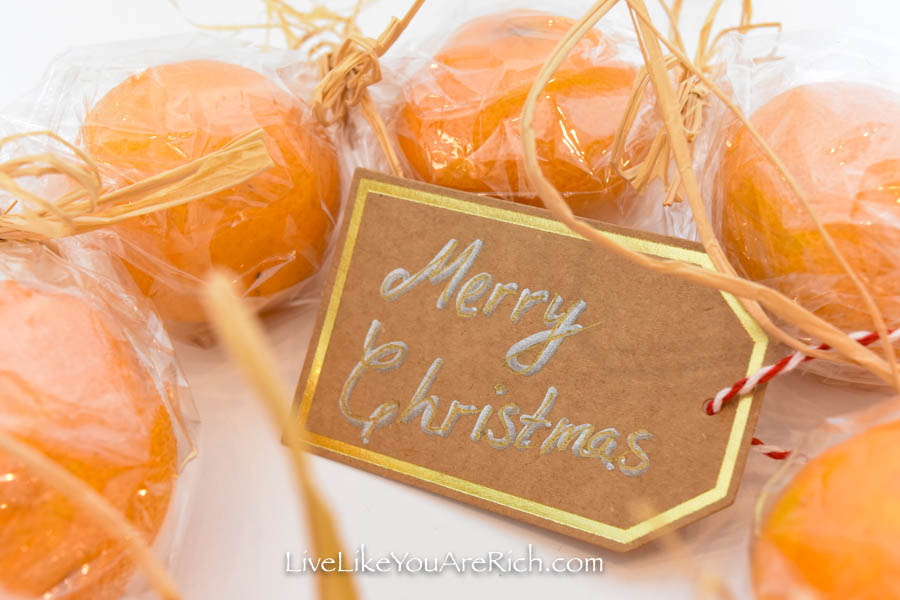 Next, I secured the tag and then I took a few sprigs of one of my pine trees and added it to the wreath. You can also buy springs of pine needles at a local store if you do not have pine trees.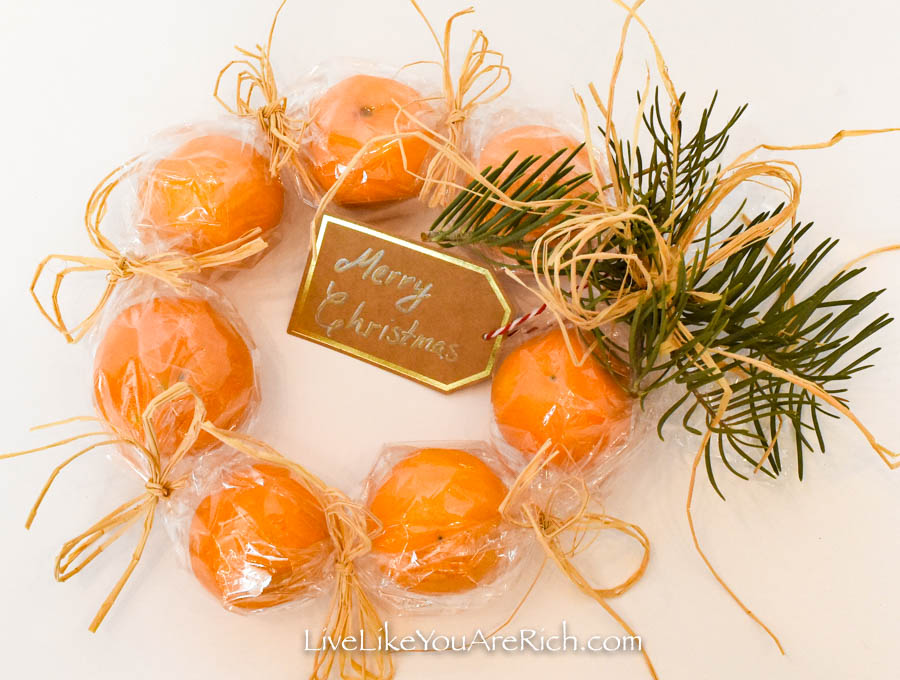 And that is it! It really was very simple to make.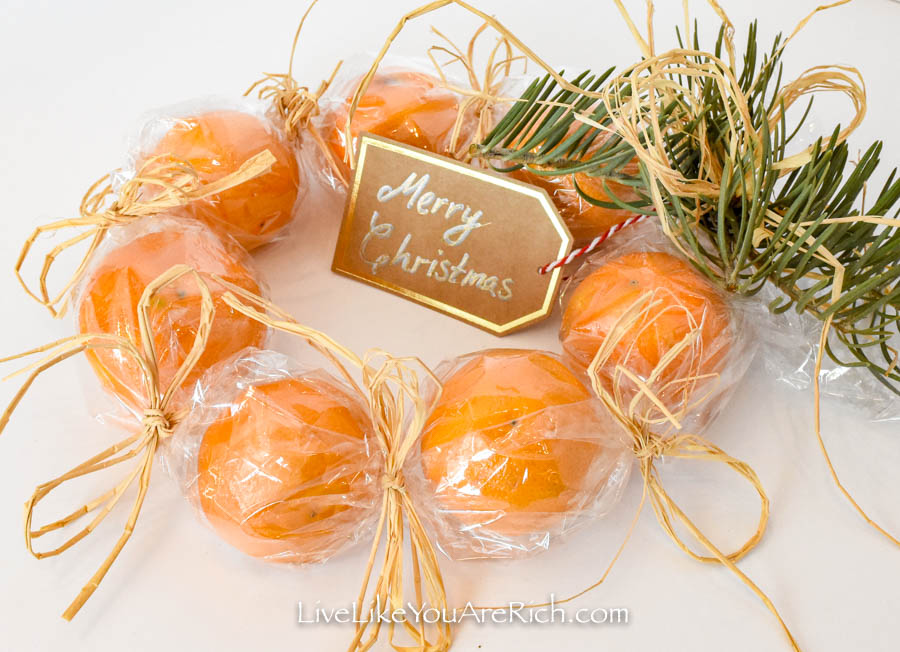 I saw this wreath online here and wanted to experiment with it to see if it would be a good gift for my neighbors this year (2020).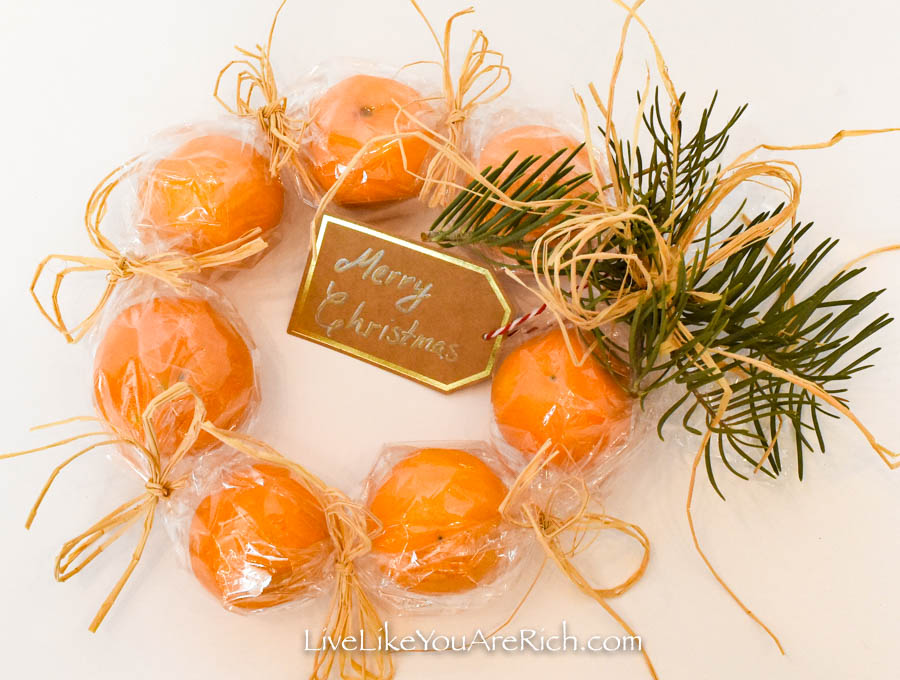 Although simple to make and inexpensive (two must-haves with neighbor gifts), they did take me about 10 minutes each to make. I gift to over 50 neighbors and because I am pregnant and exhausted all of the time this year, I decided I needed to choose something more simplistic; so, I went with this gift instead.
I may try making these for neighbors next year because I just think it's such a cute idea!
If I do make this cellophane clementine wreath for neighbor gifts next year, I will recruit my husband and children to help.
We will likely create an assembly line. I bet we could put 50 of these together in an hour or two.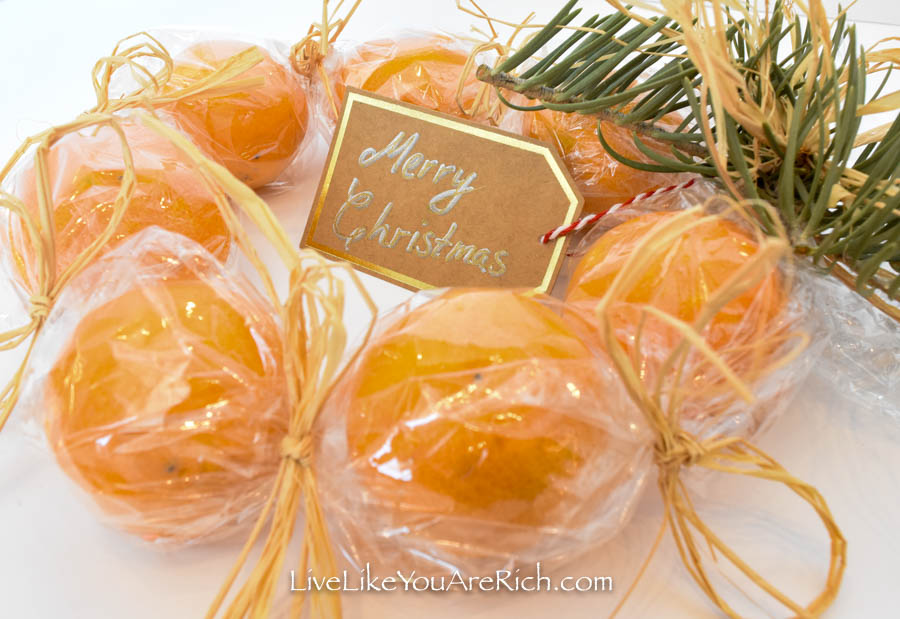 Let me know below if you make these and how many and how long it takes you in the comments below. Thanks!
Supply List for a Cellophane Clementine Wreath
Clementines (7-8 per wreath)
String or natural raffia paper ribbon
Pine springs (I just cut them from my tree outside)

For other 'rich living' and D.I.Y. decor tips please subscribe, like me on Facebook, and follow me on Pinterest and Instagram.