These Neighbor Gift Christmas Candles only take a few minutes to assemble, are inexpensive, and add a festive touch to the holiday season.
I'm always looking for nice Christmas gifts that are easy, quick, festive, and inexpensive to give to my neighbors.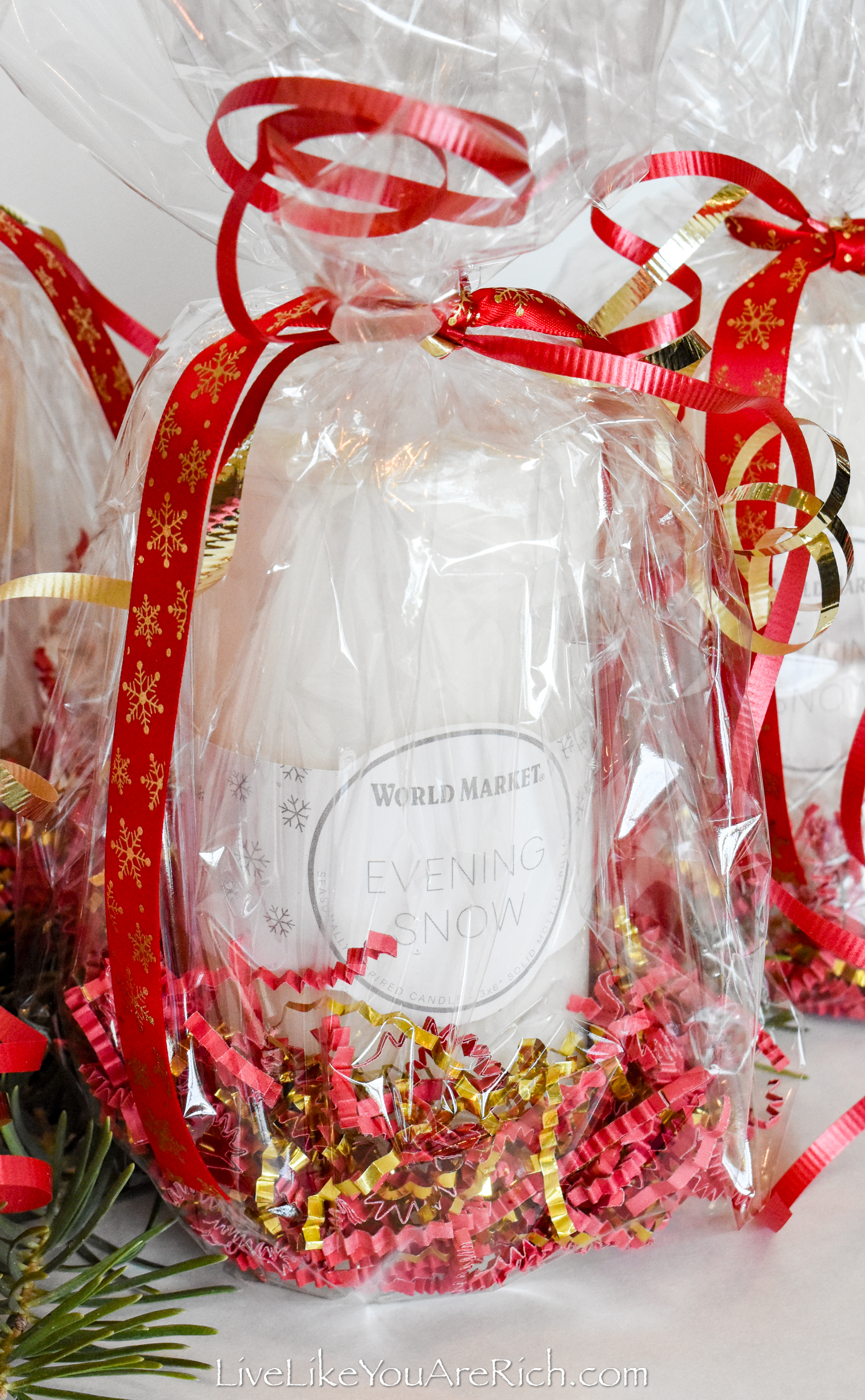 These candles wrapped in cellophane and ribbon with decorative-shred coupled with a cute free printable meet all of those requirements.
The free printable is available at the link in the supply list. It says, "May your days be Merry and Bright". I love this phrase from the song, "I'm Dreaming of a White Christmas".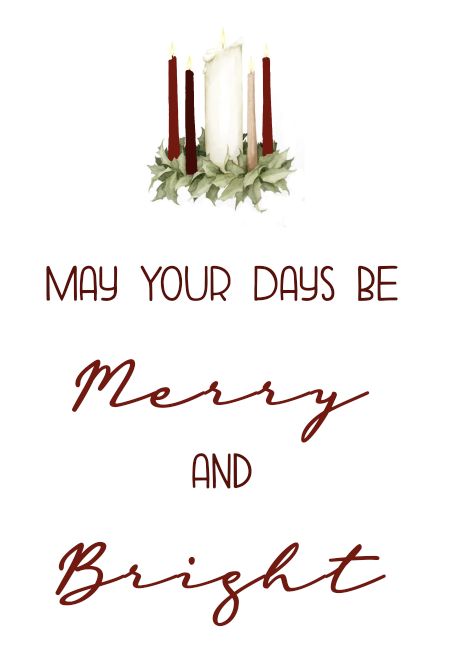 I purchased them at an after-Christmas sale at World Market for $1.00 each—down from the original $10.00 purchase price because I bought them a few weeks after Christmas. You can read why I shop 364 days early in this post.
Sometimes after-Christmas sales don't have a lot of inventory but there were plenty of candles to buy at this one so I stocked up and stored them in our cold storage.
Even if you missed the after-Christmas sales, you can often purchase candles at deep discounts. You can look at sale caps in grocery stores, online, closeouts, etc. Dollar Tree has them at $1.25 year-round.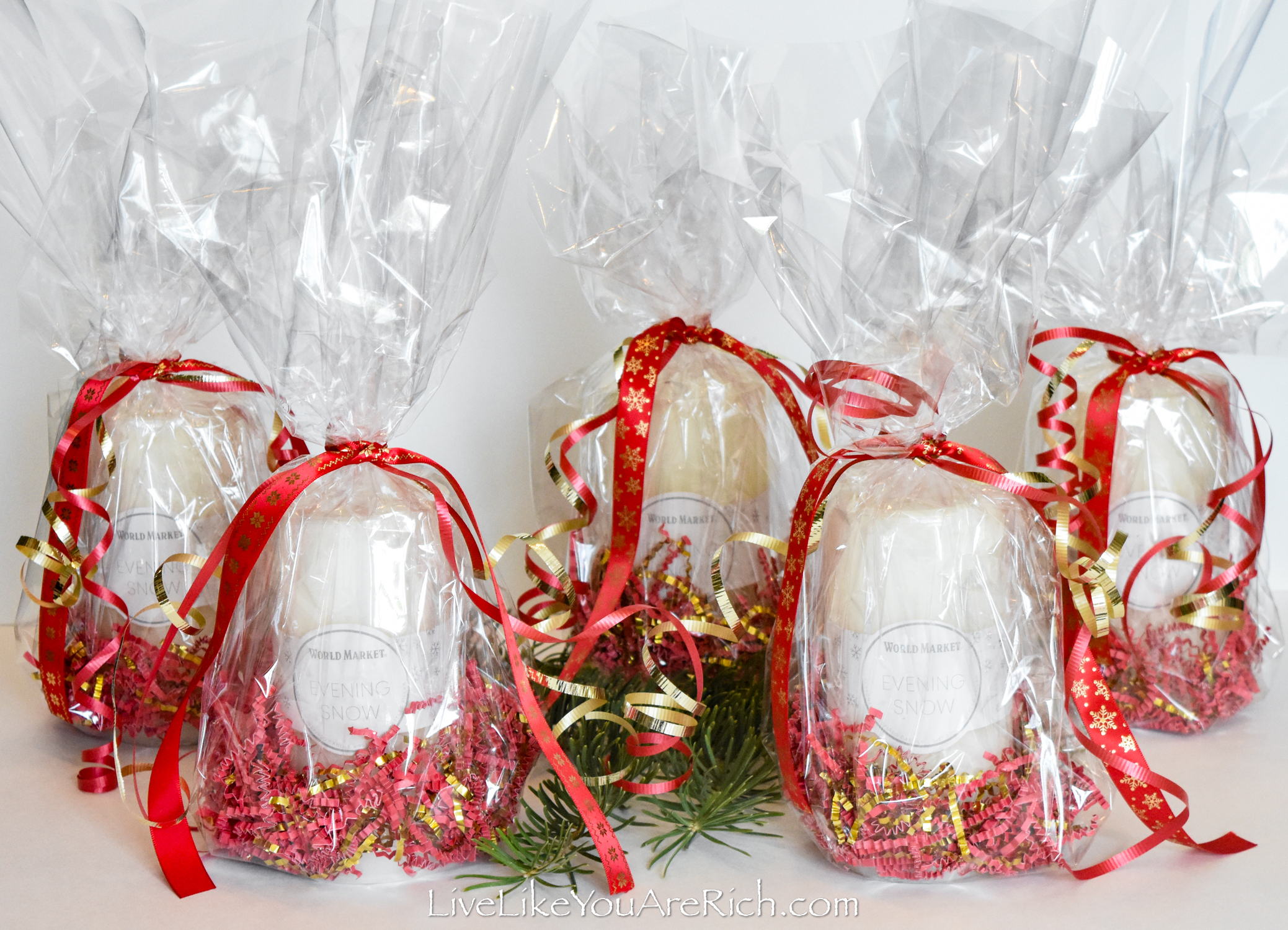 This neighbor Christmas gift is great in many ways. I love how pretty it looks. I also like that each candle only took me about a minute or two to assemble. It's awesome that I was able to make these for $1.35 each calculating the cost of decorative shred, cellophane, and ribbon. Finally, they are festive and useful for both burning and decorating.
Supply List for These Neighbor Gift Christmas Candles
Ribbon (3 varieties of gold shimmer, red ribbon, and red gold snowflakes)
Decorative Shred (Dollar Tree red and gold) 1 package was good to wrap 5 candles
Candles— I purchased 3×6 candles at World Market
Scissors
Free Printable— they should print 4 to a sheet (you'll need a printer, printer paper, and ink).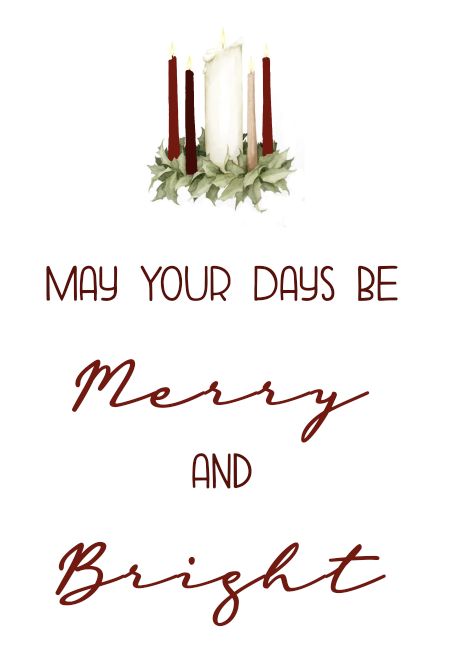 How to put together these Neighbor Gift Christmas Candles + Free Printable
To see how to make these watch the video and/or continue reading.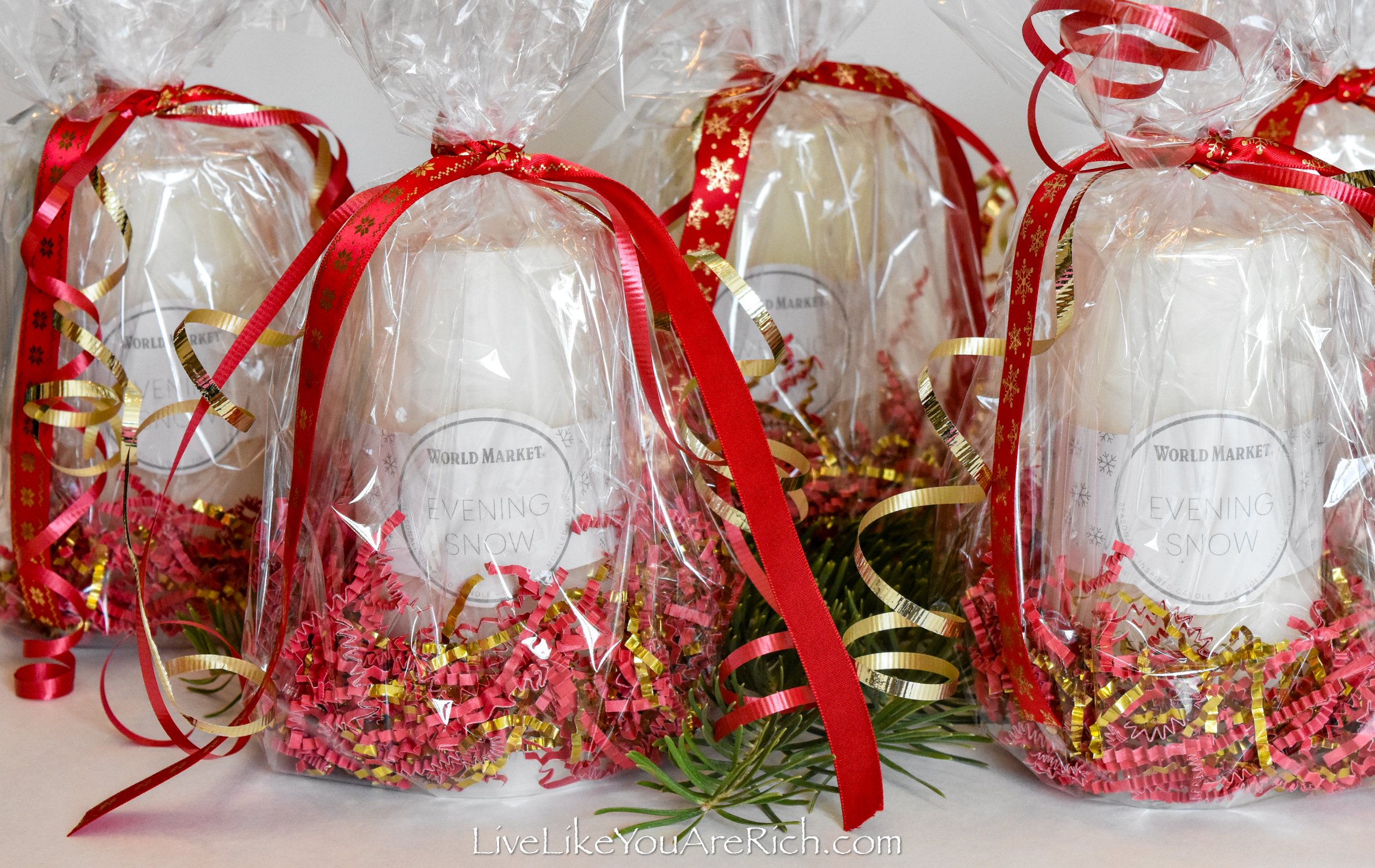 1- Roll out the cellophane and measure it so that you will have a large enough piece to make a nice pouf of cellophane on the top of the candle when it is tied.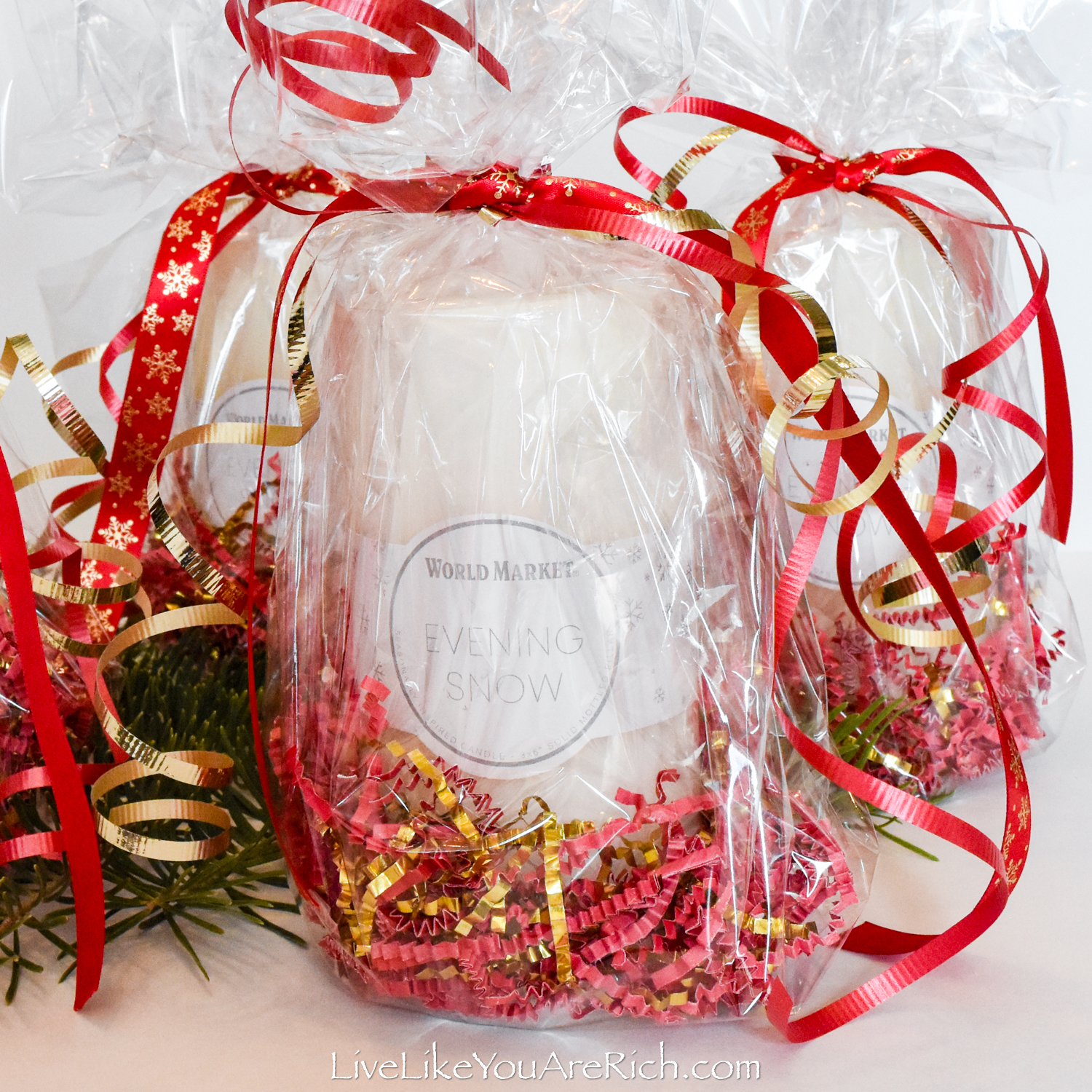 2- Measure and cut the ribbons so they are ready to go.
3- Divide the decorative shred into 5-6. I was able to wrap five candles out of the one package of decorative-shred that I bought at Dollar Tree.
4- Place the candle in the middle of the cellophane and fill decorative-shred around it.
5- Bunch the cellophane at the top of the candle and tuck in the sides—see the video to see how I tucked in the sides if you are not sure how to do this.
6- Wrap with the ribbon but before tying it make sure you are tying at the front of the candle and that you have given some slack to the cellophane so that the decorative shred is not crunched. See the video if this is confusing.
7- Using a scissor blade rip the ribbon down the flat side of it quickly in order to curl it. I curl on the opposite side as the existing curl so that it makes loose curls and not tight curls—again please watch the video if this is confusing. Experiment with doing this before you wrap if you do not know how to curl ribbon using scissors.
8- If desired, print out this free printable—high res file here, cut it out, and include it with the gift.
And that is it! Each candle only took me about 2 minutes to assemble which is a dream for neighbor gifts during the busy Christmas season.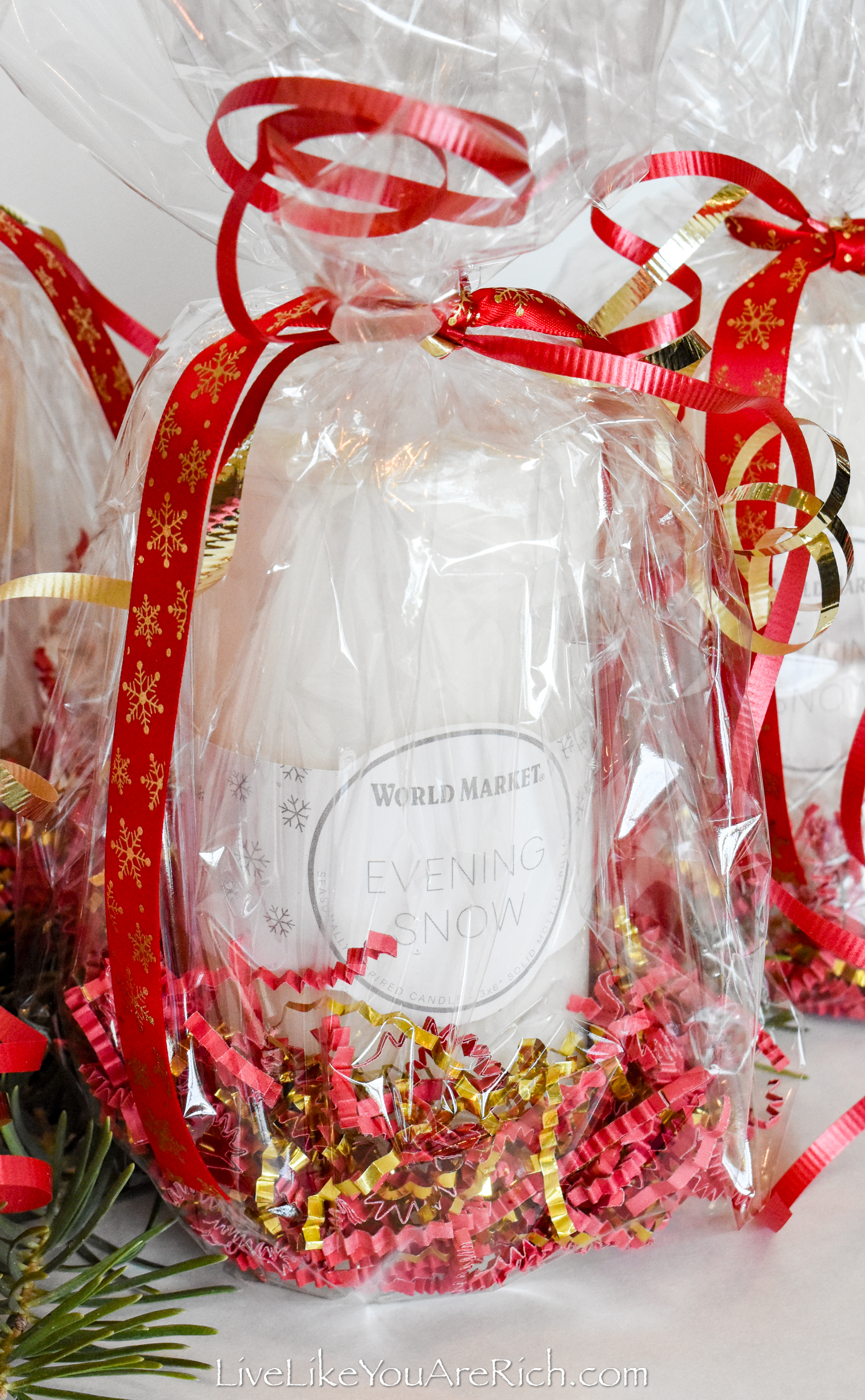 Other posts you may like:
classy neighbor gifts for $2.00 or less here.
Quick and inexpensive neighbor gifts
For other 'rich living tips' please Subscribe Here for my weekly email or connect with me on these other platforms: