Neighbor Christmas Gift Small Charcuterie Boards
I love a good charcuterie board and since they are also healthy and "on-trend", I thought that it may be a great idea for a Christmas neighbor gift.
Turns out, they are!
I recently made these and handed them out to many neighbors; they all said they were very cute and were excited to eat them.
They also didn't cost that much either.
I try to keep neighbor Christmas gifts around $2.00 each (I have a LOT of neighbors and church friends). If you'd like to see my other neighbor gift ideas, check out my post of classy neighbor gifts for $2.00 or less here.
I was able to find these nice wooden boards on Amazon for 40 cents each. I also was able to get ingredients on sale so that I could make these for under $2.50 each. The more you make, the cheaper they become because you can buy more in bulk and drive down the costs that way.
For example. I got the olives for about $1-$2 for a jar, the crackers were on sale for $2 a box, the Raspberries and blackberries were on sale for $1.50 for 6-8oz, and grapes were on sale.
I got the meat at Sam's Club, the cheese was on sale, the produce was on sale, and so on…
I just popped around comparing prices on a few store's websites that offer drive up pick up and then I did store pick-up at Smith's, Walmart, and Sam's Club on the items that were the best deals at each. It was pretty easy and I saved a lot by doing this.
Here is a little collage of what I purchased. These amounts can make 48 boards. They ended up being $2.50 each.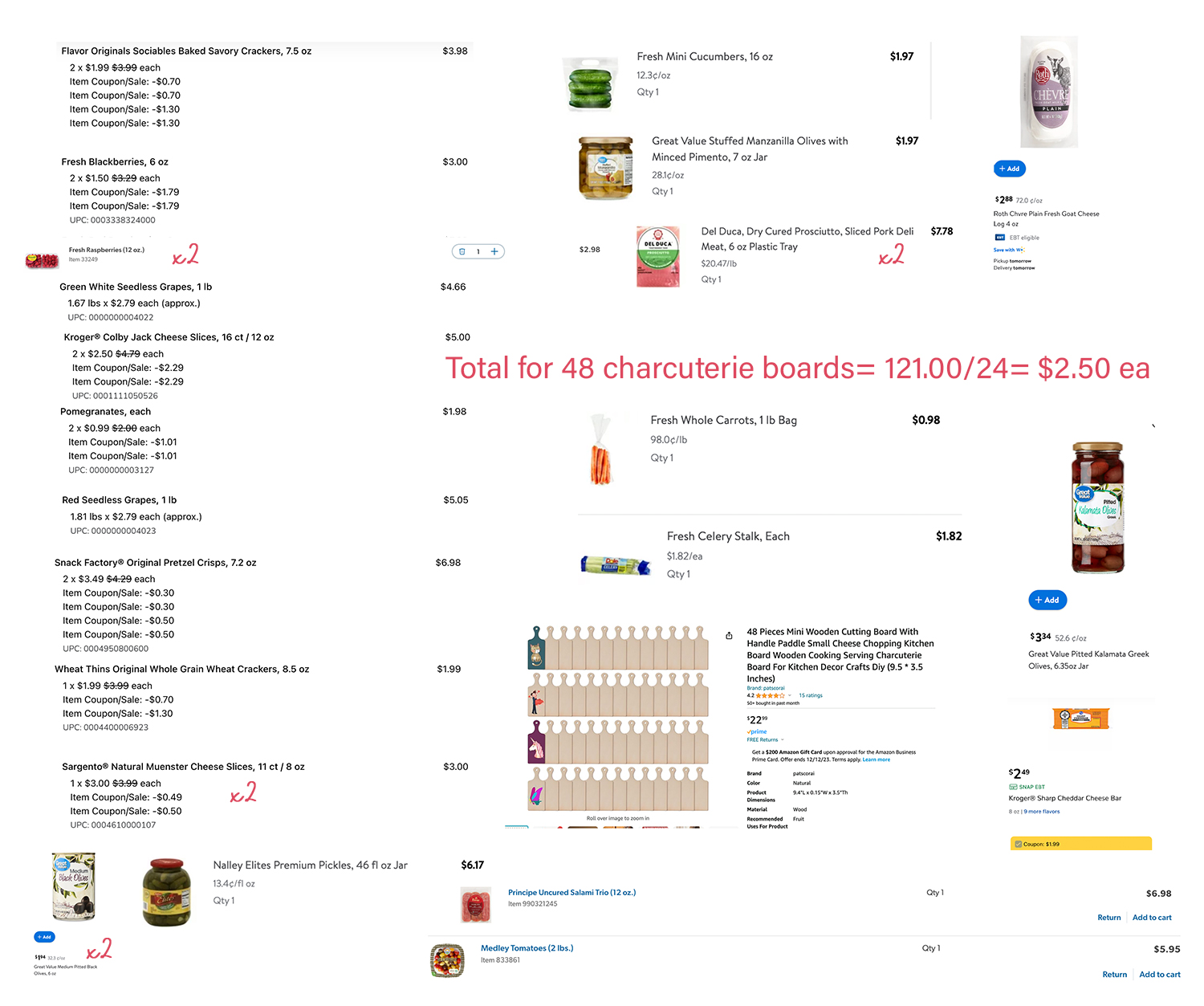 This is also a great gift for many because it is not sweet. I love getting food that isn't sweet during the Christmas season since after Halloween, Thanksgiving, and a host of Christmas treats, I'm usually on sugar overload. I figure many others may feel the same.
The fact that this is healthy lends this neighbor's Christmas gift desirability and uniqueness—in my opinion.
Although it took me about 1 hour to make 12 plus a large board. I think that I would have only taken an hour and a half to make the 48.
It's the washing, cutting, prepping, and setting out that takes quite a bit of time. The assembly goes pretty quickly.
Still, this isn't a quick/easy gift but it is very classy, healthy, and beautiful.
To make these charcuterie boards even more festive, I made sure to purchase a lot of green and red foods.
That was surprisingly easy! There are a lot of red and green fruits and veggies!
My daughter loved making her own board while I was making these and I thought it was so cute so I had to share.
Supply list for these Neighbor Christmas Gift Small Charcuterie Boards

Small wooden boards 9.4″L x 0.15″W x 3.5″Th I've seen 48 for $22.99 = .47 each
scissors
bowls
Food gloves (optional)
Ingredients for these Neighbor Christmas Gift Small Charcuterie Boards
Olives (black, manzanilla pimento stuffed, and Kalamata)
Cheese (Cheddar, goat, mozzarella, Munster, and Colby jack)
Crackers (Wheat thins, Town House, Pretzel Crisps, Specialty)
Meat (Dry cured Salami mixed variety, cured Prosciutto)
Fruit (Grapes red and green, raspberries, blackberries, pomegranate,)
Veggies (Celery, Carrots, mini cucumbers, mini petite dill pickles,)
Herbs (unnecessary). I bought a bunch of herbs and tucked in a sprig of Rosemary but wouldn't do this if I did it again). It kind of overpowered the small boards. These are better for a large board.
How to put together Neighbor Christmas Gift Small Charcuterie Boards
Watch the video and/or continue reading to see how to assemble these.
1- Prep your space. Wash everything that needs washing. Slice everything that needs slicing, and pour out a variety of crackers on a plate. In short, make sure everything is ready to place on the board and easily accessible. I don't often use gloves when prepping food because I wash my hands like crazy and try to keep things very clean while cooking. I chose to wear gloves when making these because my two toddlers were running around while I was making them and so I'd take the gloves off and switch them out when I had to do motherhood stuff in the process.
2- Start with larger items and put them on the corners and middle of the board. Work in a pattern making each board look the same. It is much easier when making a large quantity of these boards to help you keep track of where you are at and if you have put a certain item on each board.
3- Place items next to items that go together— within reason. While most everything pairs with everything else on a charcuterie board, be careful with the really strong flavors such as pickles, spicy meat, and very sharp cheeses. Only use a small amount as frequently these are for those with acquired pallets. Since I do not know what my neighbors like, I tried to keep these items to a minimum.
4- Once everything is on the board stand back and see if there are empty "holes" and fill those with another olive or raspberry etc. until you feel like the board is nice and full.
5- Using cellophane and ribbon wrap up each board.
6- Deliver and be prepared to be appreciated. I gave these away to 12 neighbors to be kind and to also see how they'd be received and they LOVED them. So I think it's fair to say your neighbors likely will too.
Other posts you may like:
Classy neighbor gifts for $2.00 or less here.
Quick and inexpensive neighbor gifts

For other 'rich living tips' please Subscribe Here or connect with me on these other platforms: