Bunny Napkin Decoupaged Wooden Eggs.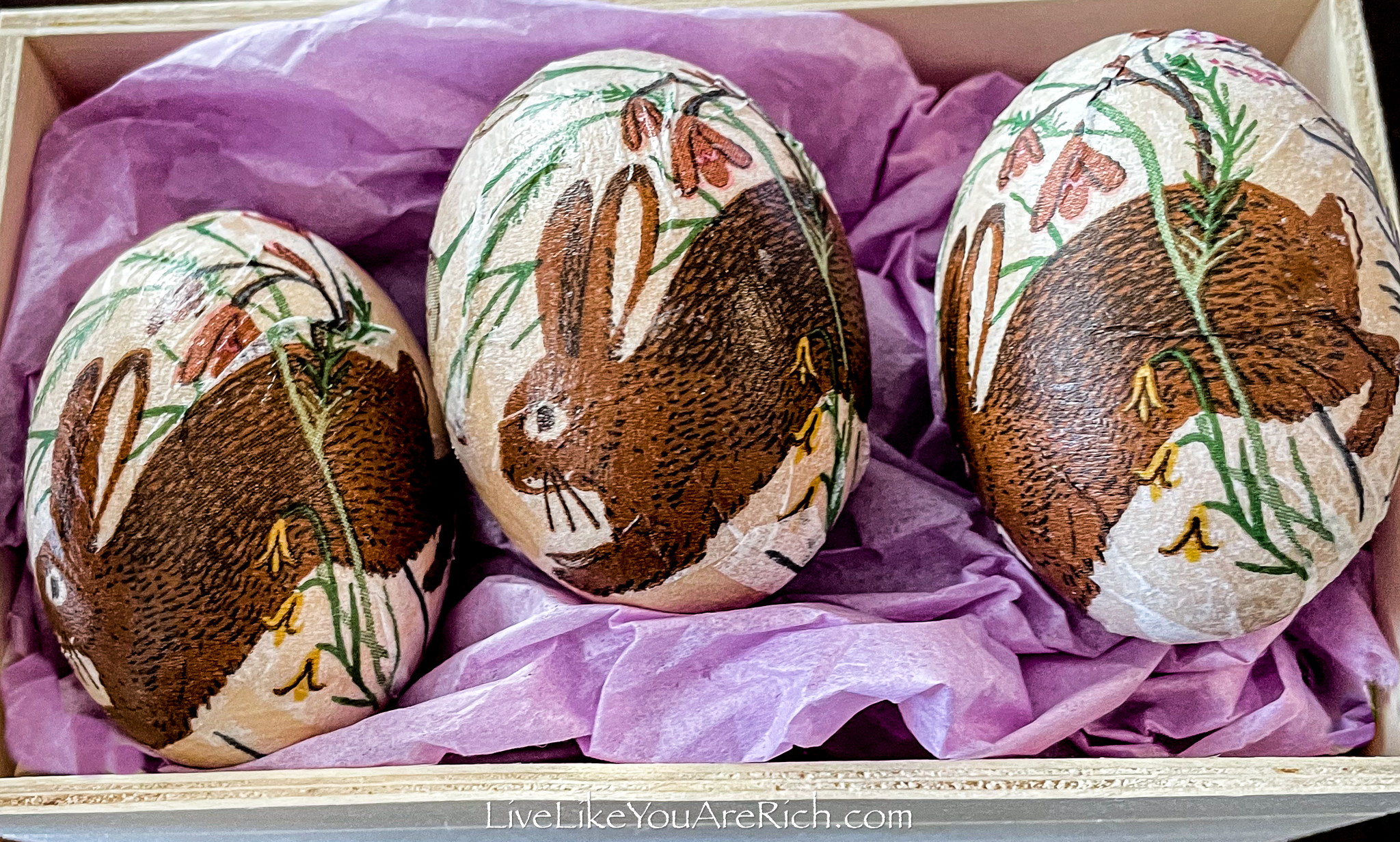 These decoupaged eggs make a fun Easter decor item that can be used for a variety of things.
You could use them to decorate a mantel, an Easter tablescape, a side table, or many other areas in the home.
They are very simple/easy to make, quick to put together and inexpensive—my golden standard for crafting.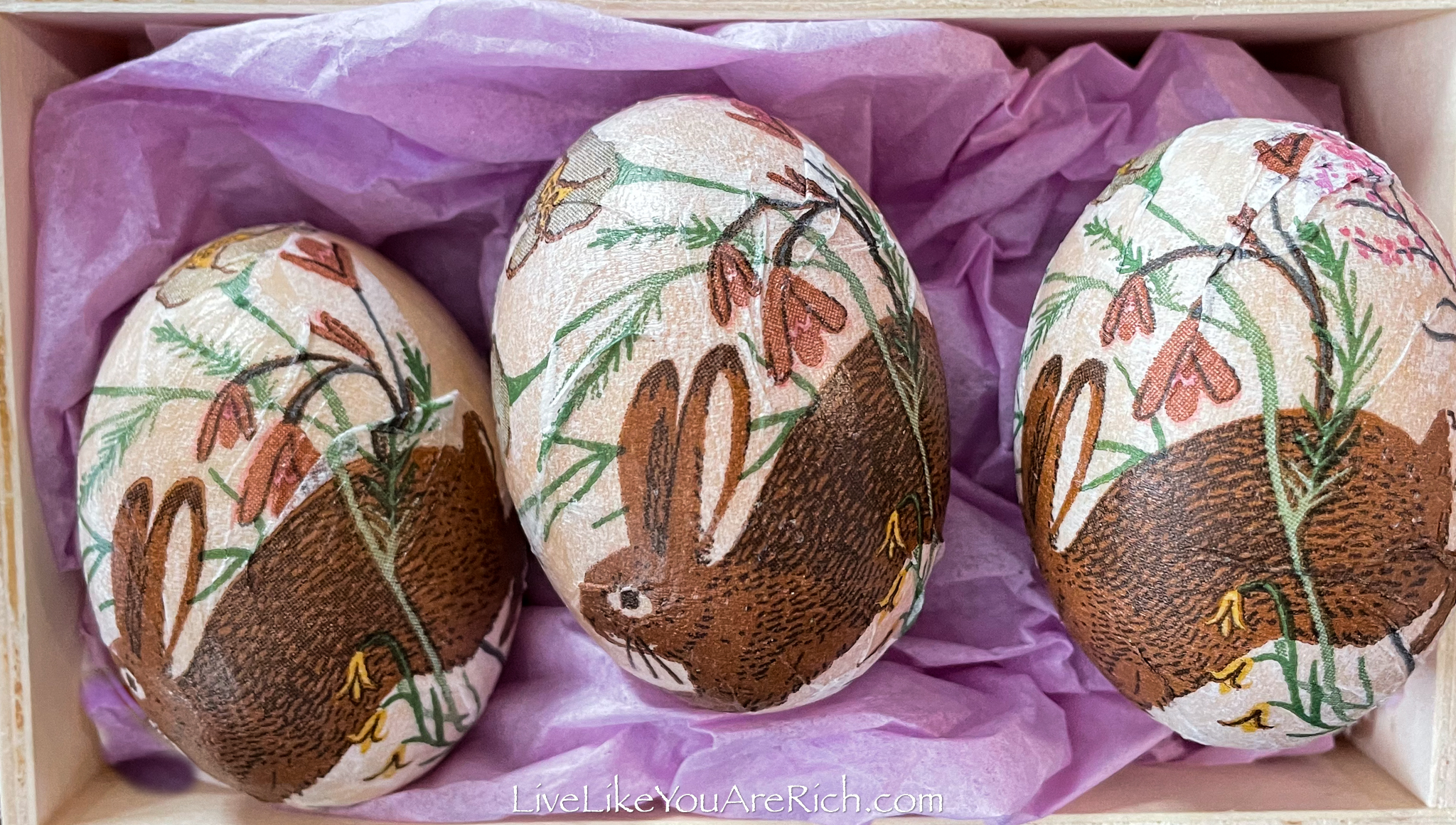 Supply List for these Bunny Napkin Decoupaged Wooden Eggs
Mod Podge matte
scissors
Target bunny napkins (or any napkin design you like)
Optional-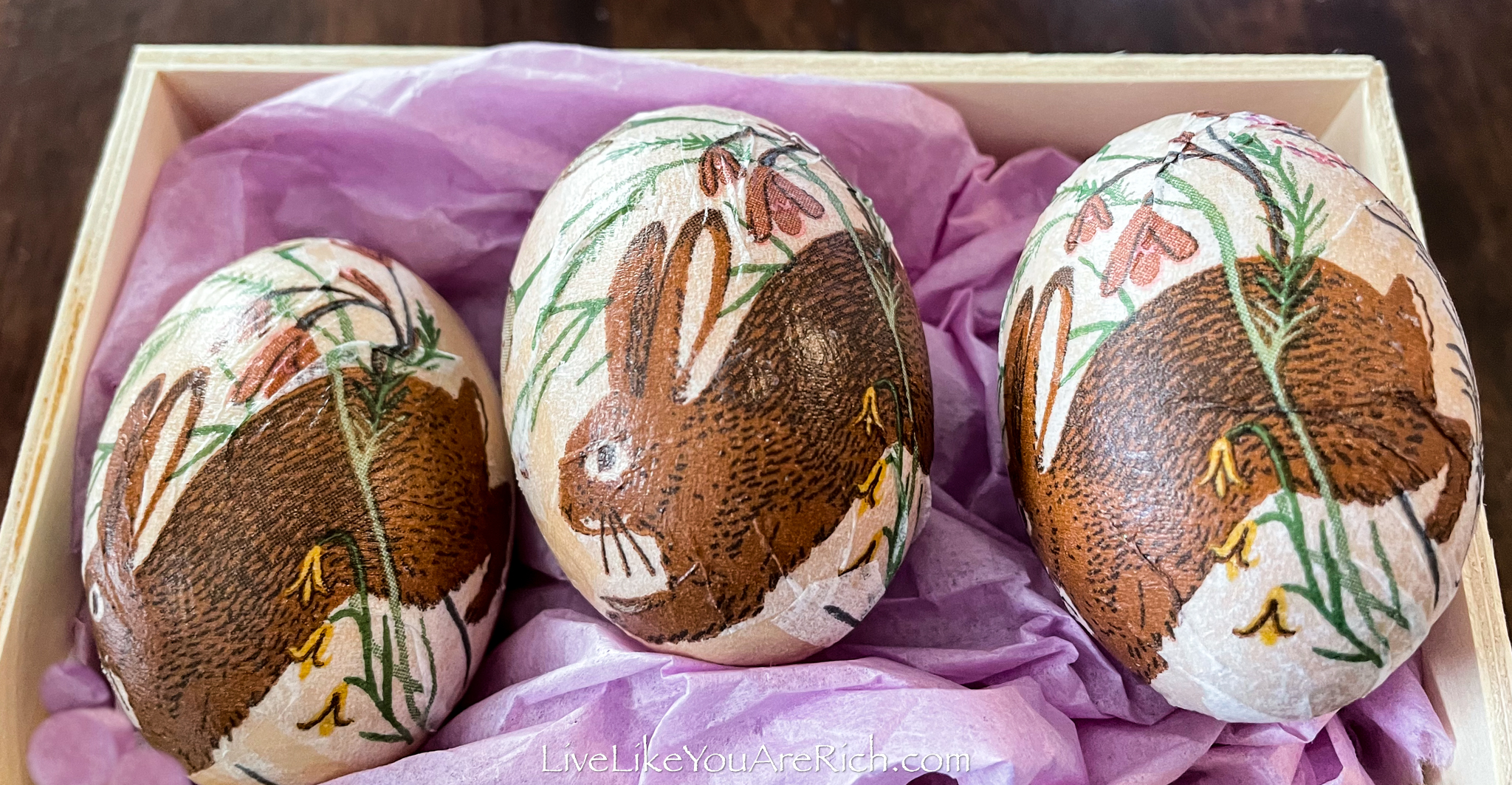 How to put together these Bunny Napkin Decoupaged Wooden Eggs
Watch the video here and/or continue reading
Separate the top layer of the napkin from the bottom layers. Do so carefully to prevent tearing the design.
Cut out the design you want to transfer onto the wood egg.
Using a foam brush paint the wooden egg with Mod Podge.
Place the napkin over the Mod podge, tuck, cut, and stretch as needed so that the napkin can sit as flat as it will.
Mod Podge over the napkin
Set to the side to dry.
Some optional things you may want to do…
You may want to break the image into 2 or more parts so that you can more easily transfer the flat images onto the rounded eggs.
If you want a white or colored background (to better match with your chosen design), you can paint the eggs to match and make sure they are fully dry previous to painting them with Mod Podge. This will result in a more seamless look from design to egg. I liked the natural wood showing through the white background of my napkins, so I didn't pre-paint mine. However, if I were to choose a different design with a colored background, I would likely choose to pre-paint the eggs to match that background.
You may want to try using rice paper/decoupage paper and tissue paper to decoupage eggs as well.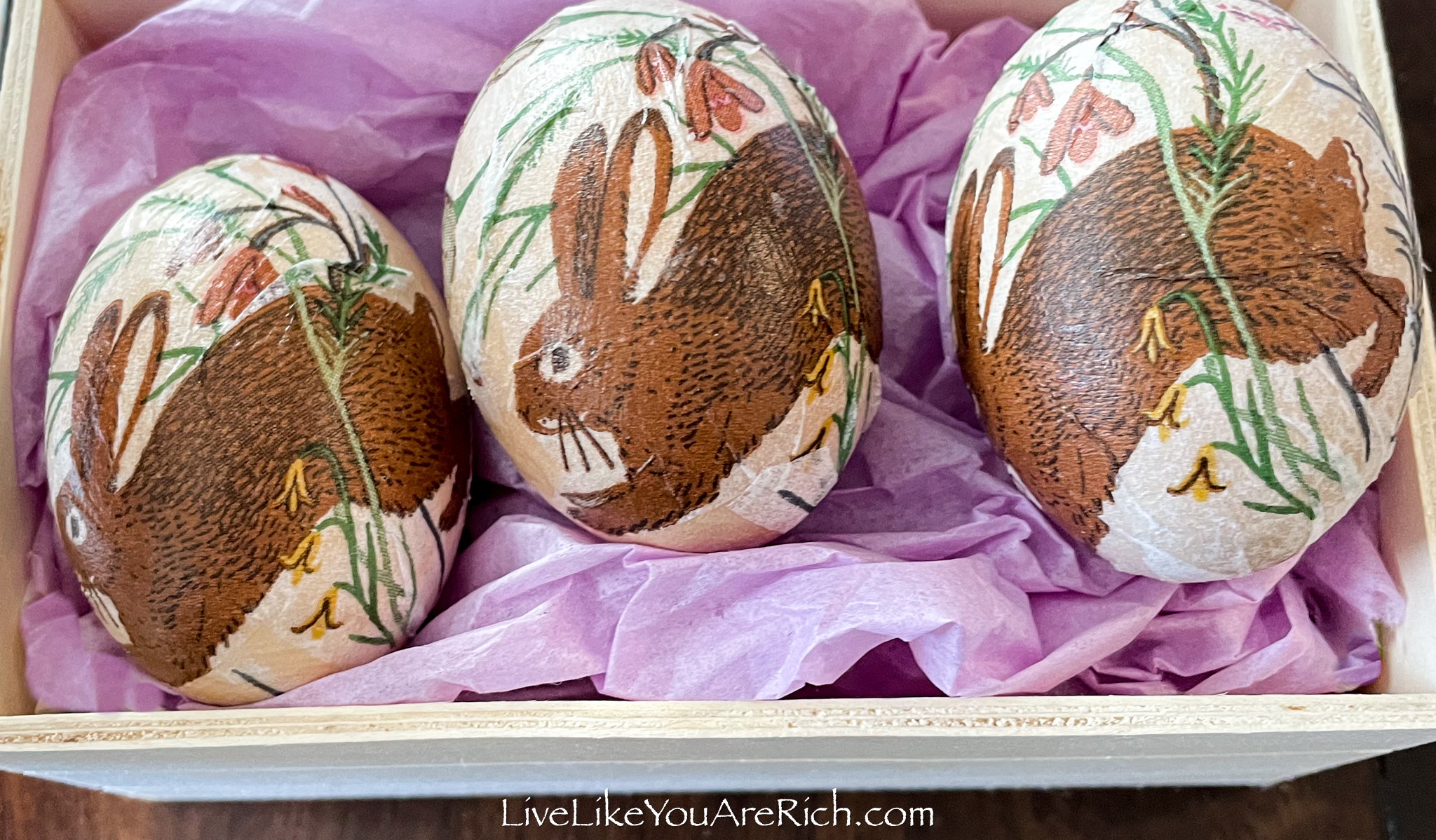 That's it. Super easy huh?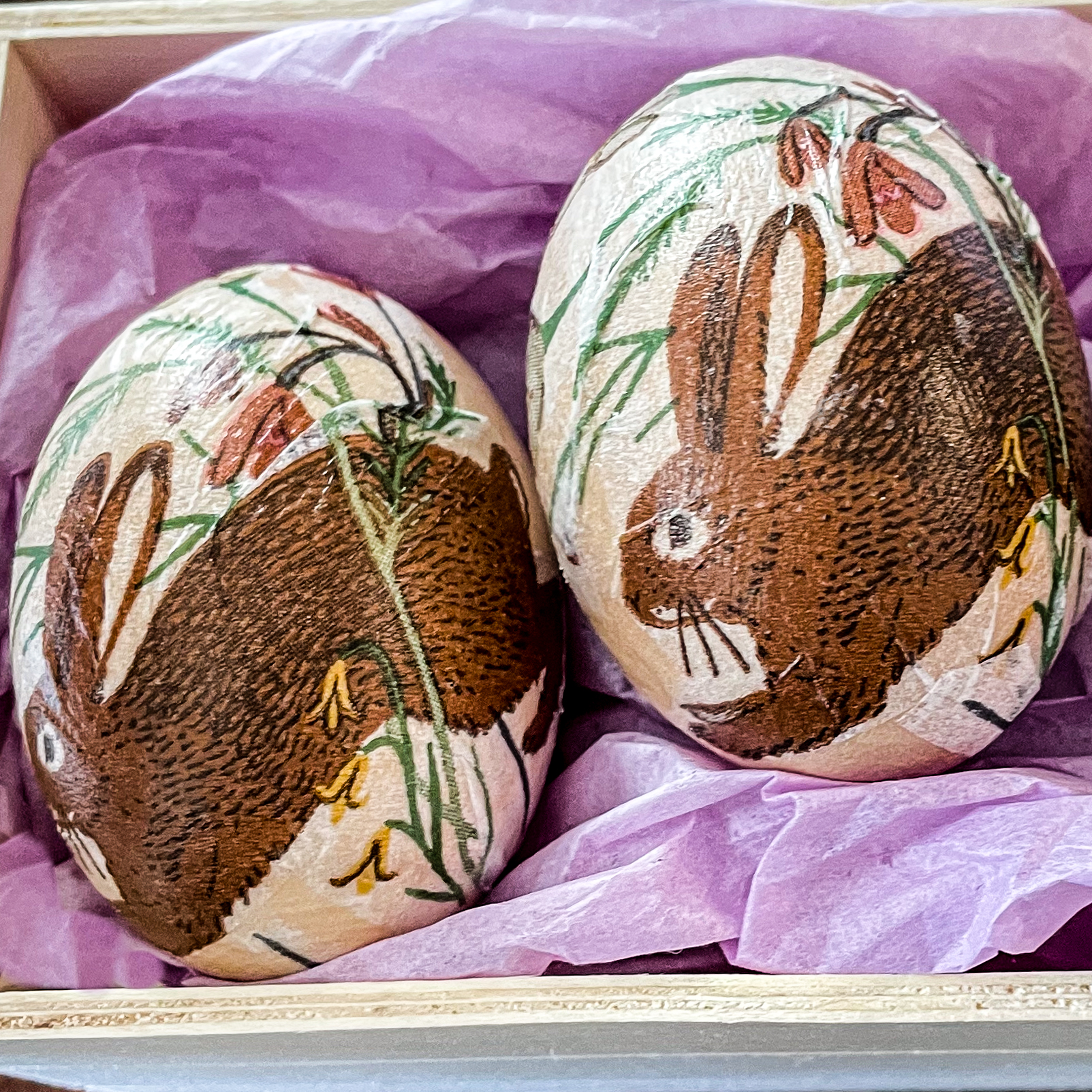 I've tried this with different designs on eggs and like this bunny napkin image the best, so that is why I photographed just this one.
My daughter really liked doing this craft with me. It is a fun, inexpensive way to involve children in Easter crafting.
I hope if you get to make these Bunny Napkin Decoupaged Wooden Eggs you will enjoy it as well.

For other 'rich living tips' please subscribe, like me on Facebook, and follow me on Pinterest and Instagram.