This year I made multiple Christ-Centered or Christian Advent Stockings for students in the Sunday School class I teach for the Church of Jesus Christ of Latter-Day Saints.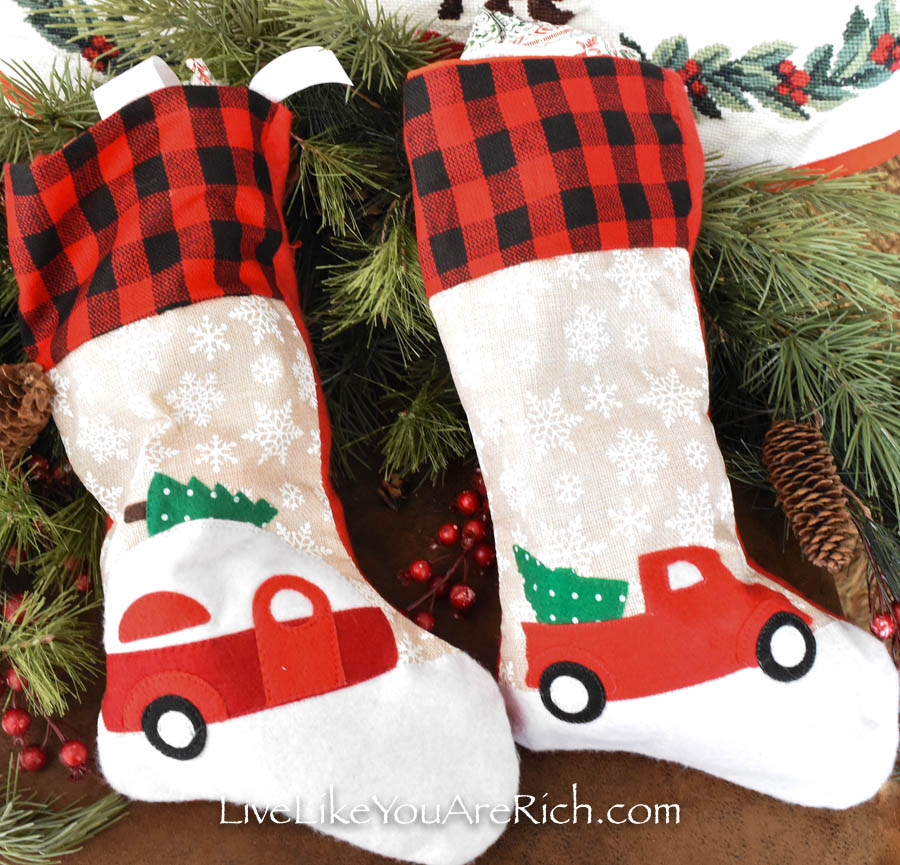 Due to COVID19 and the 2020 shutdowns, I haven't taught in person for almost a year! I have been able to Zoom teach and meet with them that way, but I've missed seeing them on a weekly basis.
Teenagers in general have really been hit hard with the many lifestyle adjustments they've been forced to make because of this 'pandemic'.
I felt like they could use a little extra attention this year to make up for all of the sacrifices they have made.
So, I began thinking of what I could do to make this Christmas a special one for them.
I was thinking about doing a little Christmas tree advent with 24 ornaments with scripture attached to each one.
I was about to pull the trigger and buy the items needed when I asked my husband his opinion. He said he didn't think the teenage boys would really appreciate a tree with ornaments.
So, I went back to the drawing board. I continued thinking of things that could be practical, useful, tasty, or fun yet still Christ-Centered.
Finally, I came up with the idea of making a Christian Advent Stocking that would be filled with inexpensive yet useful or yummy gifts. Then, to make it Christ-Centered, I would attach a scripture, quote, poem, or thought about Christ to each one. I would try to the gift and the spiritual thought.
My husband agreed this was a much better idea for a teenager and so did I.
I began working on this project the last week of November and it came together by December 1st. I had the help of my 6 and 8 year old kids and a neighbor (who I told the idea to and who wanted to donate some money to the project so I could more easily afford it).
They turned out very nice and I was able to tie each gift in with a thought or scripture about Christ.
A few parents and the students have commented on how much they have loved these stockings! That made me so happy. My intention was to brighten up their Christmas season.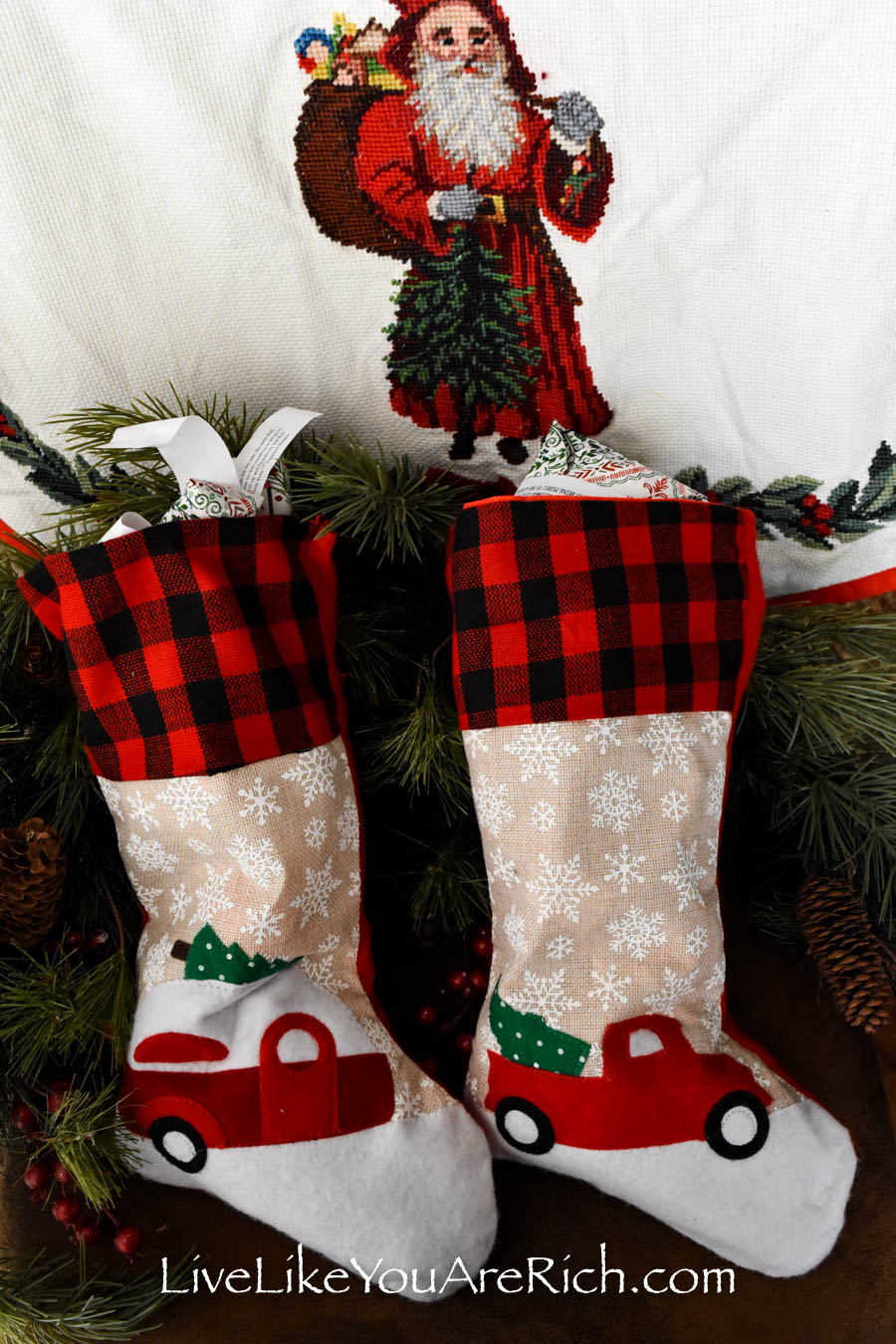 Supply List for Christian Advent Stockings
Wrapping paper
Tape
Scissors
Stockings (Dollar Tree or here)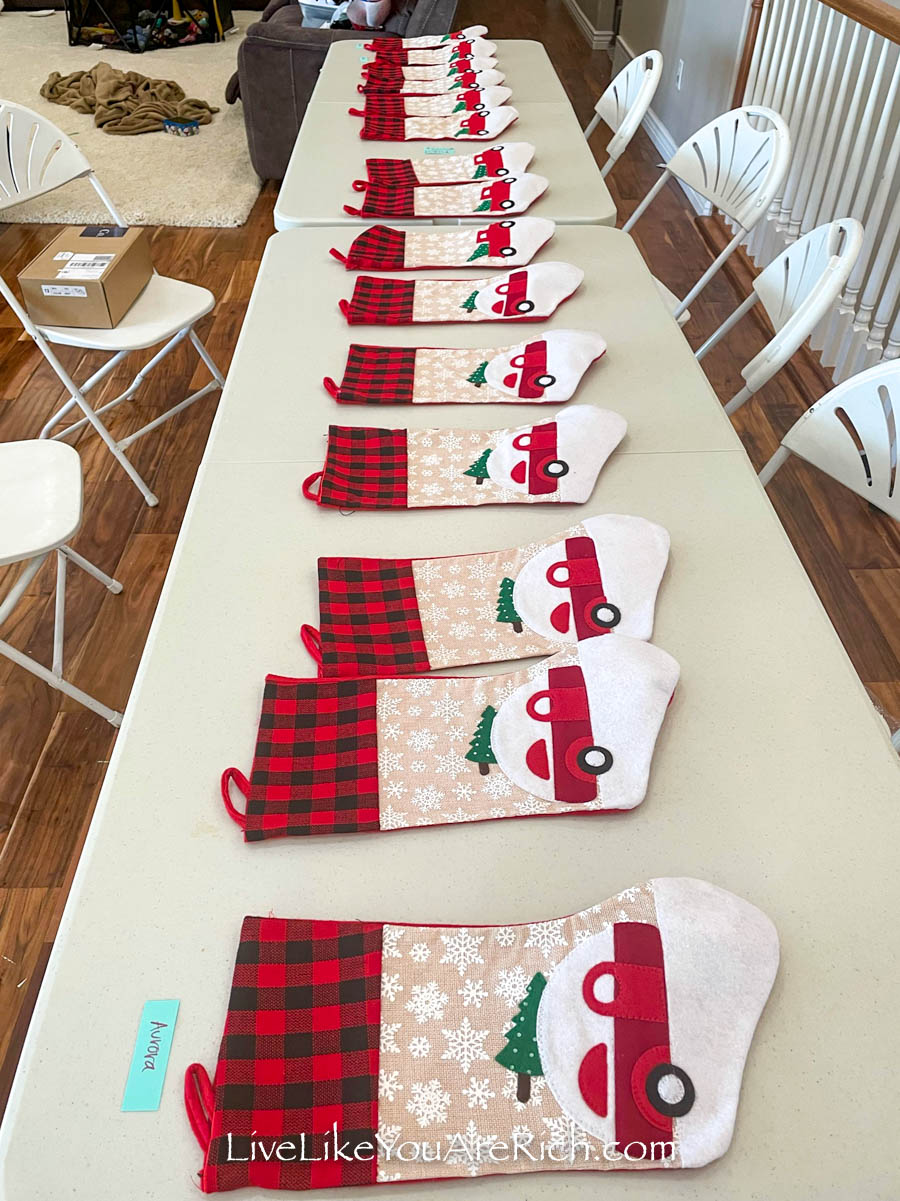 24 gifts for each stocking. I list each below with the spiritual thought we taped on to each one.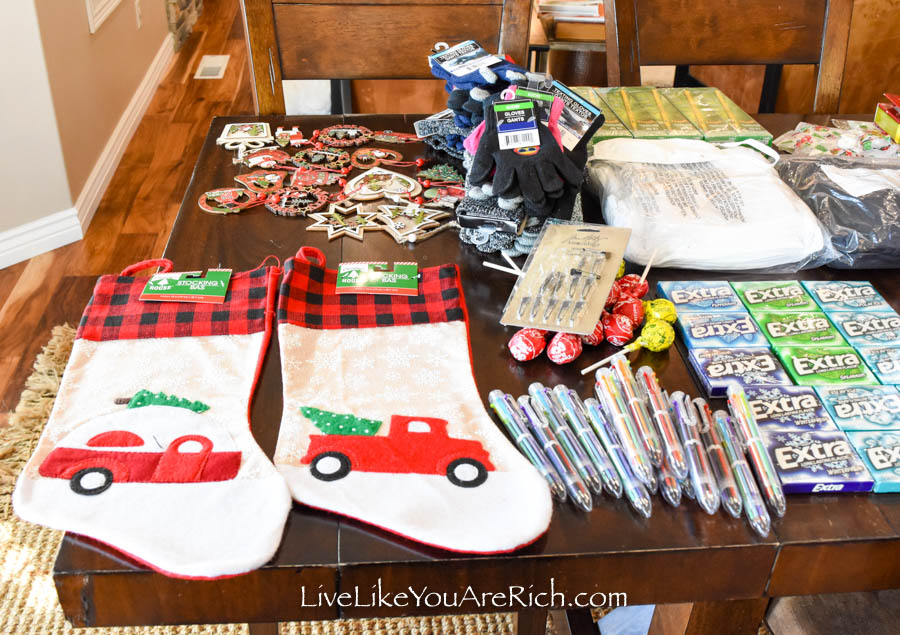 The 24 Gifts I used and their correlating scripture/spiritual thought
1. A bag of gold coins (purchased at Dollar Tree):
Attached thought:
"These are the gifts we bring. The talents we have come from our Heavenly Father, and to honor Him, we can develop and expand them and then return them to Him. All of us possess some talent which we can practice, increase, and offer. Are you regularly practicing your talents? Perhaps your talent is kindness or gratitude. How about being cheerful, helpful, and unselfish? How about practicing that winning smile? The Wise Men brought their gifts of gold, frankincense, and myrrh. We can bring our talents." By: Sister Betty Jo N. Jepsen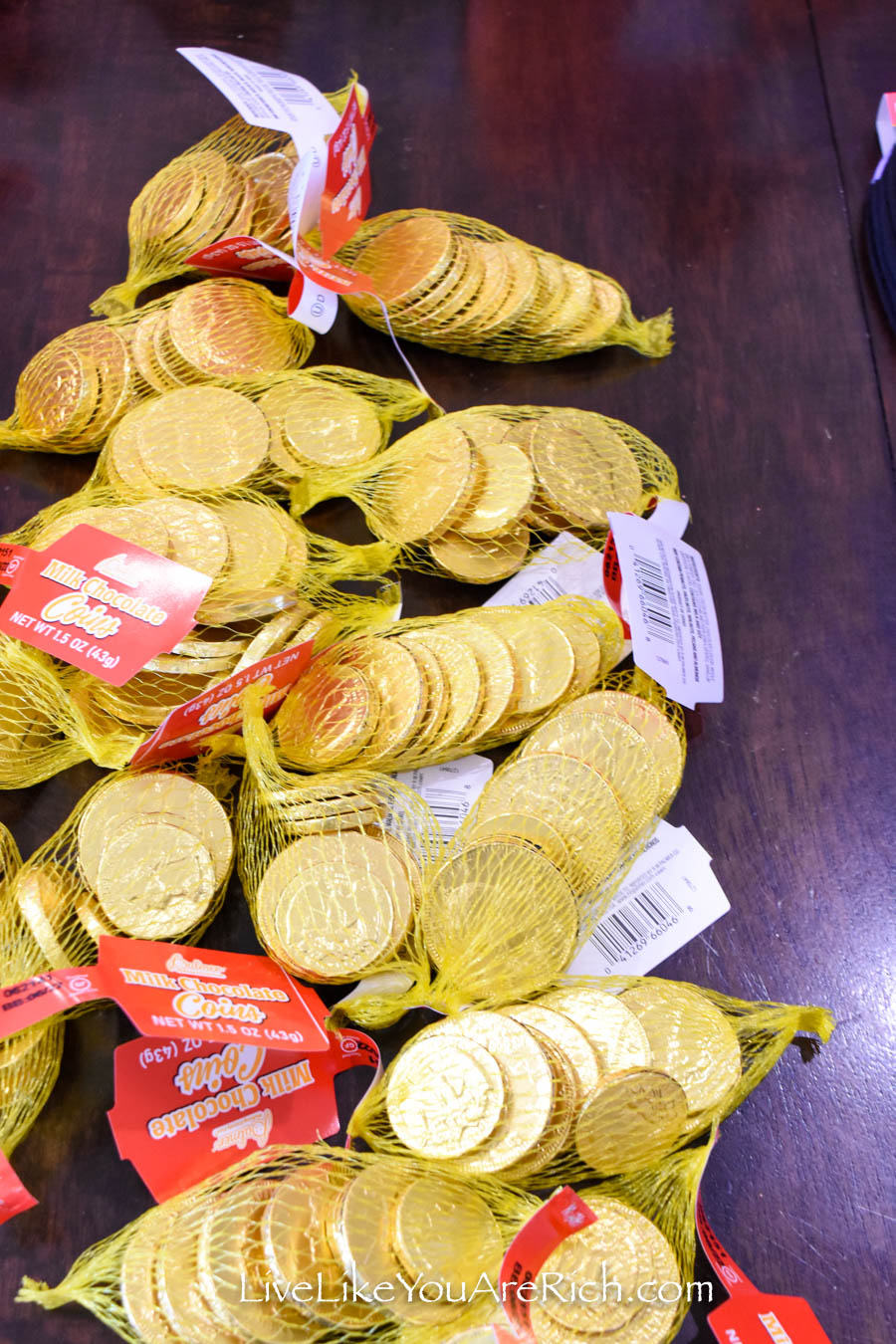 2. 1 Ornament. Purchased here on Amazon
"Christmas Symbolism: Among Christians, the green tree is thought to symbolize eternal life in Christ, while the red color of apples/ornaments and of holly were considered symbols of the blood of Jesus. The Holly then started being attached to the tree's branches, this shrub representing immortality and being a symbol of the crown of thorns worn by Christ on the cross. Around the year 1500, Martin Luther brought a tree indoor, and decorated it with candles in honor of Christ's birth. Candles continued being used as decorations for the tree, symbolizing Christ as the Light of the World. Although in time the candles were replaced by electric lights, the significance remained the same. The star placed on the top of the tree represents the star that guided the Wise Men to Jesus Child in Bethlehem. Lots of people prefer decorating the tree with an angel instead of a star, this being a symbol of the angel who announced Christ's birth to the shepherds. Christmas gifts are a symbol of the myrrh, frankincense and gold brought by the wise men to Christ Child, in Bethlehem."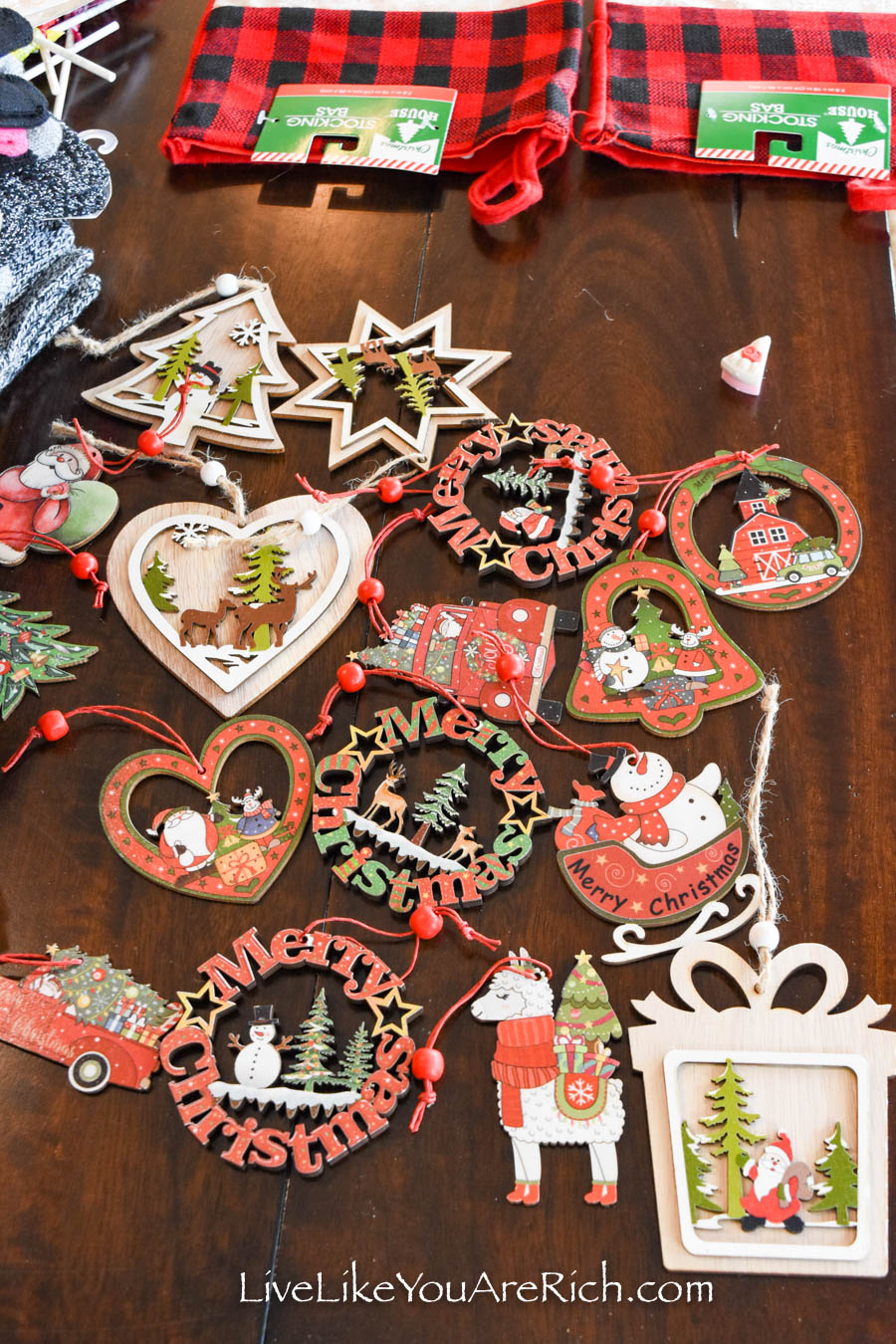 3. Cow Tales minis (I wrapped up 5 for each stocking). Purchased at Dollar Tree in packs of 10.
Luke 2:7: "And she brought forth her firstborn son, and wrapped him in swaddling clothes, and laid him in a manger; because there was no room for them in the inn."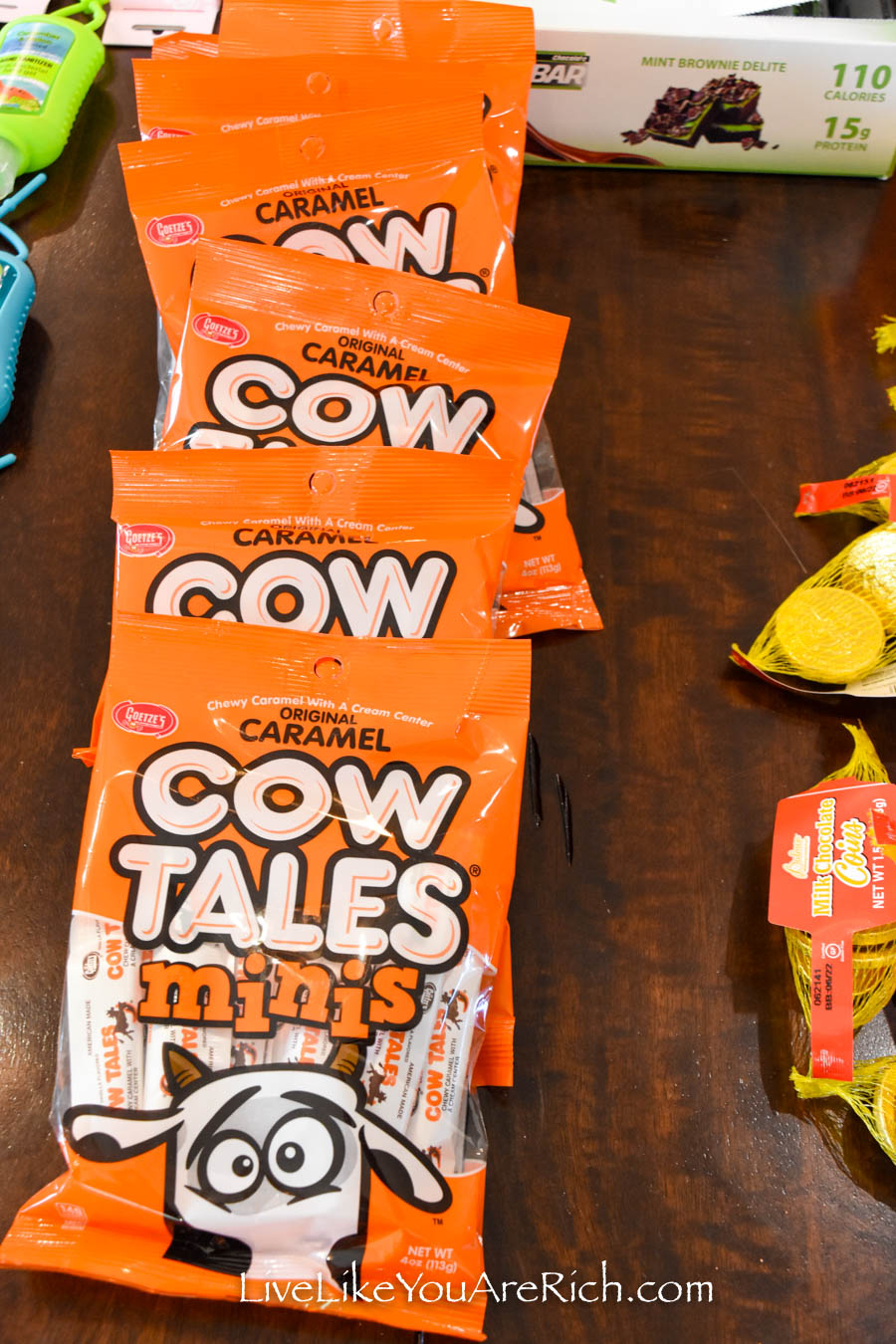 4. A Kinder Joy Egg purchased at Costco in packs of 12
Luke 2:10-11. 10. And the angel said unto them, Fear not: for, behold, I bring you agood tidings of great bjoy, which shall be to all people. 11. For unto you is aborn this day in the city of David a bSaviour, which is Christ the cLord."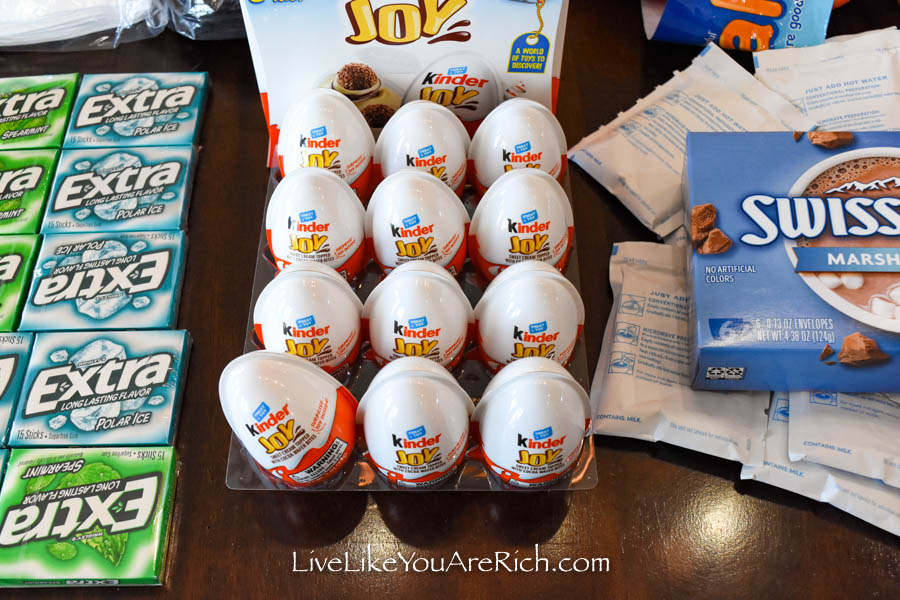 5. Candy Cane purchased at Dollar Tree in packs of 6
"At Christmastime, our thoughts often turn to the biblical account of the shepherds watching over their flocks. The shepherds' scene is indeed symbolic: It brings to mind the care with which our Heavenly Father watches over all of his children, and the loving concern he feels for each of us. And it helps to remind us that he sent his beloved Son to guide us back to him—the babe born in Bethlehem of Judea, the Good Shepherd with an unparalleled, divine mission." By: Homer S. Ellsworth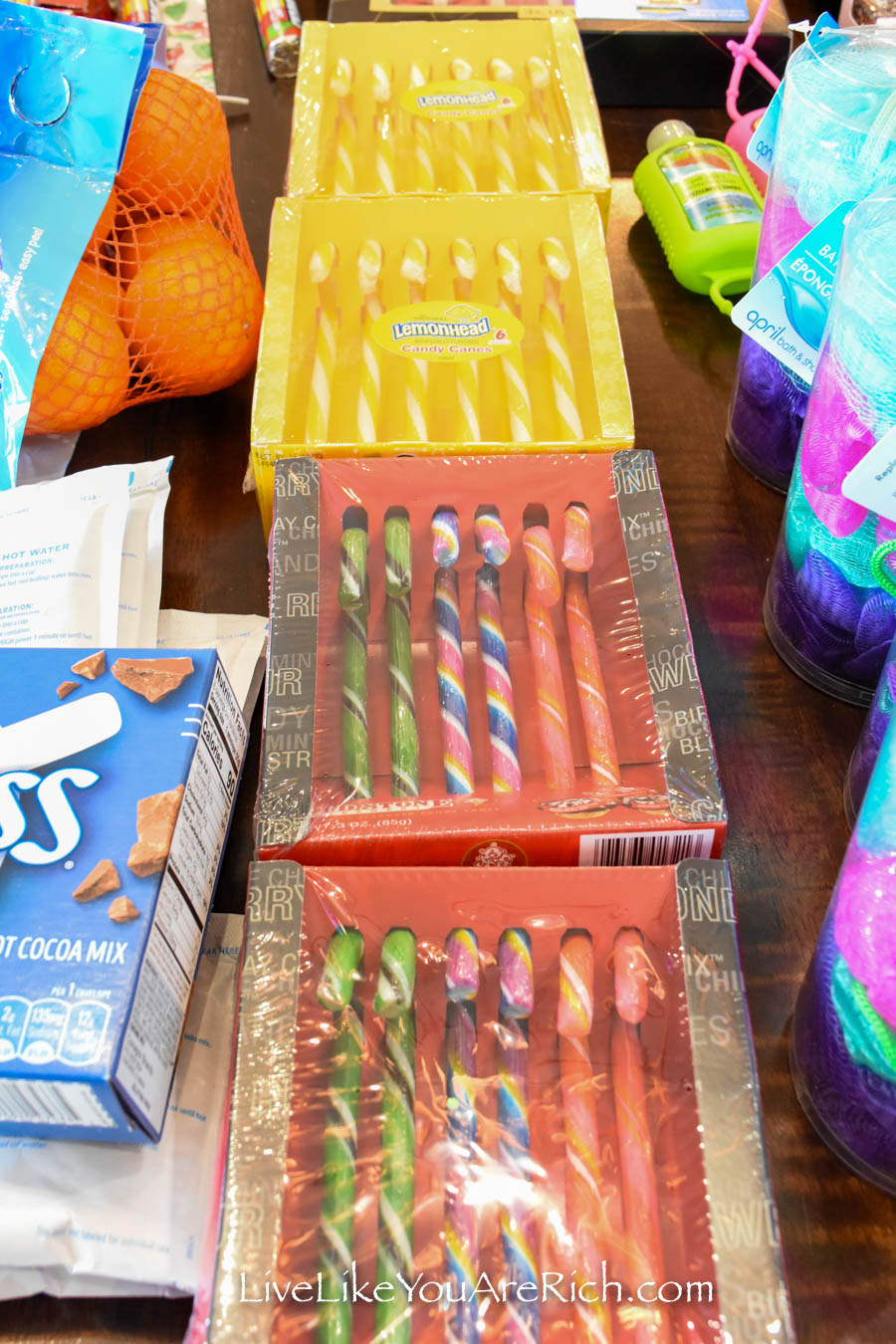 6. A packet of Hot Chocolate purchased at Dollar Tree in packs of 6
Matthew 5:6 Blessed are they which do hunger and thirst after righteousness: for they shall be filled.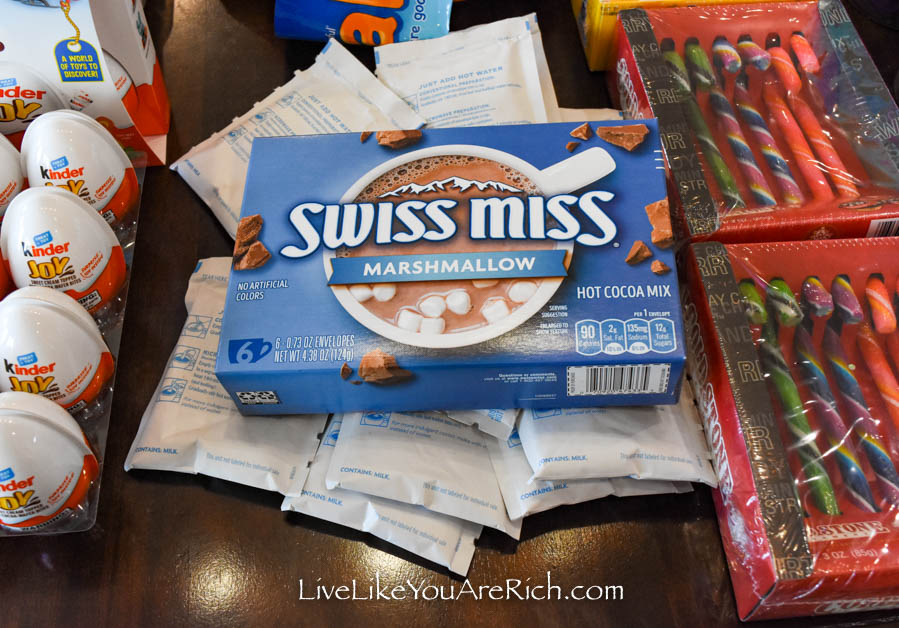 7. A scripture marking pen purchased on Amazon in packs of 28 here
"I asked Heavenly Father what He would have me do as an Apostle. I wrote down what I felt His answers were. I typed, color coded, and pasted those answers in the front of my scriptures. For example, the first one was "I am to be a witness that Christ is the Son of God." Then I read my scriptures looking for ideas that taught me how to witness that Christ is the Son of God. Every time I came to something, I marked it in blue. Soon I developed my own topical guide around what I thought the Lord wanted me to do. I have learned much through this process. Going to the scriptures to learn what to do makes all the difference. The Lord can teach us." By: Elder Henry B. Eyring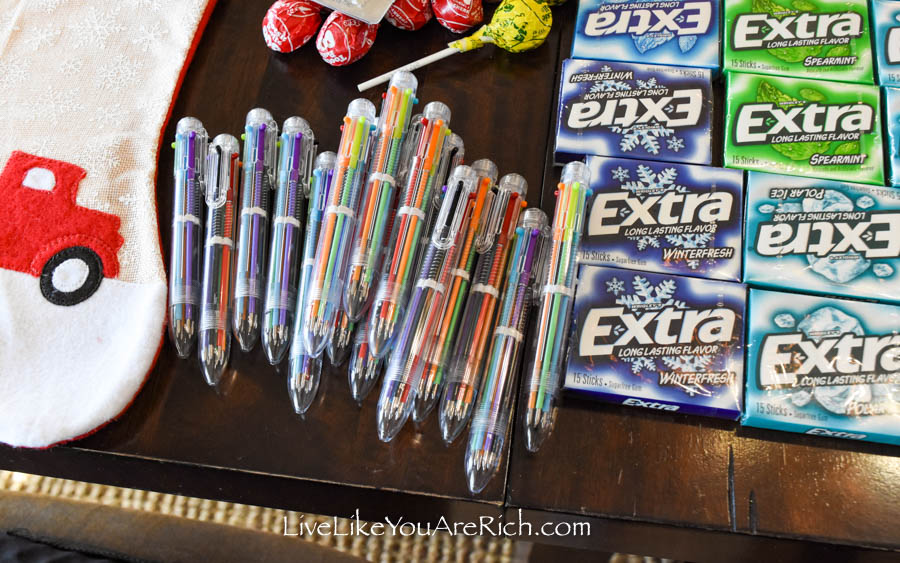 8. 1 package of Extra Gum purchased at Costco
"Many years ago, before homes were heated by gas or electricity, one of the major fuels in my home town was wood. In the late summer and fall we would take our wagon and team of horses into the mountains and bring down logs. The wagon consisted only of two front and two back wheels connected by a very strong hardwood pole called a reach.
The men and boys would leave early in the morning, often before sunup, to begin the long journey. Once the wagon turned off the main canyon road, the trails up through the ravines and over the ridges were narrow, steep, and rocky. Often the rain had caused gullies to wash down the trails, cutting away banks, exposing large rocks, and making deep ruts. Travel was very slow, but when we finally arrived, we all began work at once.
As the trees were felled, one of the horses would drag the logs over to the wagon, where we would roll or lift them up. When the wagon was finally loaded, the logs were chained securely both in front and back. Then a large chain was wrapped around another half dozen logs, and these were tied to the back of the wagon to be dragged along the trail. With the already heavy load, I wondered at first why the straining horses were forced to pull these extra logs across the rough terrain. But I soon learned the reason.
Although going up the mountain road was rough, coming down the trail with such a heavy load was dangerous! It was difficult for the horses to hold back the heavily loaded wagon on the steep mountain roads. Even when the brakes were applied to keep the back wheels from turning, the wagon would skid and slide. The horses had to struggle to hold back the great weight of the wagon. The extra logs dragging behind slowed the wagon enough to help the horses hold back the wagon. This way the horses were not pushed forward any faster than they should go, and a runaway or a tip-over on sharp turns into the deep canyon was prevented.
When the wagonload successfully had survived the dangerous descent and reached the main canyon road, the log drag was pulled to the side and left to be picked up later when there were sufficient logs on the side of the road to make a full load.
Sometimes young people wonder why they have to carry heavy loads—do chores, be disciplined, and comply with the rules and regulations established by their parents. However, parents know that we need to carry such loads. They know that we need to have "brakes" applied and sometimes an extra "log drag" to save us from a "runaway" or a "tip-over." No doubt these extra loads sometimes come to us to strengthen and stabilize us and hold us back a little in order to help us go forward.
One of the great lessons of life is to learn to be obedient to the laws of God by keeping His commandments. Sometimes we are required to carry extra loads that we think are too heavy or too difficult. Generally, however, when we learn why such loads come to us, we see that a wise and loving Heavenly Father is guiding and blessing our lives." By: Elder A. Theodore Tuttle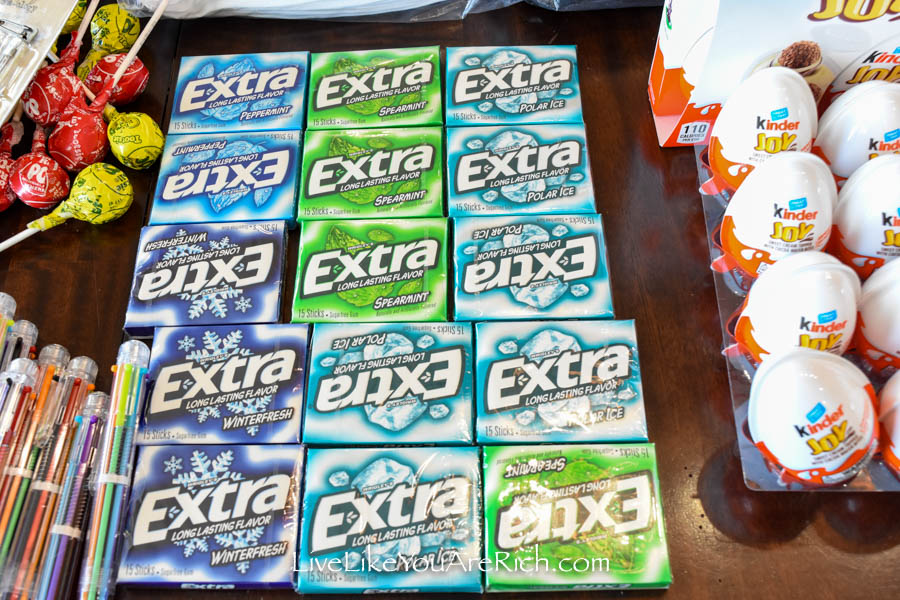 9. A package of Kleenex purchased in packs of 4 at Dollar Tree
Matthew 4:23-24 "And Jesus went about all aGalilee, bteaching in their synagogues, and cpreaching the gospel of the kingdom, and dhealing all manner of esickness and all manner of disease among the fpeople. And his fame went throughout all Syria: and they brought unto him all sick people that were taken with divers diseases and torments, and those which were possessed with adevils, and those which were lunatic, and those that had the bpalsy; and he chealed them."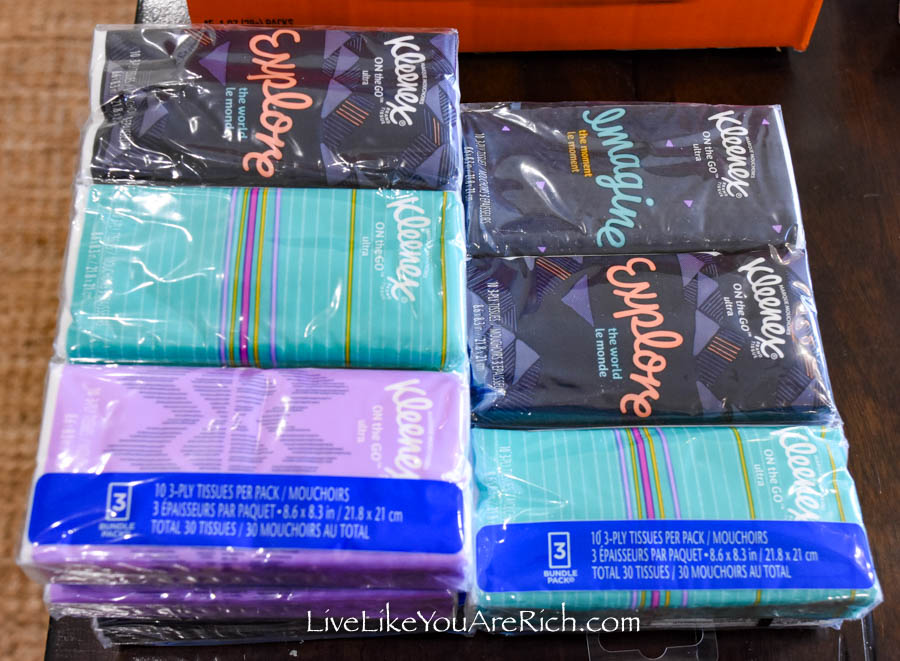 10. One Loofah purchased in a pack of 4 at Dollar Tree
"A requirement for frequent companionship and direction from the Holy Ghost is to be clean. The Spirit must withdraw from those who are not clean. The path to receiving the Holy Ghost is to exercise faith in Christ unto repentance. We can become clean through qualifying for the effects of the Savior's Atonement. The covenants offered in baptism by authorized servants of God bring that cleansing. We renew our pledge to keep those covenants each time we partake of the sacrament. If you have felt the influence of the Holy Ghost today, you may take it as evidence that the Atonement is working in your life. For that reason and many others, you would do well to put yourself in places and in tasks that invite the promptings of the Holy Ghost. Feeling the influence of the Holy Ghost works both ways: the Holy Ghost only dwells in a clean temple, and the reception of the Holy Ghost cleanses us through the Atonement of Jesus Christ. You can pray with faith to know what to do to be cleansed and thus qualified for the companionship of the Holy Ghost and the service of the Lord. And with that companionship you will be strengthened against temptation and empowered to detect deception." By: President Eyring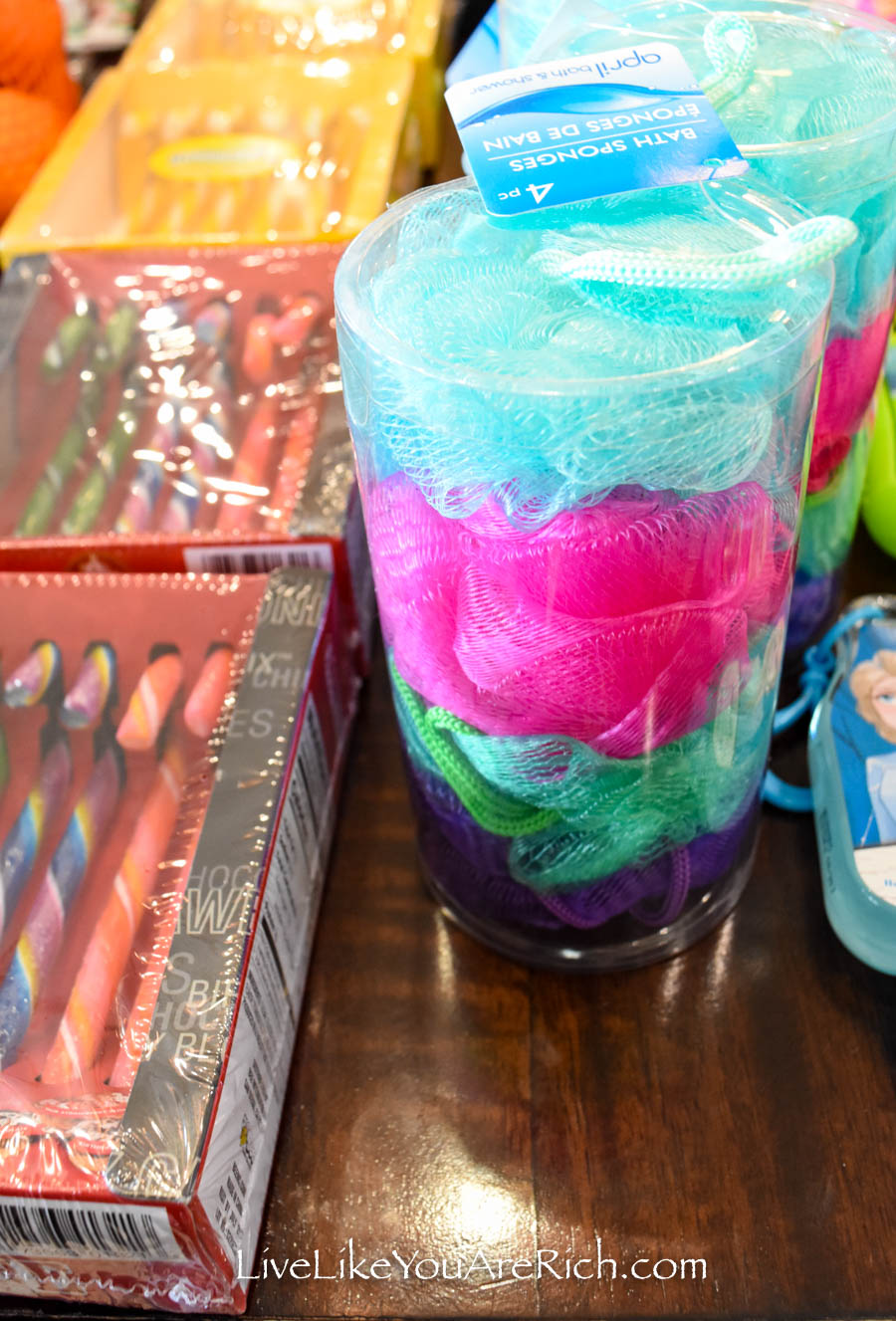 11. Chapstick (boys), lip balm (girls). Chapstick purchased at Dollar Tree and Lip balm purchased at Costco.com.
The Psalmist said it simply: "Keep thy tongue from evil, and thy lips from speaking guile" (Ps. 34:13). The Savior also commanded us to avoid the evil of gossiping. In establishing the laws of the restored Church, He said, "Thou shalt not speak evil of thy neighbor, nor do him any harm" (D&C 42:27). Gossip includes idle conversations, which may or may not be exaggerated or untrue, and it usually harms the reputation of the person under scrutiny as well as the person doing the scrutinizing. If we involuntarily find ourselves in a situation where others are gossiping, we should change the subject, say something nice about that person, or leave.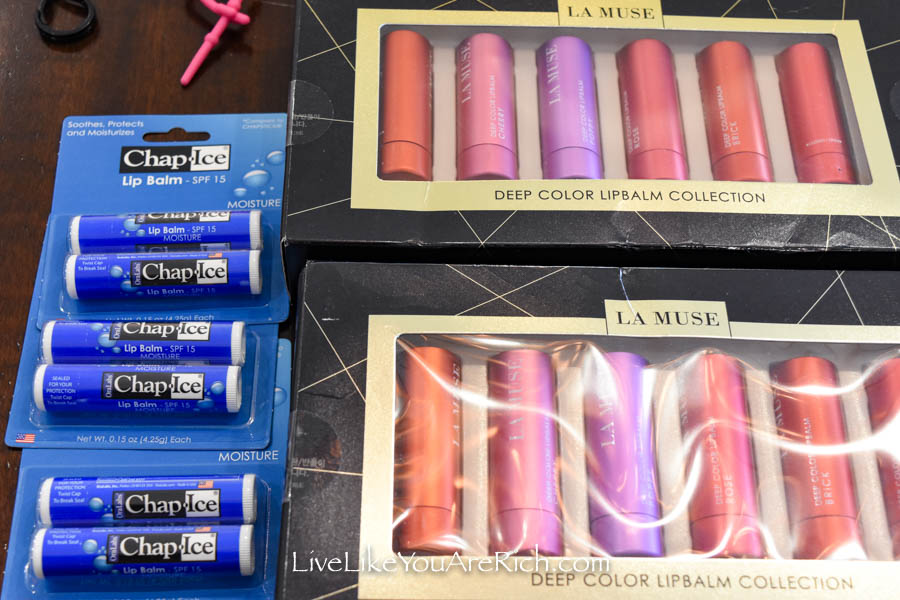 12. Nail polish (girls) purchased at Dollar Tree in packs of 2 and a Neck gator for the boys purchased at Dollar Tree in single packs.
Nail Polish scripture: Isiah 52:7 How beautiful upon the mountains are the feet of him that bringeth good tidings, that publisheth peace; that bringeth good tidings of good, that publisheth salvation; that saith unto Zion, Thy God reigneth!
Neck Gator scripture: D&C 112:13 And after their temptations, and much tribulation, behold, I, the Lord, will feel after them, and if they harden not their hearts, and stiffen not their necks against me, they shall be converted, and I will heal them.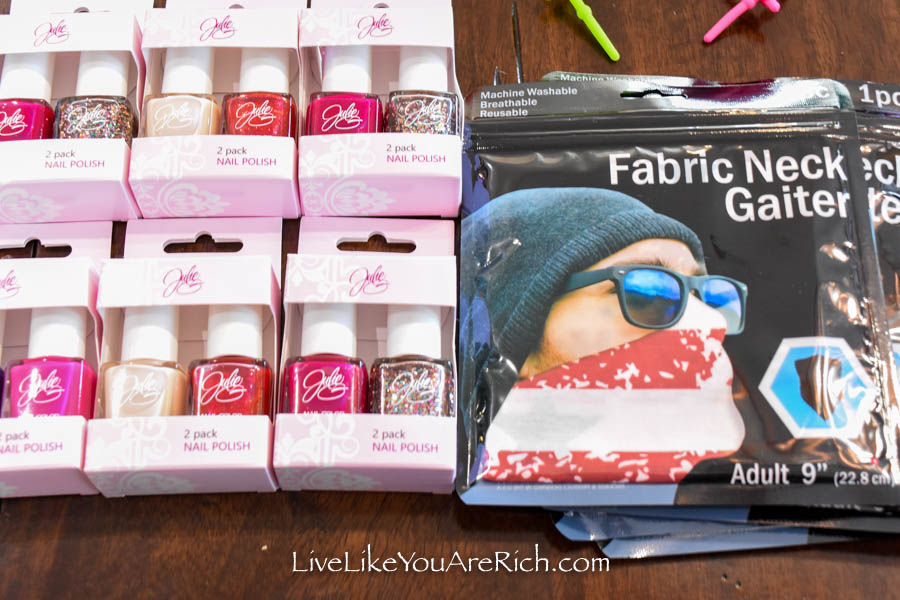 13. Hand Sanitizer purchased at Dollar Tree
"Who shall ascend into the hill of the Lord? or who shall stand in his holy place? He that hath clean hands, and a pure heart; who hath not lifted up his soul unto vanity, nor sworn deceitfully" (Psalm 24:3–4). "Brothers and sisters, it is possible for us to have clean hands but not have a pure heart. Please notice that both clean hands and a pure heart are required to ascend into the hill of the Lord and to stand in His holy place. Let me suggest that hands are made clean through the process of putting off the natural man and by overcoming sin and the evil influences in our lives through the Savior's Atonement. Hearts are purified as we receive His strengthening power to do good and become better. All of our worthy desires and good works, as necessary as they are, can never produce clean hands and a pure heart. It is the Atonement of Jesus Christ that provides both a cleansing and redeeming power that helps us to overcome sin and a sanctifying and strengthening power that helps us to become better than we ever could by relying only upon our own strength. The infinite Atonement is for both the sinner and for the saint in each of us." By: Elder David A Bednar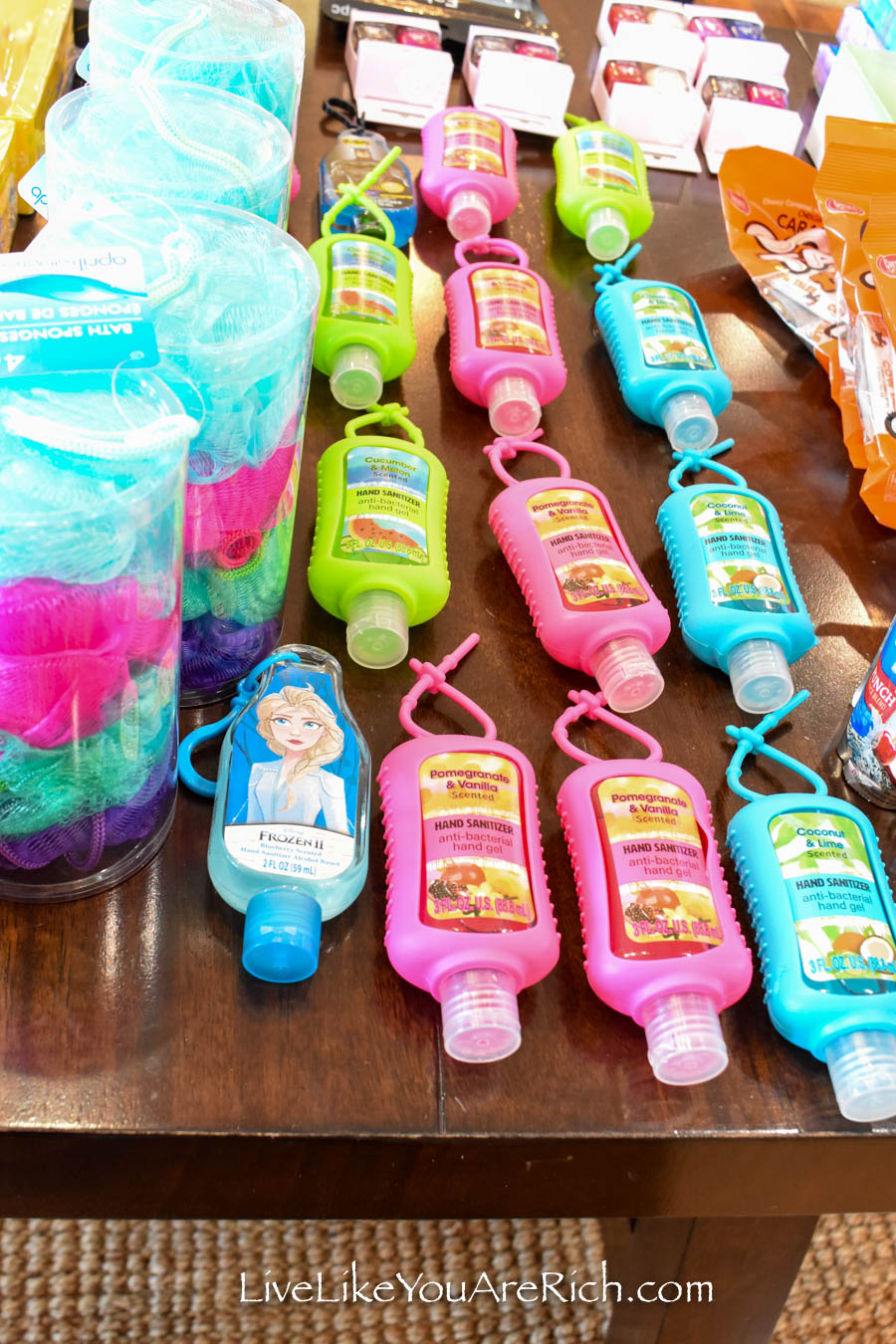 14. 1 package of Goldfish purchased at Costco in packs of ~24.
"Jesus told Simon, Andrew, James, and John that if they followed Him they would fish for something even better than fish. They would become fishers of men. They immediately left everything. They even left their boats. They became Jesus's disciples. They followed Jesus and helped Him preach the gospel. Just like a fisherman who brings fish into a net, we can help bring people to the gospel by being good examples and teaching them about Jesus." By Margo Mae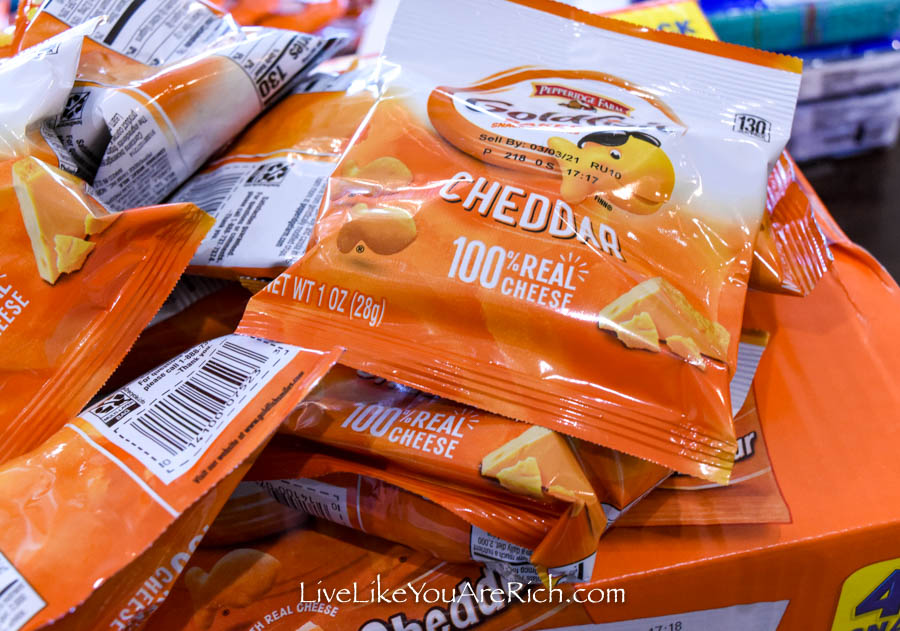 15. A black face mask purchased here on Amazon in packs of 50
"In everything give thanks. As I said in my [Nov 2020] video message, I have concluded that counting our blessings is far better than recounting our problems. No matter our situation, showing gratitude for our privileges is a unique, fast-acting, and long-lasting spiritual prescription. Simply stated, "In every thing give thanks" (1 Thessalonians 5:18)." By: President Russell M. Nelson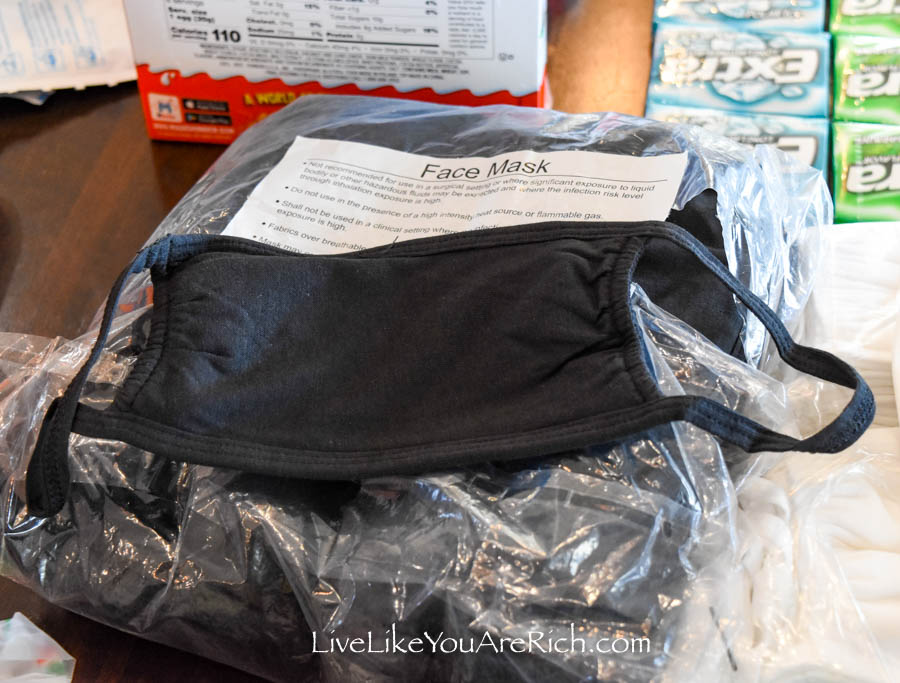 16. A white face mask purchased here on Amazon in packs of 50
"The Lord Jesus Christ taught, 'Whosoever will save his life shall lose it: but whosoever will lose his life for my sake, the same shall save it' (Luke 9:24). I believe the Savior is telling us that unless we lose ourselves in service to others, there is little purpose to our own lives. Those who live only for themselves eventually shrivel up and figuratively lose their lives, while those who lose themselves in service to others grow and flourish—and in effect save their lives." By: President Thomas S. Monson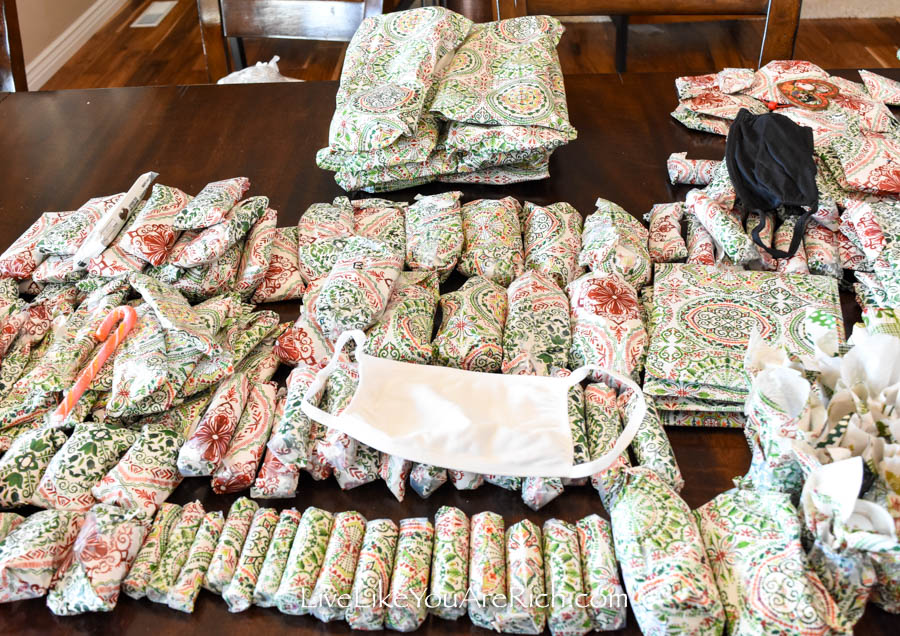 17. One mandarin orange purchased at Costco
Galatians 5:22-23. But the fruit of the Spirit is love, joy, peace, longsuffering, gentleness, goodness, faith, meekness, temperance.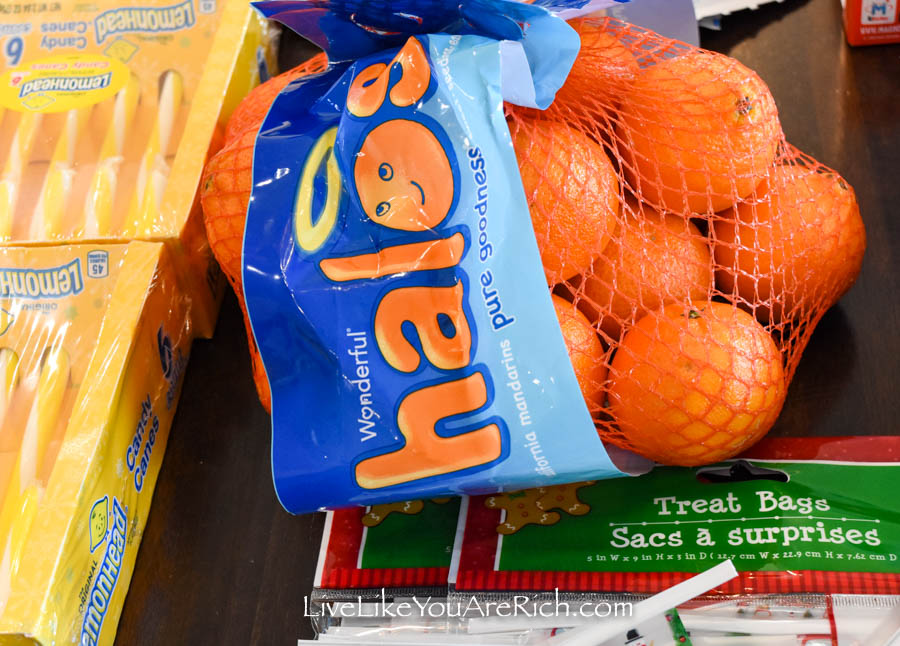 18. A pack of pencils purchased on Amazon in packs of 8 with 12 pencils= 96 each pack.
2 Nephi 25:26 And we atalk of Christ, we rejoice in Christ, we preach of Christ, we bprophesy of Christ, and we write according to our prophecies, that our cchildren may know to what source they may look for a dremission of their sins.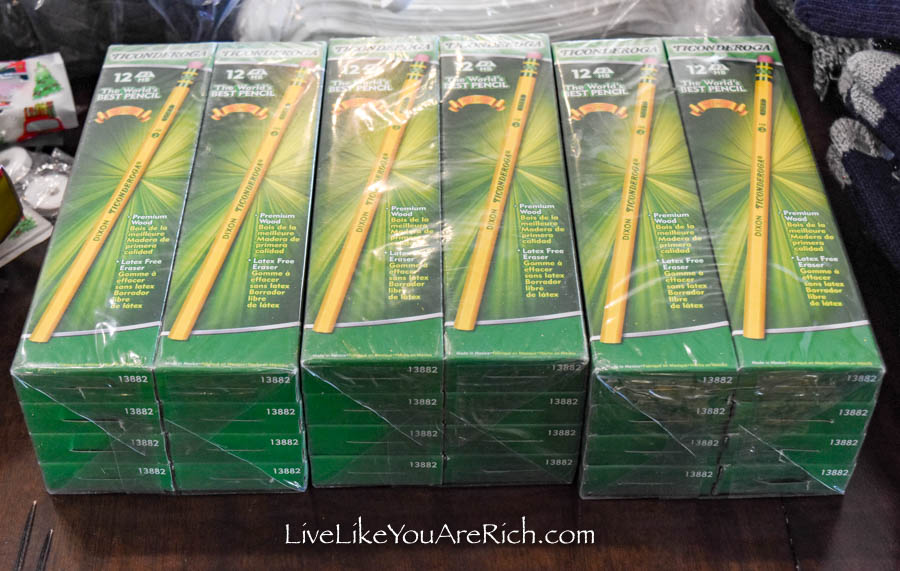 19. 1 Tootsie roll sucker purchased at Dollar Tree in packs of about 10
Alma 36:24-26 "24. Yea, and from that time even until now, I have labored without ceasing, that I might bring souls unto arepentance; that I might bring them to btaste of the exceeding joy of which I did taste; that they might also be cborn of God, and be dfilled with the Holy Ghost. 25. Yea, and now behold, O my son, the Lord doth agive me exceedingly great joy in the fruit of my blabors; 26. For because of the aword which he has imparted unto me, behold, many have been born of God, and have btasted as I have tasted, and have seen eye to eye as I have seen; therefore they do know of these things of which I have spoken, as I do know; and the knowledge which I have is of God."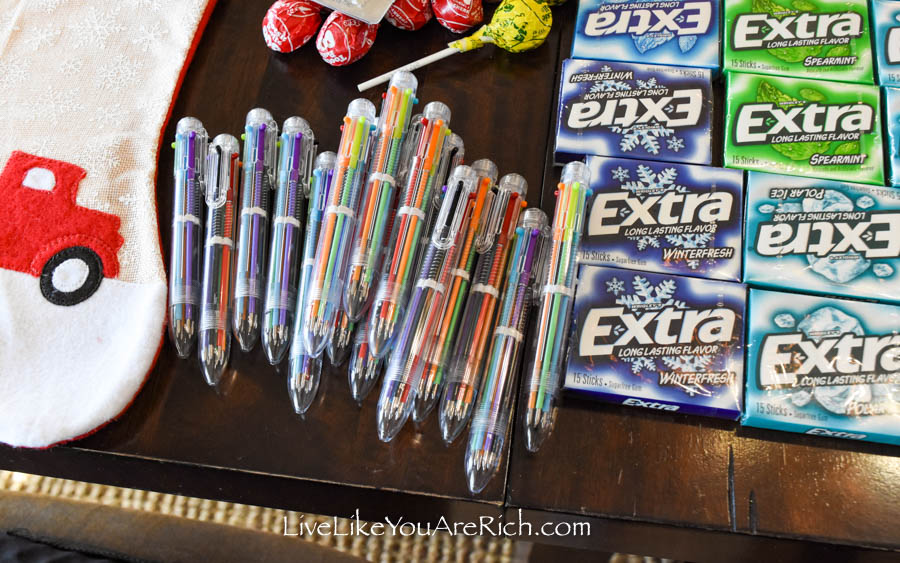 20. A pair of gloves purchased at Dollar Tree
"We are the Lord's hands here upon the earth, with the mandate to serve and to lift His children. He is dependent upon each of us. " By: President Thomas S. Monson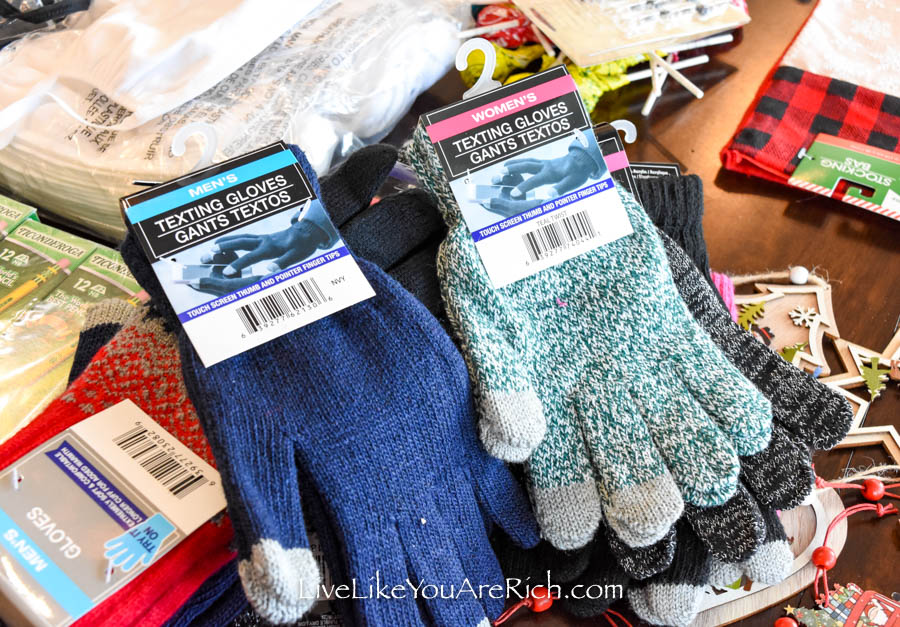 21. 1 Pair of Socks purchased at Dollar Tree in packs of 3
Attached thought:
"We should have our "feet shod with the preparation of the Gospel of Peace" (Ephesians 6:15; D&C 27:16). Shod means wearing shoes. "Your feet… represent your goals or objectives in life… Preparedness is the way to victory, and 'eternal vigilance is the price of safety'…The tide of victory rests with him who is prepared." By: President Harold B. Lee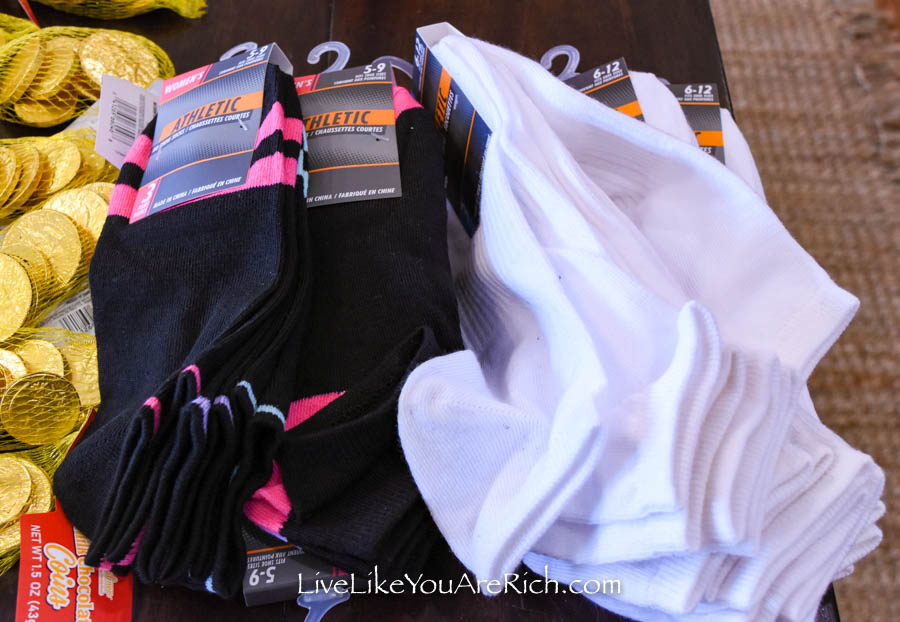 22. A pack of lifesavers purchased at grocery store in packs of 6
Alma 38:9 And now, my son, I have told you this that ye may learn wisdom, that ye may learn of me that there is ano other way or means whereby man can be saved, only in and through Christ. Behold, he is the life and the blight of the world. Behold, he is the word of truth and crighteousness.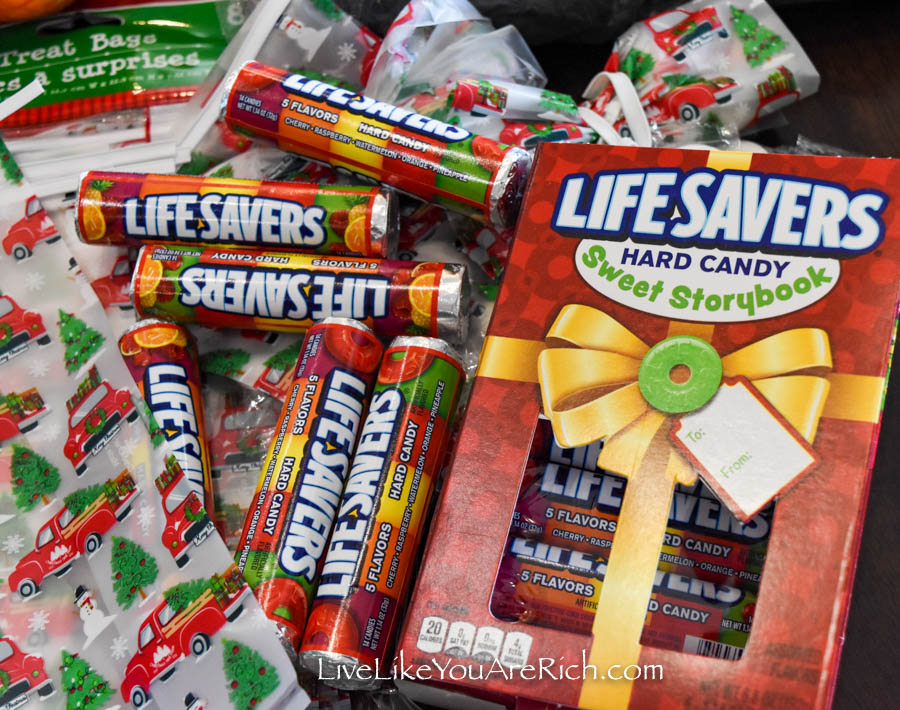 23. A protein Built Bar mint-chocolate purchased from Built Bar
Matthew 7: 24-25. 24. Therefore whosoever aheareth these sayings of mine, and bdoeth them, cI will liken him unto a dwise man, which ebuilt his house upon fa rock: 25. And the arain descended, and the floods came, and the winds blew, and bbeat upon that house; and it fell not: for it was founded upon a crock.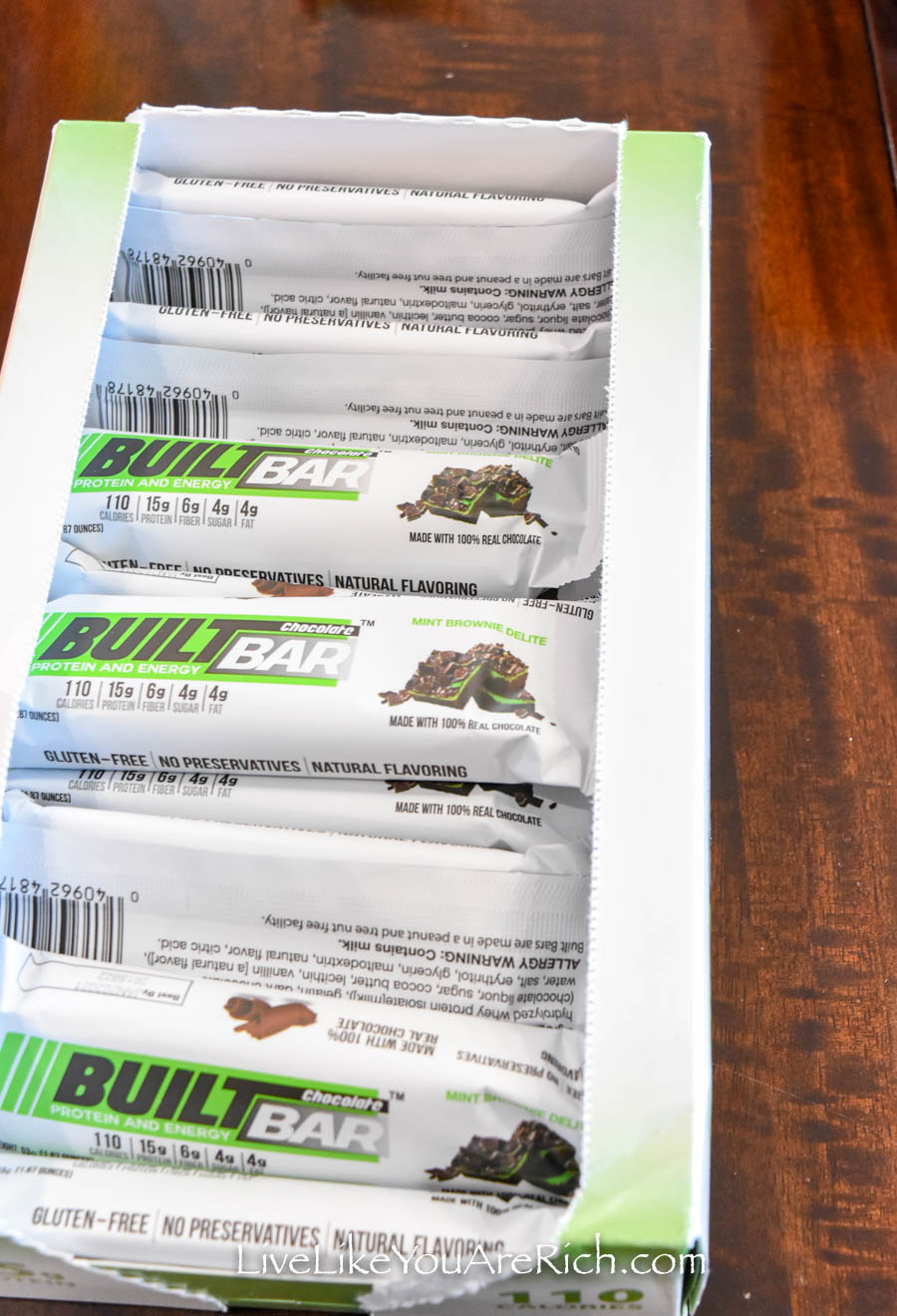 24. Fruit by the Foot purchased at Costco in a box of ~42
Alma's experiment [of faith]…says that if we will "nourish" the seed [The Gospel of Christ] "with much care it will get root, and grow up, and bring forth fruit." (Alma 32:37.) But if we neglect the tree (which seems to mean nourishing it inadequately or haphazardly or not at all) it will not take root and grow. This is not because the seed was not good, nor because the promised fruit is not desirable. Rather, it is because our ground is barren. Notice that the emphasis is constantly on our behavior. In verse 42 Alma tells us that the fruit of the carefully nourished tree is "most precious, … sweet above all that is sweet, and … white above all that is white, yea, and pure above all that is pure." …then Alma tells us, "Ye shall feast upon this fruit even until ye are filled, that ye hunger not, neither shall ye thirst." (Alma 32:42.)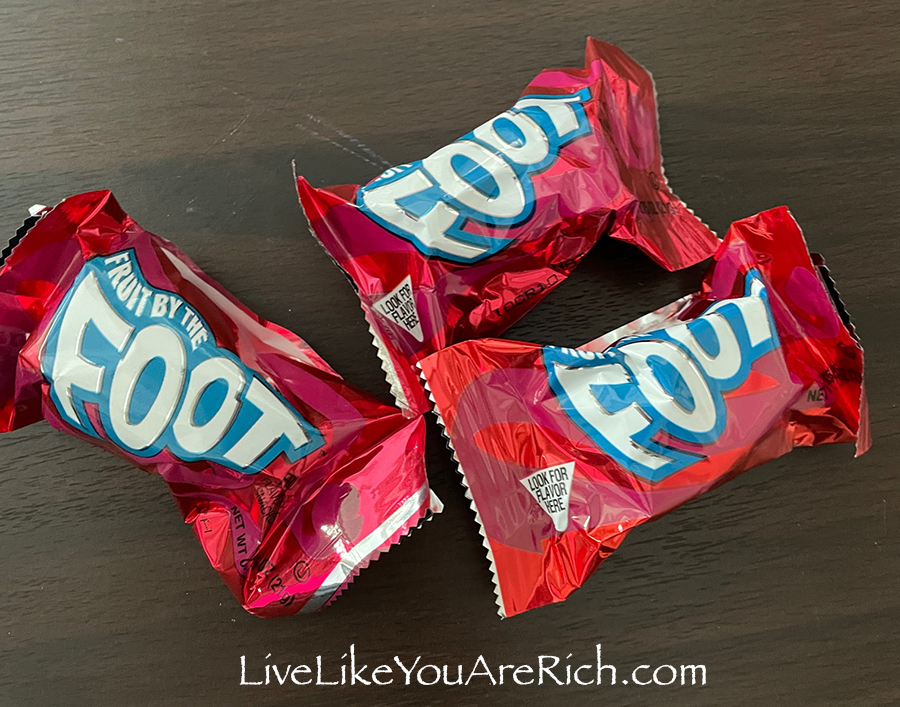 How to Make a Christian Advent Stocking
After gathering all of the supplies, the kids helped me wrap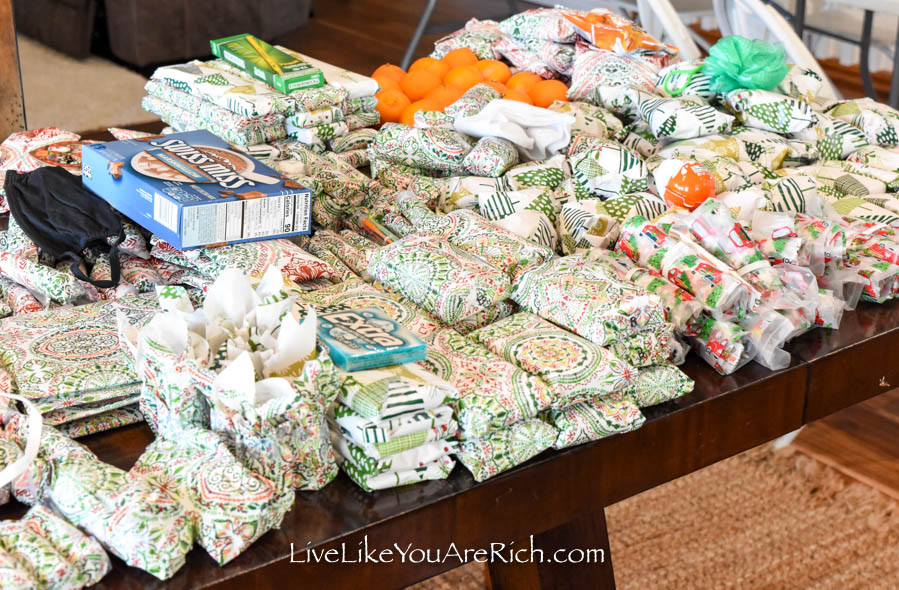 and wrap and wrap and wrapped. Total we made 17 stockings with 24 gifts in each= 408 gifts!
My kids were such stellar helpers and helped me deliver them. So, we made each of them a stocking as well. We also made one for my grandma and grandpa too! I did swap out the sucker for Herbal tea, the fruit by the foot for an apple and a few other modifications I'm sure my grandparents appreciated.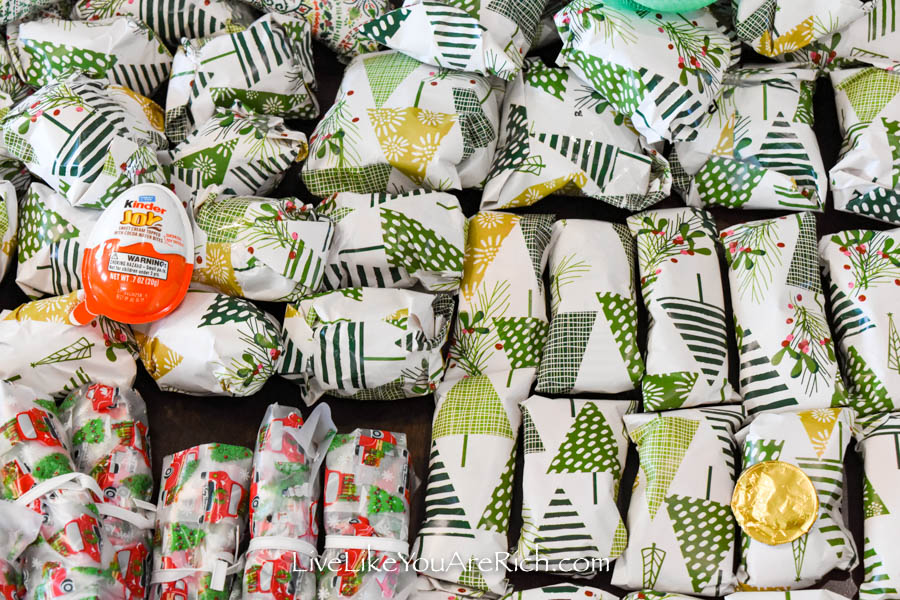 During the wrapping process, I put an item or a sticky note on each group so I knew what was in each gift.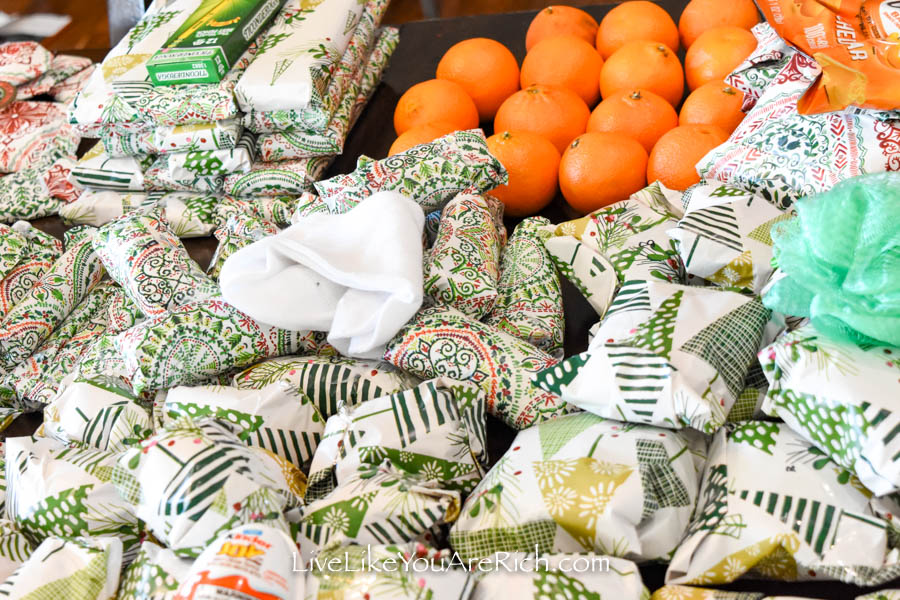 After we were done wrapping, we printed and taped the scriptures on to each gift. We rolled or folded the scripture around the gifts so they were nice and tight against the gift and would not get torn in the stocking stuffing process.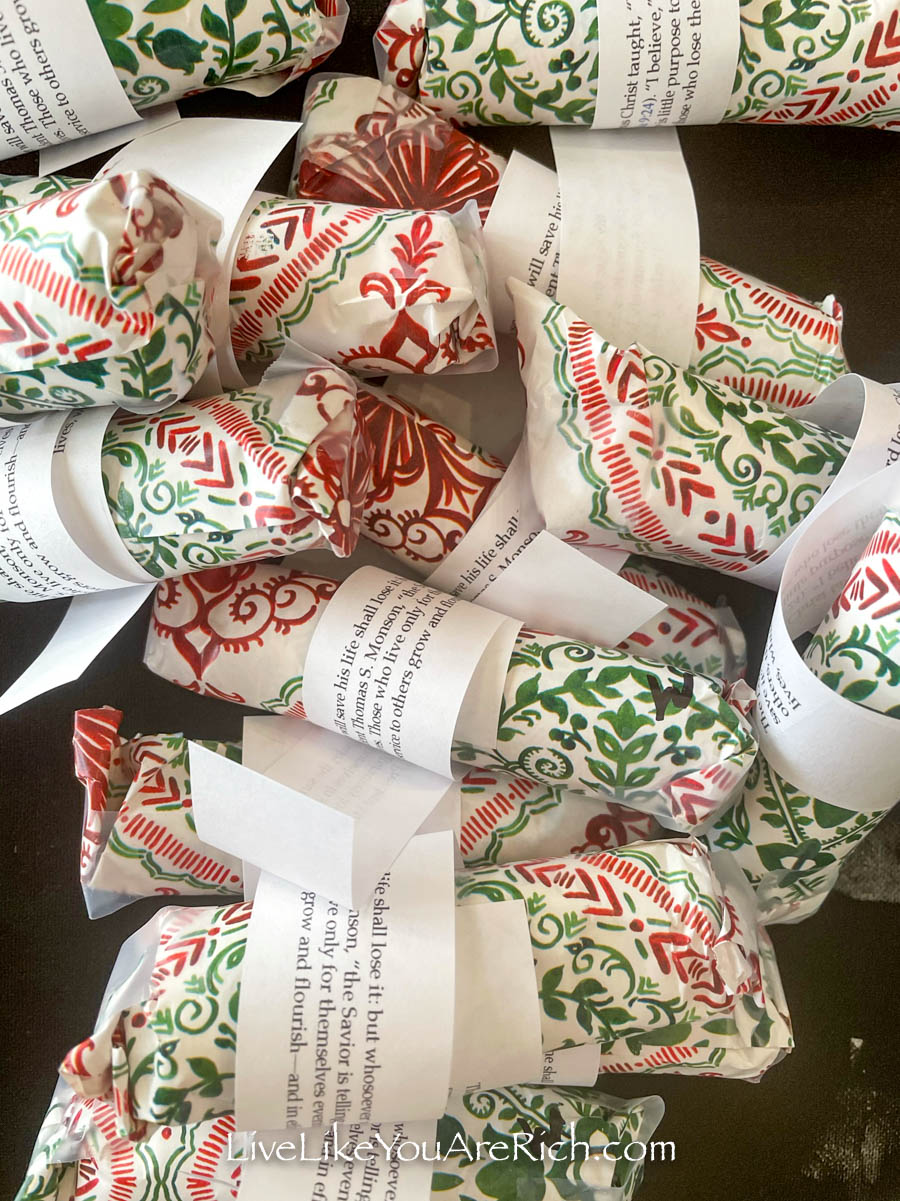 We began stuffing each stocking, one gift at a time. The way I did a quality control was make sure we had a section for boys and girls. When we wrapped we marked the boys gifts with B that way we knew if it was a girl or boy gift. This only applied to a few items, so it was easy to differentiate.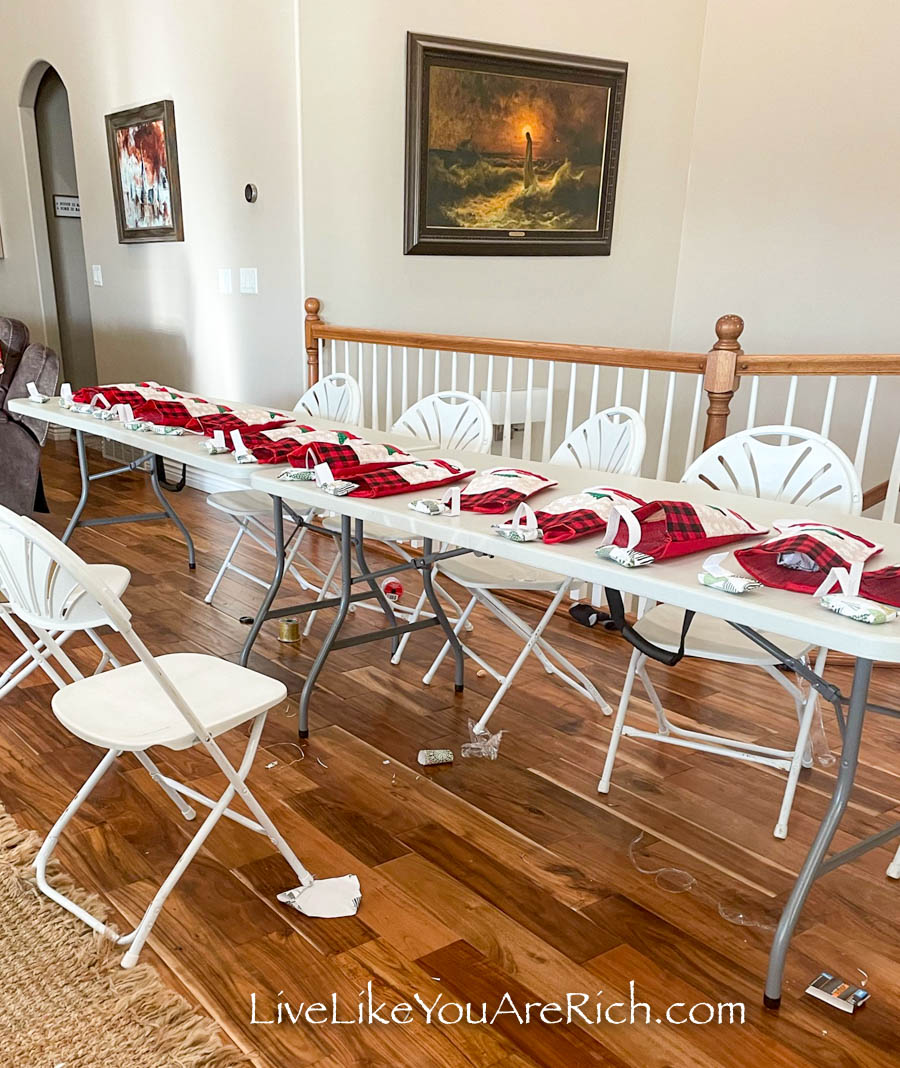 Then we put one gift in front of each stocking and the kids had to get my approval before we stuffed the stockings: that way each stocking had one of everything.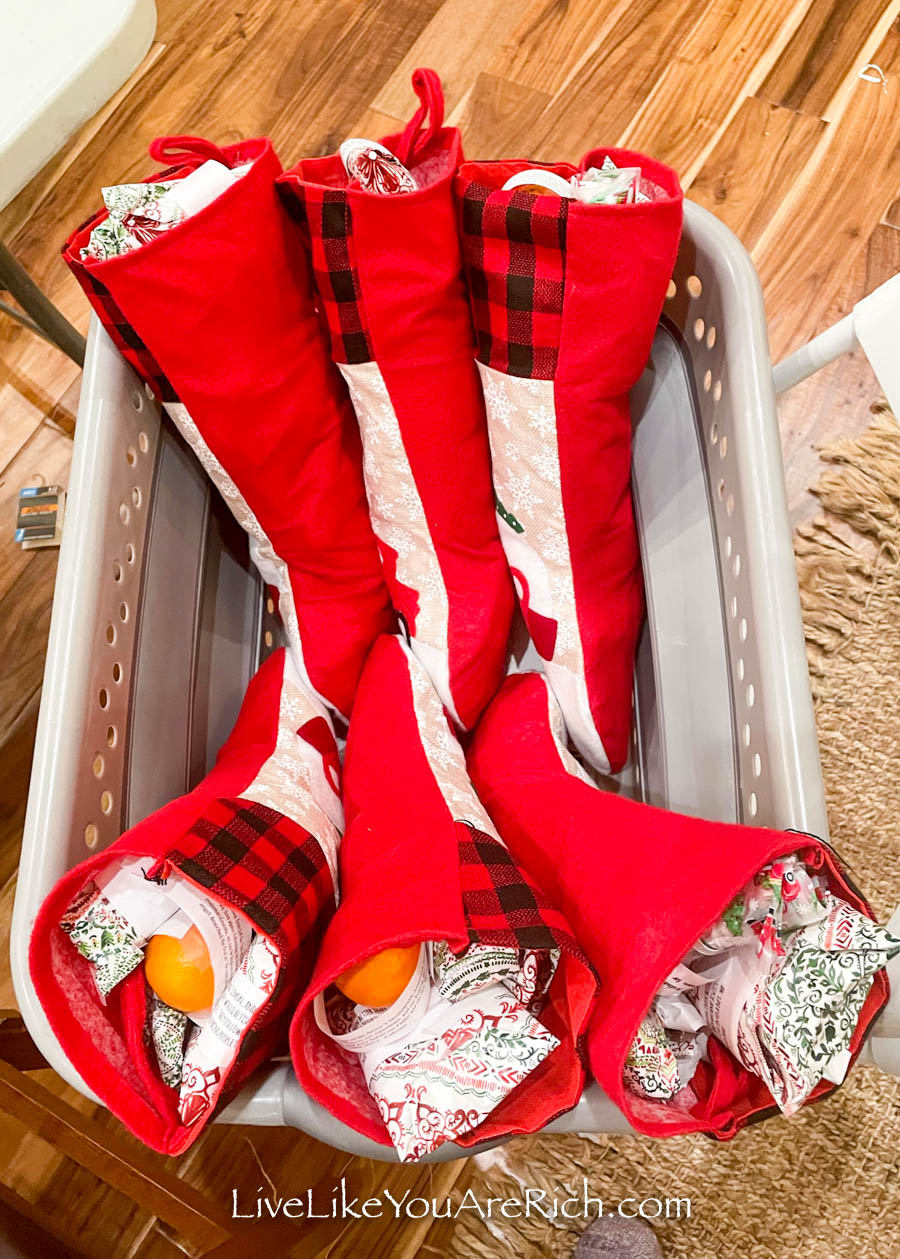 We kept it very systematized so as not to get lost in the 400 presents. You have to be sure to stuff the toe of the stocking very well if you are going to fit all of the gifts.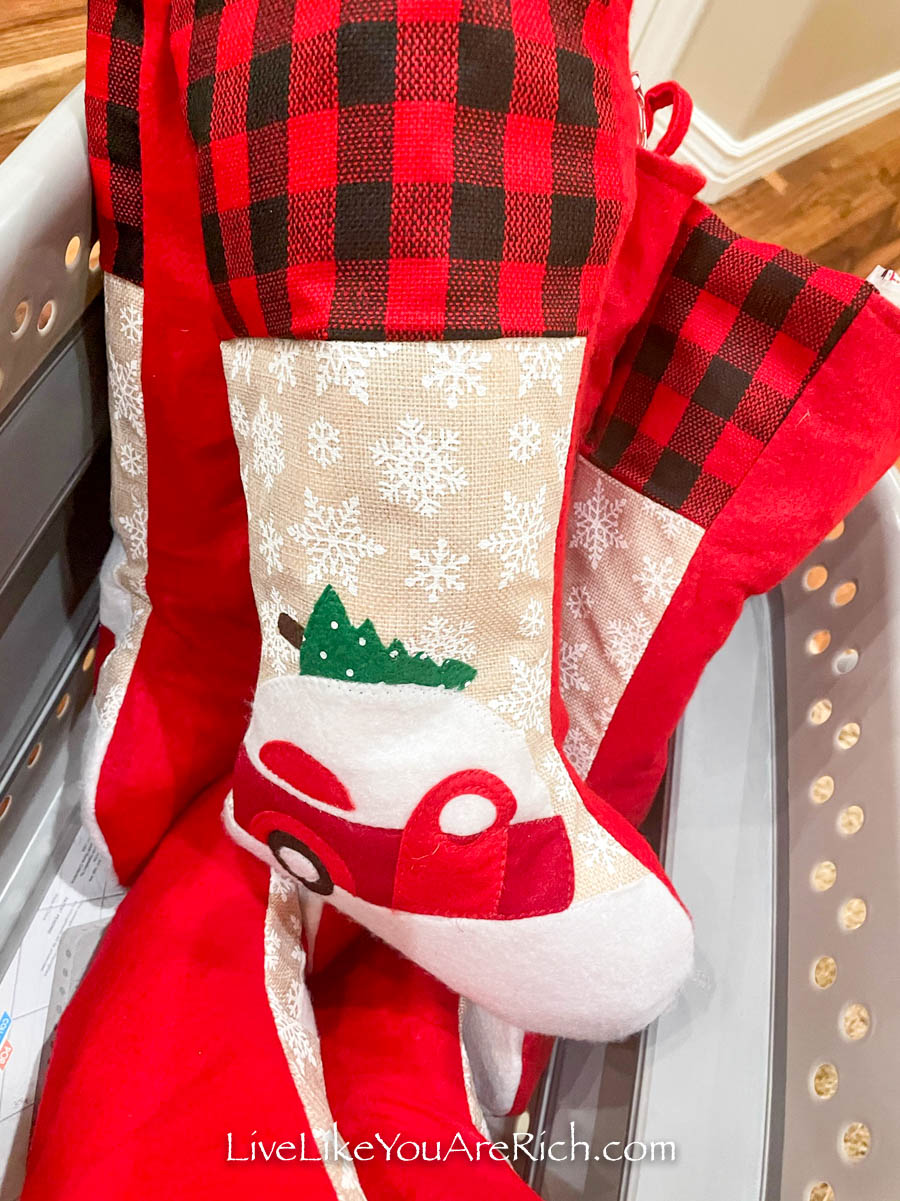 When finished we put the girls stockings in a certain area and the boys in another area.
I wrote a card to each telling them that I know that Christ is the Savior of the World and that it is only through Him that we may return and live with God and our loved ones eternally. I told them I had missed teaching them and to open one gift each day. Then we went and delivered them.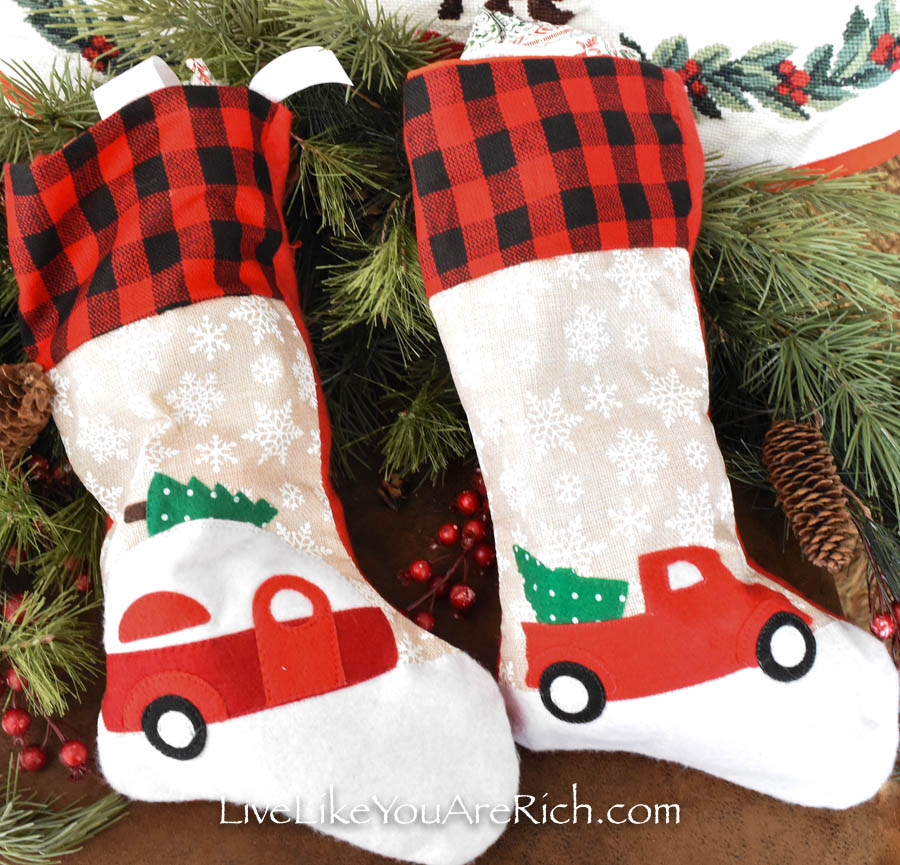 As mentioned, I did get texts of thanks which was very sweet. Yet, what was much more important for me was that they felt the true meaning of Christmas this year and know that I am thinking of them during this difficult time.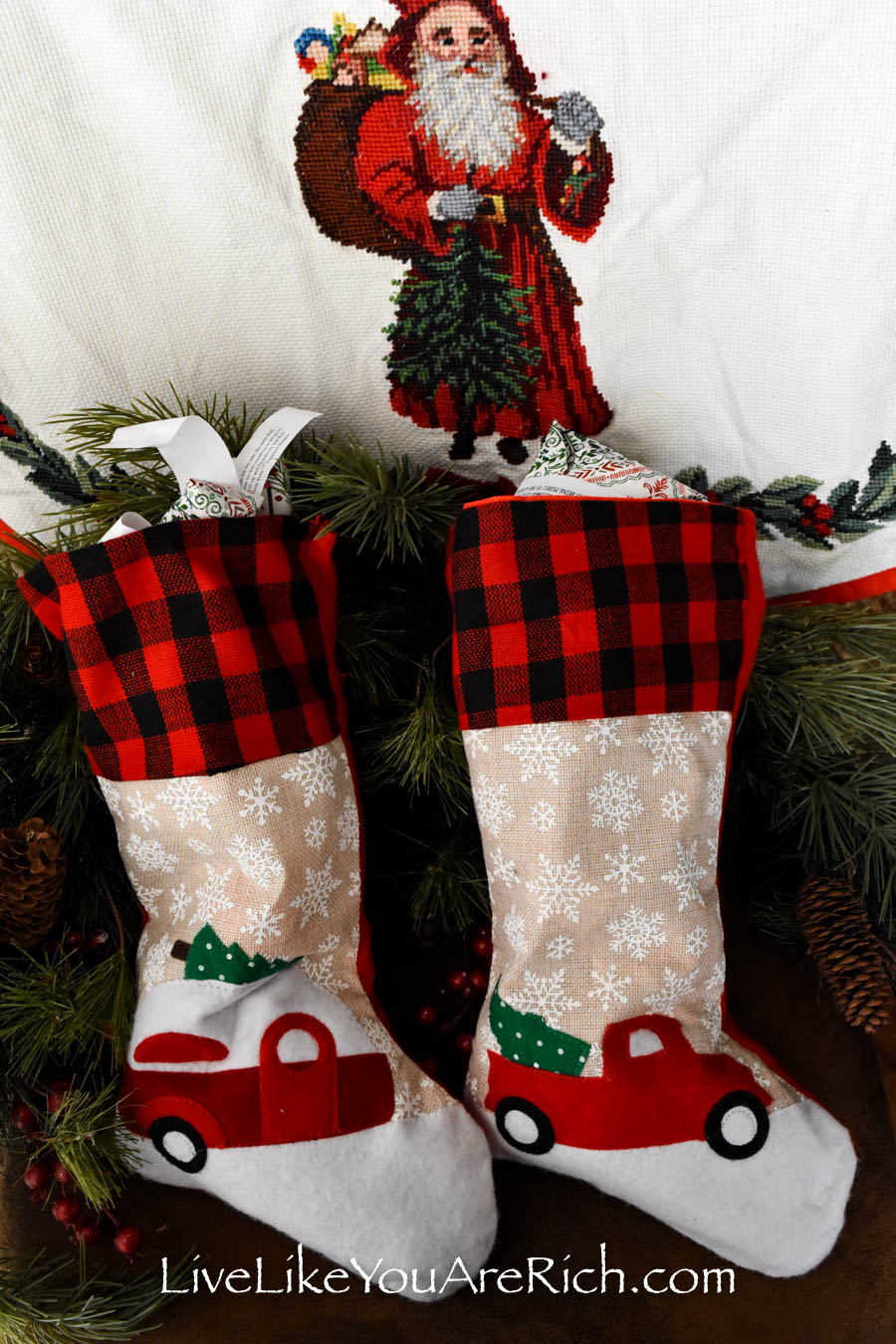 I hope you have a Merry Christmas remembering the true meaning of this season. I know these Christian Advent Stockings can help to make that happen for you and/or loved ones you may make one for.

For other 'rich living' and D.I.Y. decor tips please subscribe, like me on Facebook, and follow me on Pinterest and Instagram.