This year, 2020, I made a Red Truck Christmas Mantel scene above my fireplace.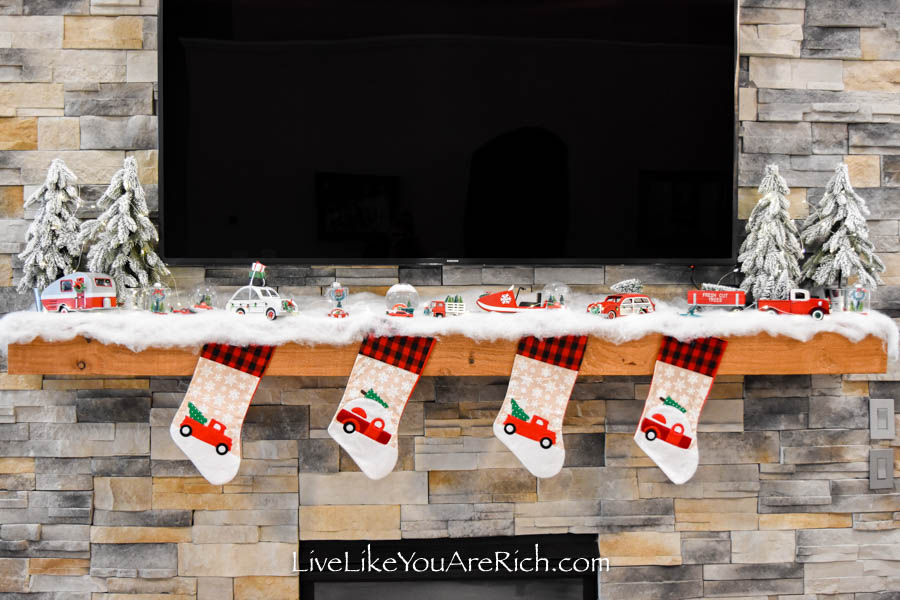 Over the past couple of years, the Red Truck Christmas tree decor started popping up here and there. Whenever I saw it, I thought it was so cute! I don't always hop on the trendy-decor-bandwagon, but with this theme, I totally did because I love it.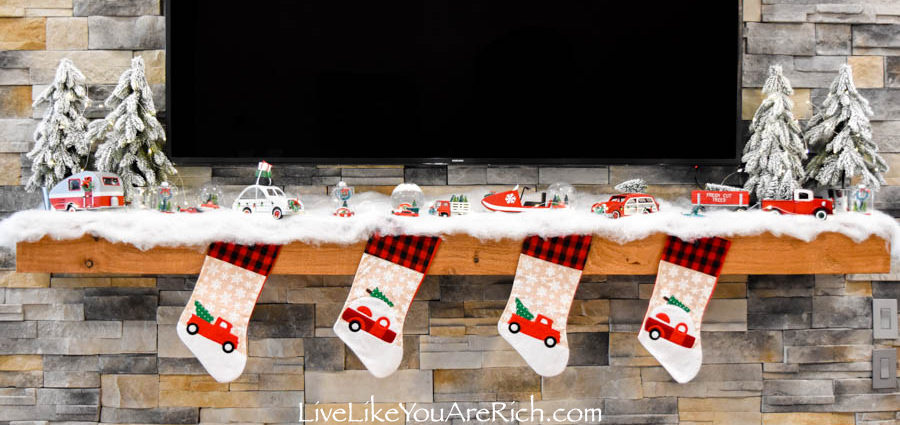 Supply List for a Red Truck Christmas Mantel
Red Truck and Red Camper stockings (Dollar Tree or here)
Faux snow glitter Wondershop blanket Target or Amazon
Flocked fake Christmas trees Target or Amazon
Wondershop: Camper, snowmobile, bug, stations wagon, red truck and trailer
DIY Dollar Red Truck and Red Camper snow globes
DIY Camper and sisal tree ornaments
DIY Hot Wheels Red Truck Christmas
Twinkle lights battery—operated I used two 50 light strings for my 9′ mantel. Target or Amazon
Instructions on how to assemble a Red Truck Christmas Mantel
I made and purchased items for this mantel.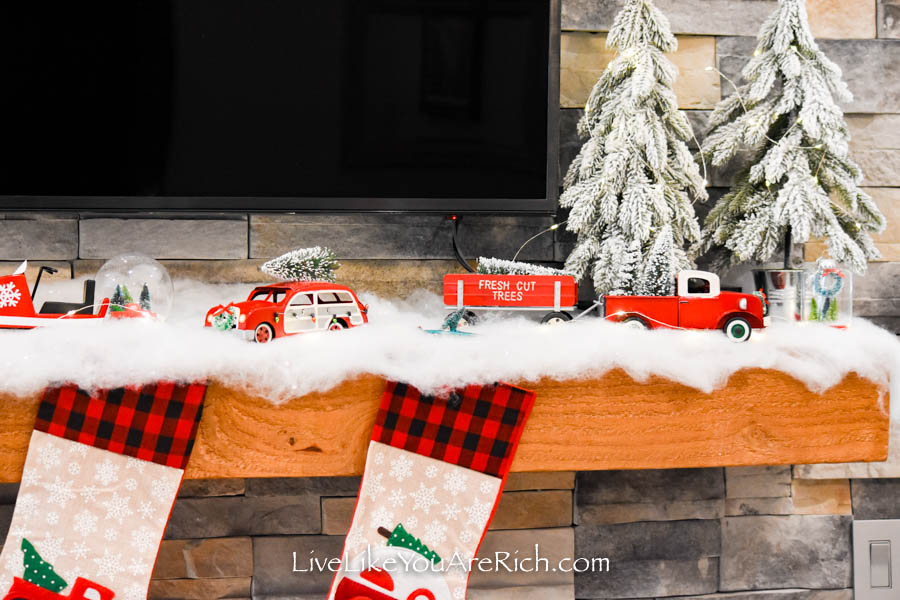 Target was having a big sale on their Christmas Red Truck line so I bought many items from Target.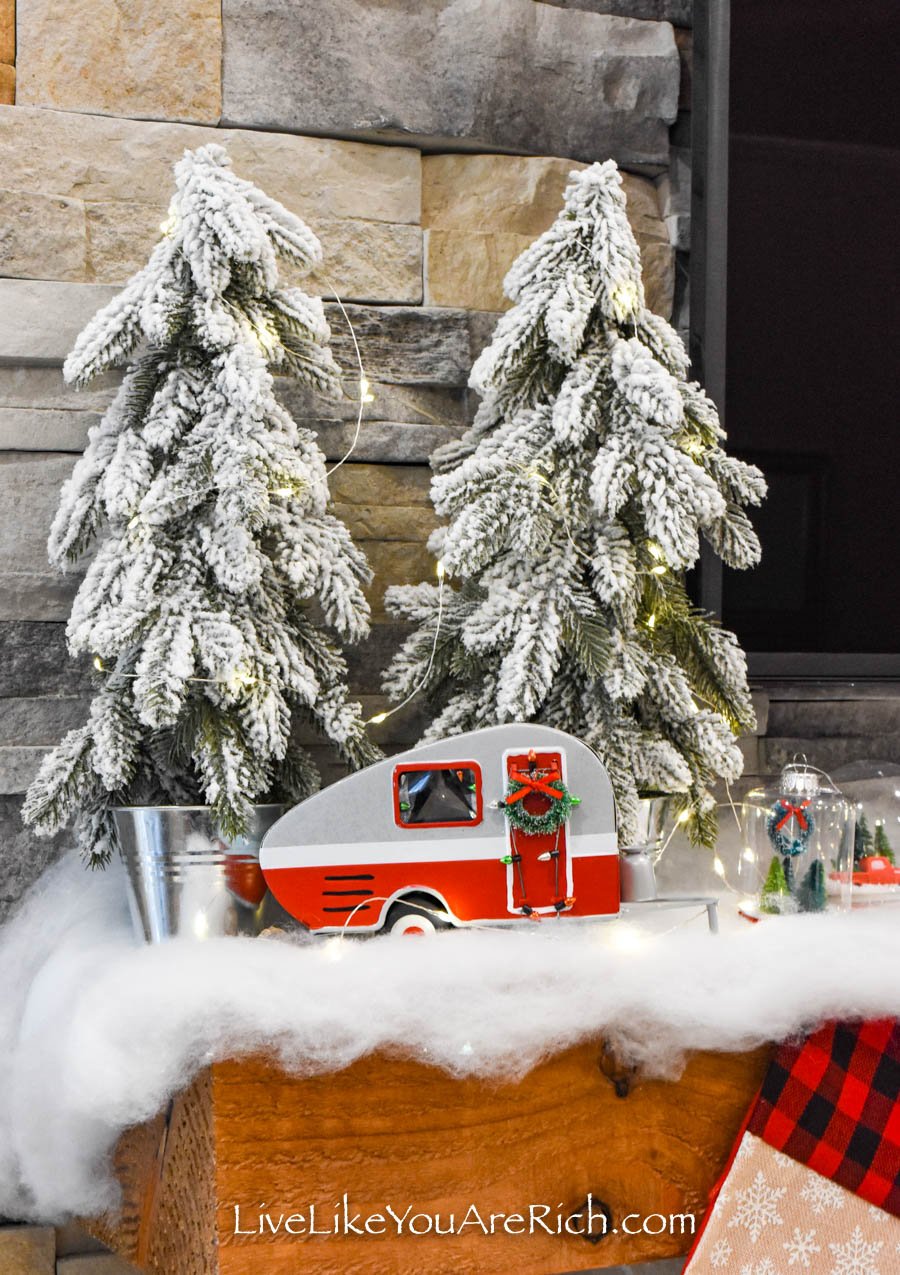 They were not only on sale but they were having a $10 off $50 Christmas decorations promotion so each item on the mantel cost between $4.00-$7.00.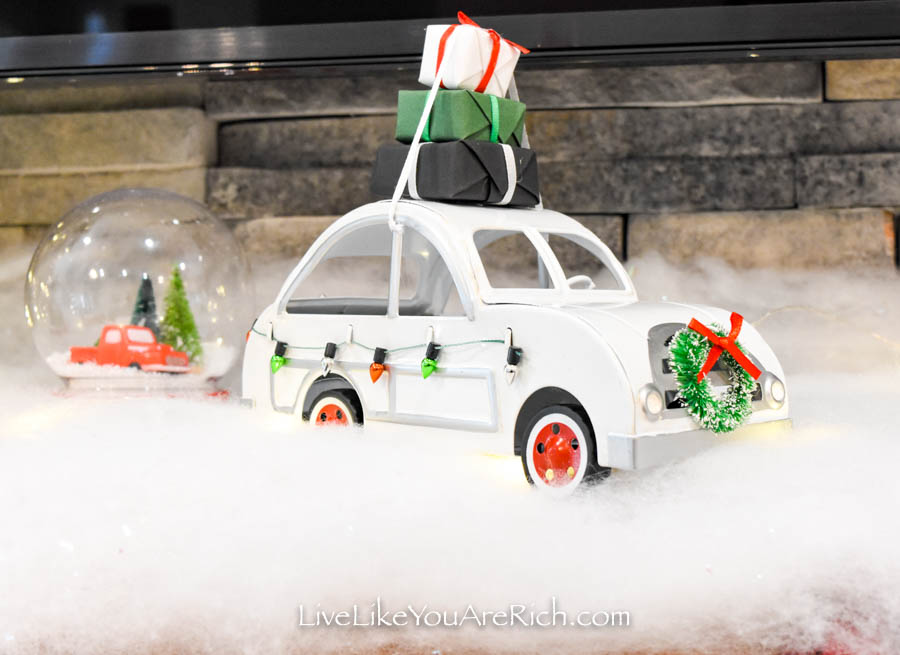 I bought the faux snow blanket, the slug bug with presents on top, and the flocked trees from Target.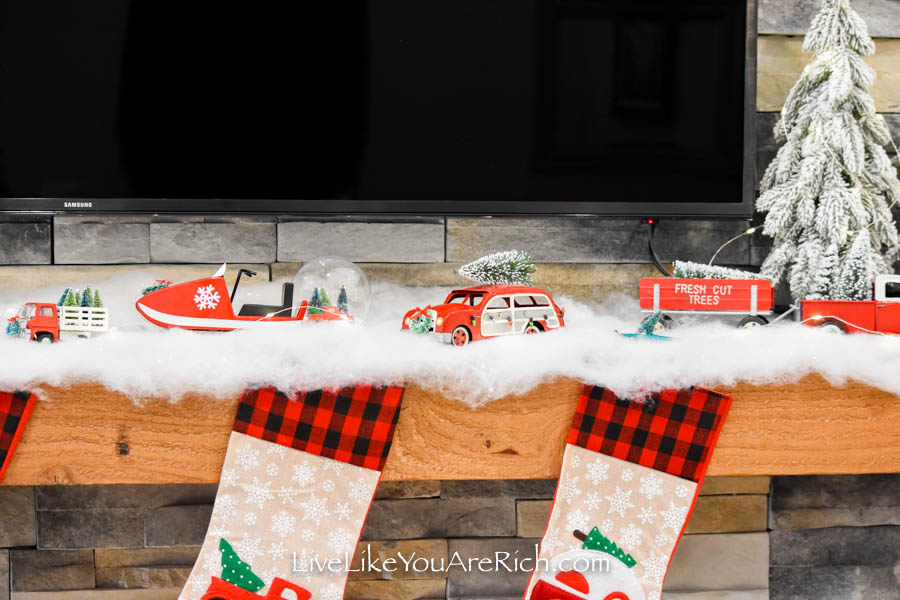 I got the snowmobile and station wagon from Target. I also bought the small red truck and trailer from Target too.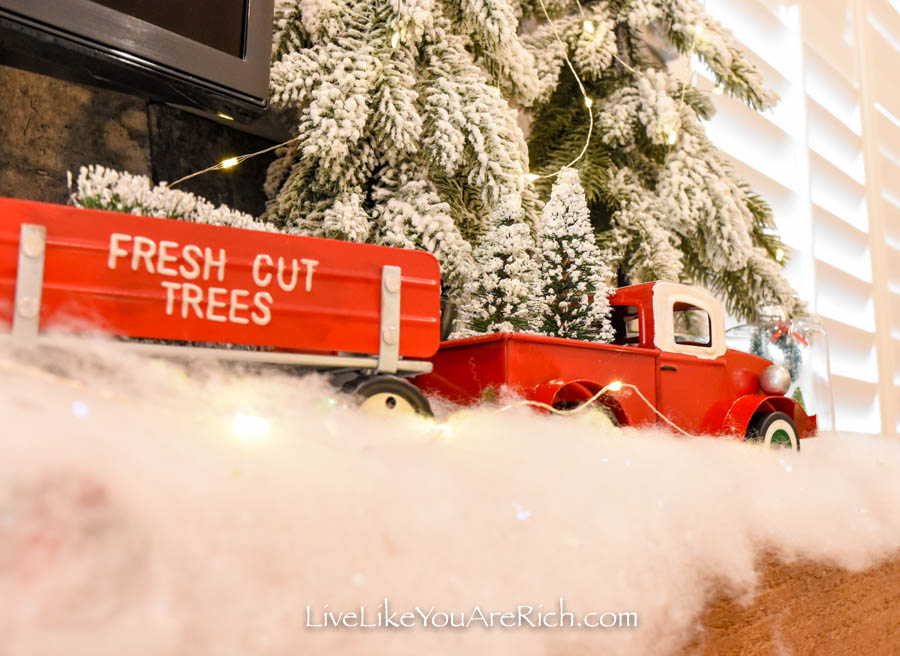 I made this little tree hauler by taking an old dump truck toy and 'restoring' it.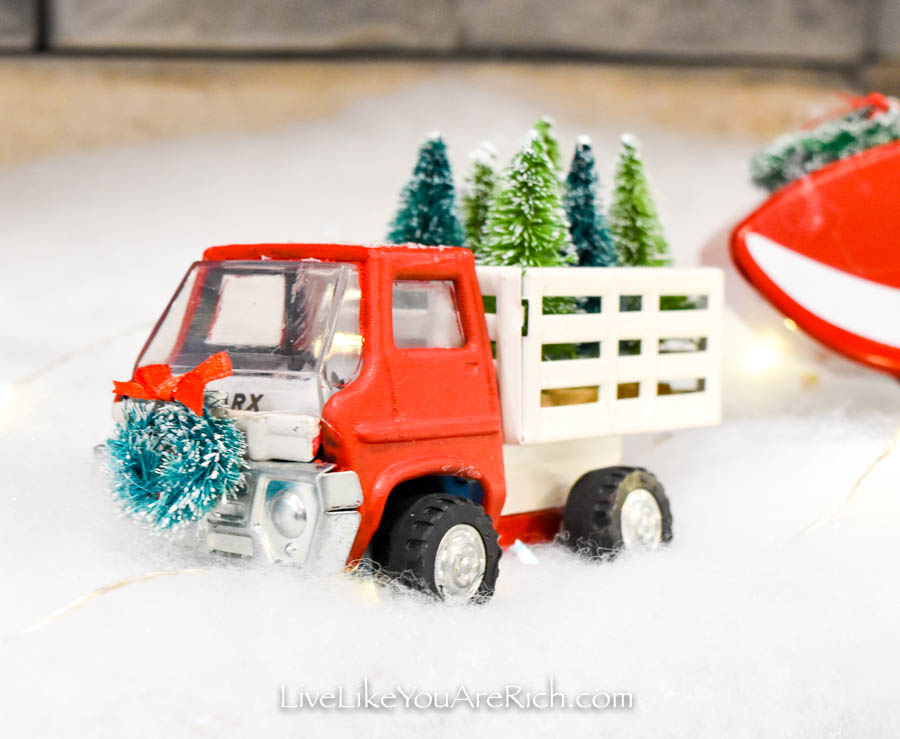 You can see how I made multiple of these cars here.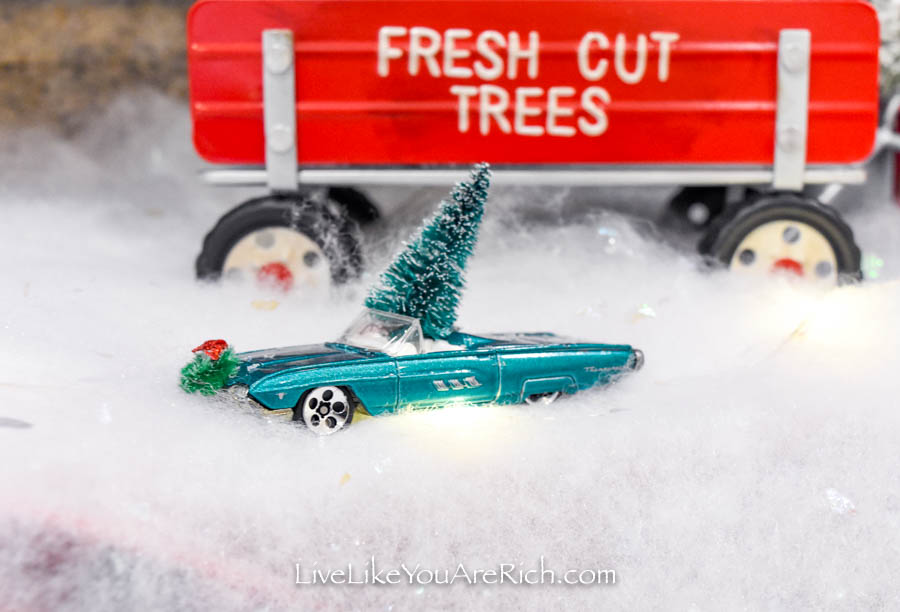 Instead of using mantel stocking holders, I used some strong packaging tape and taped the loops of the stockings to the mantel wood. Then I weighted the tape down with the faux snow blanket and items on the mantel.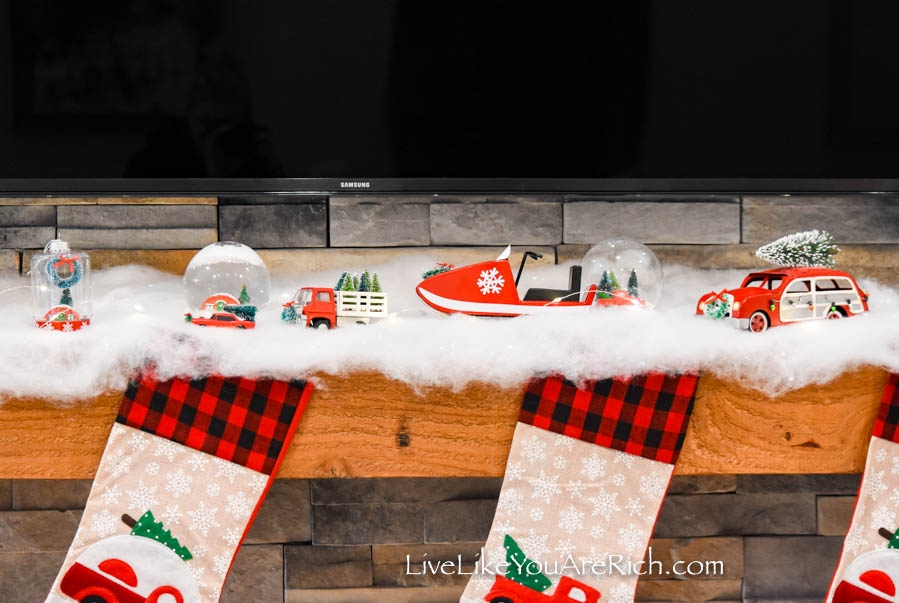 The stockings were $1.00 each at Dollar Tree and can also be found here. They are of good quality and cute. I was surprised I got them for $1.00 each! They are made of felt and because of how light they are, they have stayed put without a stocking holder.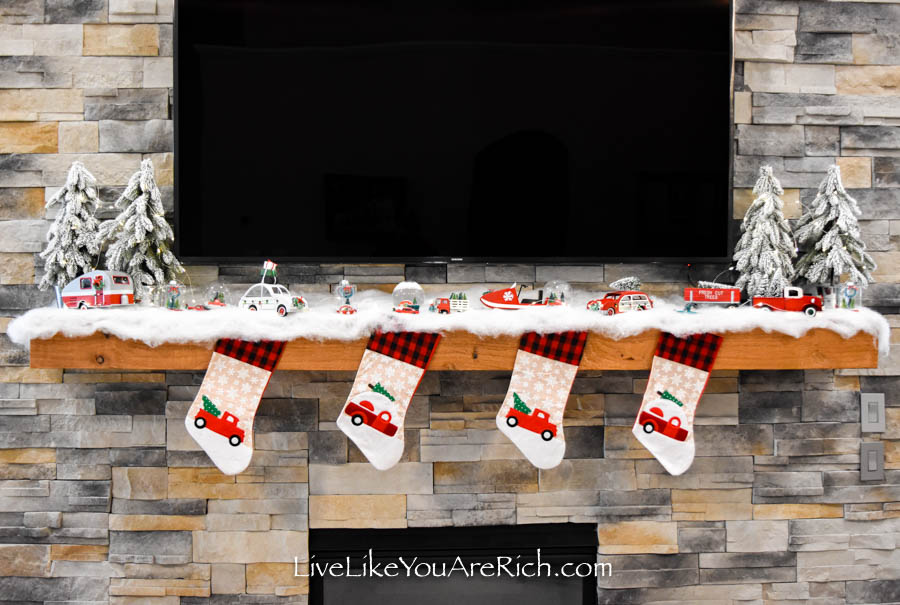 I added some D.I.Y. snow globe ornaments that my kids and I made to the mantel as well.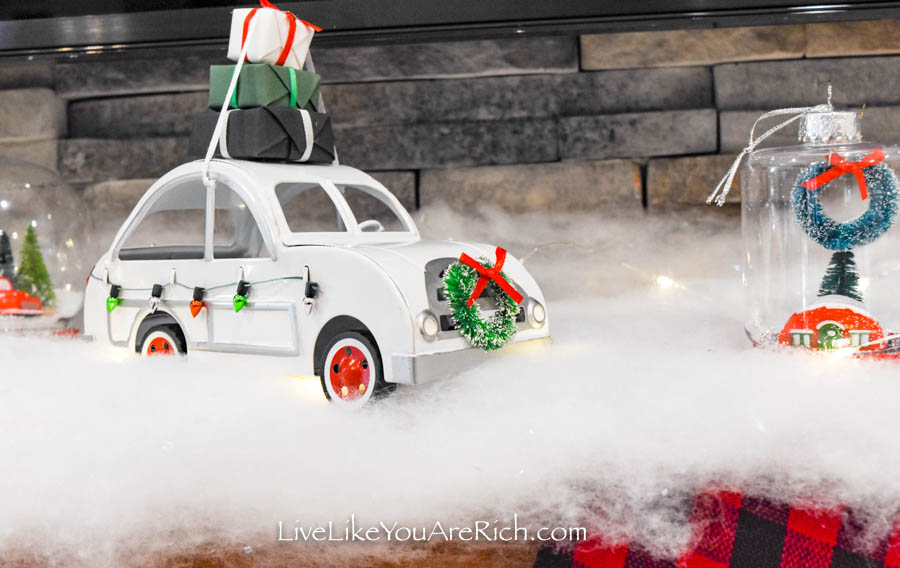 One of the snow globe ornaments had a camper in it and the others just had trees.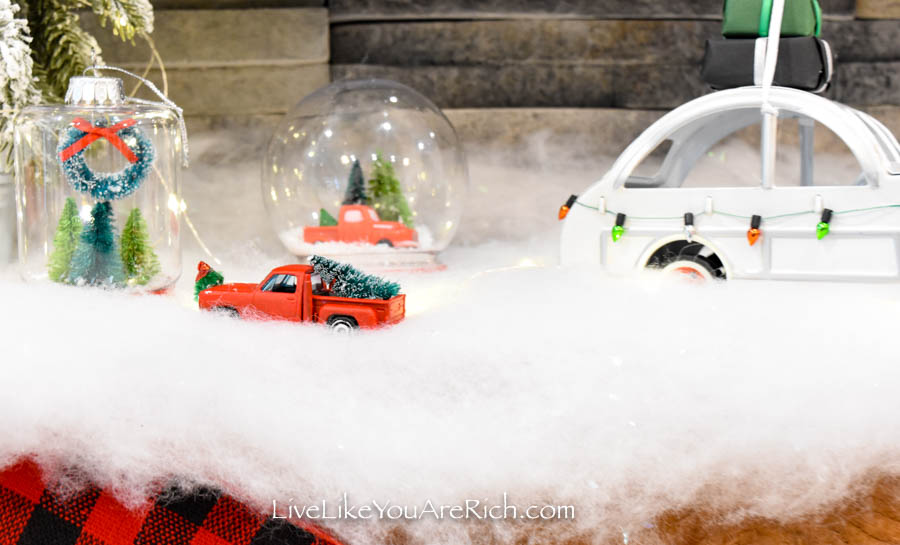 I also made a red truck and red camper snow globes. Some were made with water and some without.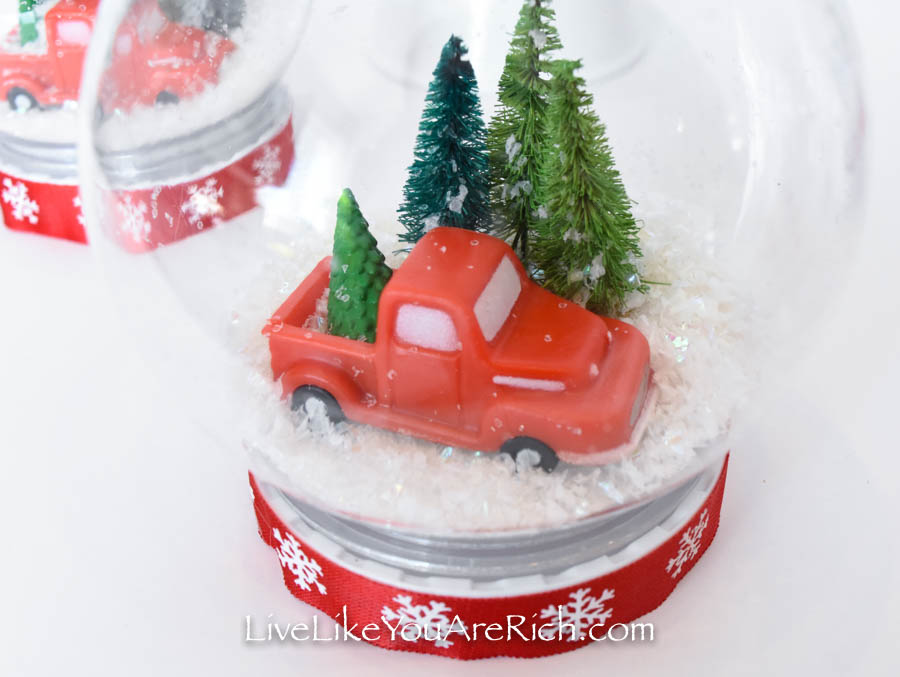 I placed a few of these snow globes my kids and I made on the mantel.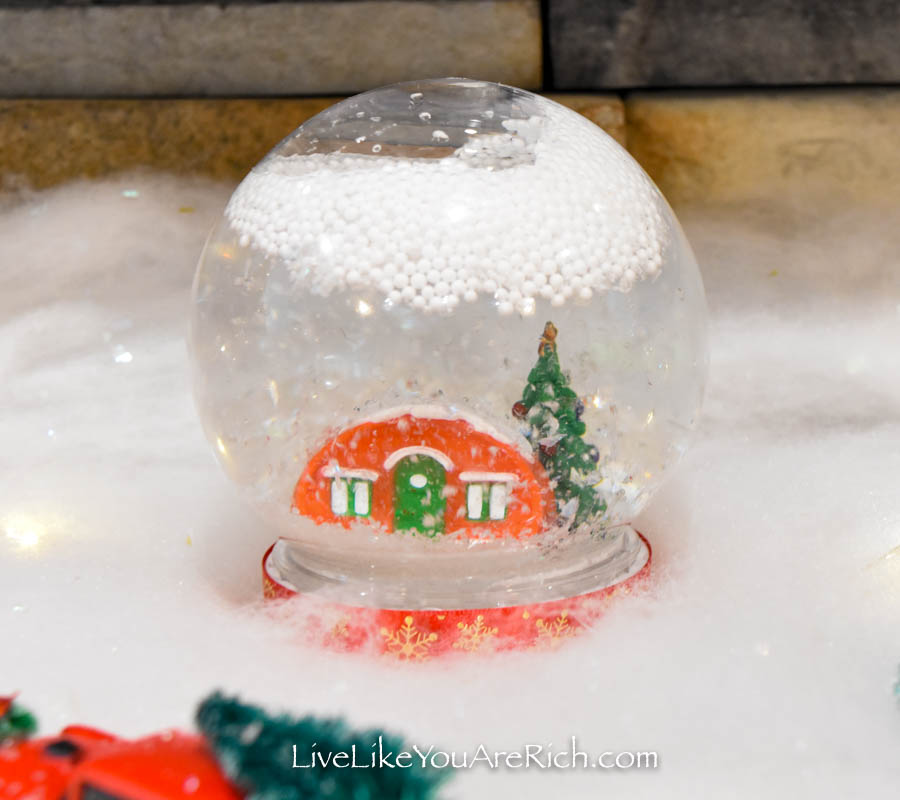 I used twinkle lights to highlight a lot of the items on the red truck Christmas mantel.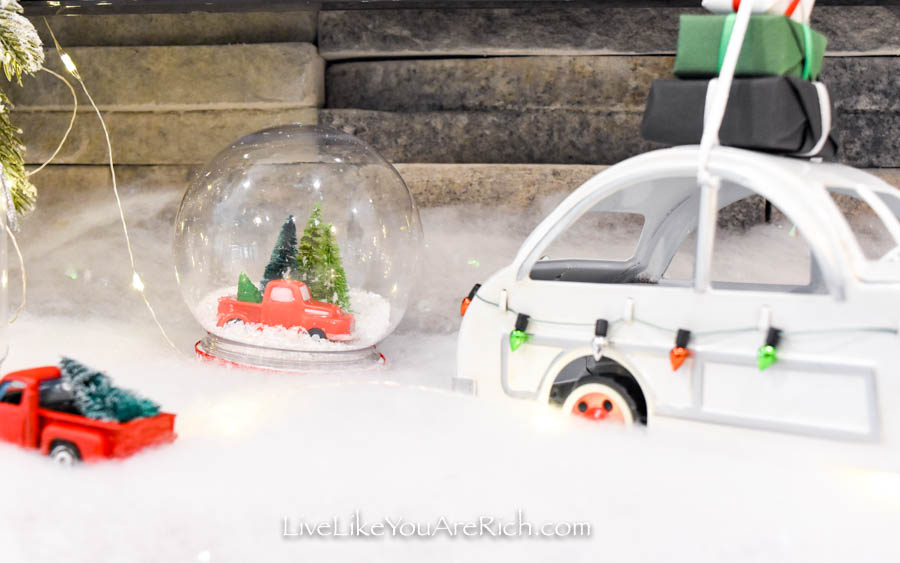 I added a few other Hot Wheels that I 'restored' to mimic this look…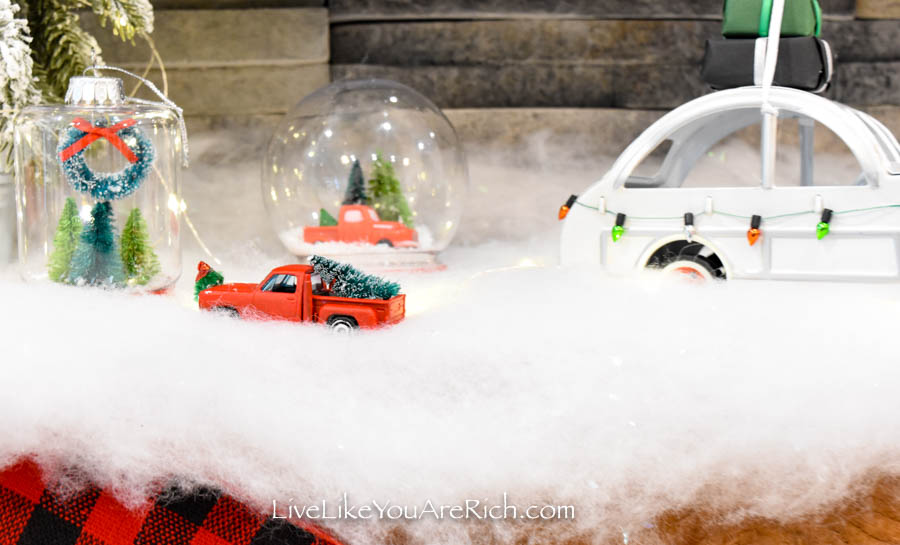 I think they turned out so cute!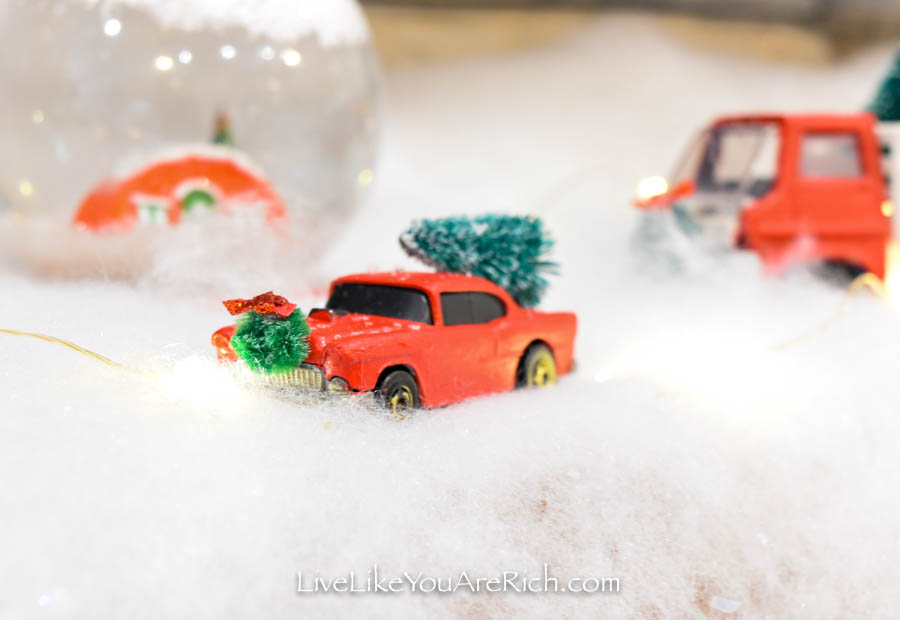 I placed two flocked trees on either side of the mantel and tucked up either the camper or the red truck next to them.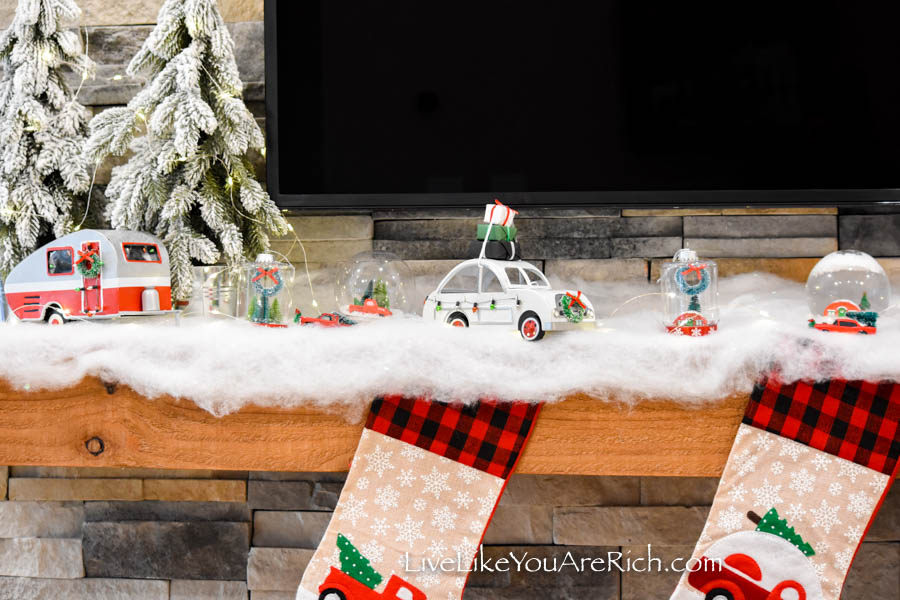 I wrapped the twinkle lights around the flocked trees and the items on the mantel.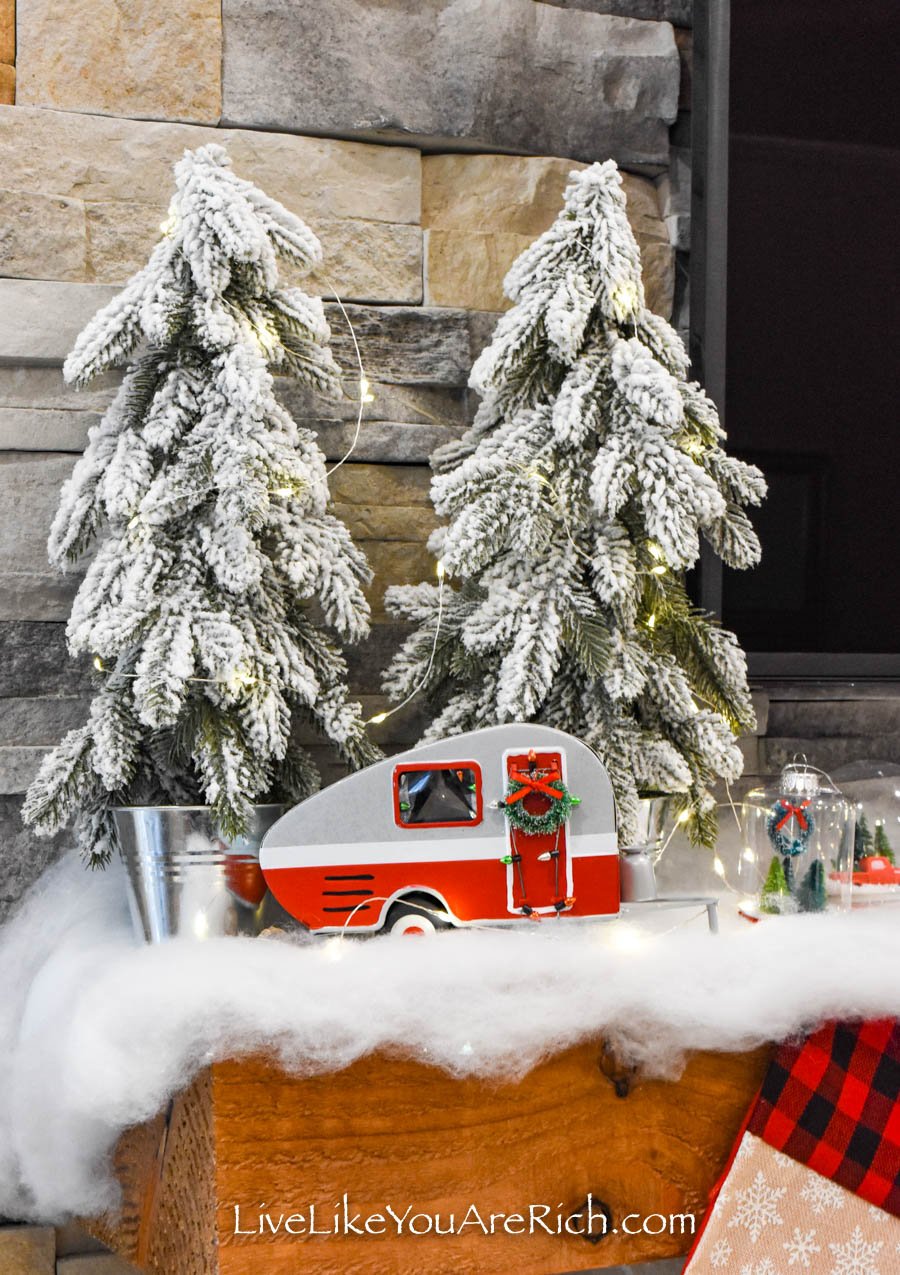 I love how the scene is lit up all day and evening.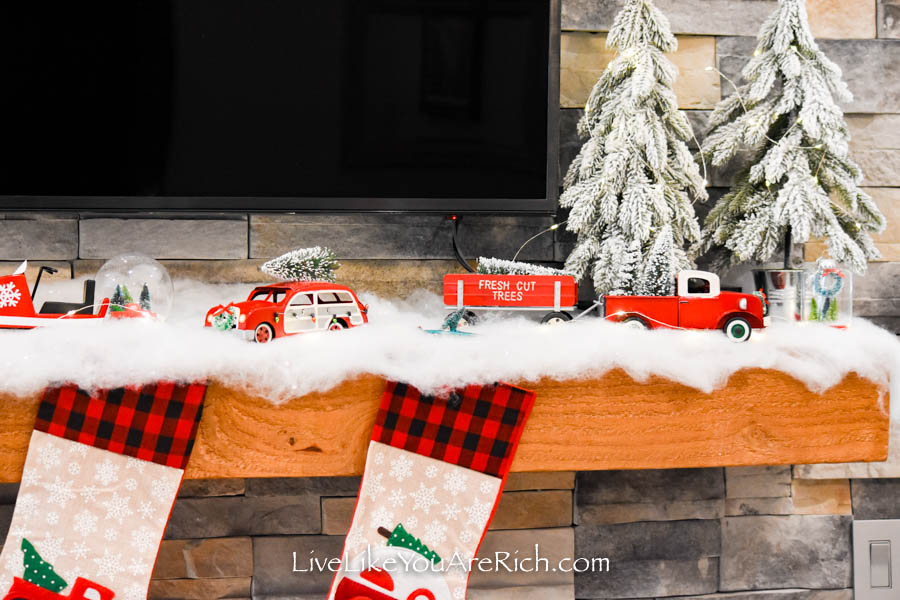 Isn't this station wagon I found at Target just so cute?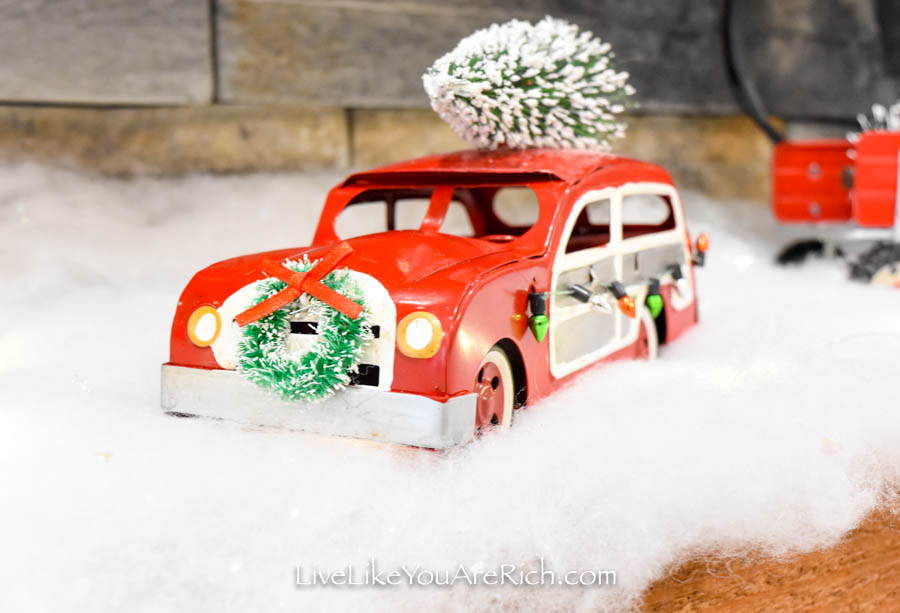 I love snowmobiling, so this vintage snow mobile was also a must-have.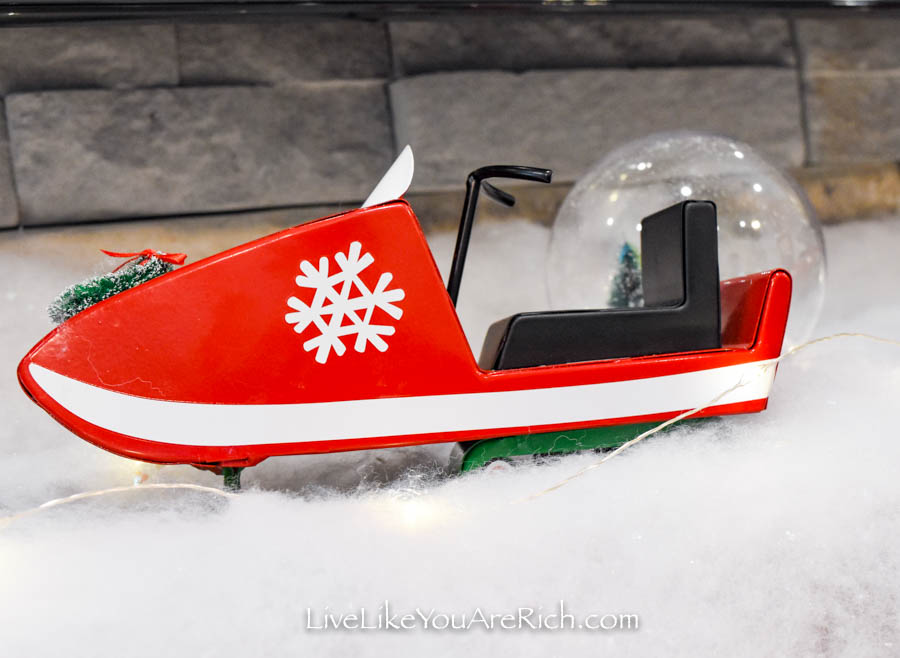 I just think this Red Truck Christmas Mantel turned out so cute. I love looking at each individual item on it.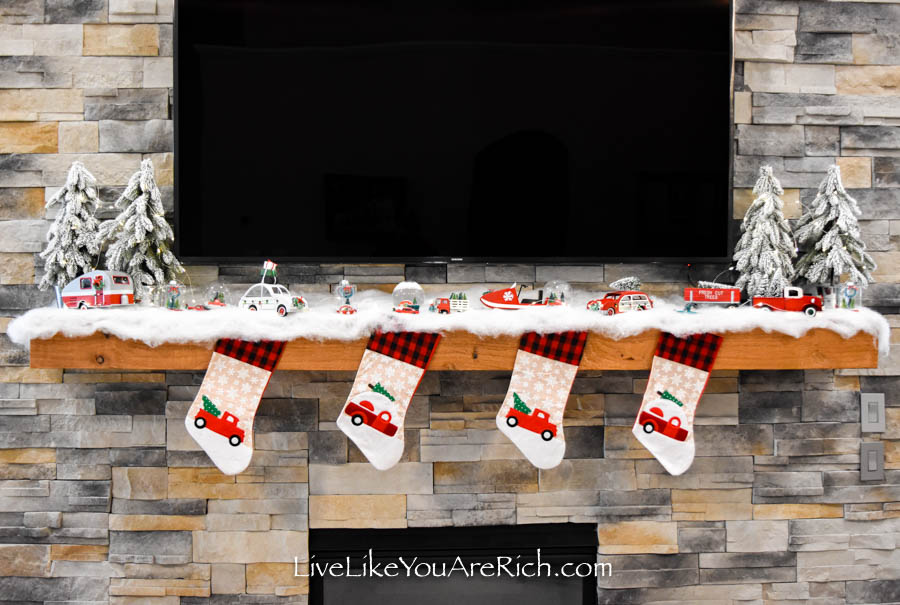 Have you made a Red Truck Christmas Mantel as well? If so, I'd love to hear or see what you have done with yours! Comment below.

For other 'rich living' and D.I.Y. decor tips please subscribe, like me on Facebook, and follow me on Pinterest and Instagram.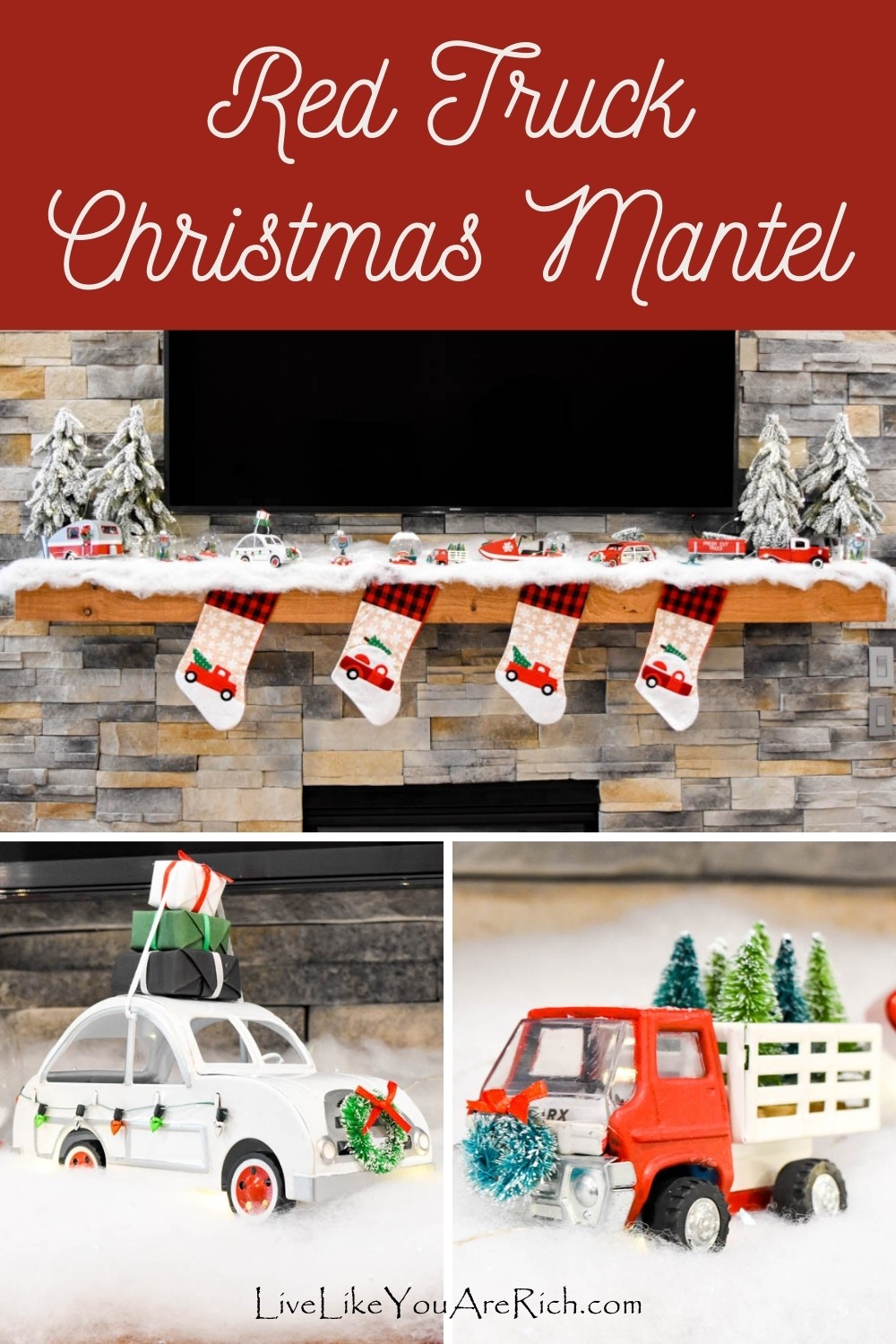 Supply List for a Red Truck Christmas Mantel
Red Truck and Red Camper stockings (Dollar Tree or here)
Faux snow glitter Wondershop blanket Target or Amazon
Flocked fake Christmas trees Target or Amazon
Wondershop: Camper, snowmobile, bug, stations wagon, red truck and trailer
DIY Dollar Red Truck and Red Camper snow globes
DIY Camper and sisal tree ornaments
DIY Hot Wheels Red Truck Christmas
Twinkle lights battery—operated I used two 50 light strings for my 9′ mantel. Target or Amazon