This is my Christmas Nativity Mantel for 2021.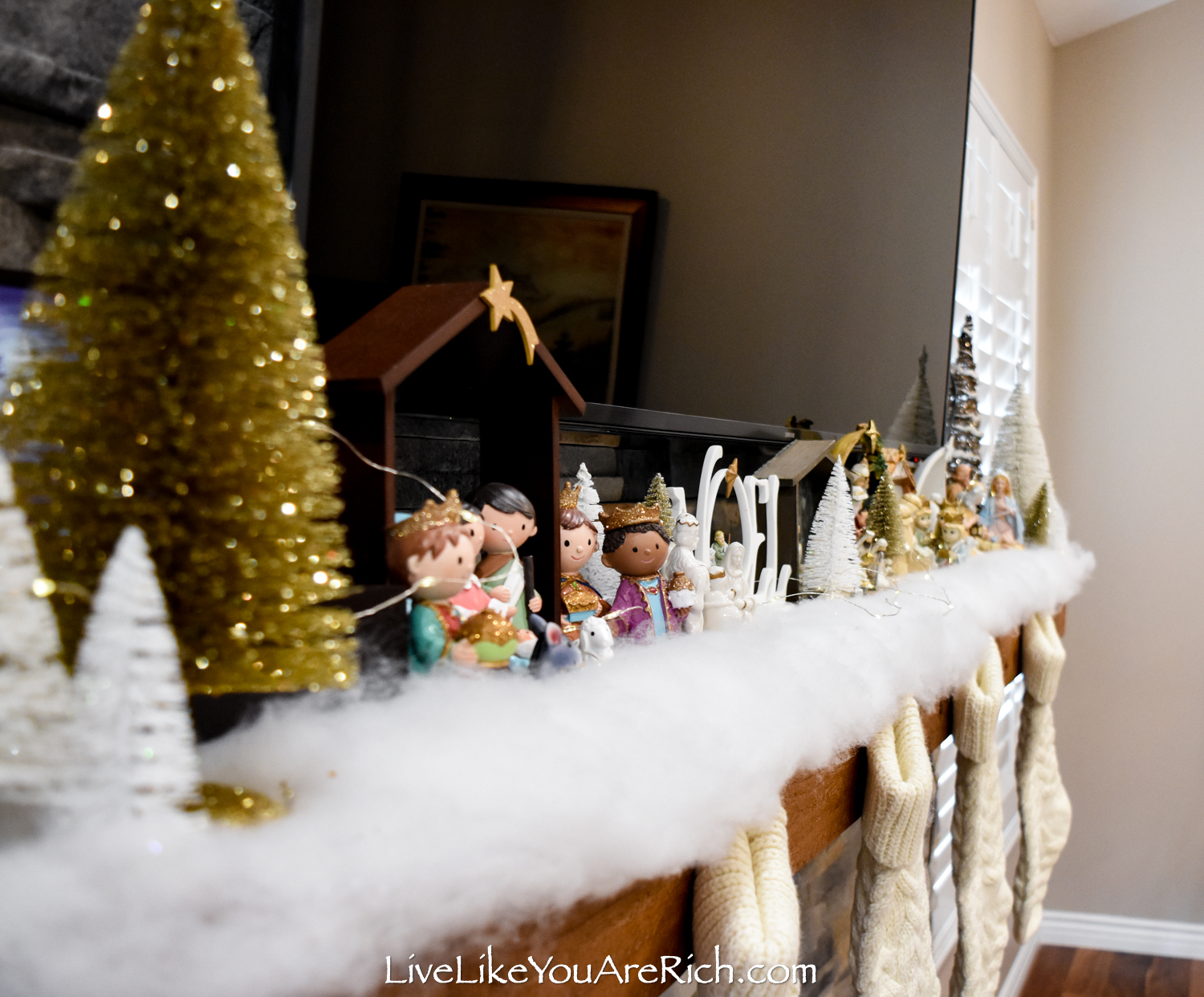 Every Christmas I like to move around my decorations and create new mantel themes.
This year, I placed most of my nativities on this Christmas Nativity Mantel.
I enjoyed having the nativities front and center in our home this year. It helped remind us of the Reason for the Season.
I didn't have room for all my nativities so I have those set up in some other areas.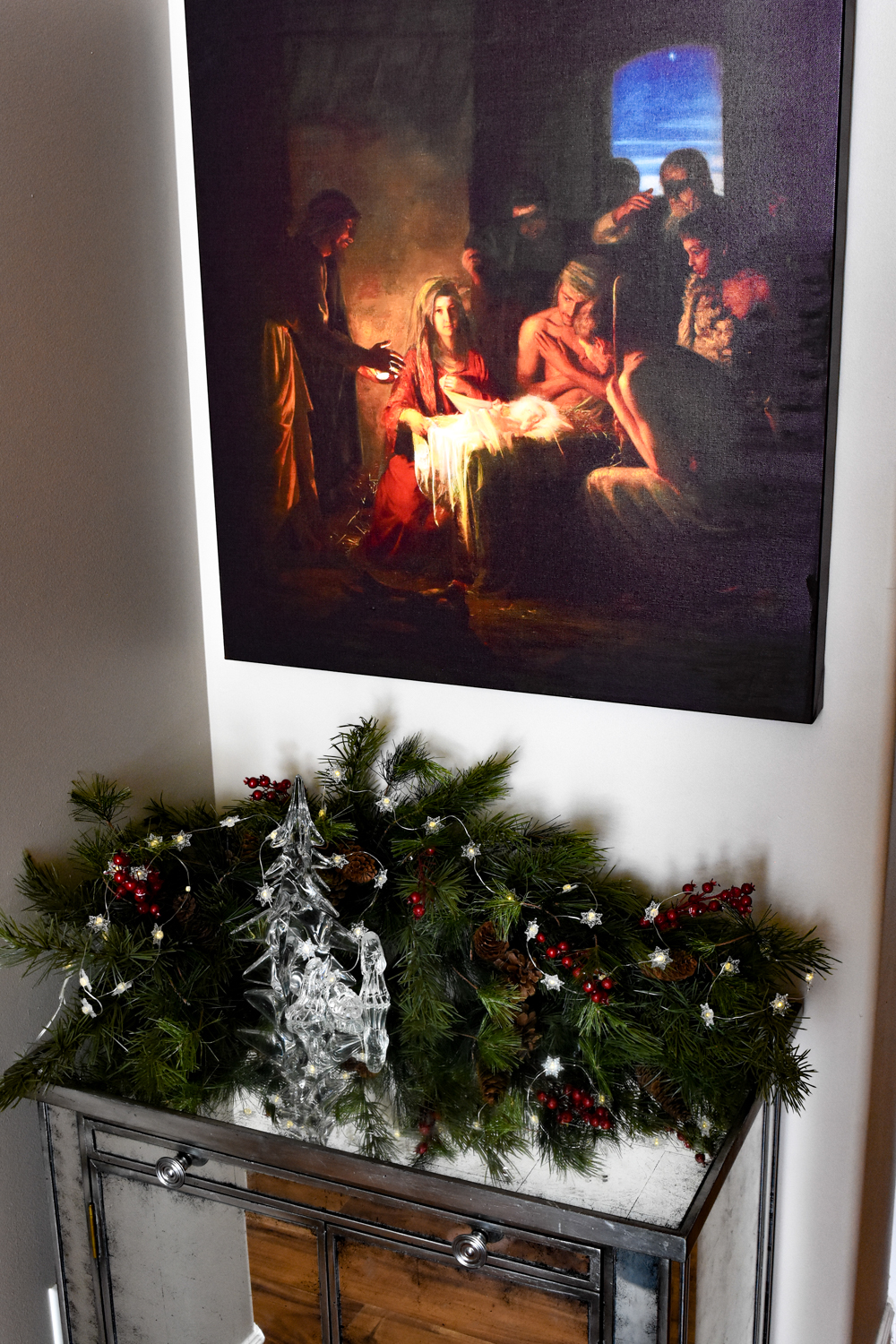 Like this one with a Carl Bloch Nativity painting above it.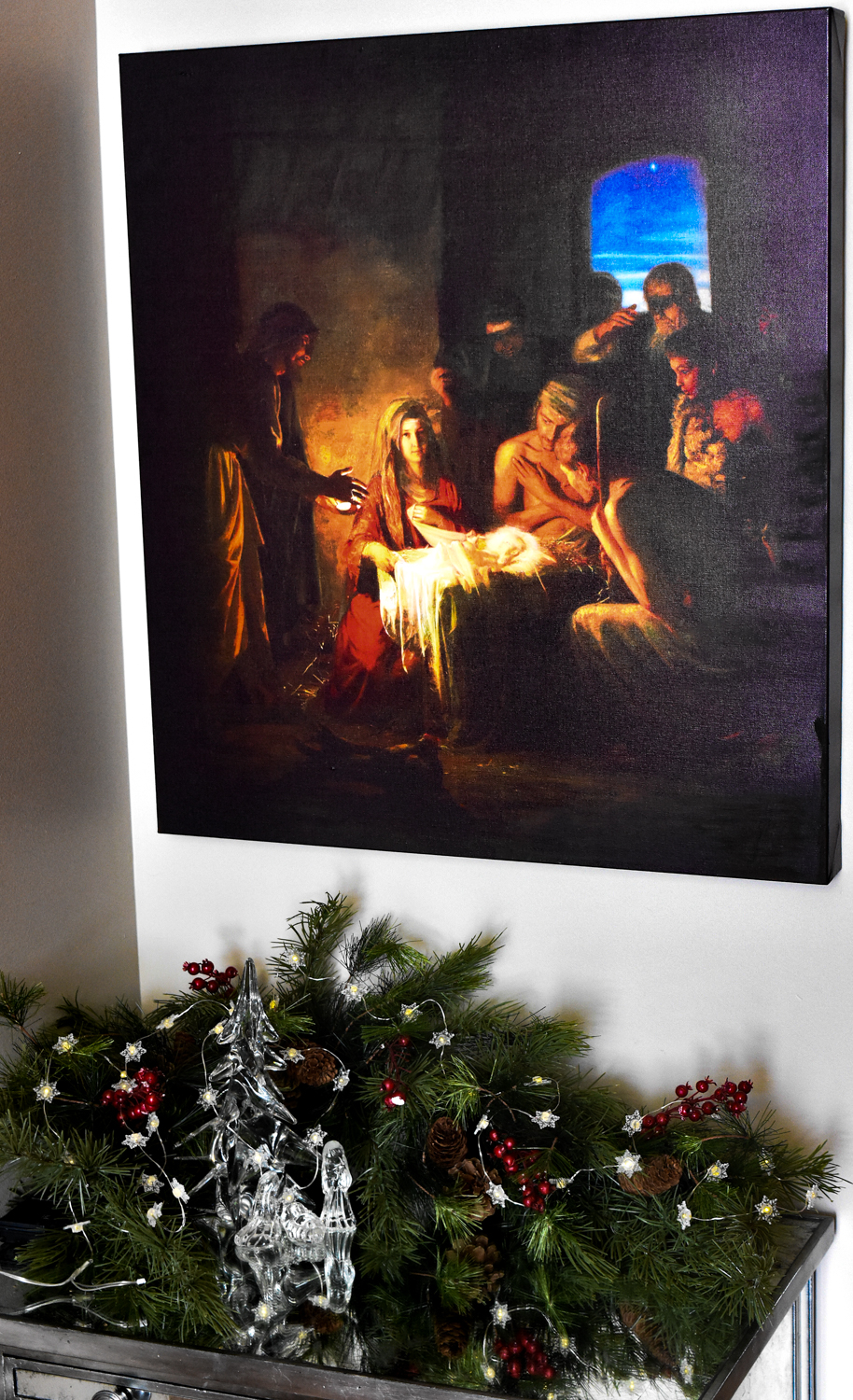 This is on our entry table and I want the painting hung there each Christmas. I have loved having it there.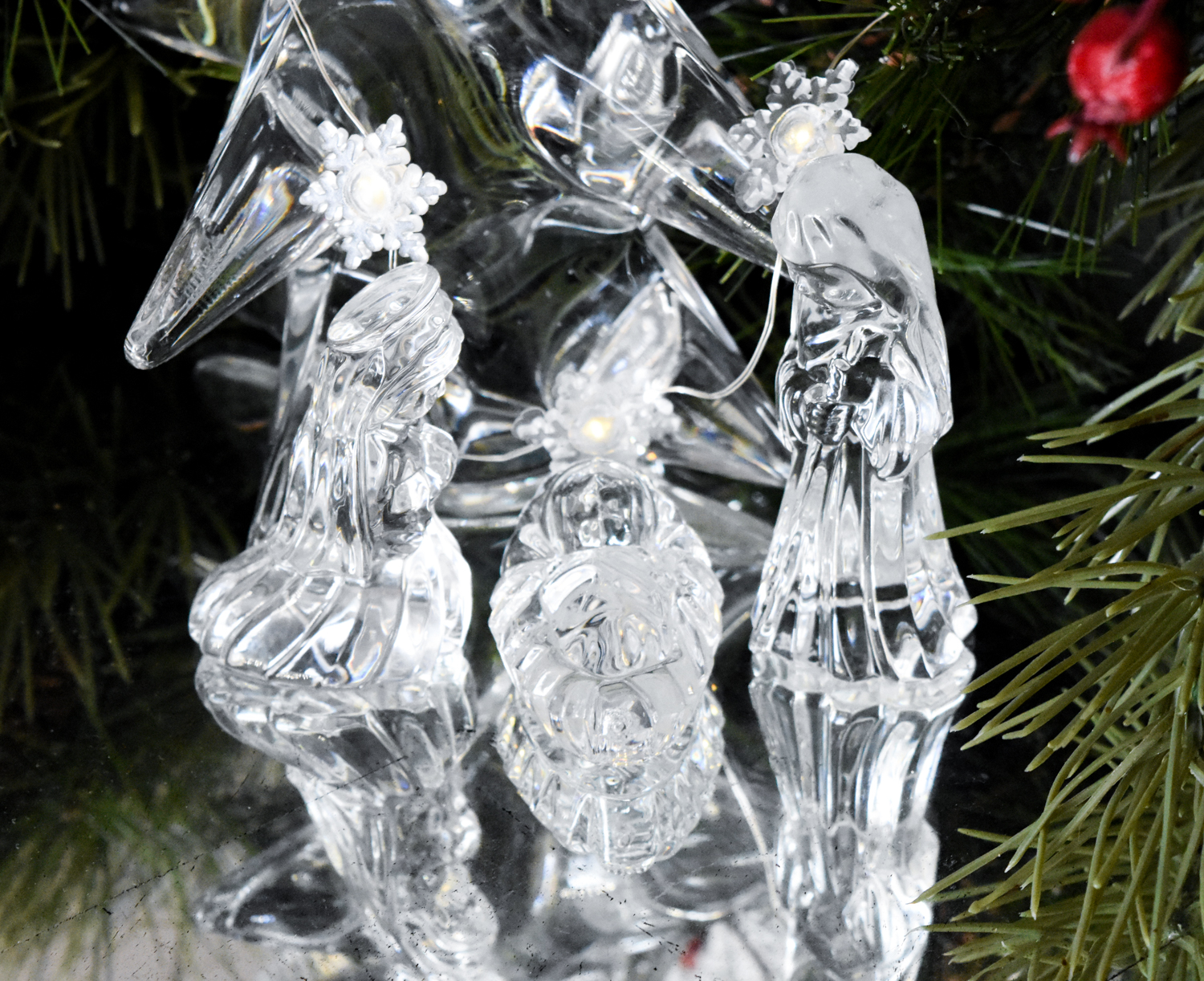 I just LOVE Carl Bloch's paintings of Christ.
Anyway, I'll get back to the Christmas Nativity Mantel…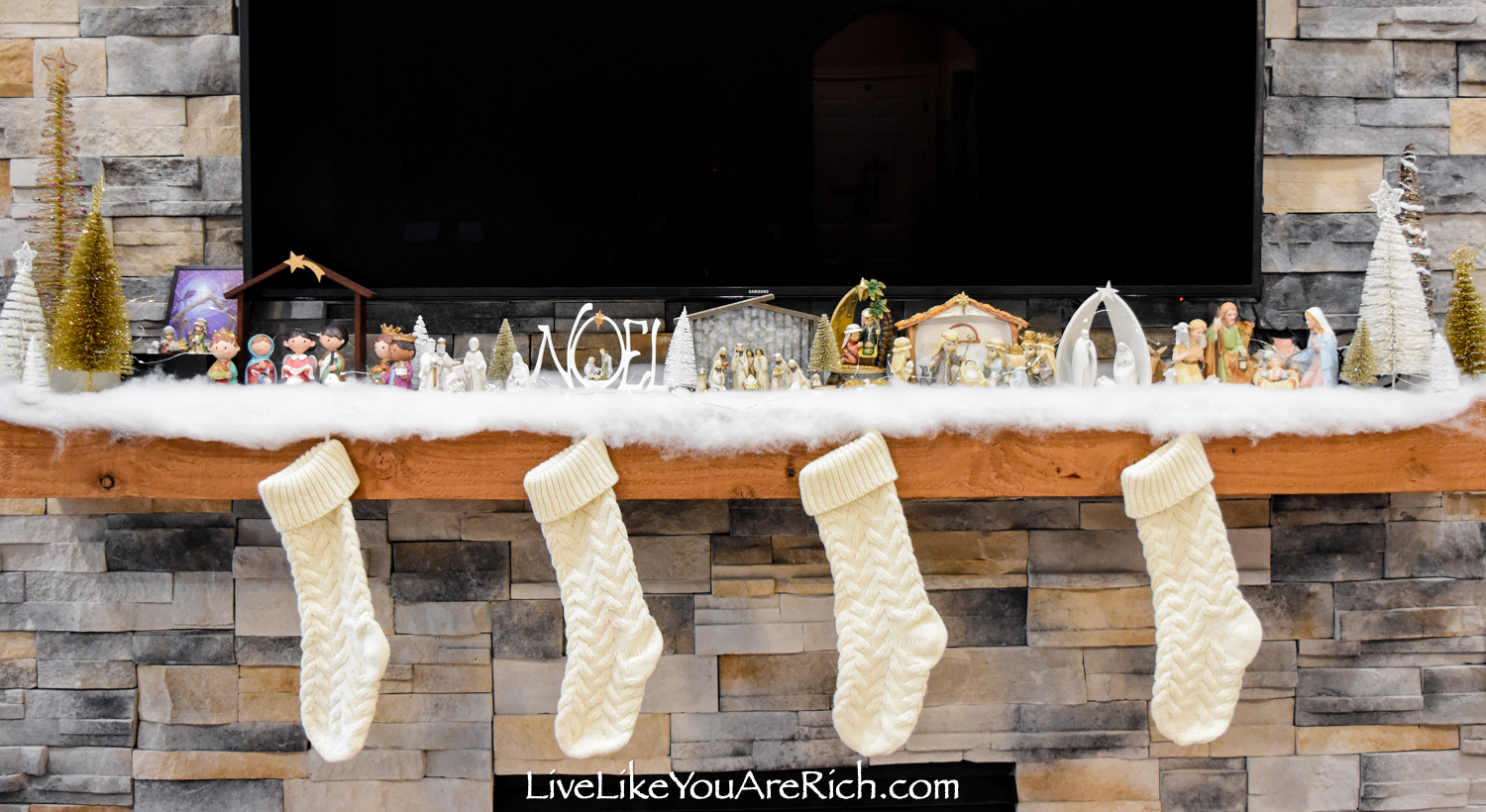 I put glitter sisal trees on either side of the mantel.
Each tree is a different height to provide variety and interest.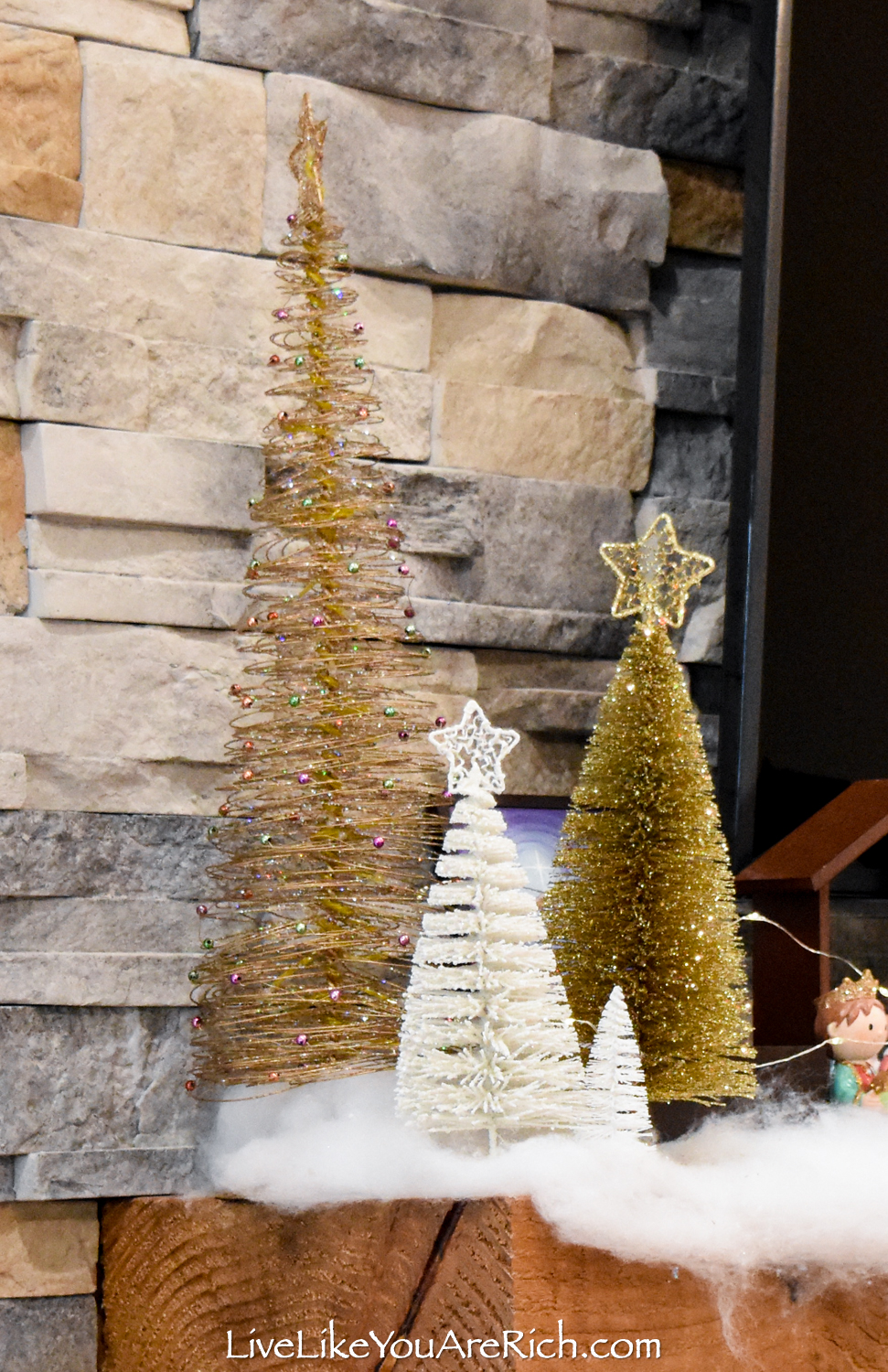 I had a few of these already. I also bought some from World Market and the small white trees came from Dollar Tree in packs of two.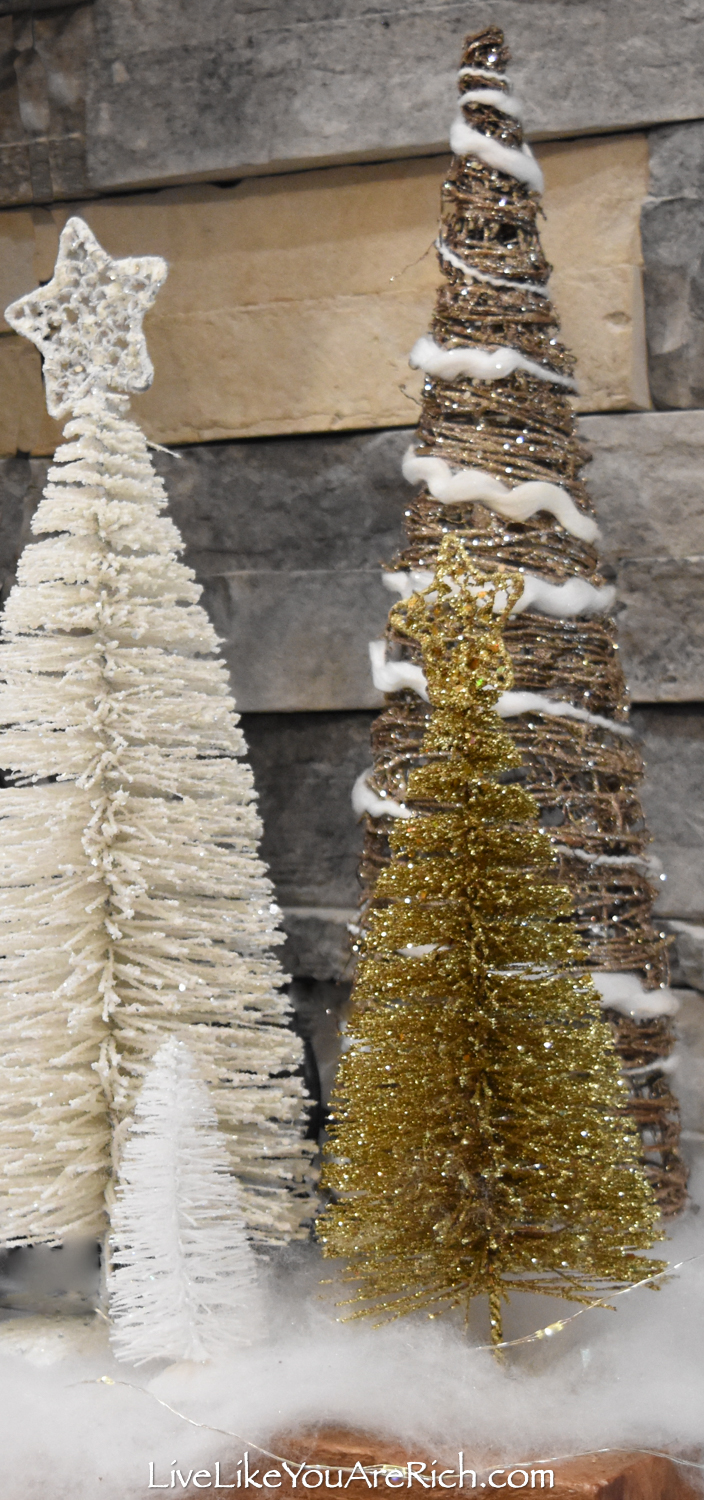 I used a faux snow glitter blanket underneath the nativities.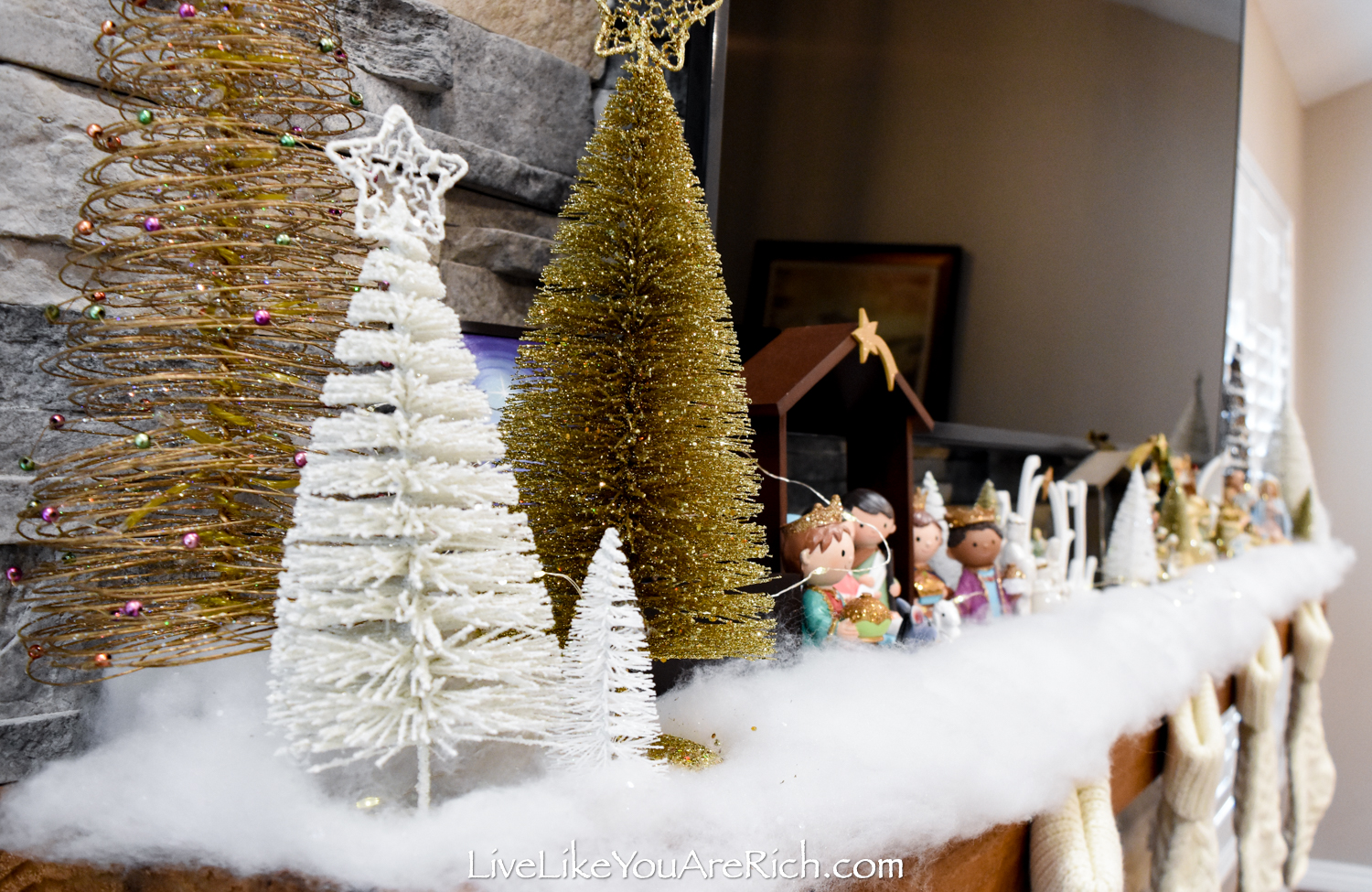 Then my daughter and I set them up in an order we liked.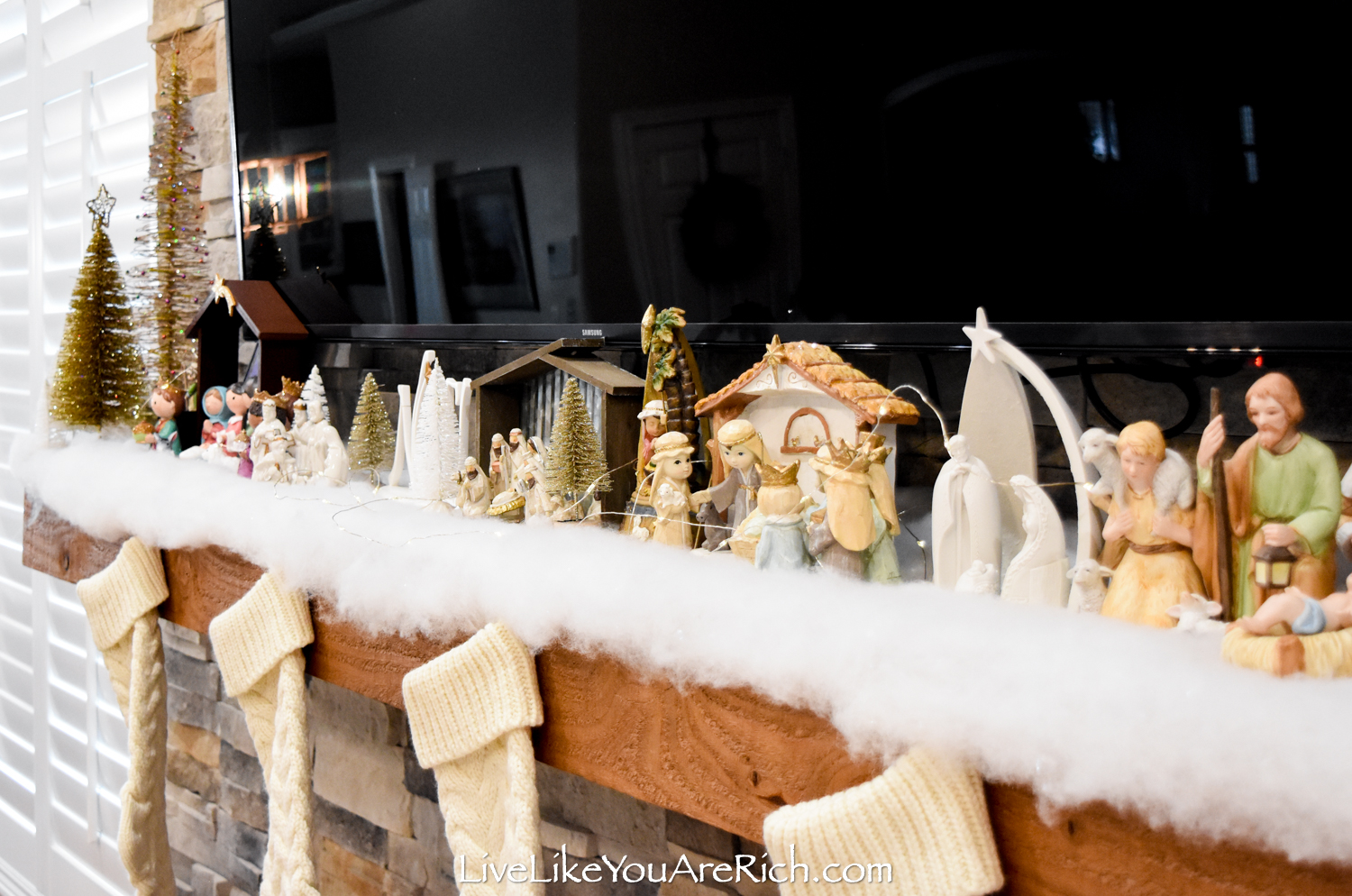 I got this Precious Moments nativity from my grandma.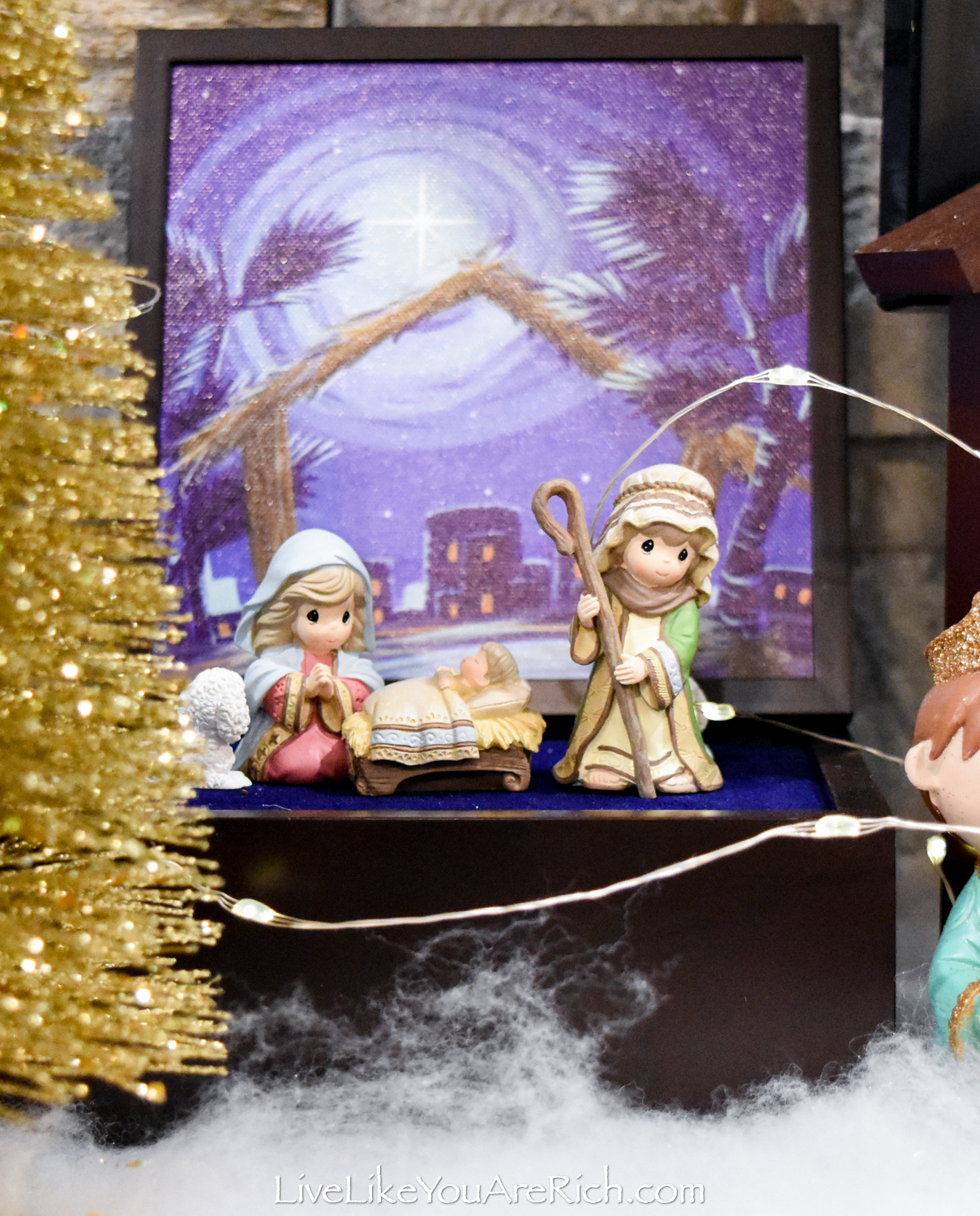 I purchased this one from Sams Club.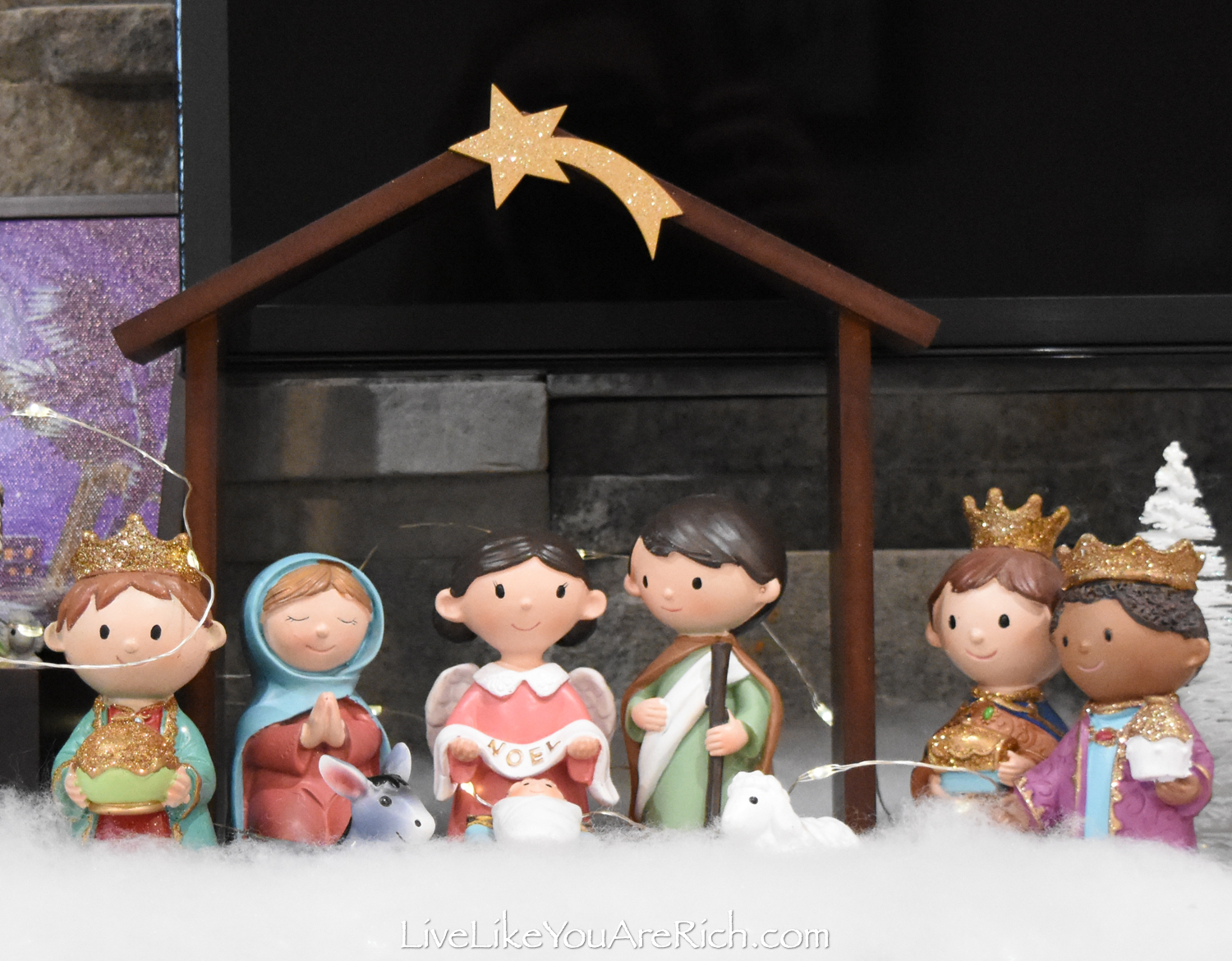 It was on sale for about $20.00 which I think was a great deal!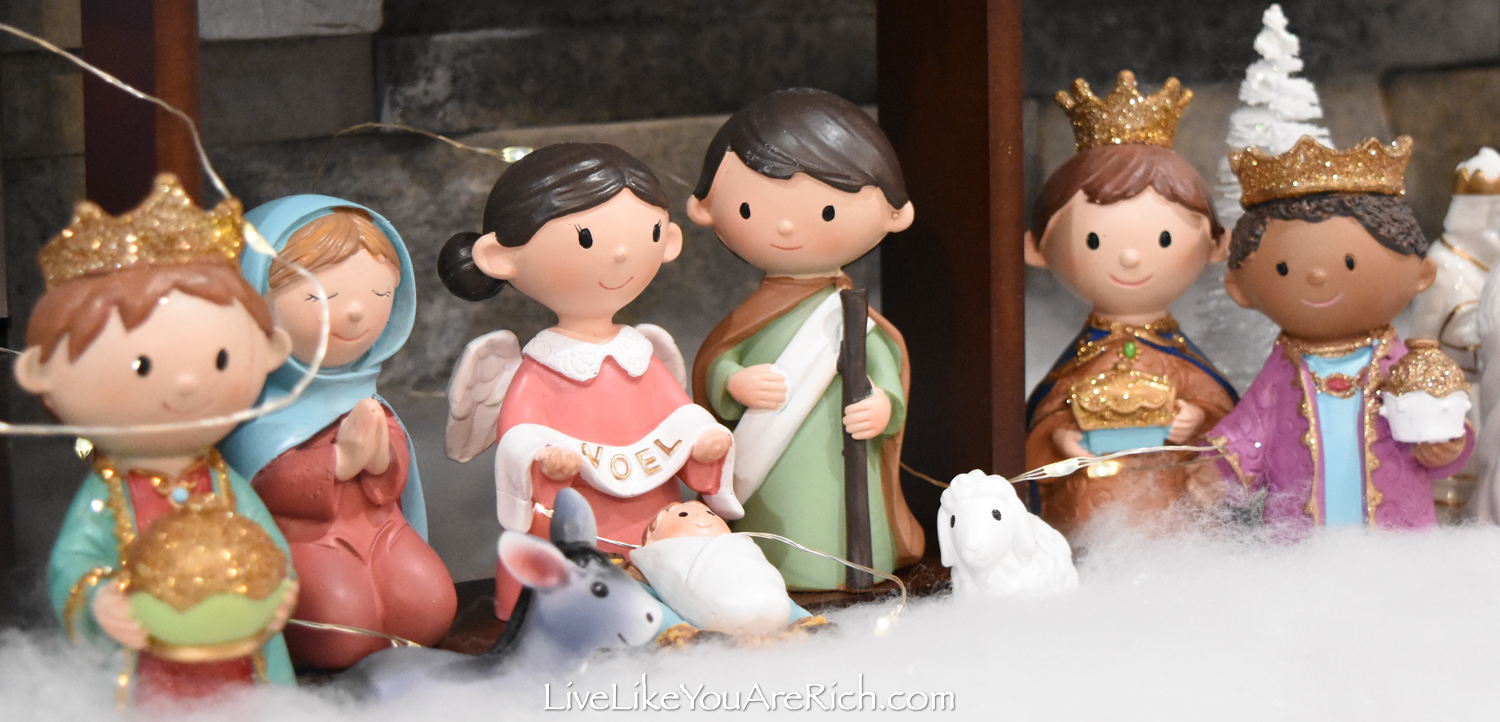 I got this nativity at a thrift store for $1.00.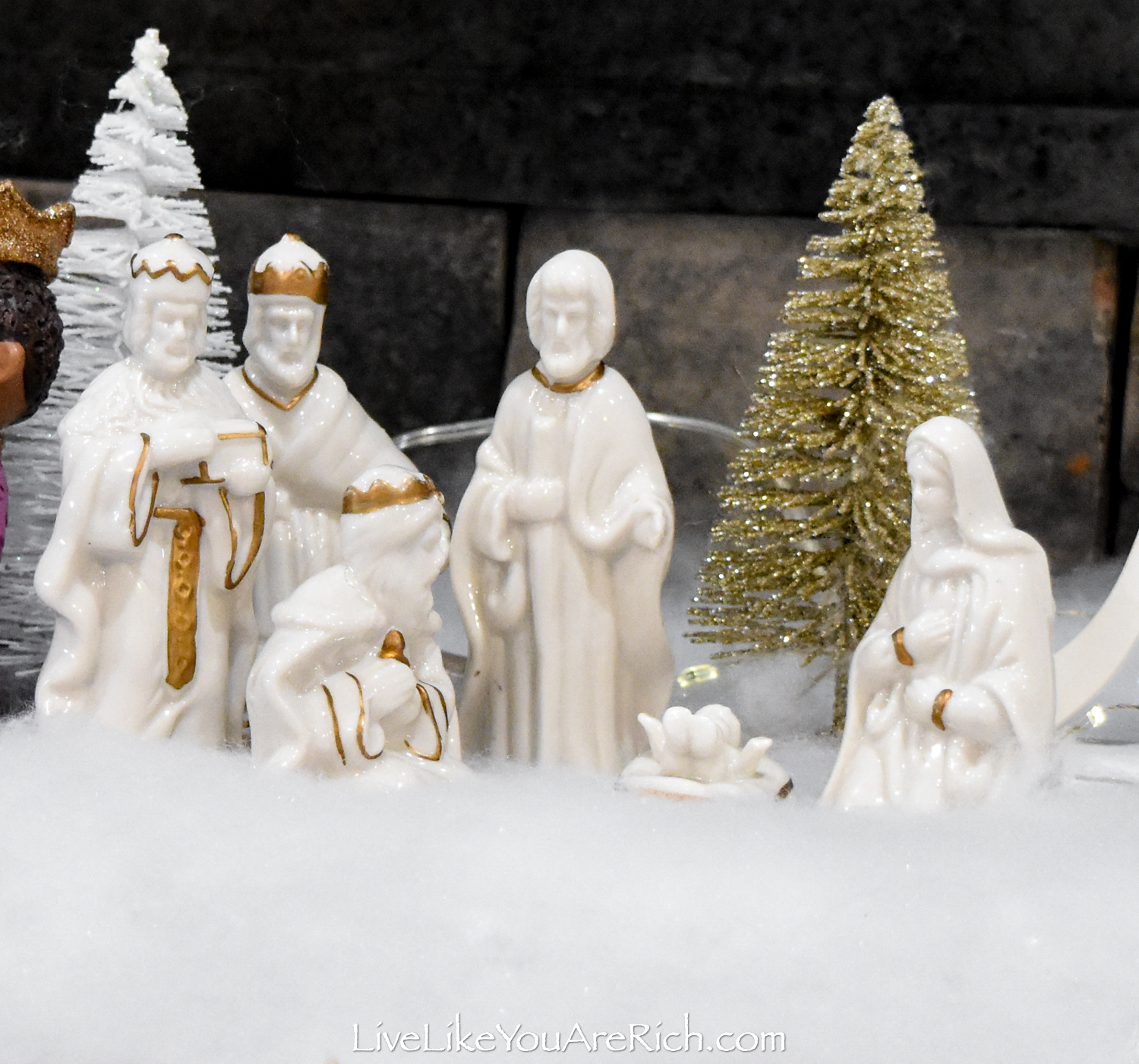 My grandma gave me this Noel nativity that I just adore. The star lights up and it shines down on Baby Jesus.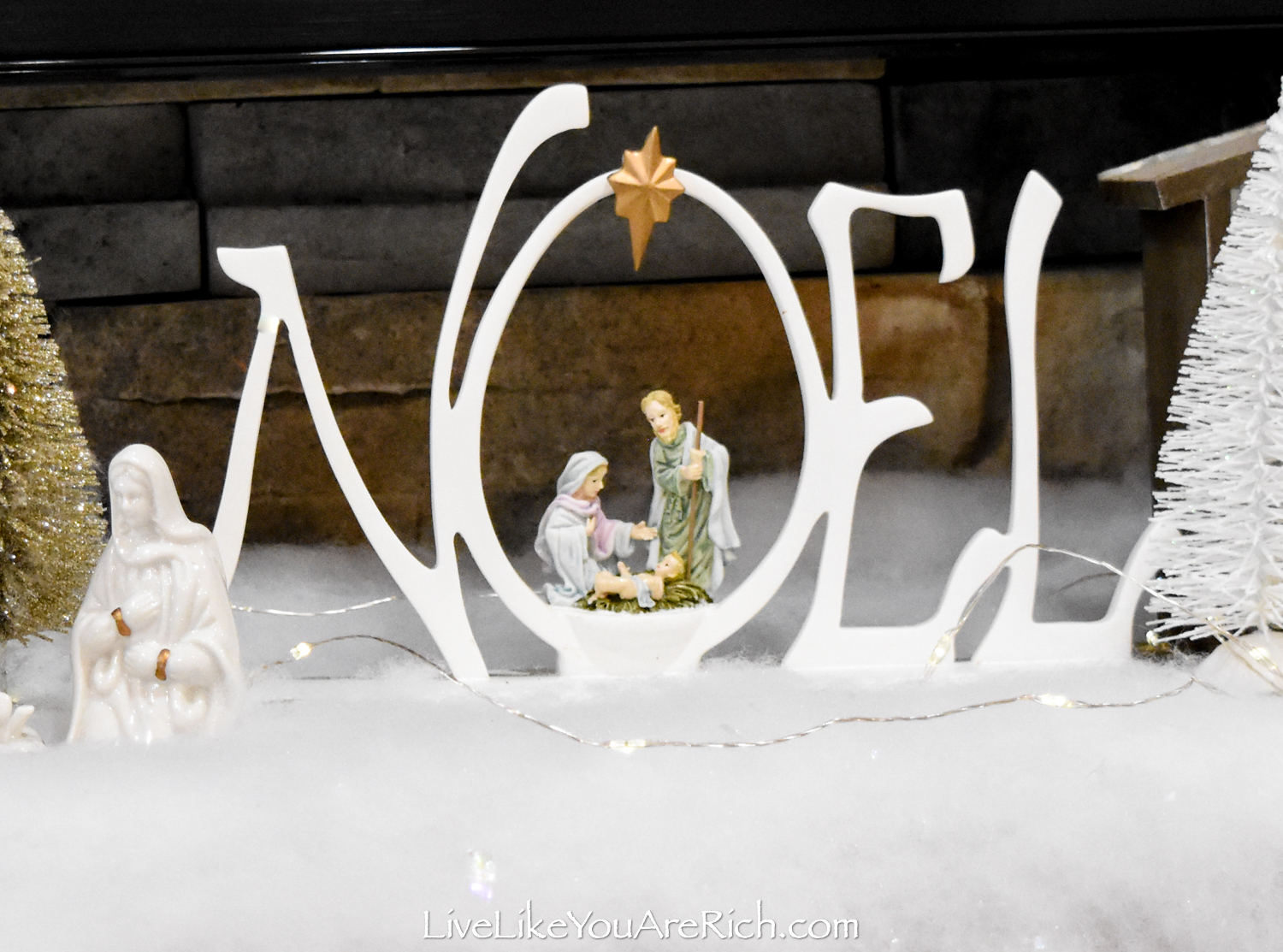 I also purchased this nativity from Sams Club. I got it for about $45.00.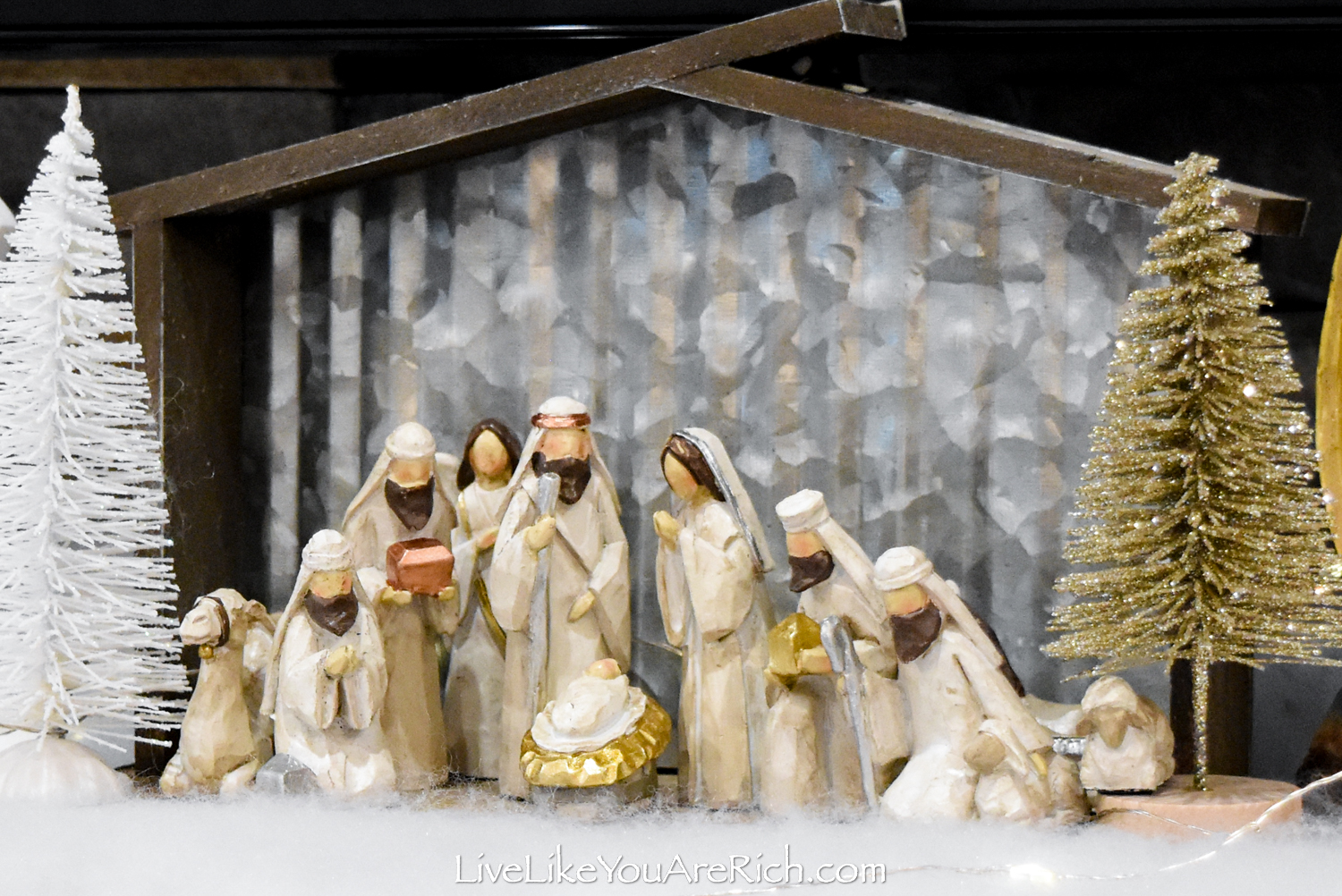 Although it is small, I love the lines, wood, and coloring.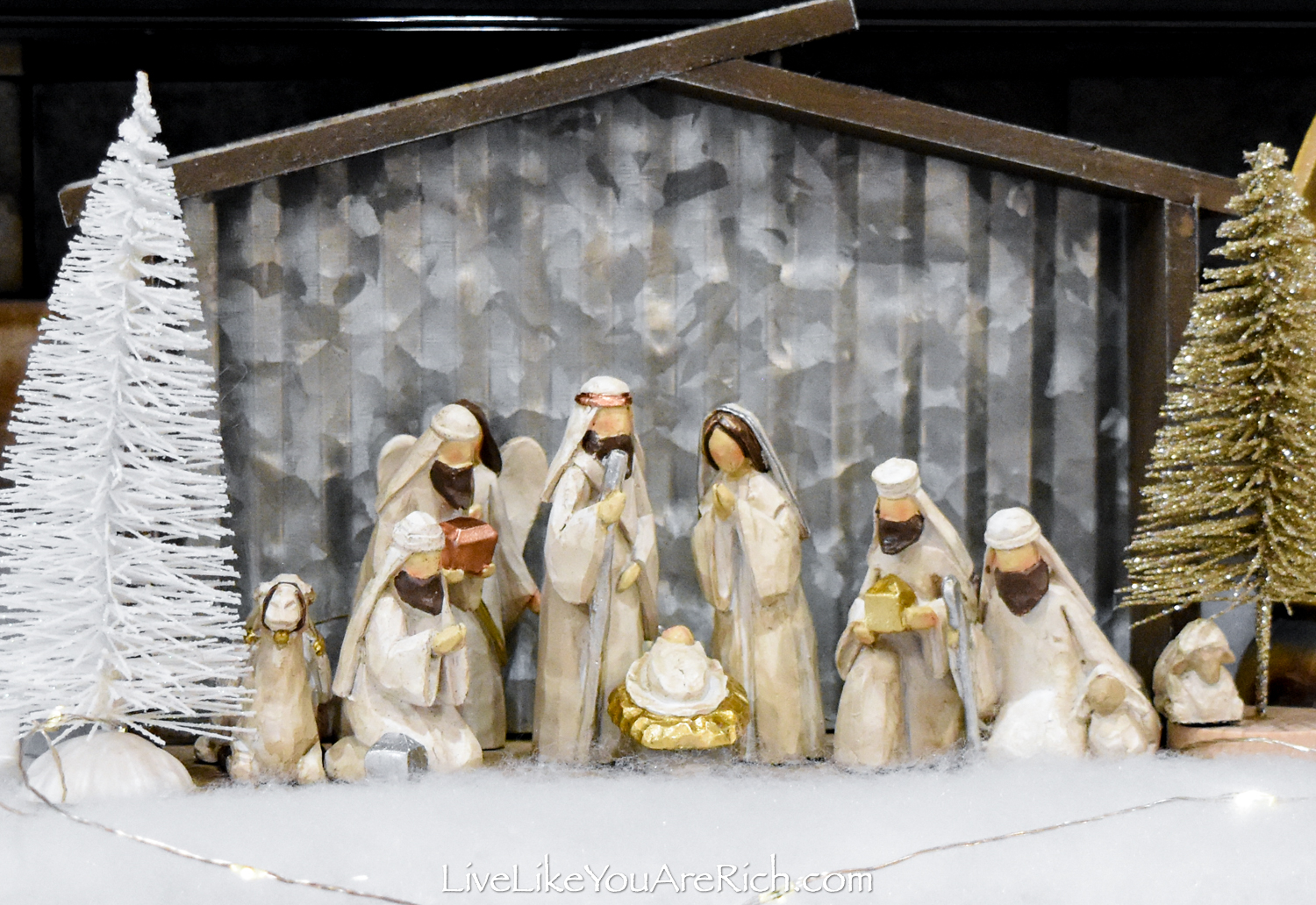 I bought this Nativity from the after Christmas sale last year. I got it over 50% off. I think it was about $15.00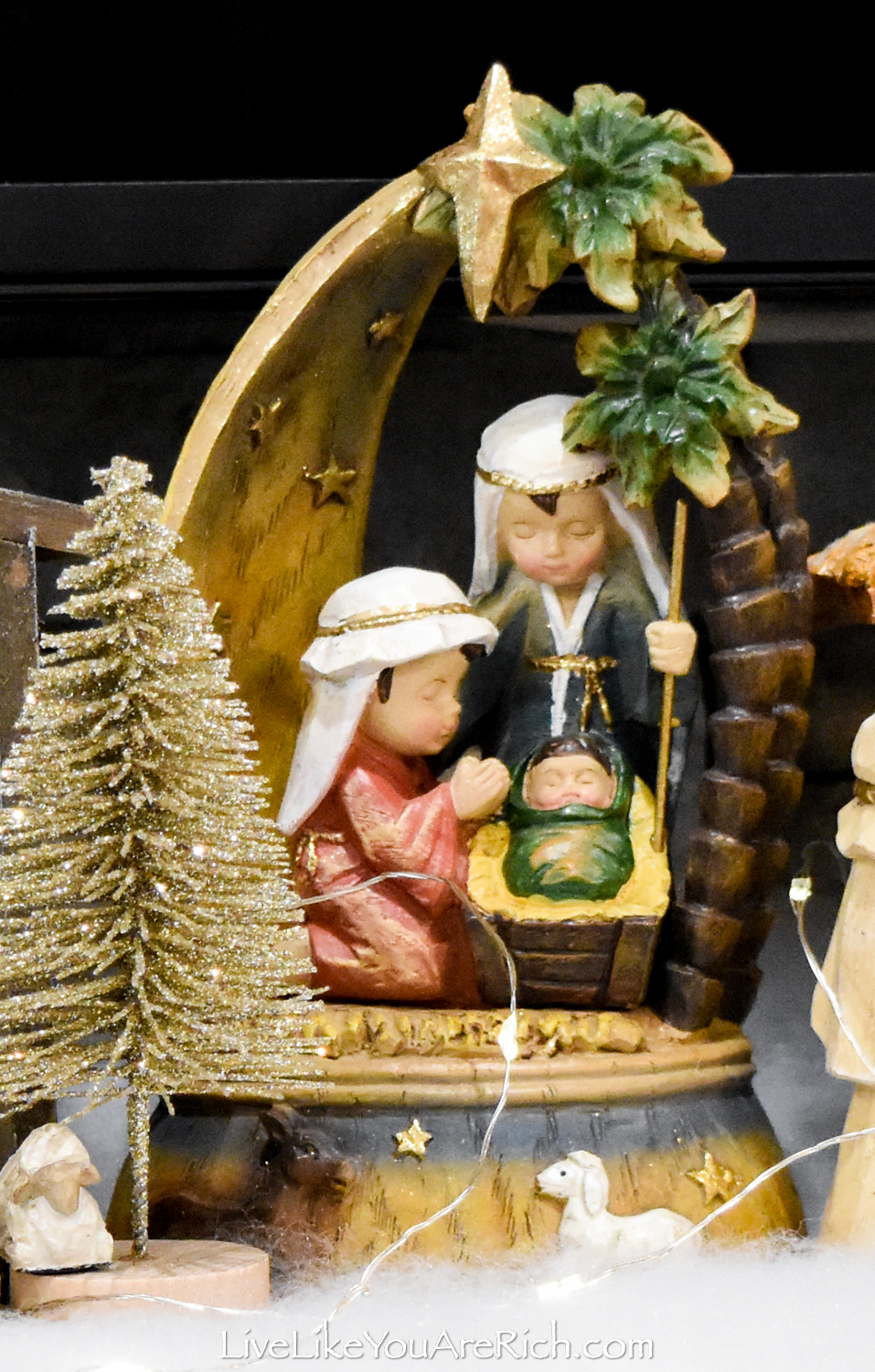 I have had this nativity for about 10 years and have loved it. I bought it from the Festival of Trees which is a donation event for Primary Children's Hospital.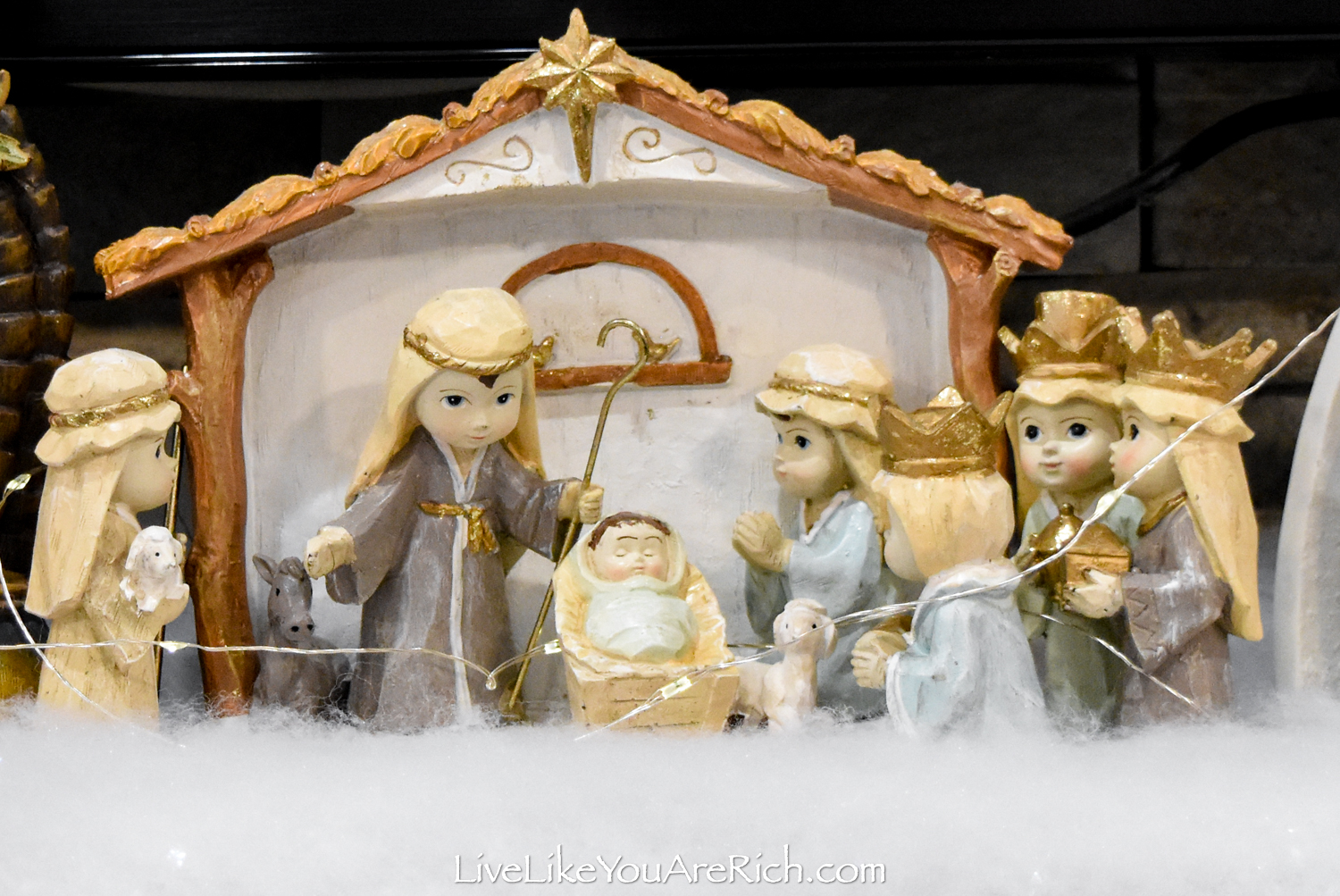 I purchased this nativity for over 50% off at the after Christmas sale as well. I believe it was about $35.00.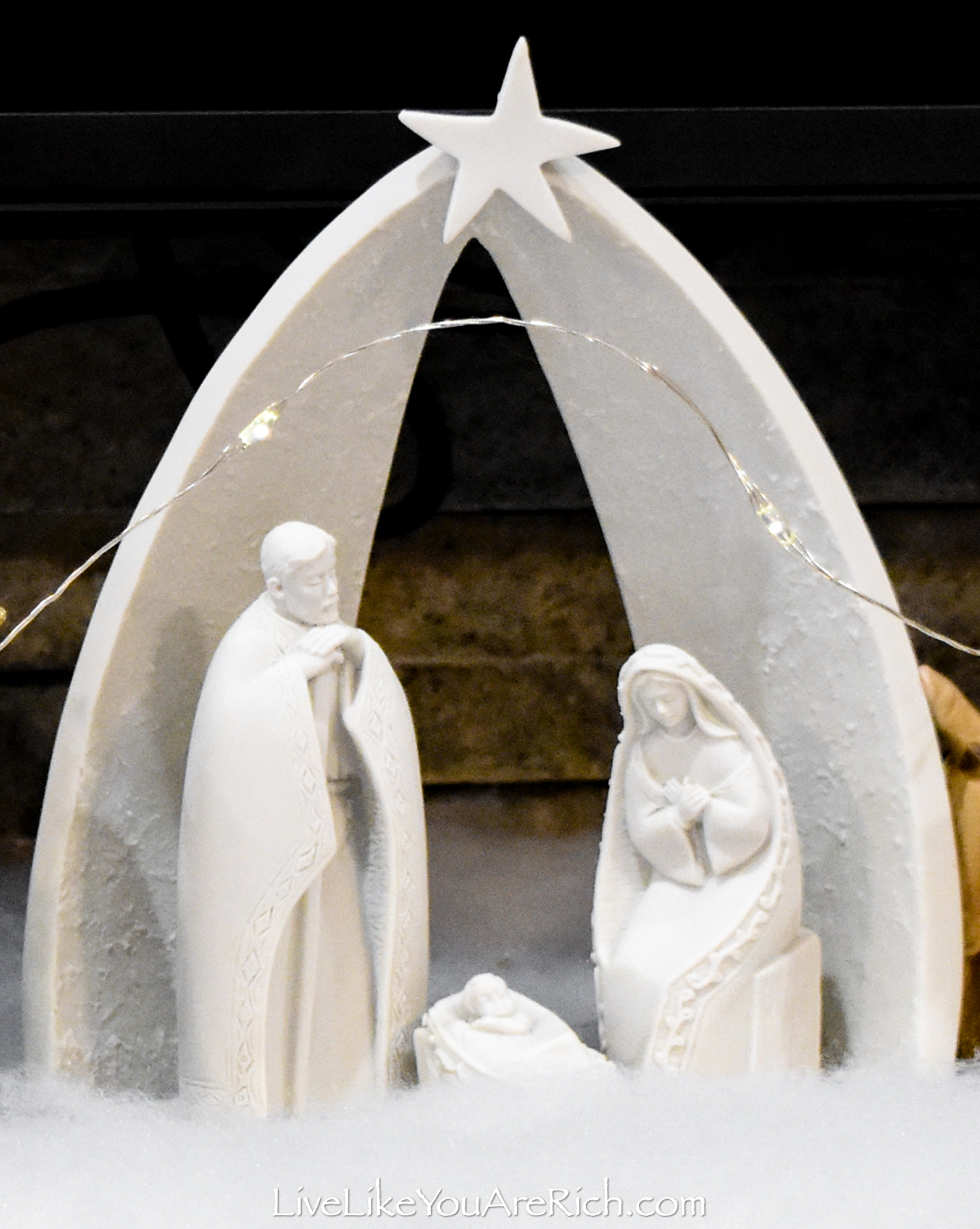 Finally, I have had this nativity for a very long time. My grandma gave it to me many years ago.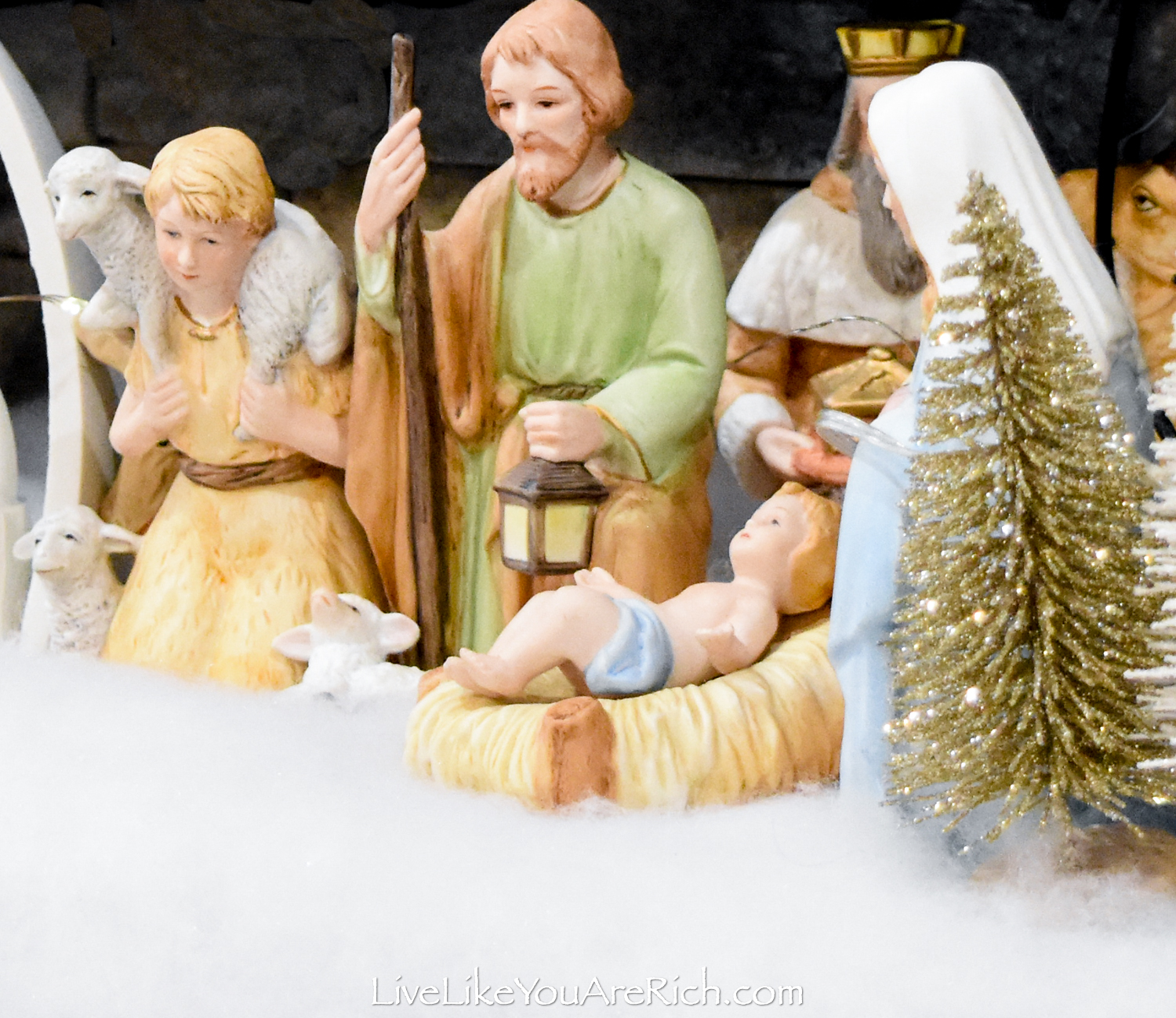 I put 2 lines of fairy lights throughout the nativities.
I hung 4 stockings using packaging tape.
Supply List for this Christmas Nativity Mantel
Christmas stockings I bought them in September on sale $25 for 6. I love the quality of these stockings.
glitter sisal trees variety of sizes
multiple nativity sets
packaging tape or stocking holders
How to set up this Christmas Nativity Mantel
1- Tape the stockings on to the mantel, or place stocking holders with the stockings on them onto the mantel.
2- Lay down a fake snow blanket. While I think the faux snow blanket was pretty, it did make it so that some of the nativity pieces were hard to balance.
If I set this nativity mantel up again I would probably place the nativities down on the mantel which is a flat surface and then put the fake snow blanket in pieces around the nativities so that they weren't wobbly. Or I would place the fake snow blanket down and then use white or light colored books to put on top of the fake snow blanket and place the nativities on them.
3- Place a variety of glitter sisal trees on both sides of the mantel.
4- Place the nativities on top of books or cardboard if they don't have a sturdy base to rest on.
5- Run fairy lights all around the nativities and turn them on.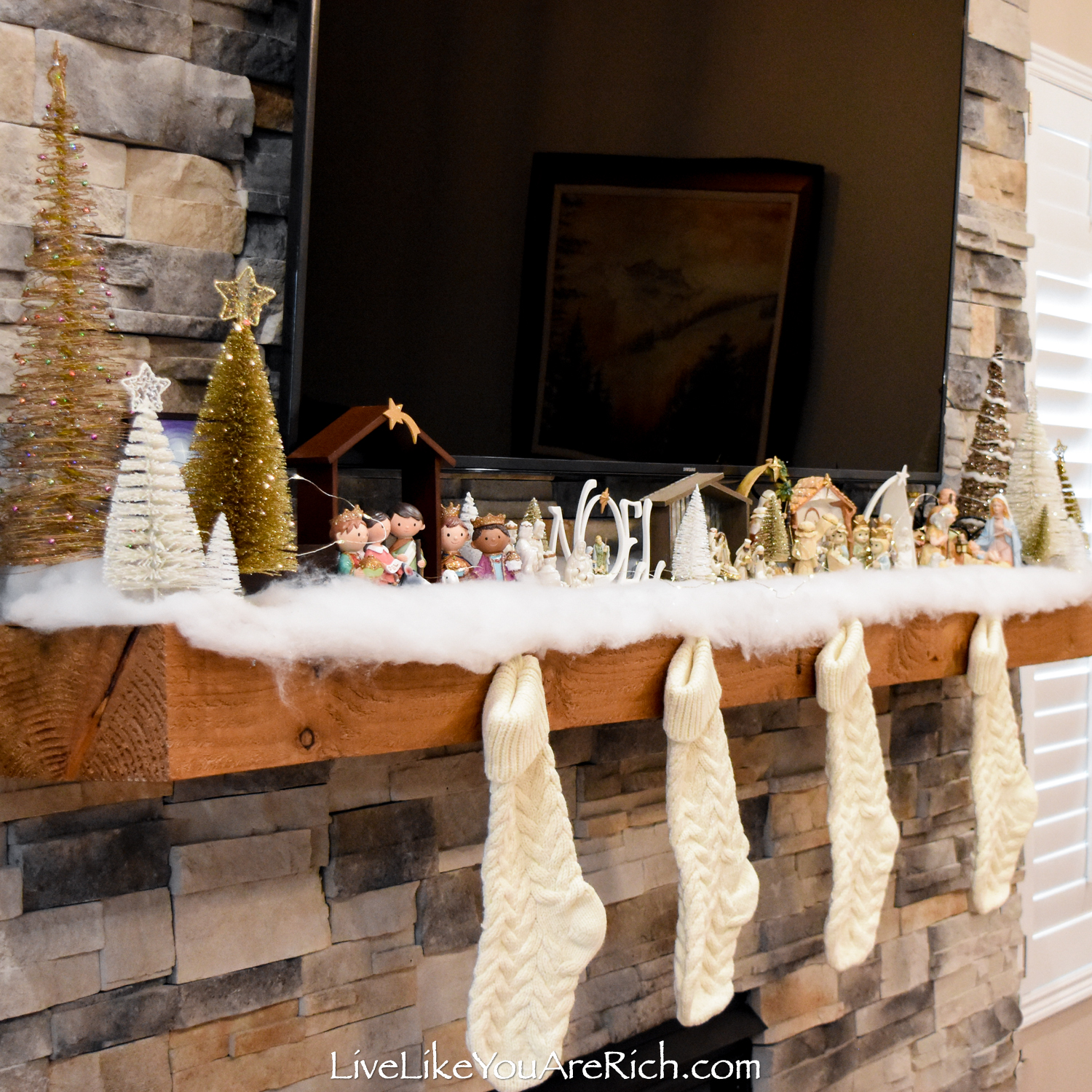 That's it. It was pretty easy to set up and I loved it all December long. We are taking it down soon since we are nearing January and I wanted to post photos here to remember how much I loved my Christmas Nativity Mantel this year.


For other 'rich living' and D.I.Y. decor tips please subscribe, like me on Facebook, and follow me on Pinterest and Instagram.