This Winter Pomegranate Red Tablescape was very simple, easy, and inexpensive to put together.
We recently had our family over for a post-Christmas dinner. It was a fun event. To celebrate, my daughter and I set up this winter pomegranate red tablescape, a snowman kids' tablescape, and a hot cocoa bar.
I loved the ambiance that the homemade candlesticks and pomegranates created. Especially because there was a blizzard raging outside.
I got compliments on this tablescape and it didn't cost me anything to create and so, I wanted to share it with you.
Supply List for Winter Pomegranate Red Tablescape
4 large pomegranates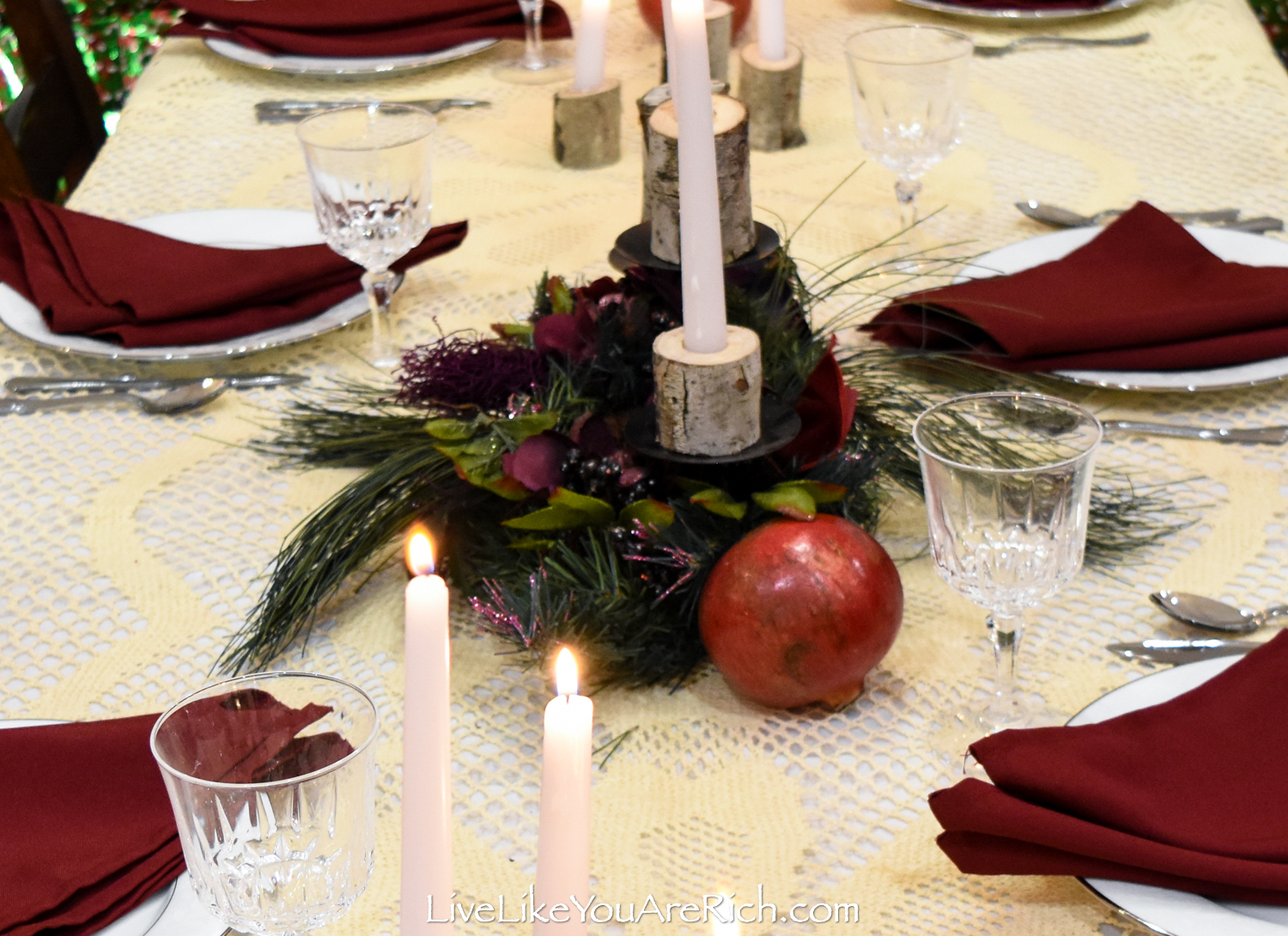 11 DIY Aspen Wood Candlesticks (tutorial here)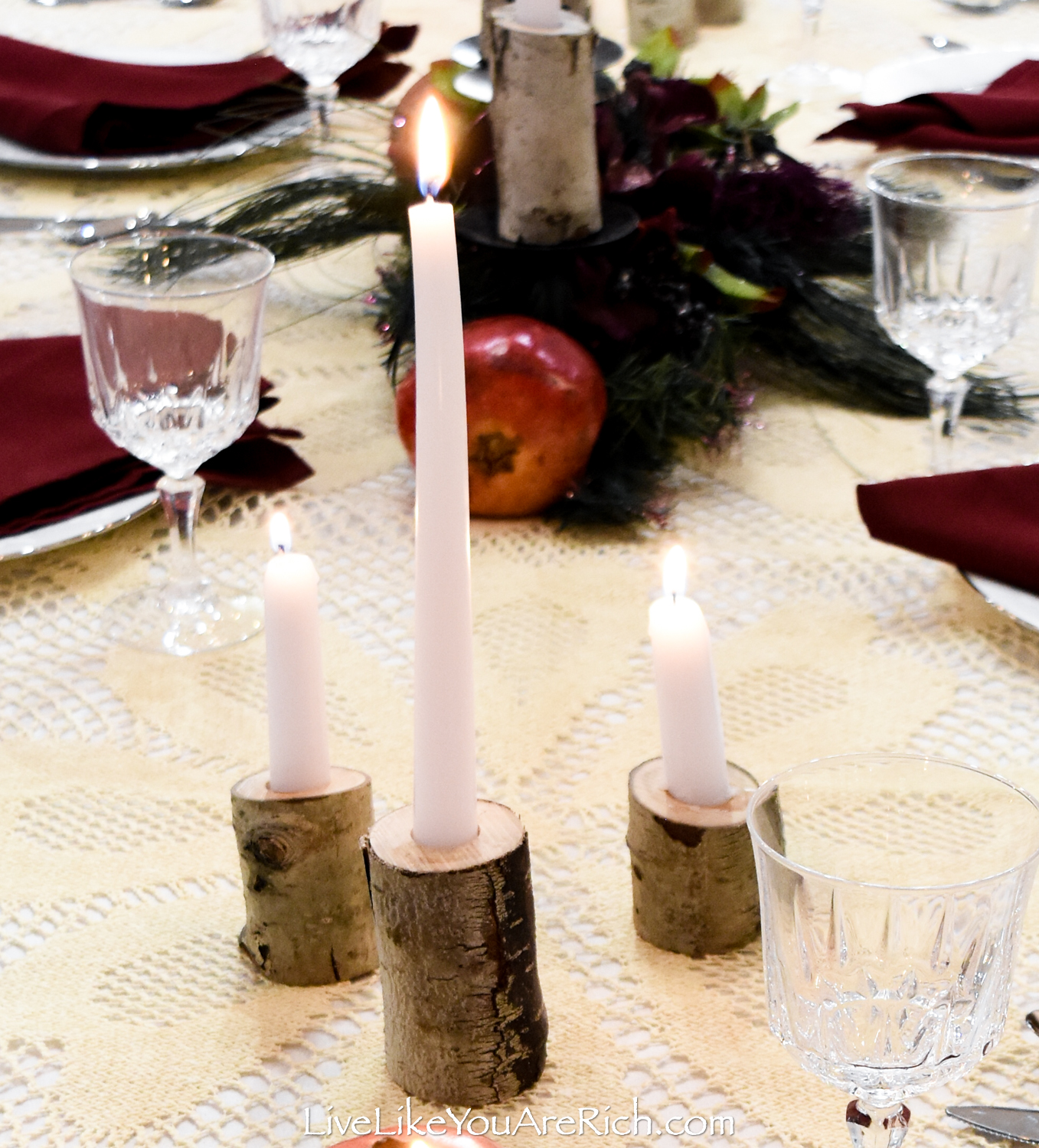 11 taper candles cut and burned to different lengths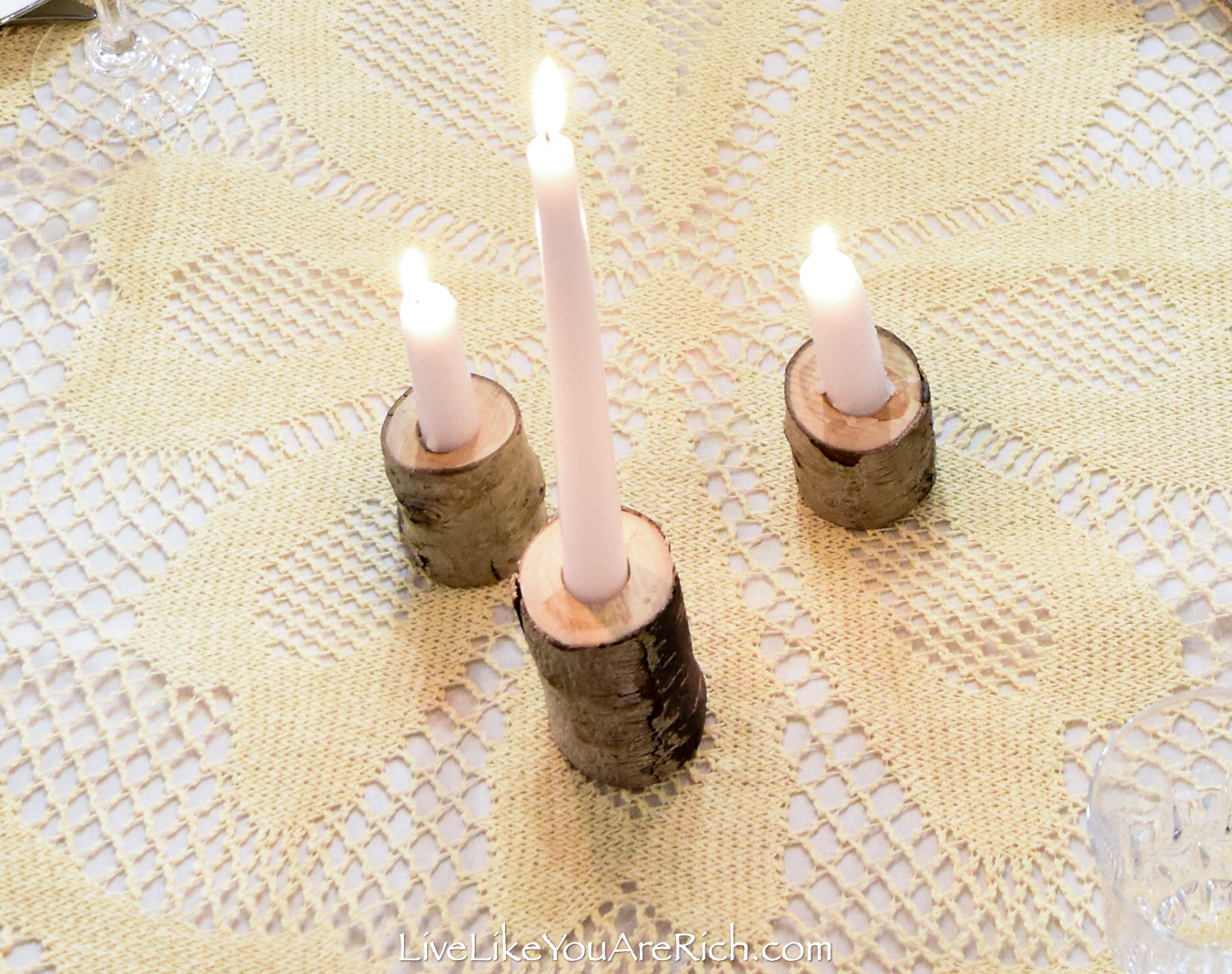 Crocheted Vintage Tablecloth (which was a gift from my mom)
White tablecloth (I put it under the crocheted vintage one)
pack of 12 burgundy/maroon linen napkins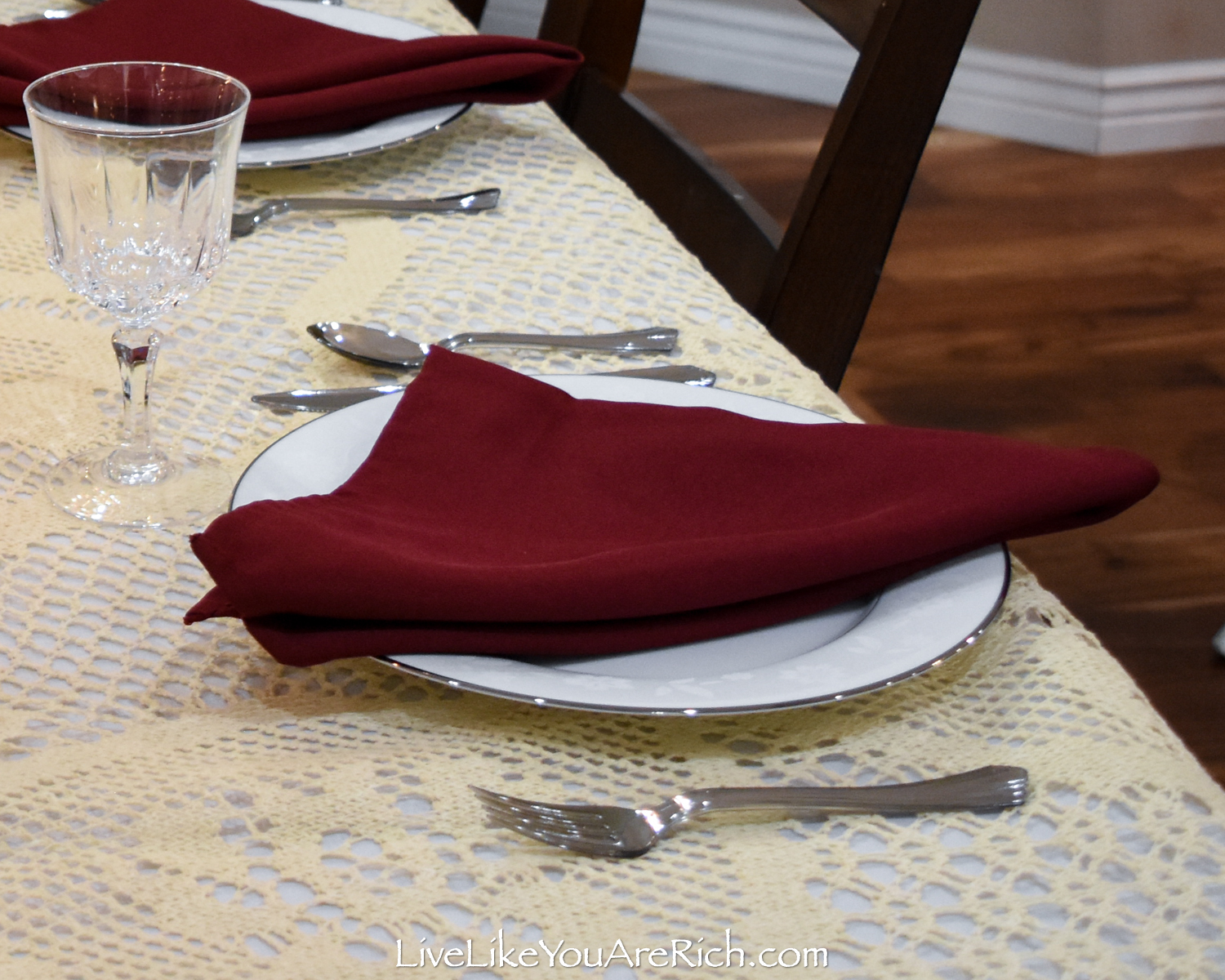 Crystal goblets (These were given to me by a family member)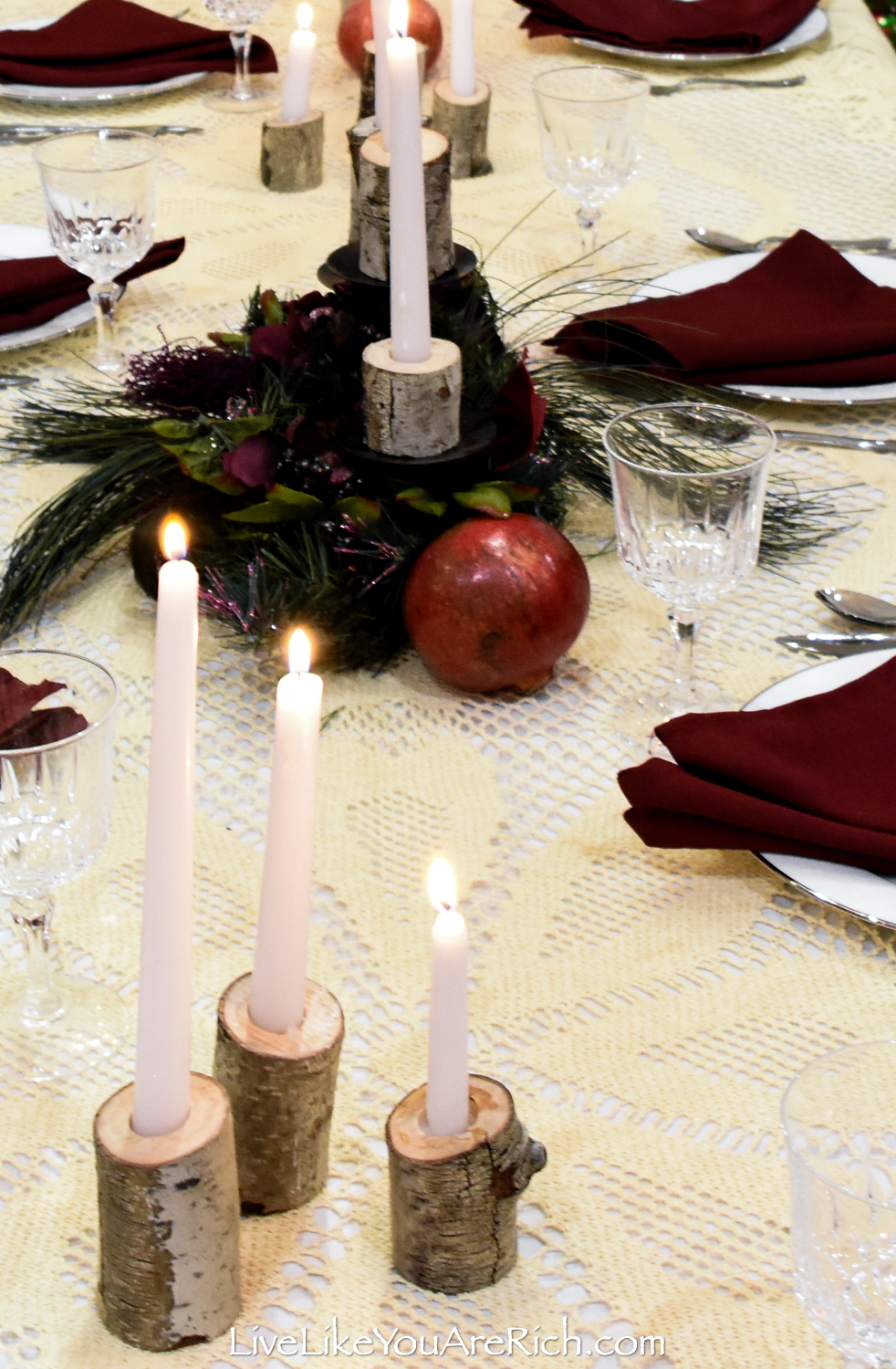 3 tiered candle holder centerpiece. I've had this one for many years.
I have used to use it to display my Christmas Mason Jar craft. This year I decided to no longer display this craft, however, the candle holder worked great as a centerpiece to this tablescape.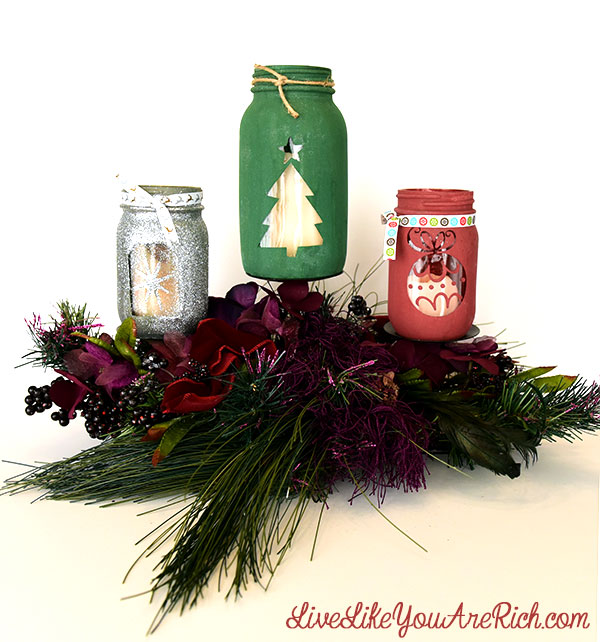 How to put together this Winter Pomegranate Red Tablescape
Layer a white tablecloth under a vintage lace/crochet one.
Set out white china, silverware, goblets.
Simply fold burgundy napkins into fourths (a triangle), and set one on each plate.
Make and add the DIY Aspen Wood Candlesticks place them on the table in odd numbered groupings, 1, 3, 5, 7, etc.
Cut and burn down some taper candles so that they are not all the same height. This gives the candlesticks different dimensions/variety in height which is pleasing to the eye in design.
Add a 3 tiered candlestick holder as a centerpiece, or use greenery of some kind and add burgundy ribbon into the greenery to tie it in.
Place pomegranates around the table.

Tips for Setting a Tablescape for a group of people
When I make a tablescape I like to keep the line of sight clear so that you can see the other people seated at the table in all directions. This is my first rule of setting a table.
Next, I go for inexpensive. I try to use what I have on hand. I had made a few of these pavlova desserts this week so I had extra pomegranates on hand.
I also had burgundy napkins from this Just Add Magic Birthday Party I threw my daughter.
So I thought to myself, 'Those napkins match the pomegranates; let's work with those'.
I then found the 3 tiered centerpiece in my home with burgundy colors that also matched.
Initially, I did try this wreath I made but the red ornaments weren't working together with the other items I had decided to use.
I like to tie colors together, so the candle holder with burgundy and purple accents was a great fit.
Try layering to switch things up. I layered a white tablecloth I've used before and a lace one too. This made a different look from others I've done before. Like this nativity tablescape,
or this winter white winter tablescape with just the white tablecloth.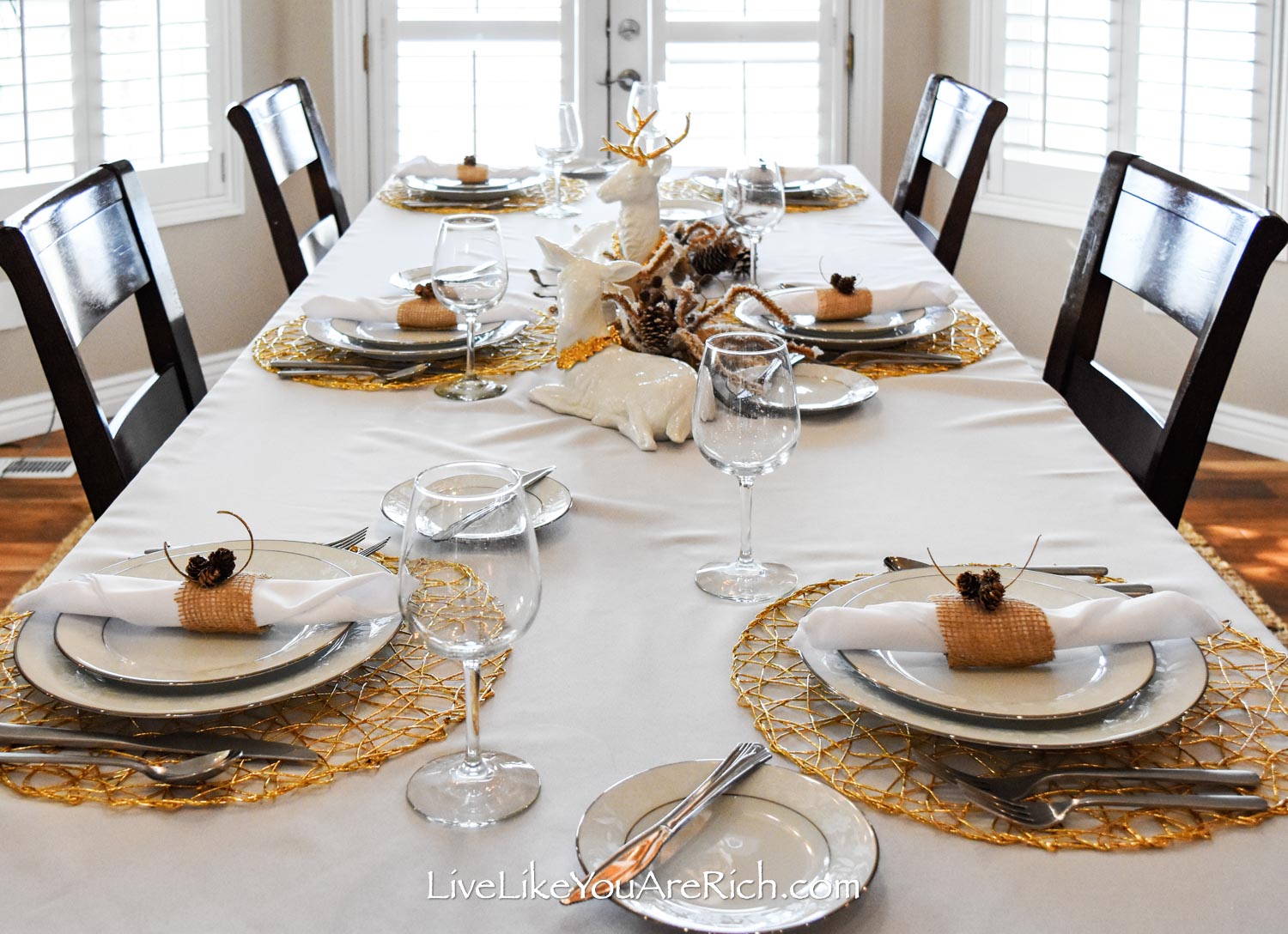 If you have used a few tablecloths or chargers before, try layering them to create a new look.
or try alternating or mixing and matching to create variety with items you have used before.
I mix and matched my china on this afternoon tea party to get more settings out of the china sets I own and create variety.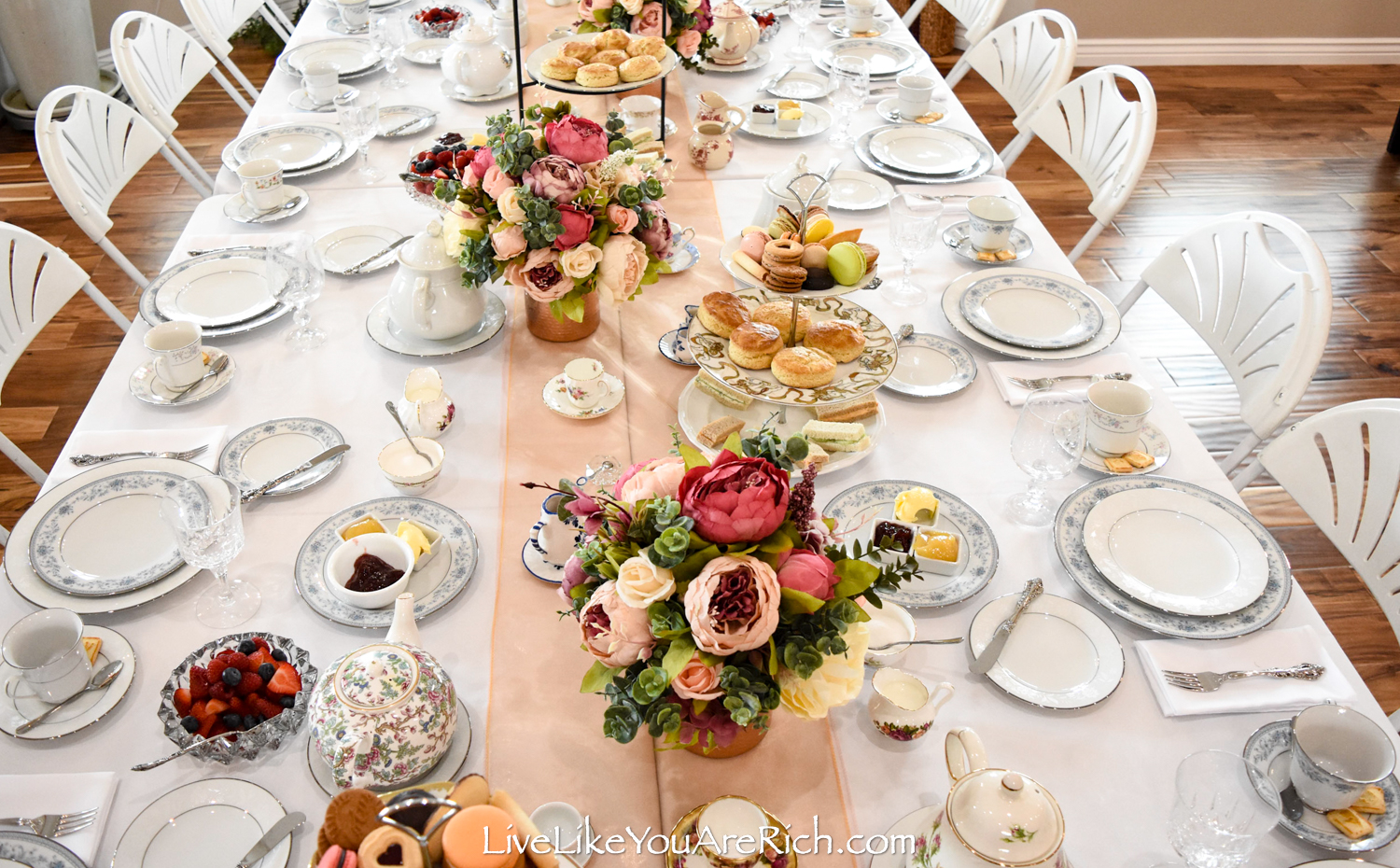 At another recent party (not pictured), I needed to mix and match chargers so I could fit everyone at the table. Laying out every other charger design looked intentional and added contrast and interest. I don't think anyone was the wiser—as far as me not having enough chargers to set the table fully goes.
What ideas do you have for repurposing table decor and tablewares?
I hope some of these tips help you create a tablescape to entertain family and friends that you like.
I really enjoyed this Winter Pomegranate Red Tablescape that I made for my family this week. The best part is that by reusing items it didn't cost me anything to put it together. Getting creative can really help you impress for less.
Happy New Year!


For other 'rich living' tips please subscribe, like me on Facebook, and follow me on Pinterest and Instagram.