Elf on the Shelf: Do You Want to Build a Snowman?
This darling little scene was left by our Elf on the Shelf, Pepper Mint. He brought the kids a snowman making kit and made us a snowman out of indoor snowballs.
Inside the snowman making kit there was a plastic carrot and pipe, a scarf and a hat, and black coal buttons for the snowman's eyes and smile and large back buttons for his stomach.
We got a lot of snow this week, so the kids were excited to use it.
Unfortunately, we were all sick so we have to wait for the next snowstorm to use our snowman making kit.
My daughter loved the details on this oval tray. She couldn't get over how cute everything was from the snowman snow globe to the fake-glitter-and-ball-snow.
The display is photographed outside on our front porch in front of my Christmas front door decor.
Supply List for this Elf on the Shelf: Do You Want to Build a Snowman? display
clear large snowman (Ours came from a snowman building kit from Pepper although I saw one exactly like it that came from TJMaxx for $7.00. I searched the internet and found similar snowman making kits on Mercari, Poshmark and eBay).

snowman snow globe Dollar Tree
tiny plastic snowmen (I got ours at Dollar tree)
sequins (snowman's buttons)
cardstock
pen
scissors
How to put together this Elf on the Shelf: Do You Want to Build a Snowman? display
continue reading and also check out the video to see details in a different medium.
Pepper made the fluffy snowman with three indoor snowballs and hot glued them together.
Then he cut out black felt pieces for the eyes and smile. He hot glued those on. Then he cut an orange pipe cleaner for a carrot nose. He hot glued that on as well. He glued on 3 sequins for buttons on the snowman's belly and glued pepper's hat on top of his head.
Pepper used some material from the large snowman's scarf for this smaller snowman's scarf and his scarf.
To do this, he unpicked an inside seam in the back of the snowman kit's scarf.
Then he cut the two small scarfs and frayed the edges. He sewed the large scarf back up.
He then made a mini tiny snowman out of 3 poly balls and a small bit of scarf, hot glue and a pen.
He put his tiny mini snowman on the card that said, "Do You want to build a snowman? Just add snow to this snowman kit. Have fun in the snow! Love, Pepper".
Anytime my seven year old daughter read Pepper's card, she would break into song; she would sing the song from, "Frozen, Do you want to build a snowman?".
Pepper also added a small snowman that I picked up at Dollar Tree last year.
He put a snow globe with a snowman in it on the tray as well. The kids received this snow globe from Santa a few years ago.
My favorite was the snowman making it. I'm so excited to use it and so are the kids!
My daughter and I were able to repurpose these items for a Kids' Winter Snowman tablescape for a family party we had a few days ago.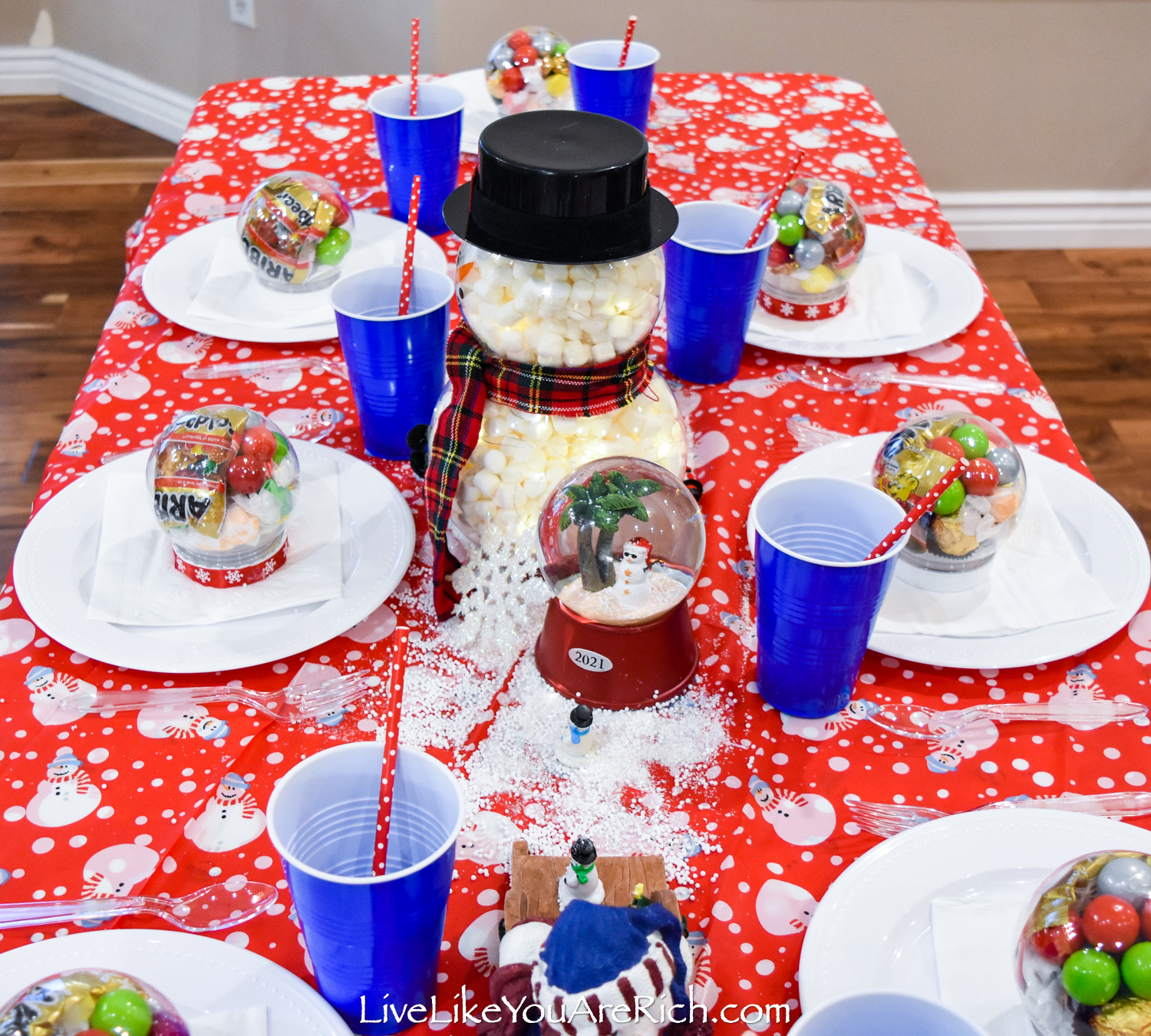 It was so fun to see how much my kids loved the displays Pepper brought us.
This Elf on the Shelf: Do You Want to Build a Snowman? display was a lot of fun to receive, thanks Pepper!

For other 'rich living' and D.I.Y. decor tips please subscribe, like me on Facebook, and follow me on Pinterest and Instagram.