We had a family party yesterday and my daughter and I put together this Kids' Winter Snowman Tablescape.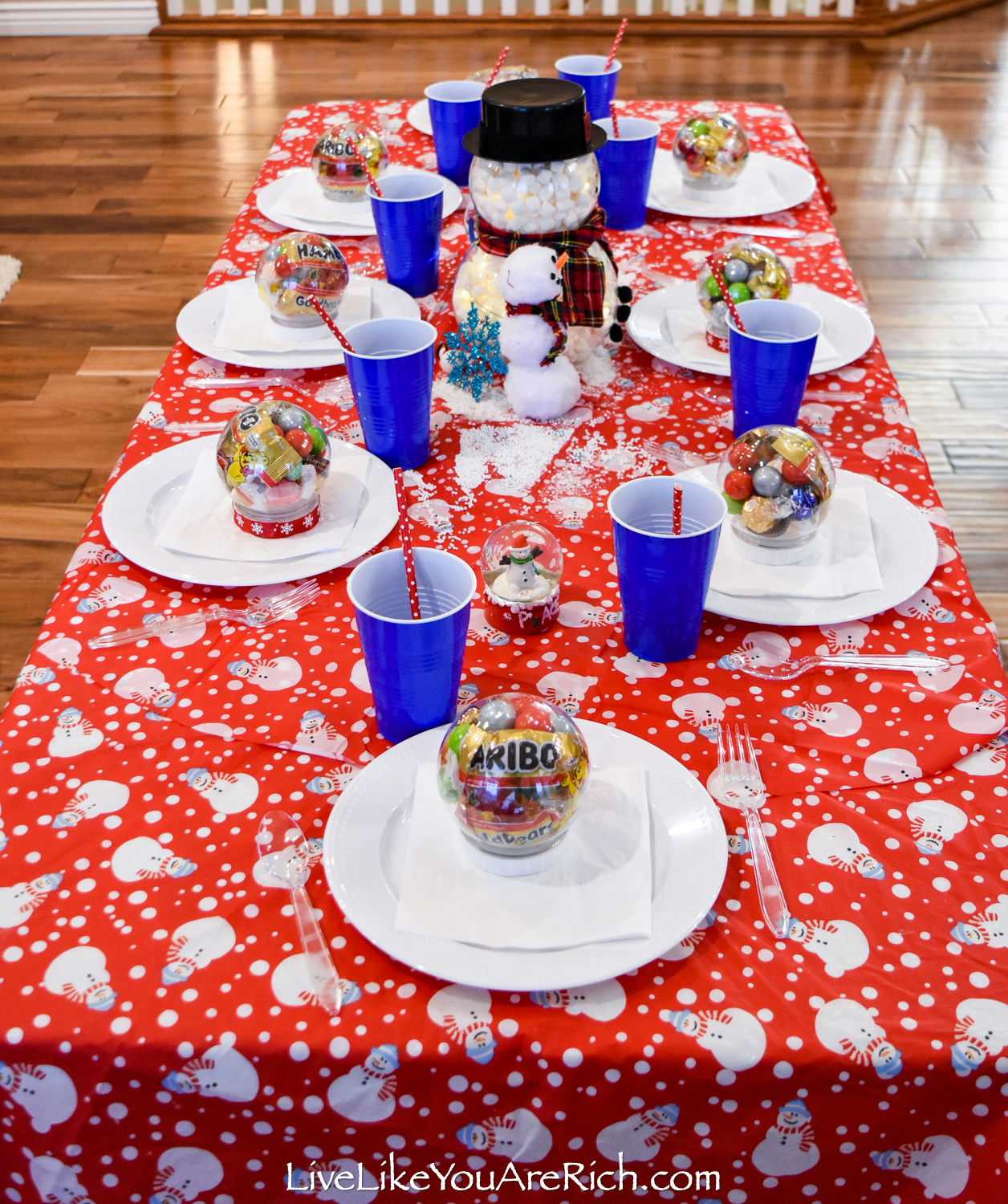 I love setting up tablescapes for kids! It is such a fun way to celebrate.
I try to make the kids' table fun and bright. I usually have a party favor for each child on their plates.
My hope is that having a fun table and favors make them happy and also that they will want to come to our home for family parties even more.
Supply List for This Kids' Winter Snowman Tablescape
snowman tablecloths (I got ours years ago at Rite Aid for .50 cents each)
white plastic plates(purchased on sale at Costco)
white napkins (I got ours from Dollar Tree)
clear plastic cutlery (purchased on sale at Costco)
blue cups (I got ours from Dollar Tree)
red with white polka dot straws
clear round plastic snow globes (I got ours from Dollar Tree)
clear large snowman (Ours came from a snowman building kit from TJMaxx for $7.00. I found similar snowmen on Mercari, Poshmark and eBay).
snowman snow globes Dollar Tree (small) & Target (large palm tree)
candy: Haribo gummy bears, gum balls (red, green, & silver), salt water taffy (in Christmas colors), Lindt chocolate, Ferrero Rocca chocolate, and Werthers soft caramels.
glitter stars/snowflake ornaments white and blue
snowman pulling sled (gift)
tiny plastic snowmen (Dollar tree)
snowman was made from indoor fake snowballs
pipe cleaner
How to Put Together this Kids' Winter Snowman Tablescape
When I put together tablescapes they typically only take a few minutes to set up. This is because I usually use items around the house to make them—especially for the kids tables.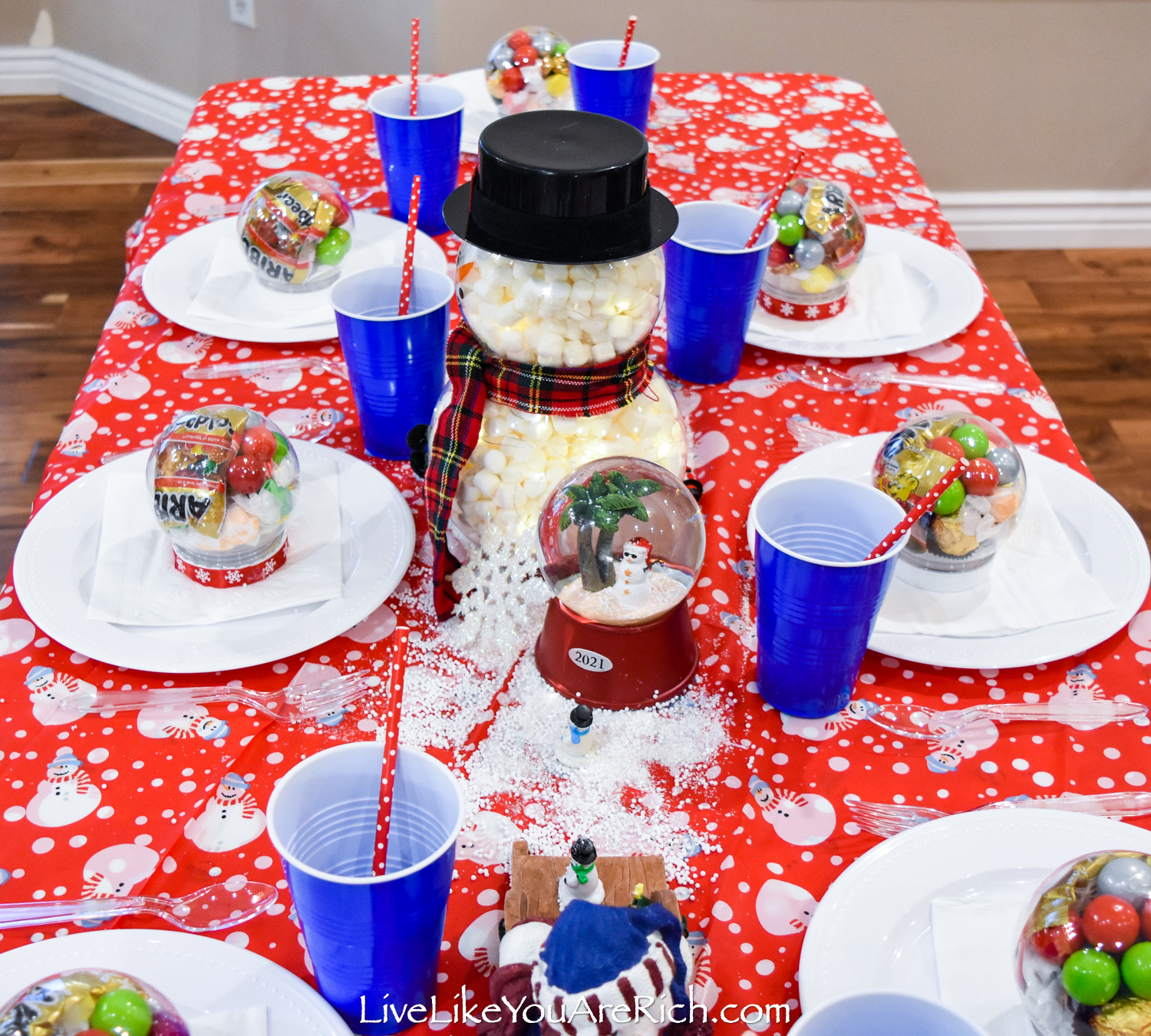 For this Kid's Winter Snowman Tablescape tablescape, I started with the snowmen tablecloths.
I knew I wanted to match the tablecloths by using white plates and the red matching straws.
My daughter chose to use blue cups. I thought that was a great choice because the snowmen on the tablecloth have blue hats.
She set out clear cutlery and white napkins and we made a centerpiece of snowmen and candy-filled-snowglobes as favors.

To set up a centerpiece, my daughter gathered all the snowmen we had in the house.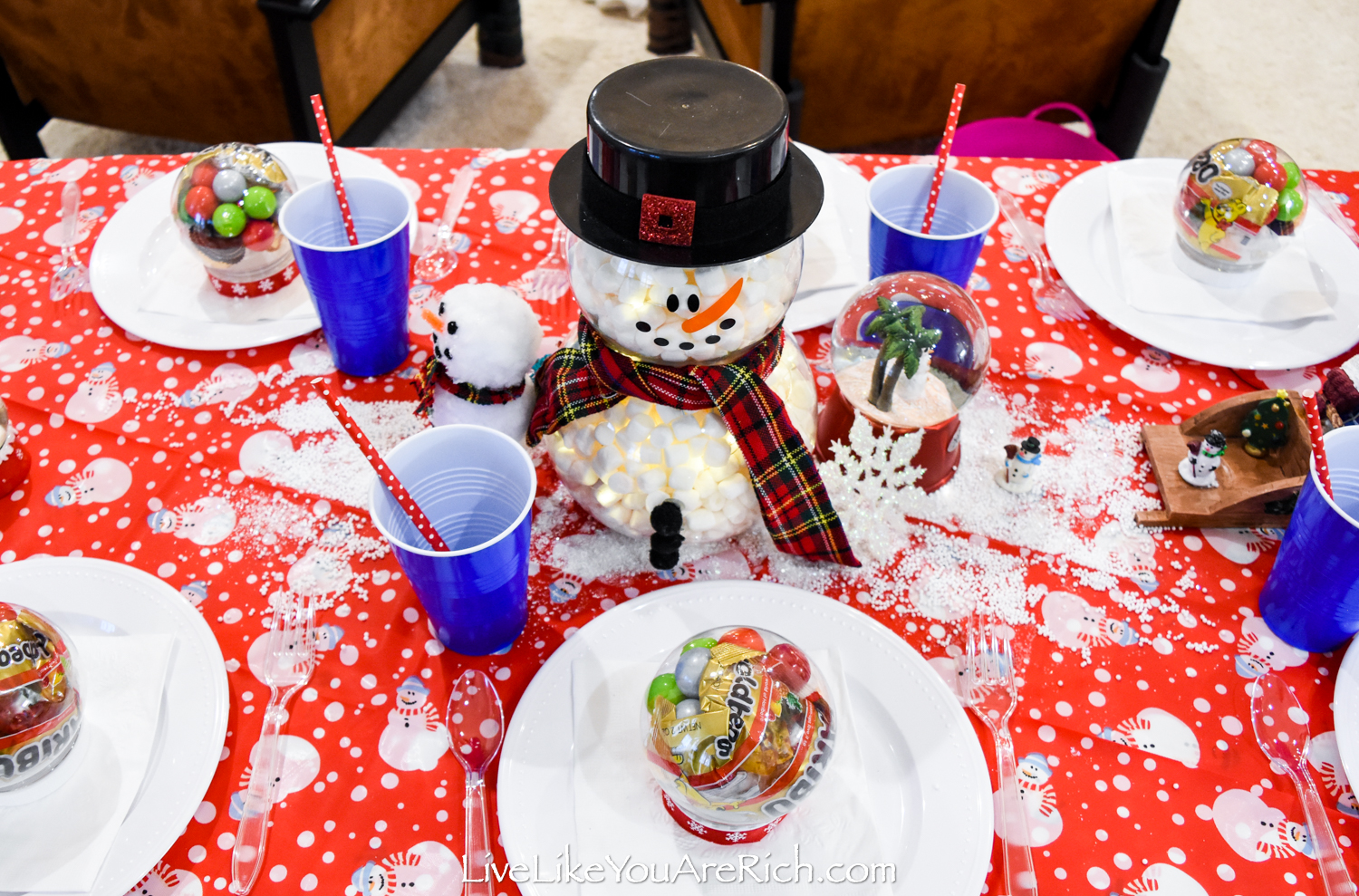 We took out the items inside and stuffed our snowman making kit with small marshmallows and fairy lights.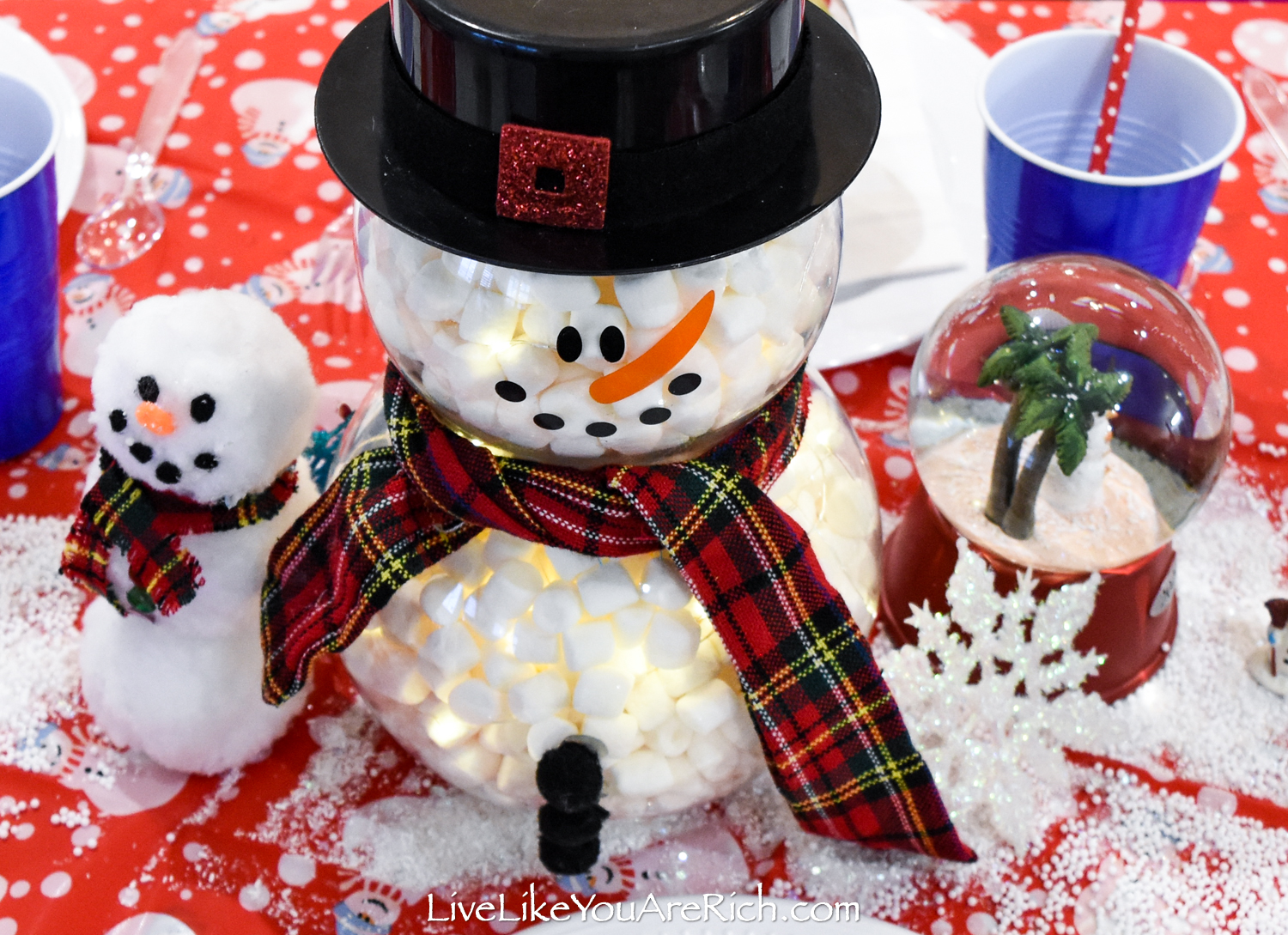 My daughter took some snowflake ornaments off of our blue and white Christmas tree and set those out.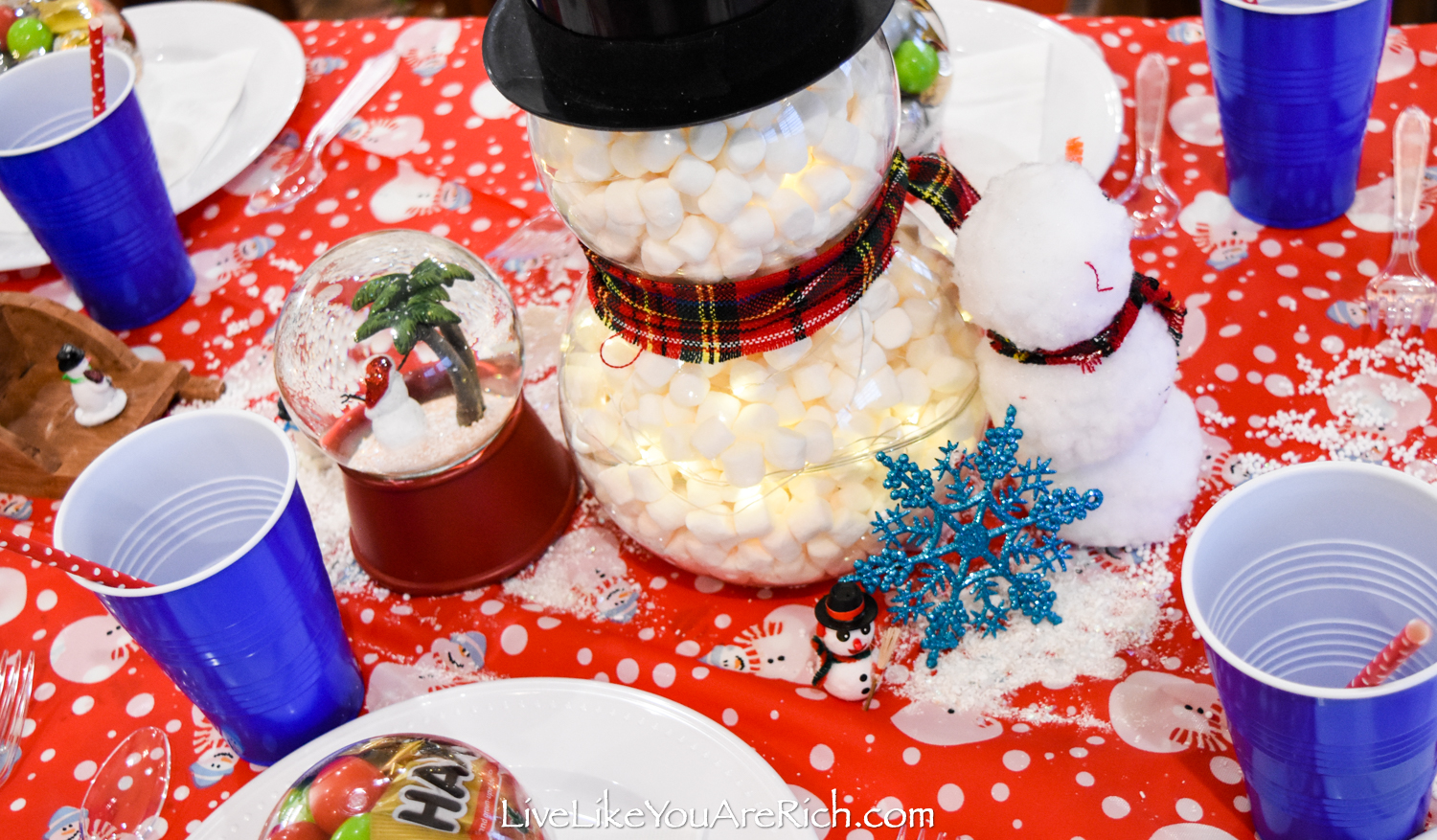 We used a snowman made from our Elf on the Shelf, Pepper. You can see the Elf on the Shelf: Do You Want to Build a Snowman? display here.
Pepper made the fluffy snowman with three indoor snowballs and hot glued them together.
Then he cut out black felt pieces for the eyes and smile. He hot glued those on. Then he cut an orange pipe cleaner for a carrot nose. He hot glued that on as well. He glued on 3 sequins for buttons on the snowman's belly and glued pepper's hat on top of his head.
Pepper used some material from the large snowman's scarf for this smaller snowman's scarf and his scarf.
To do this, he unpicked an inside seam in the back of the snowman kit's scarf. Then he cut the small scarf out and frayed the edges. He sewed the large scarf back up.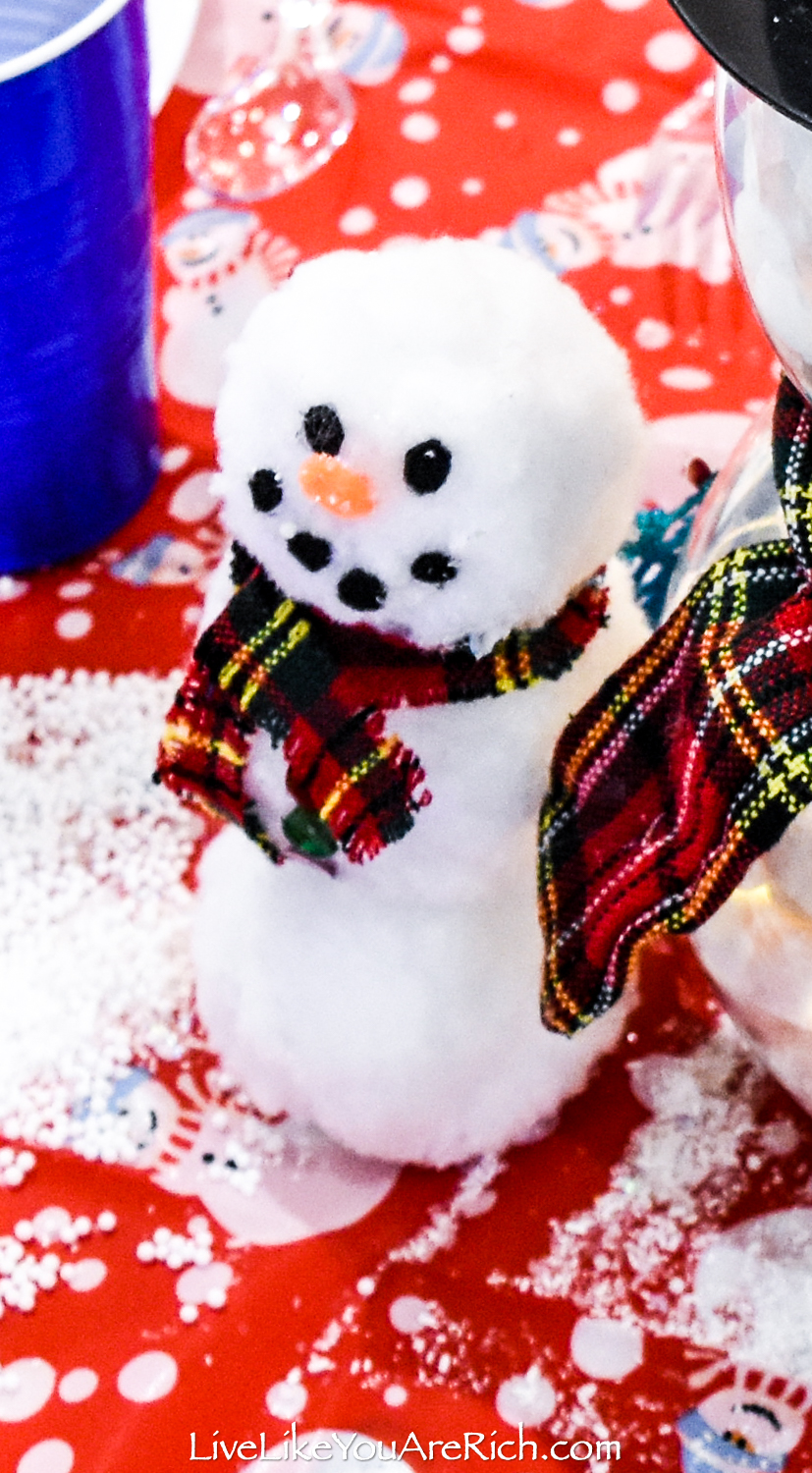 We set out a few snow globes we have with snowmen in them.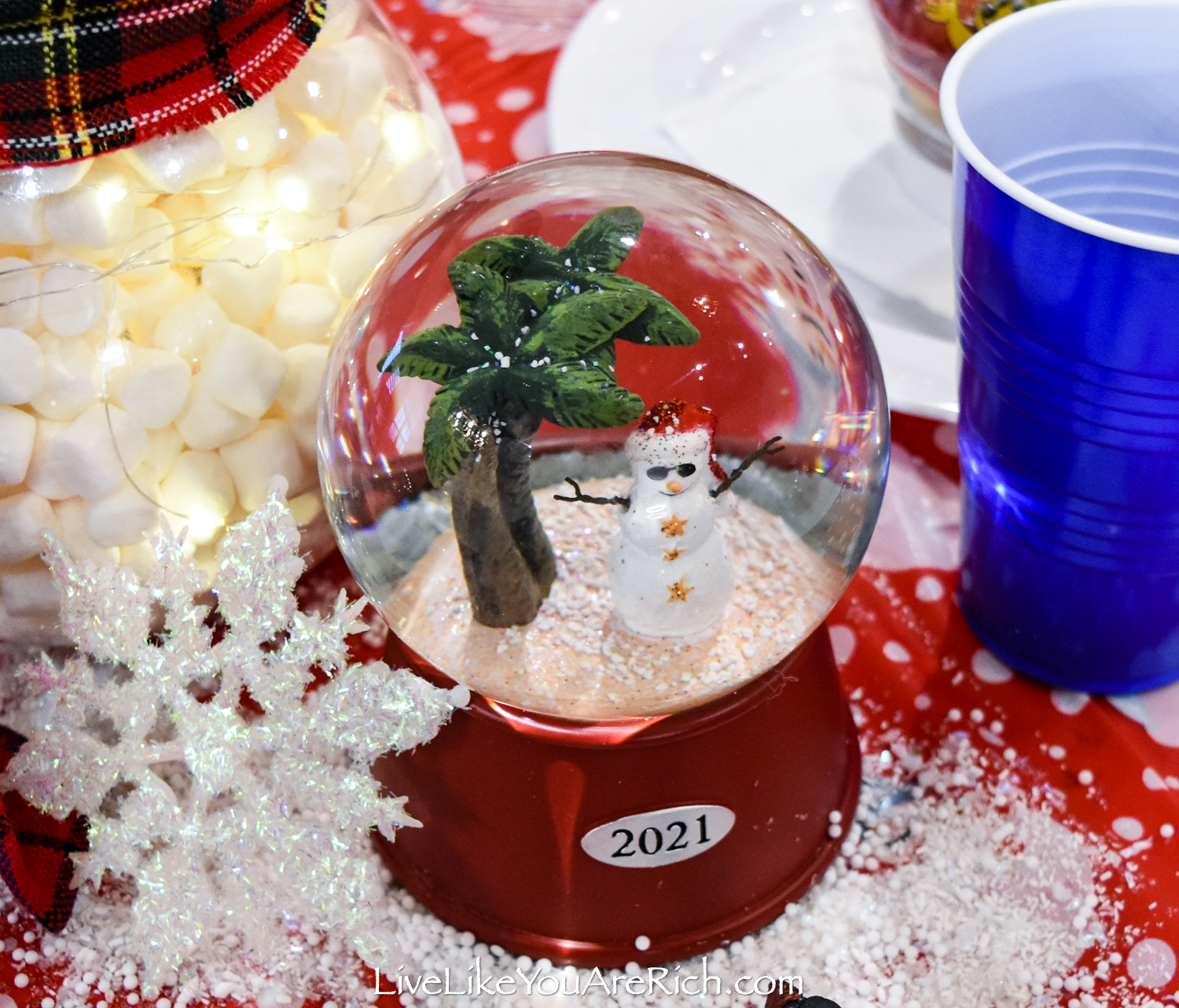 My son got the one above for his birthday this year. The one below came from Santa years ago.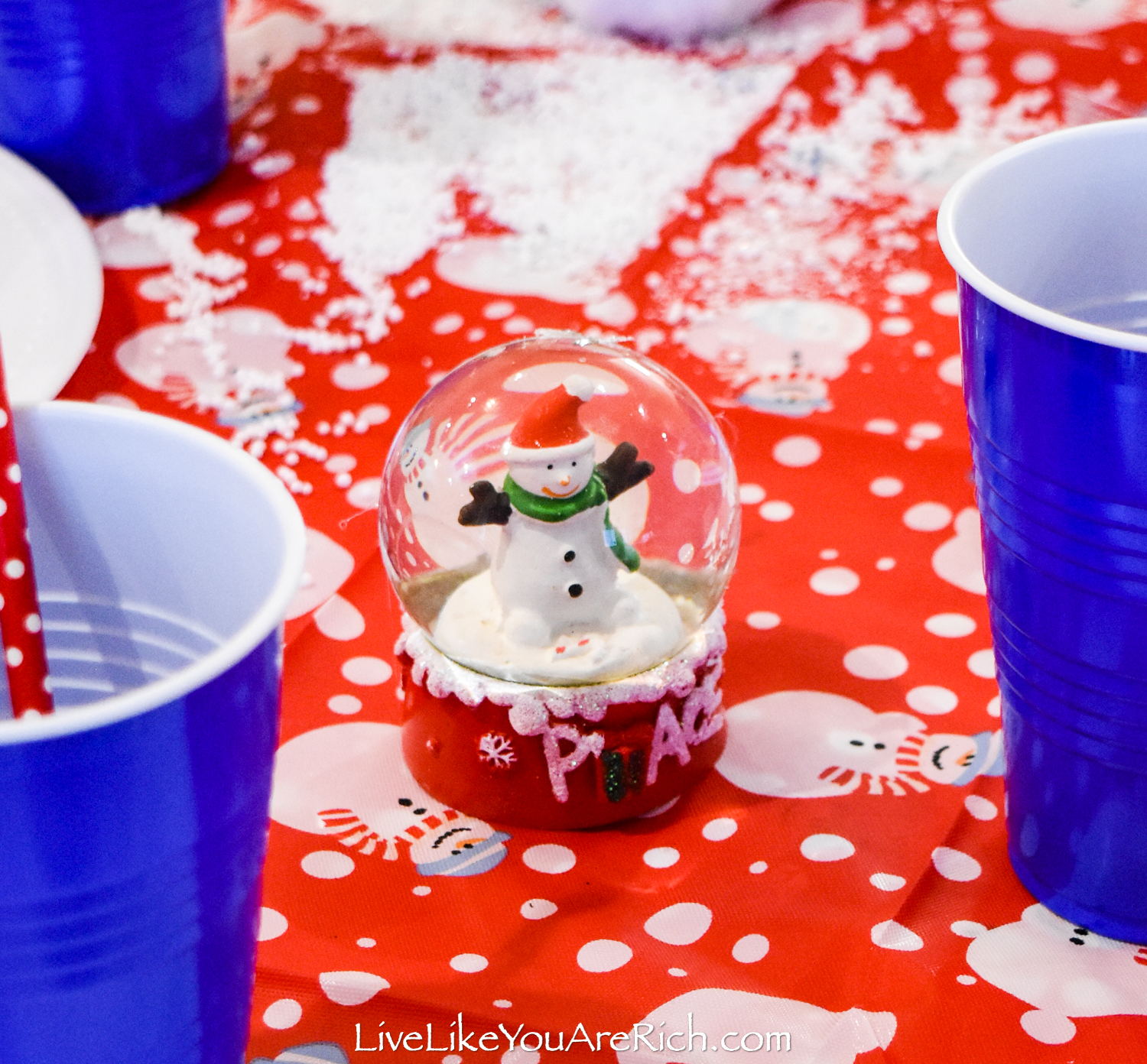 We set out a snowman my grandma just gave me.
She is trying to get rid of her Christmas decorations and I thought this snowman was so cute so I gratefully accepted it!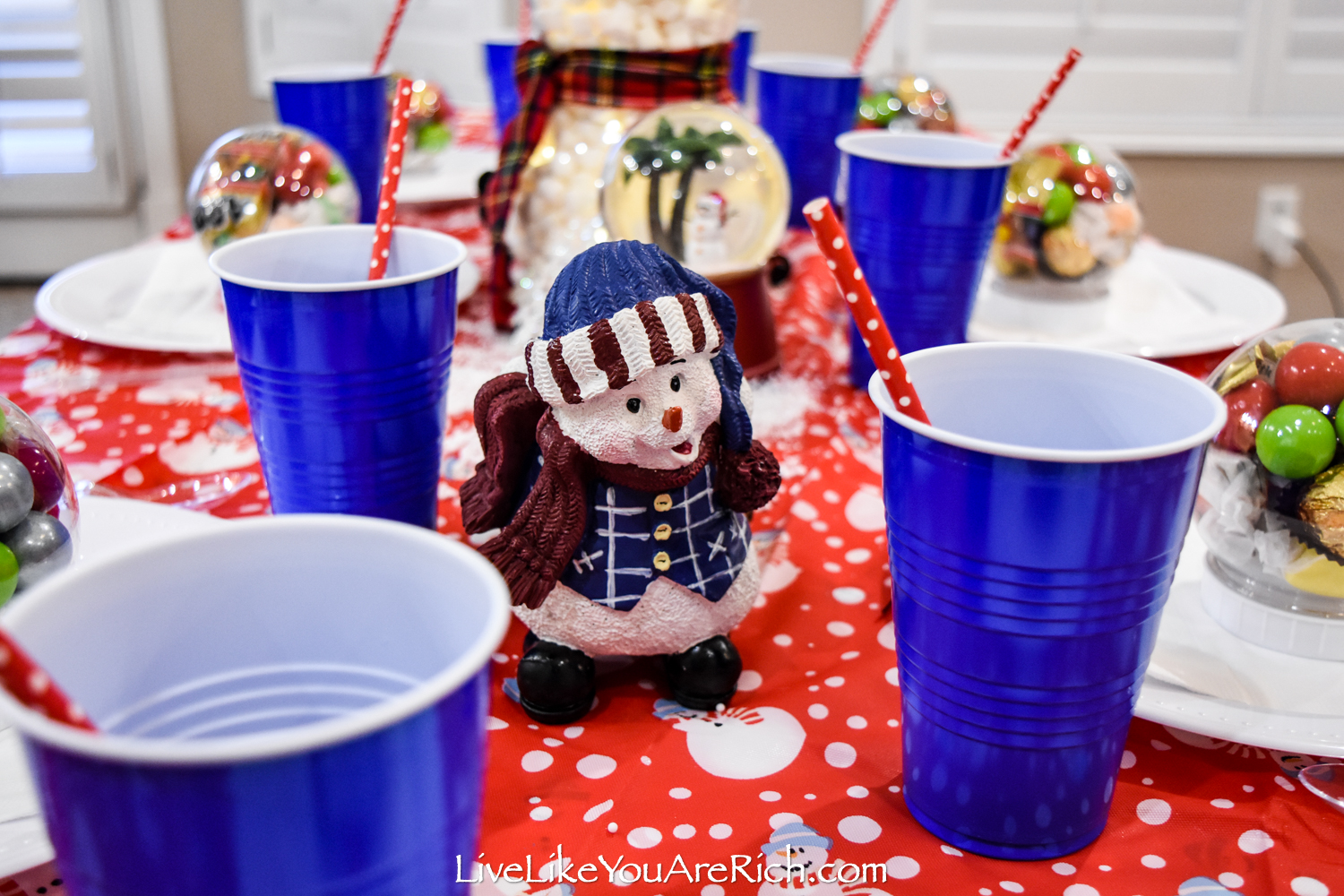 I love how his blue vest and hat tie into the tablescape so well.

My daughter put a smaller snowman and little Christmas tree in the sleigh he is pulling.
And we sprinkled snow glitter and tiny poly foam balls all over the centerpiece to resemble snow.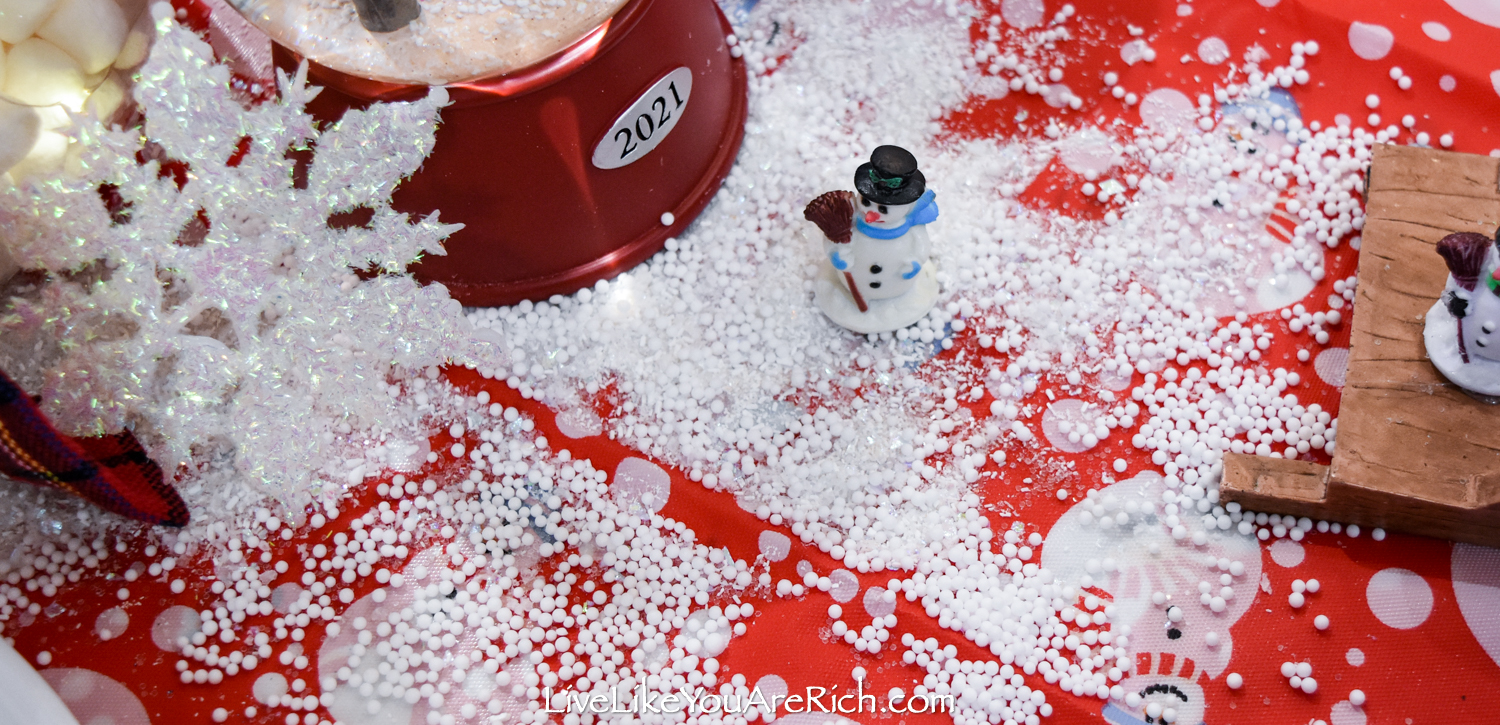 My daughter and I stuffed these clear plastic snow globes that we got from Dollar Tree with candy for the kids' party favors.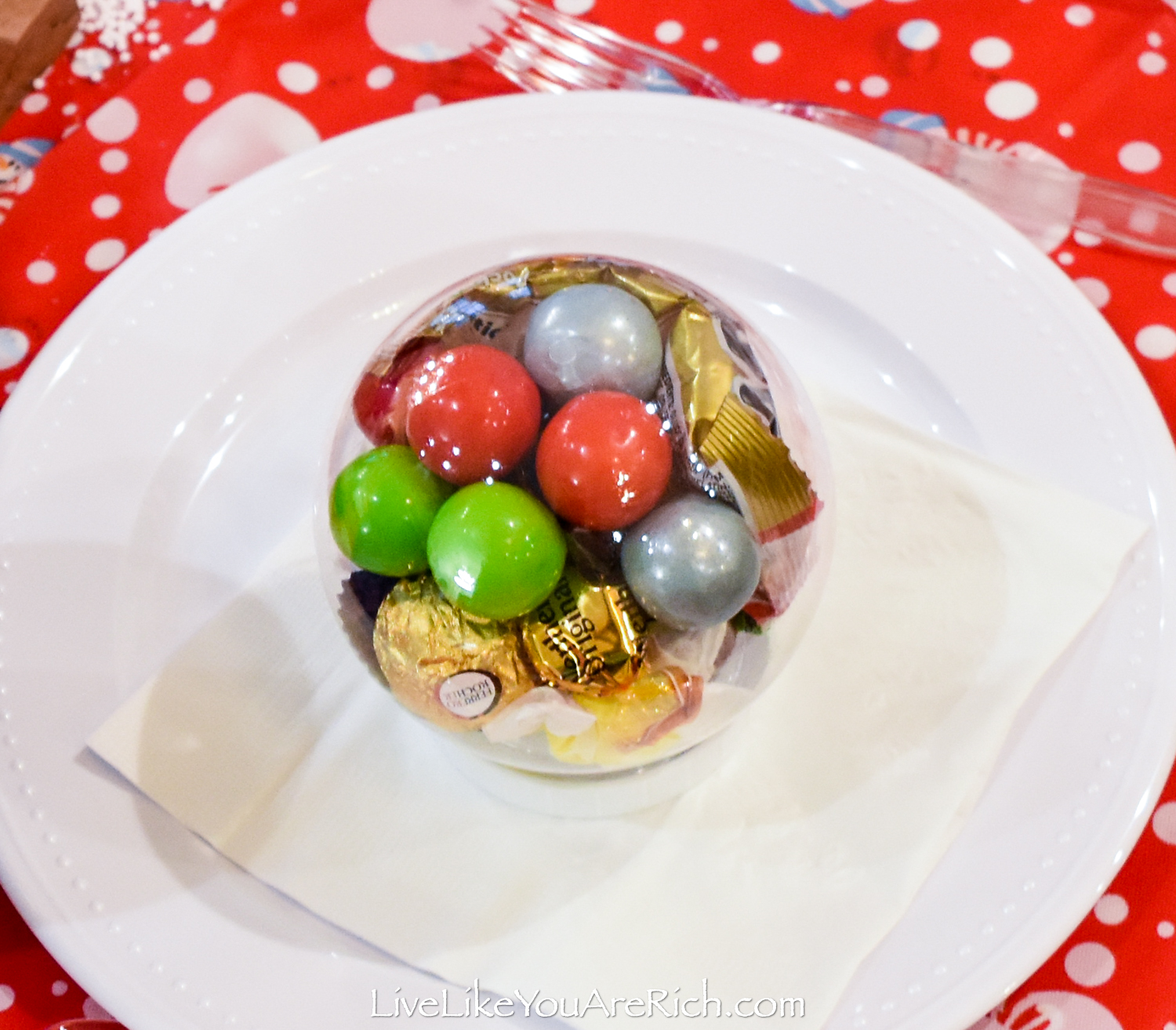 We put the following candy in them.
Most of this candy was received as neighbor Christmas gifts and some of it we had in our candy cupboard which I add to when I find things on sale or go to Dollar Tree.
gum balls (red 3-4, green 2-3, & silver 2),
salt water taffy (in Christmas colors 2 green, 2 yellow, 1 red, 1 white, 2 light orange),
1 Lindt chocolate truffle,
1 Ferrero Rocca chocolate,
and 2 Werthers soft caramels.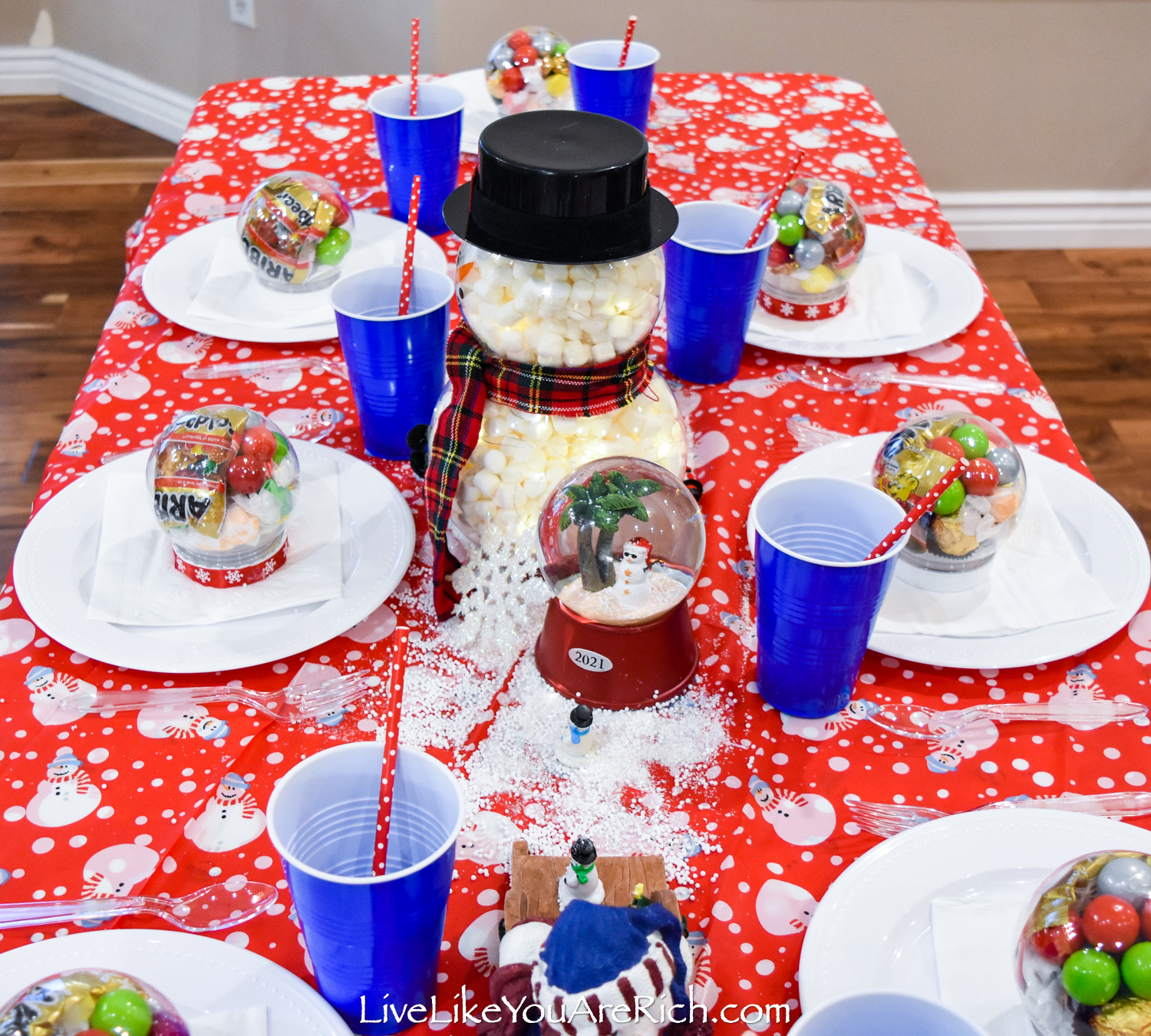 The kids loved their snow globe favors! They were so excited about them and ate some of the candy for dessert.
Total this tablescape cost cost me nothing out of pocket. I used only what I had.
IF you want to calculate originally bought items used mainly for this tablescape, I spent about $5.00 for the cutlery, plates, cups and straws. $8.00 for the plastic snow globes, $5.00 for the candy that we didn't have gifted to us, and $2.00 for the marshmallows.. so, the cost would be about $20.00 total. Not bad at all, considering what a fun experience the kids had!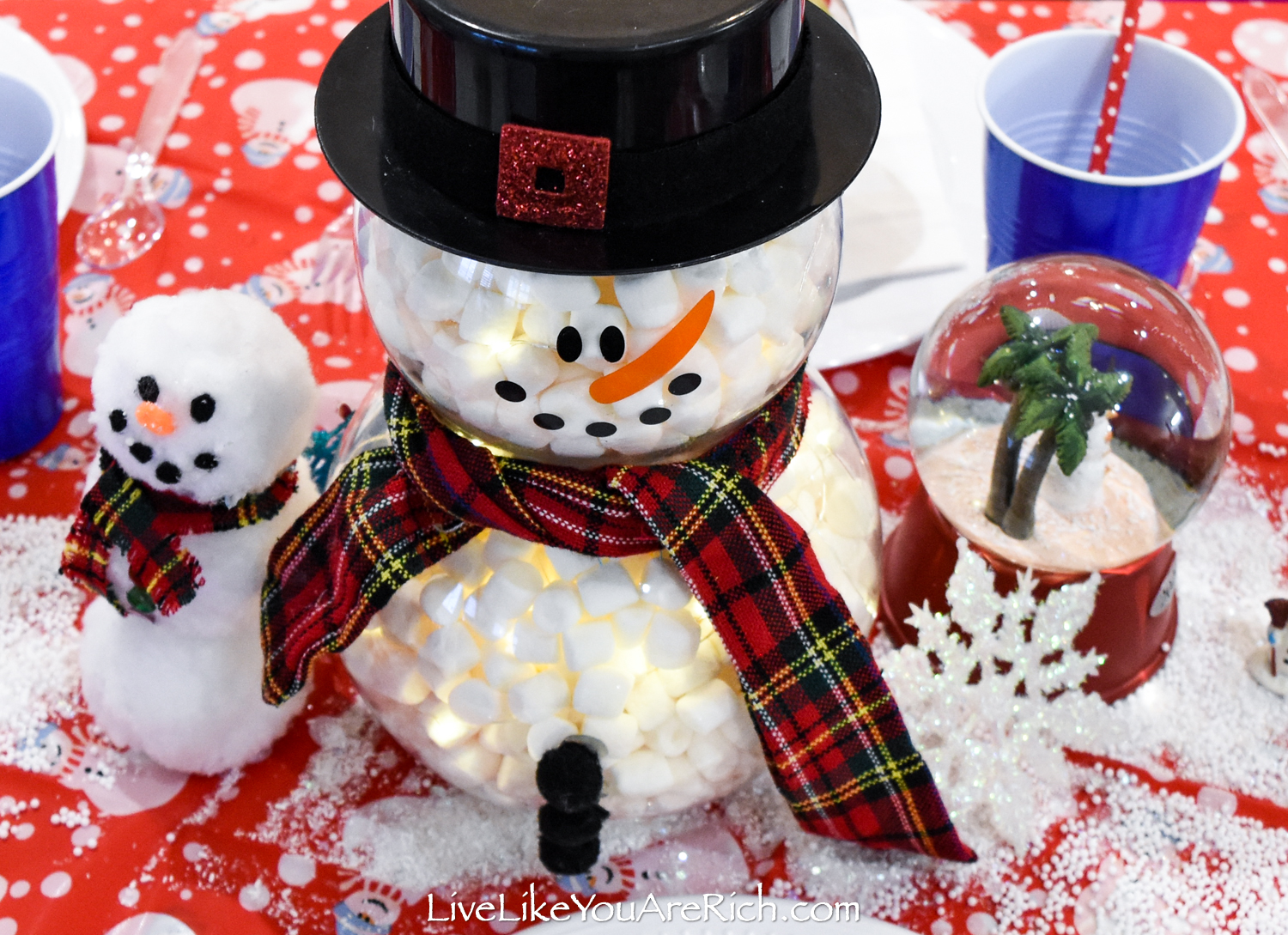 Using items around the house, saving items that can be reused (tablecloths, etc.) and regifting unopened candy received, etc. can help create a kids' winter snowman tablescape with favors at an affordable price.

For other 'rich living' and D.I.Y. decor tips please subscribe, like me on Facebook, and follow me on Pinterest and Instagram.