This Classic Christmas Front Porch Decor was mostly made with items I already had and found in the great outdoors.
Above is a photograph taken at night; below is the decor photographed in the day.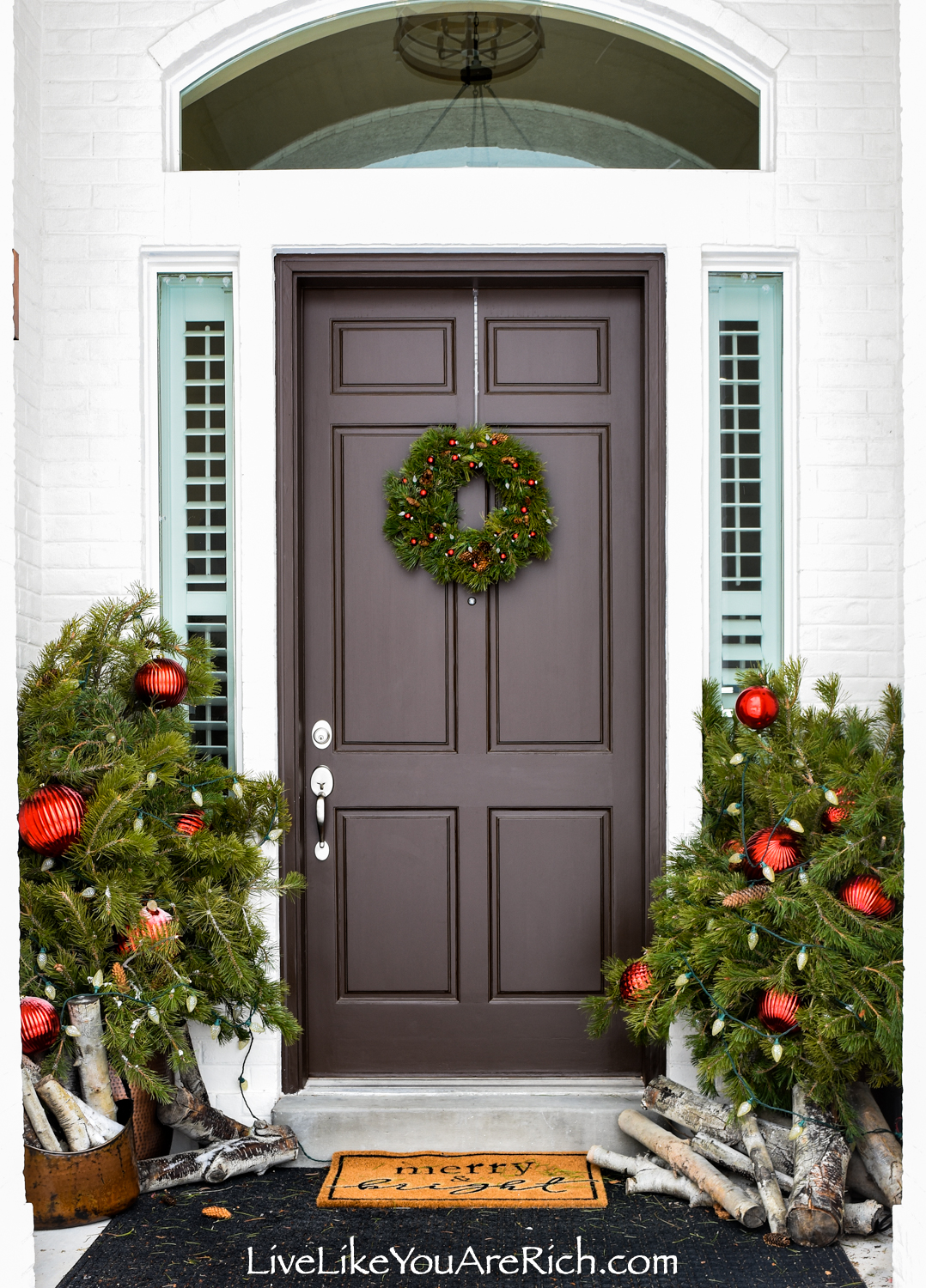 I LOVE using nature to decorate with. It is much cheaper than store bought items, it is also full of detail and fits my decorating style.
I only spent $10 on this front porch scene. All I bought this year was the coir 'merry & bright' door mat.
I made the wreath for free. I put together a video tutorial and blog post on how to make a wreath out of real pine branches here.
Here is the wreath photographed at night…
Here it is photographed in the day…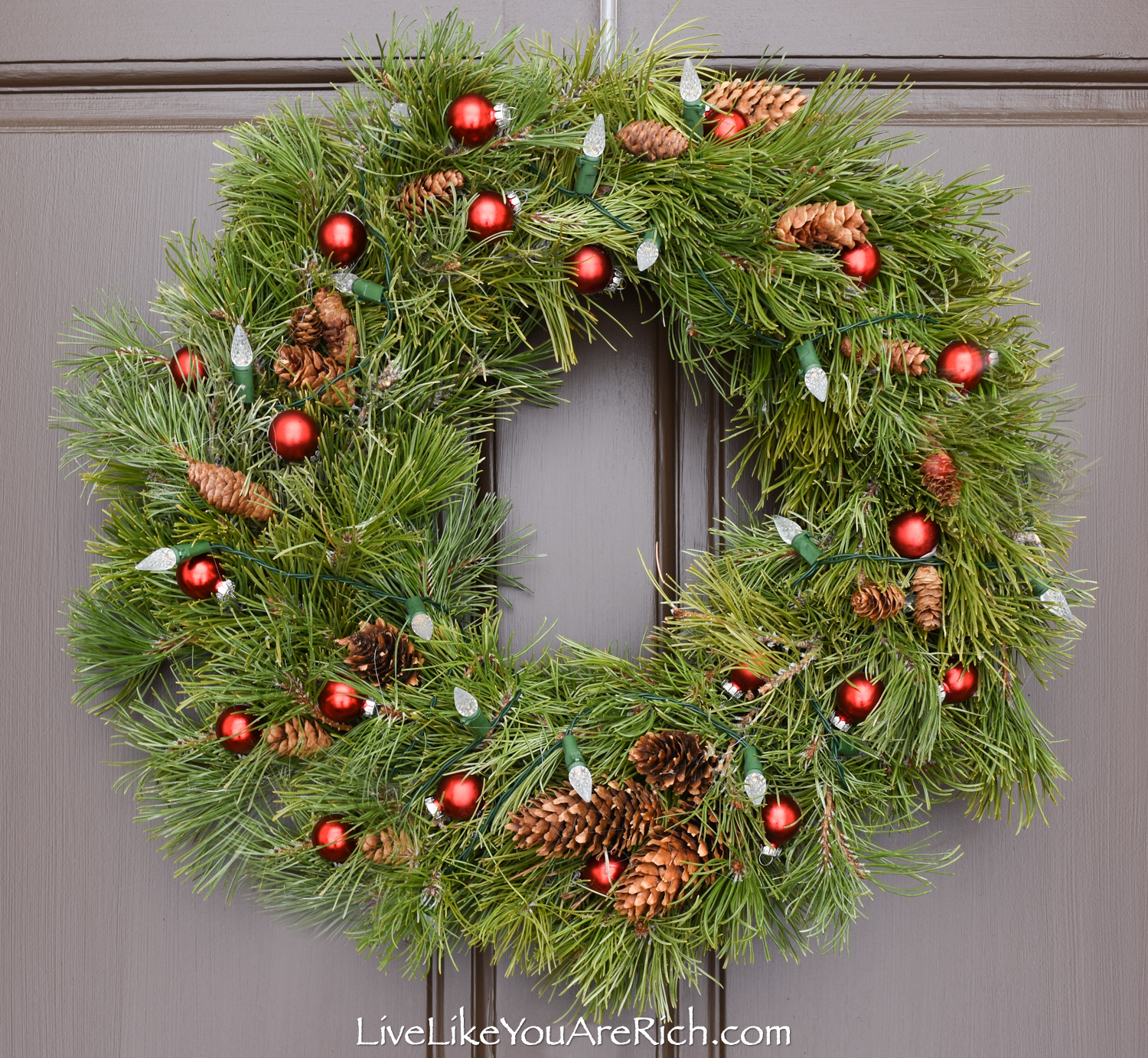 I mentioned that this only cost me $10.00 to put together. That is because I began with repurposing the planters, floral foam and sand I had bought previously. I used them to make these floral autumn arrangements.
So, as you read the supply list, please note that I had everything because it had been previously bought.
Supply List for this Classic Christmas Front Porch Decor
Black Mat
floral foam I used 12- 2.6″x3.4″x7.8″ blocks in each planter. I these bought on sale with coupon from Michaels. Total $8.00 for 12.
1 bag of play sand for each large planter ($4.00 at Home Depot)
2 copper planters or big vases/pots (I have had these for four years but originally got them off local classifieds for $20 each)
Tarp (optional) This helped with clean up and came out of my 72 hour kit for the day.
work gloves (optional)
Pine branches (if you don't have access to these, call around to Christmas Tree lots and see if they have extras)
large red plastic ornaments I used 11 that I took off my Santa Themed Christmas Tree and wire or wire ornament hooks to hang them with
I started with my copper bins pictured below that I used for these autumn arrangements.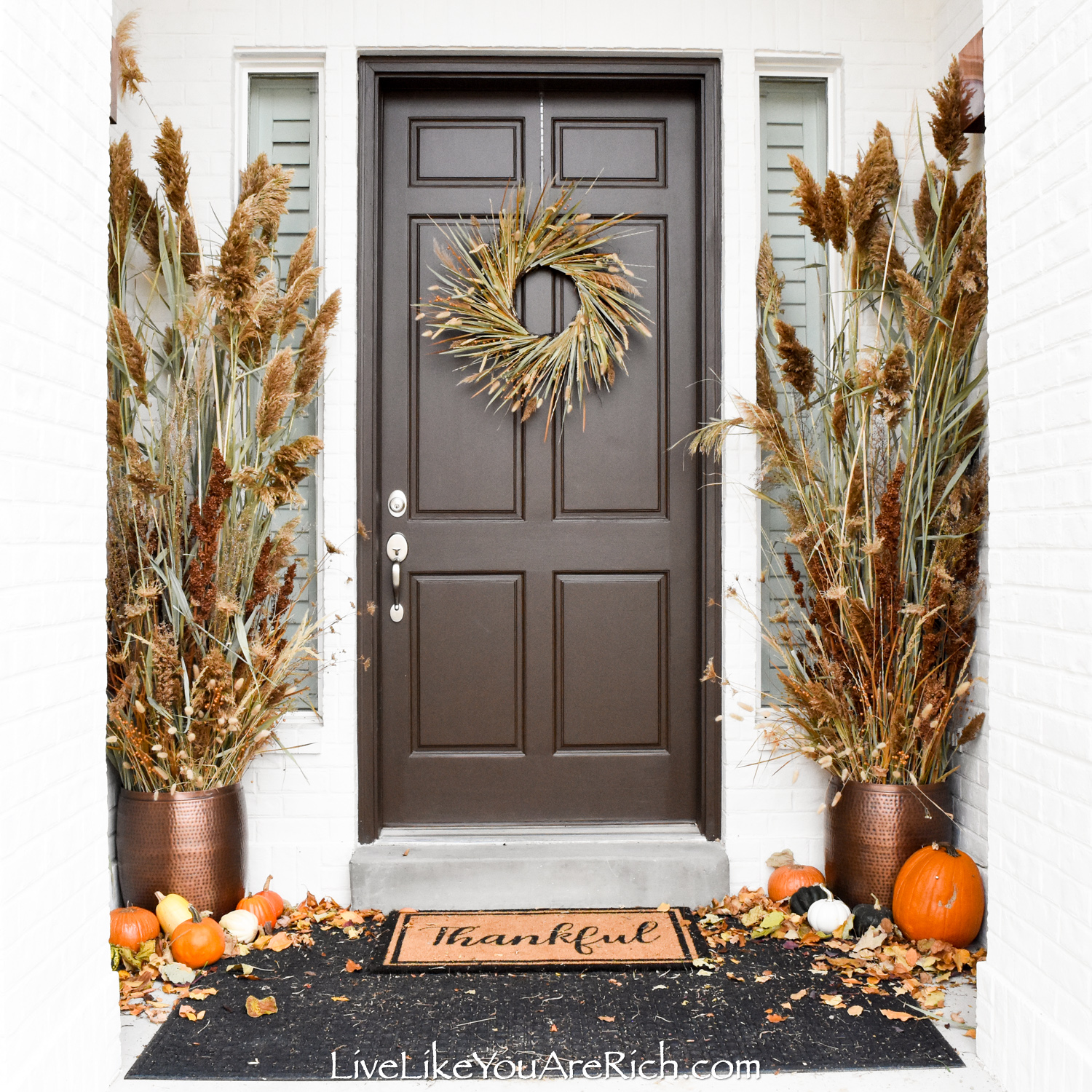 I took out the fall dried flowers and plants
and put them into large plastic bags for next year.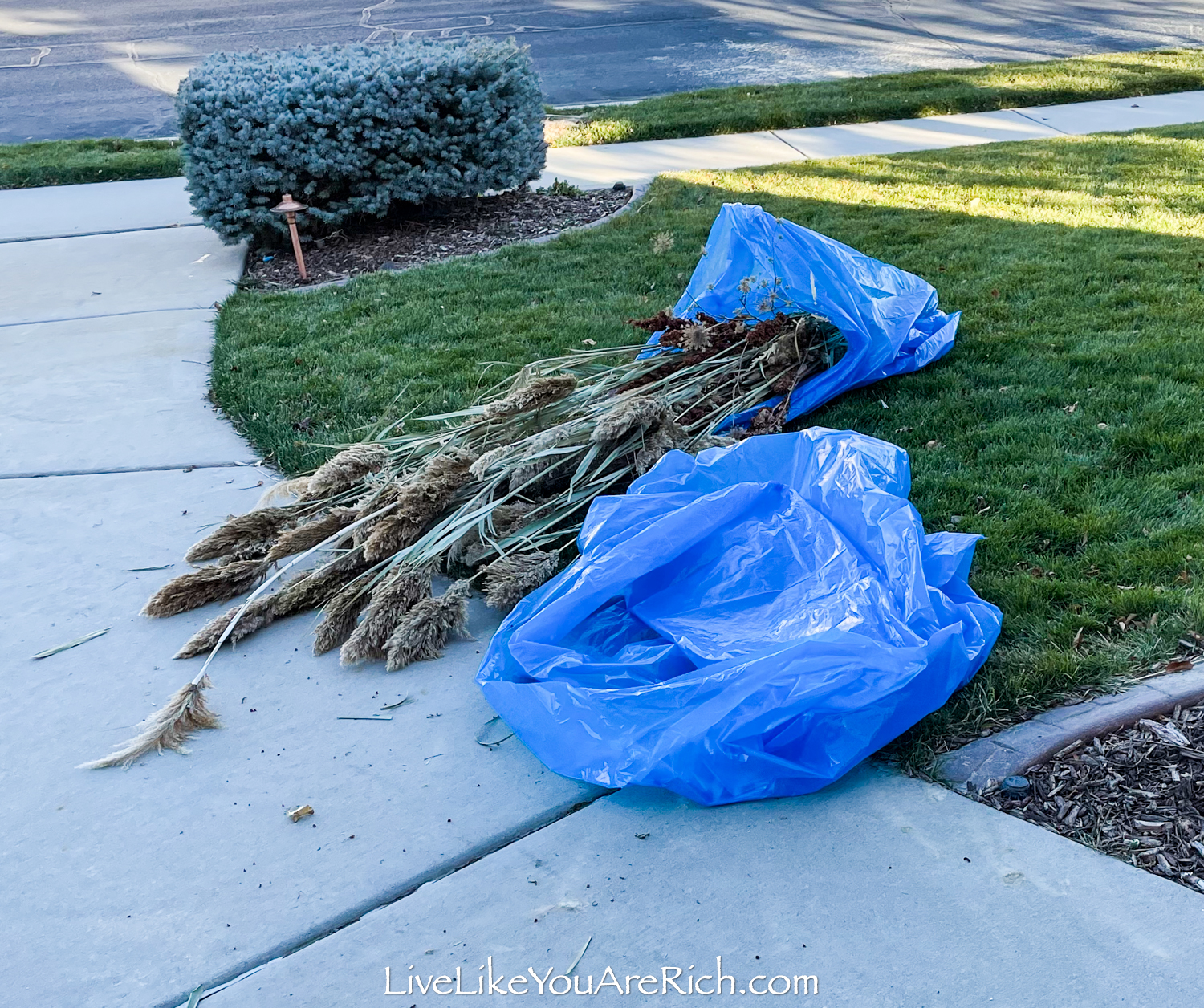 I also collected Aspen logs which look a lot like Birch logs. Both will give you the same Christmas log look.
We had some Aspen trees that were wildly spreading on the property line we share with our neighbors. They asked if they could cut the trees down, we were happy to let them! We said and that we'd burn the logs when they dried out sufficiently (which takes a few years for Aspen).
We have piles of logs in the forestry-part of our backyard.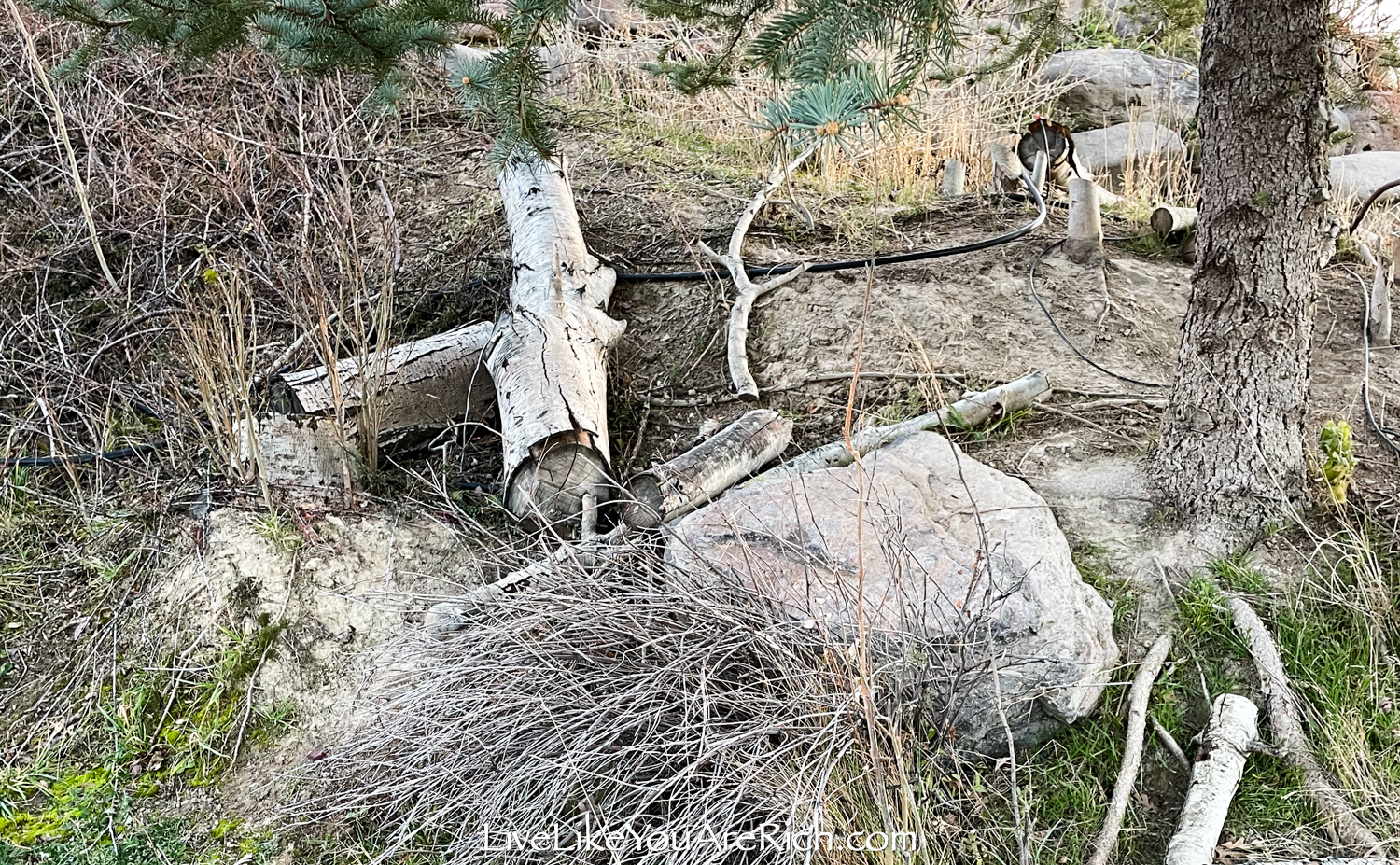 I took our trusty old red sled down our steep 'sledding hill' and towed 3 loads of Aspen logs up in it. I say, 'trusty old sled', because I've used this sled for many a task and it always makes the load lighter.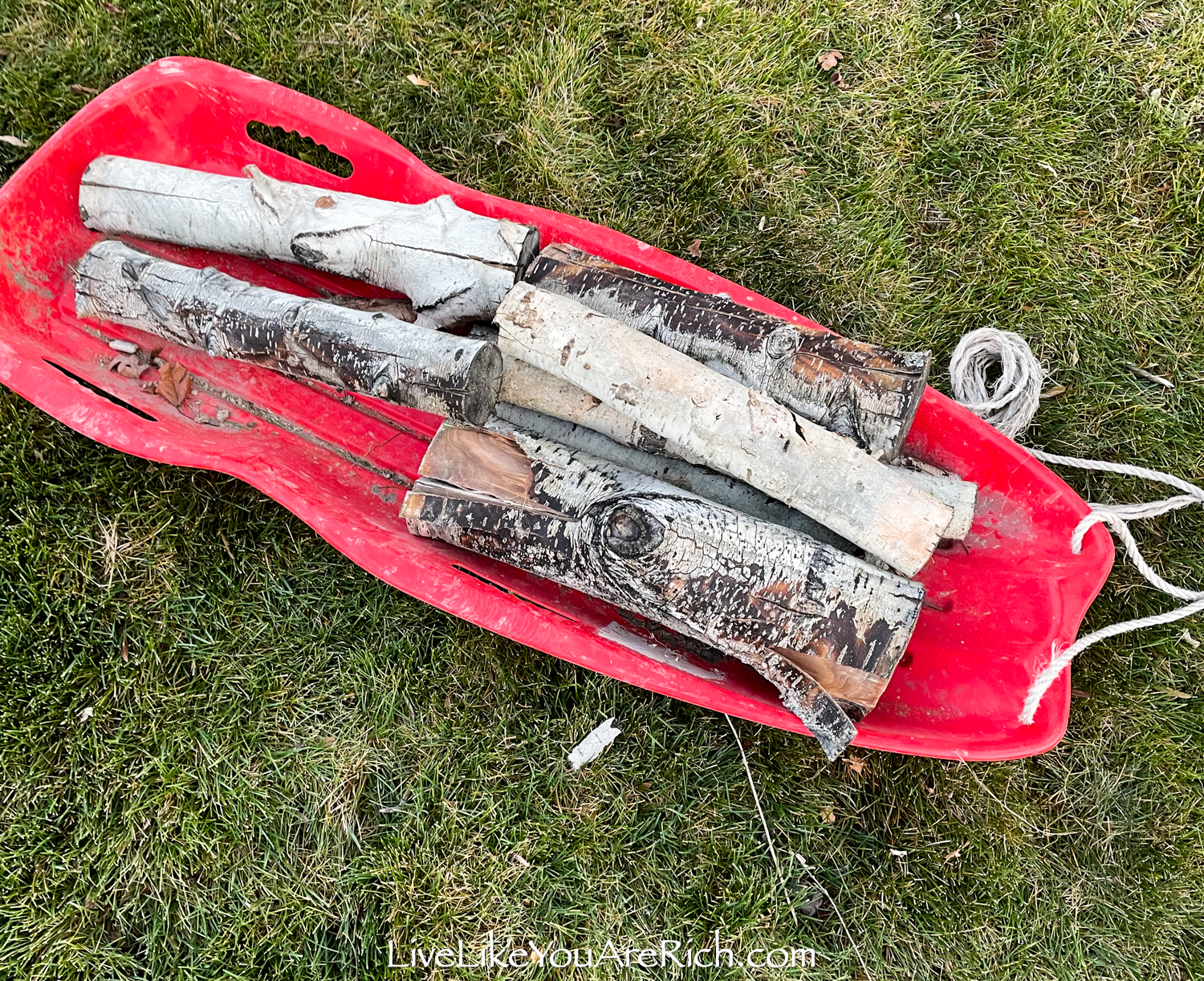 I have another project or two that I really want to do this year for Christmas that involves using these logs; so I saved some for those projects as well.
If you do not have access to real Aspen or Birch logs, I have linked to some I found on Amazon in the supply list.
I also got a large pile of pine branches to use. I was going to trim my own pines but before I did, I saw that my neighbors were going to throw away a big pile of pine branches. I asked for those and they gave them to me.
Trimming pine trees should only be done if you know what you are wanting to trim (typically if aggressively trimmed they don't grow back).
If you don't have access to real pine trees and don't know anyone who wants their trimmed, you could call a Christmas tree lot and ask for extra pine tree branches, or you could get a license to cut a very slender tree down and cut it in half and just put a big ornament on top of the cut half.
How to Put Together This Classic Christmas Front Porch Decor
…continue reading and/or watch this instructional video.
Assembly you can put a tarp down if desired. It helped a lot with clean up. Gather supplies (see supply list and its explanation).


Fit foam floral blocks into planters about 2/3rds -or more- high.


Pour enough sand around the foam blocks to fill up the gaps up to a few inches below the top of the planters. Tip- I found shaking the planter helped get the sand down the gaps. Using a gloved hand, I spread sand into the sides.


Place the pine branches straight up into the planters and form a Christmas Tree looking formation with them. The pine branches do not need to be anchored into the sand/foam/planter. you can rest smaller branches on top of large ones that have been secured into the planter. I kind of just built up from some solid big branches.

Using pruning shears shape them into the look you desire.



I had no idea how placing cut pine branches upright would look and they definitely are not "perfect", but that is the part I like. It have a unique raw look to them. I love the way they came together.

Save the remaining pine branches to make this wreath (if desired).


Next, hang large plastic red ornaments into the pine "Christmas trees". I made sure the ornaments were attached pretty well because we get strong windy days here.



When we had a blizzard the other day, the snow fell onto the ornaments and dusted them so beautifully!

They also stayed in place well; securing them onto the pine branches with wire worked.


String the trees with lights. I bought four strands and hundreds of clips for $50 last year off the local classifieds. I hung decorated the gutters/roof line of our home with the other 3 strands of lights



With the extra set of c9 strawberry white lights that I had, I decorated these "trees"; the lights of the home and this Christmas Front Door display match—which I really like.

To string them, I just draped the lights back and forth on the front of the trees. I tucked the running lights from one tree to the other under the coir mat.


I collected pine cones around my yard and placed a bunch of them (20+) on the trees and around the base of each pine bunch/tree.



If you don't have pine cones in your yard, a local park or neighbors will likely welcome you cleaning them up.

Then I stacked the aspen logs in a copper tub I had. It came from World Market. I linked to it in the supply list above.



As mentioned previously, these logs are over a year old so they have aged wonderfully!

They look especially gorgeous dusted with fresh snow (above photo).





I LOVE how they look at night with the Christmas lights on them.


Finally, I added a coir 'merry & bright' door mat


I placed it all over this black industrial mat that I got from a friend for free. I appreciate how solid it is and how it creates a great base for these front porch arrangements.

And that's it. I LOVE how this Classic Christmas Front Door Decor turned out!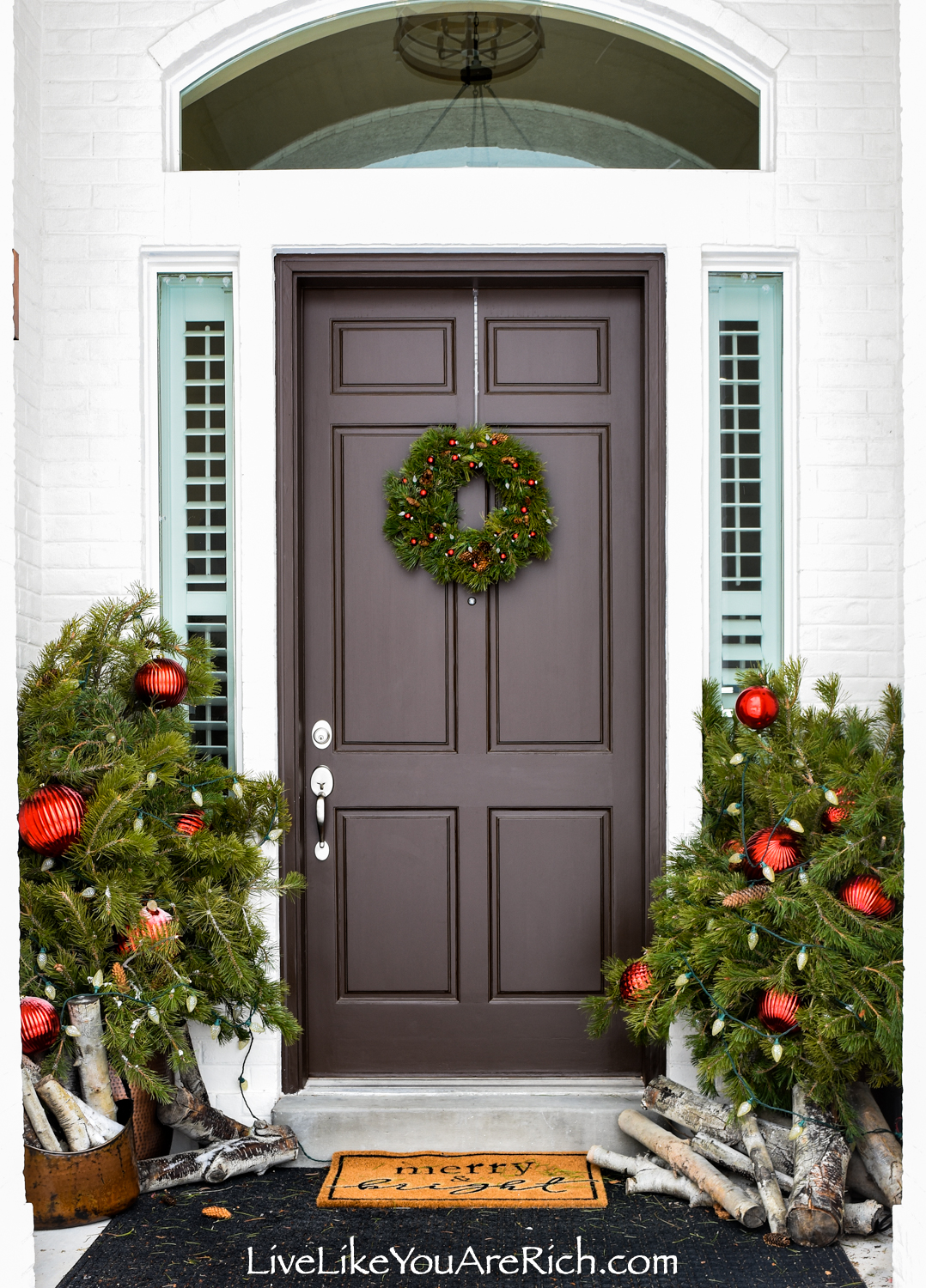 I hope this gives you some fun ideas on how to use pine branches and logs to make Classic Christmas Front Porch Decor.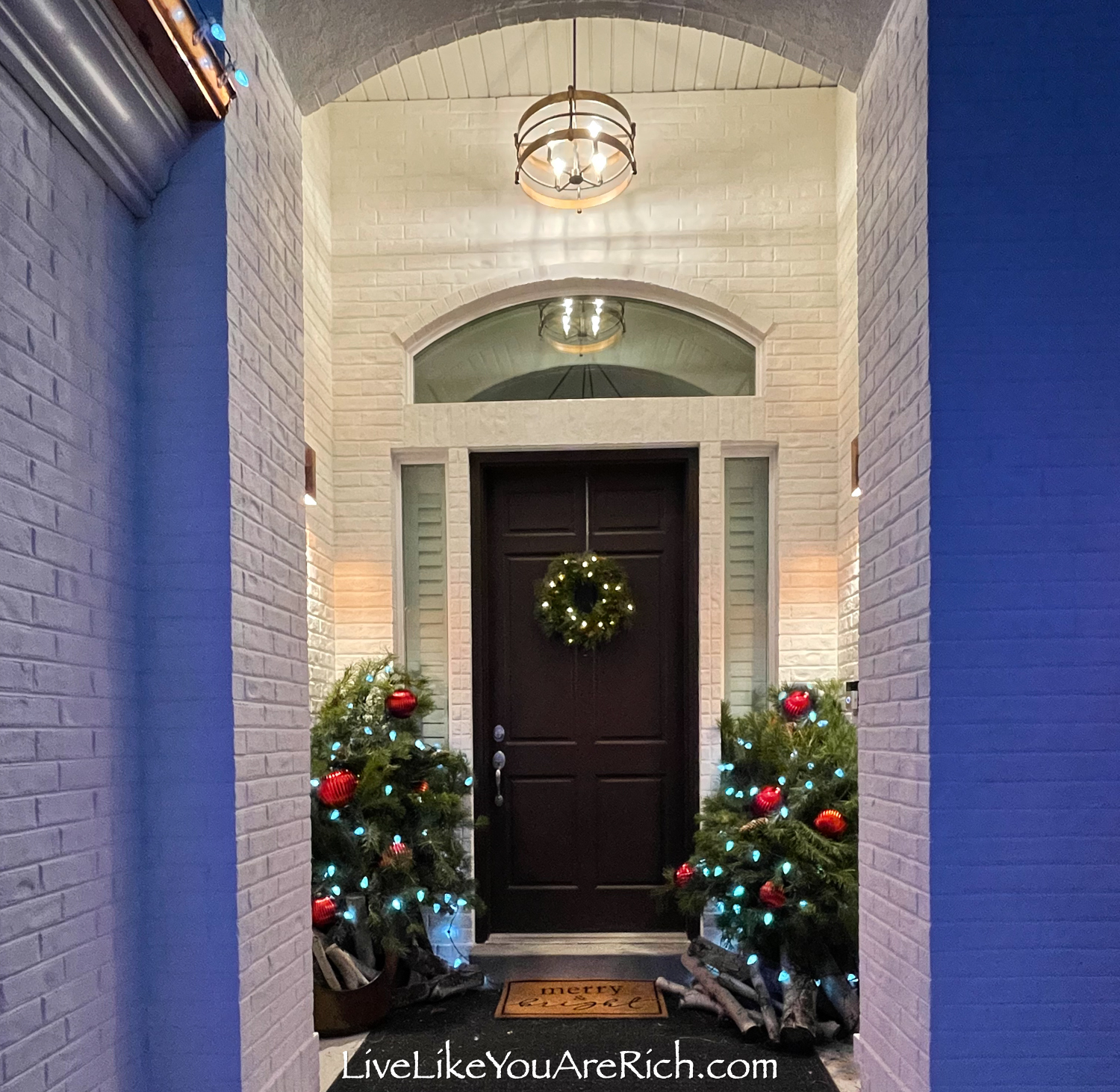 Merry Christmas!

For other inexpensive D.I.Y. and craft ideas please subscribe, like me on Facebook, follow me on Pinterest and Instagram.