Elf on the Shelf: Tub —Baby It's Cold Outside …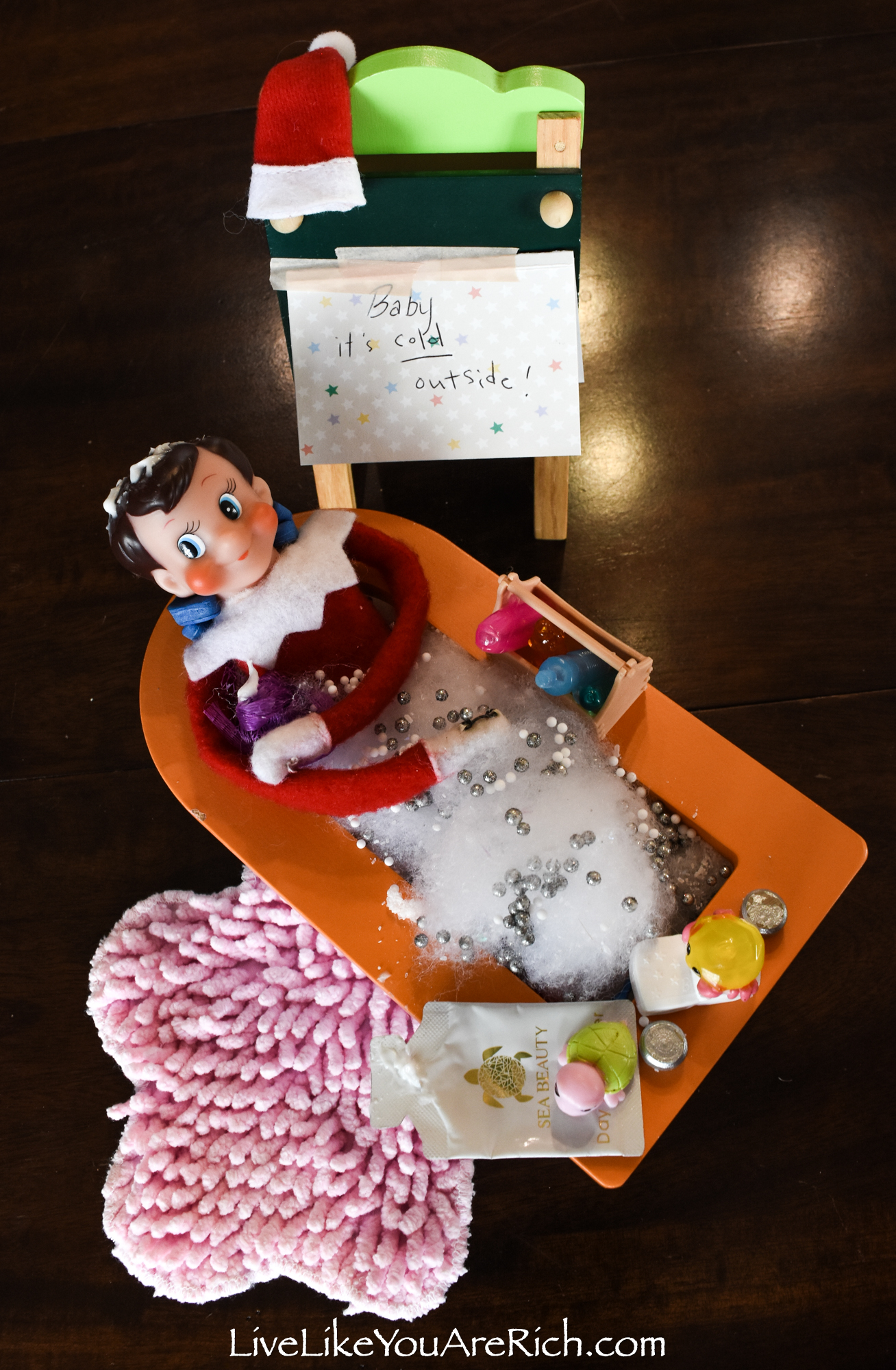 We got our Elf on the Shelf the other day. Even though my oldest are 7 and 9, I did not realize my kids felt like they were missing out. I had no idea that ALL the other kids in school had elves!
We watched the movie on Netflix and my daughter started crying. Both of my kids said they were sad we were the only ones in school who didn't have an Elf on the Shelf. I felt like the worst! Total Parent Fail! So, I told them I'd request one from Santa.
Luckily, Santa doesn't mess around honoring Elf on the Shelf Acquisition Forms!
Pepper, our family's new elf, arrived on our doorstep the next day… Isn't Santa amazing?
The night of Pepper's first trek back to the North Pole, we had record-low-temperatures for the year and a blizzard. So apparently was pretty cold when he returned home.
The kids found him in the mudroom-bathroom soaking in a warm tub.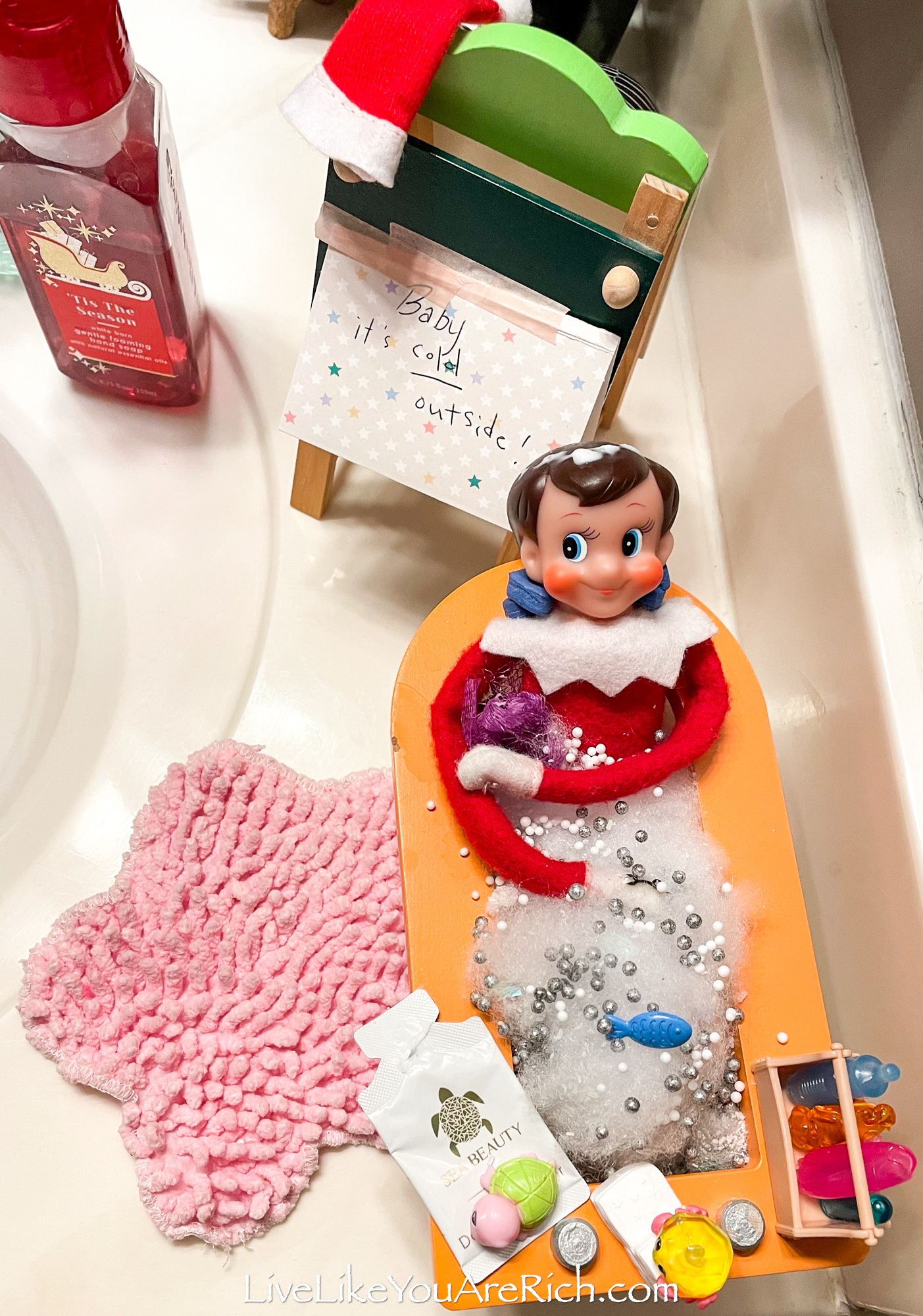 My daughter really appreciated all the cute details and couldn't stop starring at it! Sooo cute!
Supply List for Elf on the Shelf: Baby It's Cold Outside
Here is what Pepper found and used from around our house…
Kid Kraft So Chic dollhouse tub, bath rug, and easel
Barbie grocery items (bottles used for shampoo, conditioner, honey mask, soap)
shampoo holder (Chelsea career construction set-tool box)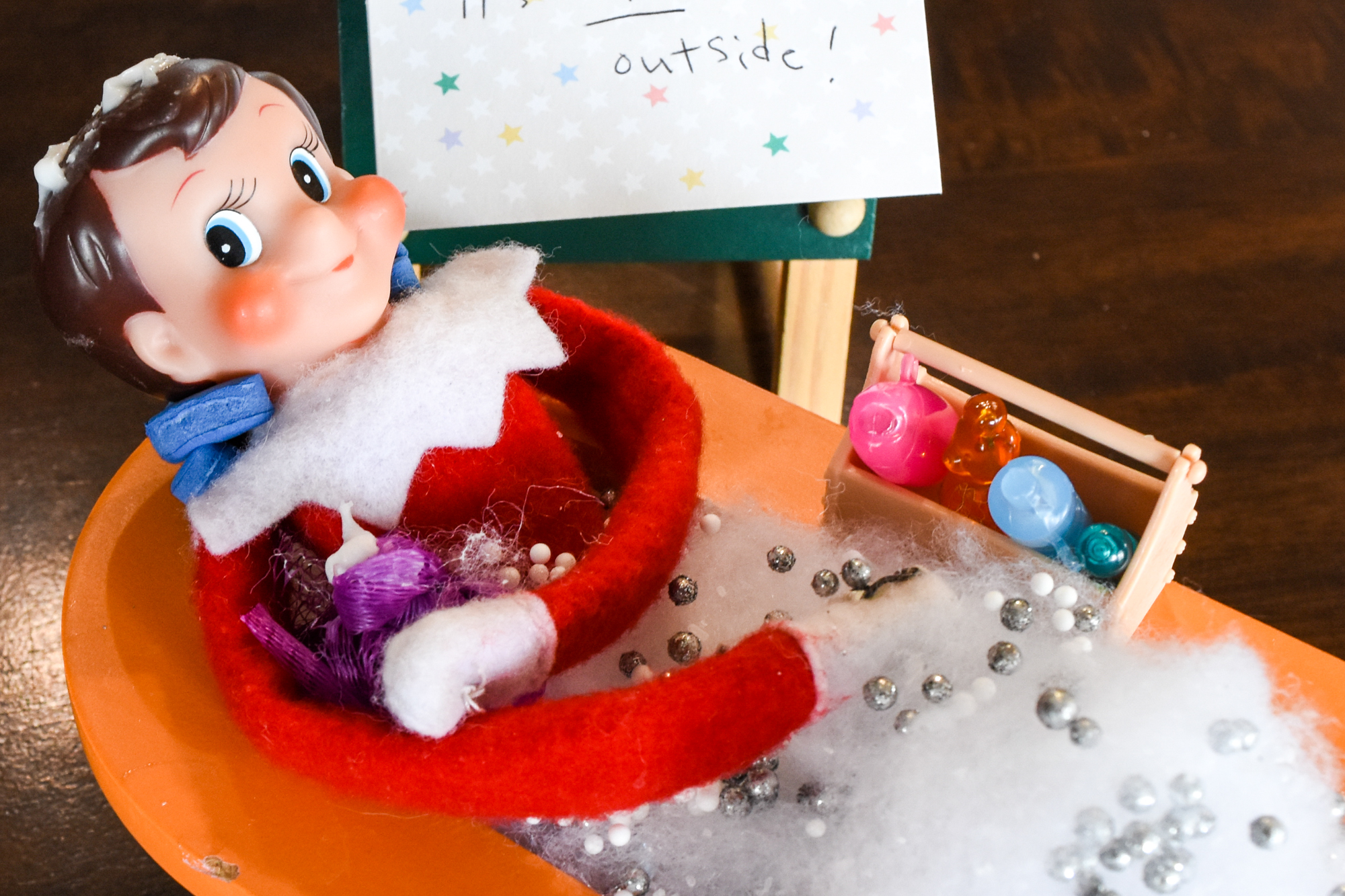 paper, pen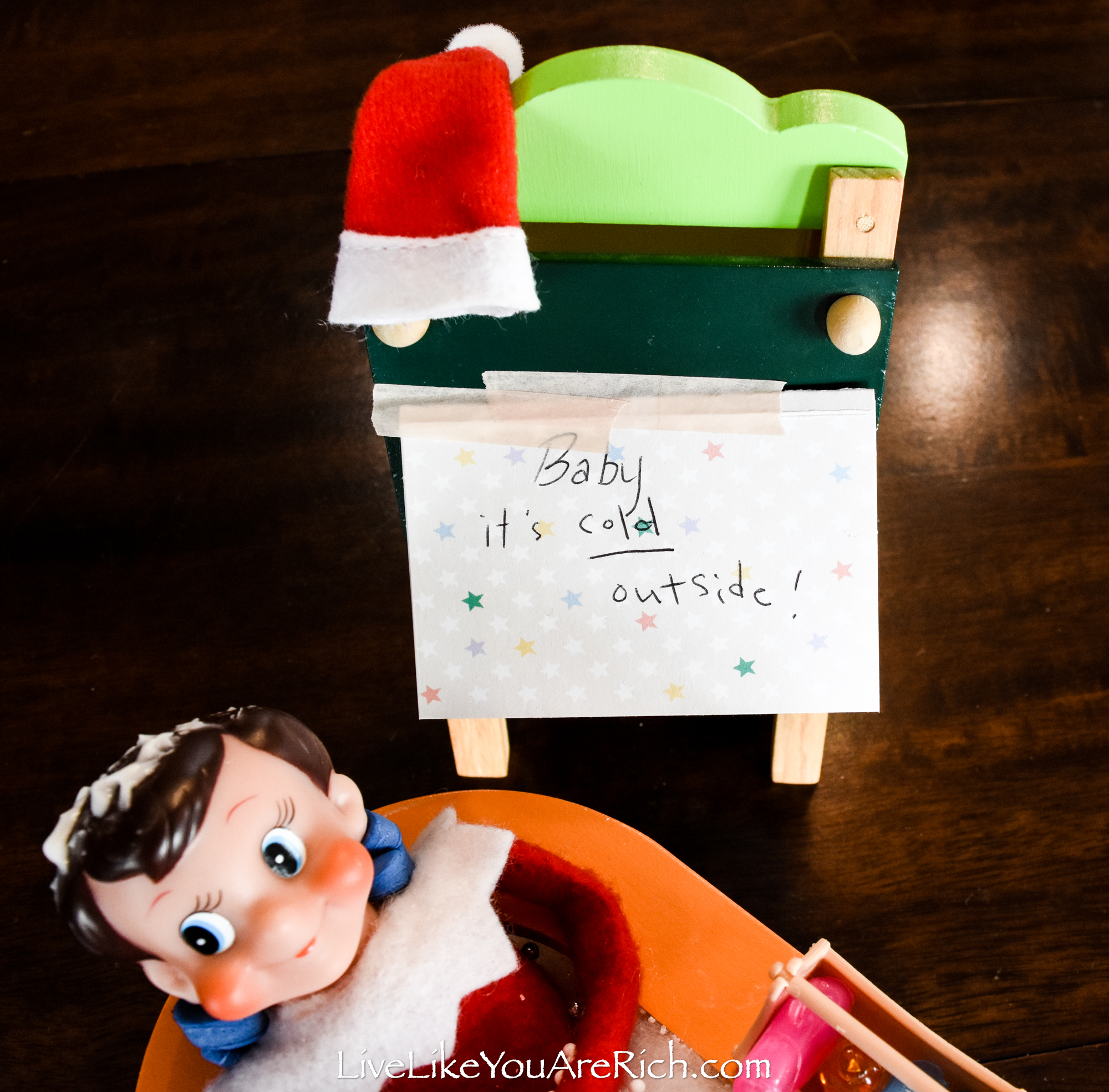 fake bubbles (tiny styrofoam balls) white and silver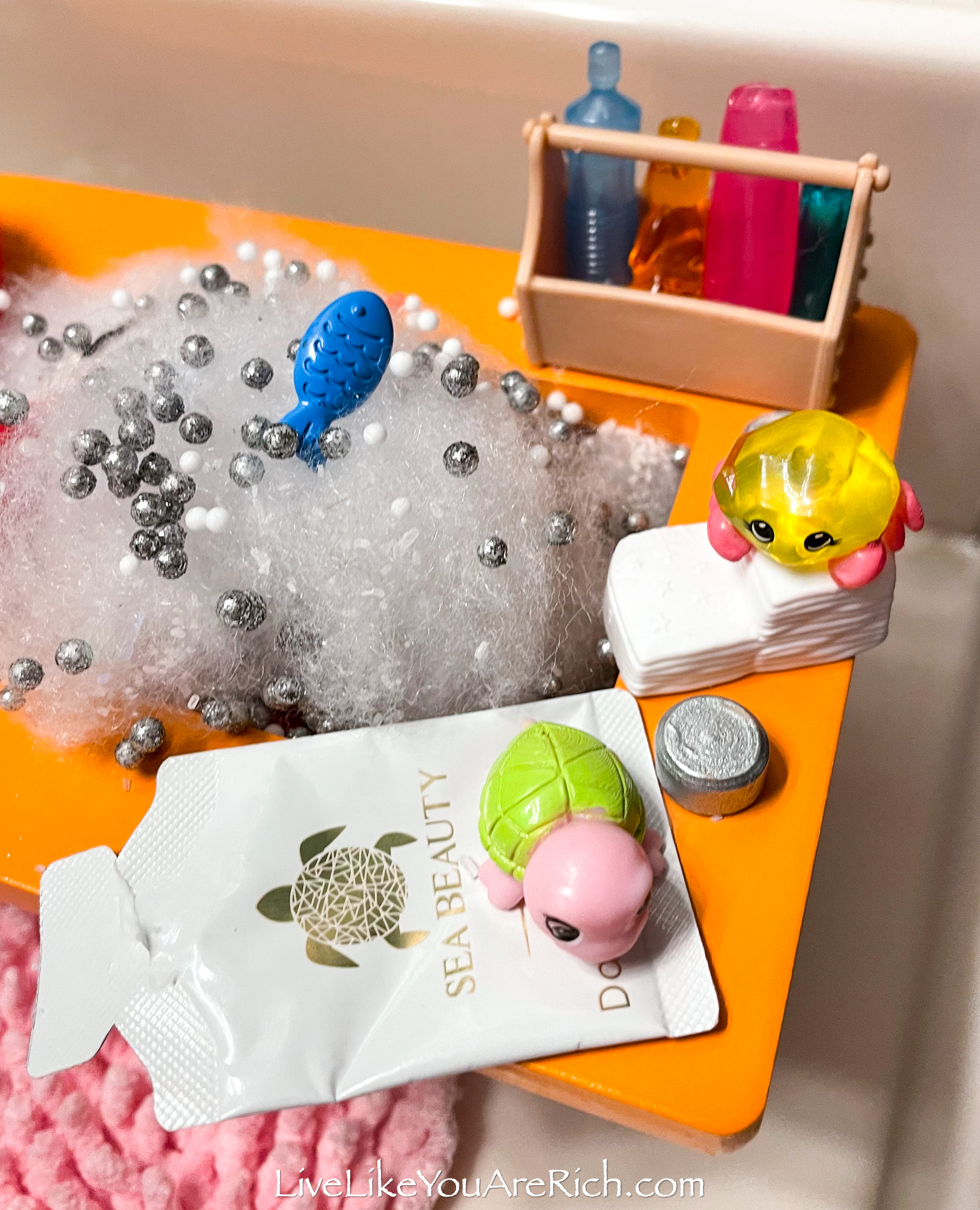 fish (probably found from a Barbie or some similar type set). The fish went for a swim when I moved the tub (I was careful not to touch Pepper) to our kitchen table for some different lighting for photographs.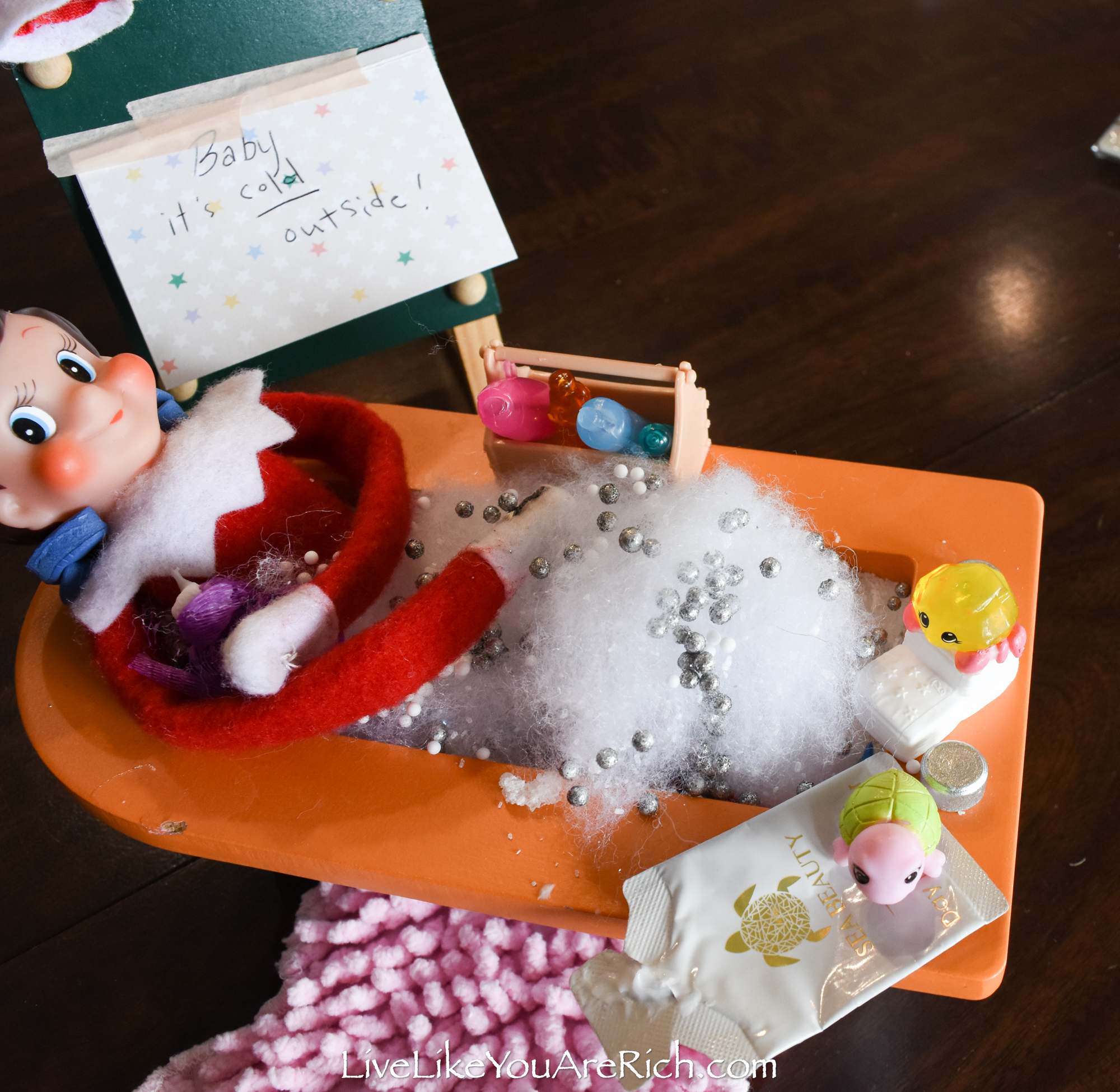 loofah (a piece cut off of one wrapped up). I love that he is washing his arm pits here. haha!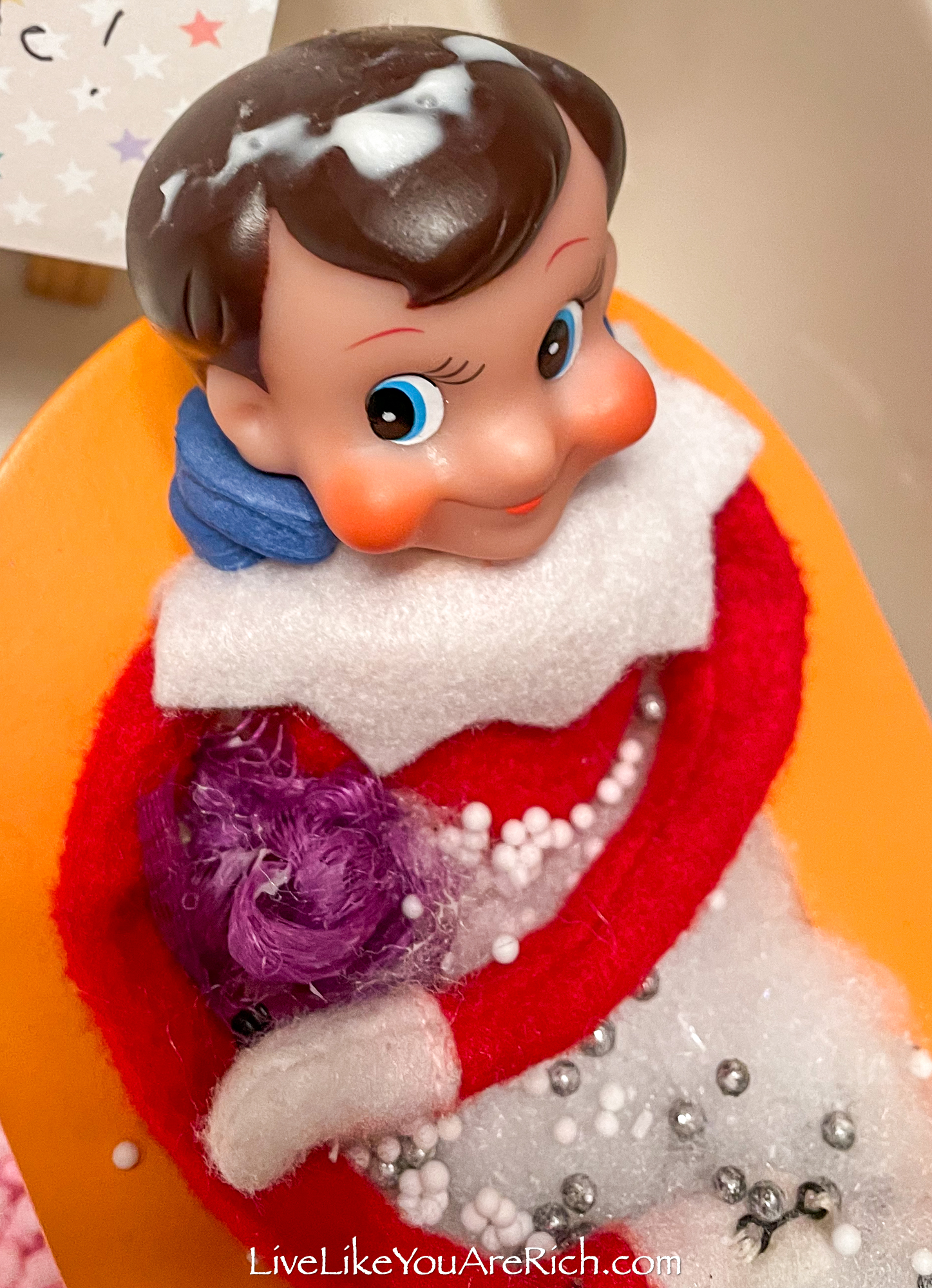 towels (Skipper nursery babysitter set-diaper stack)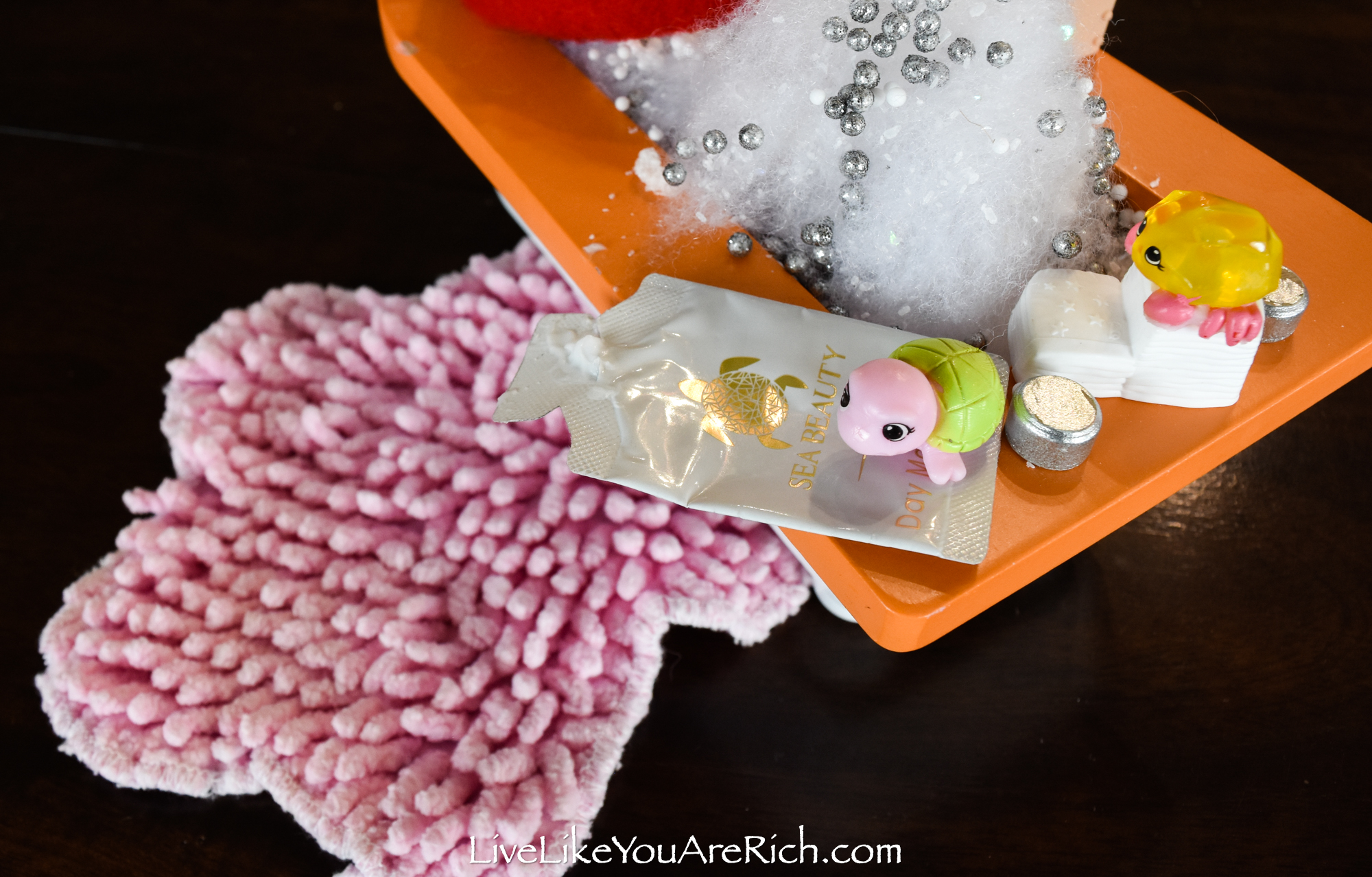 The tiny Sea Beauty moisturizer sample pack must have come from a store in the North Pole because I can't find it on the internet.
turtle, crab (Splashings mermaid figurines)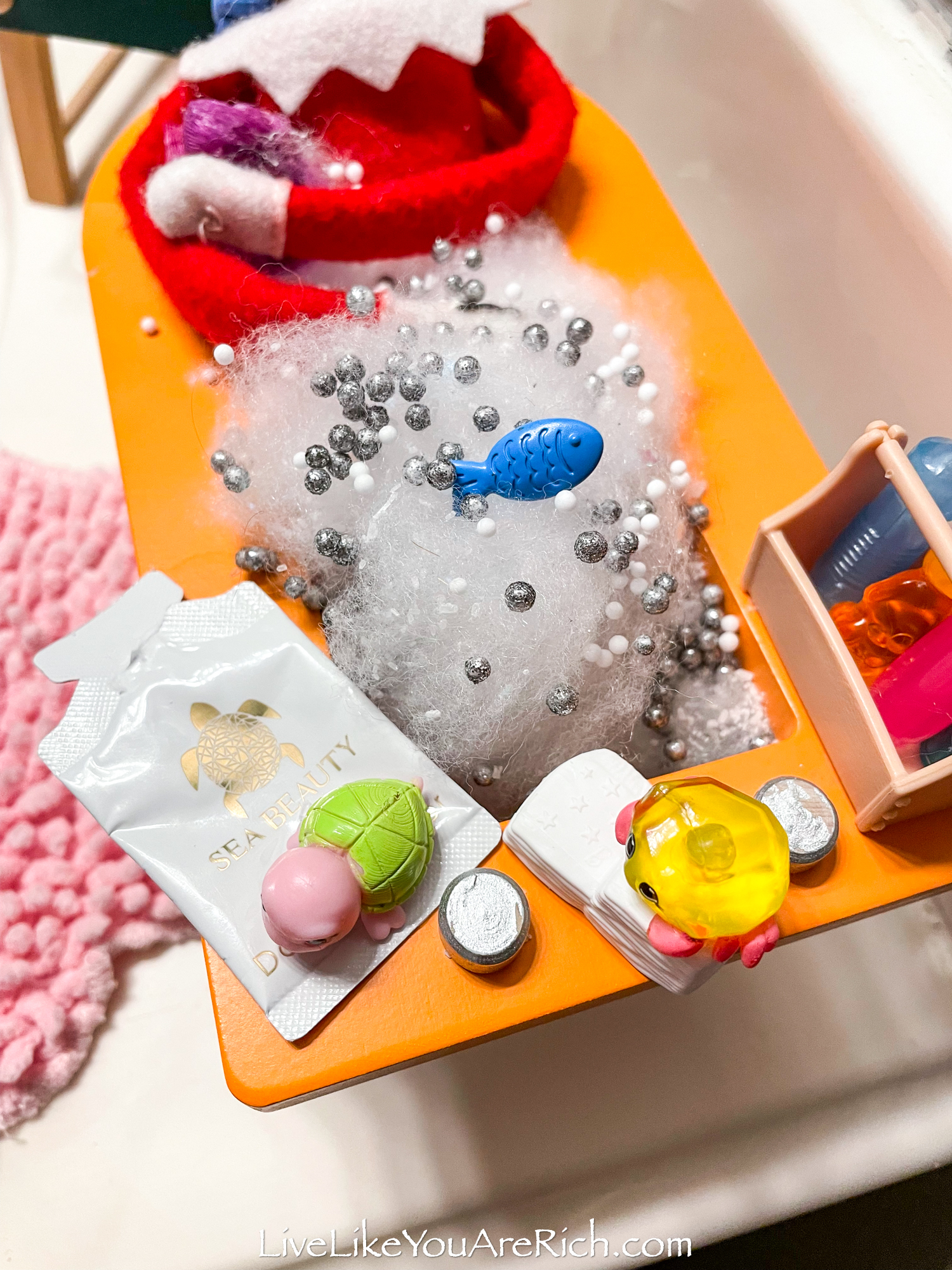 lotion (on head to look like shampoo)
neck pillow (pedicure toe separators)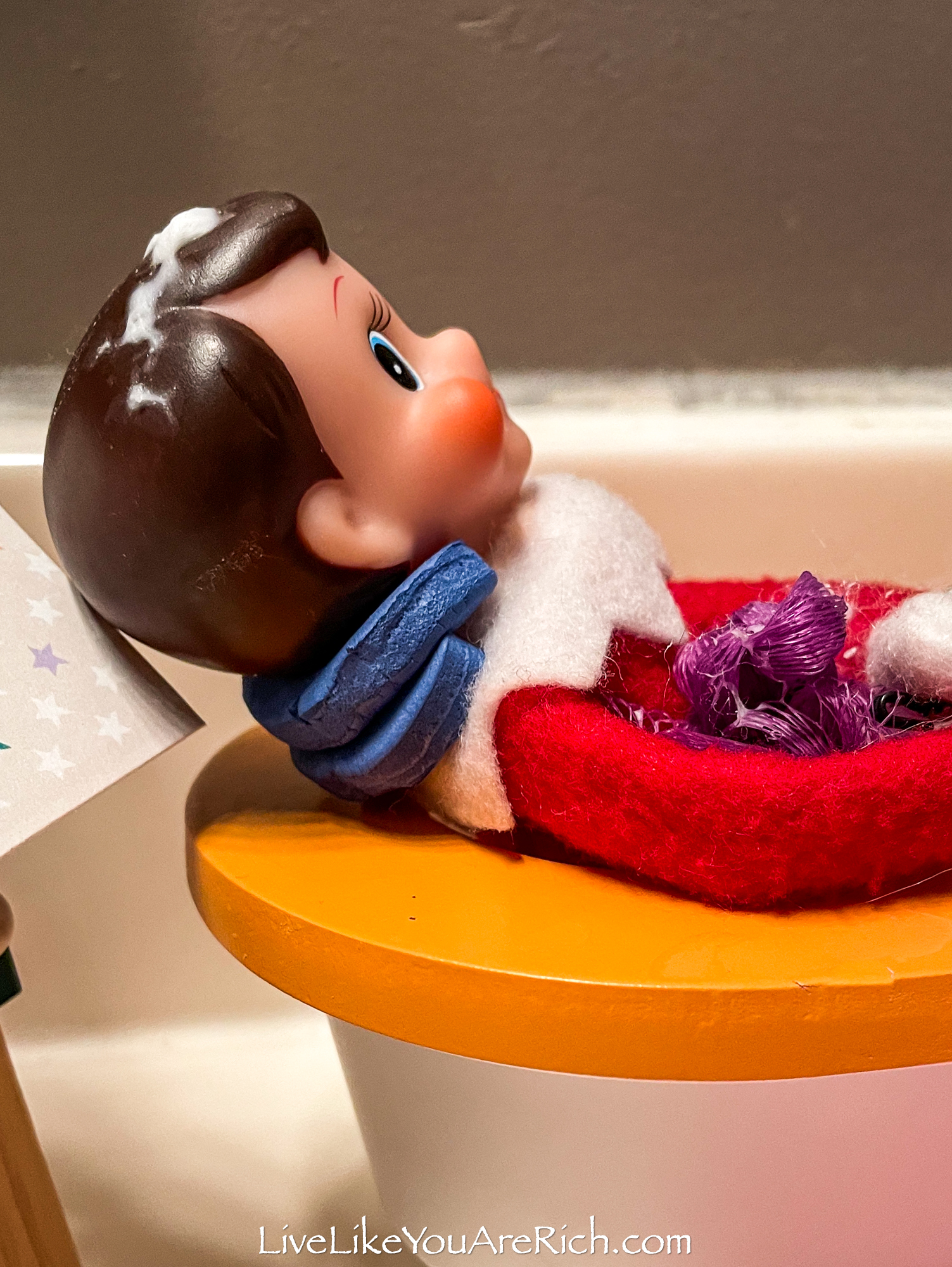 My kids loved finding Pepper! It was so cute that he was relaxing and warm in his tub on a blizzard day.
Although we got Pepper late in the game (my bad for not filling out that acquisition form years ago), it seems like the novelty of wanting an elf and finally getting one has increased the kids' excitement about our Elf on the Shelf.
The kids are up early searching everywhere for him, they are even having trouble sleeping. It seems like Christmas Eve excitement—which is fun for me to observe!
I am happy to have Pepper around for this new tradition. I was nervous about the extra stress of mess and everything that goes into Elf on a Shelf, but I was wrong to be.
Although the kids being soo excited is awesome for me as their parent, surprisingly, having Pepper around has been fun for me too.
I hope this Elf on the Shelf: Tub—Baby It's Cold Outside scene gives some of your elves ideas on how to relax on a cold winters' day!

For other 'rich living' and D.I.Y. decor tips please subscribe, like me on Facebook, and follow me on Pinterest and Instagram.