I held this British Afternoon Tea for my wonderful sister-in-law, Jessica.
This was a baby shower to celebrate Jessica's pregnancy and subsequent birth of her first baby girl.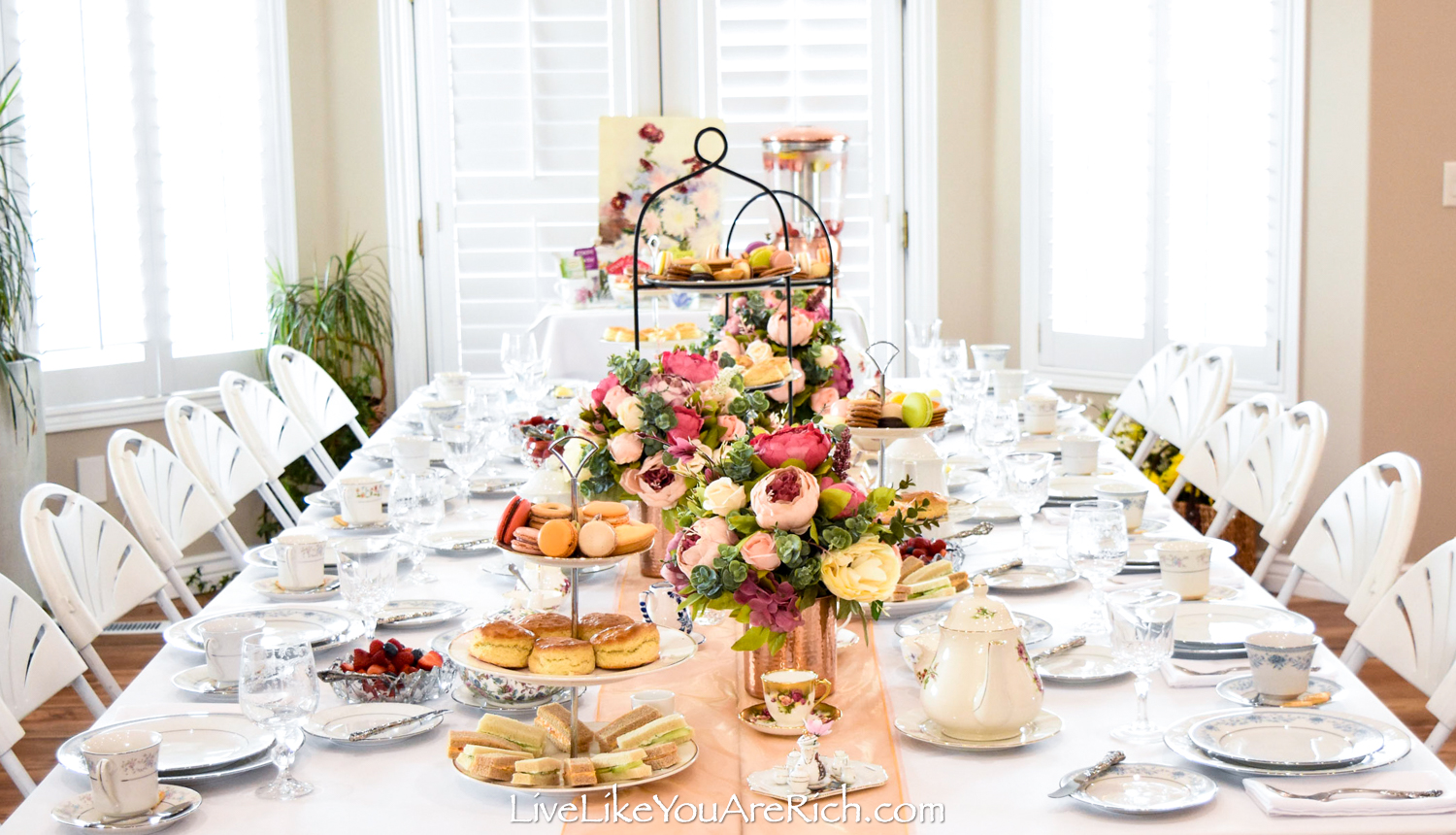 I chose a British Afternoon Tea theme because I love watching movies, videos, novels and reading about England—especially during the Victorian Era.
A popular blog post of mine lists my favorite romantic movies, TV series, and shows —most of which highlight the Victorian time period (such as Downton Abbey, Pride and Prejudice, Belgravia, etc.).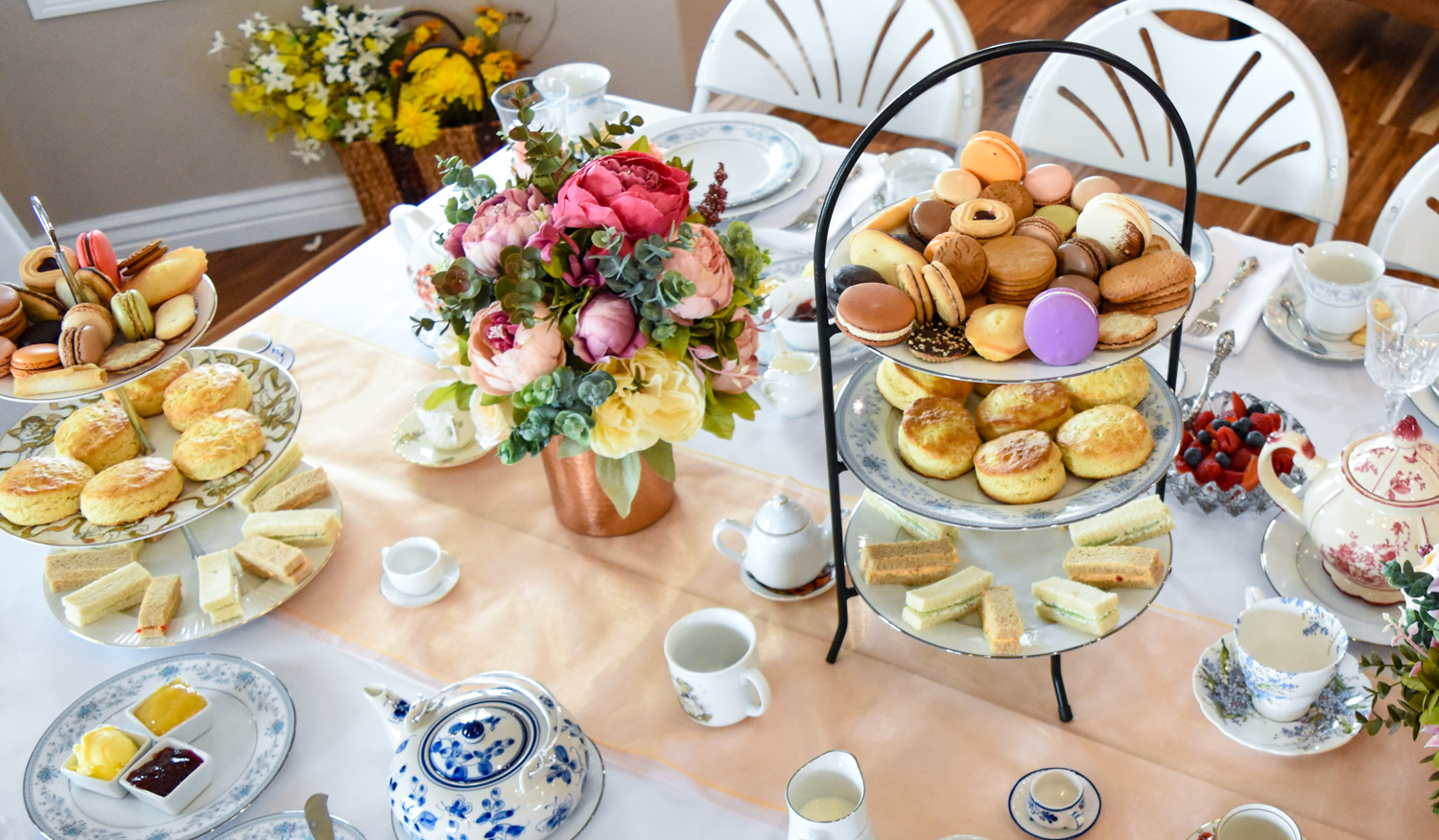 Since I've been wanting to have a British afternoon tea, I asked Jessica if she would like to have one for her baby shower; she said she would.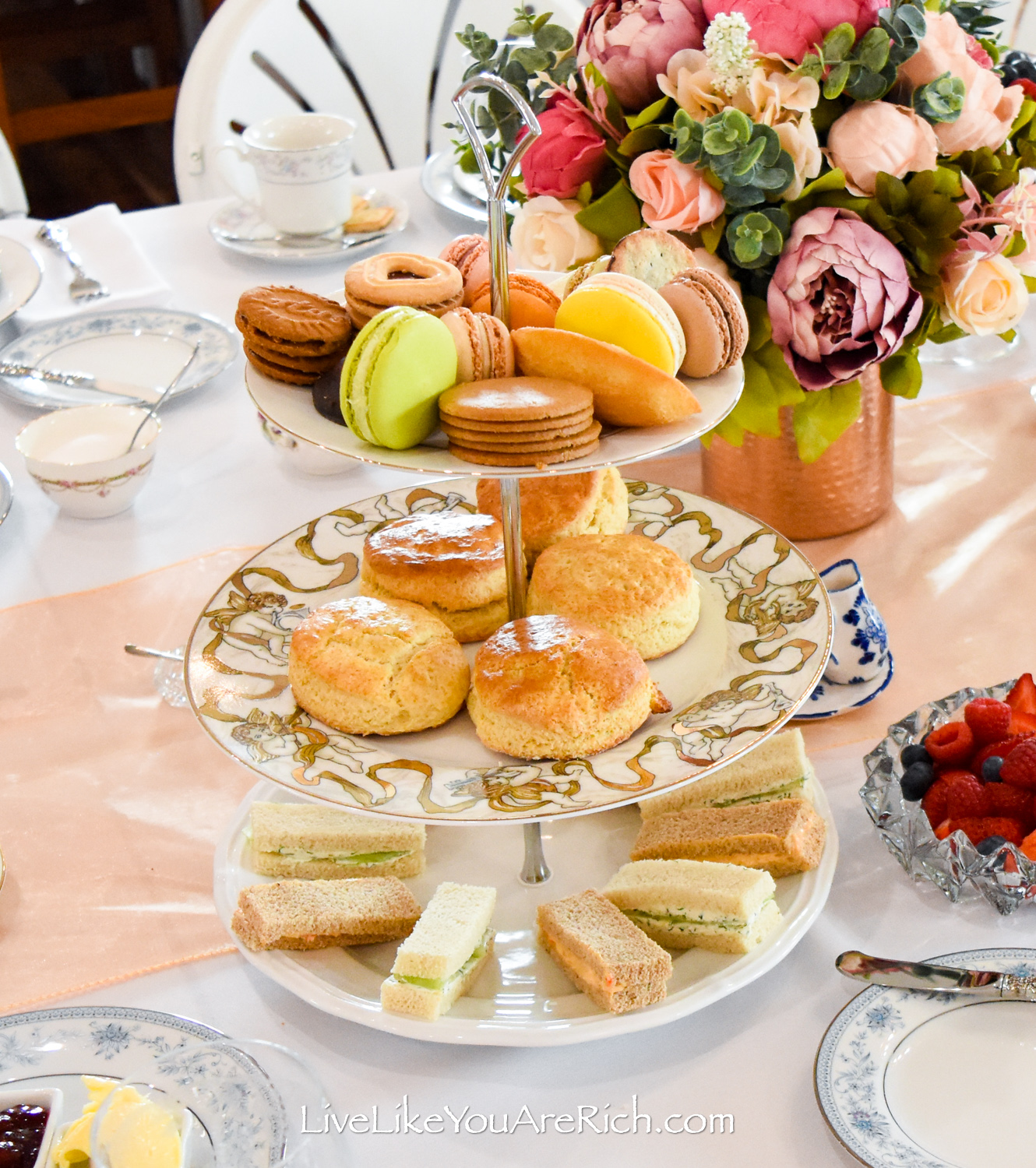 An authentic "Afternoon Tea" can also be called, "Low Tea".
It is not called, "High Tea", as many people mistakenly call it. High Tea is actually more of a dinner meal.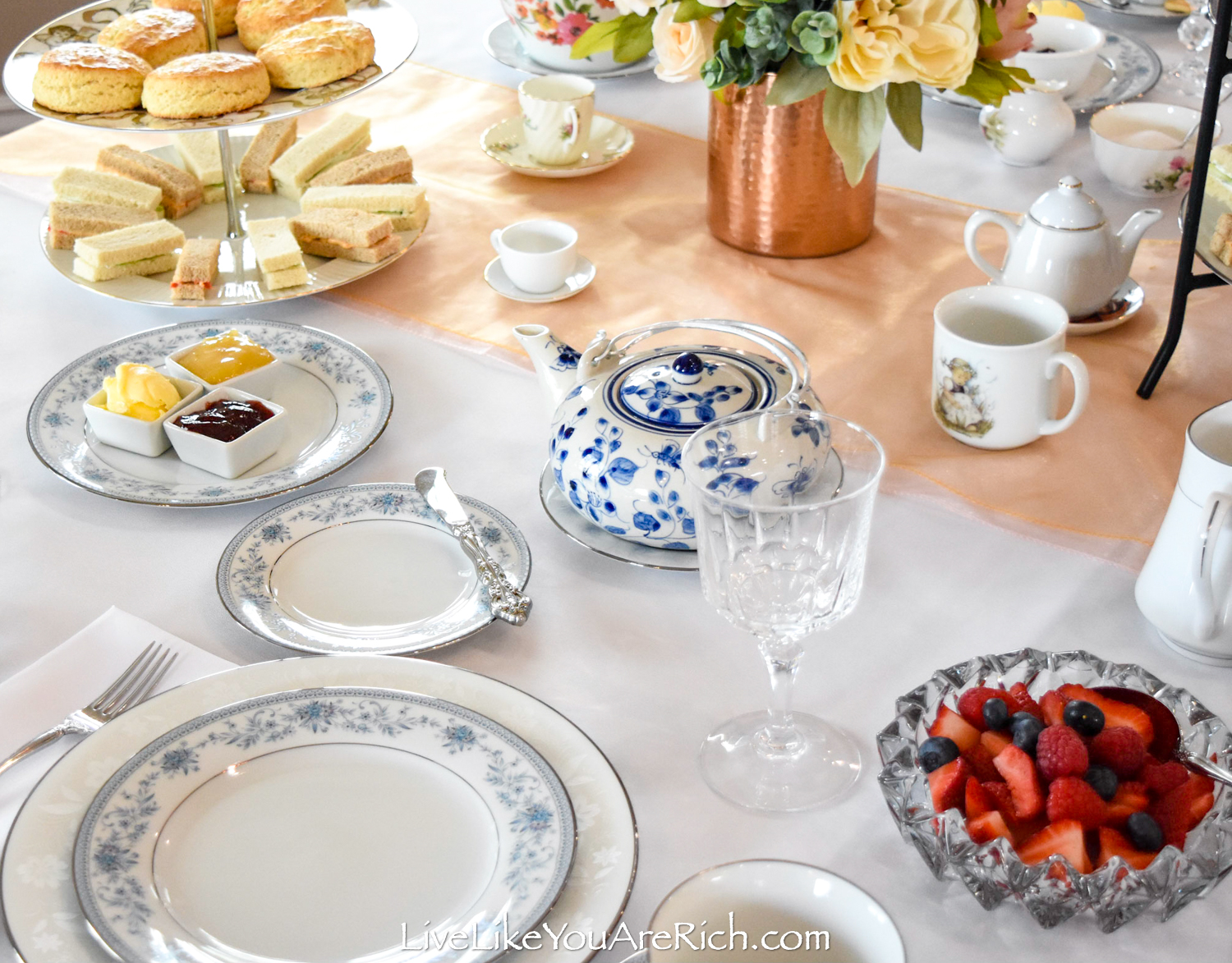 Afternoon tea was born because Anna, the seventh Duchess of Bedford, was often hungry between lunch and dinner. This was due to the fashionably late dinners they would have (around 8 pm). She would order food along with tea around 4pm.
Other noble women began doing the same and around 1880, afternoon tea had become a very posh event.
Women would dress up in long gowns and lace gloves and often meet together in a drawing room to eat and drink.
Often the women would eat while seated in armchairs and use low tables to set their plates and tea saucers on. Hence, the reference to "low tea". I did not have enough armchairs and low tables for our large group so we ate at a table.
It is said that Duchess Anna would order bread and cake served with her tea. Eventually, scones, finger sandwiches (especially with cucumbers), cookies, cakes, pastries, and fruit became traditional to serve during an authentic afternoon tea.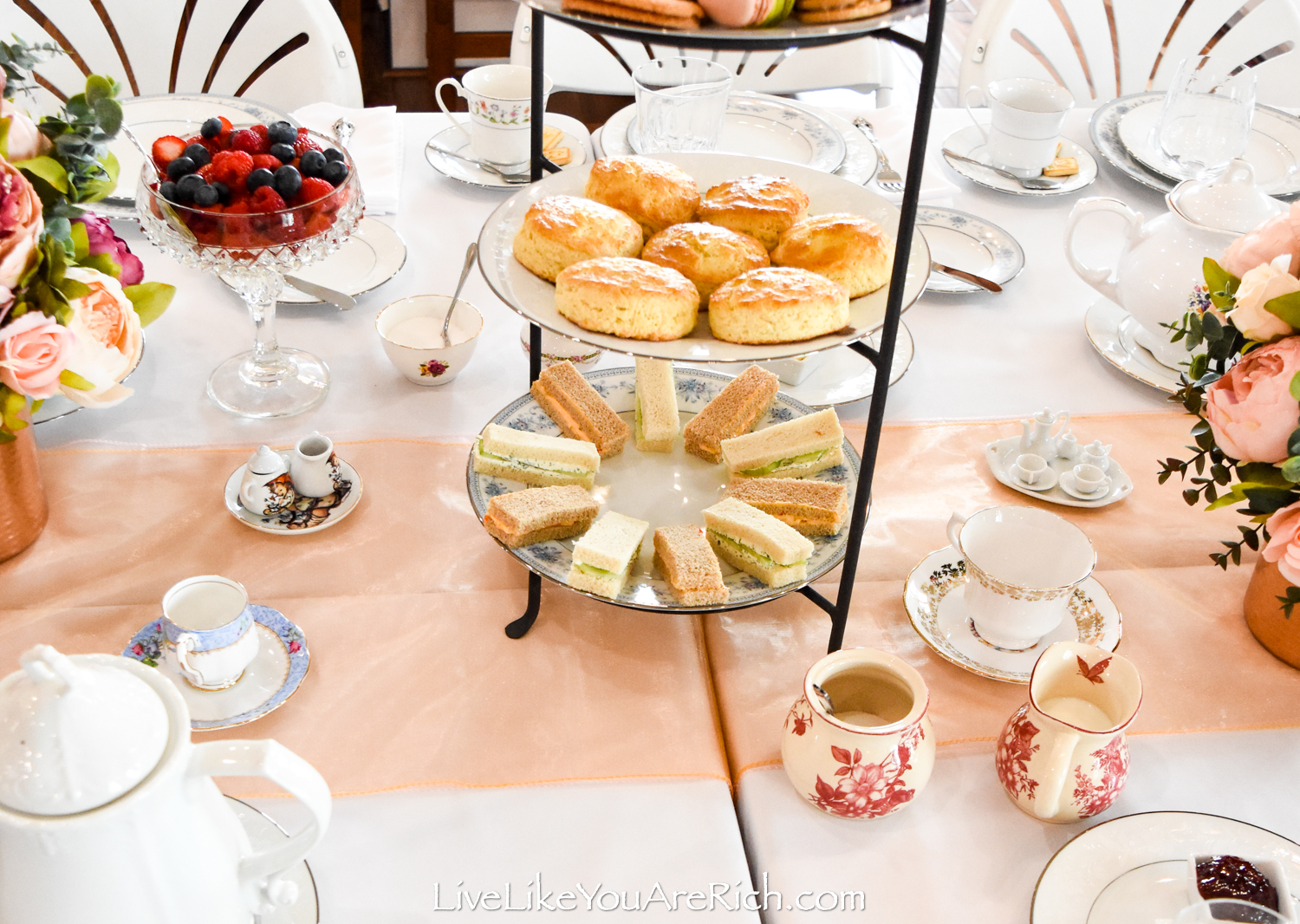 Due to religious reasons, I don't drink black or green tea; many who attended this baby shower don't drink black tea either. So, I made sure to specify that we would be drinking herbal tea on the invitations.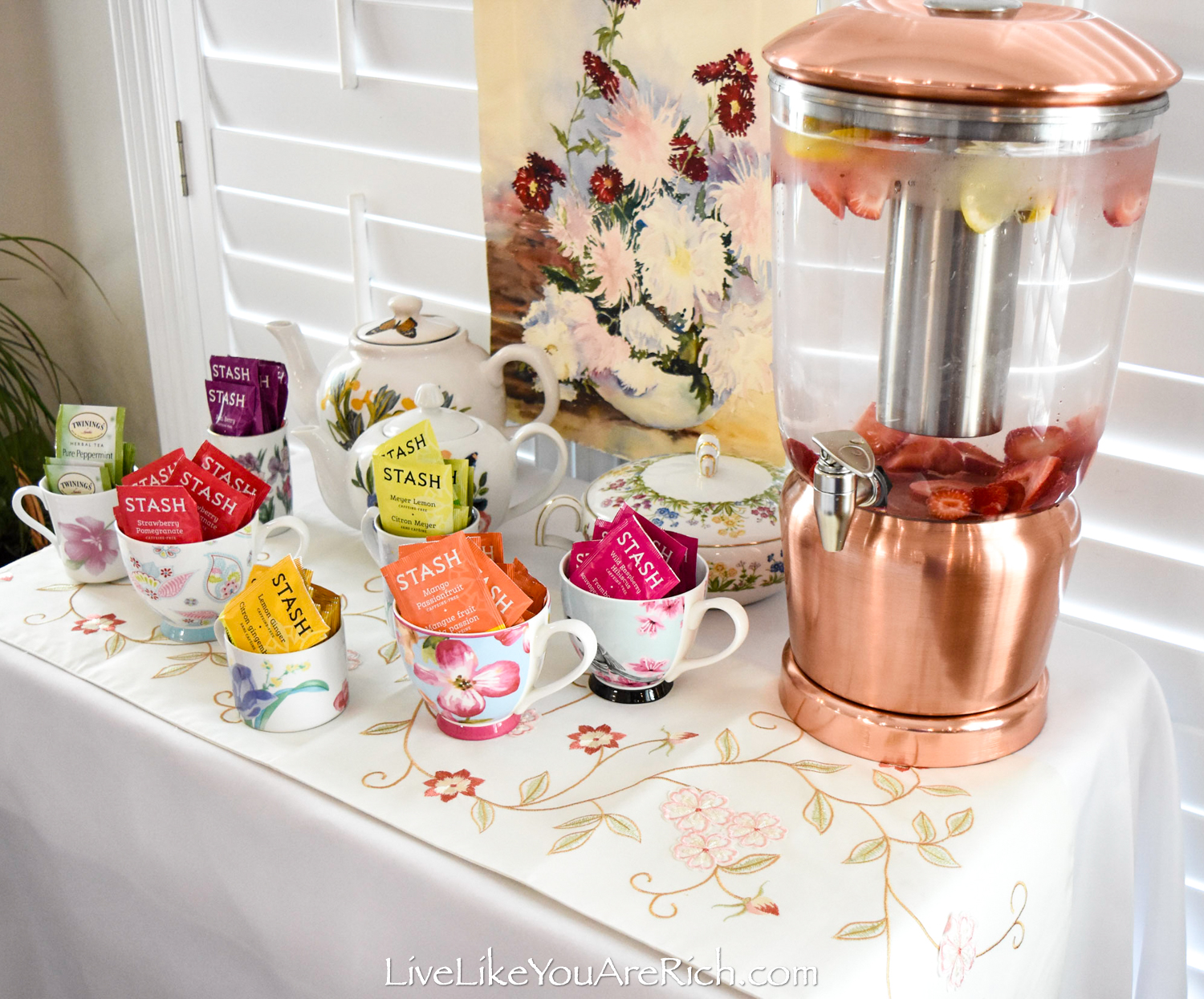 Menu for a British Afternoon Tea
Scones (English Style recipe post coming soon)
Jelly/ fruit preserves (Bonne Maman is delicious!)
Lemon Curd (Tiptree brand is delicious!)
Butter (Kerry Gold is my favorite) or clotted cream. I tried making clotted cream which required me driving an hour to get unpasteurized cream. Unfortunately, it did not turn out that great, so I just served butter instead of clotted cream.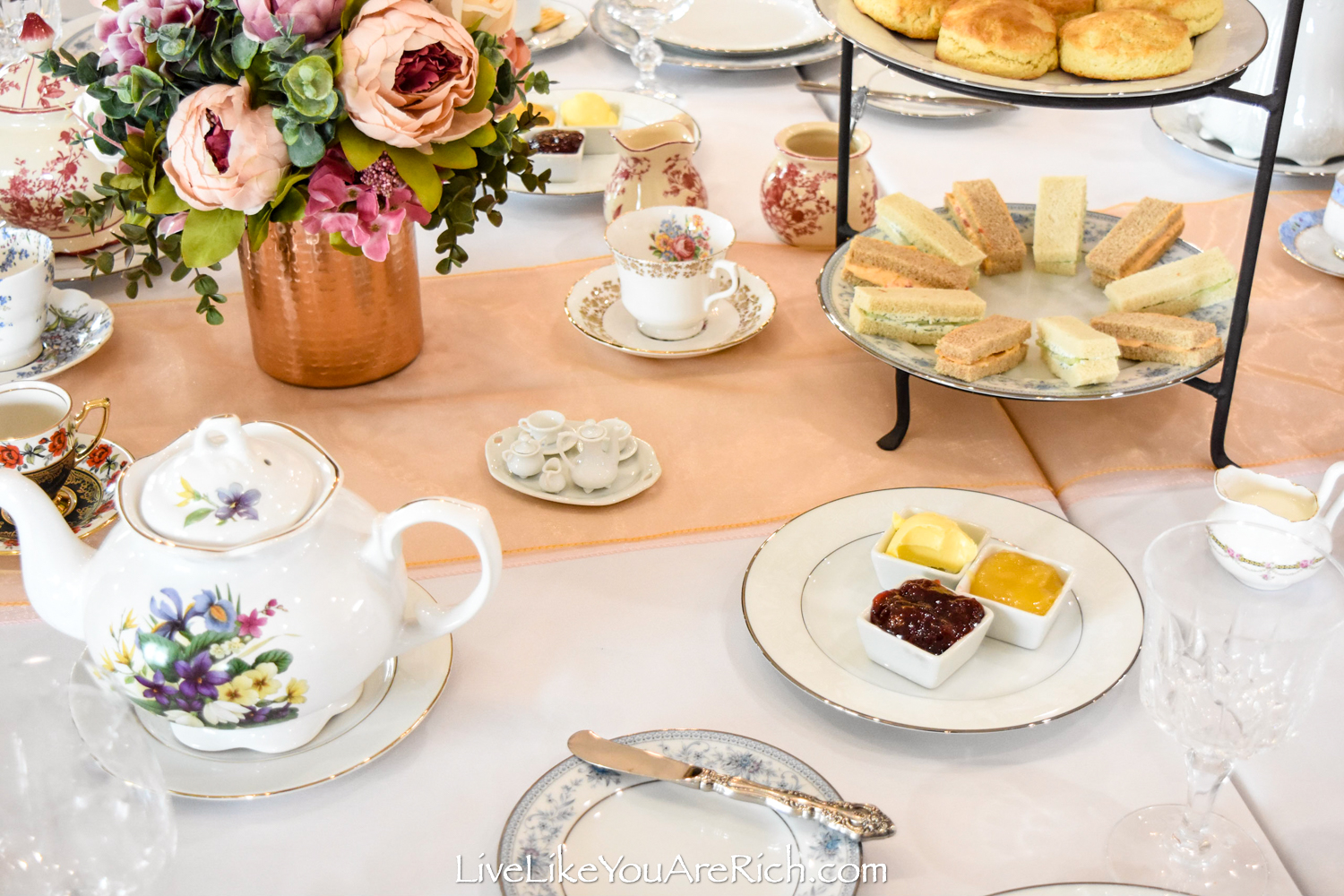 Tea (herbal tea by Stash is what we used and it was so good). We had fun tasting the different flavors!
milk
sugar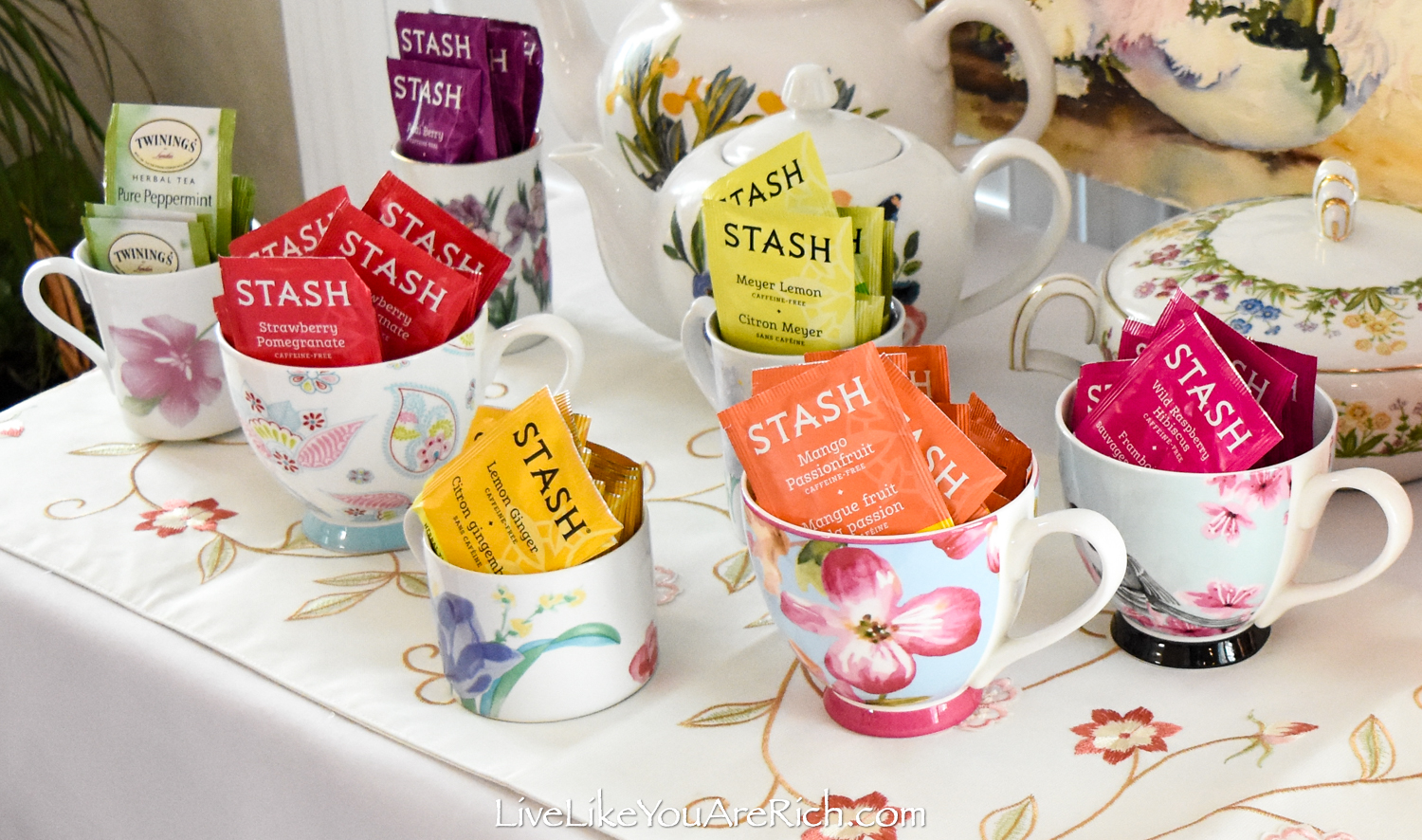 dill
salmon
bread
cream cheese
cucumber
Velveta
red pepper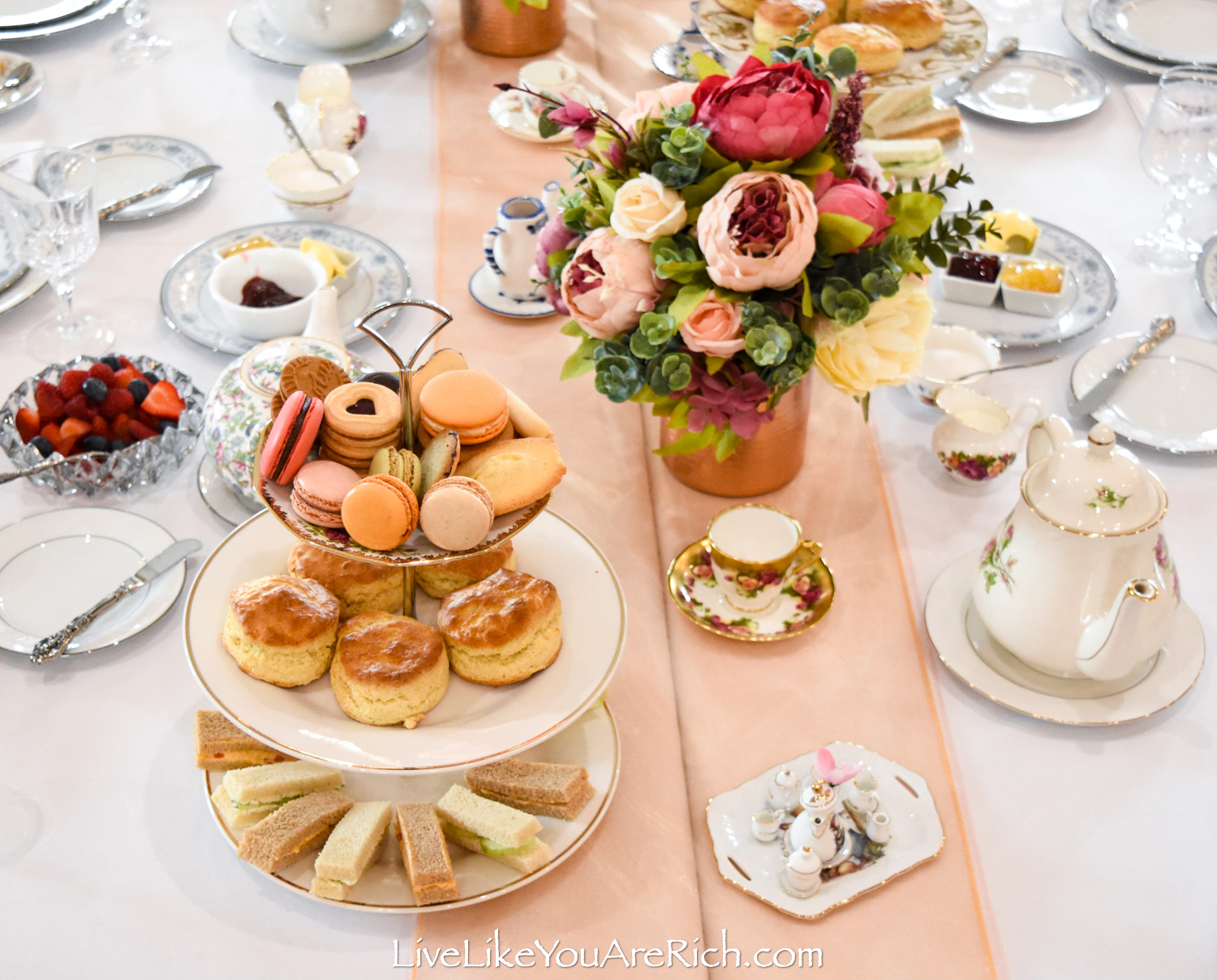 Berries washed and cut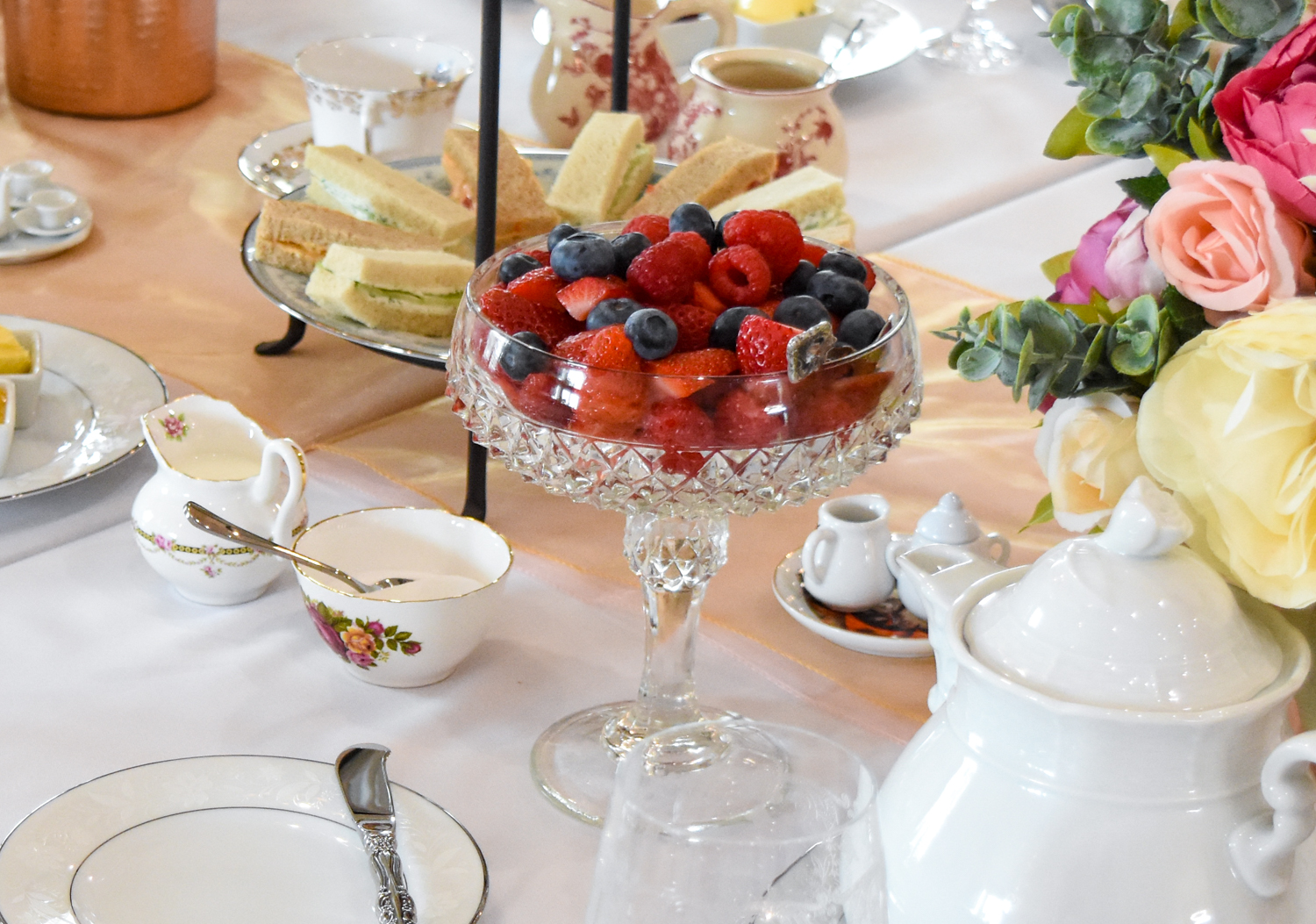 Cookies, crackers, tarts, mini cakes if desired
I got macarons and madeleine cookies from Costco and another pack of Macarons from a local bakery (Fillings & Emulsions Provo Center Street, Utah)
I bought Ikea cookies. I got packs of their heart cookies with jelly filling, ginger thins, chocolate oat crisps and oat crisps.
I bought Pepperidge Farms cookies: Chessman cookies for the tea saucers and the Classic Collection box for variety.
And I got Lotus Bischoff sandwich cookies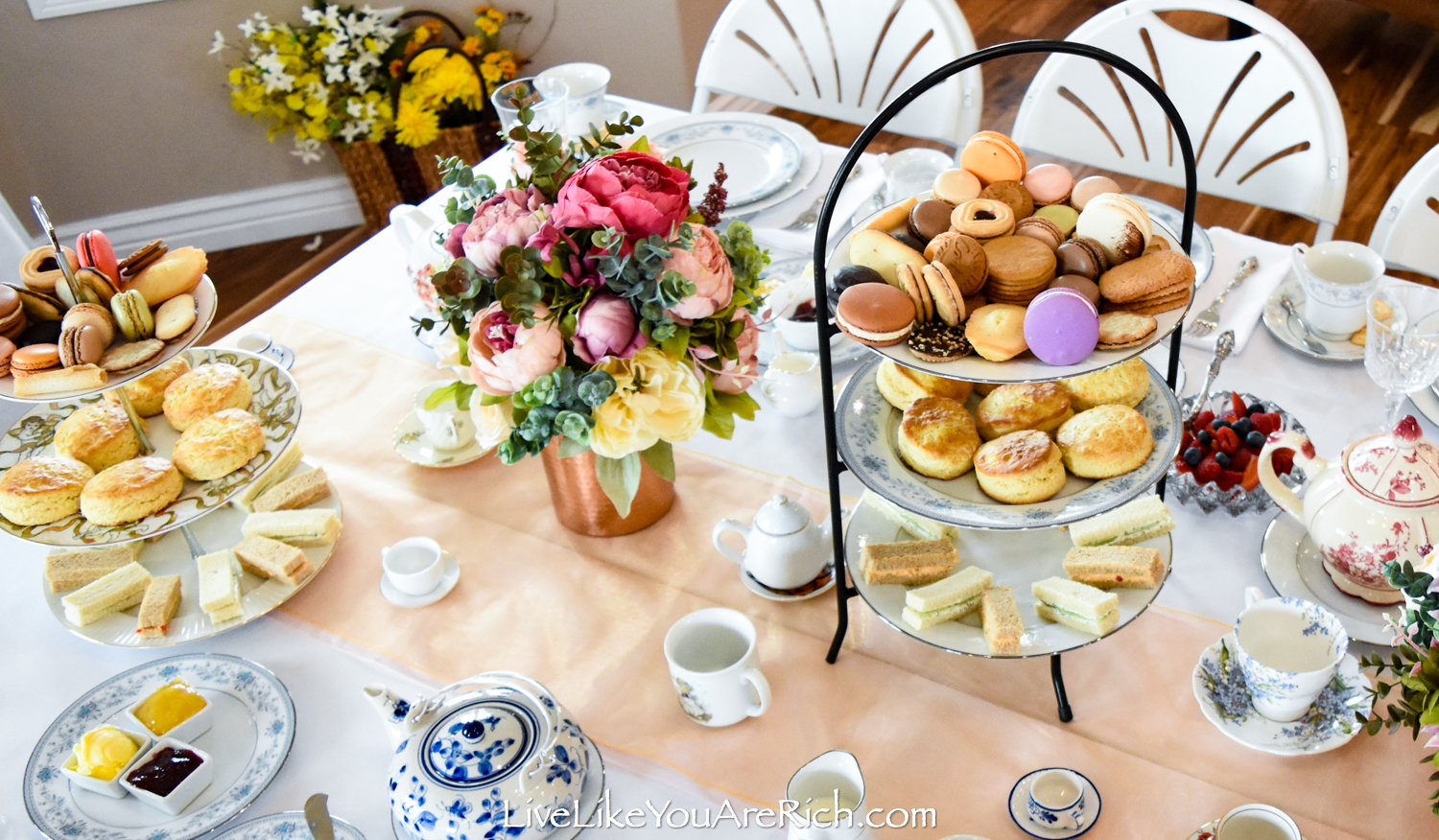 Water infused with lemon and strawberries. I was surprised how many wanted water as well as tea so the goblets and beverage dispenser were used a lot.
Supply List for British Afternoon Tea
table
chairs Or eat more relaxed in sitting chairs
tablecloths
napkins
table runners
tea cups and saucers
forks
butter knife
serving spoons for fruit
goblets
hot water
food (see meal list)
invitations (photo paper, shimmer card stock, scissors or paper cutter, mod podge, and foam brush)
decorations (floral arrangements)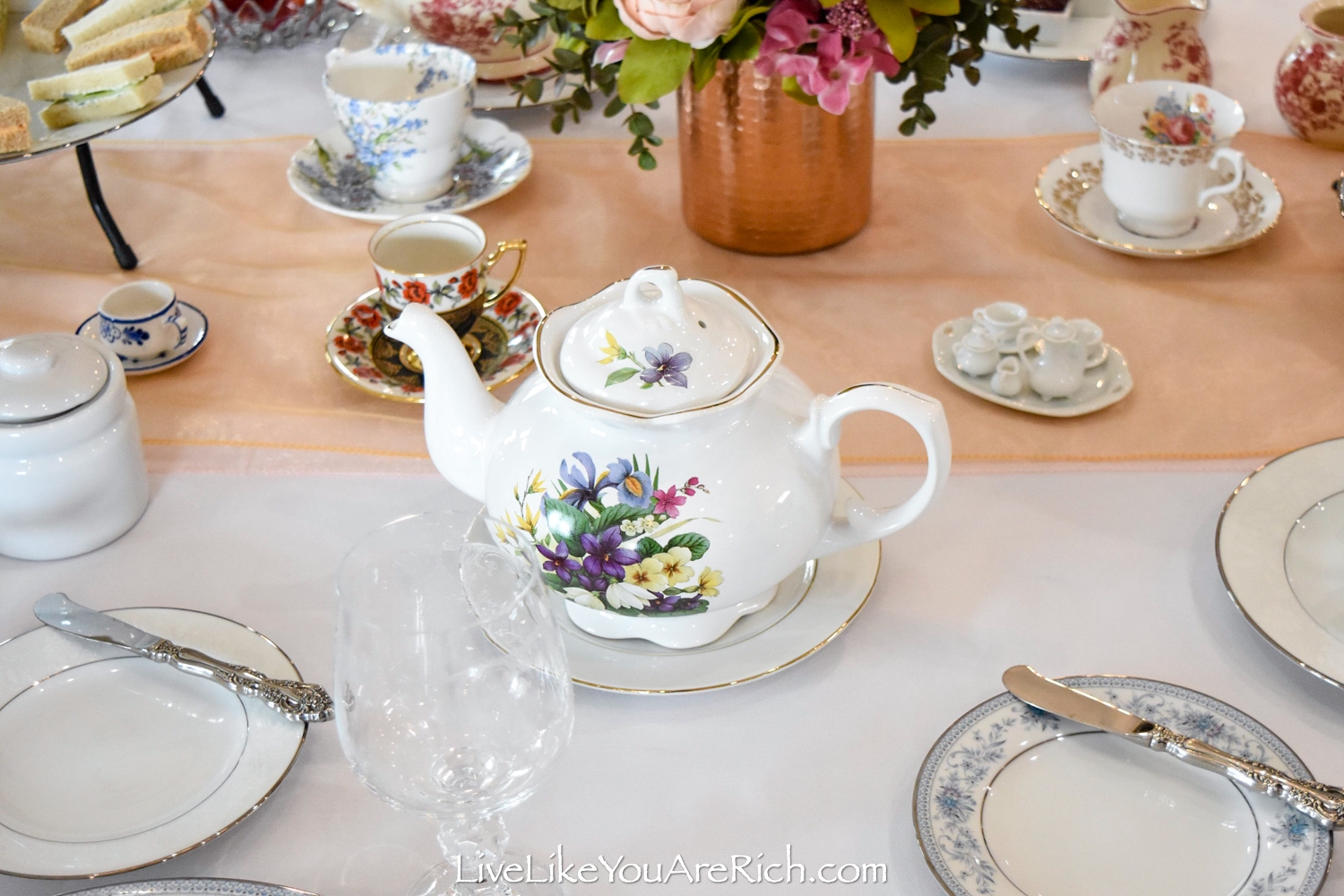 How to Put on a British Afternoon Tea
1. Send out invitations
This was the invitation that I sent out.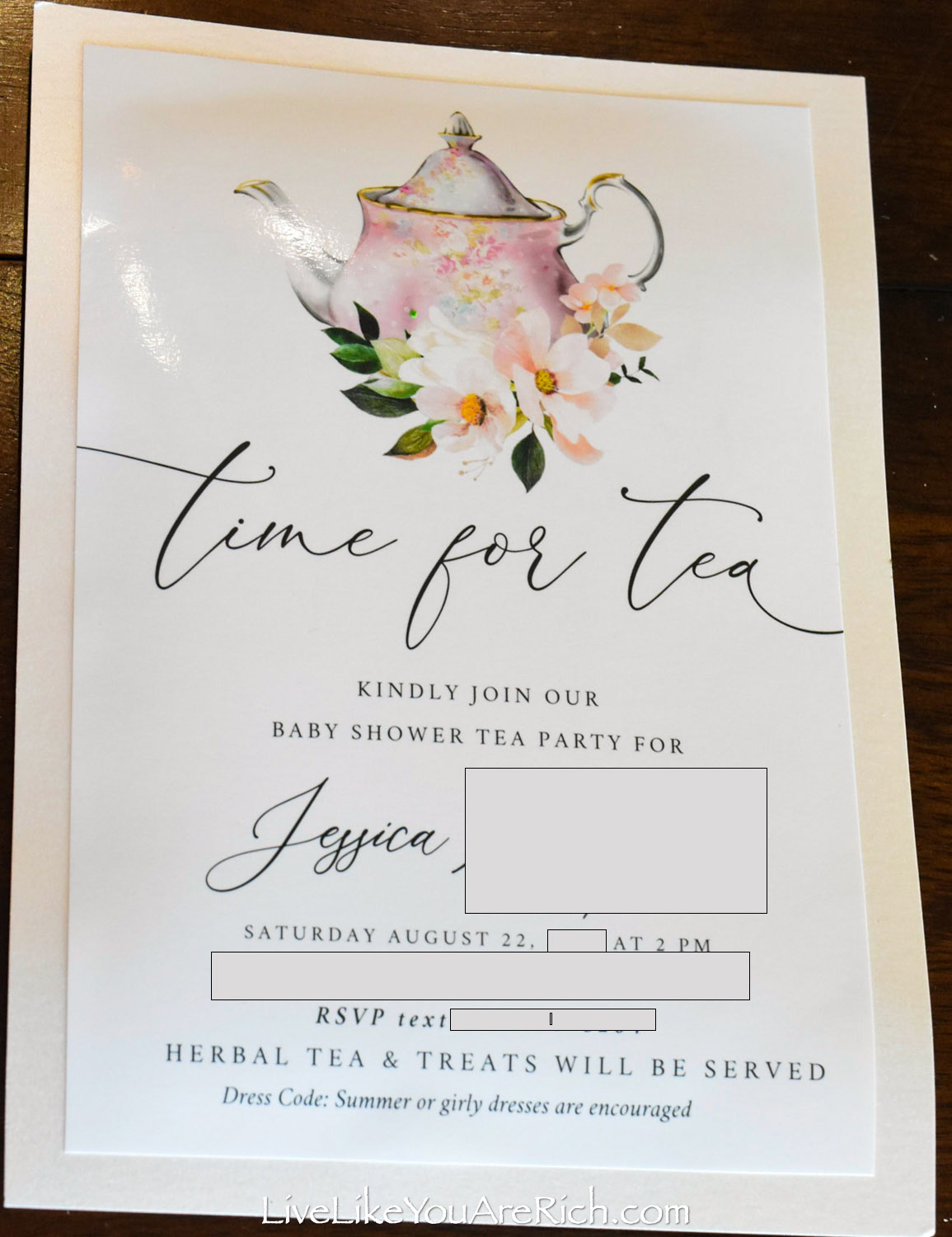 I bought the file here on Etsy. I printed them on photo paper (with our home printer). Then I cut it straight using a paper cutter. Next, I spread a thin layer of mod podge on the photo paper with a foam brush and glued it on to shimmer card stock. Once it was dry, I placed it under a heavy book to make sure it didn't bow.
I was worried that Mod Podge may not work. However, the invitations came out very good and I still have mine (over a year old), and it still looks great.
The file was about $4.00 and I also used the tea pot graphic to print off return labels and thank you labels.
I put the Thank You labels on the gift bags that I sent the guests home with.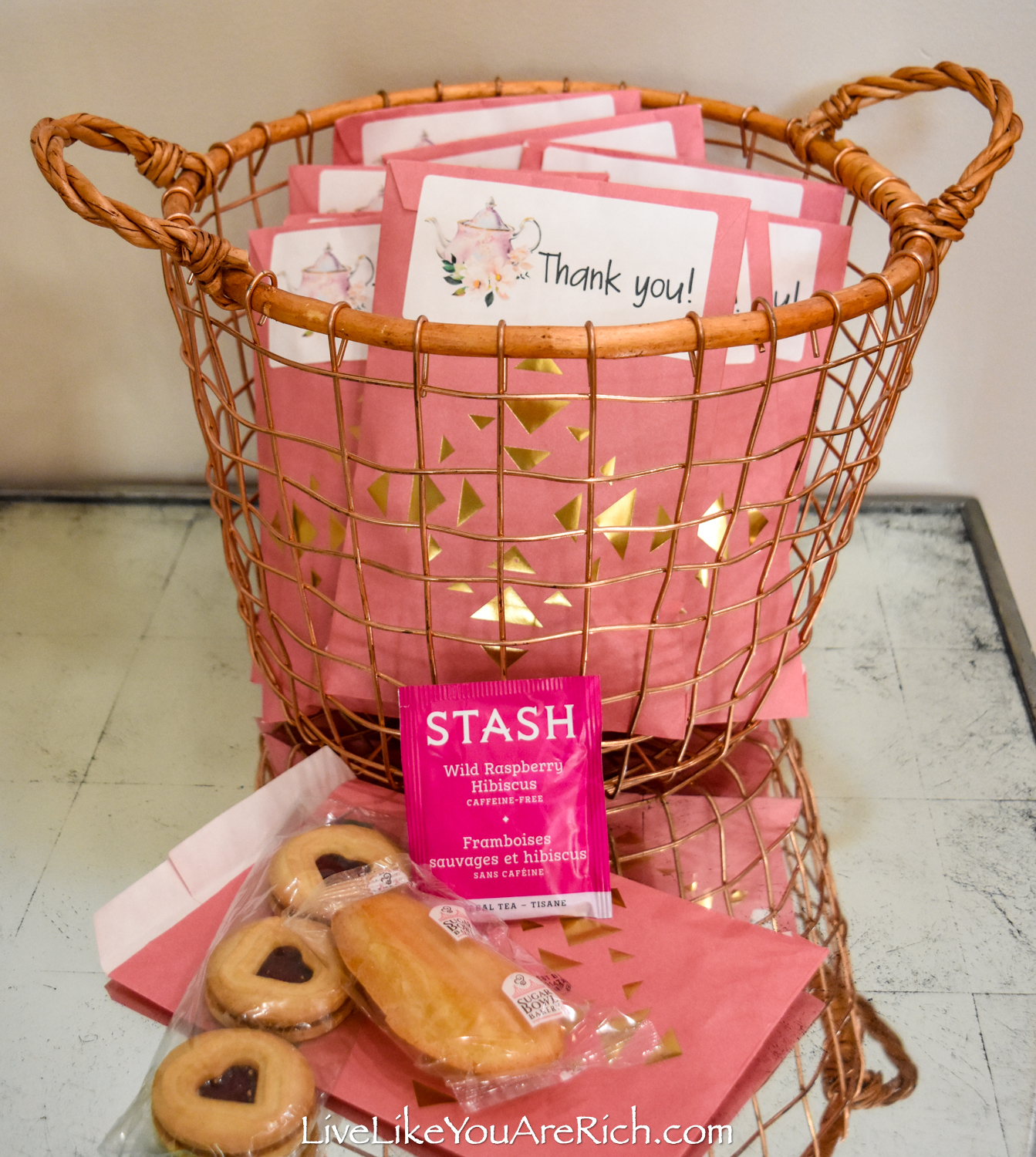 In each gift bag I sent the guest home with a tea bag, Madeleine cookie, and some jelly filled heart cookies.
I ironed the table cloths and set the four of them on four 6′ folding tables. I had table runners and I layered them (one rose gold, and one yellow gold which made a copper colored table runner).
I was given the blue and white china set when I married Shane.
Later, I bought a white set off of classifieds for $100 (for this Thanksgiving tablescape).
So, I also had the main sets of china and tea cups.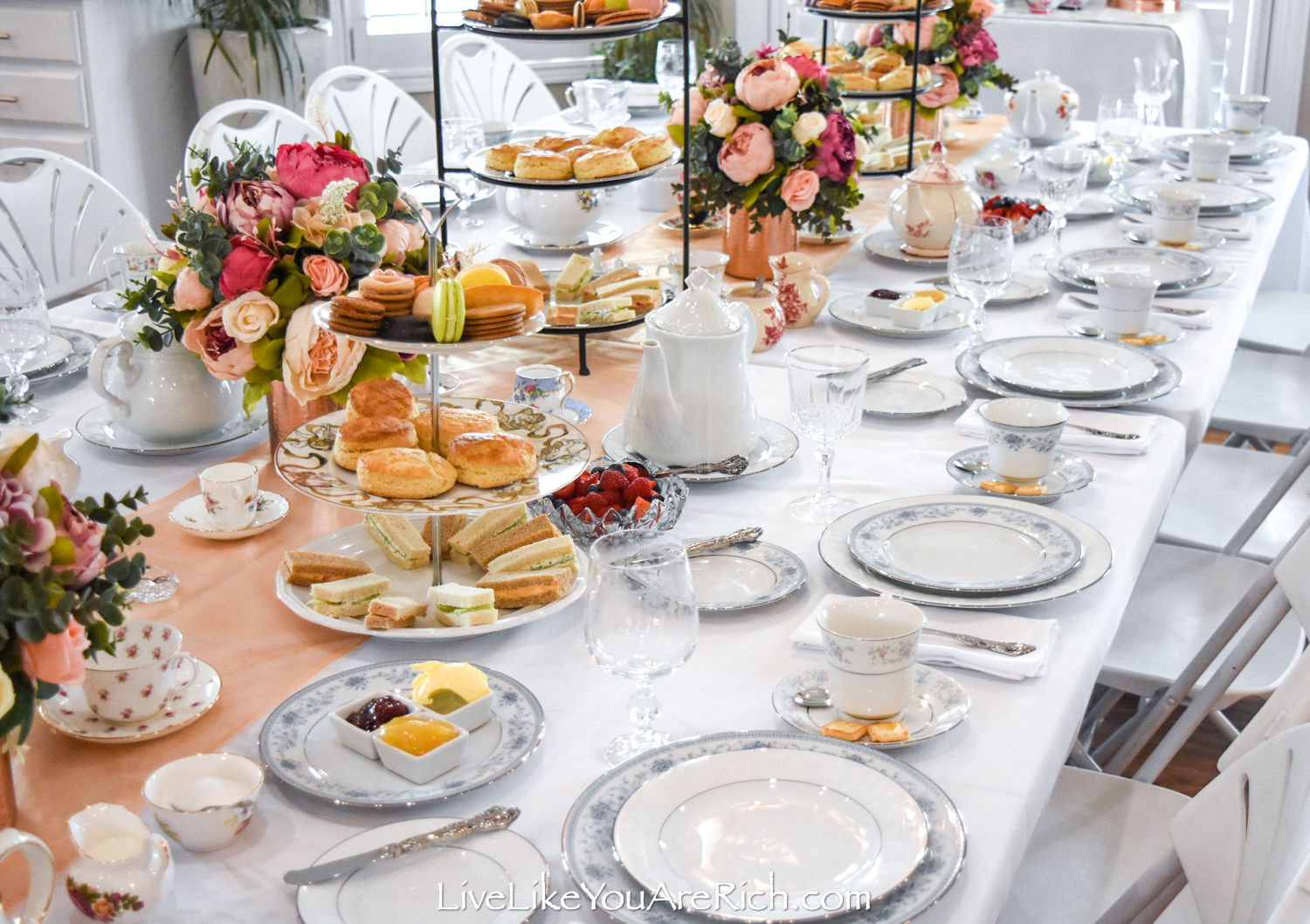 Mixing the two sets allowed me to make more place settings.
I ironed the napkins which I had as well.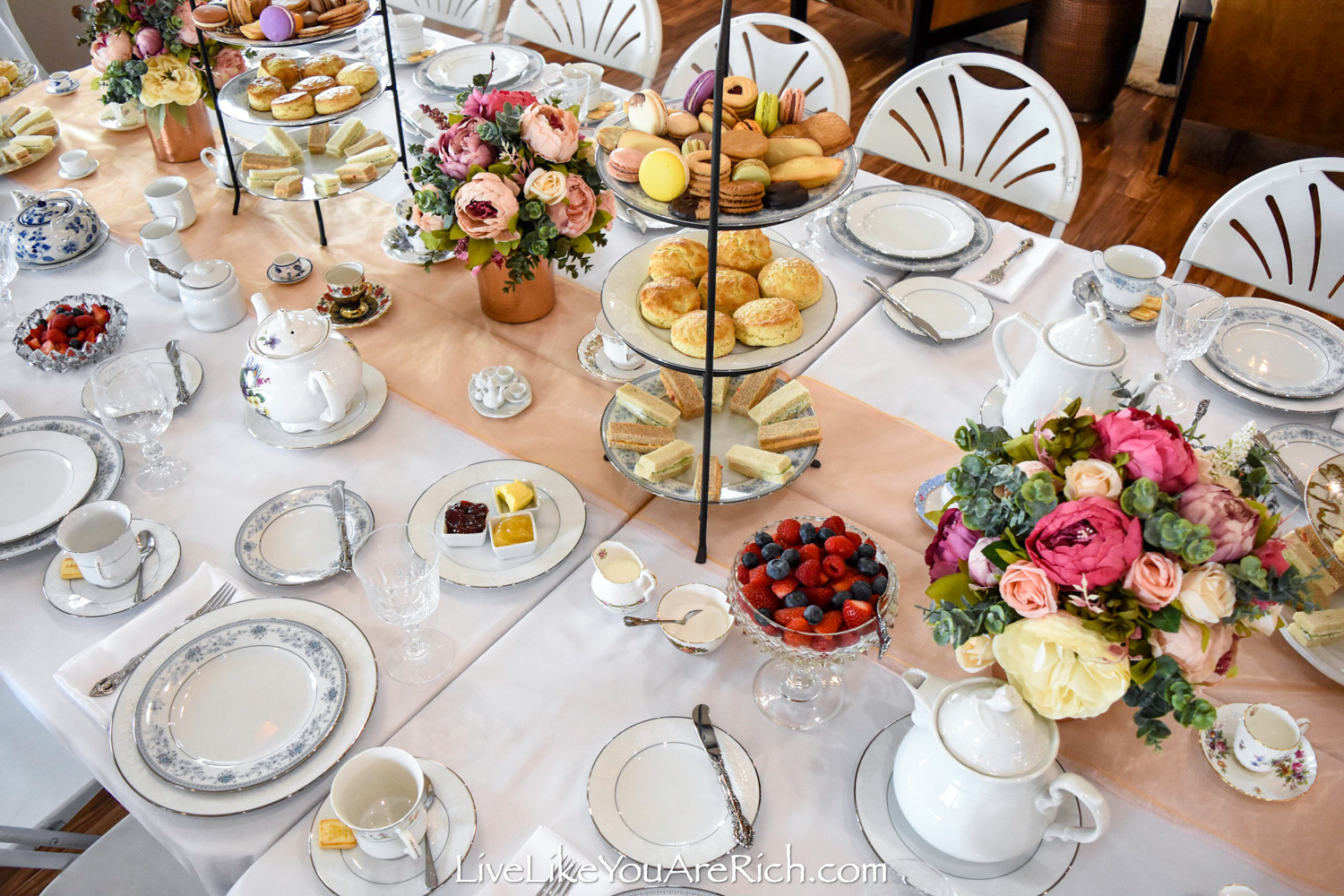 I borrowed the silverware from my grandma.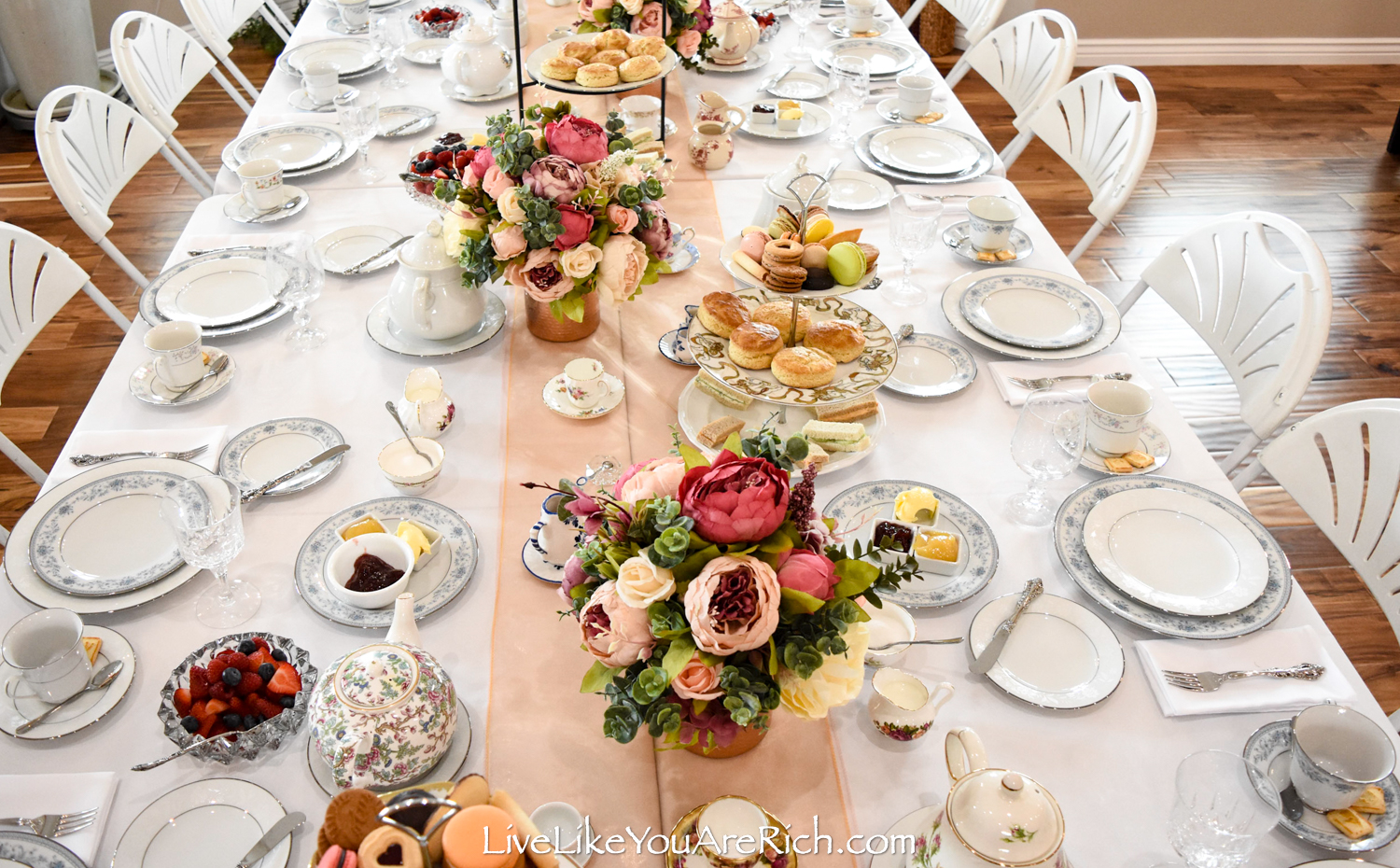 I had the goblets (given to me by my grandma and mother-in-law).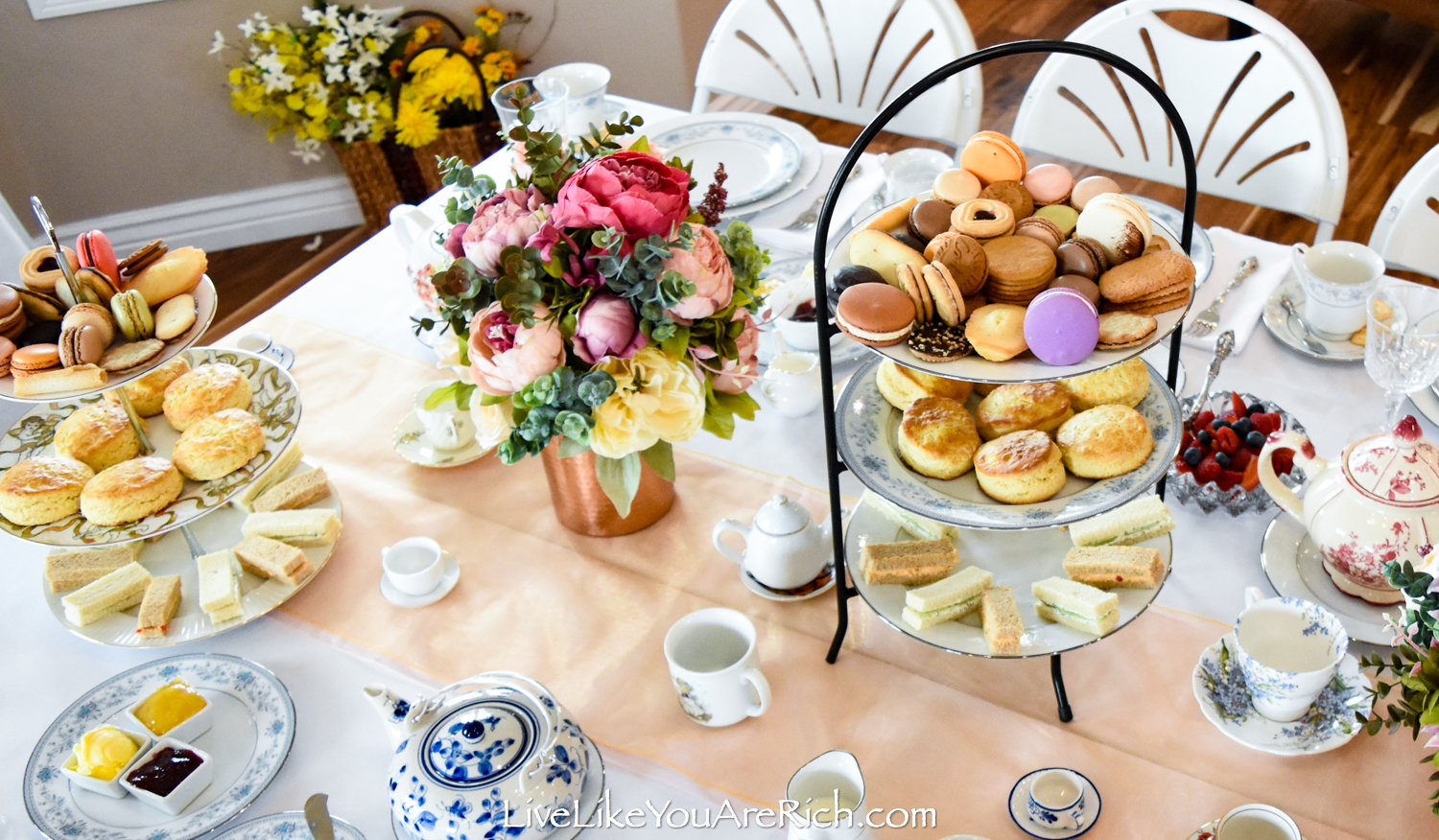 I bought the teaspoons on Amazon here.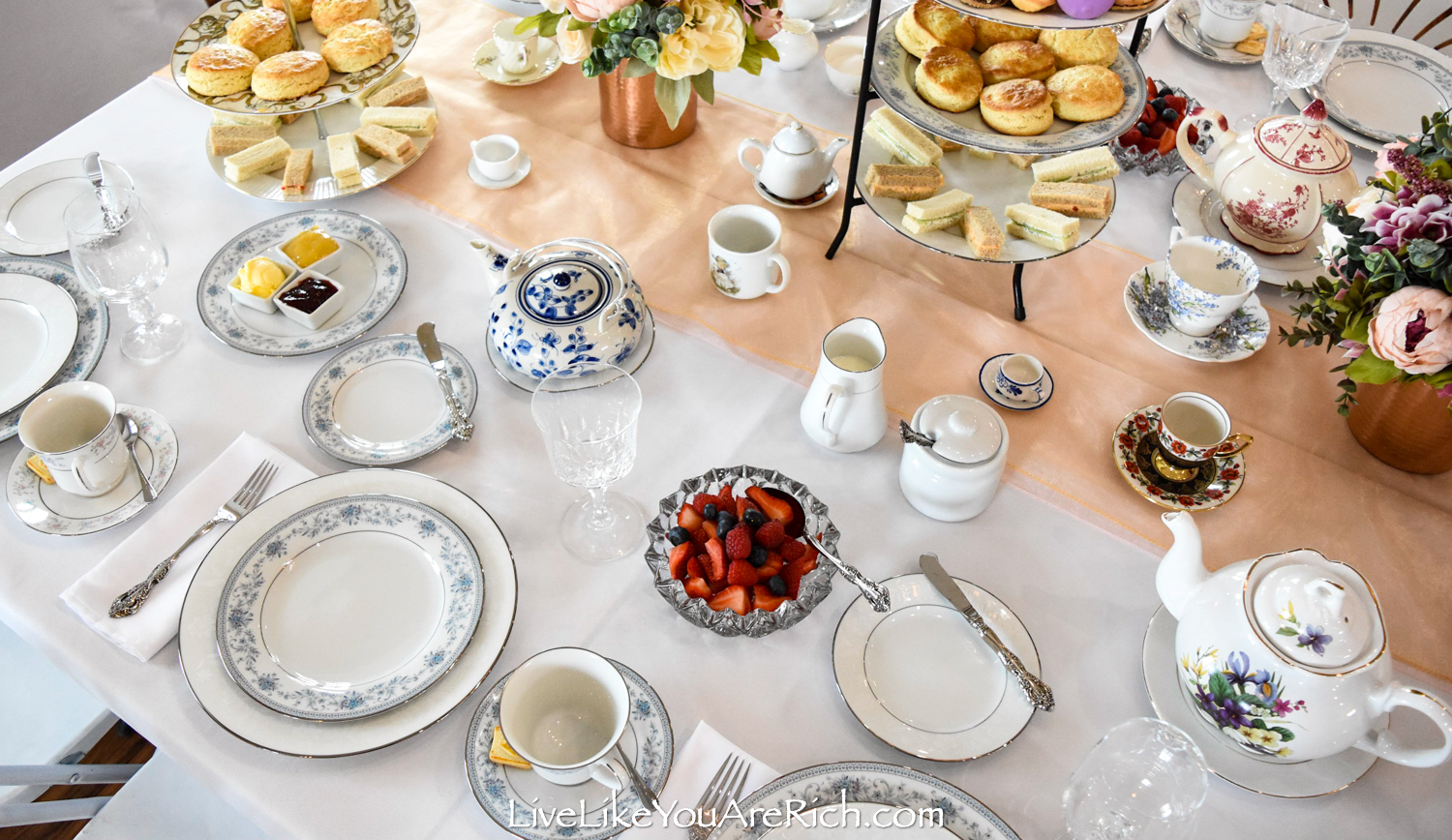 I made these rose peony floral arrangements (tutorial here).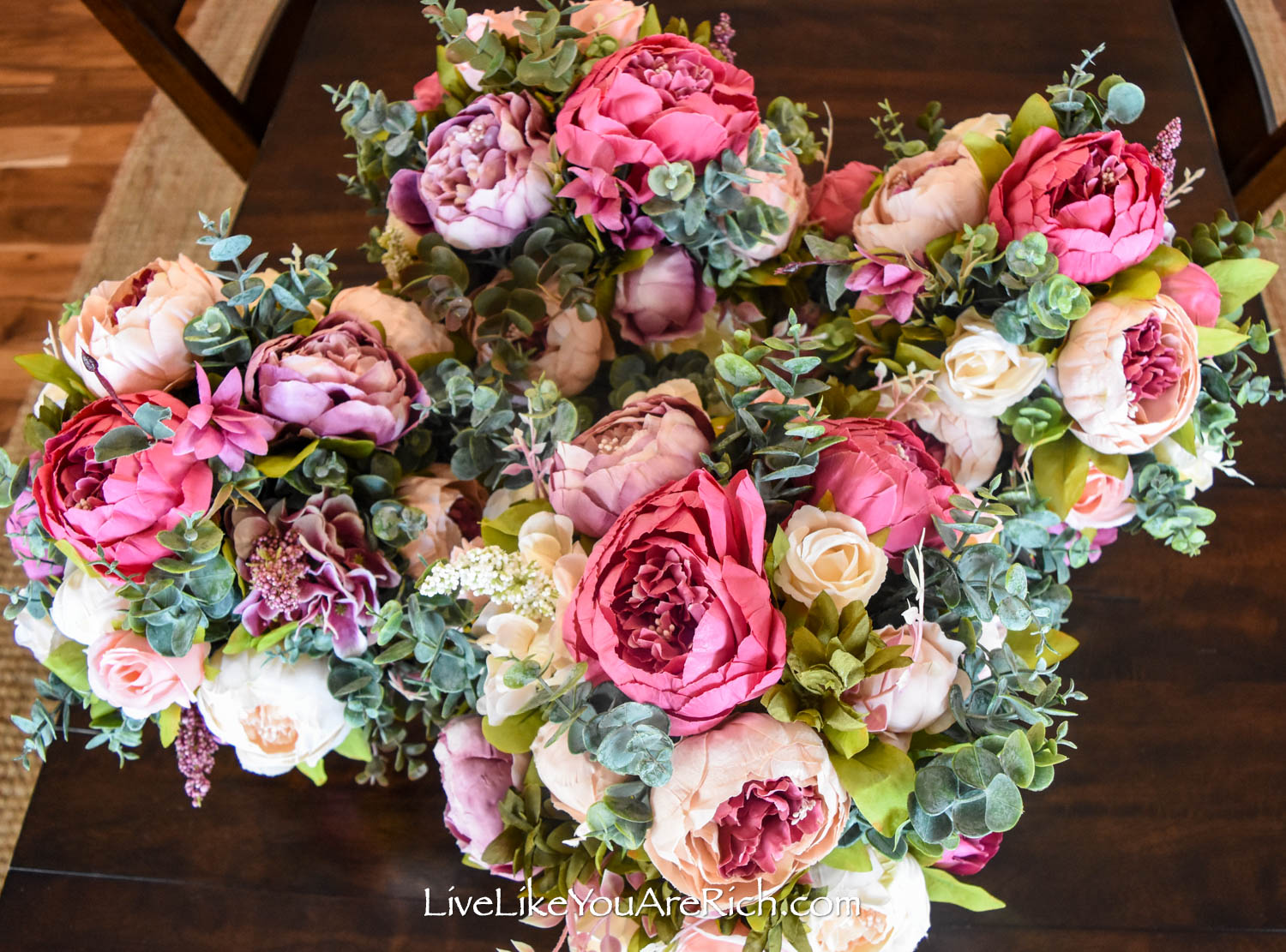 They looked pretty in the copper vases on the copper colored runner.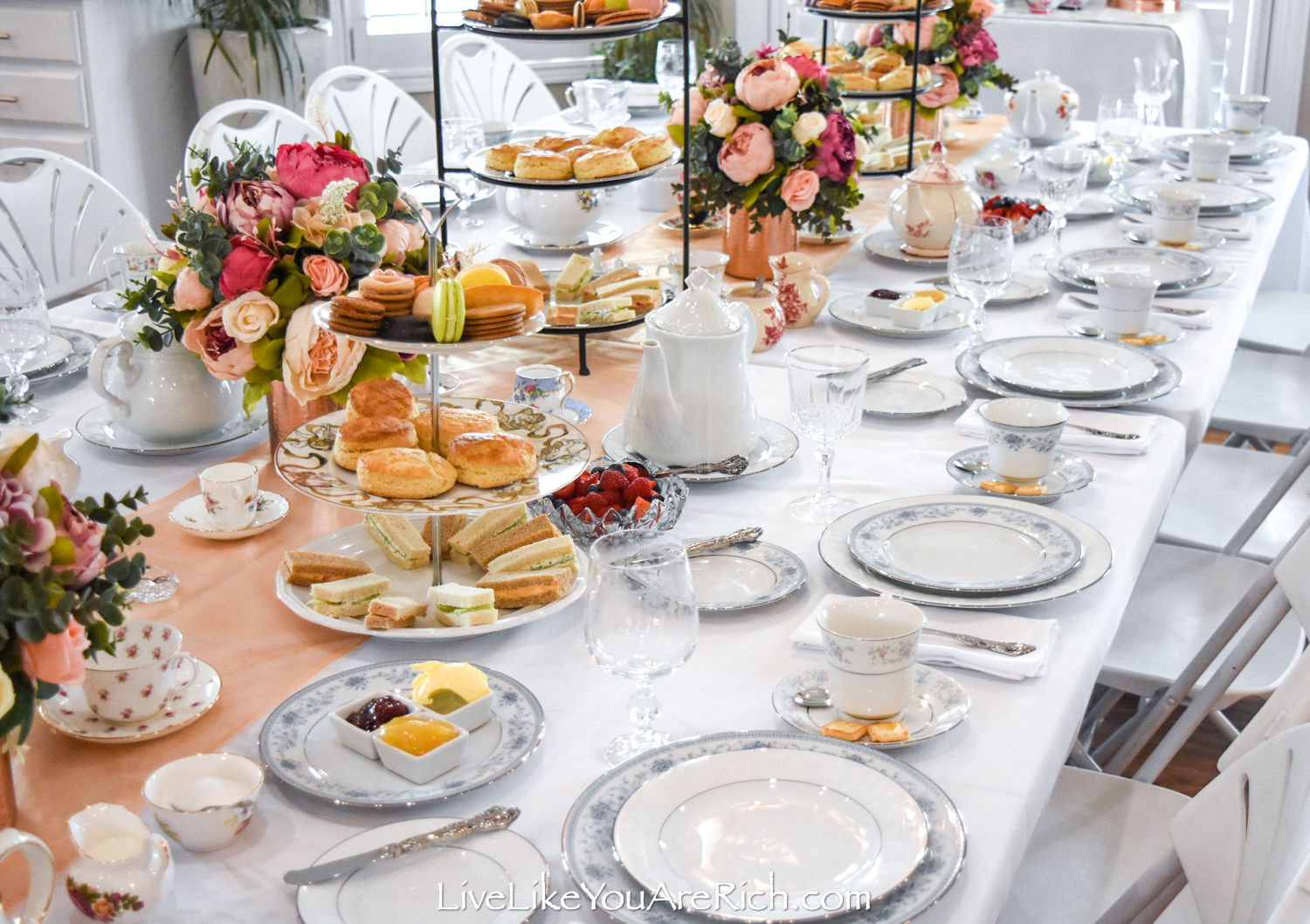 I made three Victorian tea stands out of porcelain plates (tutorial here).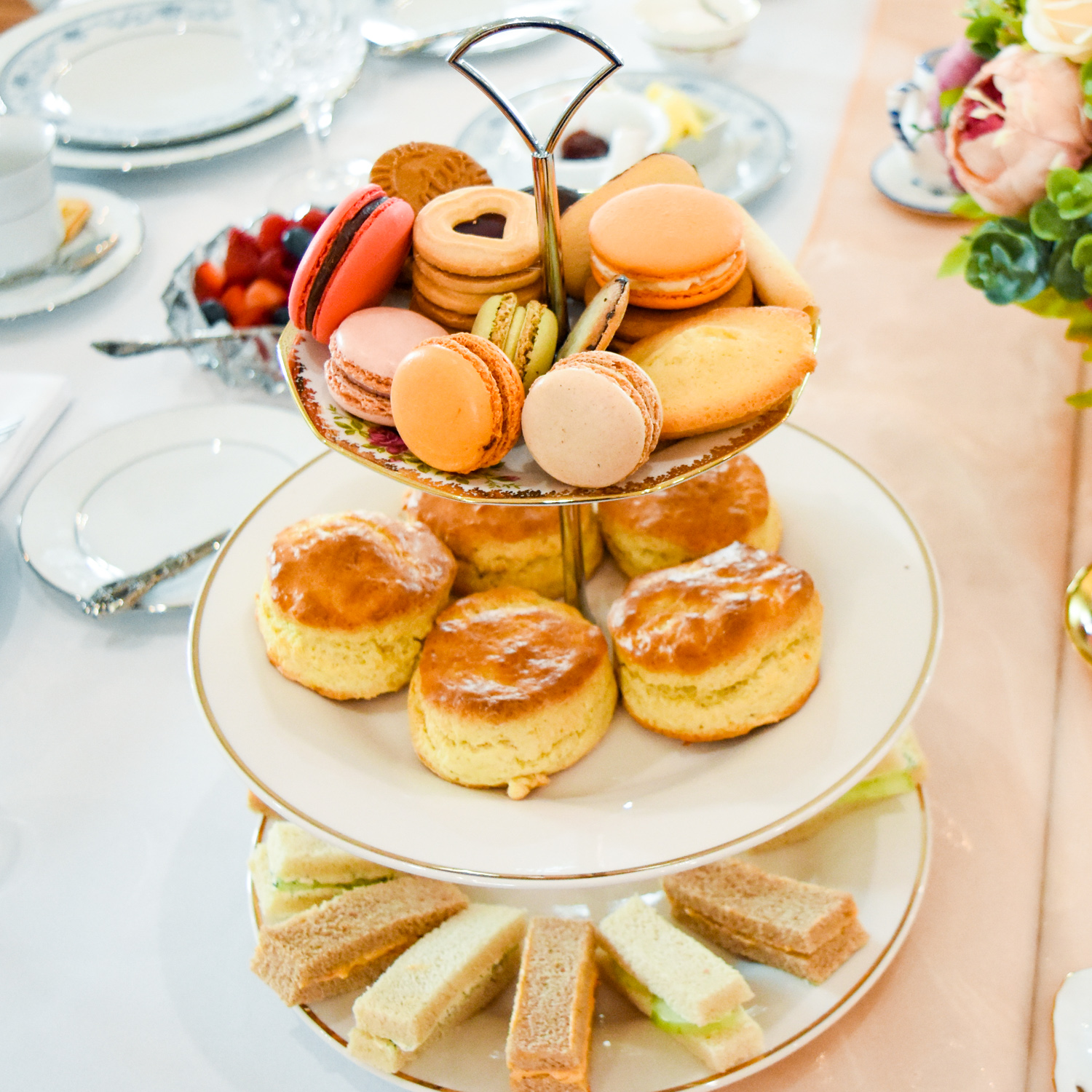 Sandwiches traditionally go on the bottom, scones in the middle, and desserts at top.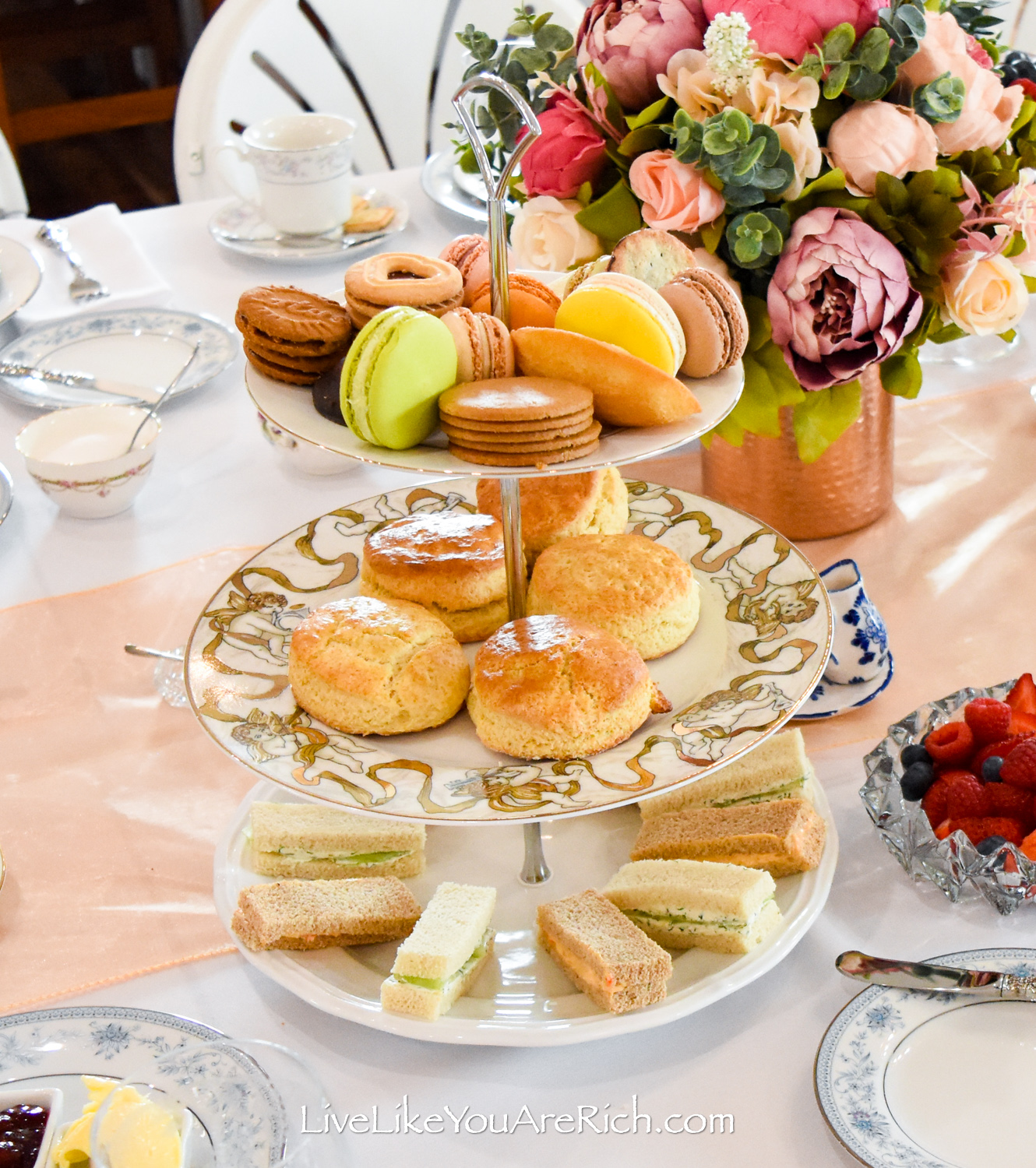 I also bought a few 3 tiered plate stands that I could slide my china on to. I found some at Crate and Barrel and on Amazon for ~$50 each which I thought was a bit pricey. I decided to try to find them on local classifieds and garage sales.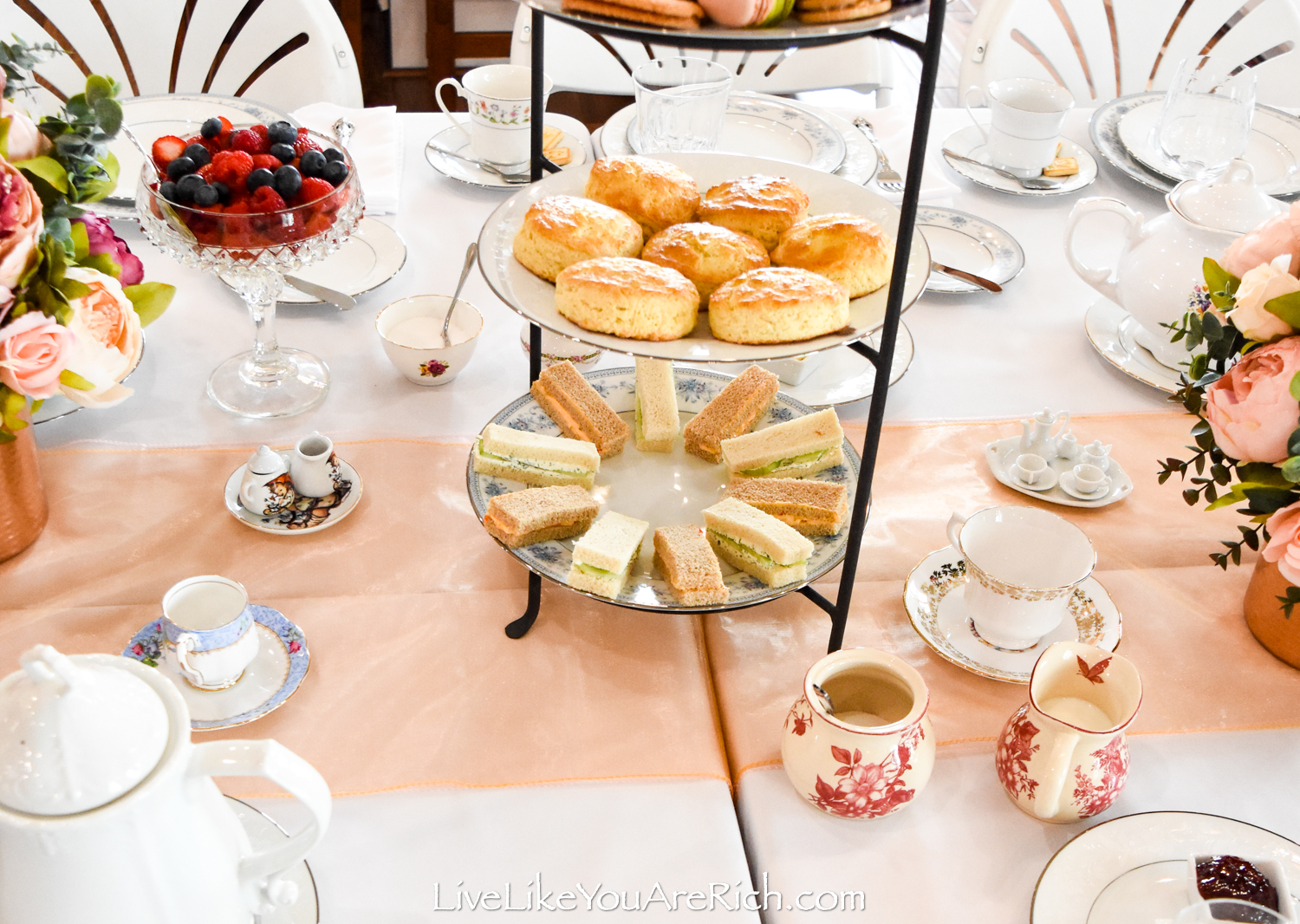 I found one at a garage sale for $4.00 and one on local classifieds for $5.00.
I layered a pink and gold runner to make a copper colored one.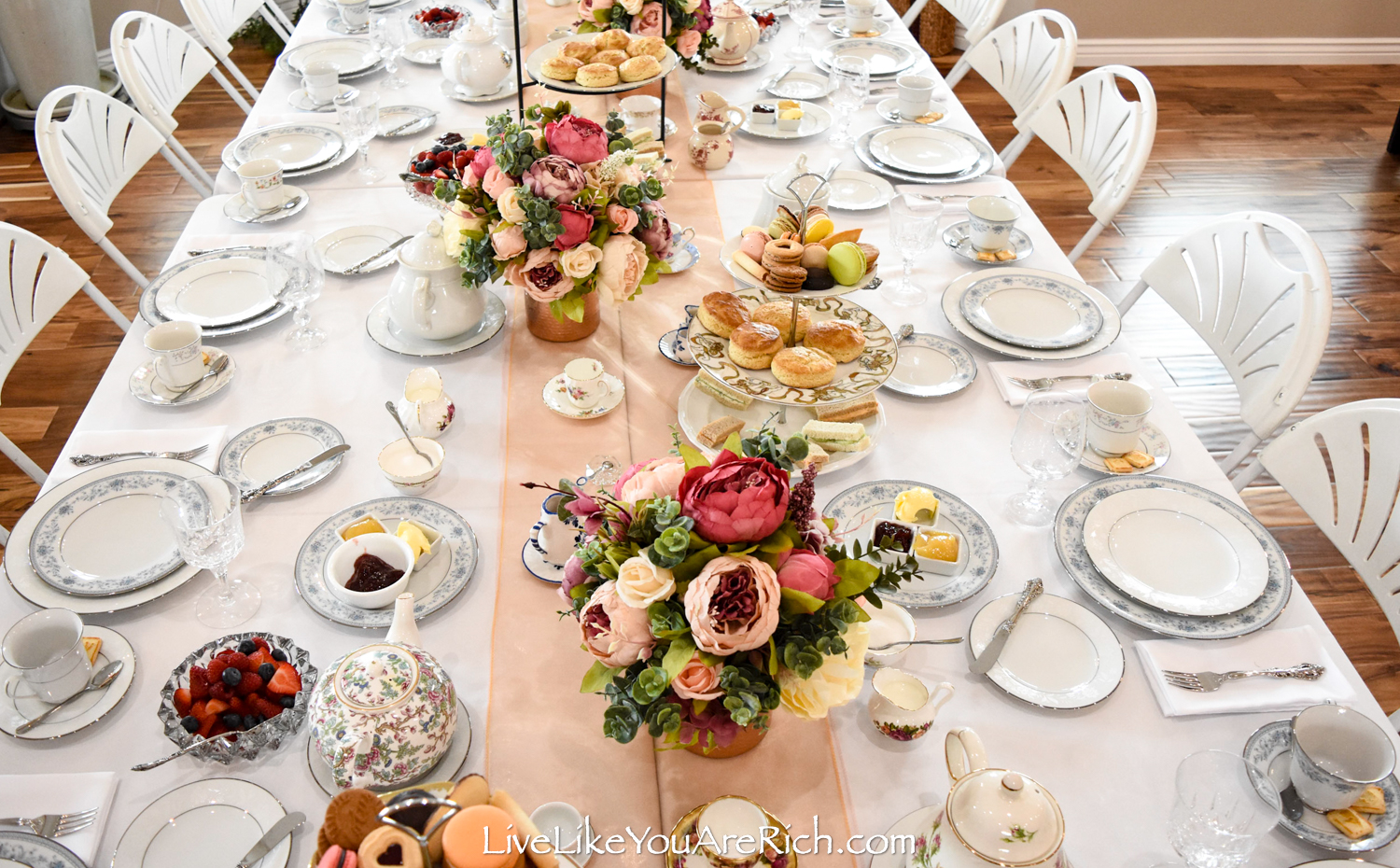 I decorated the table with tea cups and tea sets.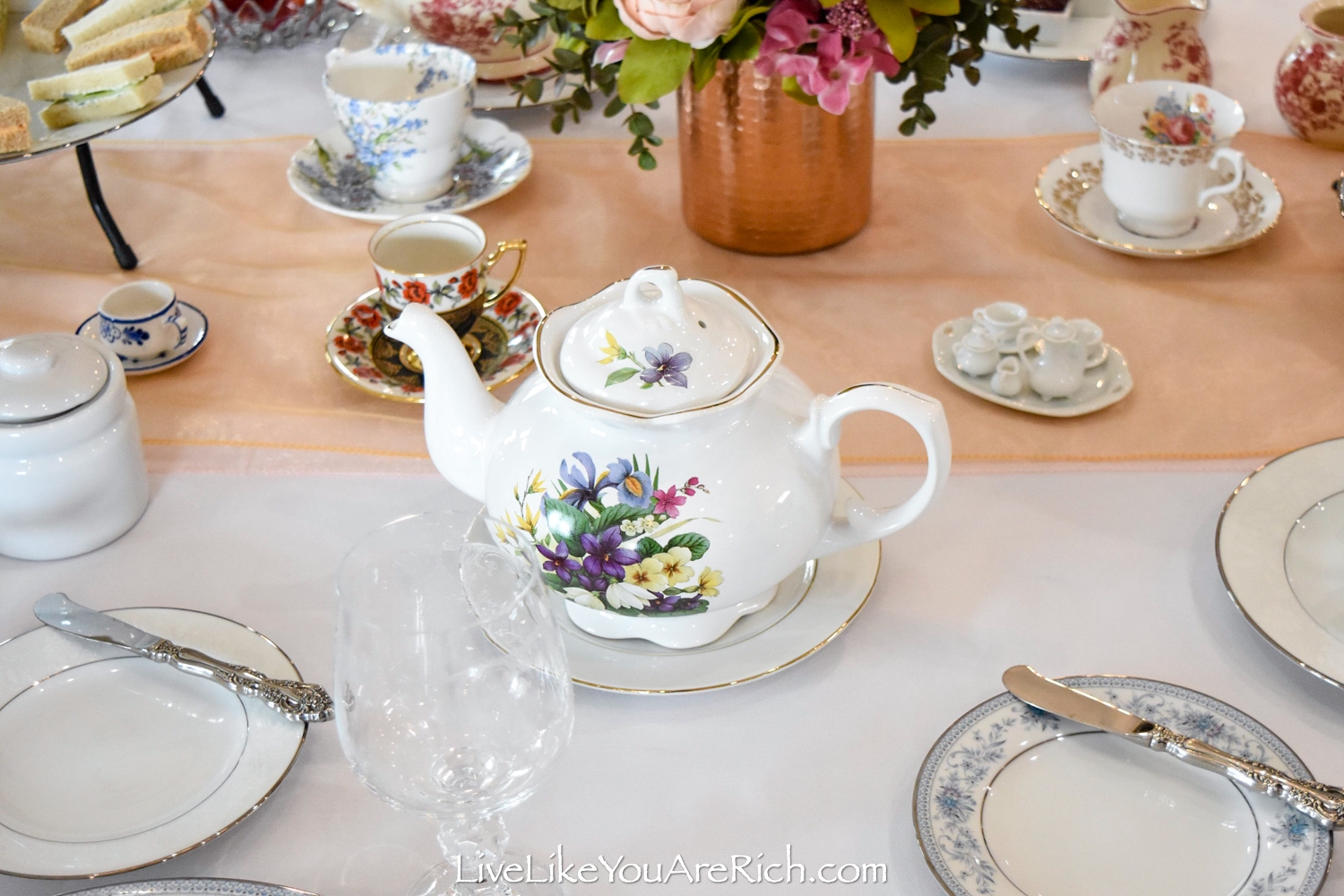 The tea cups and tea sets that I put along the table runner were used for decoration only.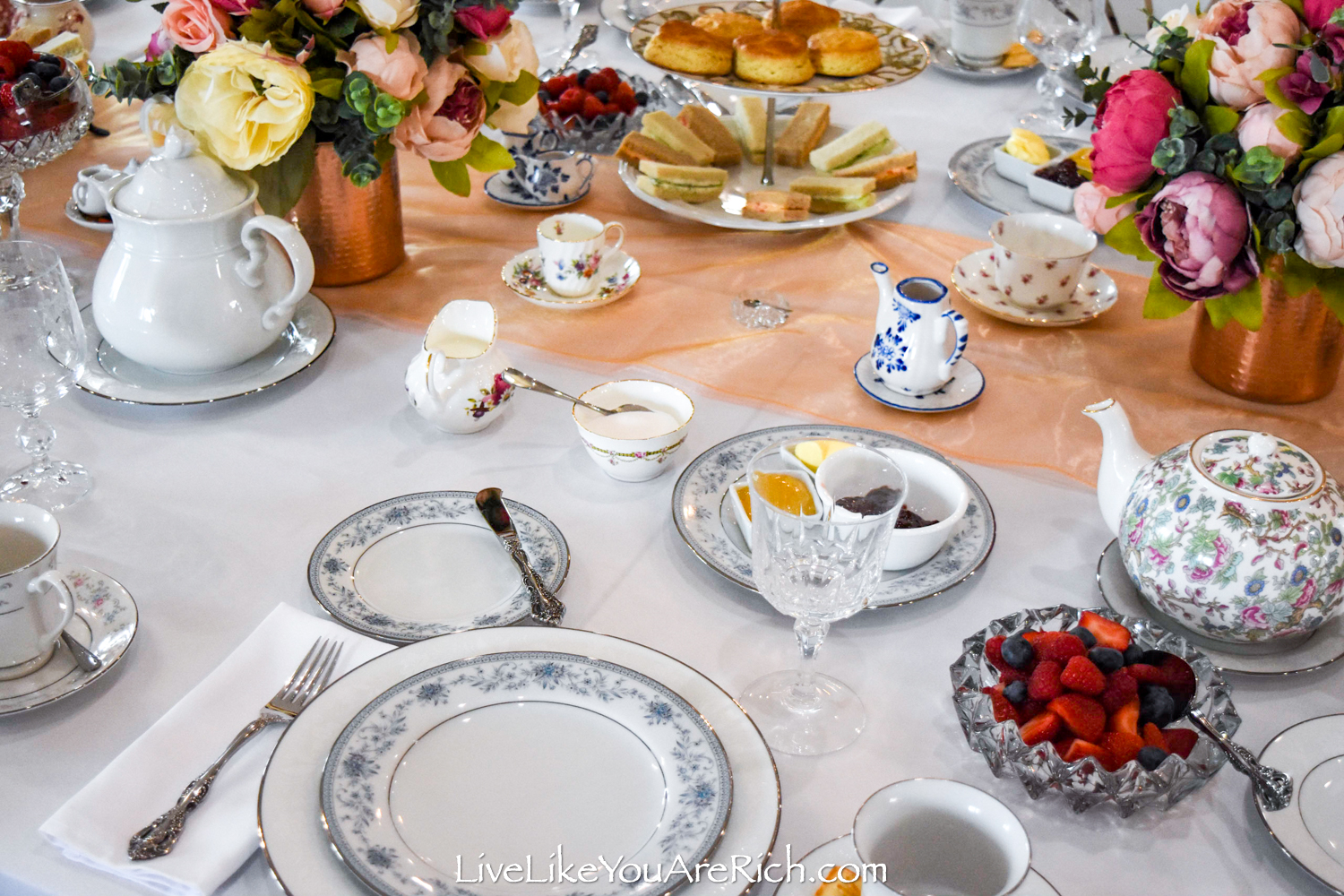 I went to an estate sale of a woman who immigrated here from Germany and bought many of her collectable tea cups (that I used as decor along the table runner) and tea pots she had (which we used to steep the tea bags in).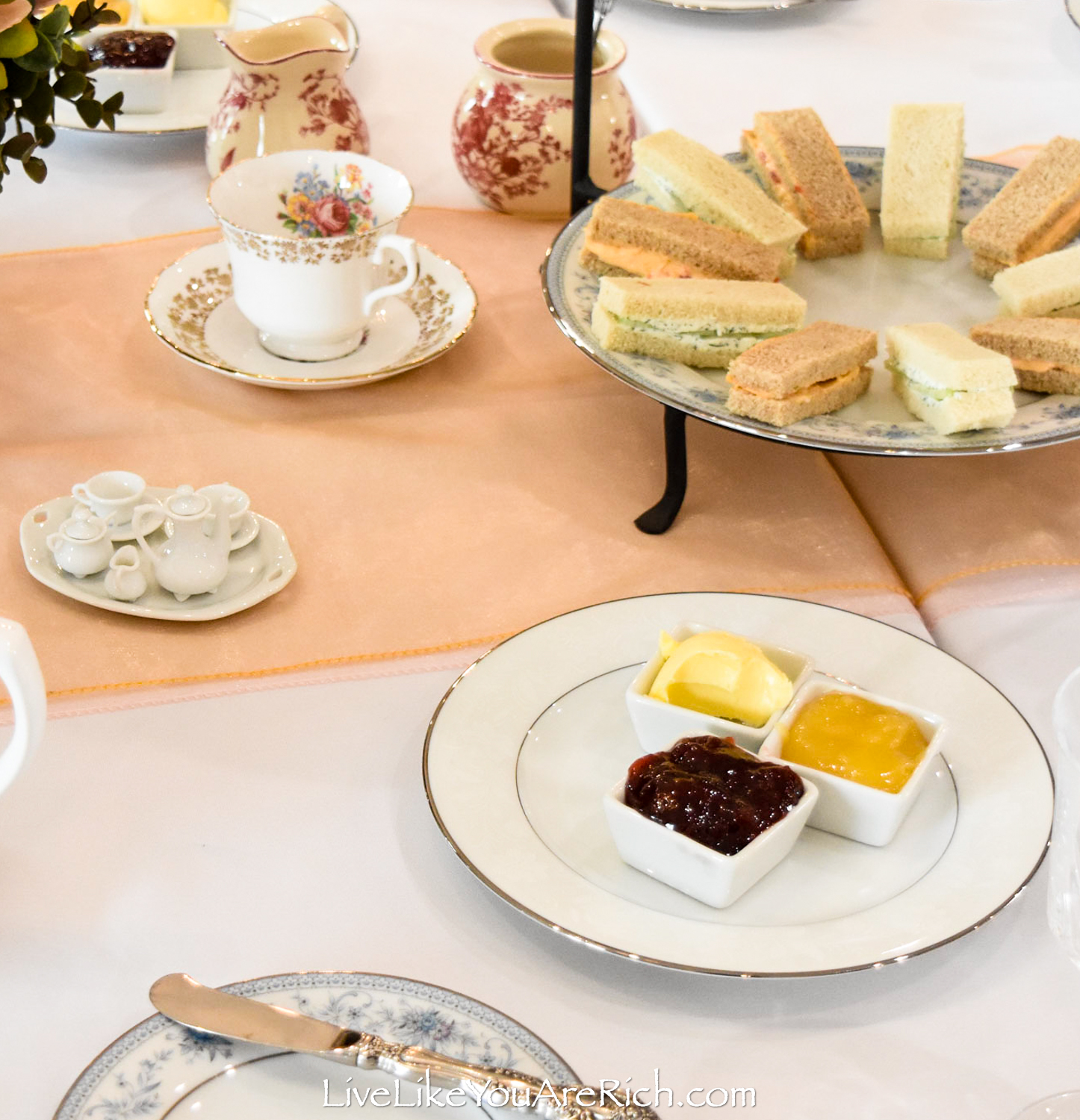 Many years ago, my grandma had given me a few cute children M J Hümmel tea sets. I had given them to my daughter to play with. We used these to decorate the table as well. Aren't they cute?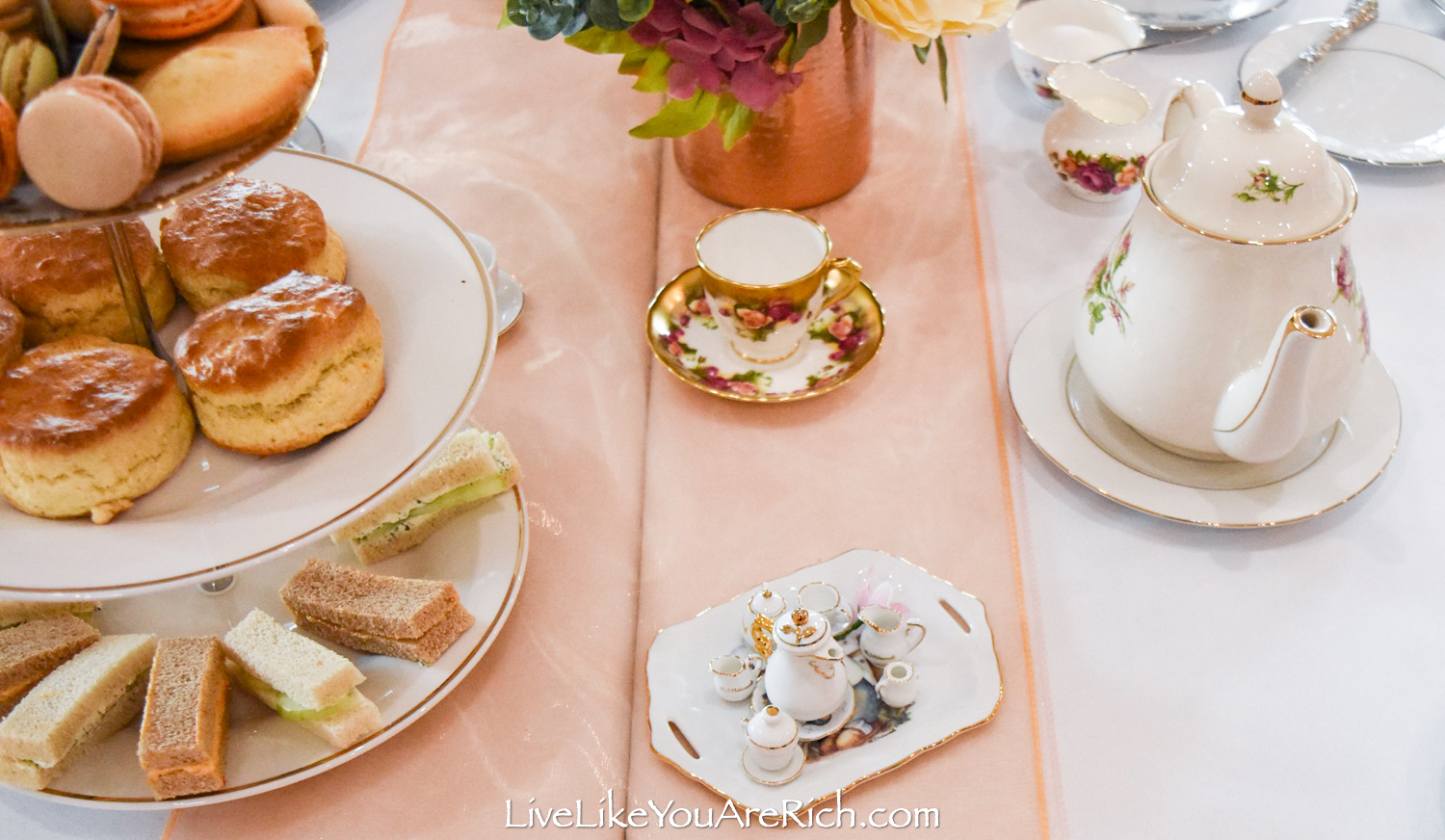 I also found an ad on the classifieds of a woman who was selling brand new authentic English tea pots and sugar and creamer bowls. I drove over an hour to her house and was not disappointed with her collection.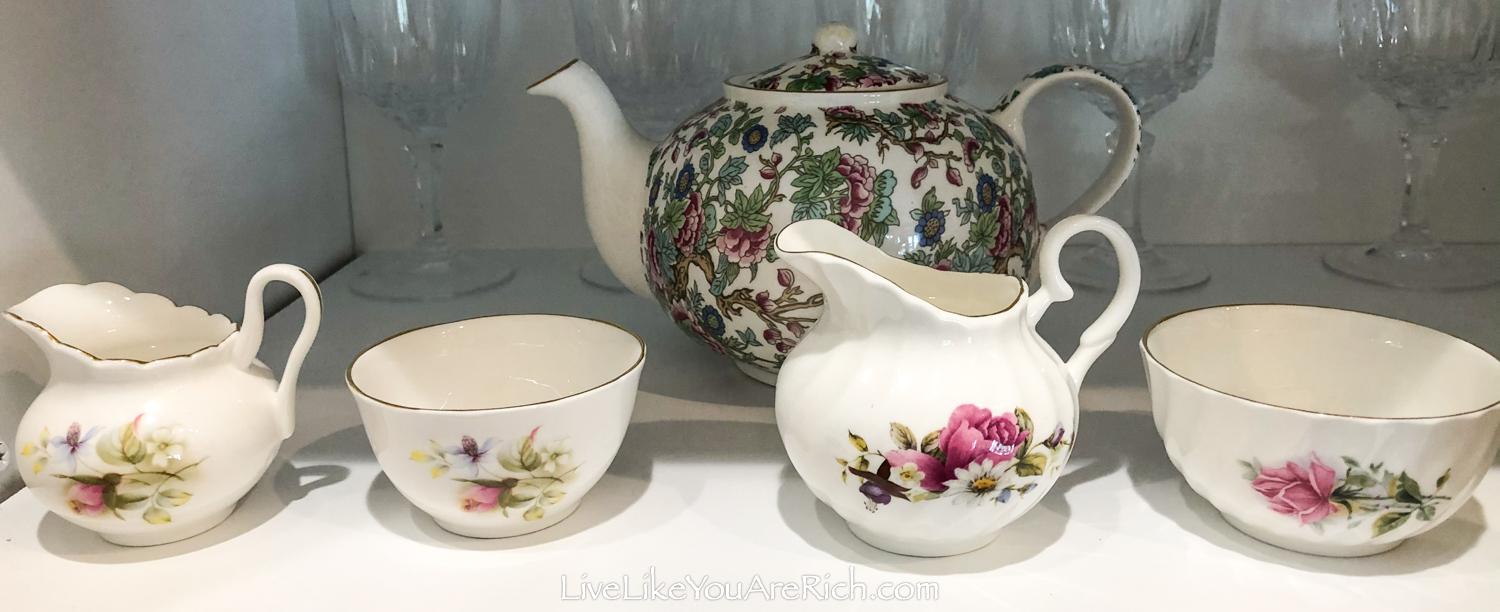 The creamer and sugar bowls and tea pots were darling. She gave me a great deal on them.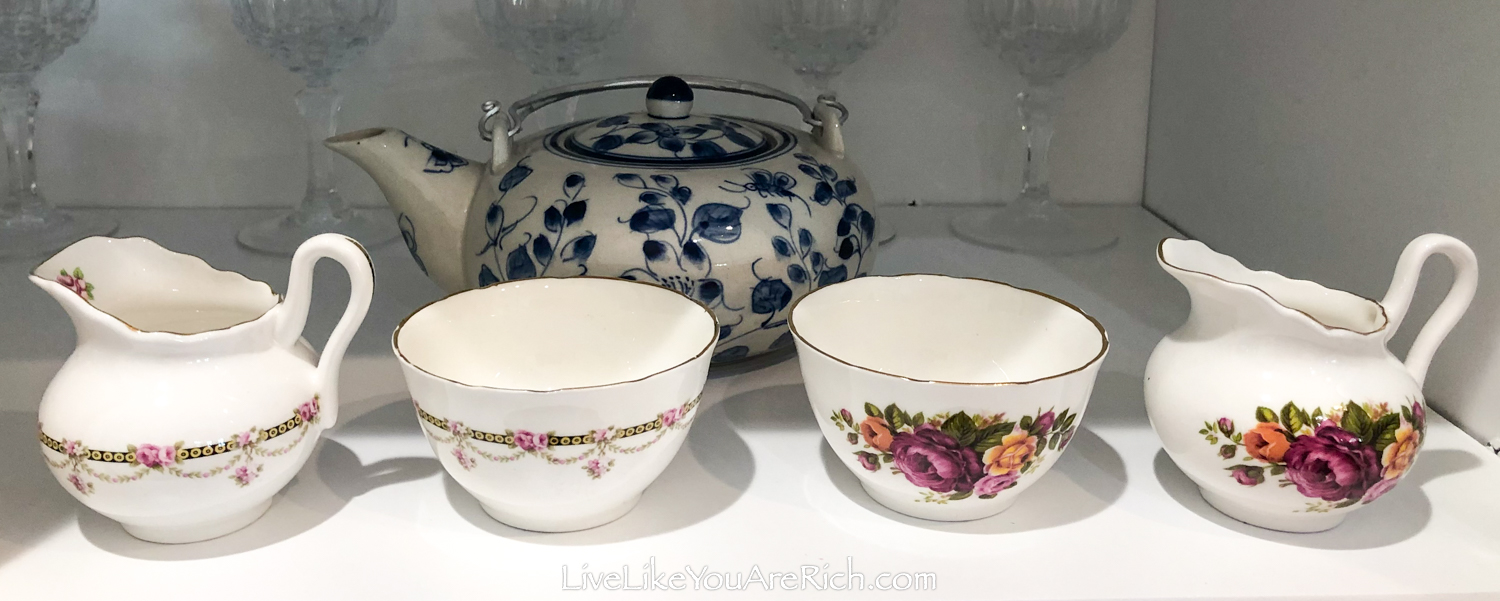 $7.00 for each creamer/sugar set and $15 a tea pot.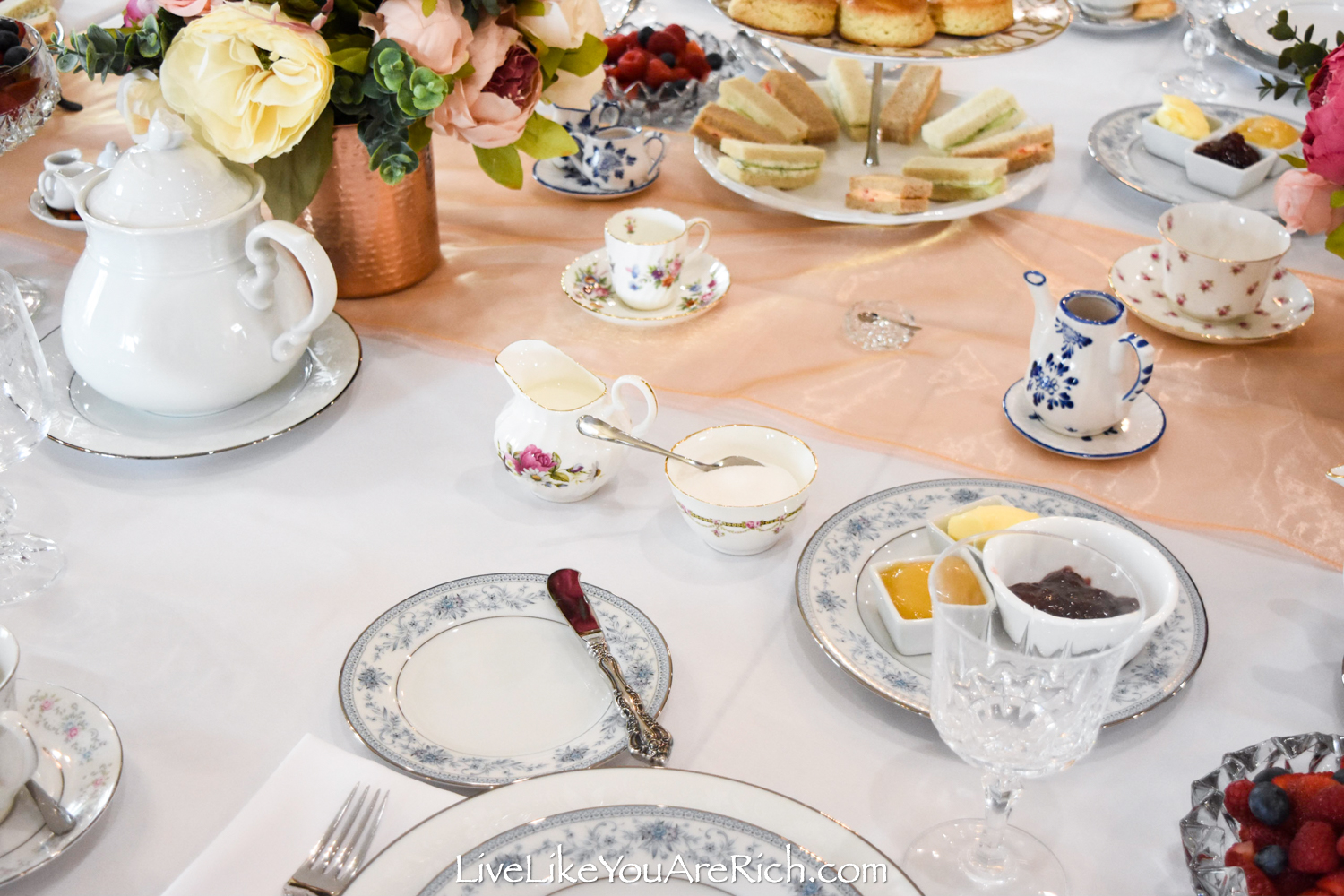 I tried to save money on this party by using what I had (linen, goblets, china, runners, tables, chairs, tea cups, crystal bowls, etc.), making what I could (Victorian stands, food, floral arrangements, scones, sandwiches), buying used or new off classifieds (tea pots, creamers, sugar bowls), and borrowing what I needed (silverware).
To begin the afternoon tea, I showed our guests a quick YouTube video about afternoon tea etiquette. Then we began.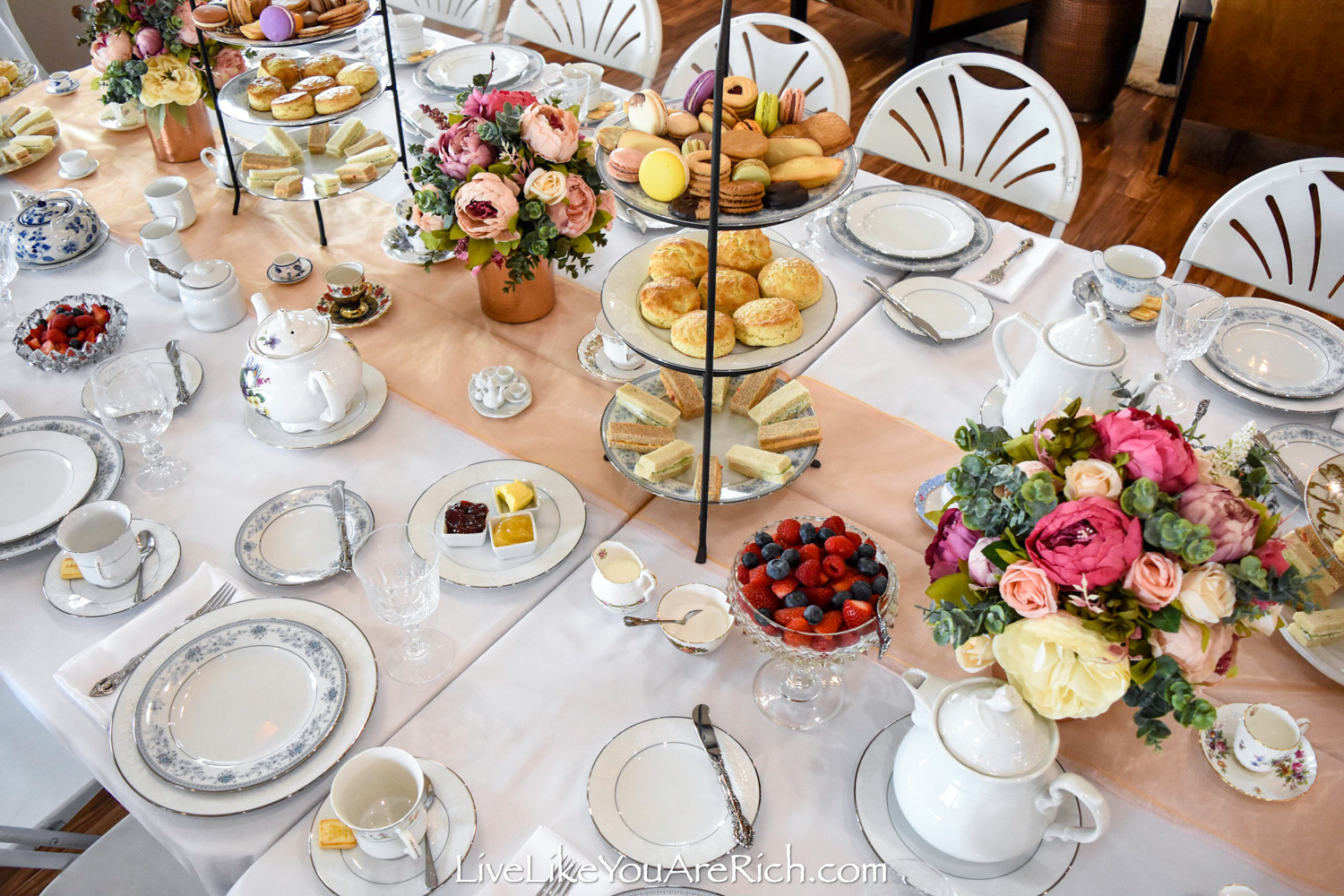 We all had a great time at the baby shower.
My sister-in-law may read this so I don't want to disclose exactly what I spent, but it was one of the more expensive parties I've thrown.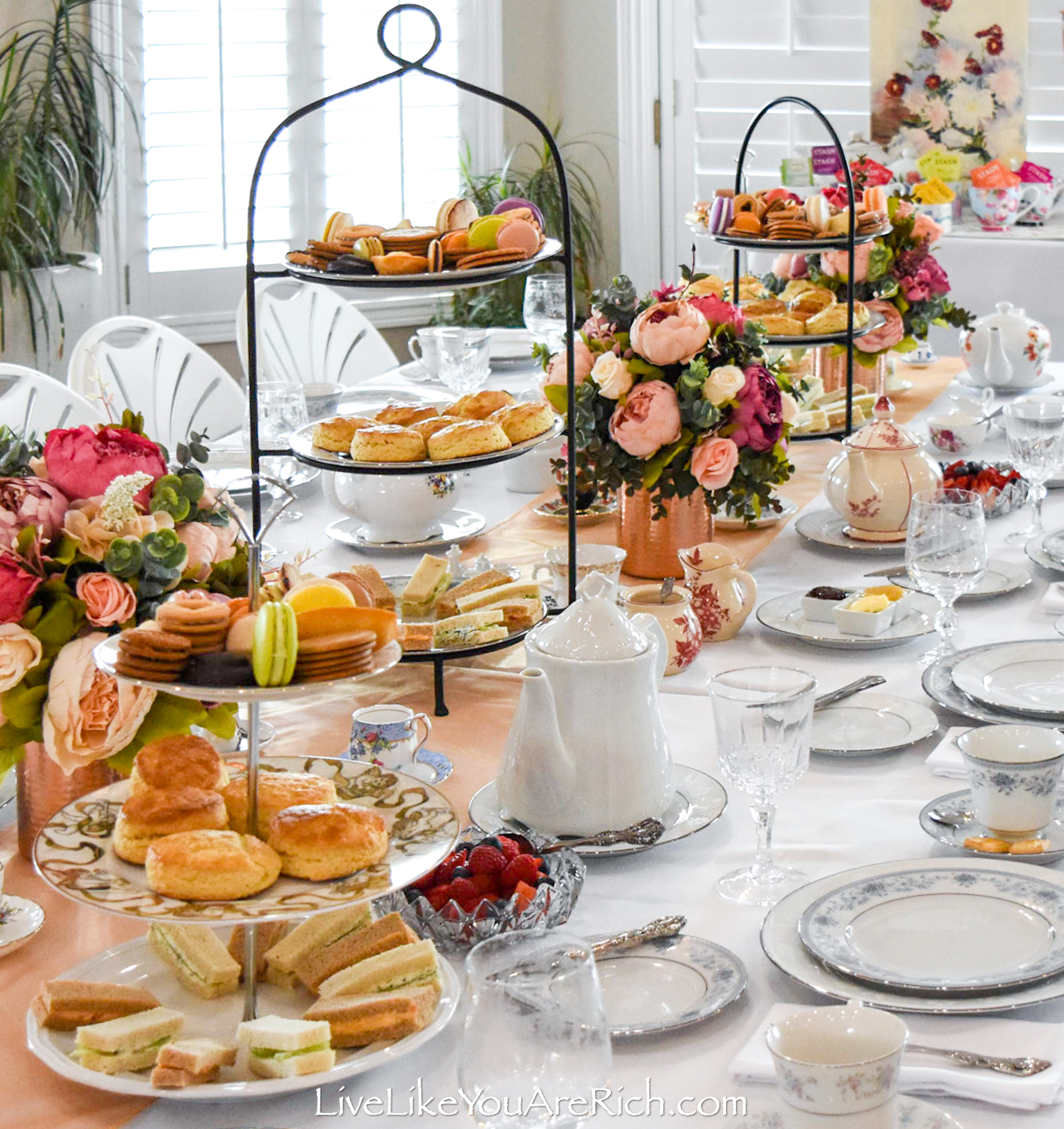 Most of the attendees were women, however, 3 little girls (including my daughter came). They had a lot of fun trying the different flavors of herbal tea and eating the many delicious cookies.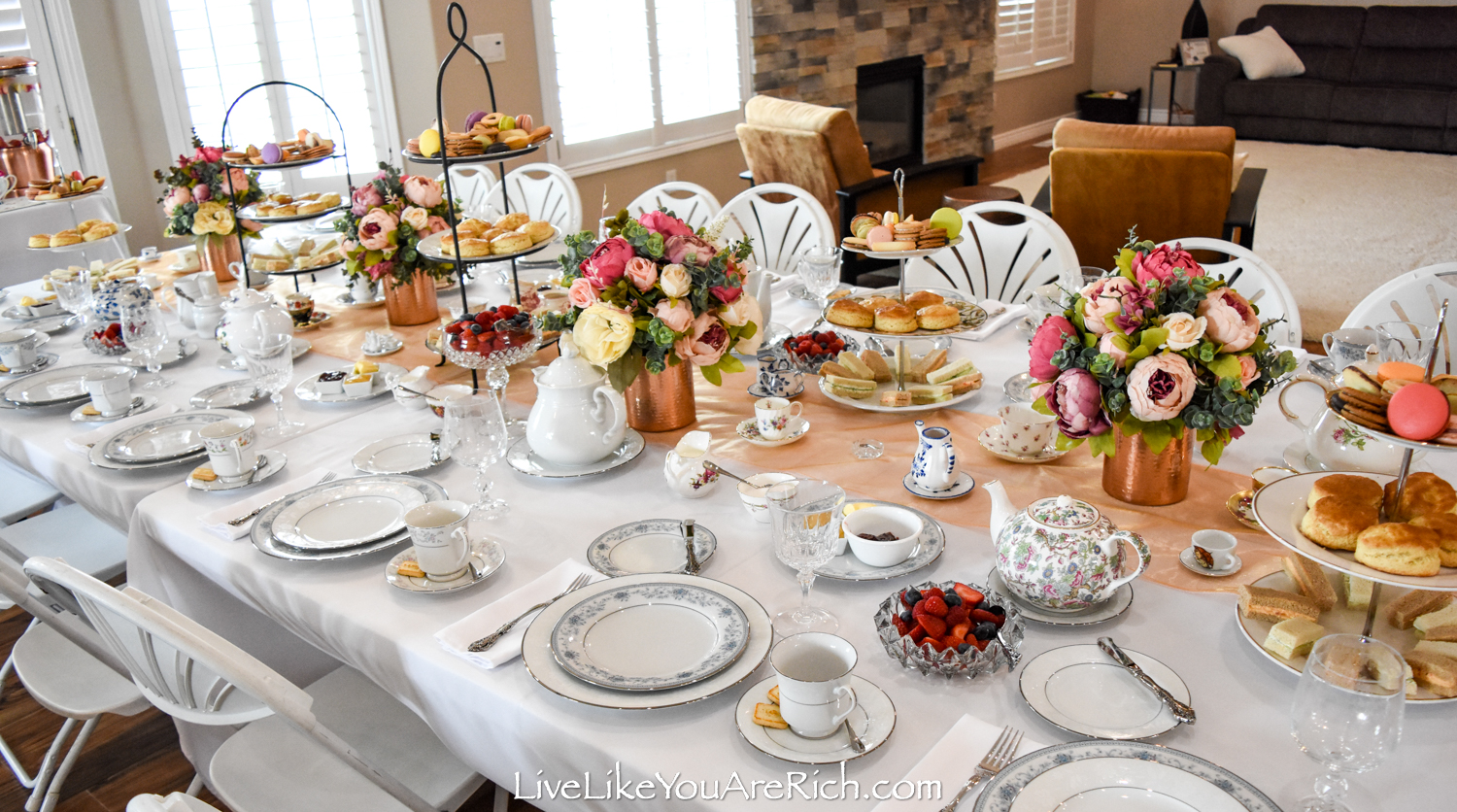 We all had a fantastic time!
I hope this helps in any endeavor to host a British afternoon tea.

For other 'rich living tips' please subscribe, like me on Facebook, and follow me on Pinterest and Instagram.