This Fall Tablescape With Copper Accents was fun to create.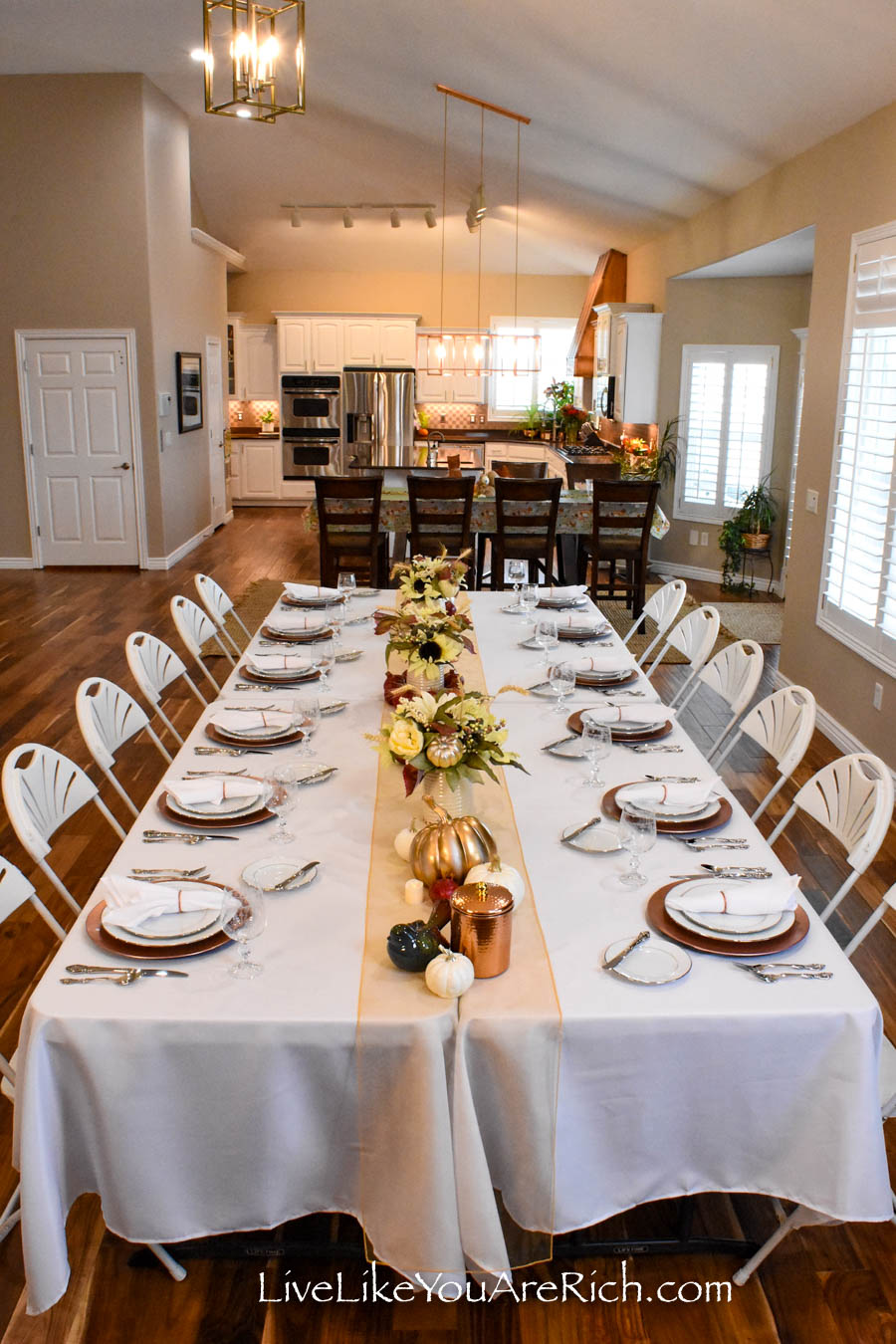 Thanksgiving 2019 we had about 20 people coming over. We have many copper items throughout our kitchen and dinning room. A custom hood, a handmade copper chandelier, a copper backsplash, etc. So, I wanted to create a Thanksgiving tablescape that matched our home.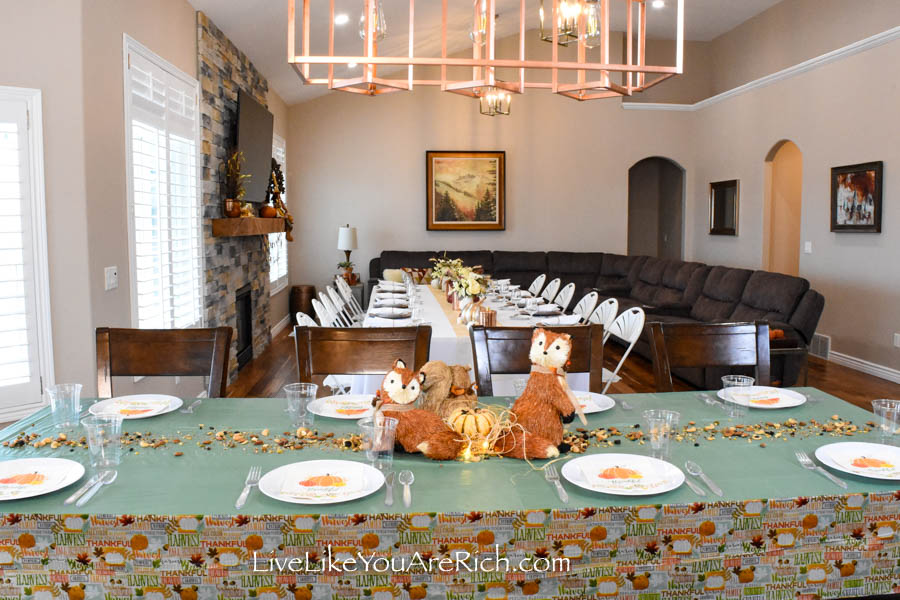 So, I had an adult table and a kids tablescape which you can see in greater detail here.
I love Thanksgiving and because it makes me remember how much I am grateful for. To celebrate it, I like formal Thanksgiving tablescapes.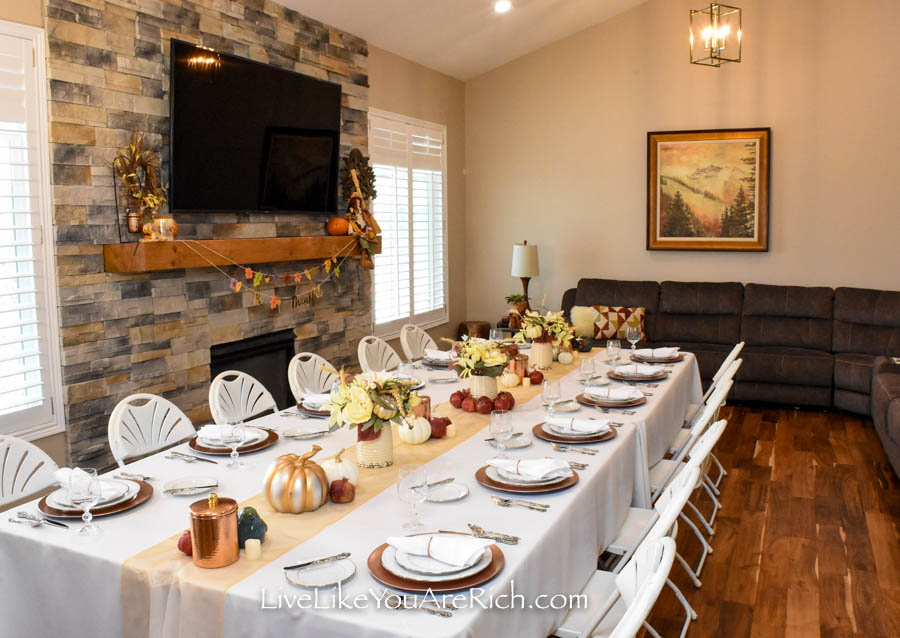 So, for the adult table, I used my white china set, my grandma's silverware, and crystal goblets.
My husband and I made real copper napkin rings (tutorial here).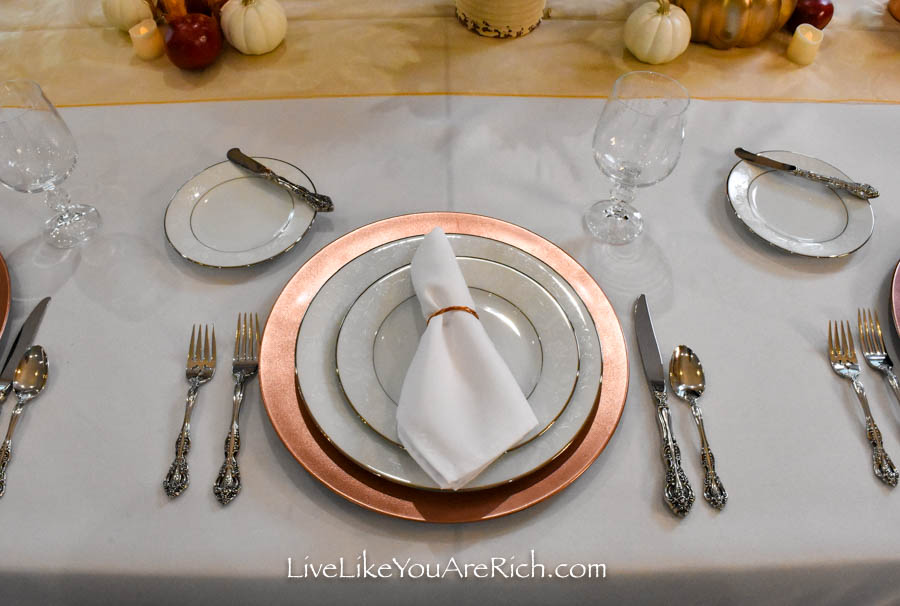 These napkin rings were made out of real copper wire and soldered together with lead-free solder.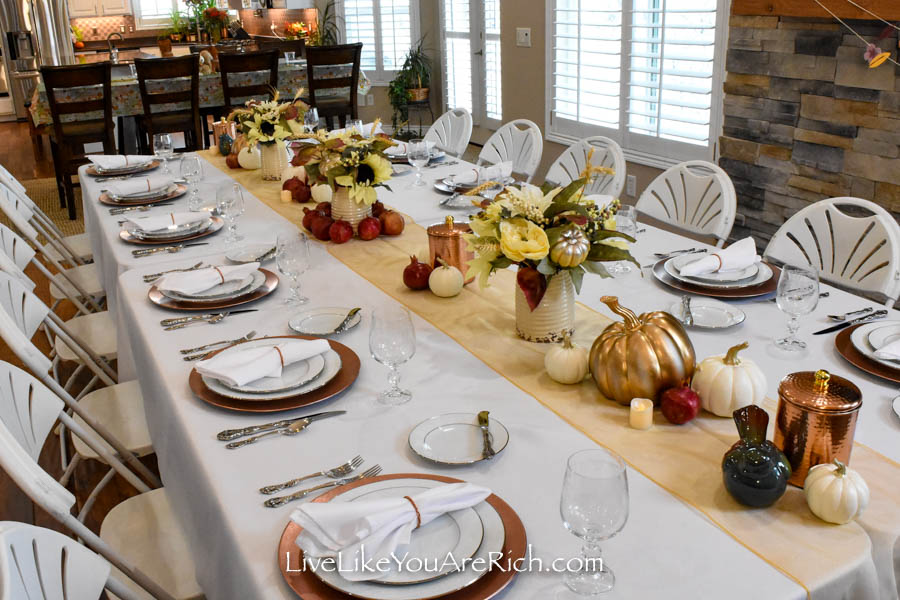 I spray painted rose gold chargers to be copper-colored chargers. This took 3 thin layers of spray paint and leaving them with ample drying time. This is the paint I used.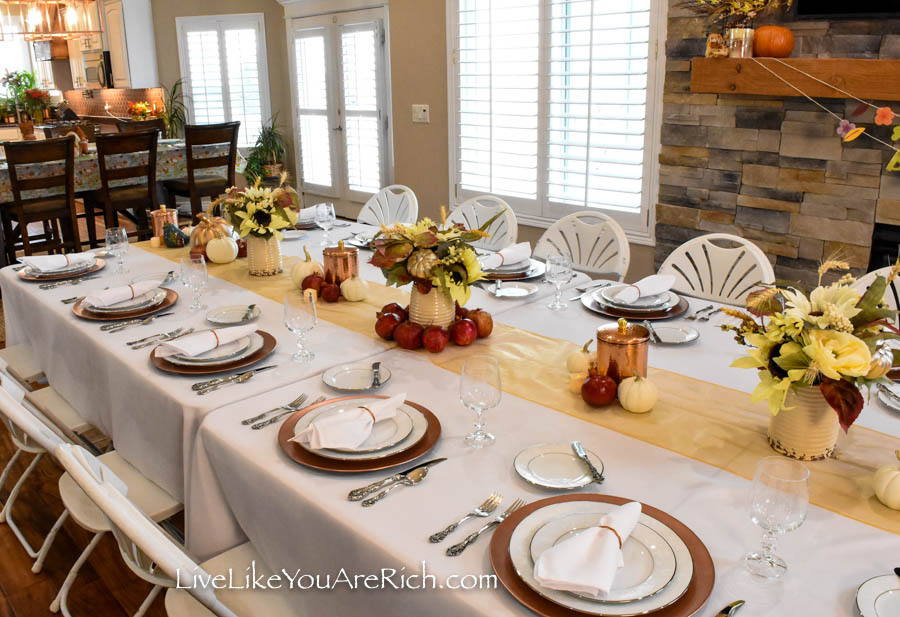 I made these fall flower arrangements.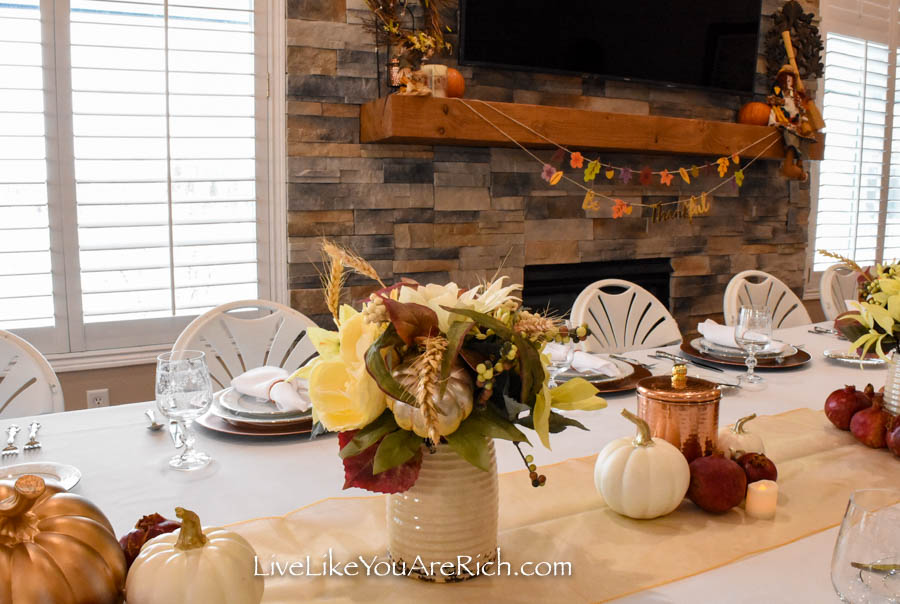 I have since made these fall flower arrangements prettier (tutorial here).
This is the more updated version of my fall flower arrangements…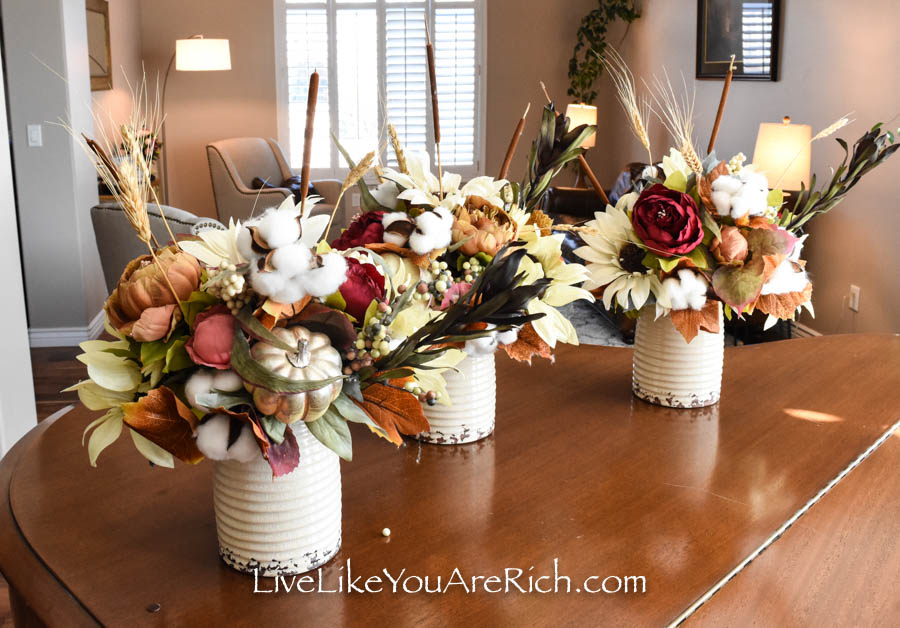 When not used as centerpieces, I use them to decorate my home. In 2020, I used them on this Harvest mantel.
I love to use pomegranates as a fall time decoration. My grandparents have a few pomegranate trees on their southern home property. It's so fun to pick and eat them when they are ripe which is during the fall season.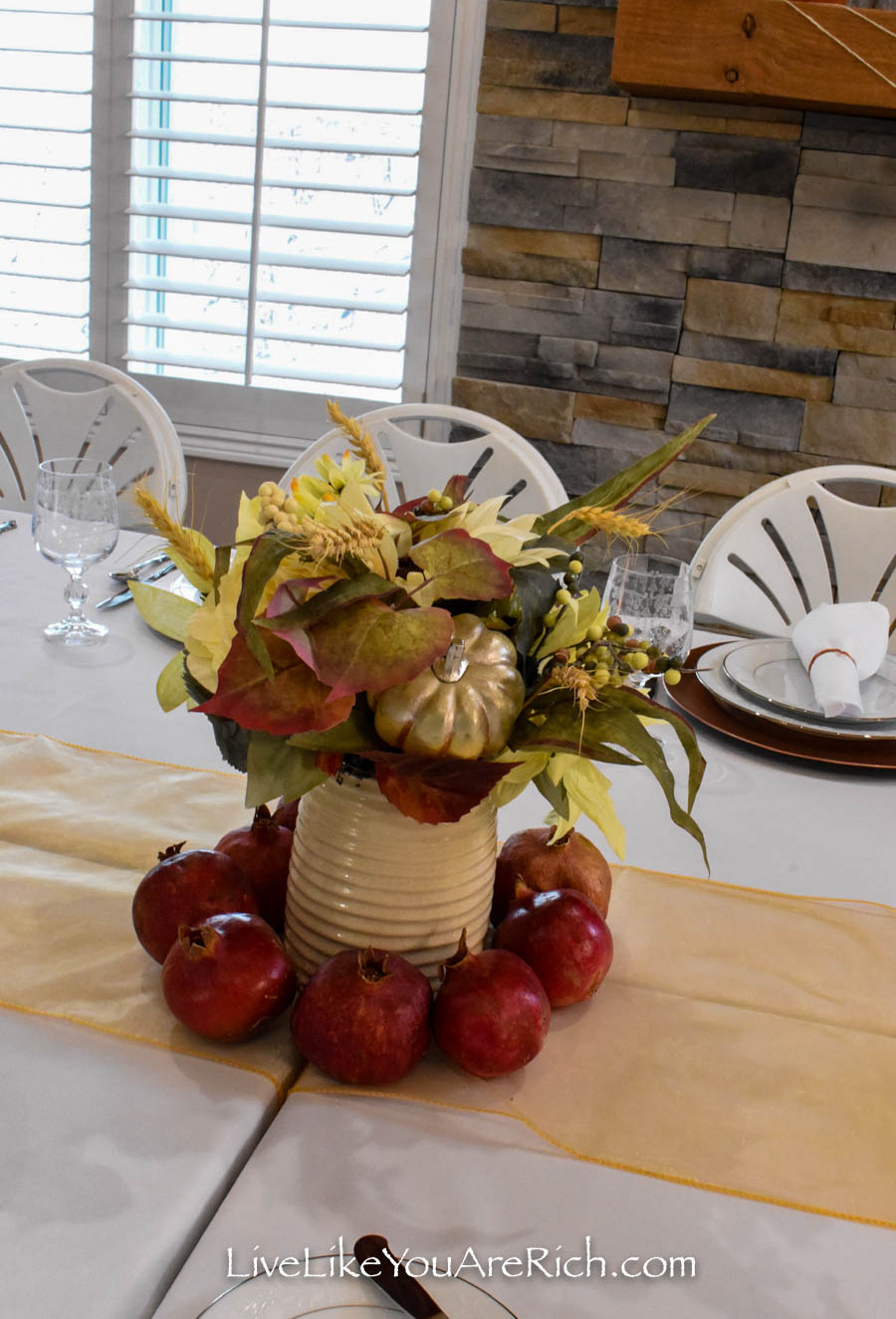 I couldn't make it down there to pick them but my sister and her kids picked them and brought me up a bunch to decorate with and eat.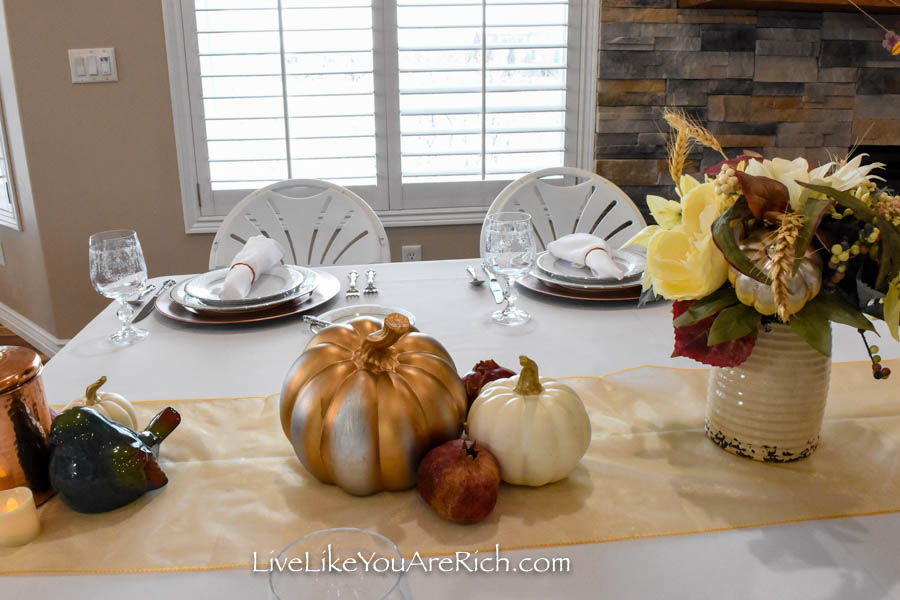 I bought some glass and decorative pumpkins. I also found a glass bird and a few other objects that I felt worked.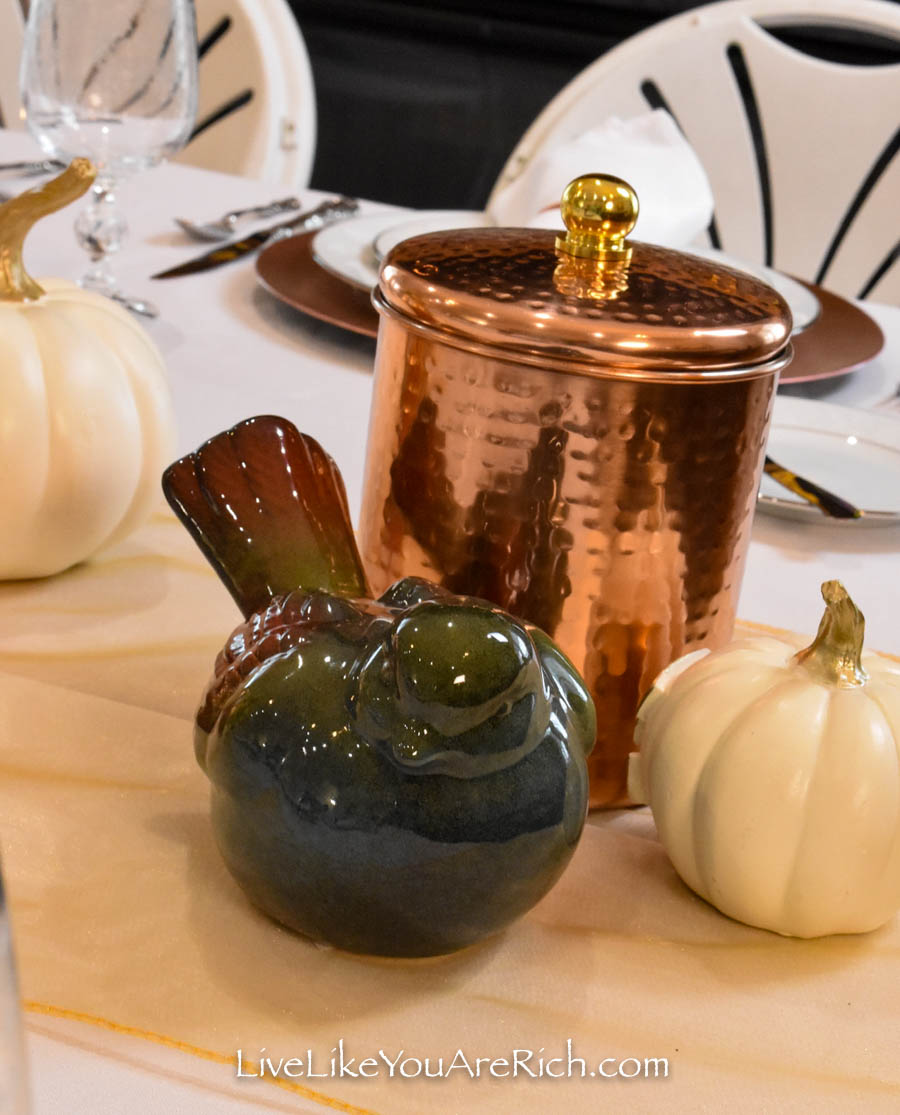 I put out a few of my copper canisters on the tabletop as well.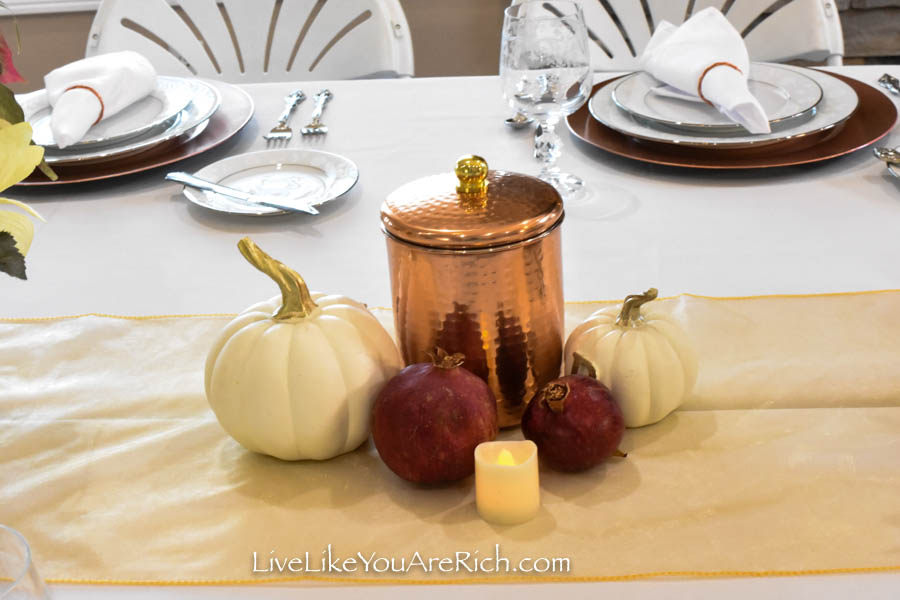 We have 4 six foot long folding tables that I pushed together. We also had the white folding chairs that went with as well.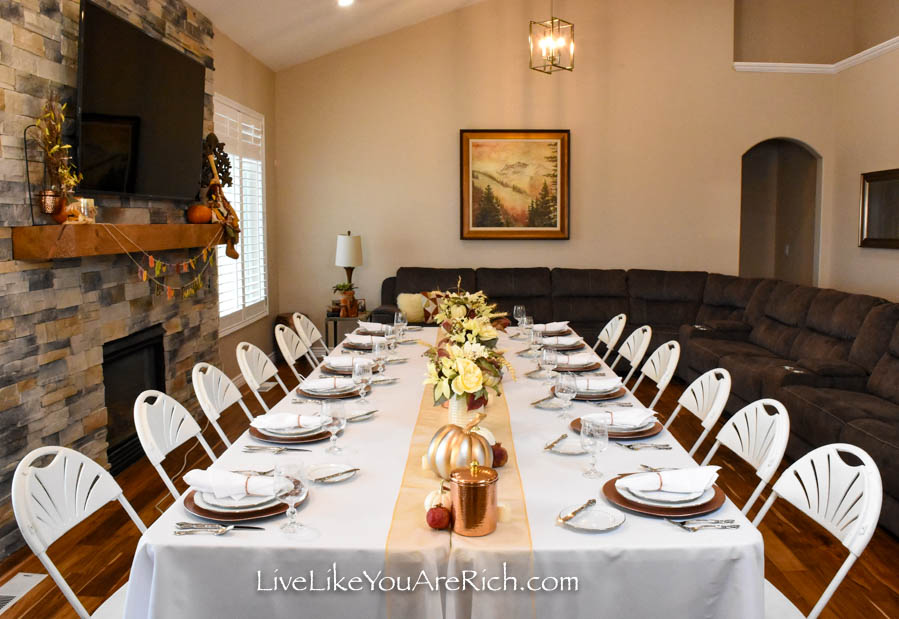 I ironed four white tablecloths and draped them over the tables.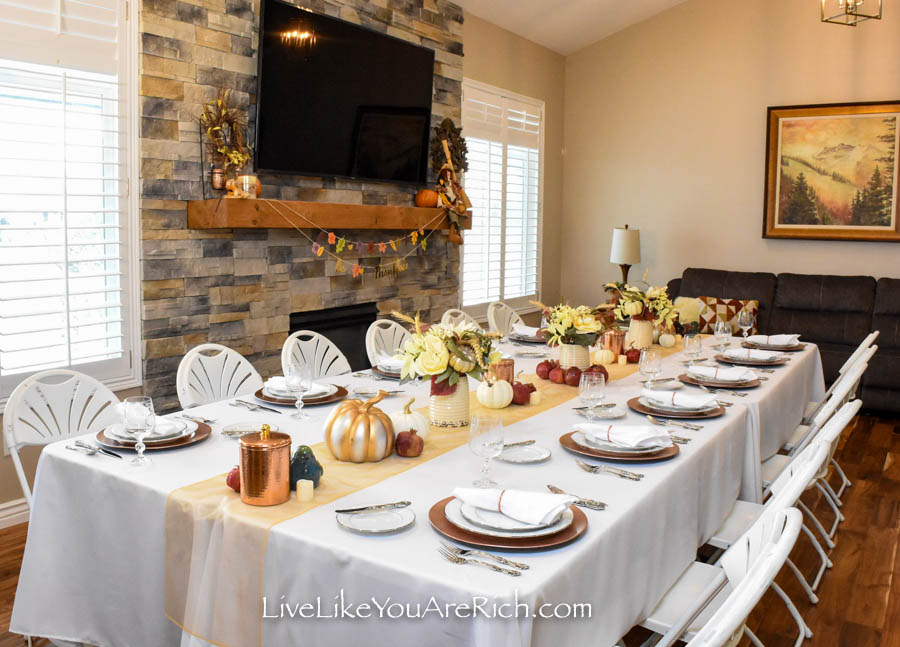 I bought the tablecloths, runners, and rose gold chargers earlier for another event. However, I got them at this website for an amazing deal: tableclothsfactory.com.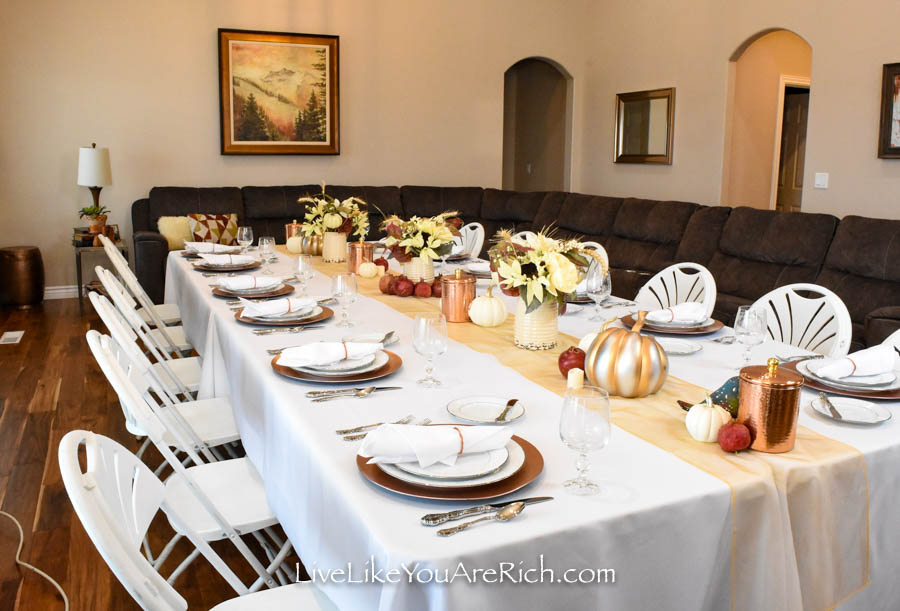 As mentioned, Tableclothsfactory did not have copper chargers. So I bought the rose gold chargers and spray painted them with 3 light coats of copper colored spray paint. It went very quickly.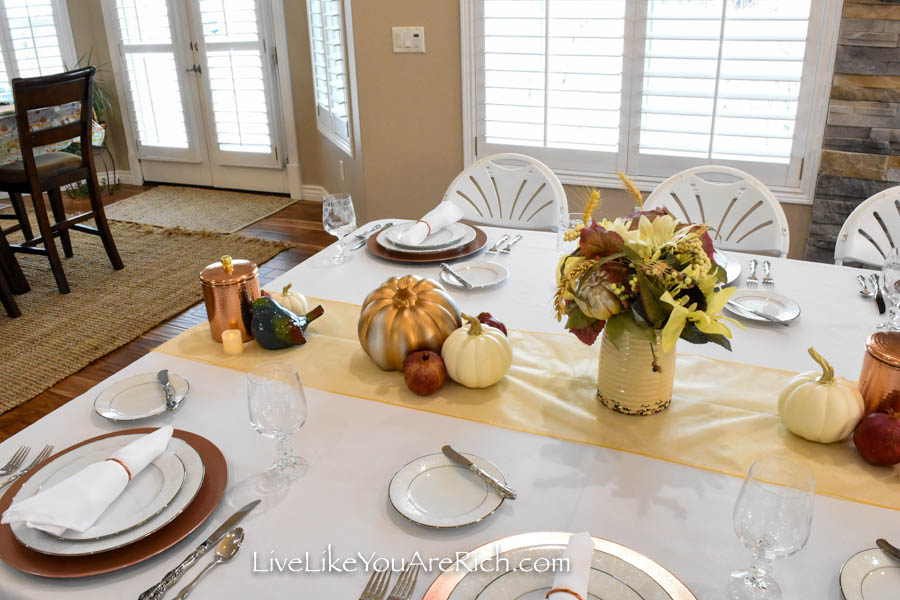 I made the turkey and green bean casserole. My aunt did the mashed potatoes and gravy and the rest of my family members brought desserts, salads, casseroles, etc. It was a delicious feast!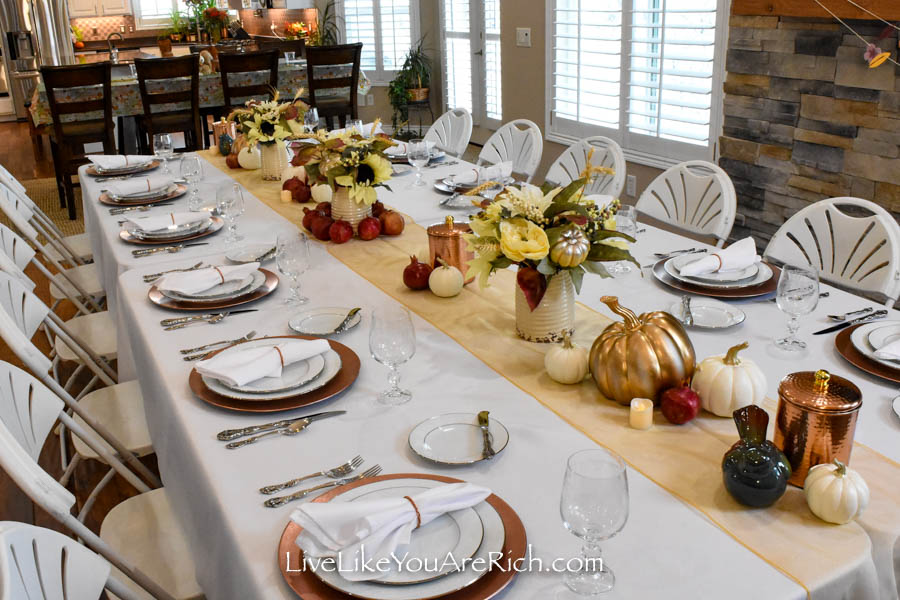 It was useful to have a lot of room for all of the food. Had I just used 2 tables instead of four, there would not have been room for all of the food we had.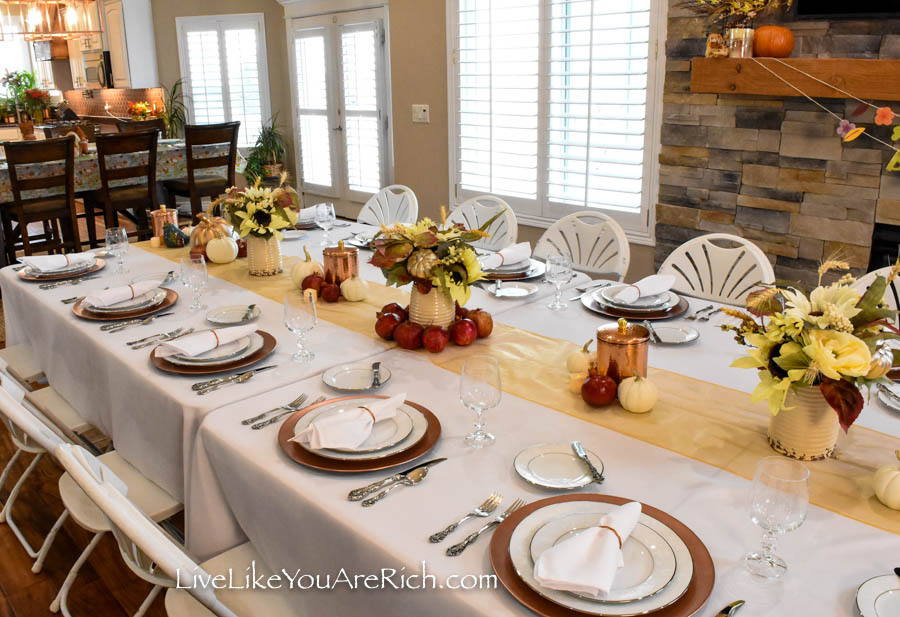 I hope this Fall tablescape with copper accents helps you with ideas of how to decorate for your fall dinners as well.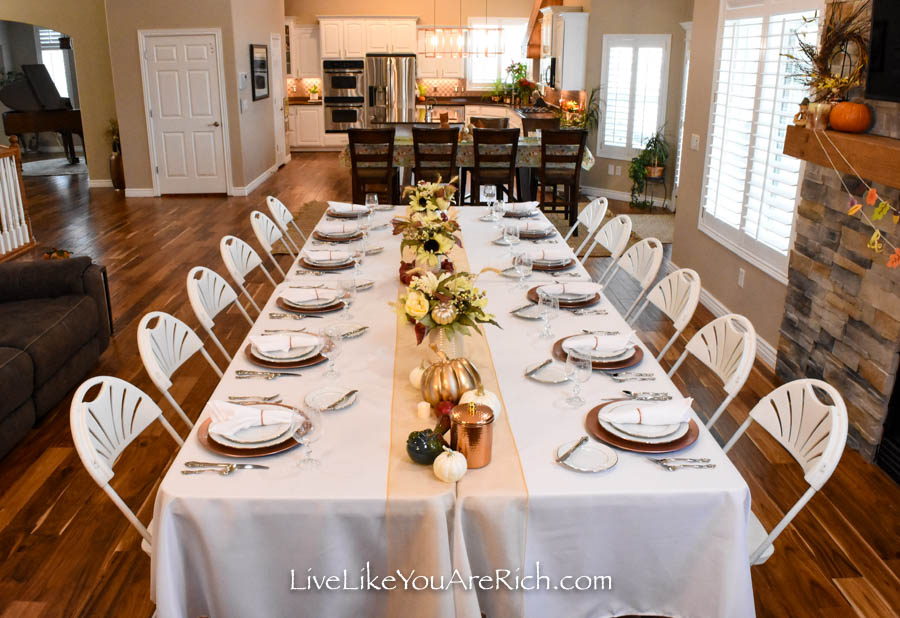 For other 'rich living' and D.I.Y. decor tips please subscribe, like me on Facebook, and follow me on Pinterest and Instagram.