This year I get to host Thanksgiving. I plan to make this Thanksgiving Tablescape for Kids.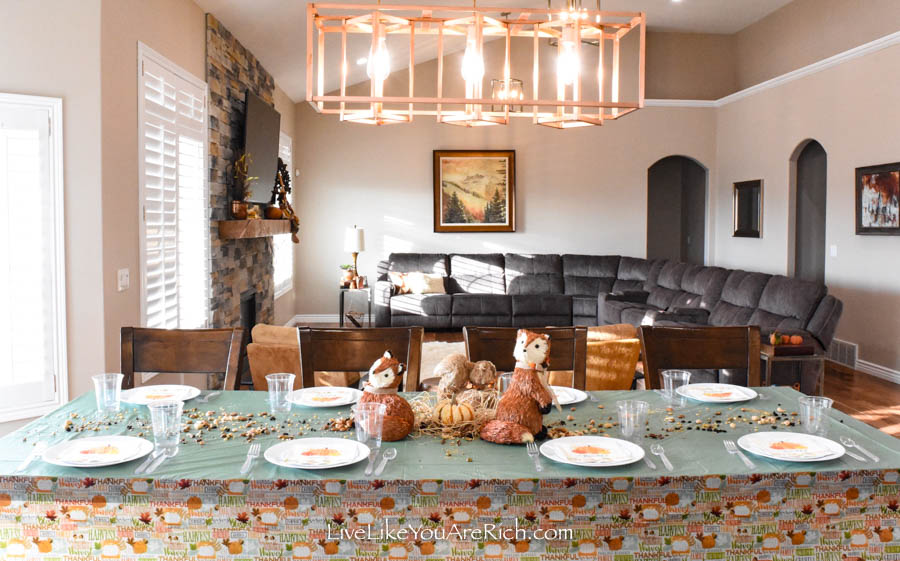 We only have eight children attending because most of our family is out of town this year. However, I still wanted to make a tablescape just for the children. Thanksgiving dinner should be just as much fun—if not more fun for the kids as it is for the adults.
The adults table will have a more formal Thanksgiving Tablescape.
This was very inexpensive to put together. It cost less than $30.00. I had the paper/plastic products. The tablecloth and napkins were $1.00 each at the Dollar Tree.
I bought these darling Harvest animals at 50% off at Smiths Food and Drug store = $25.00.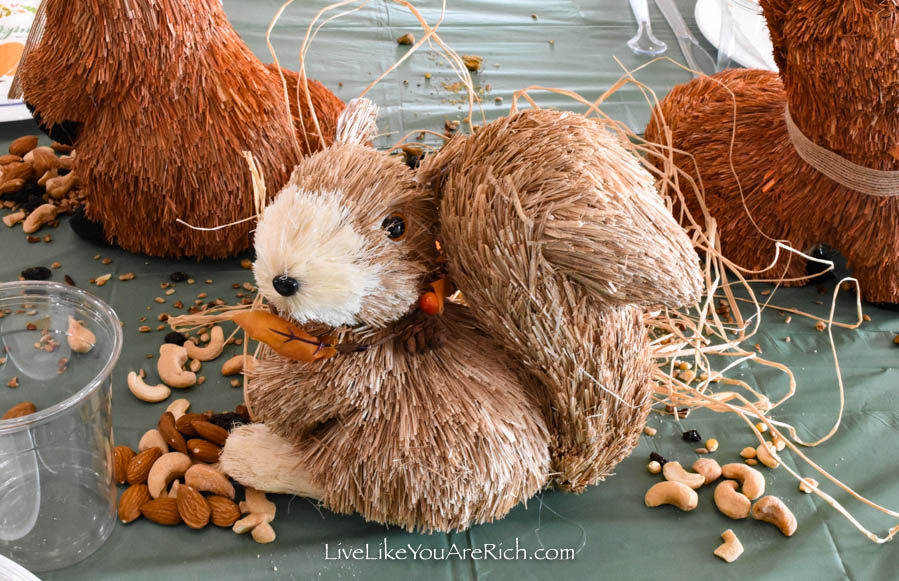 I searched online for these sisal or straw figurines or styrofoam woodland figurines. The brand I have is called HD Designs. Although I couldn't find them online, similar can be purchased here, here and/or here
When I was at Smith's I choose to buy only three. The reason being, a common rule in decorating is that one should cluster an odd number of items together. Hence three figurines.
The center of the little nest created by decorative straw is a yellow-orange pumpkin as the focal point. I had both the pumpkin and straw left over from Halloween.
The nuts, raisins, and seeds all came out of the pantry.
My five year old daughter really wanted to help me decorate the table. So, she was tasked with setting the paper goods nice and neatly.
Then she helped me sprinkle walnuts, cashews, almonds, wheat kernels, popcorn kernels, raisins, and pistachios down the middle of the table (to resemble a table runner) and then to pile them up in the center 'nest' and at the foot of each figurine.
She really enjoyed helping me design this. When my son got home from elementary school, he saw the table and gravitated toward it. This is in stark contrast to the day before when I had laid out the Thanksgiving tablescape for the adult table. He liked looking at the animals and nest full of seeds, berries, and nuts.
Involving kids in helping create a Thanksgiving Tablescape for Kids is a great activity to do together.
I love children. They are so precious. I am so grateful for the opportunity I have to be a mother to incredible kids. As I was contemplating this today, I was almost moved to tears. It is miraculous that I have been blessed to be a mother. Motherhood and Family is what I am most grateful for in life.
I hope you have a Happy Thanksgiving; one full of gratitude, family, friends, and love.
If you do a similar set up, I hope your family will enjoy having a Thanksgiving Tablescape for Kids as well!