A great idea for decorating a nursery it to make your own baby mobile. They are often less expensive, match the decor better, and are fun to customize. I made this baby mobile for my son's changing table a few years ago.
This would be a great gift for a baby shower as well! My friend Katie from Clark's Condensed is having her baby soon. She is an AMAZING person and blogger and has been a great friend of mine for a few years. A bunch of her friends and I wanted to get together and throw her an 'online baby shower'. Please see the links below for more fun baby ideas that we are sharing to celebrate Katie's baby.
I made this custom baby mobile doing the following…
I used a mobile frame that I found at a thrift store for a dollar (or you can buy one here for about $10.00), and wired it on all four ends, center, and top with craft wire.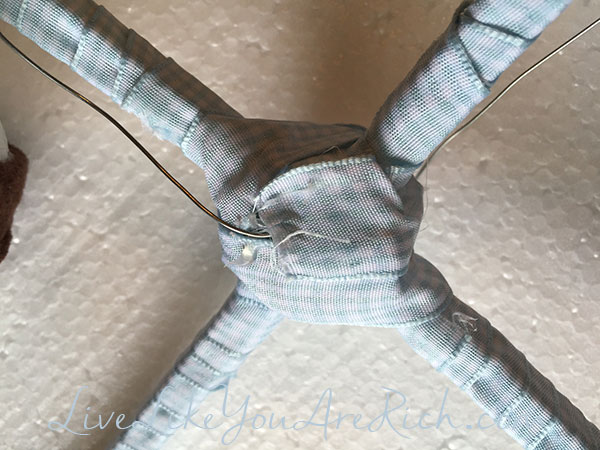 I strung enough wire from the middle so that I could hang it on the ceiling at the desired height above the changing table.
Then I wrapped the mobile with ribbon and hot glued the ends in place.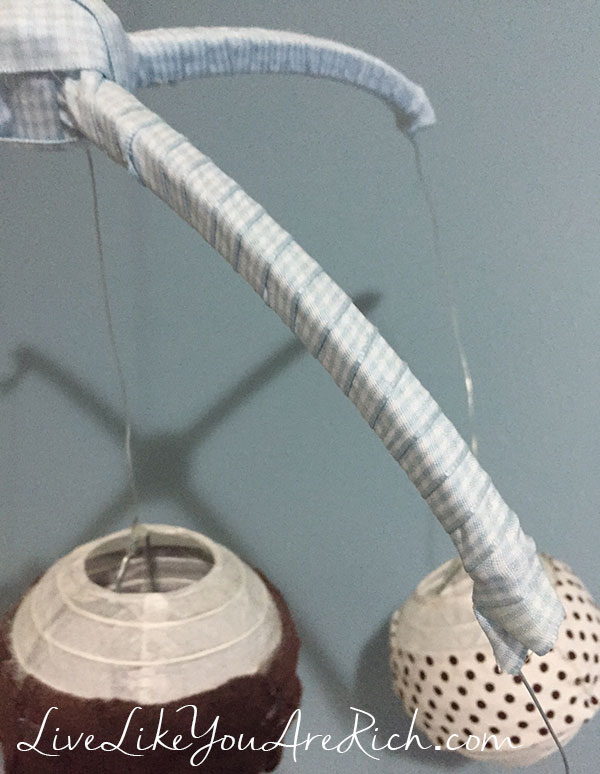 I wanted the mobile to match the decor and other aspects of the room (esp. the baby/toddler blanket (tutorial here) and crib skirt that my mom and I made.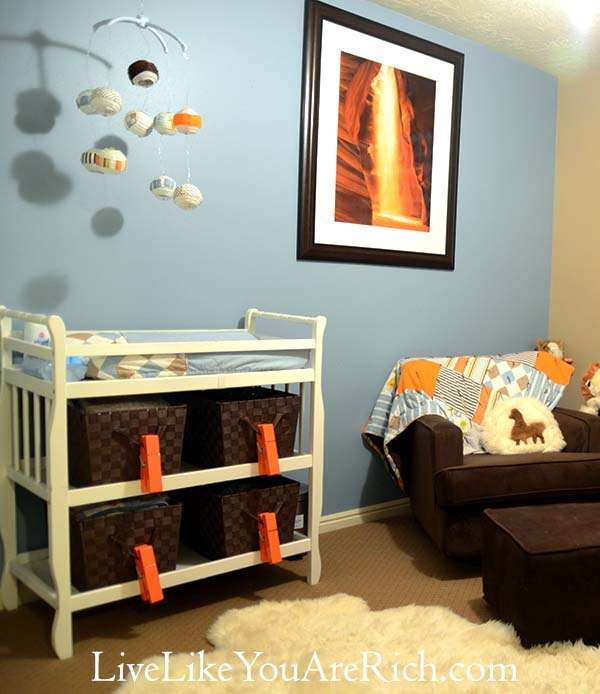 So, I cut and glued extra fabric I had from the blanket to the small Chinese lanterns.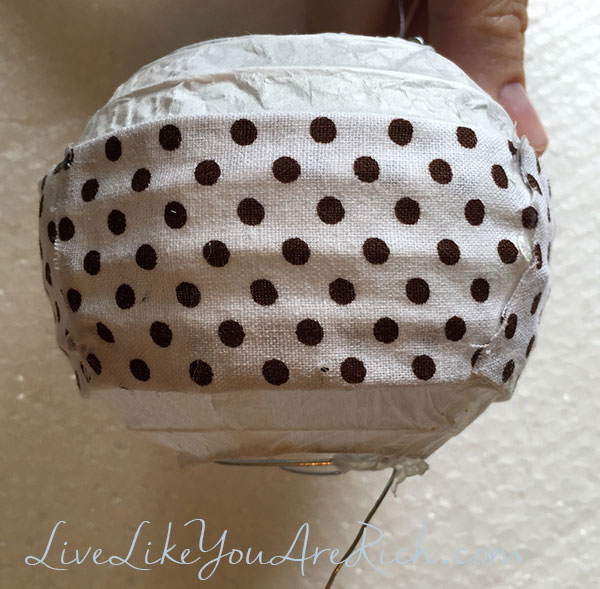 I cut each fabric to fit the small Chinese lanterns (found here) and hot glued them to it. I had to use short sections of fabric a few inches long so they would fit around evenly on the spheres.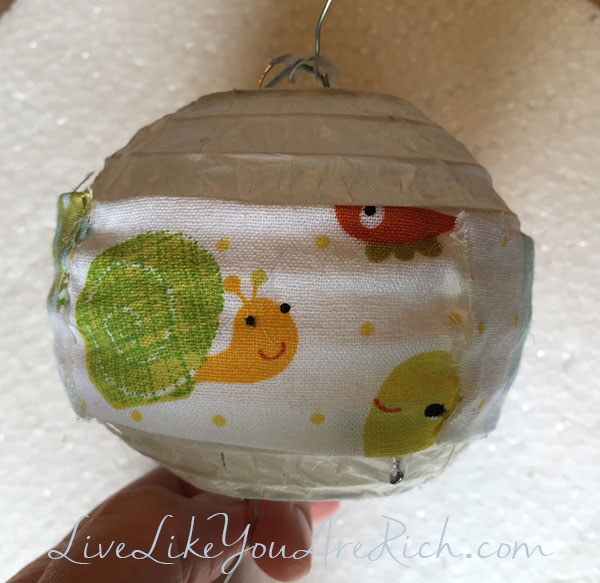 Then, I wrapped the craft wire around the top of the lanterns and hot glued them into place (making sure they were all the same length on each side).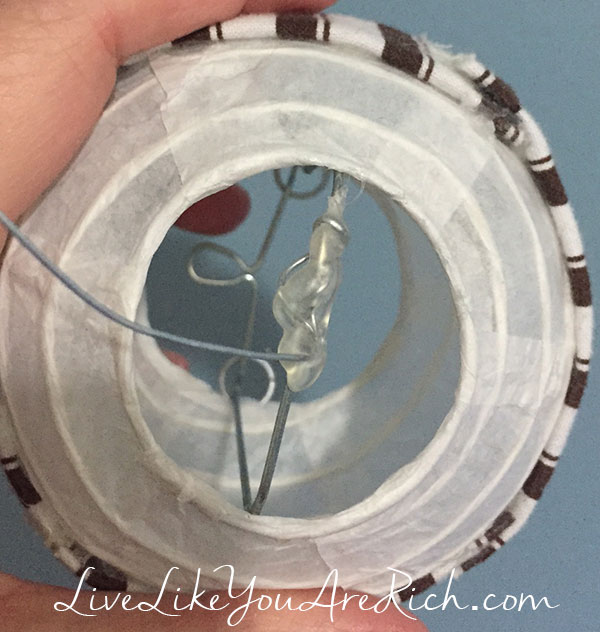 To put it up, we drilled a screw in the ceiling leaving a little room (it was not flush with the ceiling) and then wrapped the wire around the screw a few times.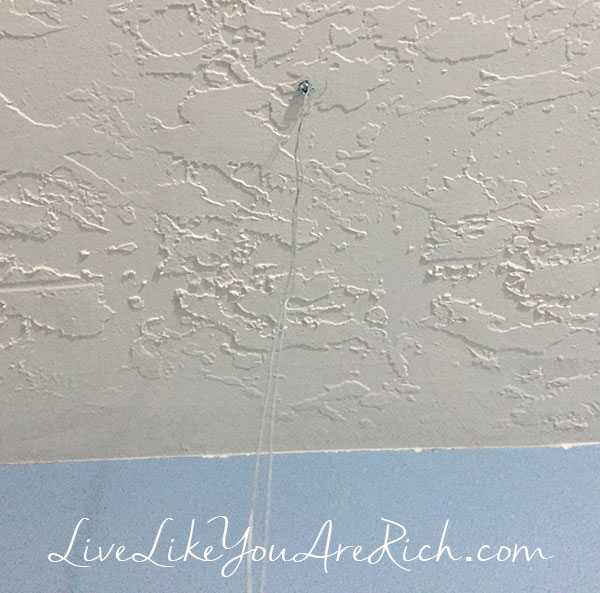 A few other ideas of what you can do with a crib mobile like this are: put decals on the spheres (like the center lantern you see in the photo below). Spray or hand paint the lanterns. You can also put decals or stickers on, spray paint them, and then remove the stickers for a cute dot or pattern look. You can even hang something different than mini Chinese lanterns. There are many fun options to use!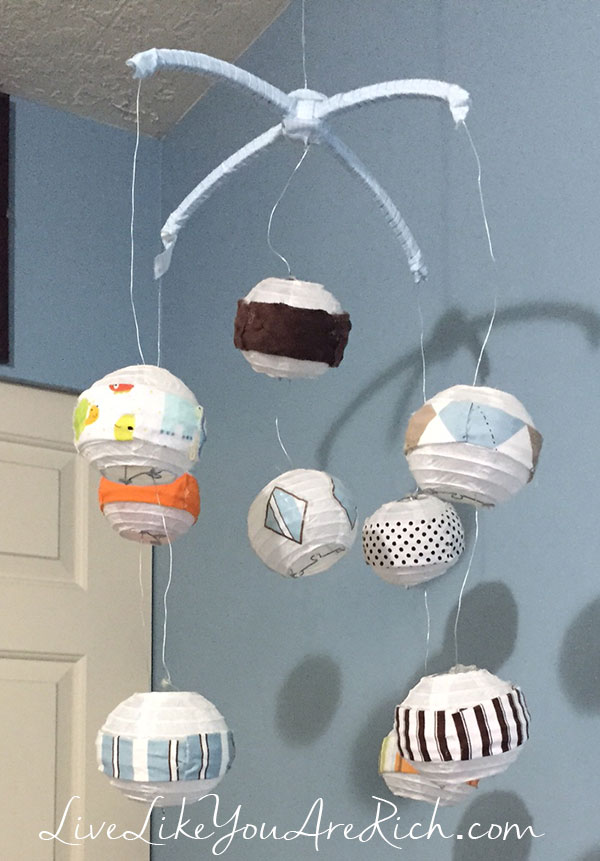 This baby mobile has withstood the test of time. My son who is as active as they come has grabbed, pulled, hit, and yanked this many times and it has held up really well.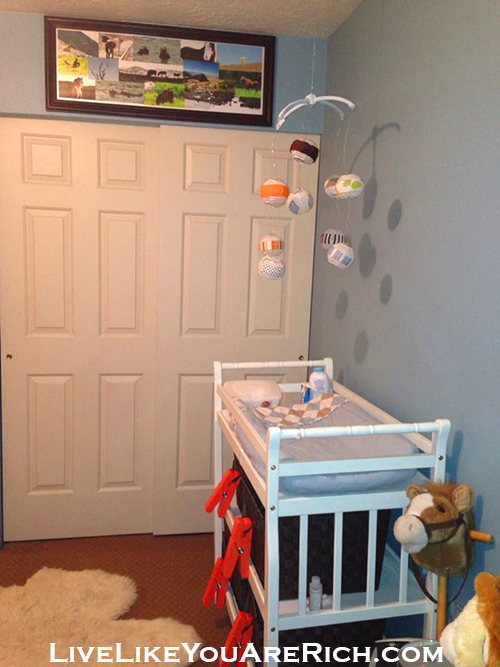 List of things you need:
Ribbon
Hot Glue gun (or cool)
Small Chinese lanterns
crib mobile frame
material, decals, spray paint, etc. to decorate each lantern
crafting wire
I made another mobile for our daughter using different supplies Tutorial here.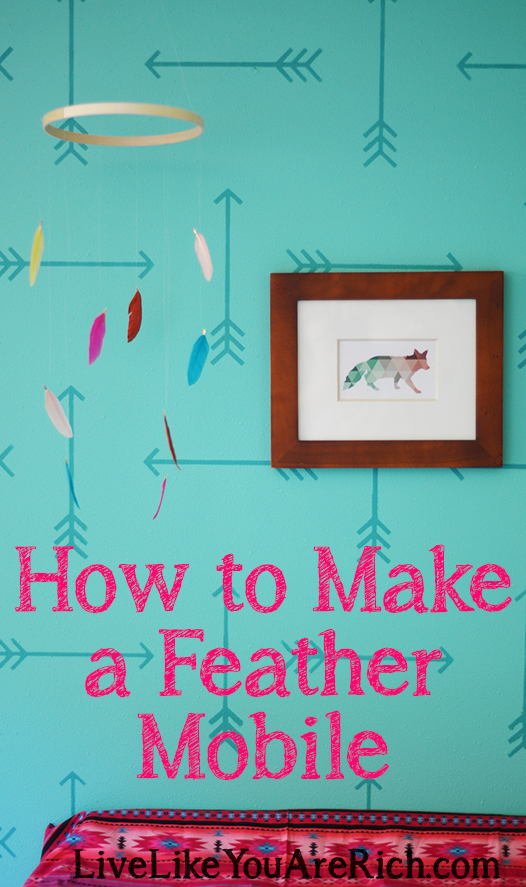 See how I did his entire nursery for under $500 here.
We are celebrating the addition of the Clark's Condensed Family! Katie Clark, from Clark's Condensed and The Blog Help is going to be welcoming their second son at the end of September.
Check out all of these great Online Baby Shower Ideas from your friends at the Online Blog Conference!
Activities and Gifts
Snacks and Drinks
Desserts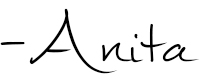 For other 'rich living' and money saving tips please subscribe, like me on Facebook, and follow me on Pinterest and Instagram.