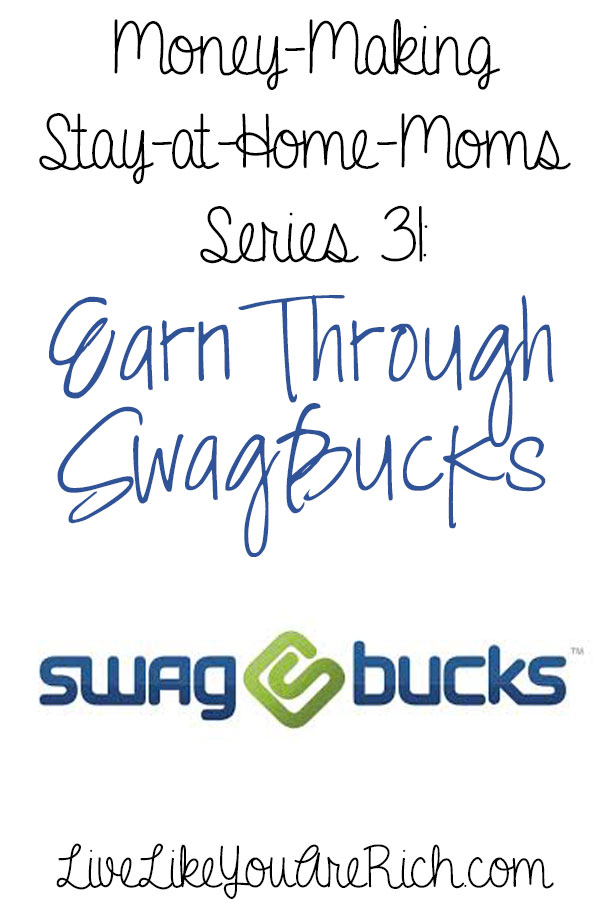 The following SAHM wishes to remain anonymous. She has been earning extra money for gifts for her kids, friends, and family, and supplementing their Christmas budget by making use of a versatile website called SwagBucks.
Welcome,
Q. What inspired you to begin working?
A. We set our budget and never really had enough to allocate for all of the birthday & holiday gifts I wanted to give. I also felt that we could use a few hundred more each Christmas to make things more enjoyable. I read online about a mom who used SwagBucks to pay for their entire Christmas about a year and a half ago. I decided to give it a try.
Q. How did you go about starting your business or arranging a work at home position?
A. I just signed up for SwagBucks. It takes a minute. You can join here.
Q. What are some tips you would like to share with others who are interested in doing something similar?
A. Set aside time each day to log in and earn some points. I always book my travel (if we go anywhere, rent a car, fly, book a hotel, etc.), shop online, fill out surveys, and print coupons from the site. If you are going to watch a movie trailer or Google something, use the site. Easy things we do each day can earn us SB points.
Q. How many hours do you work a week or how much of your time does this position require? Is it flexible? Is it consistent?
A. I end up 'working' about an hour or so a week. It's really not bad at all. I can spend as much or little time on it as I want. As mentioned above, it is usually things that I already do online that earn me SBs. So it is consistent but very flexible.
Q. When/how do you find the time to work?
A. I work a few minutes here and there while the kids are awake. If that doesn't happen, I'll set aside 10 or so minutes during nap-time to earn some SwagBucks.
Q. Are there certain tips/advice you'd want to share with others who want to start working like you?
A. I would suggest saving up your points until you are at a level of points where you qualify for bonus points. I.E. if you earn 300 points you can get a $3.00 Amazon gift card. But often if you save your points until say you have 2,200 points you can earn a $25 Amazon gift card or Kohl's or other kinds of gift cards (which gives you a 300 SB bonus just by waiting to redeem). Often there are these types of deals on Amazon gift cards and other featured gift cards like Kohl's etc. Always click on the store through your SwagBucks account to earn SBs from shopping with your earned gift card.
There are also gift cards to stores that allow the use of online coupon codes & earn you SwagBucks for shopping through the SwagBucks link. I usually get the biggest bang for my buck using my points/giftcards to these sites/stores because with sales + online store coupon codes + gift cards + SBs earned from shopping at that store online = the money I've earned stretches the furthest.
Q. Was training/schooling required for the position? How/when did you complete it?
A. No. I already knew how to do everything. It's easy stuff.
Q. What is the income percentage you bring in? or How much do you make from this job? or Does the income help a little, medium, or is the main source of your family's income?
A. The income varies month to month. Last year I made about $500.00. It was on average an extra $42.00 a month and basically paid for gifts for the kids, family, and friends throughout the year and some of it (about $150 was used on Christmas).
If I spent more time on it I could increase what I made. But I am a busy mom and don't want to spend much time on it. So I only spend like 10 minutes a day—usually doing things online that I normally do.
Q. How would someone who wants to do something similar get started?
A. Join SwagBucks here. And use as many ways as you can to earn SwagBucks that you can. It really is super simple. Trust me, if it wasn't simple, I would not do it!
I (Anita author and owner of LiveLikeYouAreRich.com) want to tell my friend thank you for this interview. I want to add additional info on how SwagBucks works below. This is an article I recently wrote (I too earn gift cards through SwagBucks-which is why I found this friend and asked her to do this interview). I felt that it would be more than appropriate sharing more details on how SwagBucks works here.
How does SwagBucks work?
You earn SwagBuck points (SB) that you can redeem for gift cards to over 140 brands to choose from by doing the following 8 things:
1. Watch Videos, Movie Trailers, the News, and Other Videos.
You can watch videos, movie trailers (my husband and I always do this before deciding what show to see), news, celebrity watch, and more to earn points! Easy right?
2. Use Printable and Online Coupons
Another way I earn money is by printing off coupons and use them to save money while grocery shopping. If you don't know how to coupon, check out this post here: Couponing for Beginners: 11 Tips that Will Save You Thousands and make sure to print from SwagBucks.com. Simply click Shop>Coupons>Printable and sift through tons of high valued coupons and start racking in the SB points. You earn 10 SB for every coupon you redeem at your local grocery store! Making money while saving is pretty cool.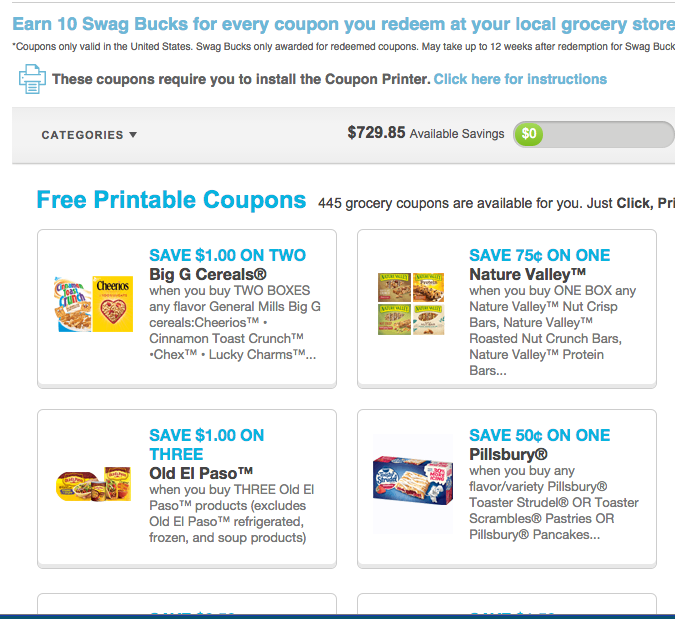 3. Leave a Review/Take a Survey
Do you love to share your opinion? SwagBucks awards you for taking surveys. Some surveys reward you more points than others. Some you'll have to qualify for first. More info on surveys: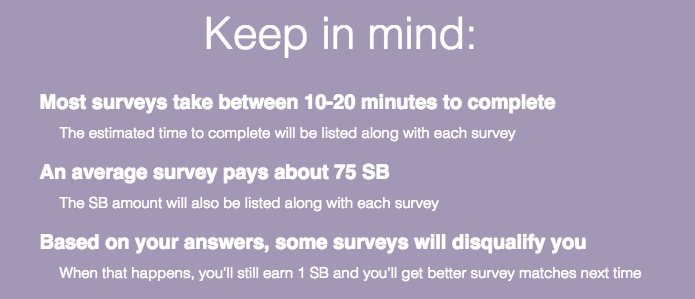 There is also a super quick 'Daily Poll.' Answer an easy question and earn one SB point!
4. Shop
Online shopping is so convenient. Head over to SwagBucks and click on the store before ordering. Stores display how many SB points you'll earn per dollar spent. I appreciate knowing what I will earn back before buying. There is no sense in not trying this if you ever shop online!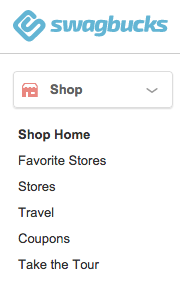 5. Book Your Travel
You can earn SB by booking through Expedia, Hotels.com, Priceline, Orbitz etc. through the SwagBucks website! I love many of these sites and use them almost every time we travel. If you are going to use these travel sites anyway, make sure to earn SB points while doing it!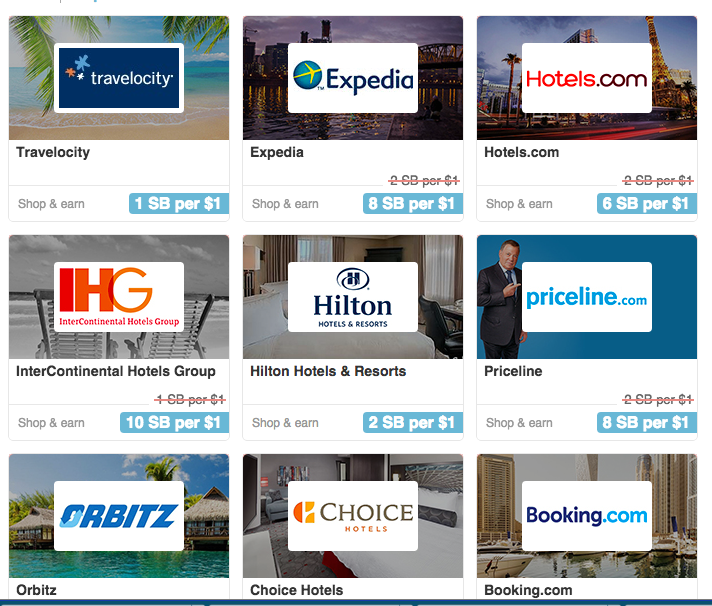 6. Search
SwagBucks has a search bar powered by Yahoo!. It is similar to Bing, Google, etc. By searching for terms, information, ideas, etc. you can earn SB points!

7. Try Out or Skip Online Offers
Thinking of trying an online offer such as an Audibles subscription or Proactive face wash? Search SwagBucks to see if the program you want to try is offered. Many of these have rules and things you need to be careful about, so keep that in mind.
Finally, there are daily tasks you can do (they reset every day) to earn easy SB points. Take the Daily NOSO. NOSO allows you to earn SB points just by signing up for OR skipping online offers. I just got a 20% off coupon to JoAnn's and a 15% off coupon to Crayola.com by completing the NOSO. Just be sure to click Skip if you aren't positive you want to try the offer out.
Once you have 300 SB's, You can redeem them for a $3.00 gift card. I just cashed in enough SB's for a $10.00 Amazon gift card. I'm almost to $3.00 again!


The points add up quickly (especially if you print the printable coupons from the site) if you are consistent.
Once you are ready to get your gift card, just click Rewards under the Redeem section and search for the company you want a gift card too! Add it to cart, verify it via the email confirmation and once it's approved you can spend your earnings.

8. Refer others.
If you refer friends who then earn SwagBucks you can earn points that way as well. See SwagBucks website for details on this.
By the way, you can earn SB on any device: your phone, tablet, desktop, and laptop.
More interviews on how you can make money from home below:
Introduction to Money-Making Stay-at-Home Moms
Series 2: Starting an Online Business
Series 5: At-Home Airline Assistant
Series 6: Become an At-Home Employee
Series 7: Make Money through Rev.com—coming soon
Series 9: Run an at-Home Daycare
Series 10: Write and Self-Publish an eBook Part 1 & Part 2
Series 11: Teach Music Lessons from Home
Series 12: Distribute a Product You Love
Series 14: Become a Virtual Assistant
Series 15: Buying and Reselling Cheap Finds
Series 17: How to Make Money as a Transcriptionist
Series 18: How to Write and Publish a Paperback or Hardback Book
Series 19: Do Online Tech Support from Home
Series 21: Sell Your Own Sheet Music Part 1 and Part 2
Series 22: Start a Preschool from Home
Series 23: Start Your Own Boutique
Series 24: How to Make Money on YouTube
Series 25: Take Legitimate Online Surveys
Series 27: Become a Photographer
Series 28: Become a Property Manager
Series 29: Make Money Locally Teaching a Talent, Sport, or Hobby
Series 30: Substitute Teaching
Series 31: Make Money through SwagBucks
Series 32: Review Websites for UserTesting
Series 33: Tutoring—coming soon
Series 34: Become an Affiliate with Spark Naturals Essential Oils
Series 35: Quilting and Embroidery
more coming…pin or bookmark for more.

For other 'rich living' tips and craft projects, please subscribe, like me on Facebook, and follow me on Pinterest.