I made this DIY Clear Soccer Lamp for my son's room.
Recently, I designed, painted, and decorated this Soccer-Rocket-League-Themed room for my son.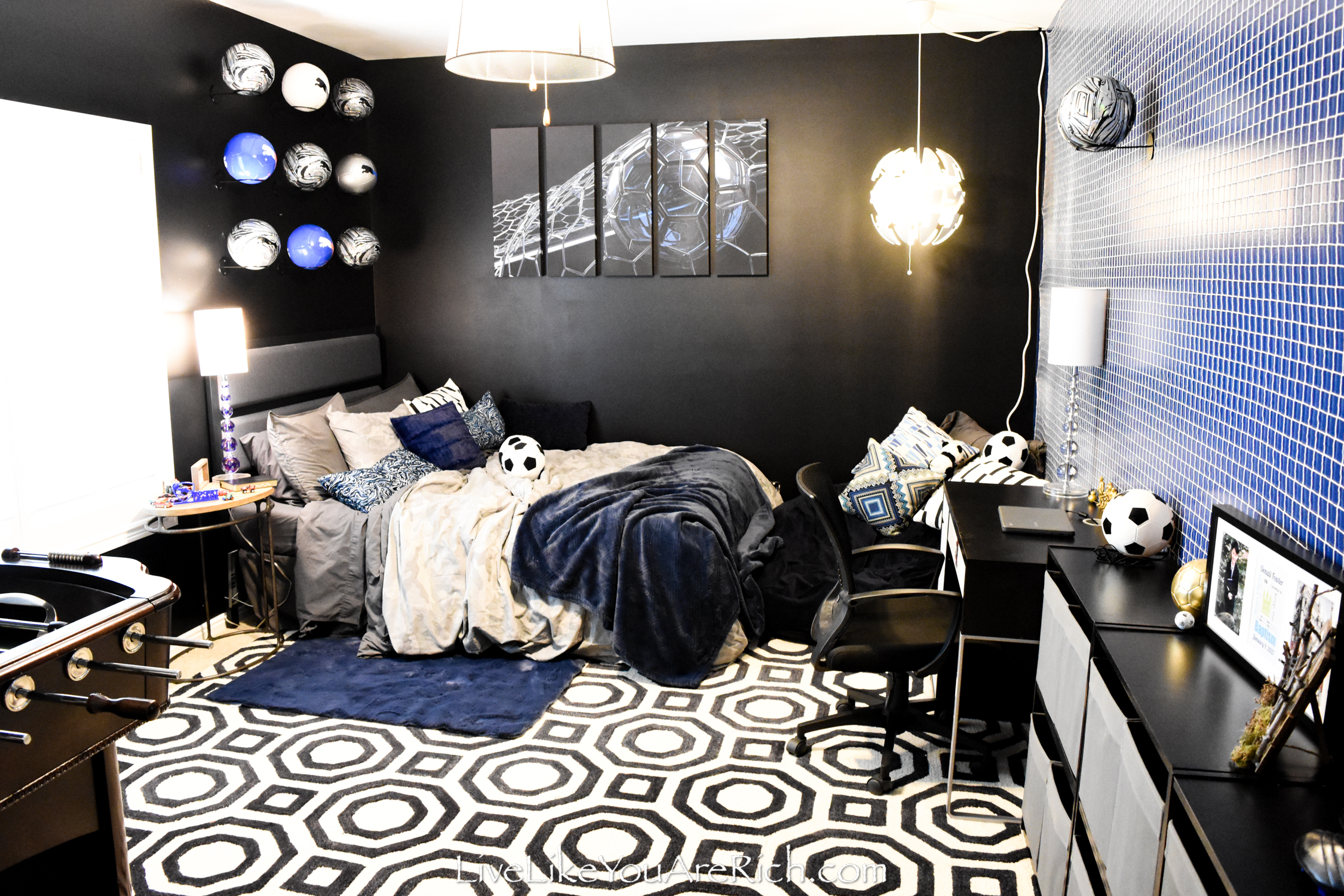 My neighbor was getting rid of 2 tall crystal lamps with stacking balls and I said that I'd love them.
I took off the lamp shades that were originally on the lamps and I switched them out with two that I had from other lamps in my home. I liked the modern look that these small white lamp shades gave the lamps.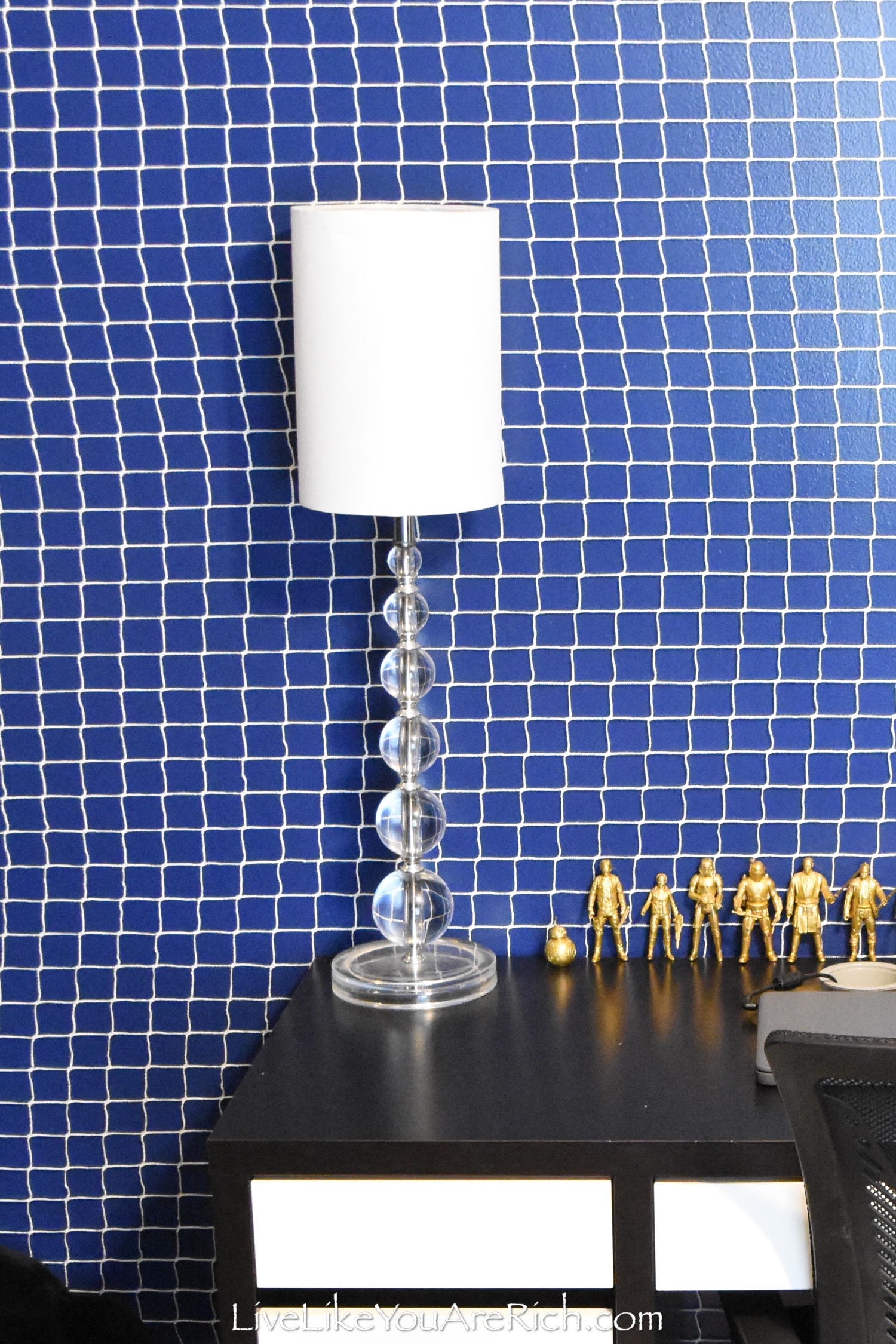 I thought it would be cool to turn them into soccer ball lamps. I wanted the design to be understated and I wanted to keep the crystal clear lamp style.
I debated cutting a soccer pattern out of vinyl using my Cricut and I debated some other options, but I decided trying a marker would be easiest, cheapest, and probably result in a see-through look which would keep the integrity of the crystal look which I liked.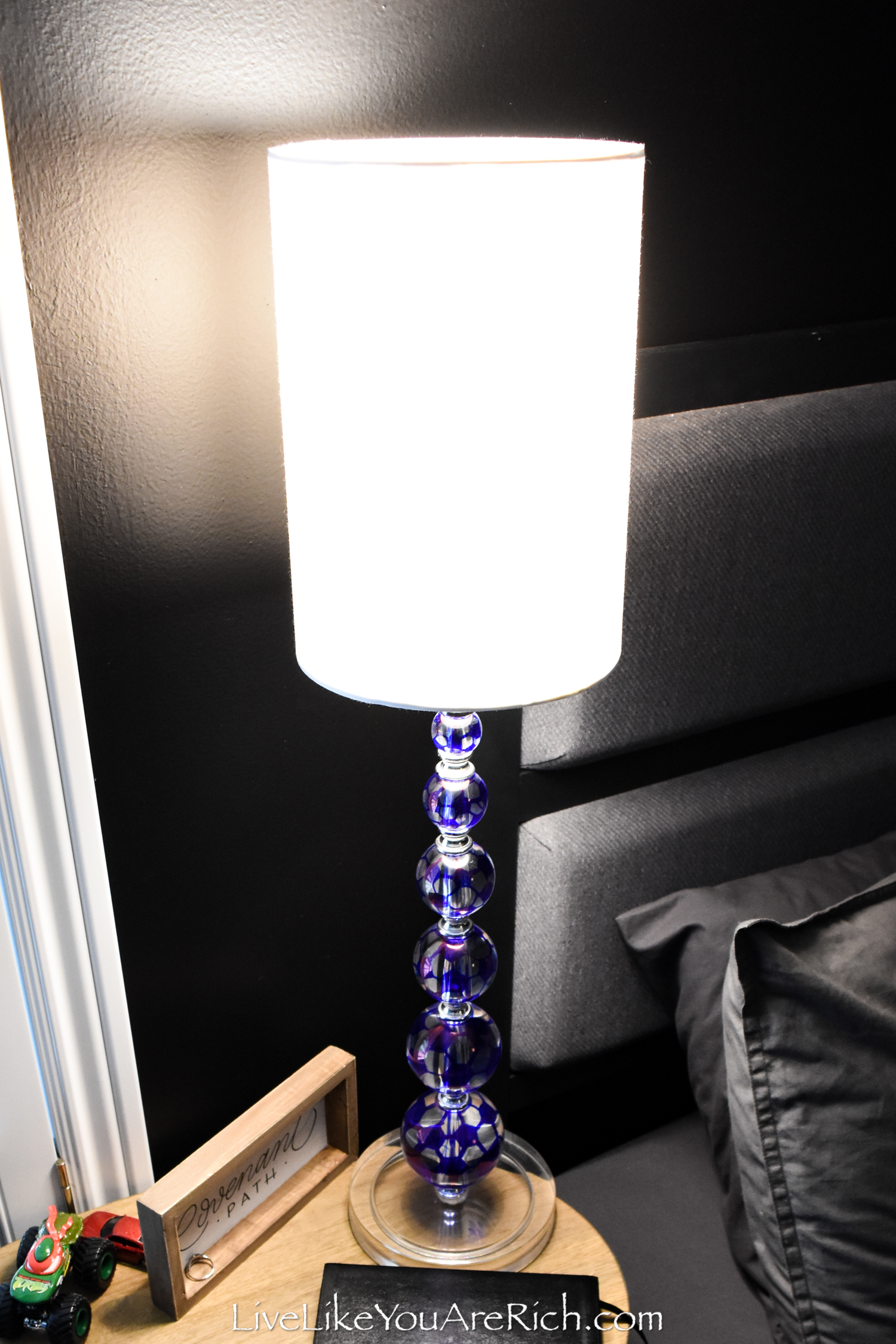 While it is far from perfect, it was free, easy and quick to do. It only took me about 15 minutes revamp the lamp.
This is a great project for a soccer room since most of the other soccer-themed lamps that I looked like were very different, expensive, and plain. This lamp is very unique—I didnt find anything like it while searching online.
Most importantly though, my son really likes it. He has asked me to do his second lamp soon, I told him I would as soon as I'm done with his siblings' bedroom remodels… which is rapidly approaching.
Materials needed DIY Clear Soccer Lamp
Lamps— clear stacked ball lamp.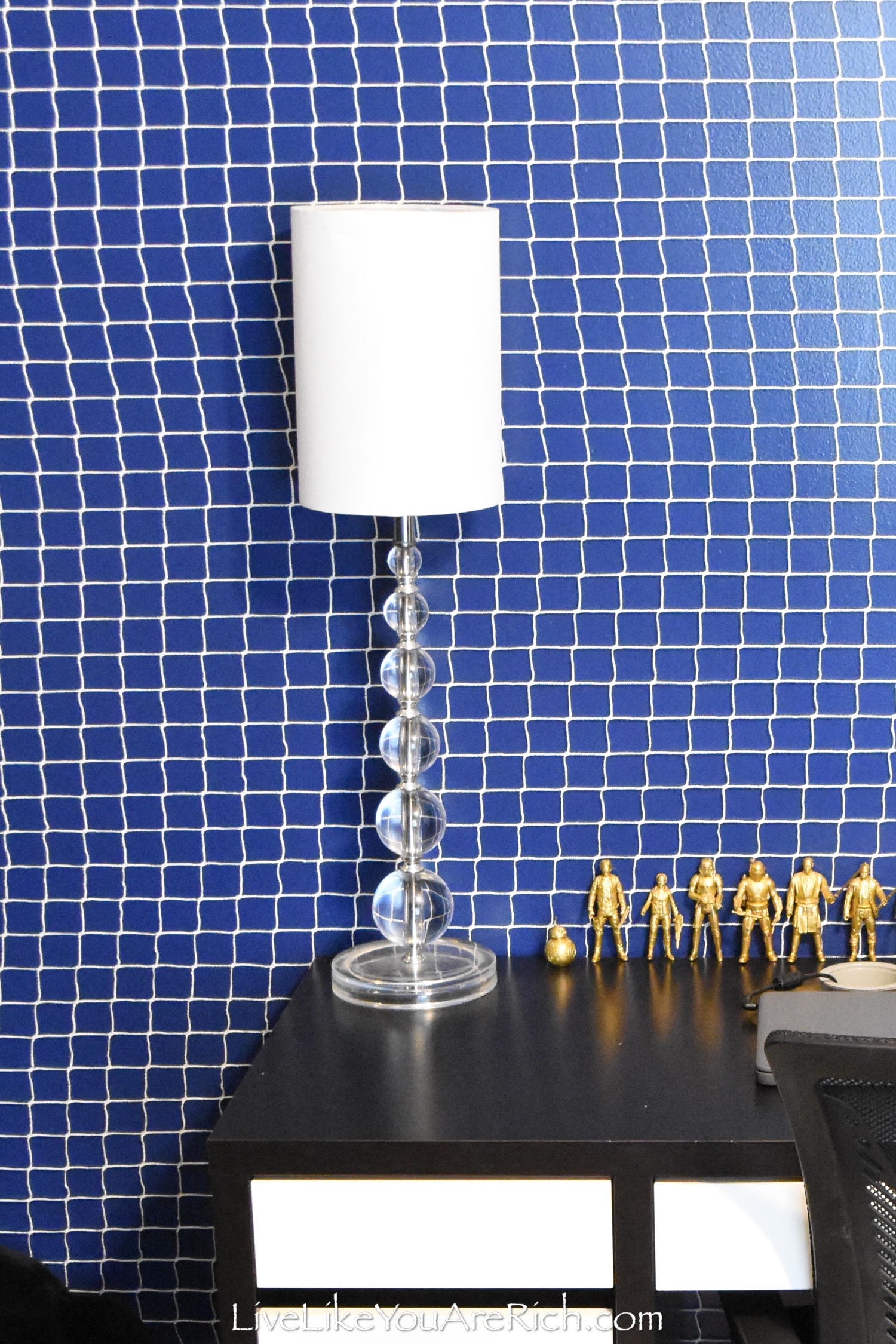 My neighbor gave me two of these crystal lamps for free. They came with different shades on them. I took shades from two other lamps that I had on hand to make them more modern and then added the soccer designs on.
Soccer ball pattern to look from
Sharpie fine tip permanent marker in the color you'd like the lamp to be
paper towels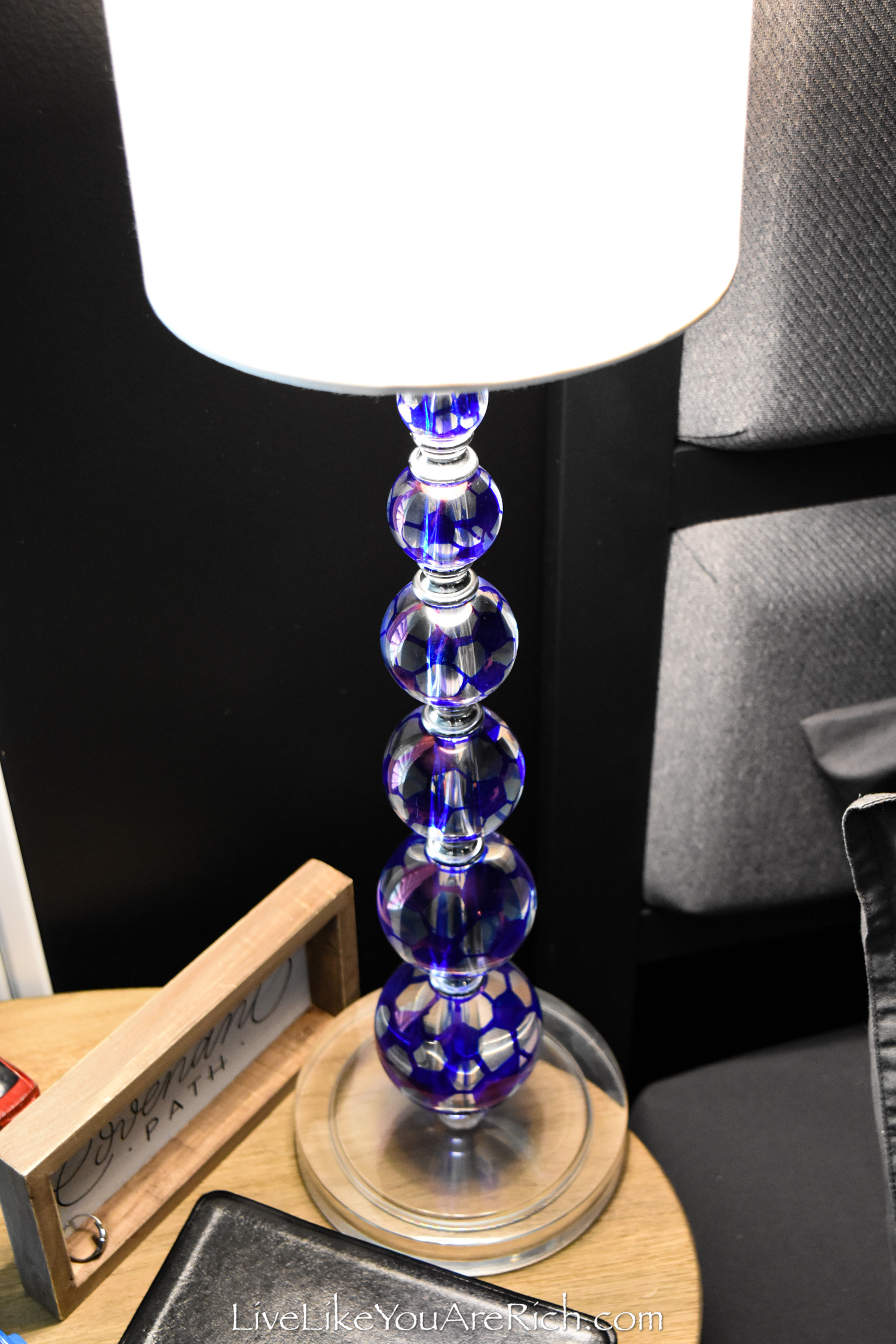 How to make this DIY Clear Soccer Lamp
continue reading and/or watch the video on this post.
1- Clean and dry the lamp.
2- Gather supplies.
3- Using an Expo marker, practice drawing soccer patterns on the lamp.
4- Wipe off the Expo marker in small areas and follow by using a Sharpie marker regular tip to re-draw what you just wiped off.
5- If you make a mistake, use an Expo marker over the Sharpie marker and wipe it clean and the Expo marker should help the permanent marker mistake come off.
Tip- No matter what I did, the soccer pattern became distorted starting in the center and making my way about 1/3 around the sphere each way, so, it's important to start in the front center on each of the soccer balls, so that, if like mine, your pattern because distorted, it becomes distorted on the side back of each soccer ball.
Also, I did not complete the pattern around the back because I liked the light shining through uninterrupted. I didn't want the front pattern being muddled up by back markings and further, it was hard to get all the way around the circle in a uniform pattern so it was easier just to draw the soccer ball onto the sphere about 2/3rds way around.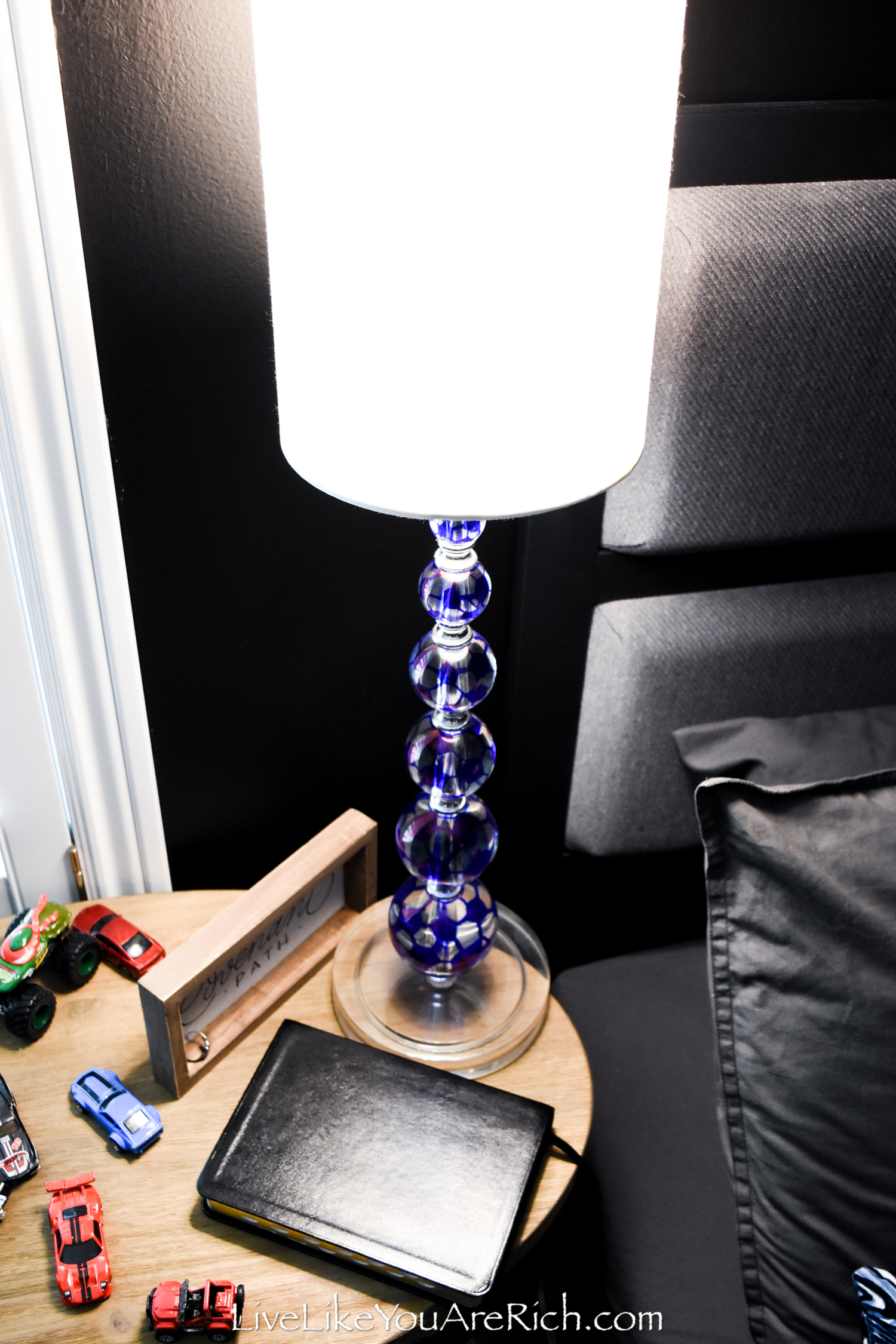 This was a very simple, easy, and inexpensive project. As mentioned, my son loves the end result and that makes me happy. I hope that this DIY Clear Soccer Lamp tutorial helps you if you want to make something similar.
Thanks!

For other 'rich living tips' please subscribe, like me on Facebook, and follow me on Pinterest and Instagram.