This is my son's Modern Soccer and Rocket League-Themed Boys Room.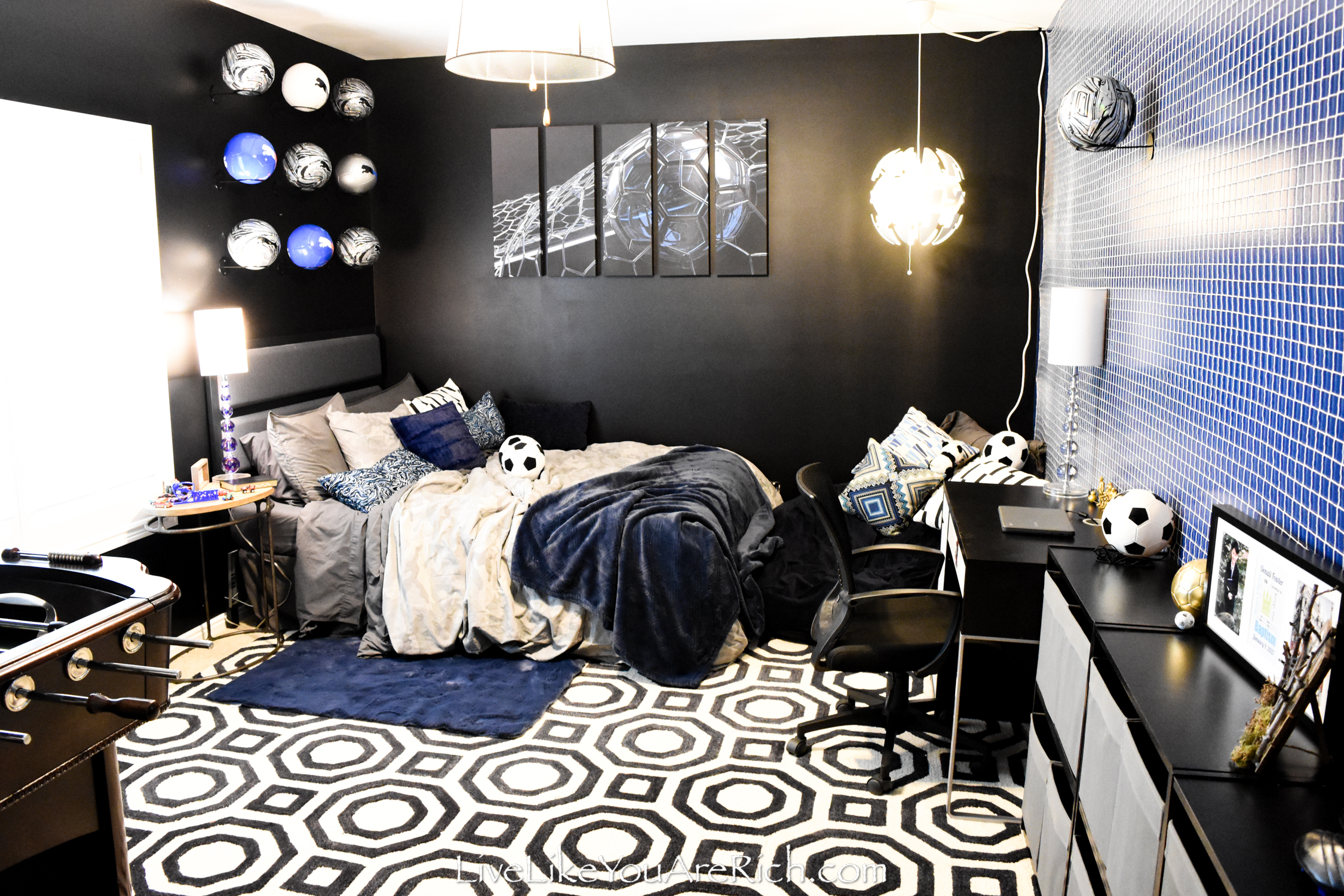 Rocket League is an Xbox game where they play soccer using cars to push the giant ball into the goals.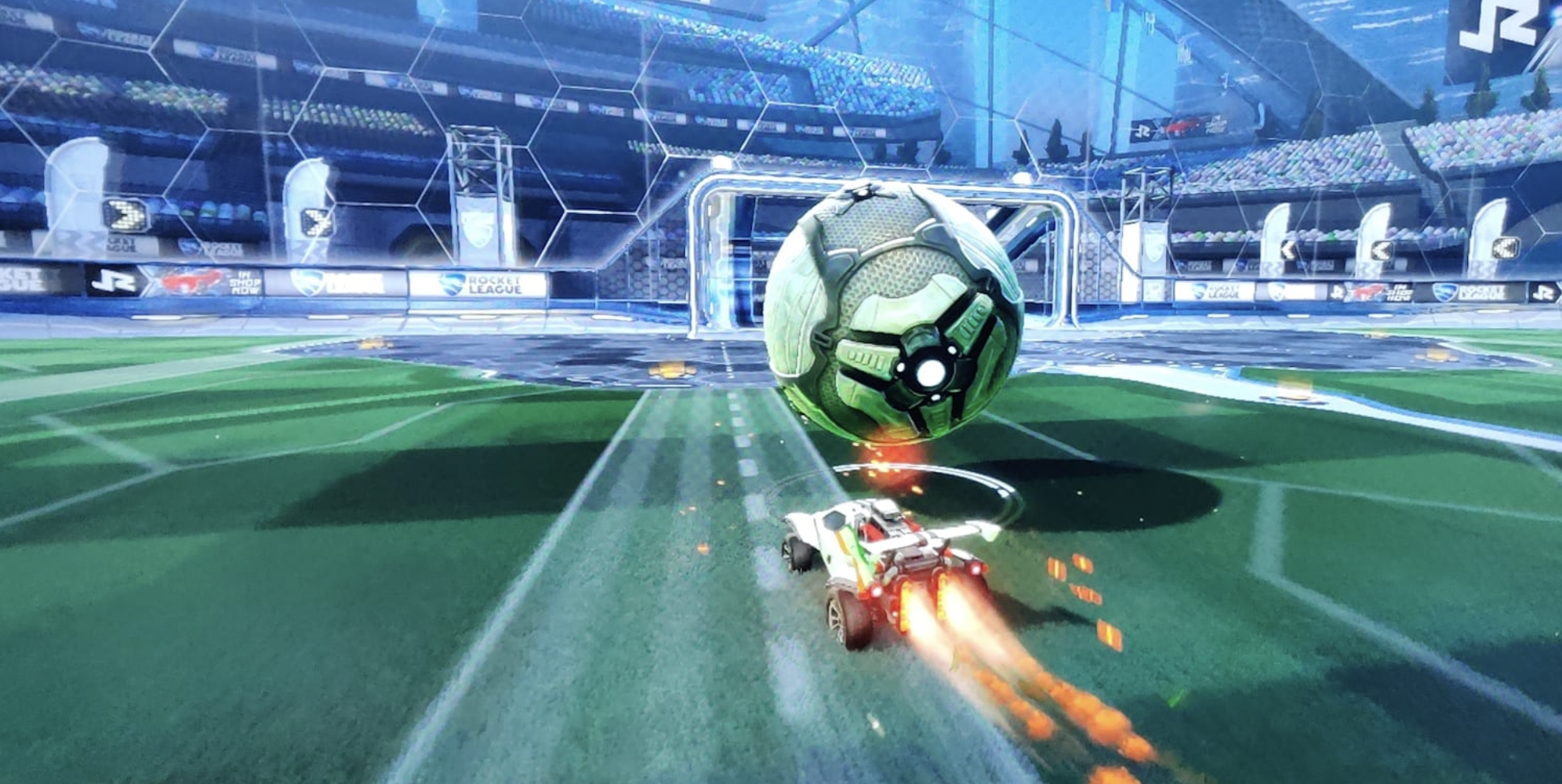 My son asked for a Soccer-Rocket-League-Themed room… so that is what I tried to plan for. Luckily for me, he loved the end design!
This was the before photo of the same room.
This photo was taken when the previous owners listed it on the MLS. This is how the room was painted and staged to sell our home.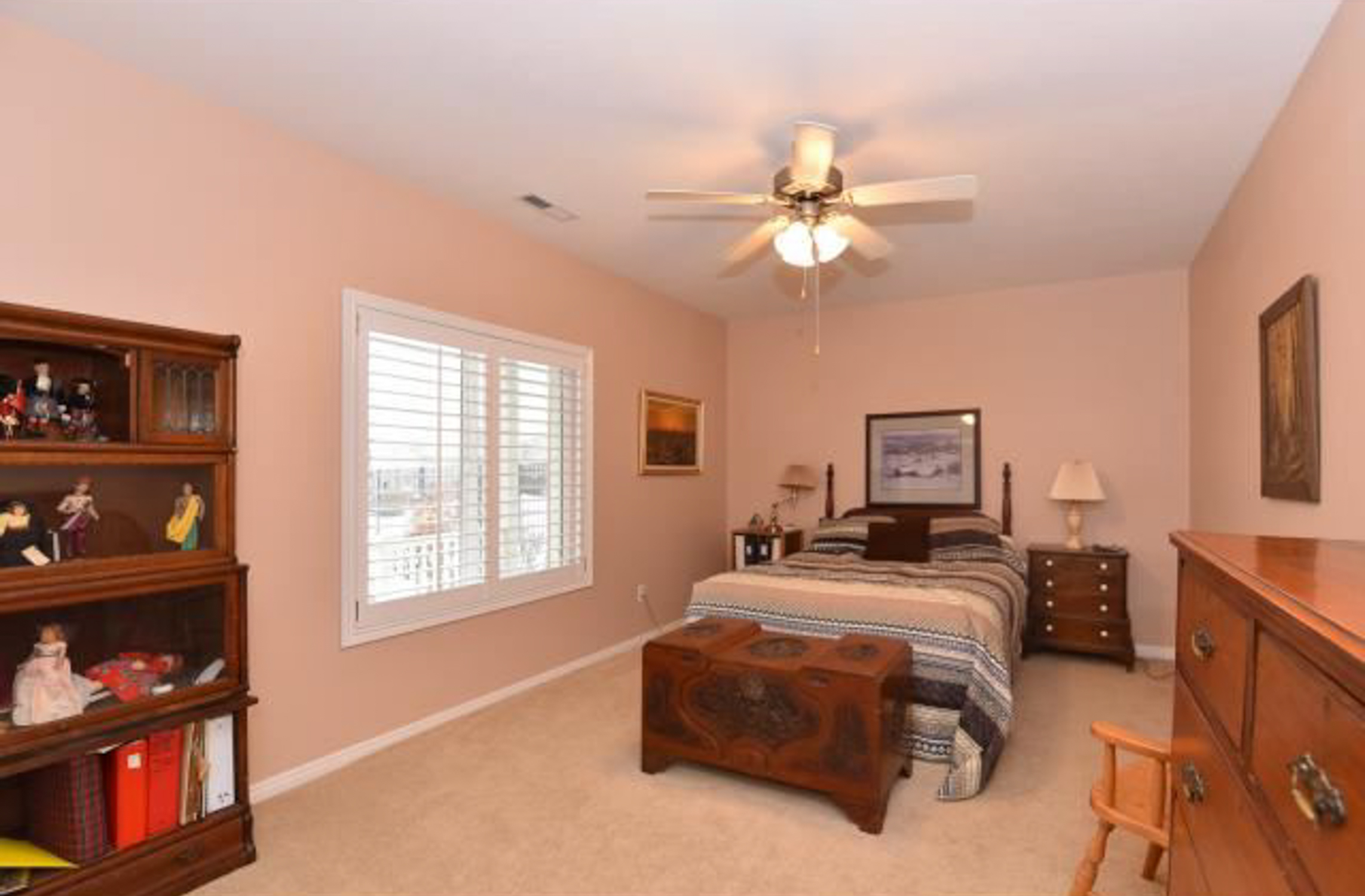 We've lived here for five years and for most of that time, this room has been a guestroom.
I just decorated it using items I had around the house and a few art canvases I purchased. I wanted it 'presentable' but I didn't want to put a lot of money into it as we had plans that it would end up being a kids room eventually.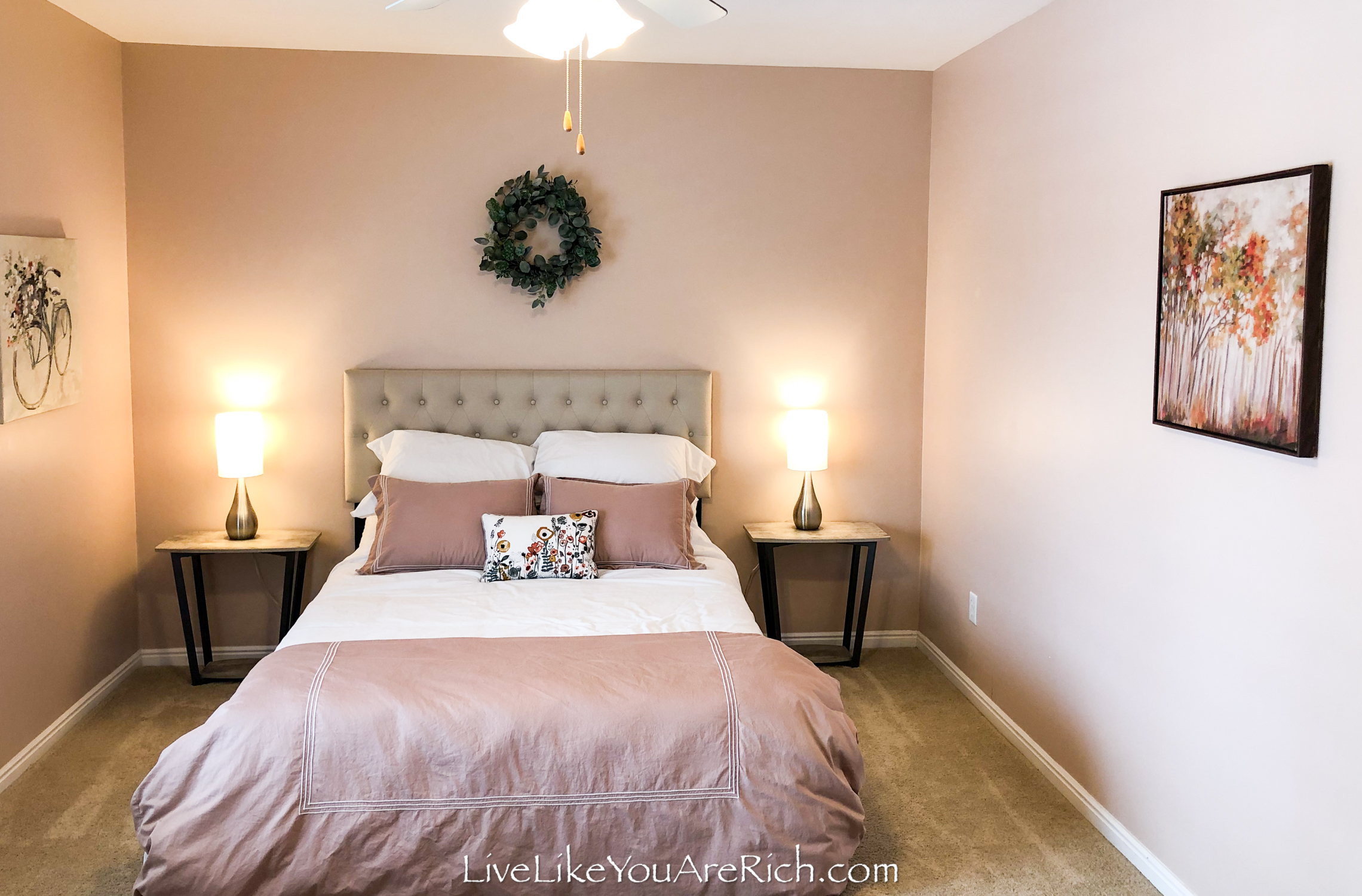 Fast forward 5 years and we have had two more children, so this room was now ready to be remodeled.
To start, my kids and I prepped the room for paint.
I found the paint on sale for $5.00 a gallon at Walmart. It was Kilz brand, which is great paint.
The colors were Navy and Onyx.
Total with painting supplies it cost $20.00 to paint the room.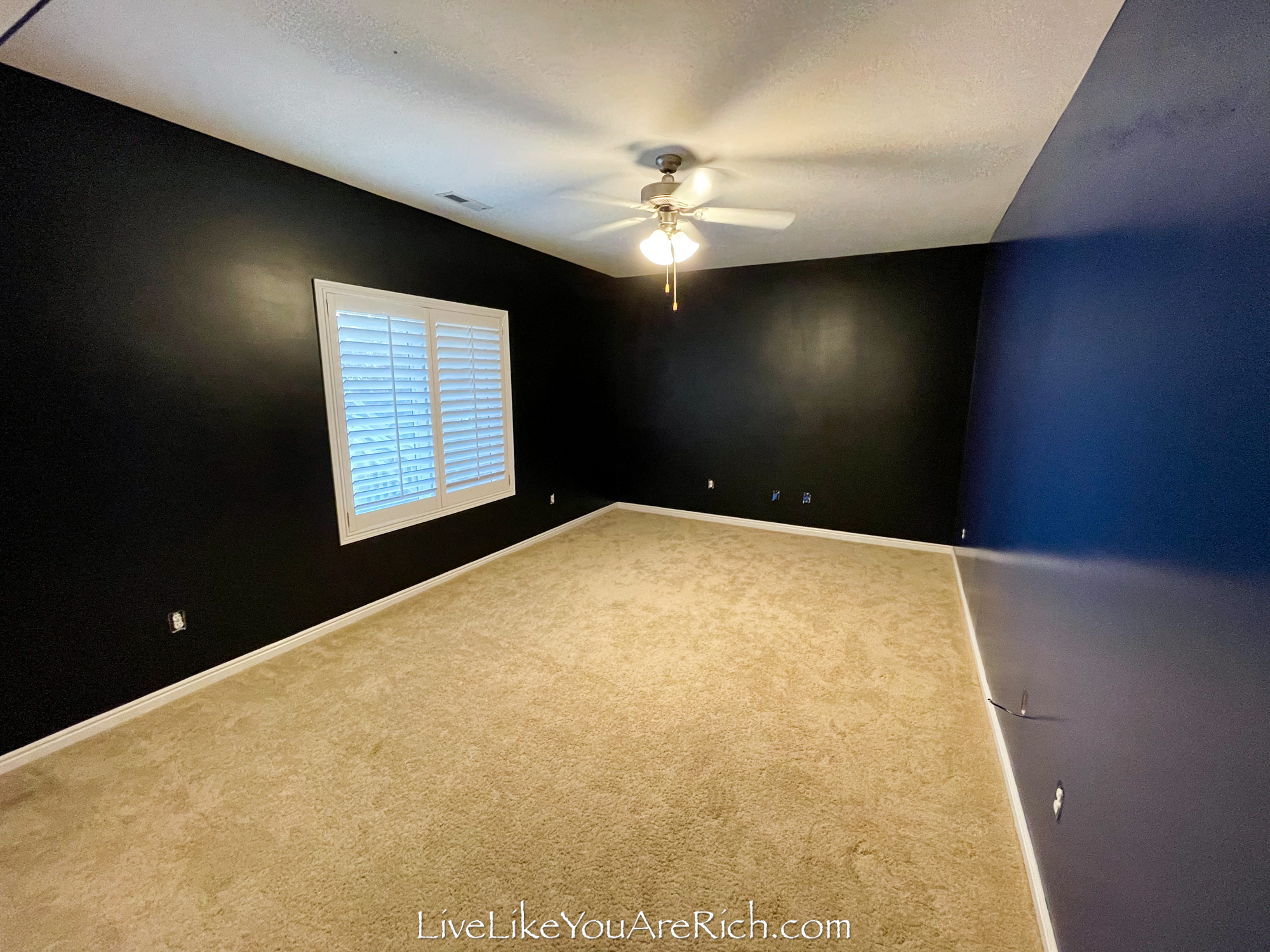 Next, I had my husband soldier the light shade that I got from Ikea onto the fan and remove the old glass flower shades.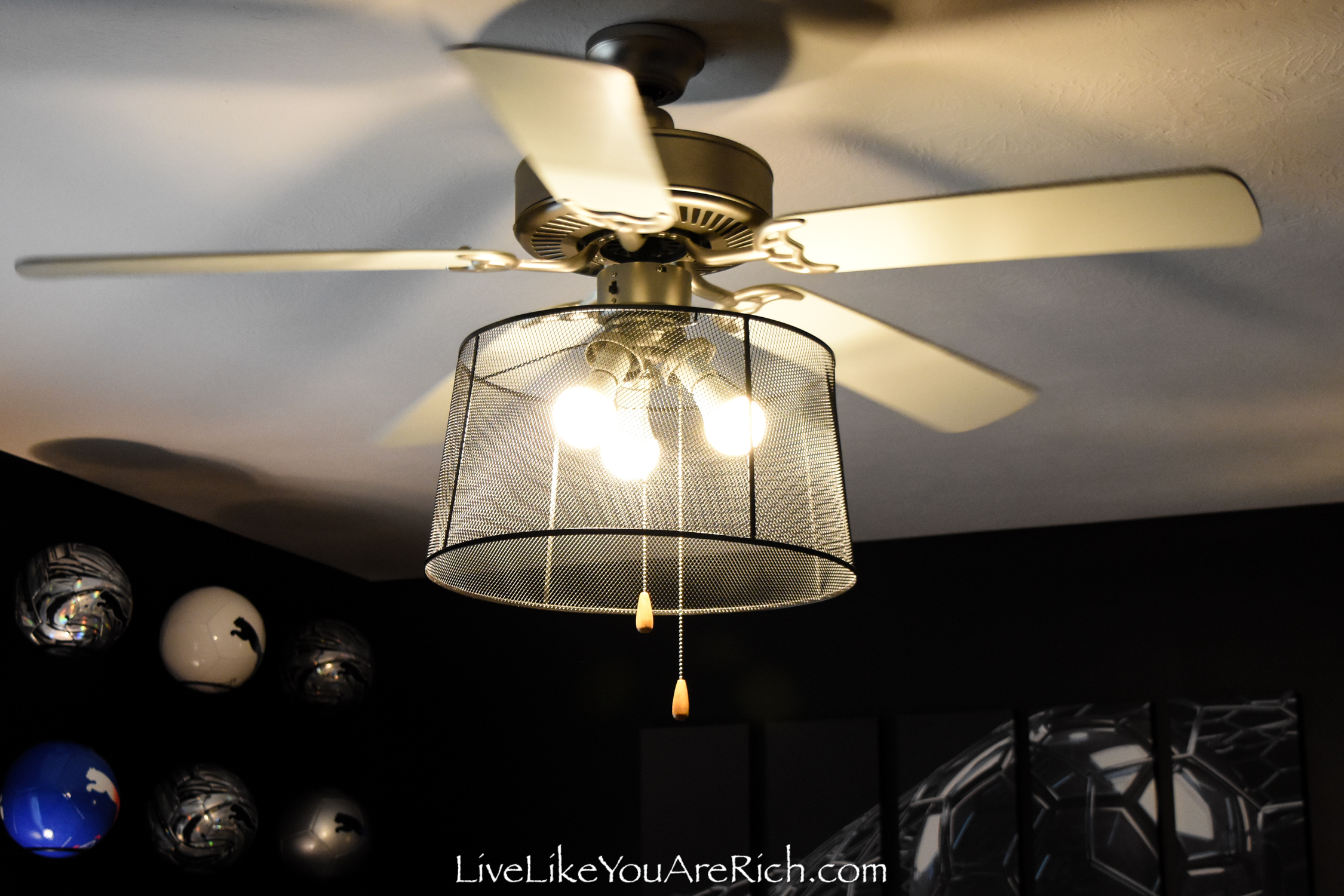 I thought it turned out great and this conversion/upcycle only cost us $18.00 from Ikea.
We are updating all of the fans in our basement using different lamp shades.
I'll try to film the next fan my husband does so I can post how he did it.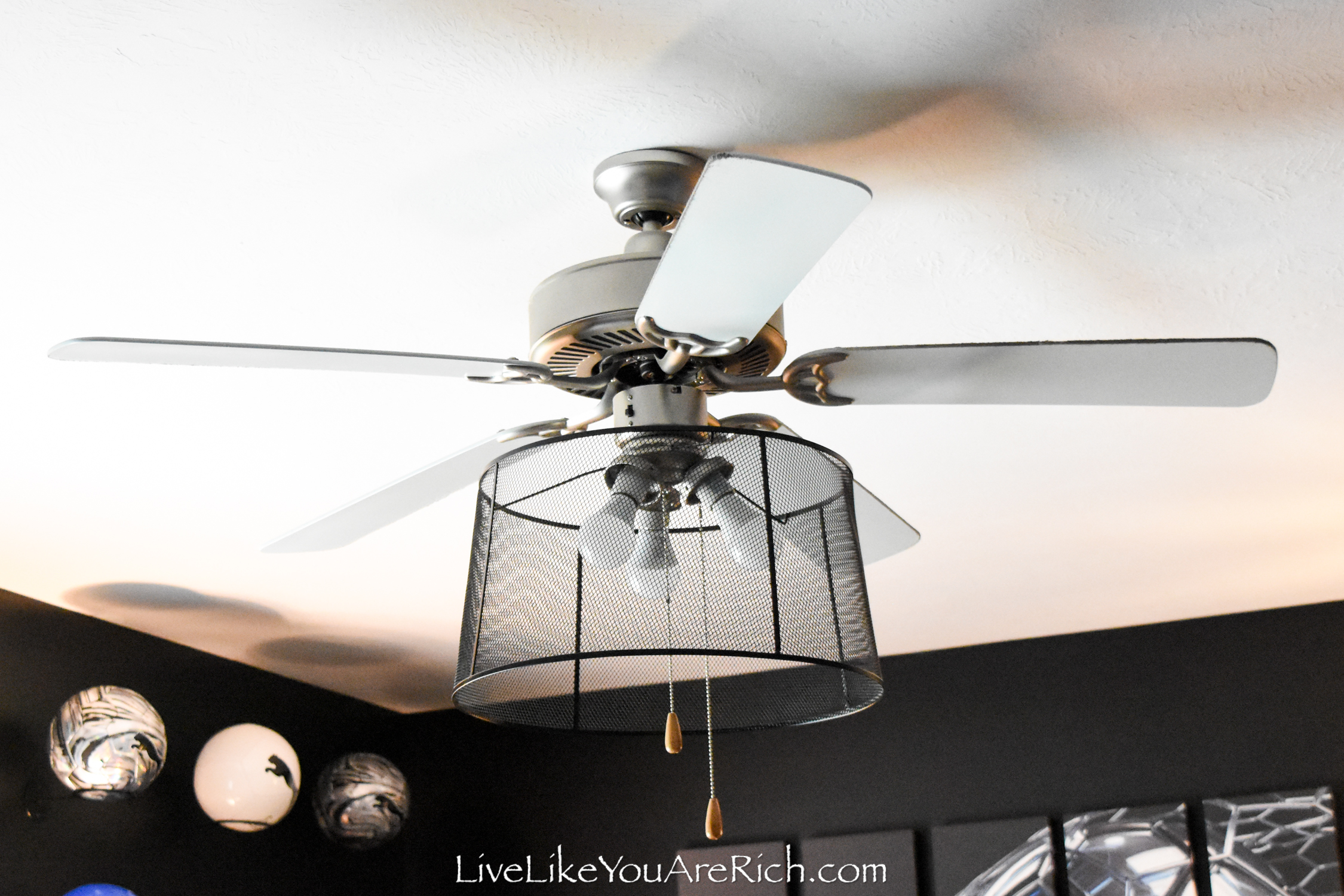 This upcycle is a great option if you have a working fan and want to keep it but want a different light fixture or look.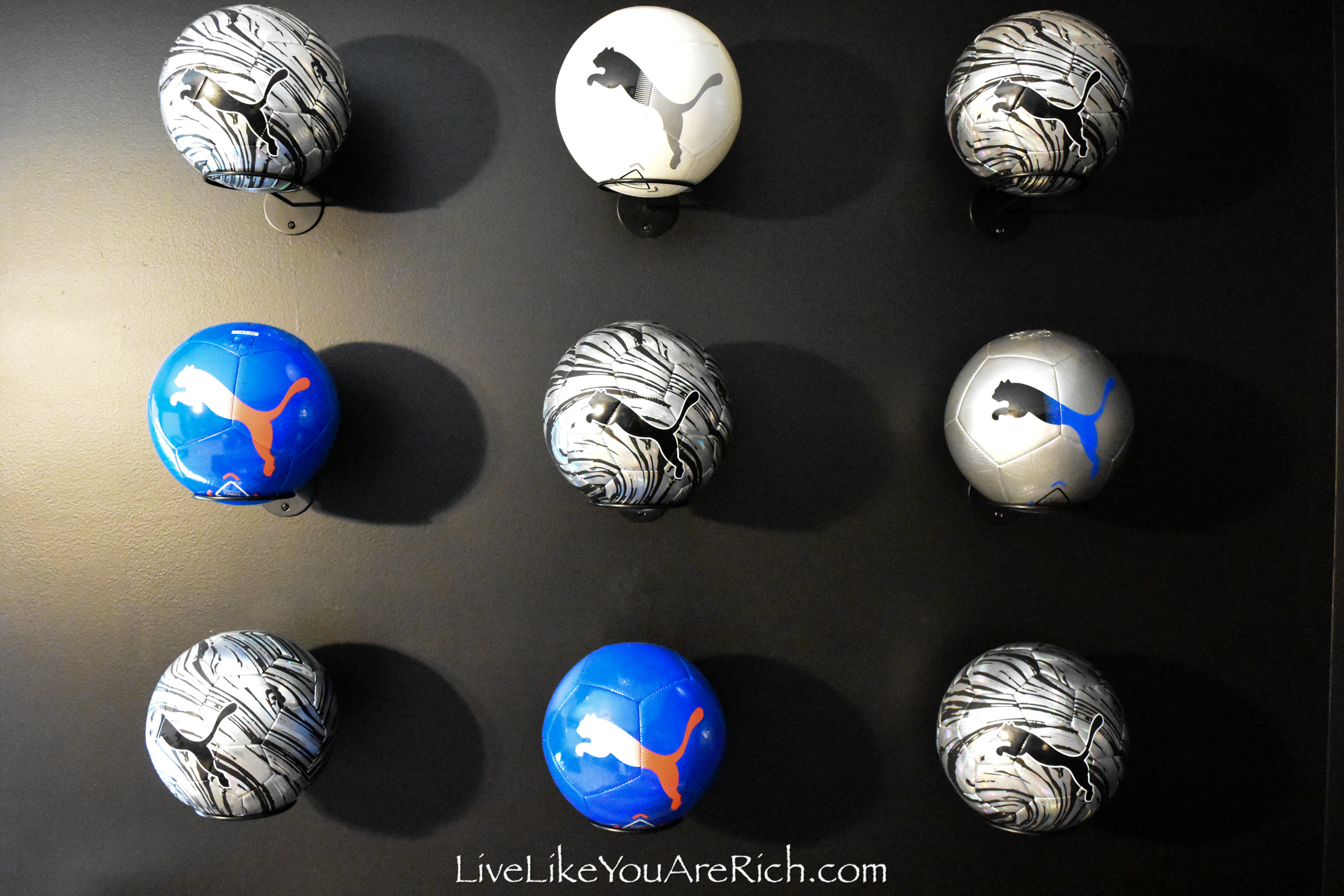 I searched for soccer balls that would match my son's soccer-themed-Rocket-Leauge room color scheme.
I wanted to purchase Adidas since that is the official brand of his club team, but I found amazing-colored soccer balls on Puma.
I wanted blue, metallic, silver, white, and black.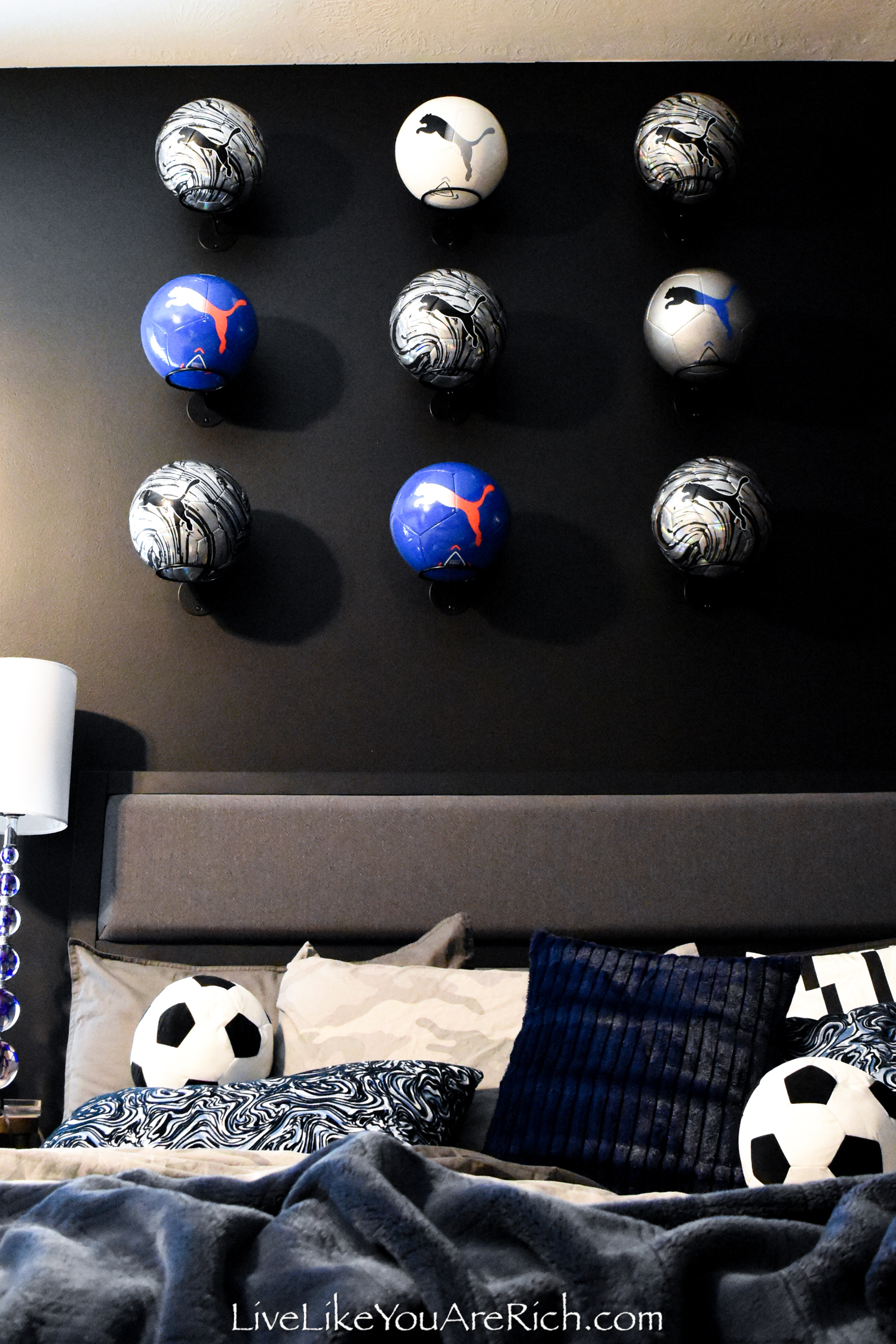 Puma definitely had what I was looking for and since the founders of Adidas and Puma are siblings, I feel like it was a great purchase.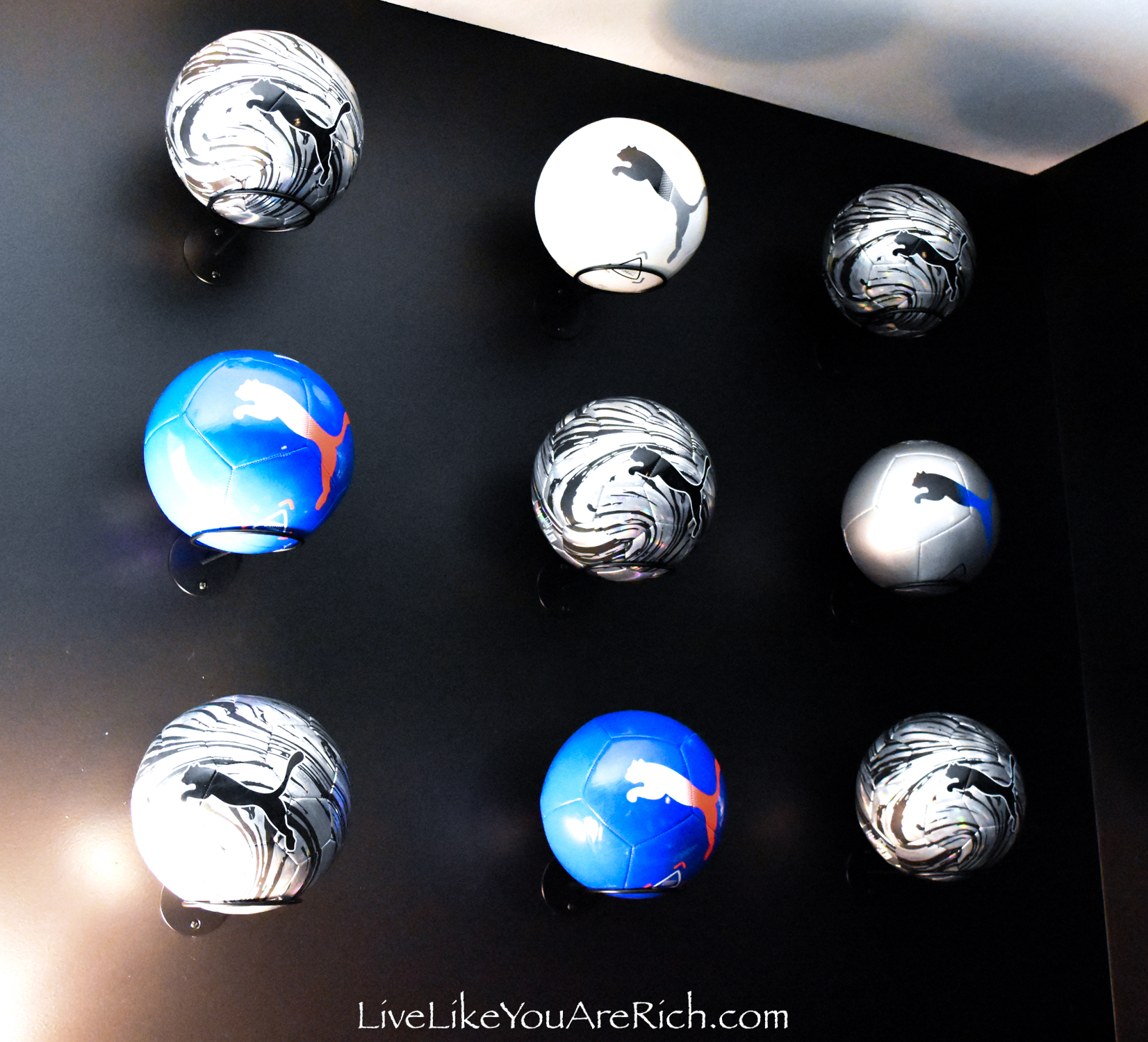 I was able to purchase them on sale with a coupon, making each of the 10 soccer balls I purchased $12.00 each.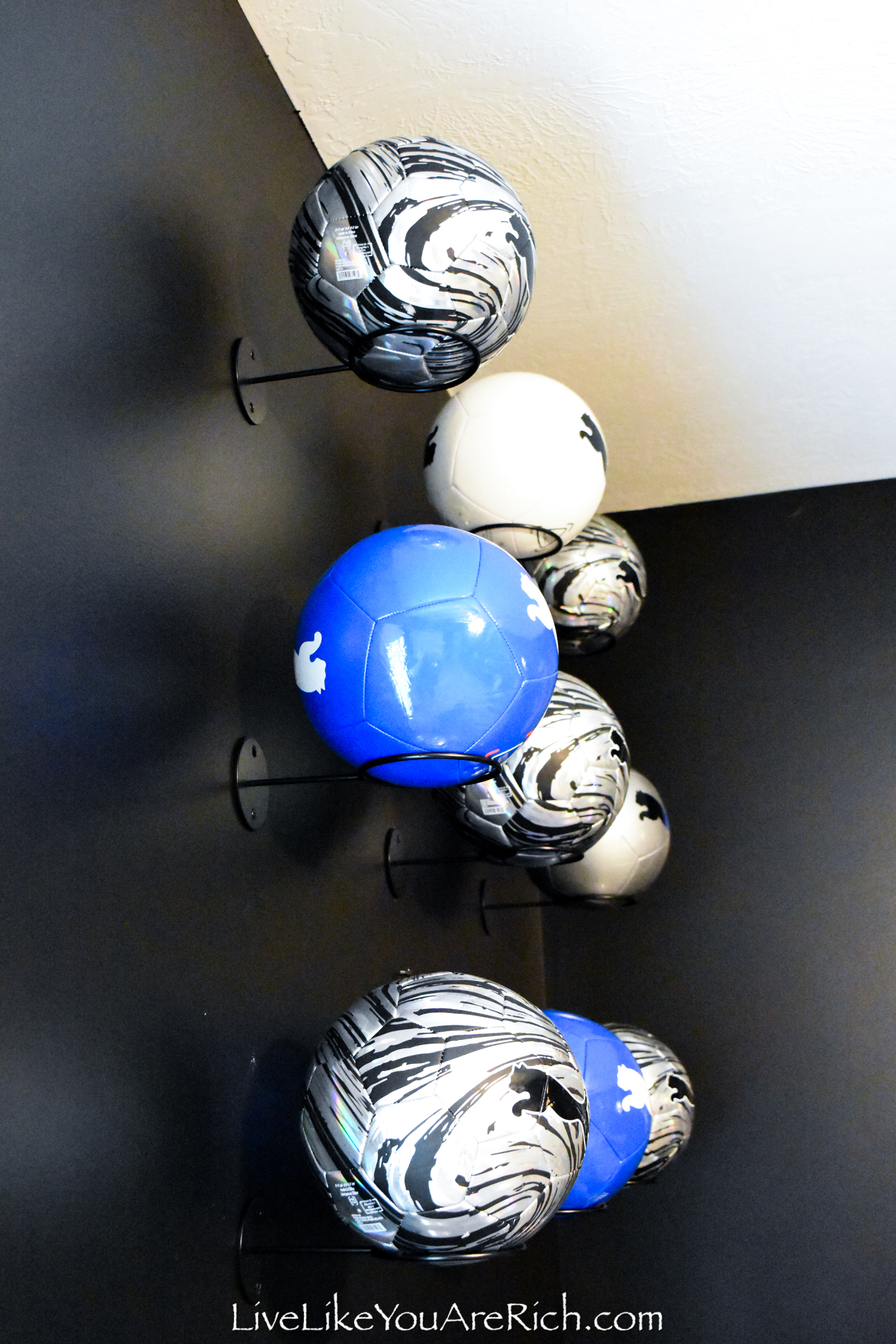 If you'd like to see the room in a video, just refresh this post/ click on it here for it to play.
I purchased 4″ round wall mount brackets in packs of 5 on Amazon here.
When I purchased them they were $23.00 each. I bought 2 packs.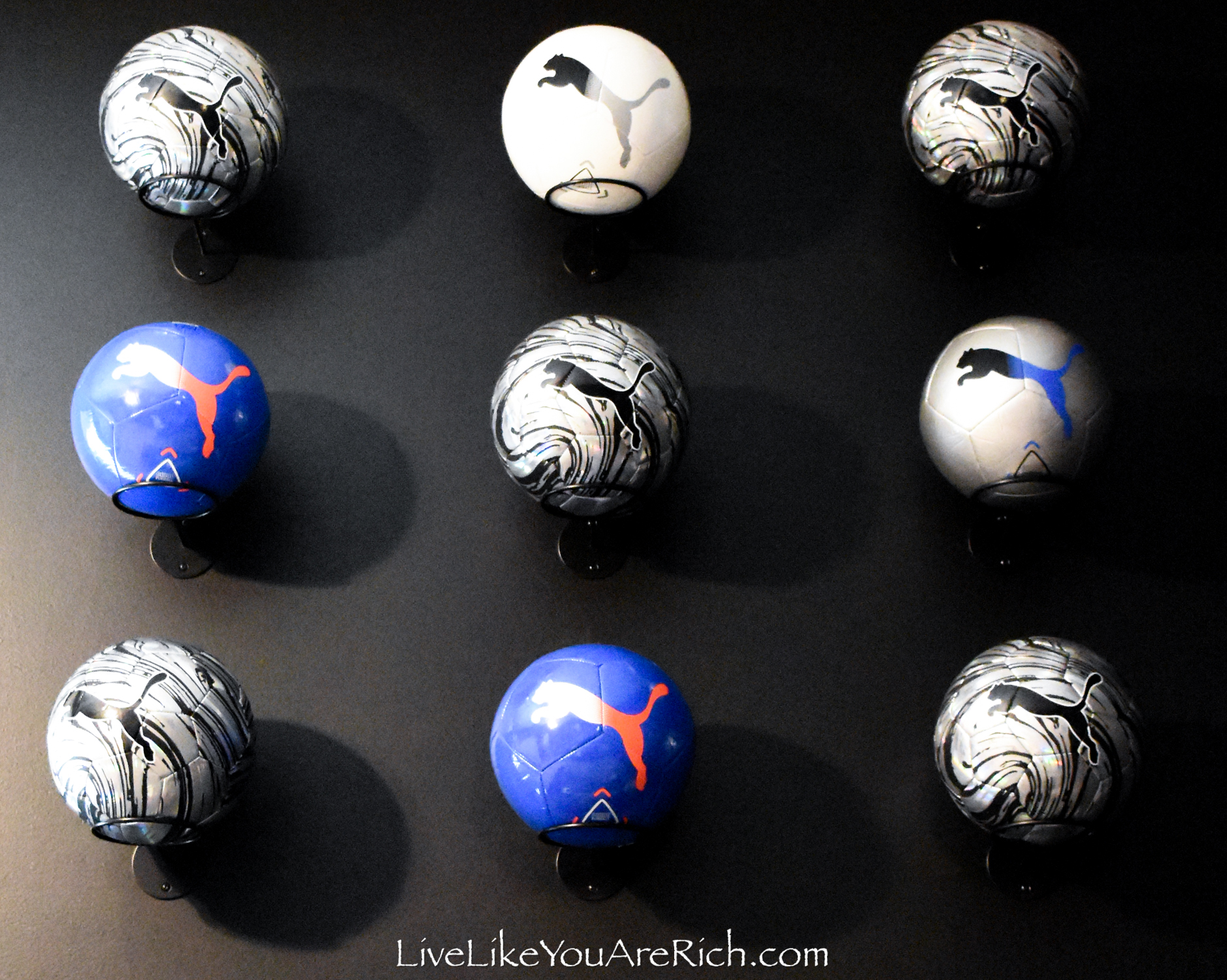 I measured and leveled each one and put up 9 soccer balls above my son's bed.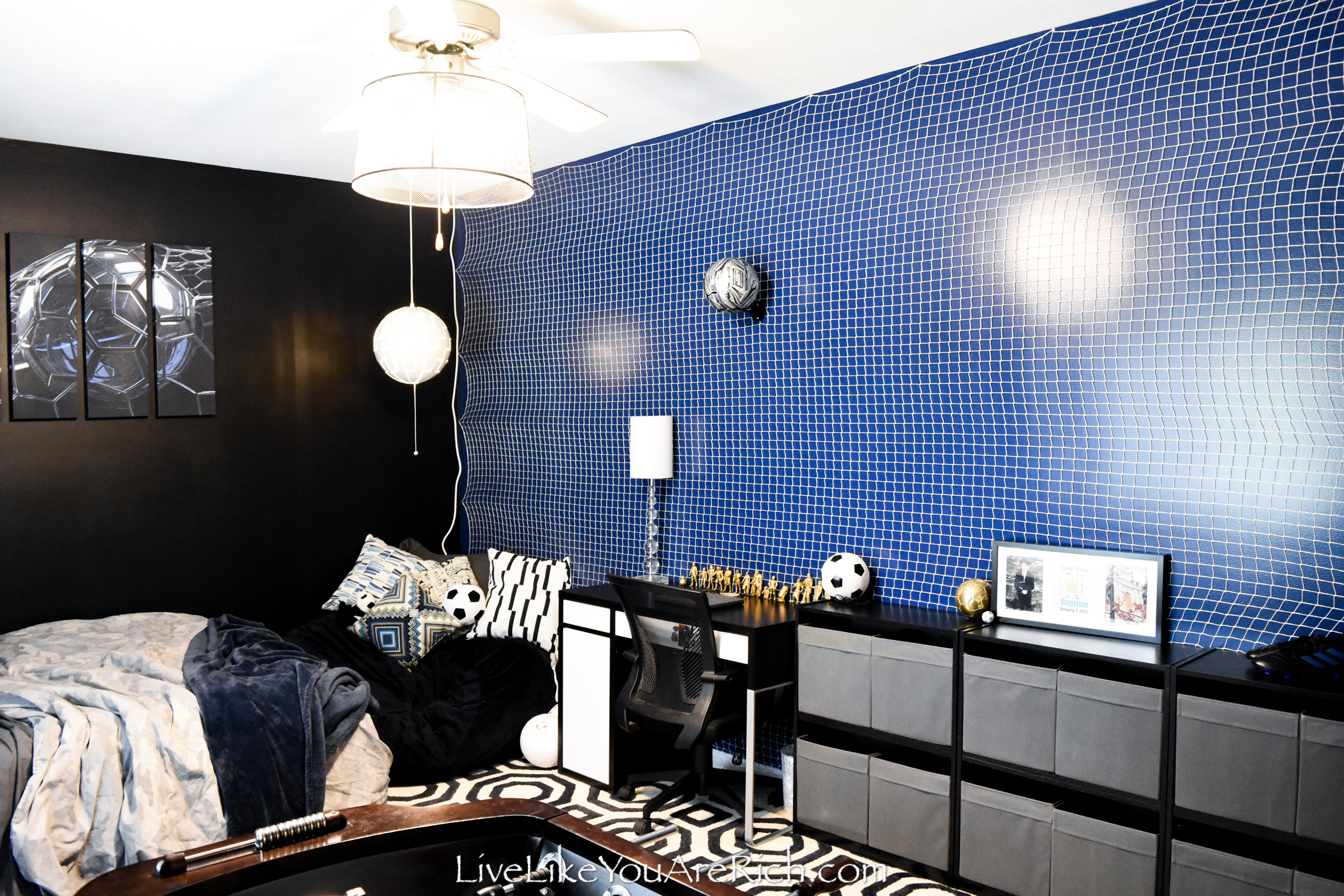 I had a 10th bracket that I used on the adjacent wall above my son's desk.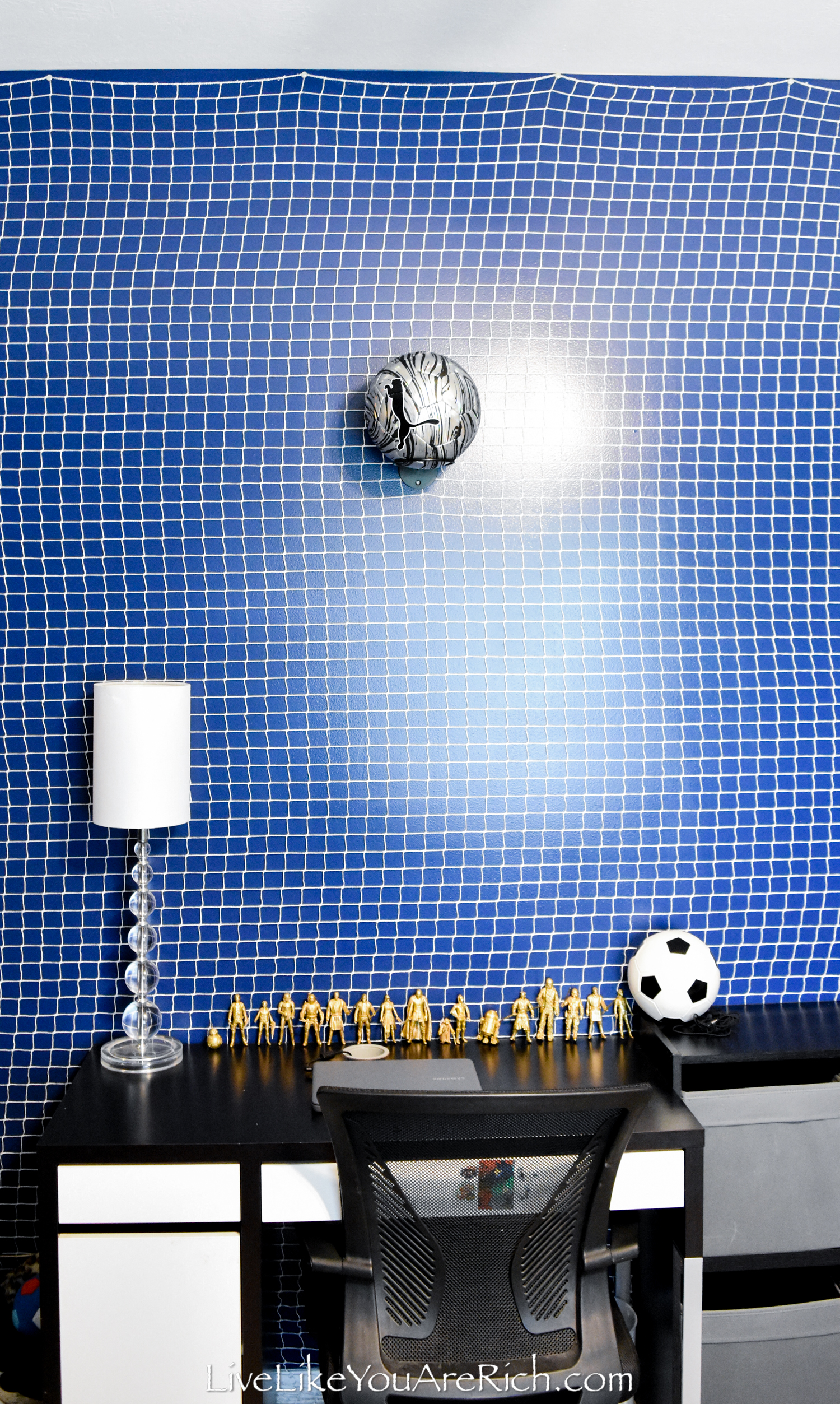 I choose the color scheme of blue, black, white, grey, and silver after ordering the two canvas art prints.
I purchased the first canvas soccer ball print from Elephantstock.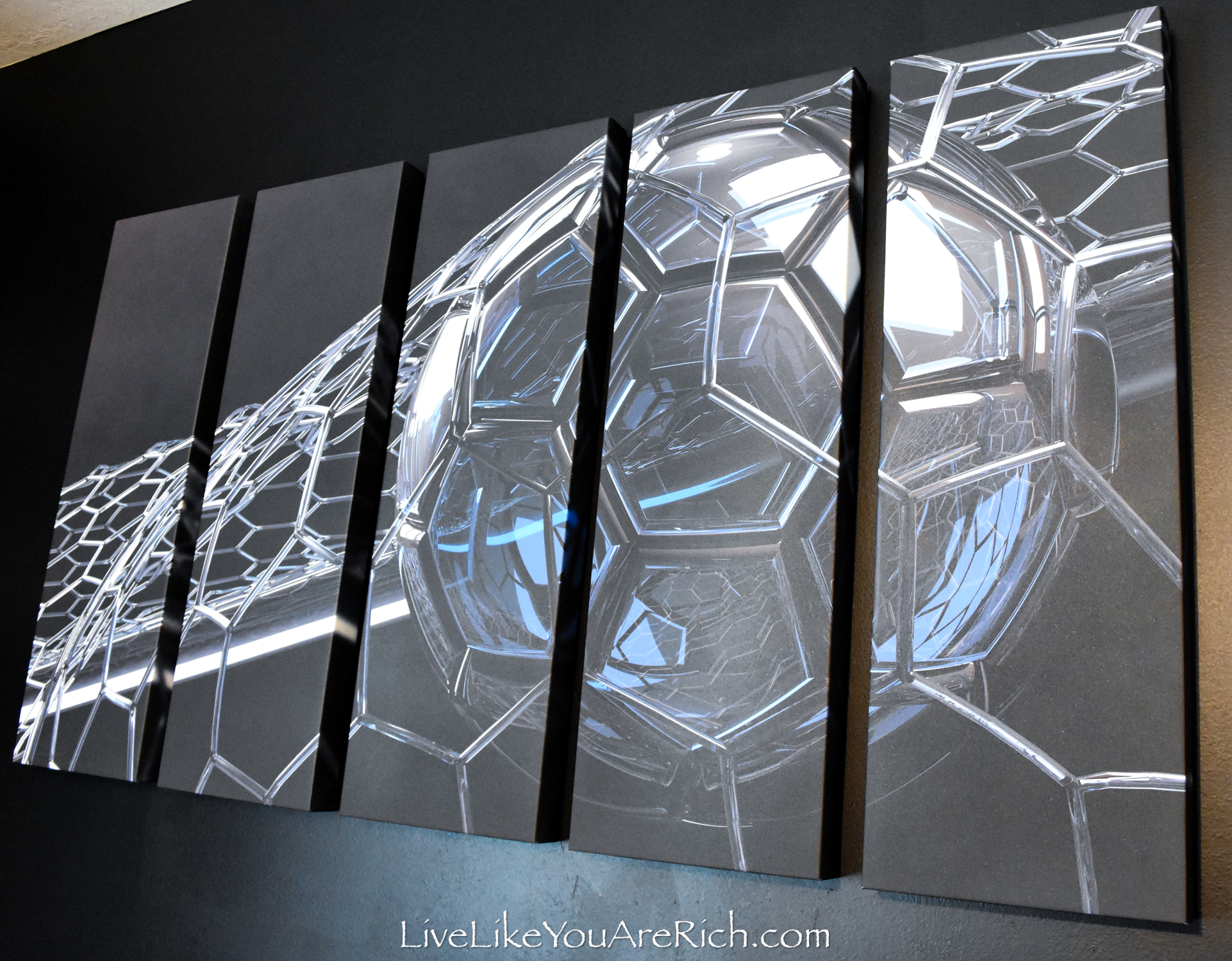 I loved how modern this piece of artwork is and also how it ties well into a Rocket-League-themed room as well.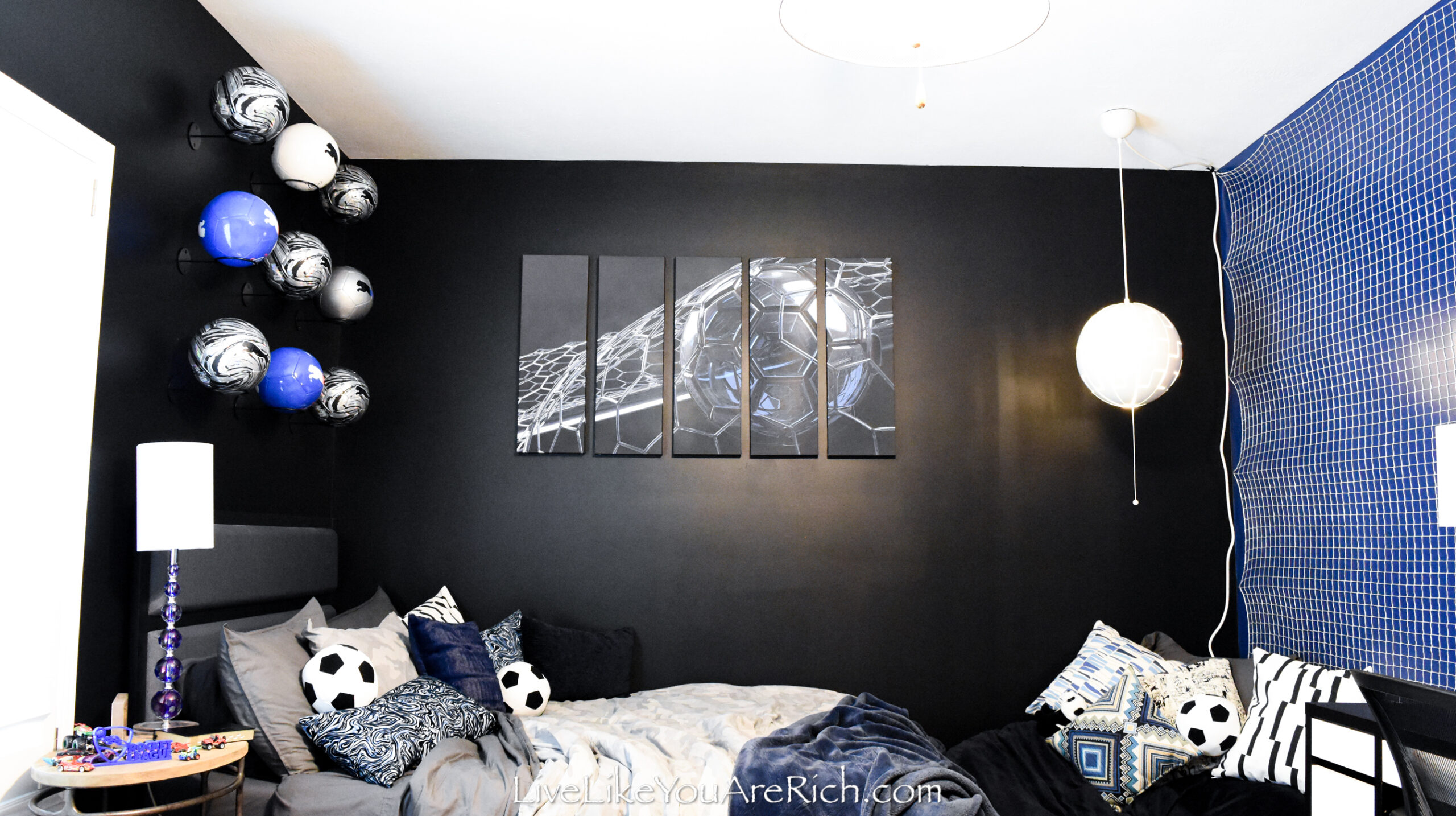 Its title is Modern Soccer Goal Wall Art Layout: 5 Piece Size: 55″ X 30″.
I got it on sale with a coupon shipped free for $128.00.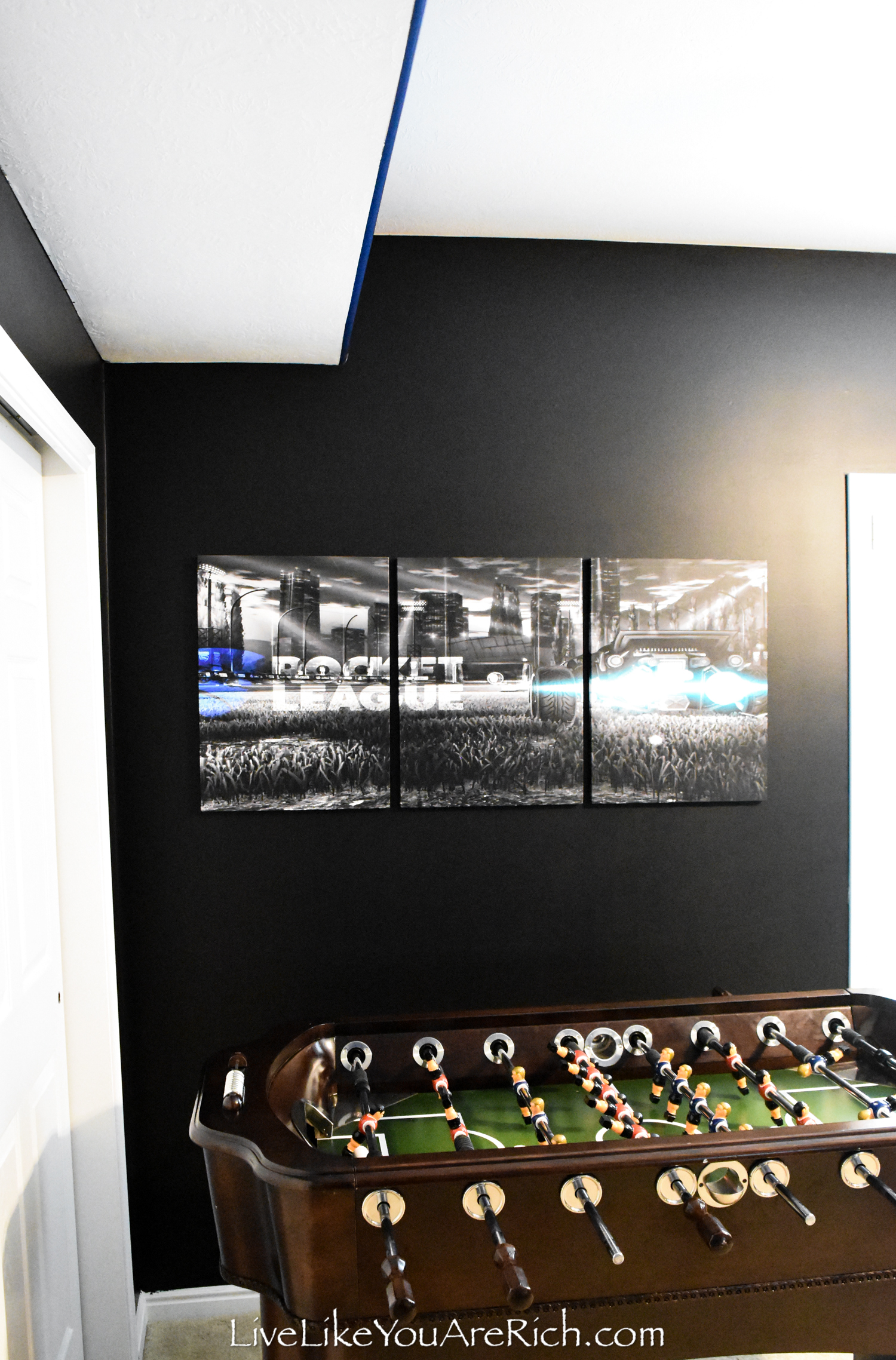 I purchased the Rocket League artwork from Legendary Wall Art.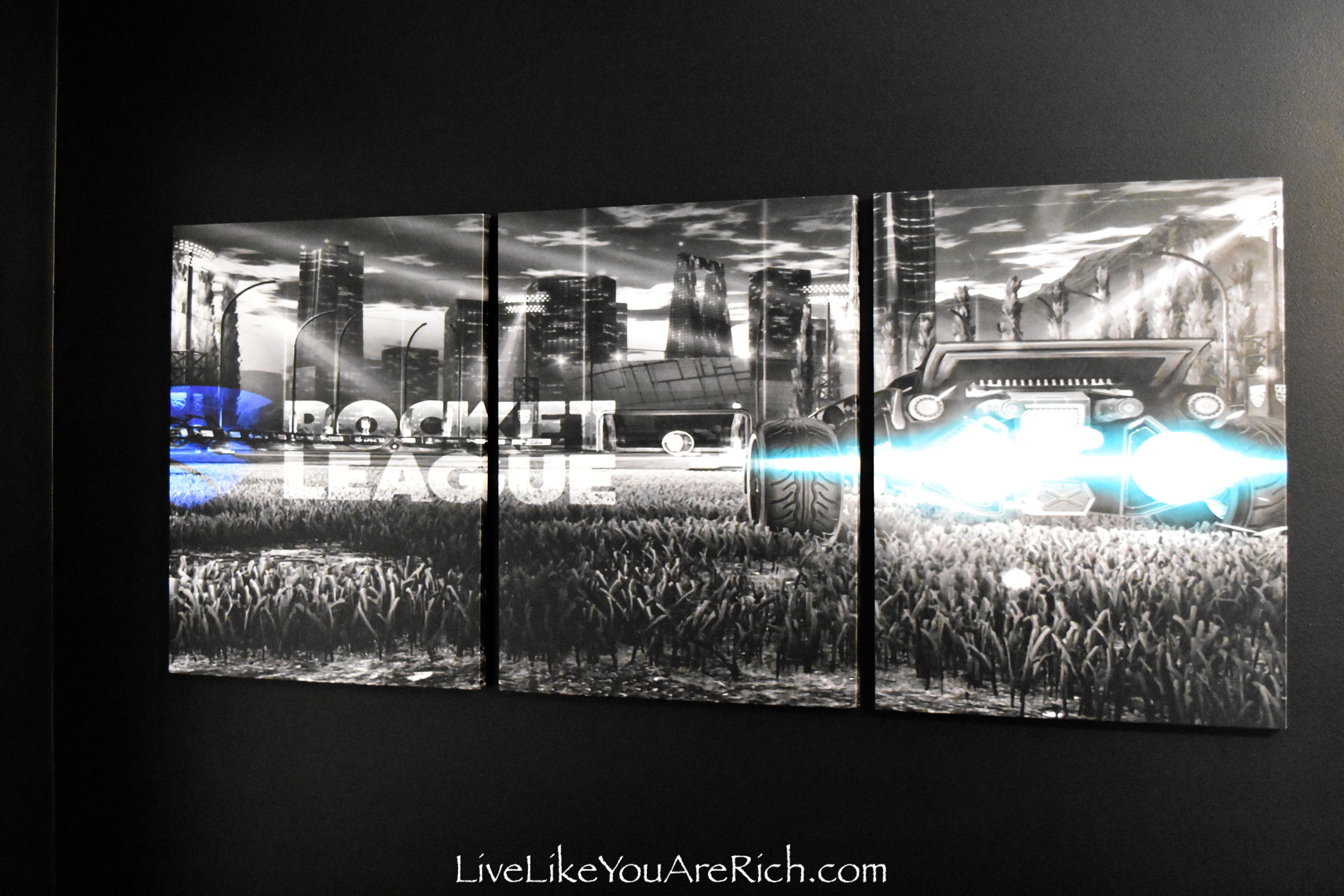 It's title is Rocket League Canvas Set—3 Piece / Large / Standard (.75″). Total with a coupon and shipped free it cost $117.00.
For the other wall, I wanted to hang a soccer net.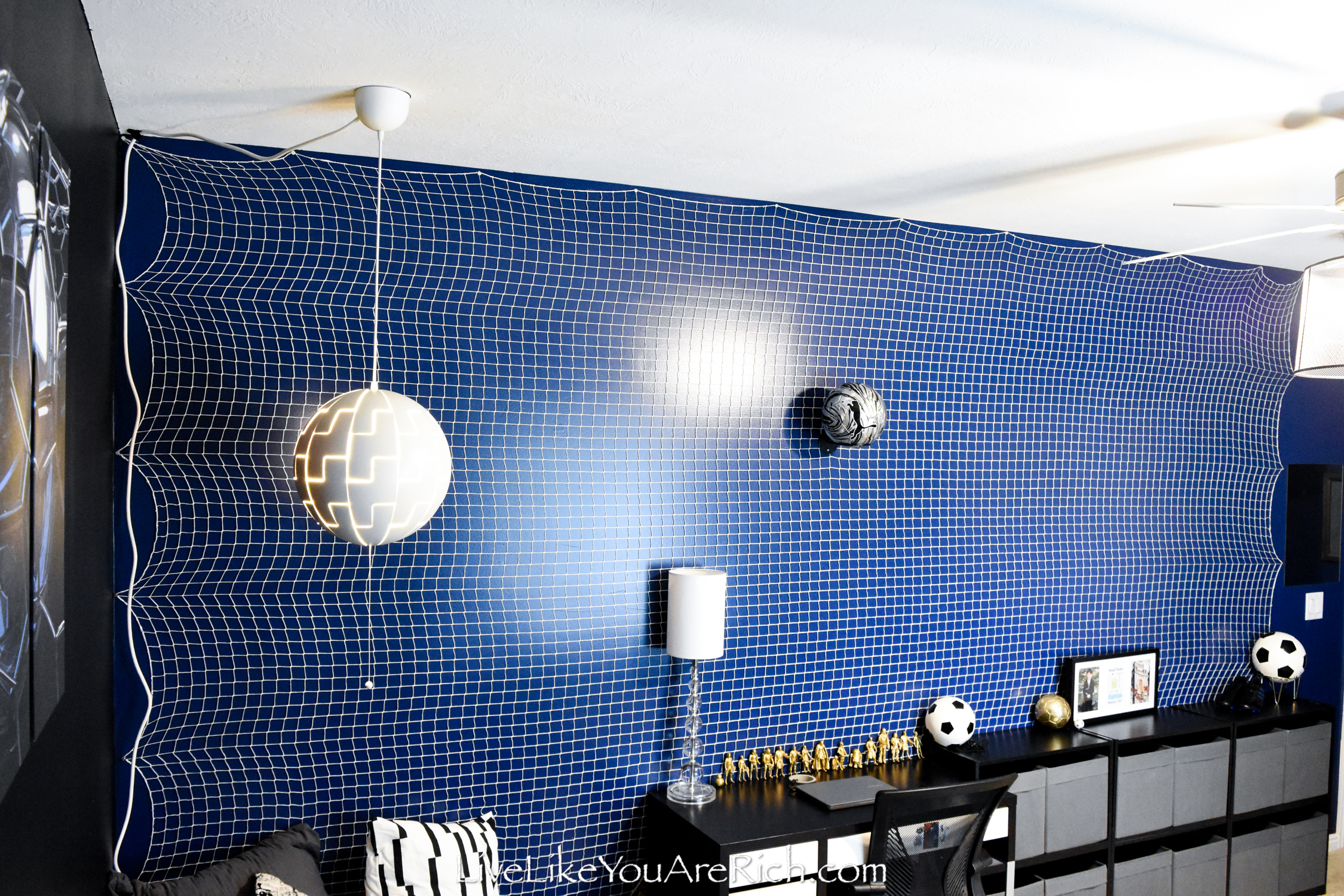 So I bought a 9'x11′ net from Epic Sports. Its title is Sport & Garage Nets Epic SKU: E245 COLOR: WHITE SIZE: 11′ X 9′ NET – 2 MIL. It was only $8.50 and I used wall tacks that I had on hand to attach it.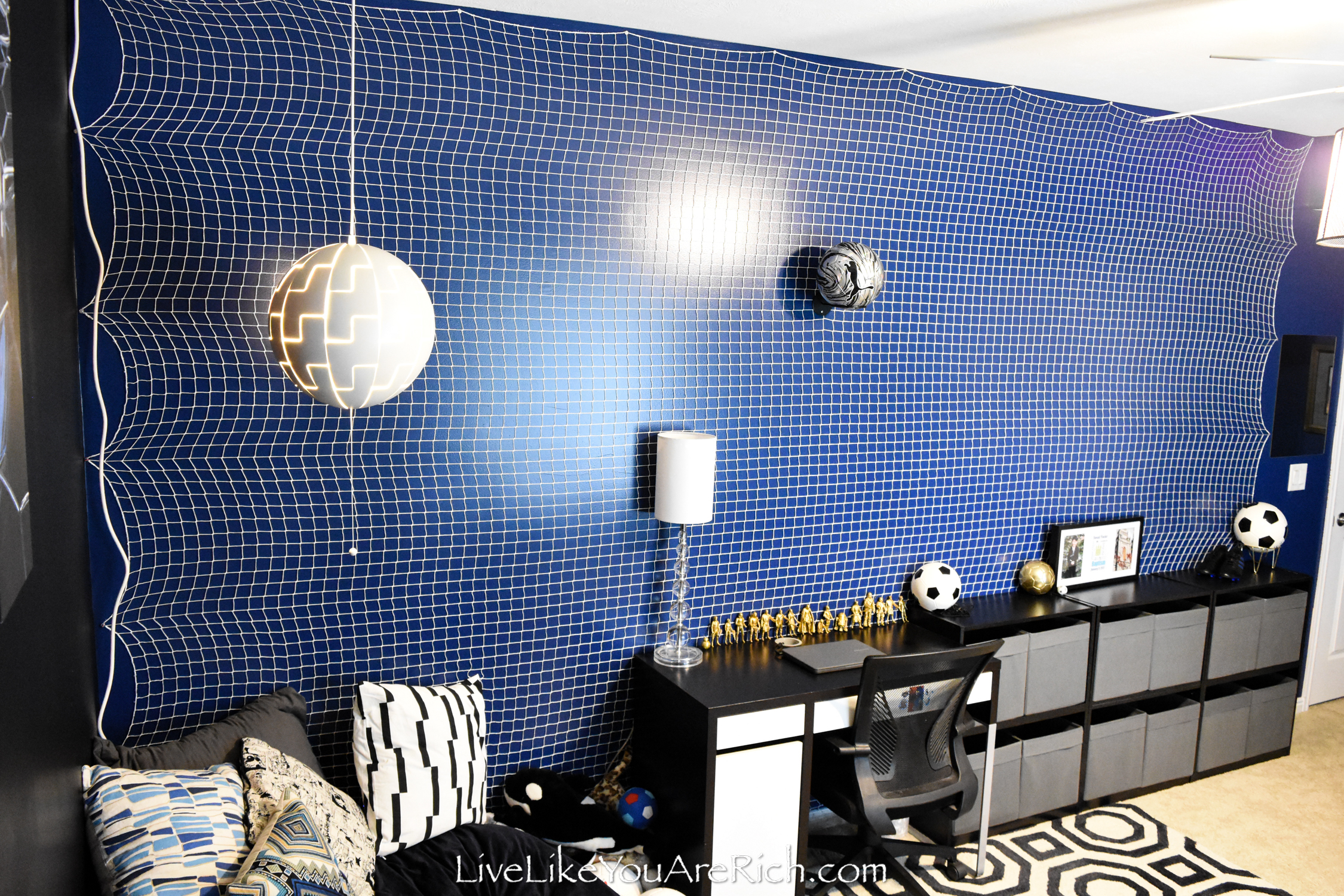 I had an extra soccer ball and wall mount left over from the soccer ball wall above the bed, so I put that on the soccer net above his desk; my son really liked it, so that made me happy.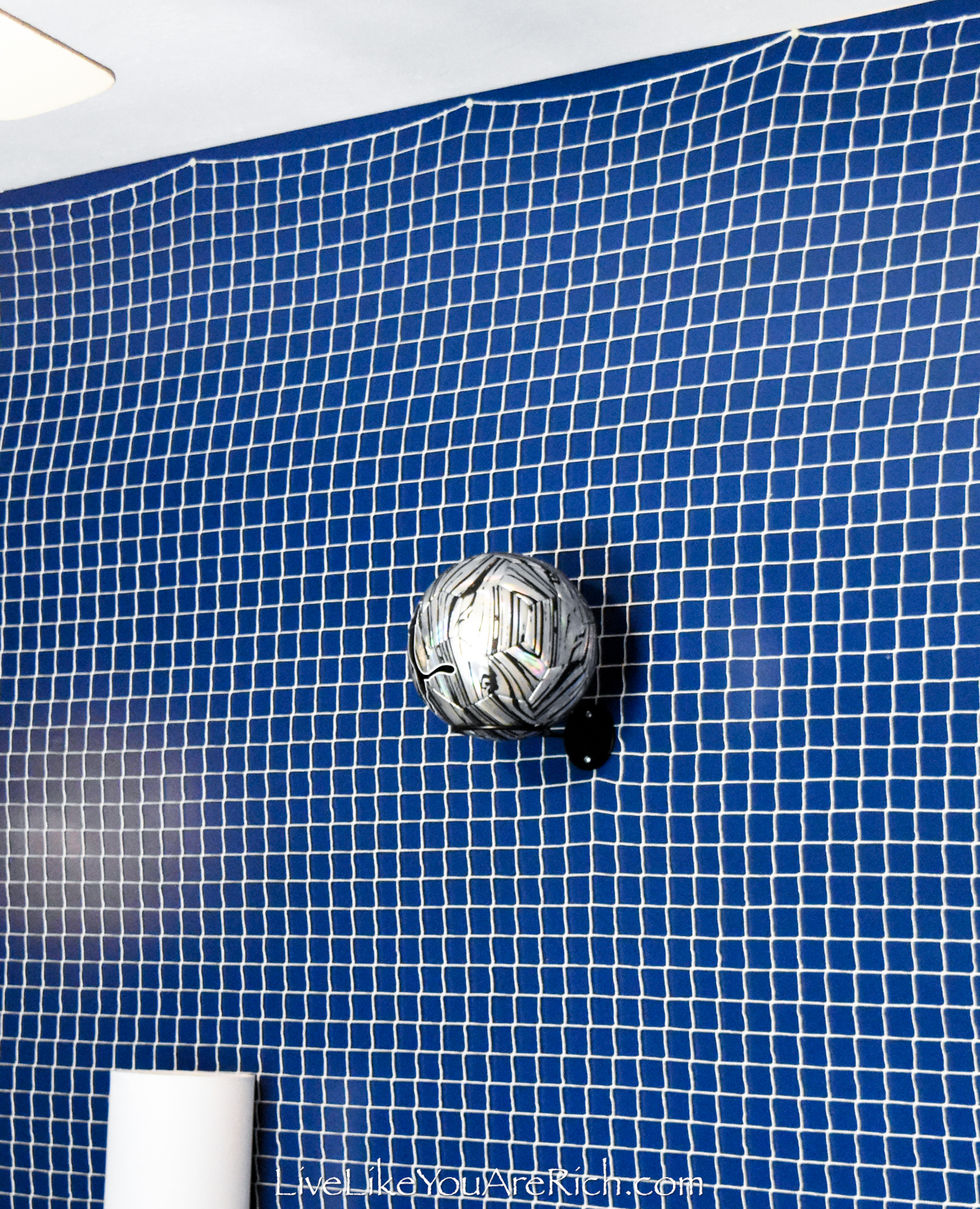 I love the texture and dimension the soccer net adds to the room.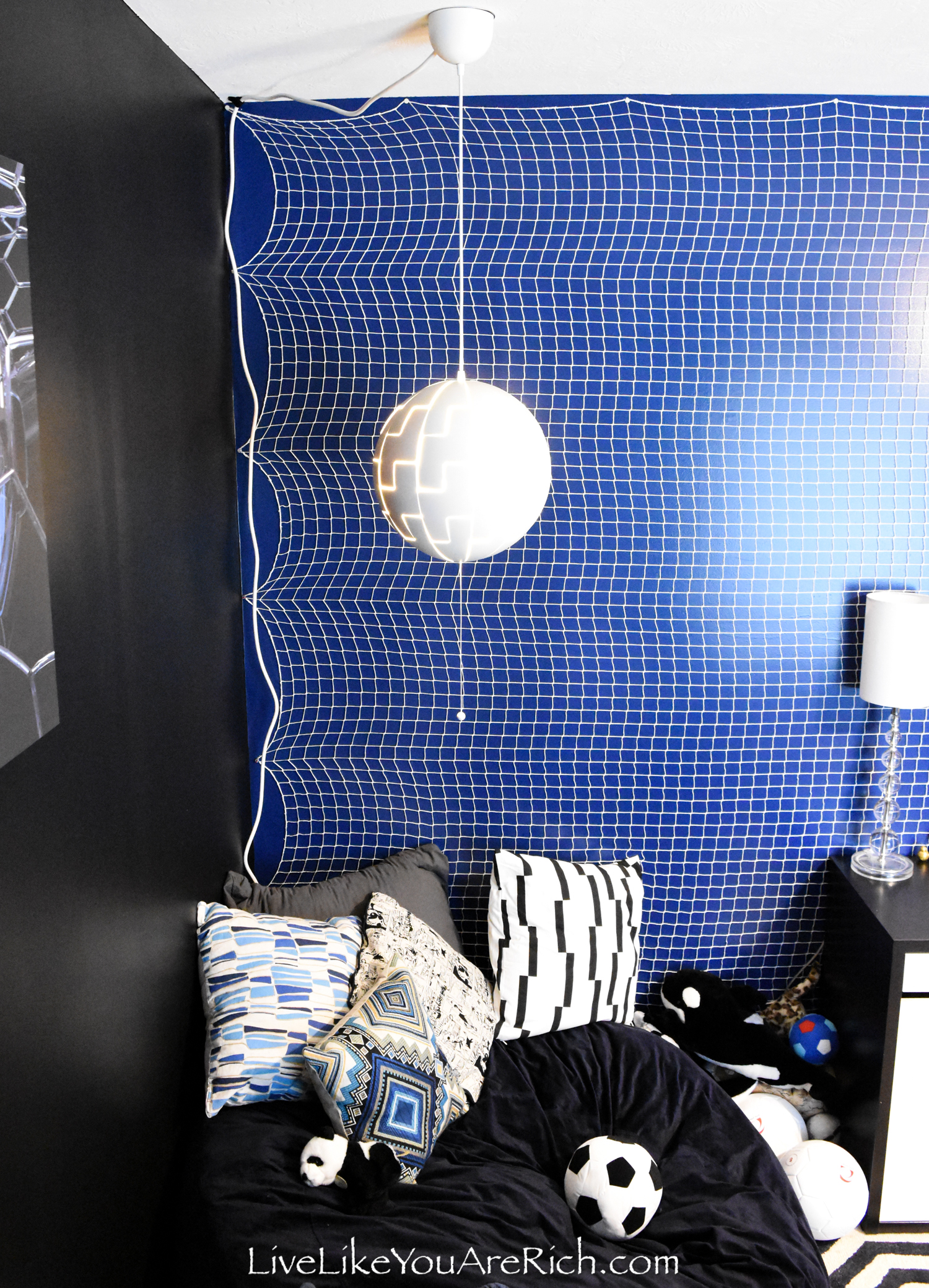 It was an inexpensive and easy way to add interest and contrast to the room.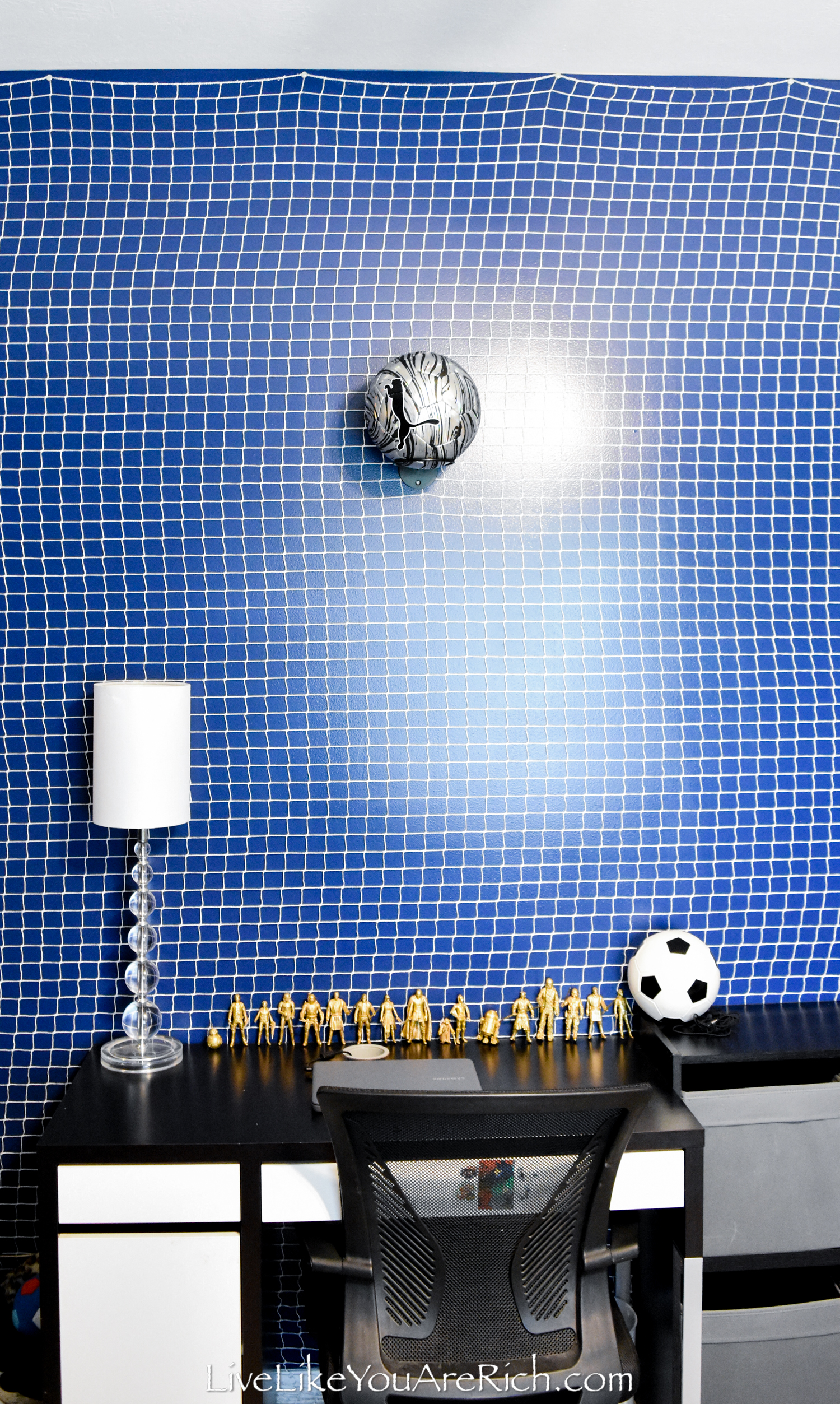 My husband hung an Ikea light in the corner over the bean bag. When I bought it, the light cost $55.00.
I love the look of the light—both open and closed.
It reminds me of a soccer ball when closed.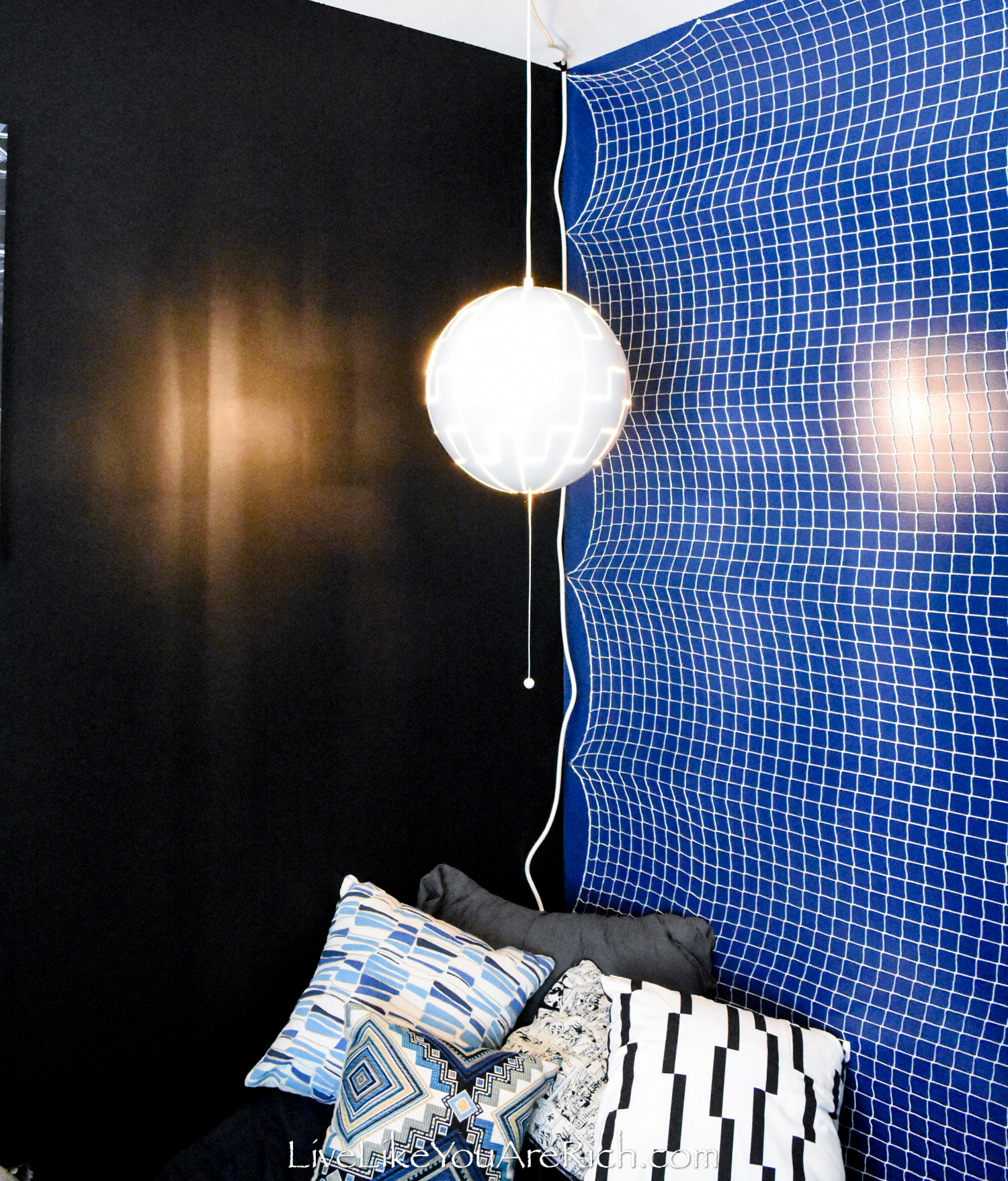 It reminds me of the wall art and the Rocket League ball when opened.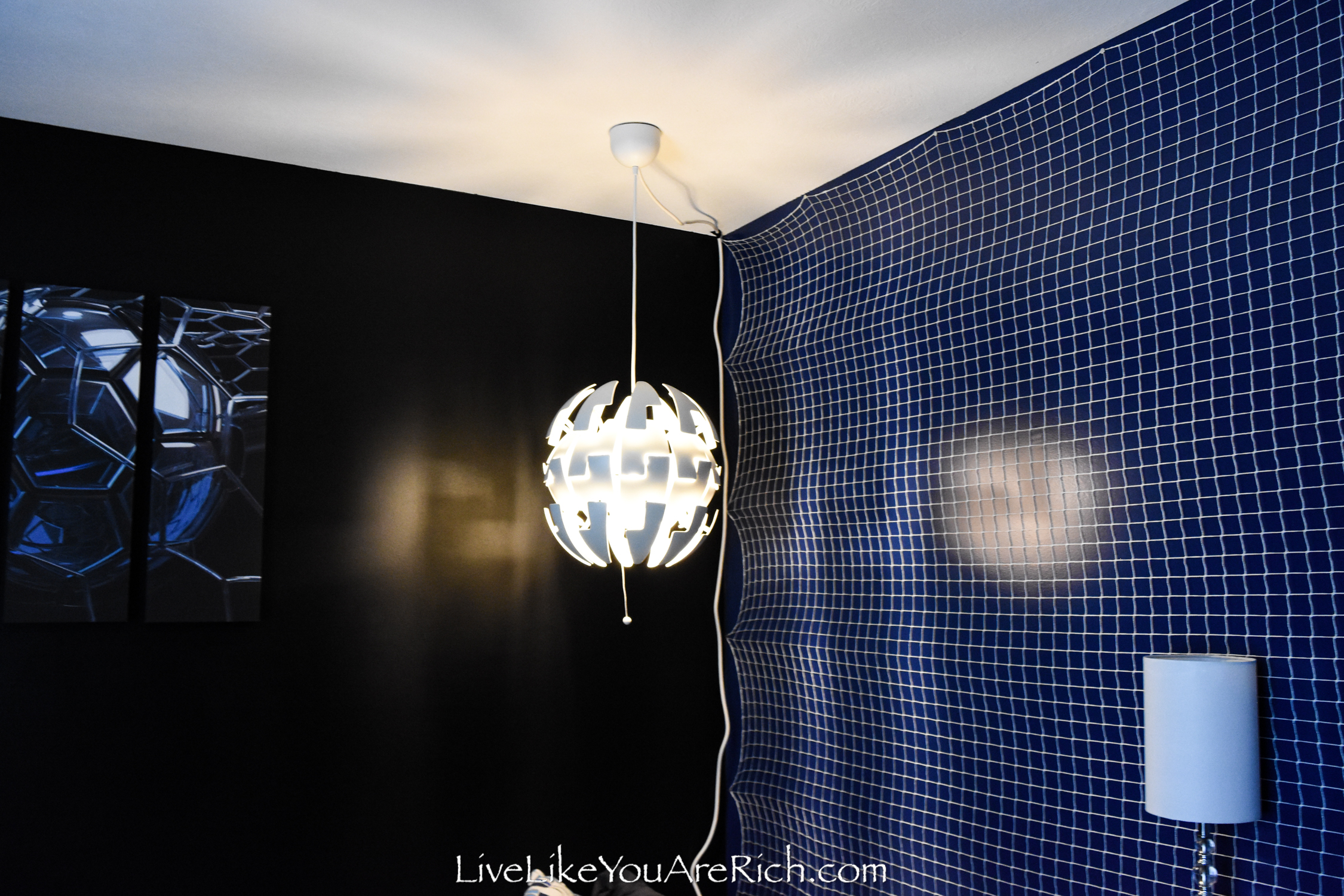 The light hangs over my son's reading nook.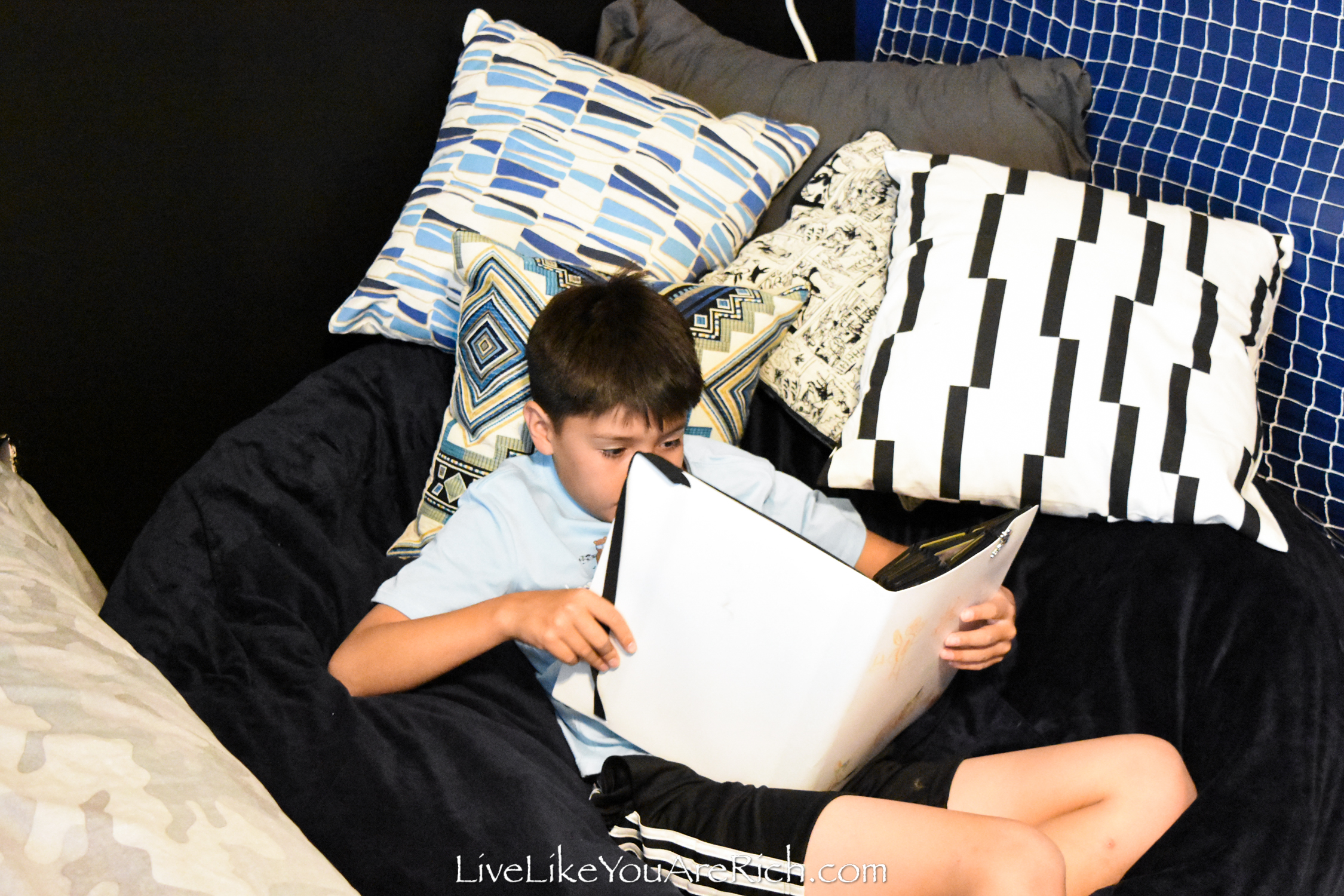 I had and am just reusing all of the navy pillows in the room from my son's travel-themed nursery.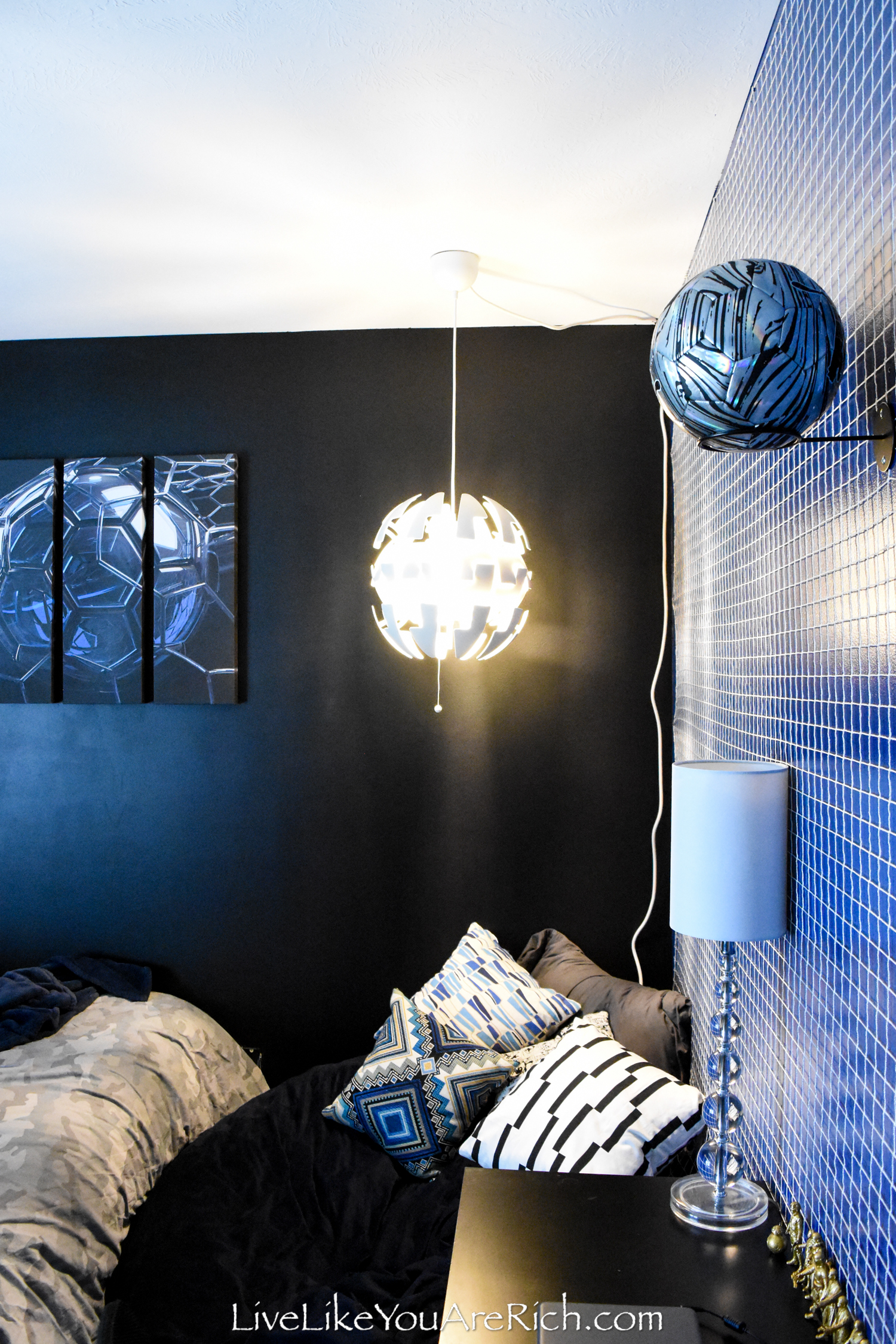 The bean bag we got off Amazon when it was on sale.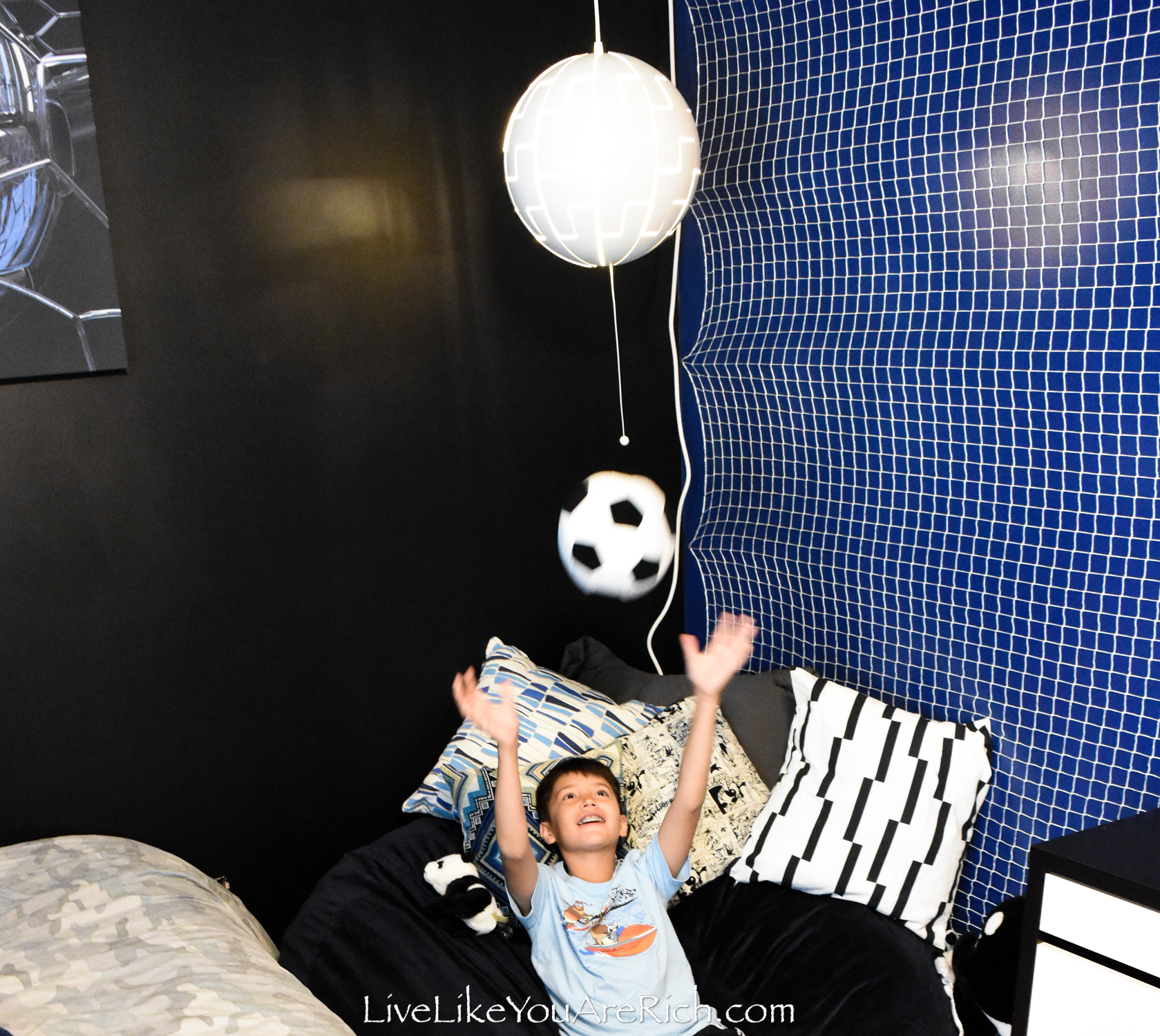 It's called Sofa Sack – Plush Ultra Soft Bean Bags Chairs for Kids, Teens, Adults – Memory Foam Beanless Bag Chair with Microsuede Cover – Foam Filled Furniture for Dorm Room – Navy 5′ for $97.00 shipped.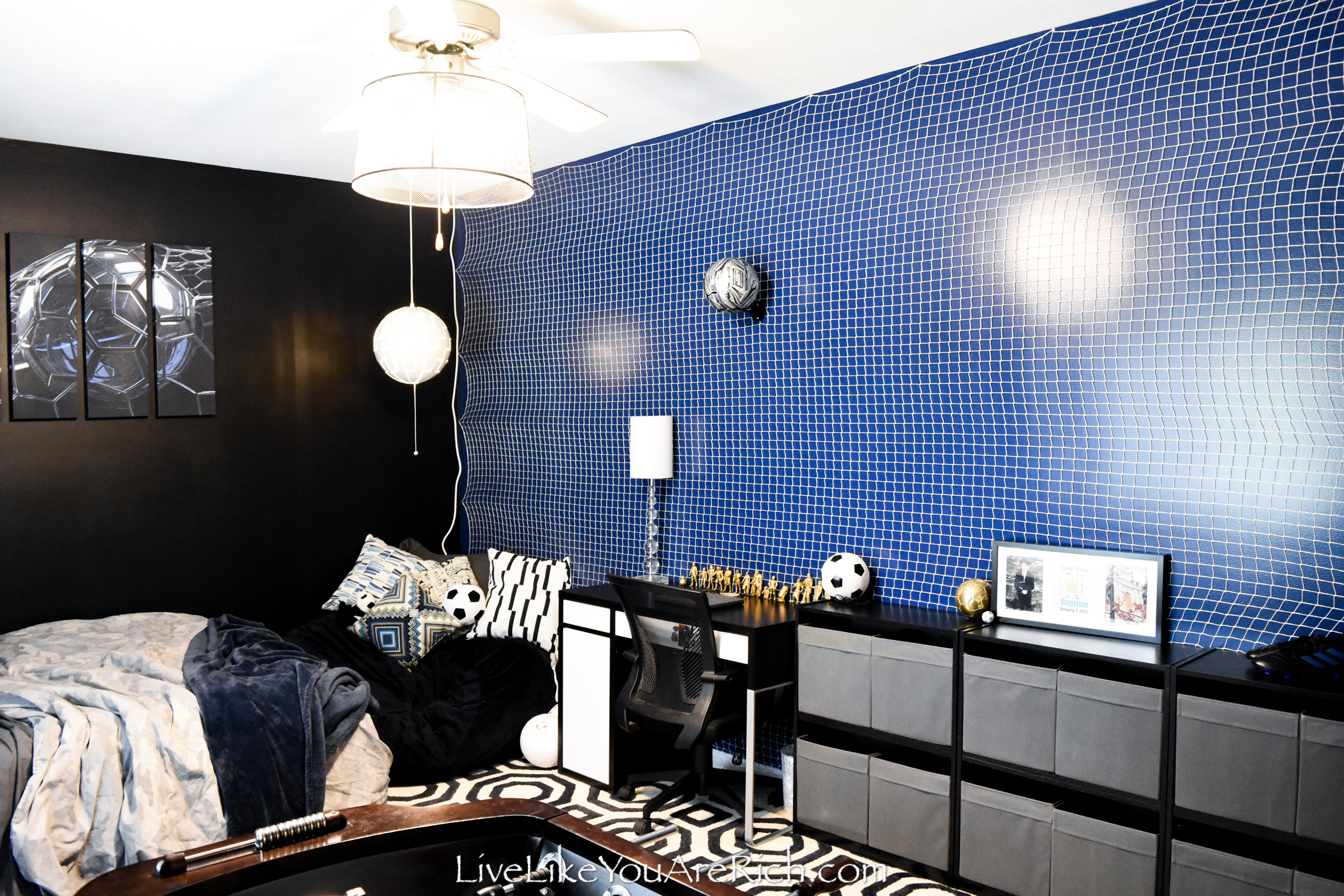 We purchased the foosball table on classifieds for $200.00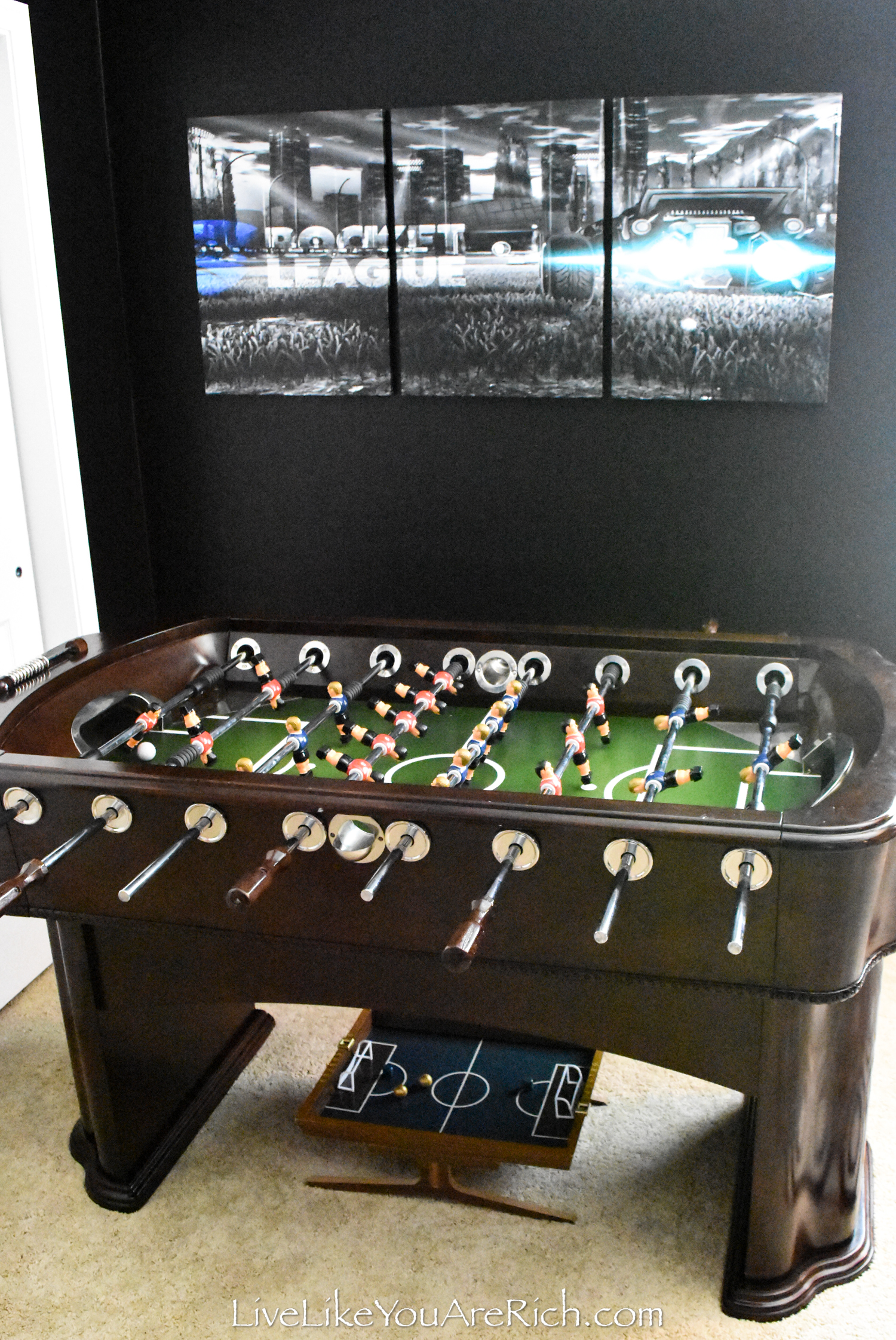 It is a high-quality table made of solid wood and stainless steel bars.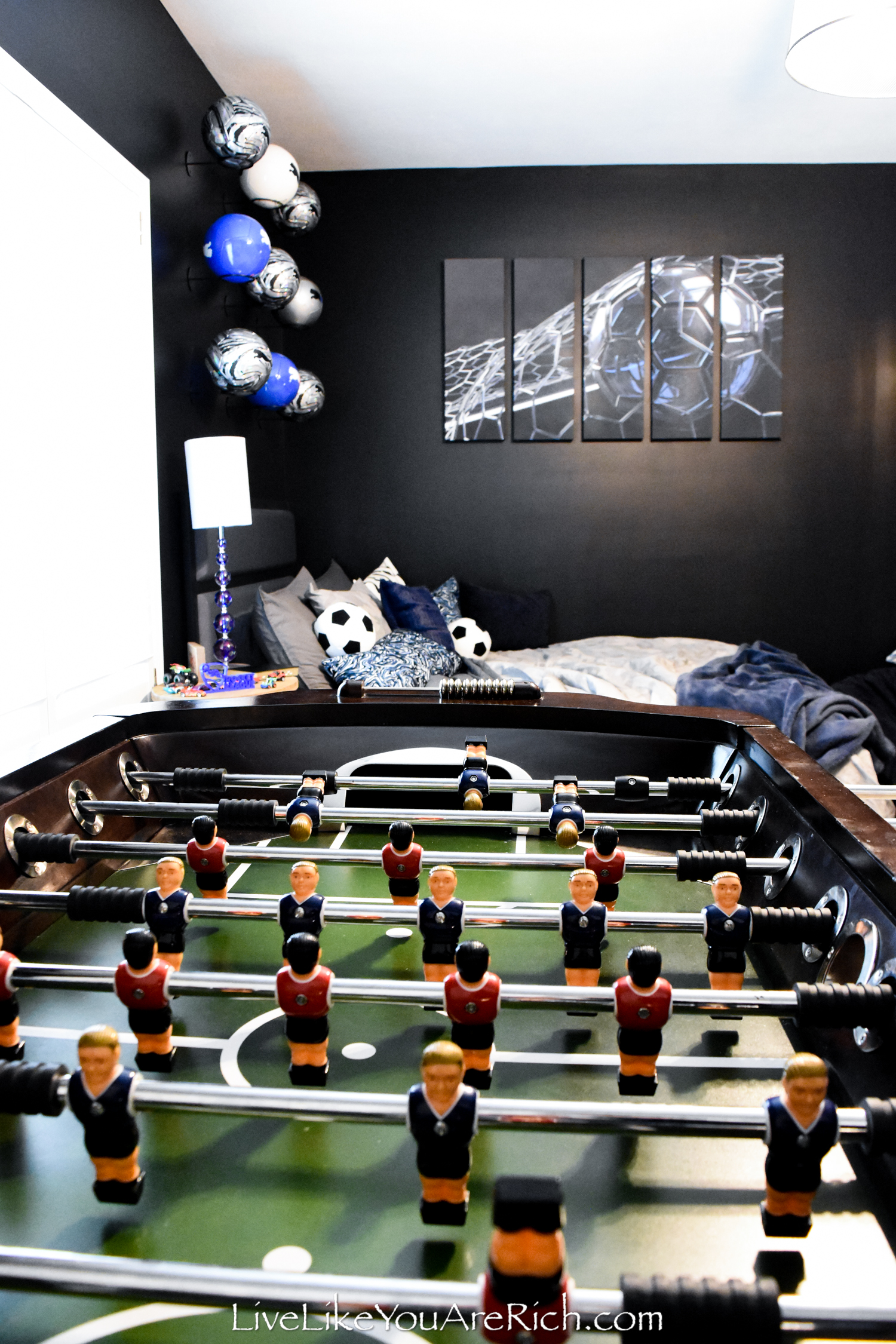 I love the ramps in the corners of the table because it helps to ensure that the ball doesn't get stuck.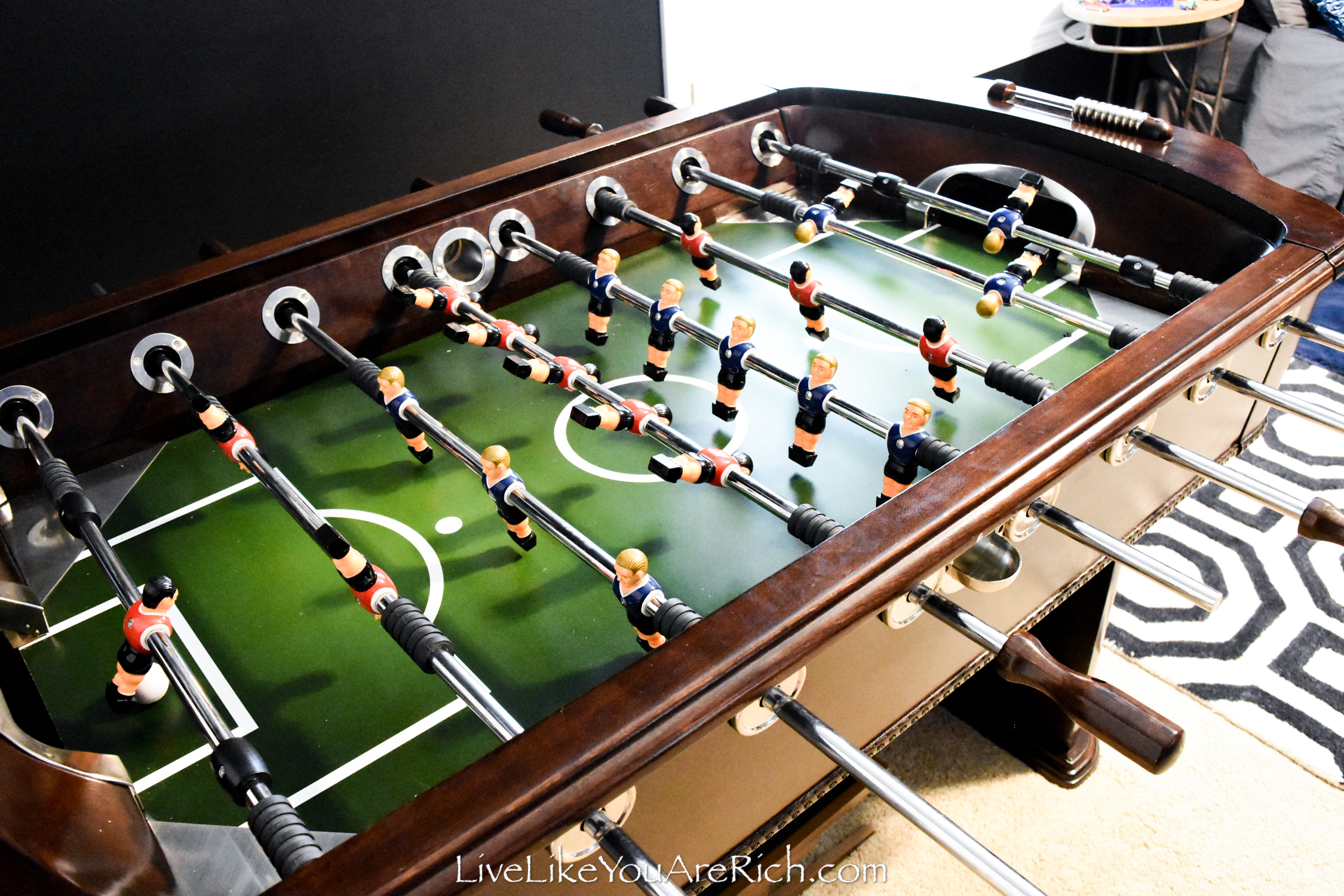 While it may look a bit tight, there is plenty of room to play foosball in his room where the table stands.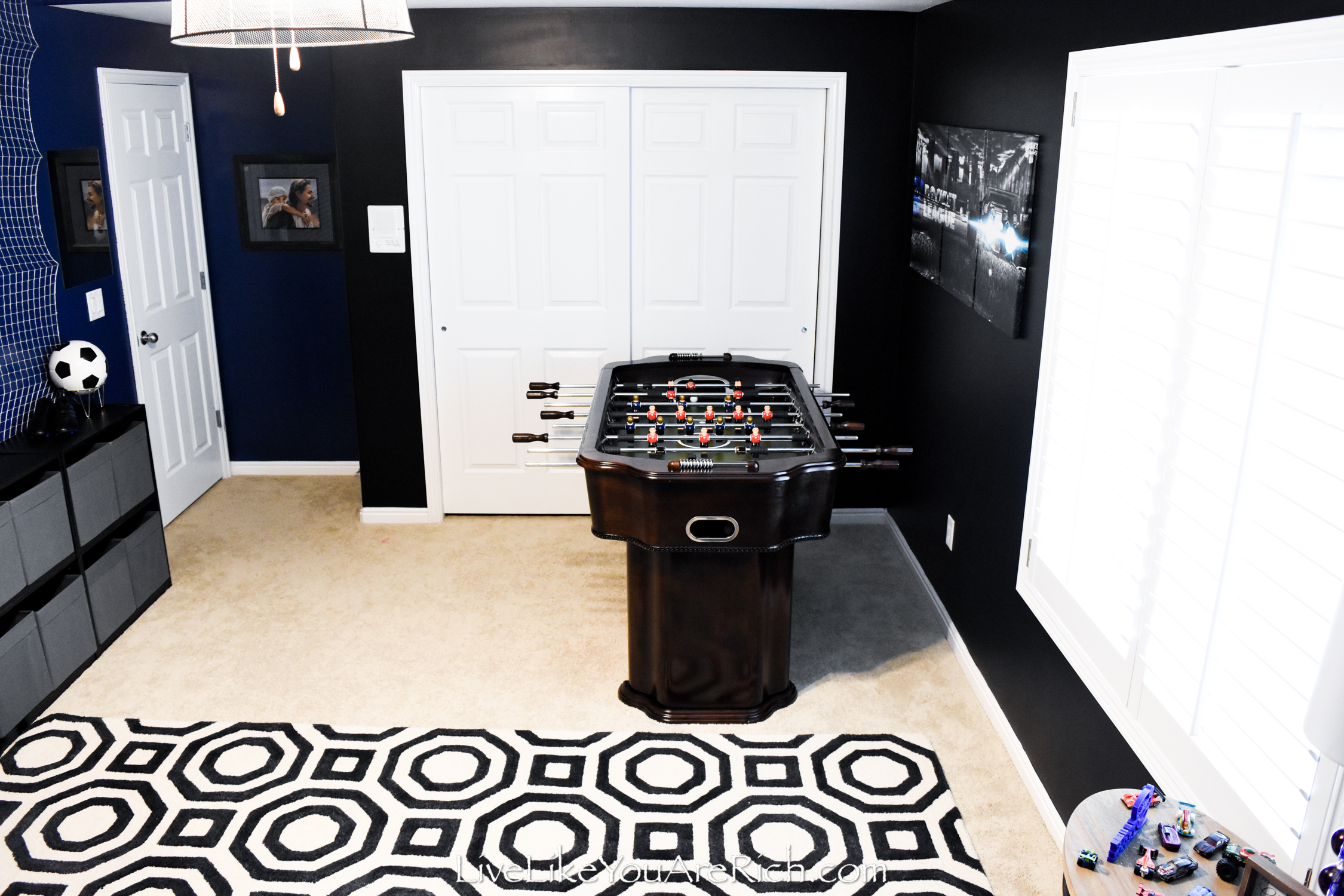 Denali and I have already played many games together.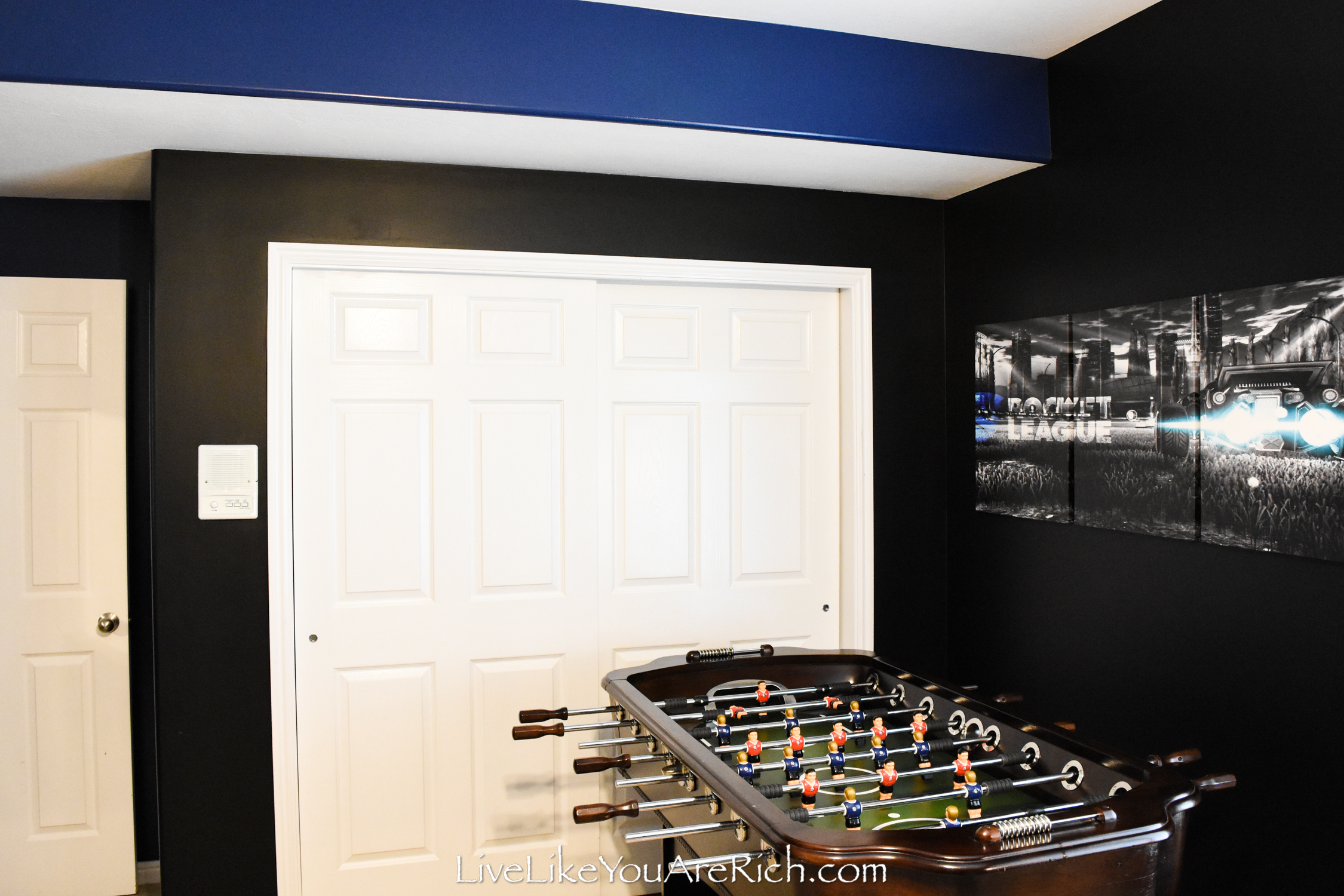 We are Christian, so I really want to have a few items in my children's rooms which represent Jesus Christ—despite their room themes.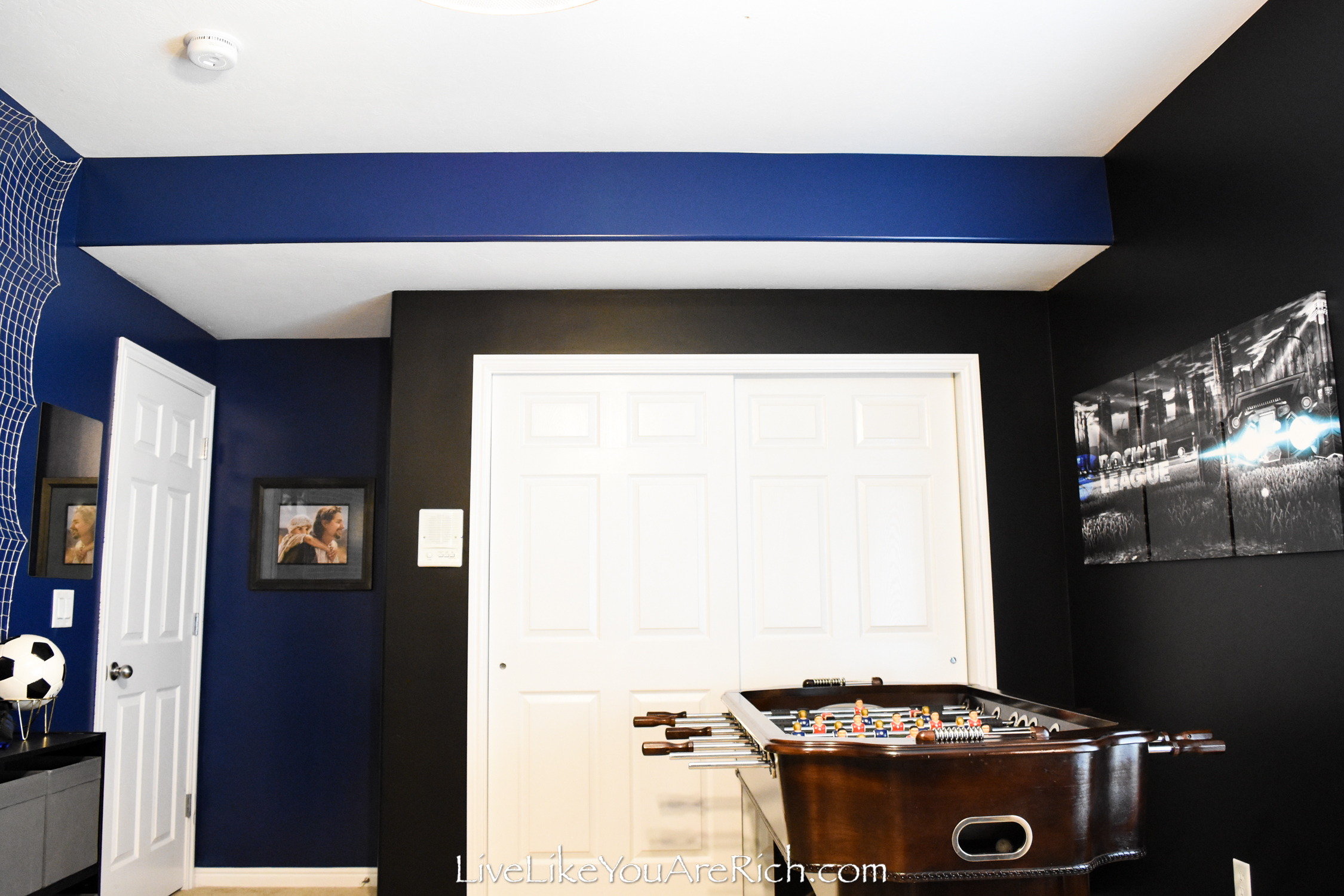 So, I added a painting of Jesus carrying a boy who looks a lot like my son.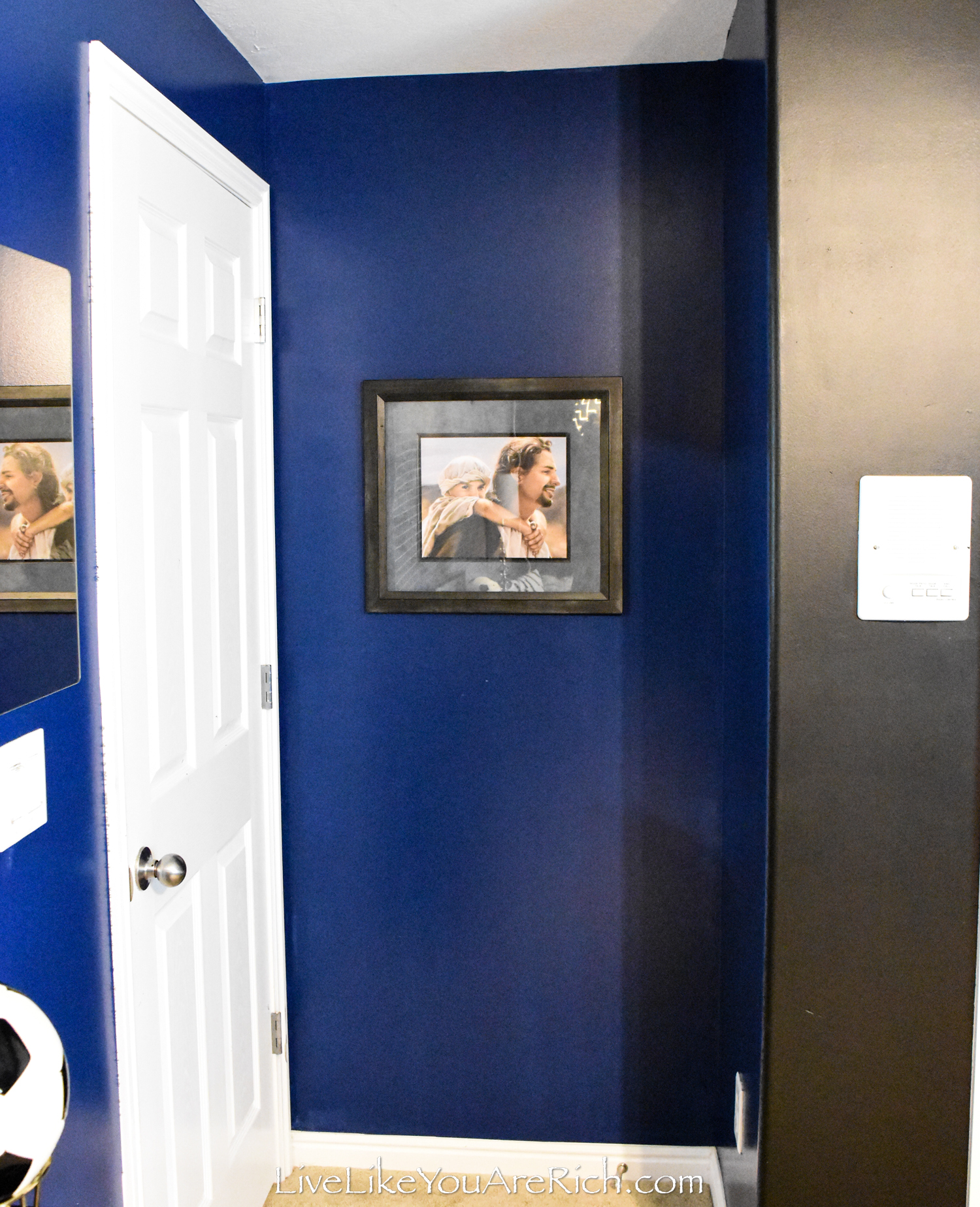 Denali likes to decorate with his Christ-centered decor items as well.

When setting up his decorations, he brought in the religious ones first.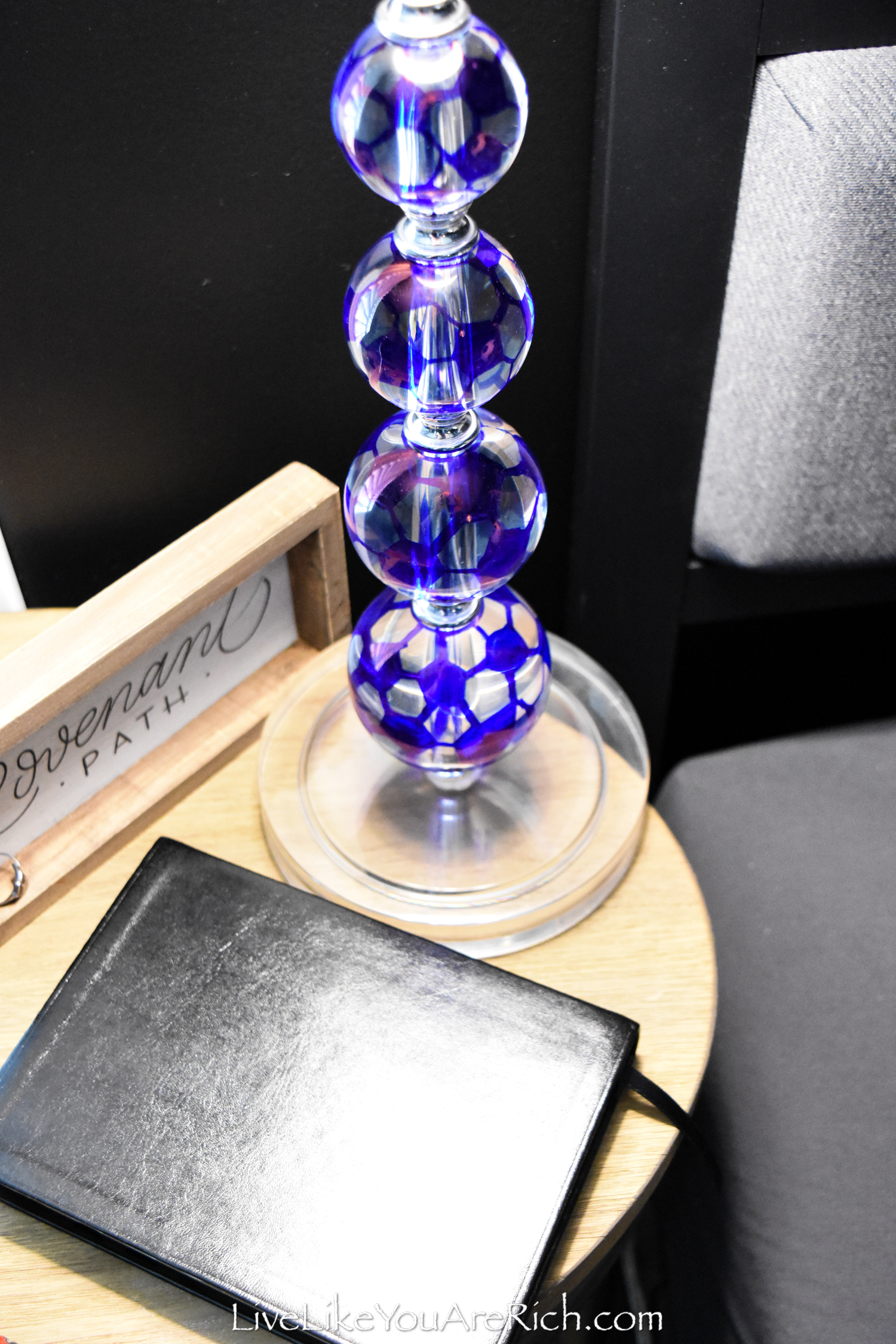 It was a happy moment for me as his mom to see that he prioritized his scriptures and other items over the soccer ones.
I budgeted about $1000 for each child's room, we are redoing all four of them this June 2022.
So, to be able to stick within that budget, I reused a lot of items we already had in the house.
I've had this side table for 3+ years—originally bought at World Market for $35.00.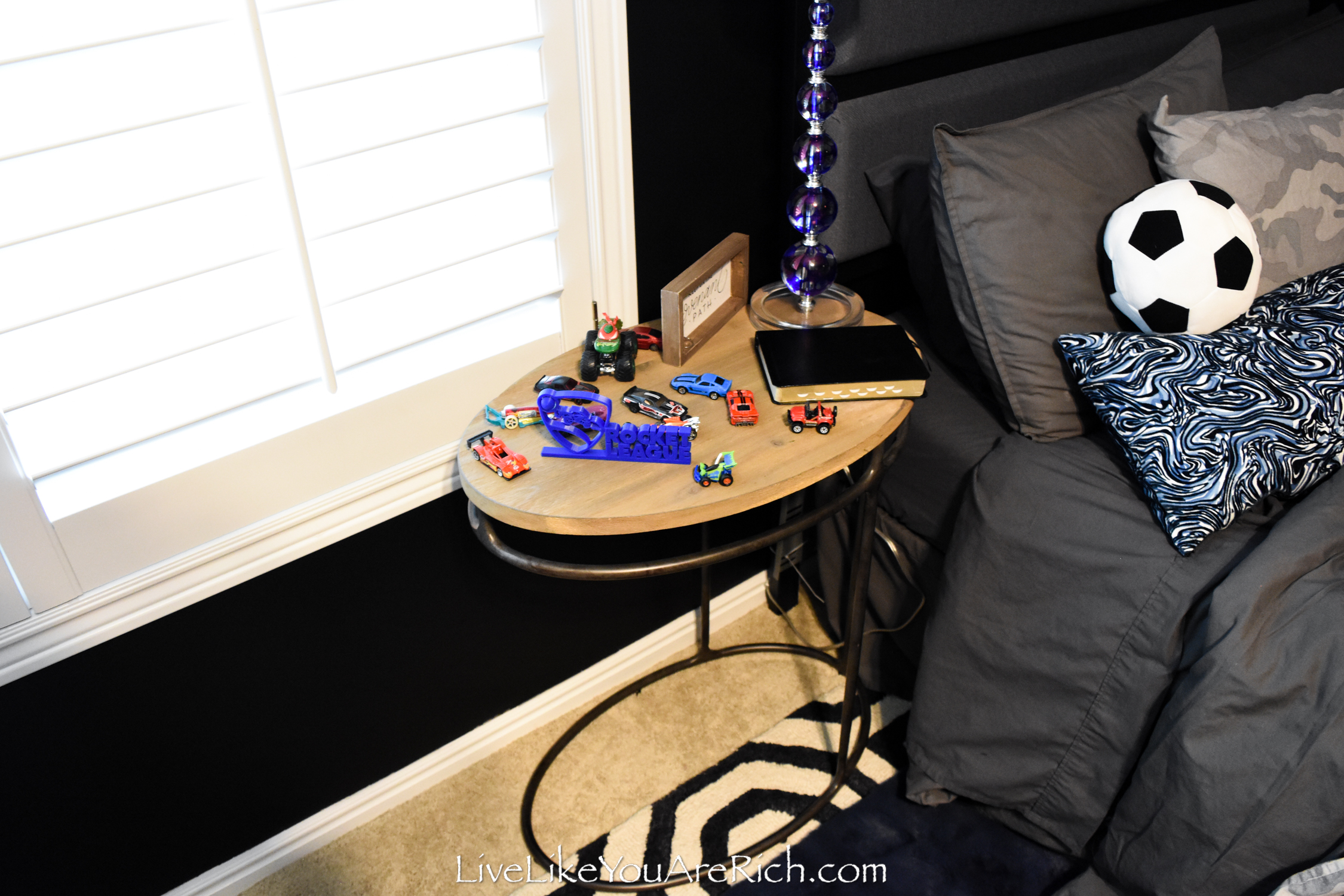 I bought the Rocket League sign on Etsy.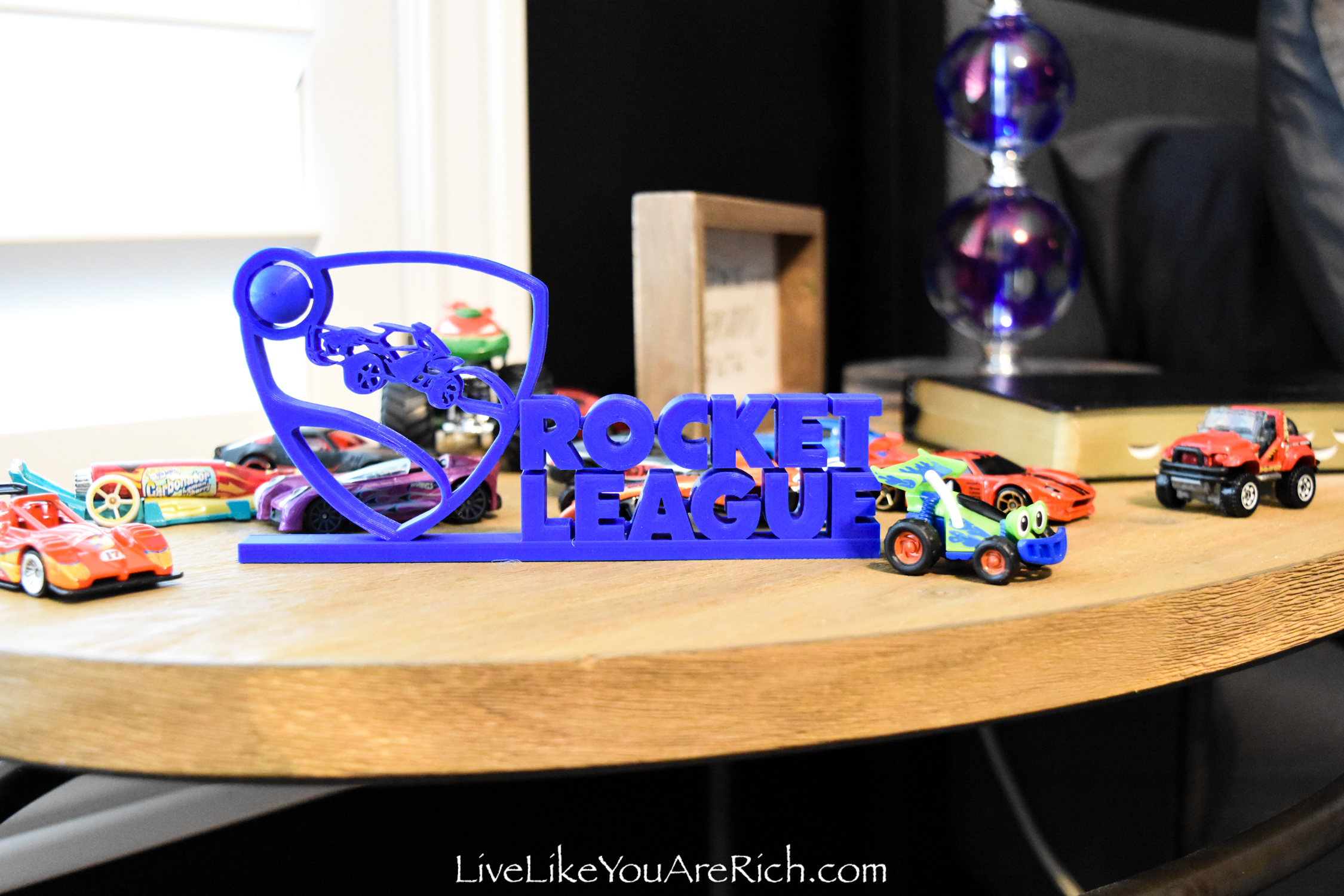 It was 3D printed and cost $12.00.
My son loves it!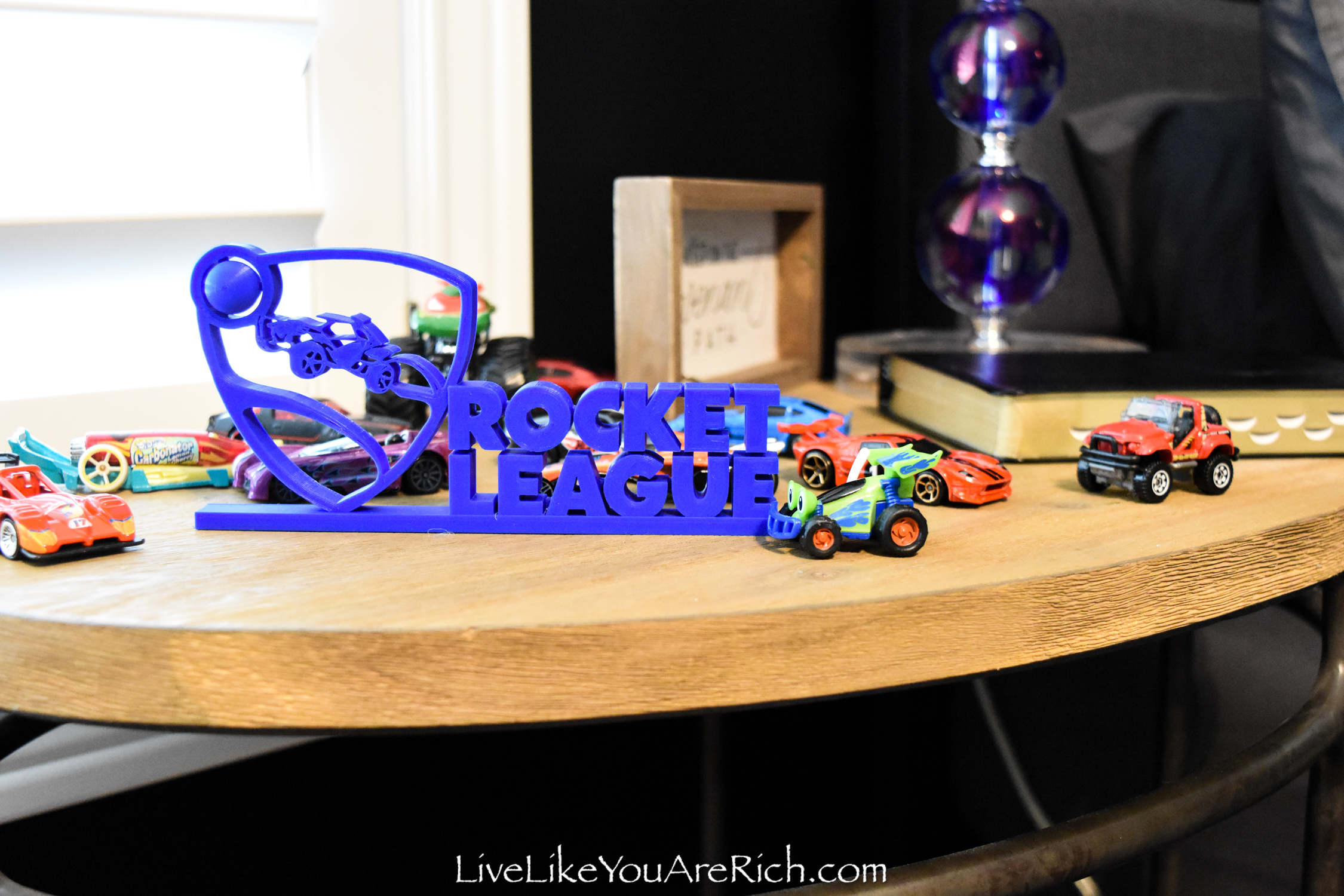 Denali went through all of his Hot Wheels and picked out cars that are similar to the ones played with in Rocket League.
He gave his younger siblings the rest of his cars.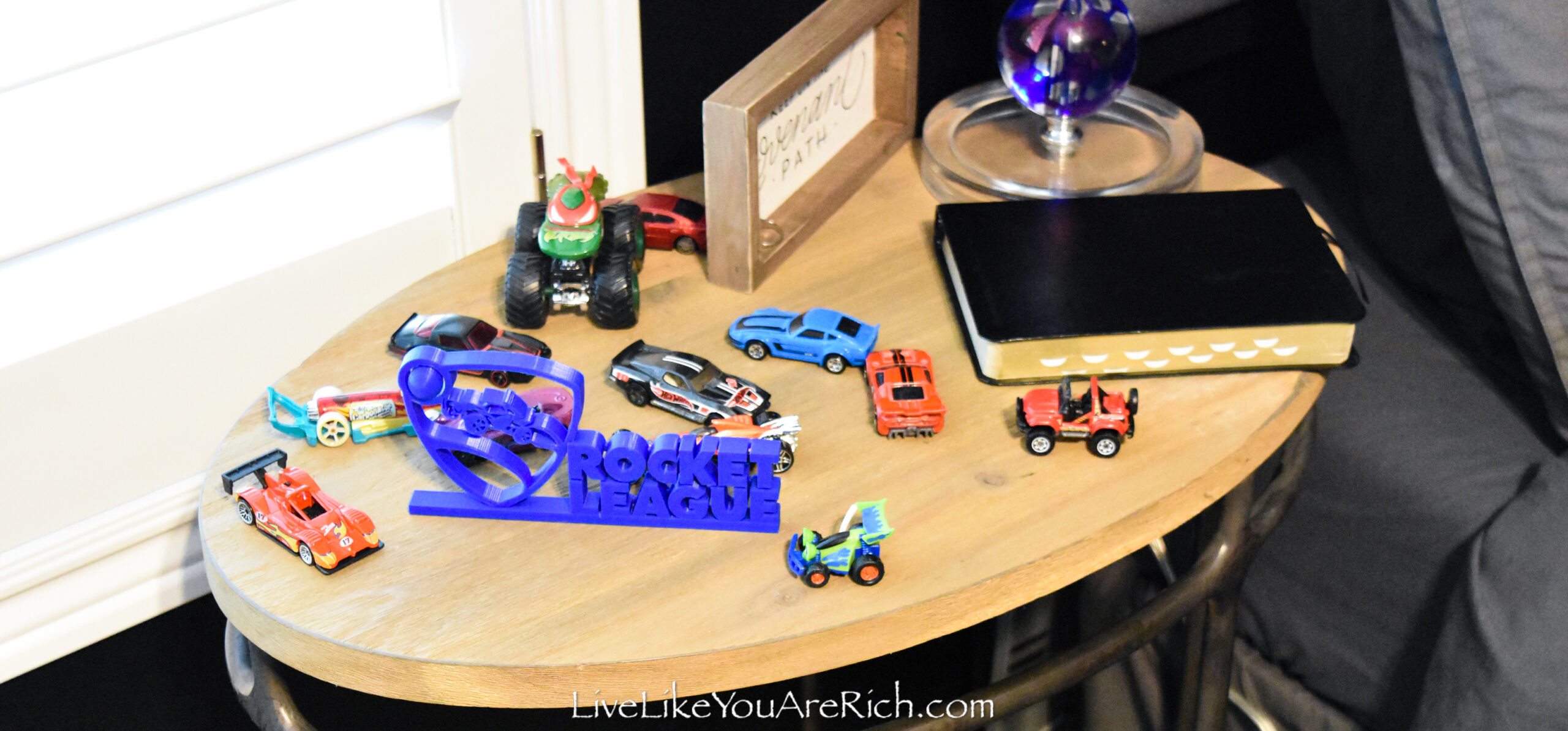 My neighbor gave us these lamps.
I made one into a 'soccer lamp' and will do the same transformation to the other one soon. The video tutorial on how to make this DIY Clear Soccer Lamp can be found here.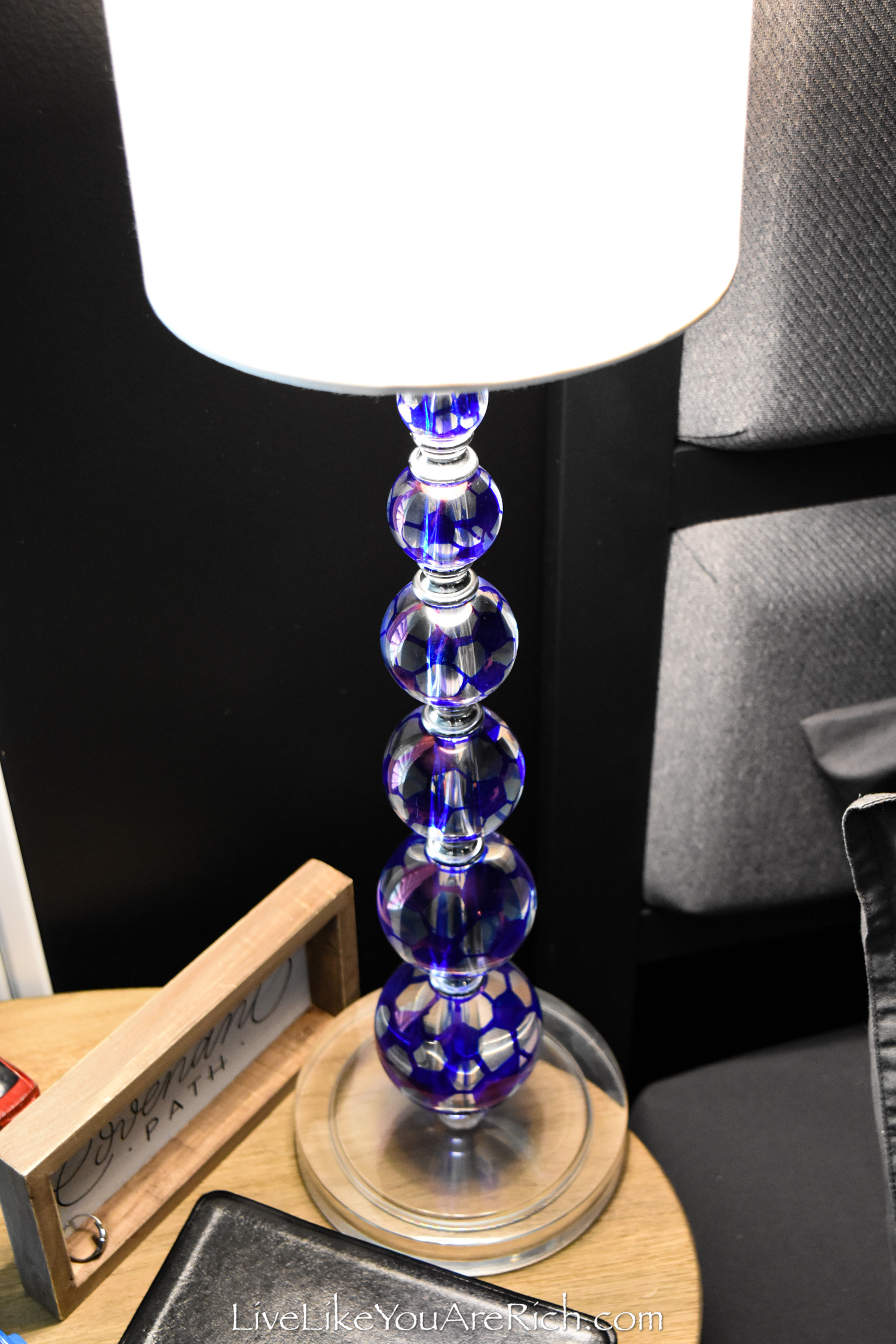 We've had my son's homework desk and desk chair.
Originally, I got the desk used for $10.00 off of local classifieds 5 years ago.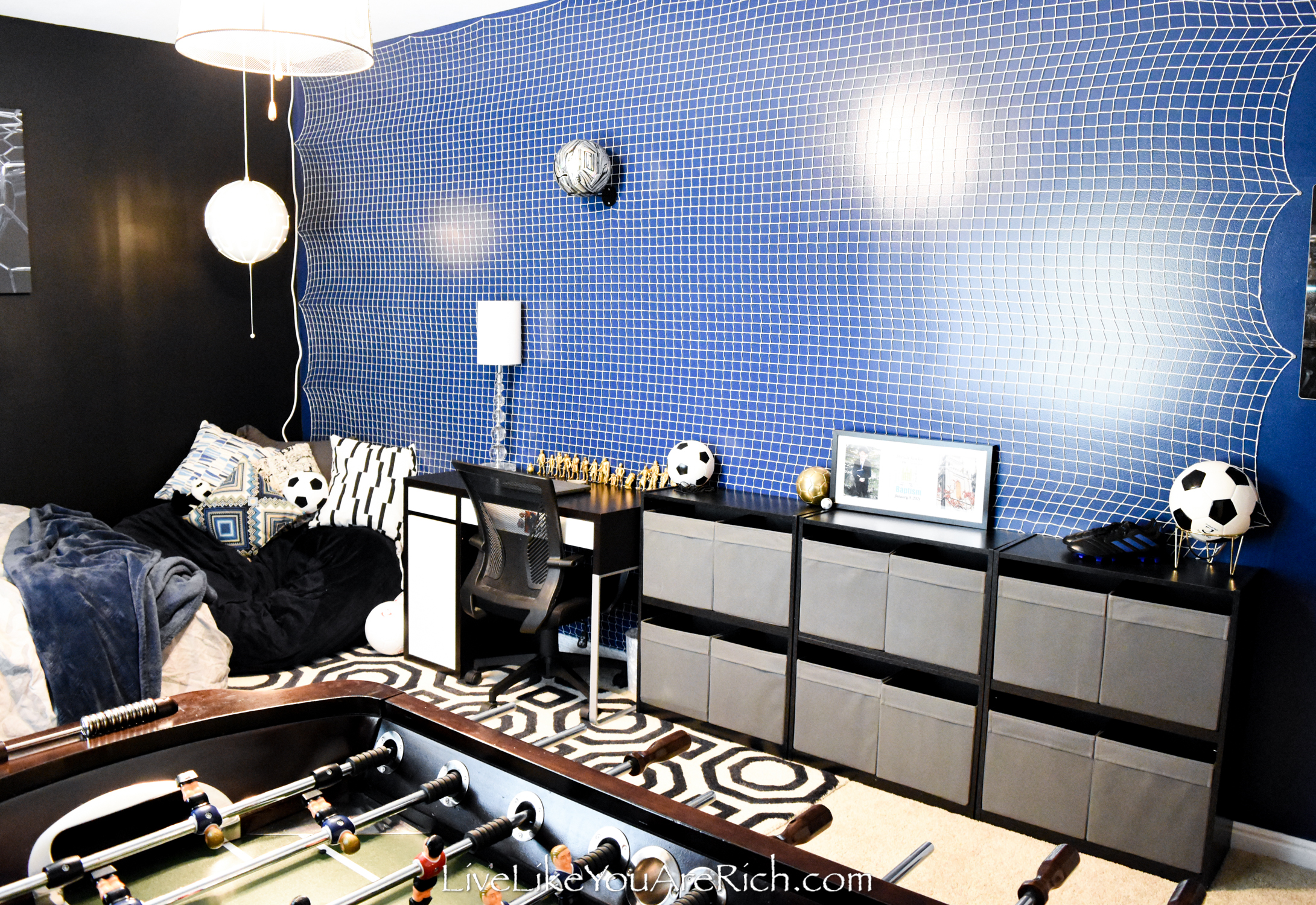 The office chair came from Amazon for about $50.00.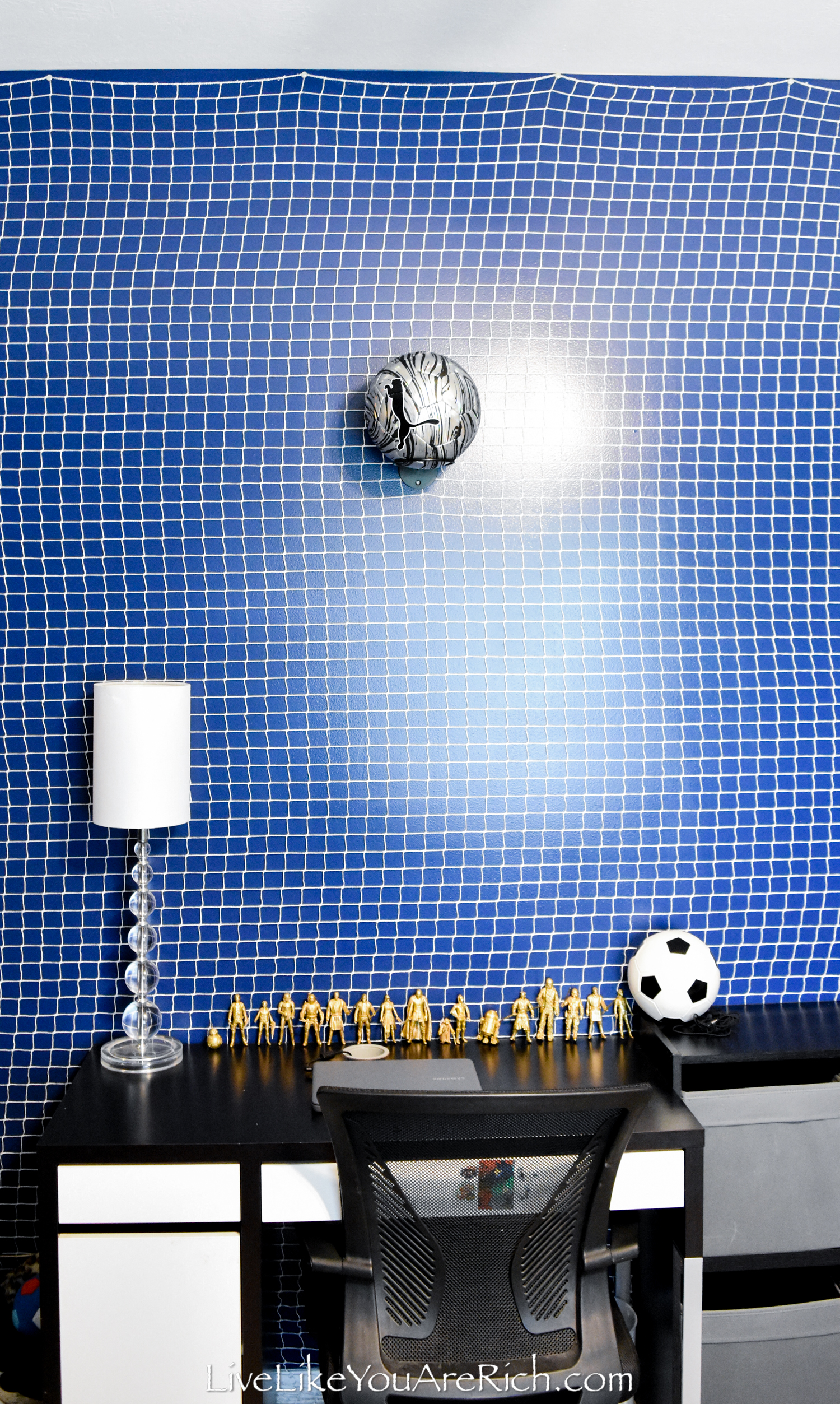 The soccer kick training ball came from Epic sports for $10.00.

Name-Unique Sports Solo Soccer Training Aid
Epic SKU: E182129
COLOR: BLACK/WHITE
SIZE: ONE SIZE
The Gold trophy soccer ball also came from Epic Sports for $6.00.
Santa brought Denali the Star Wars collectible figurines.

…as well as the Chrome book.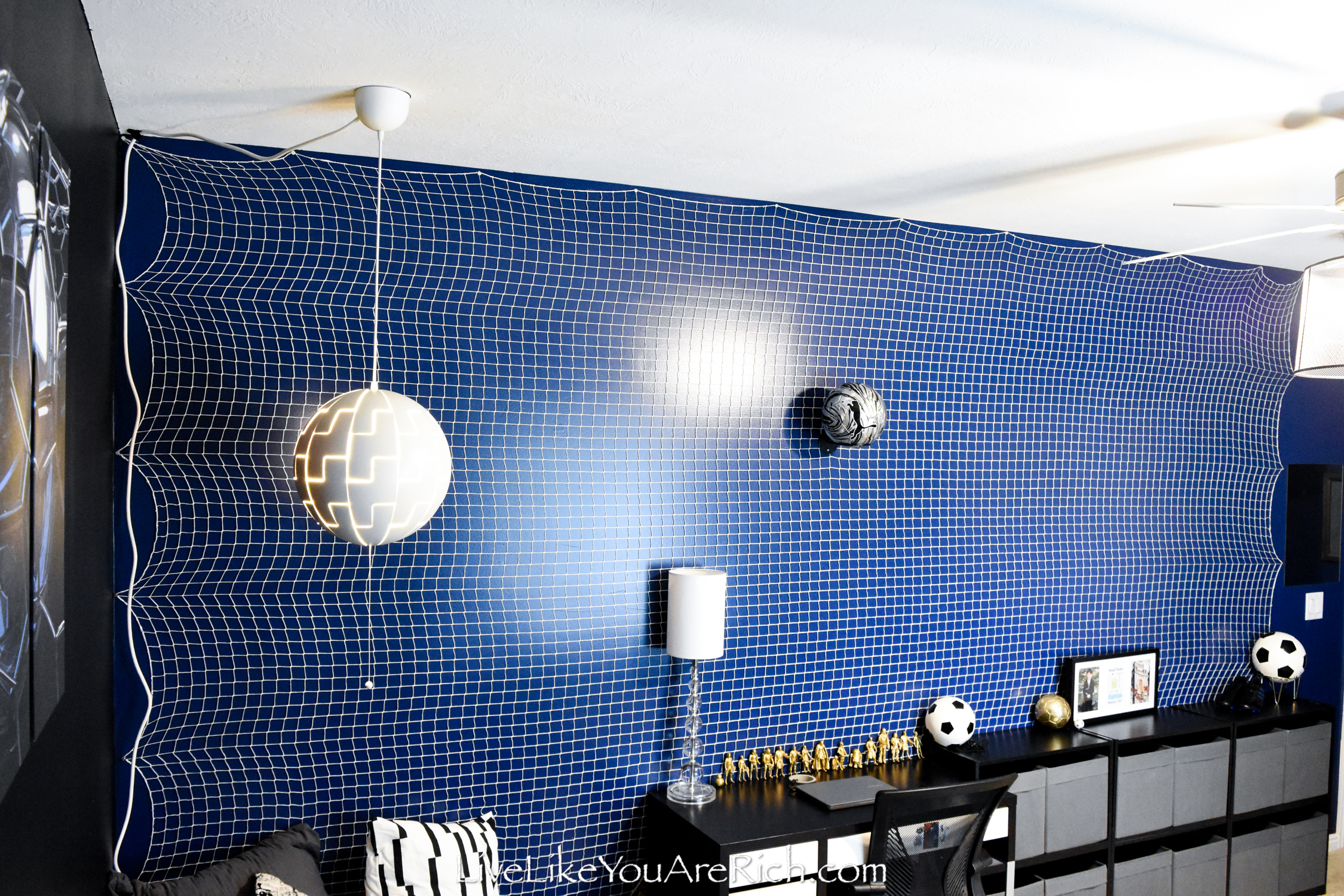 The soccer shoes were an Adidas sale item and using Groupon Adidas gift cards and sale + promo code, they were free.
My son wears a different style of cleats for soccer practice and games.
These were just perfect for decoration and since they were free, I was happy to get them.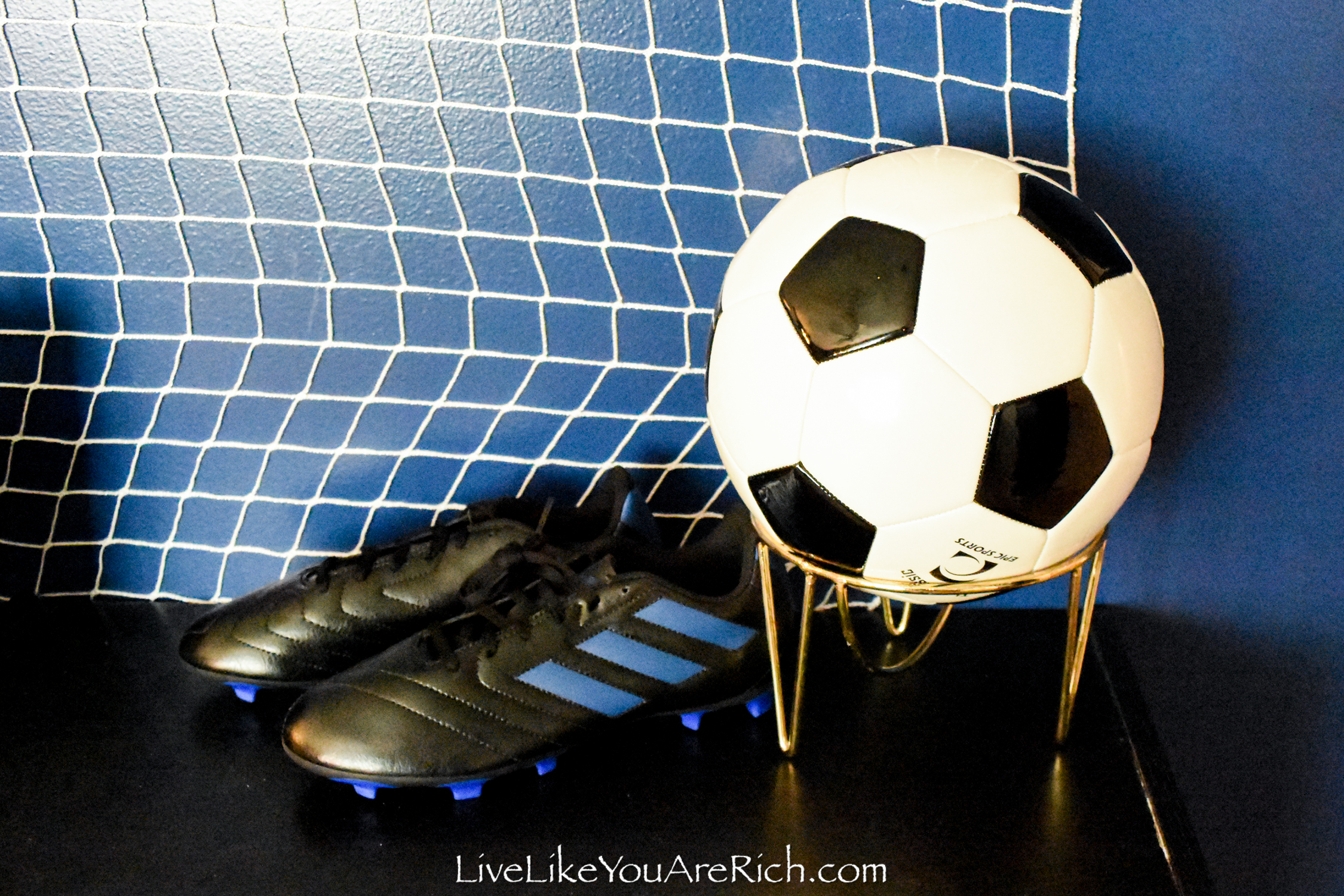 We had the gold ball stand and I put an Epic Sports $5.00 black and white retro old-school classic soccer ball on it.
We had 2 of the 3 black shelves already.
The FYSSE IKEA 11 3/4″ grey storage cubes fit them perfectly. So we purchased one more from Walmart for $21.00 and four more Ikea storage boxes ($2.99 ea) to fit it.
I've had this black and white rug for years.
It was just the perfect fit for this room as well. I feel like it looks a bit soccer-ish without being too much.
It is so nice when you buy a versatile rug that fits in your home as you need it in different stages.
It is a nice thick soft rug, but I wouldn't describe it as plush or super soft.
I came across this navy plush rug
at Sam's Club
for $12.00 and I thought it would be perfect for my son to step on to each morning and evening.
Turns out, he LOVES it!
The name of this super soft rug is Christian Siriano New York Faux Fur Accent Rug, 30″ x 47″ and while is $19.98 online, it was only $12.00 in-store.
They were all actually purchased to stage my husband's home that we renovated and sold for a profit.
For bedding, I used a few comforters and duvets that we already owned. We had the solid grey ones and grey shams.
As mentioned, we had the navy pillows already from my son's nursery.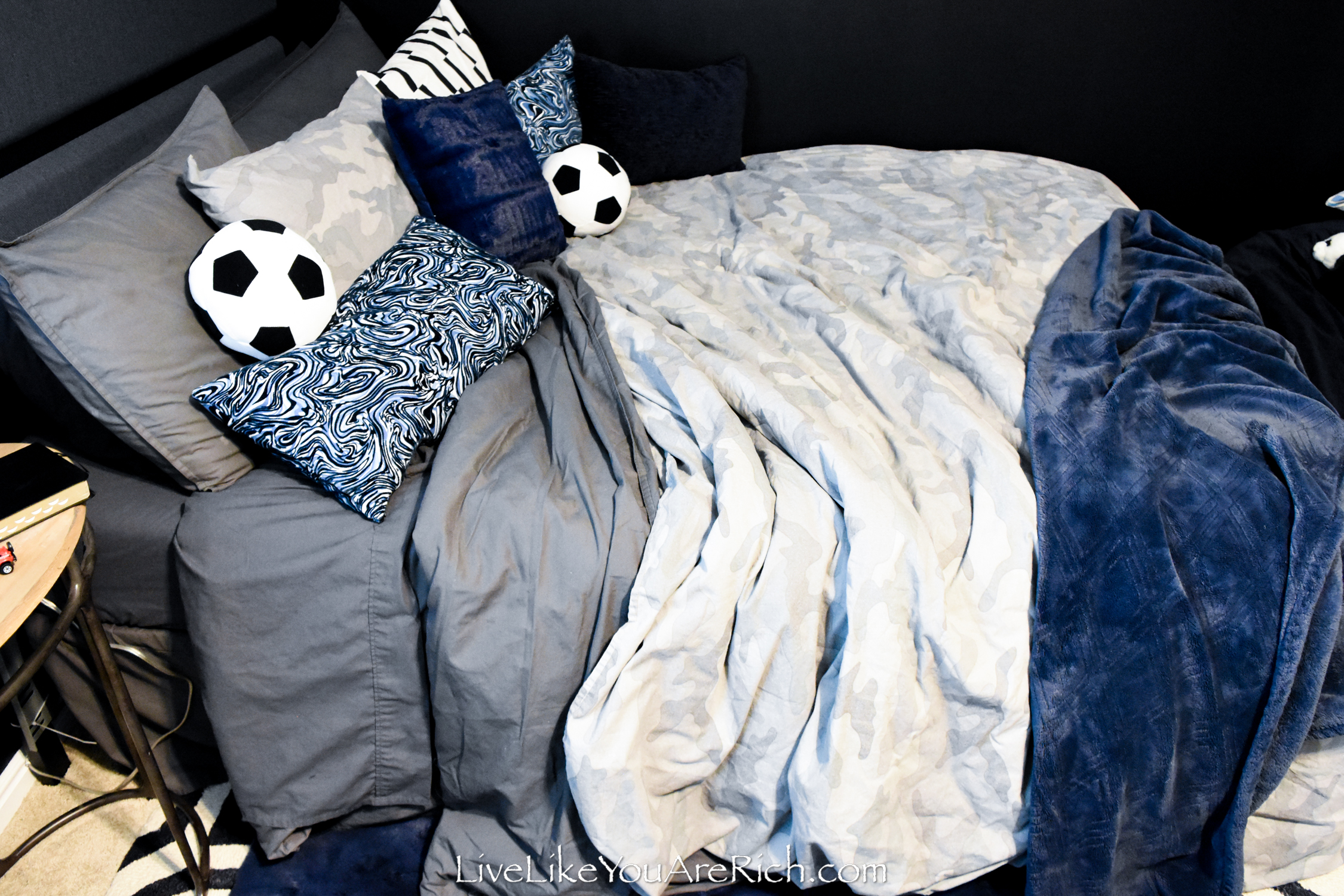 The camo navy/grey duvet cover ($60.00) and sham ($15.00) came from Pottery Barn Teen on sale with a coupon and free shipping.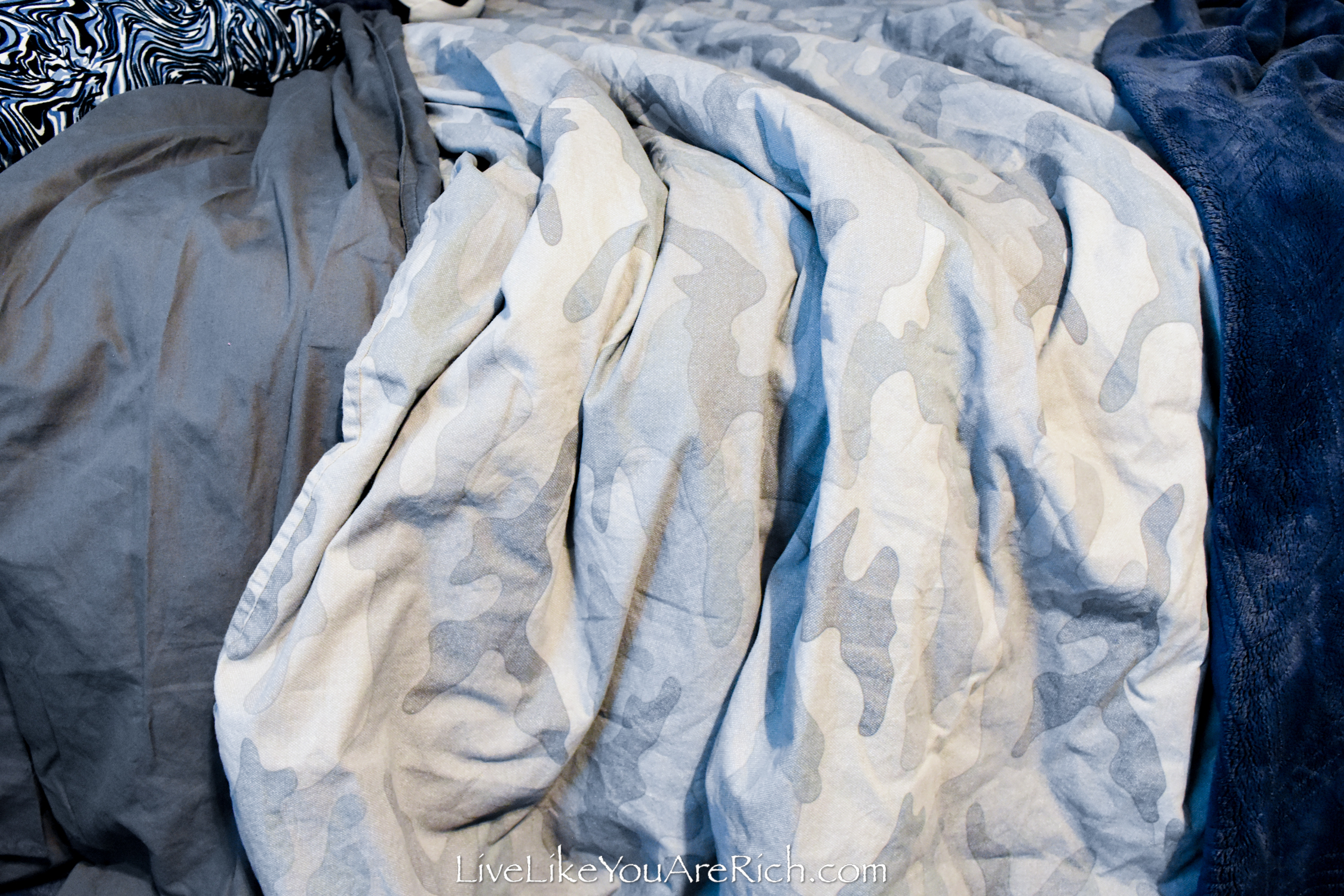 I had the blue/navy lap blanket that is draped on the end of the bed.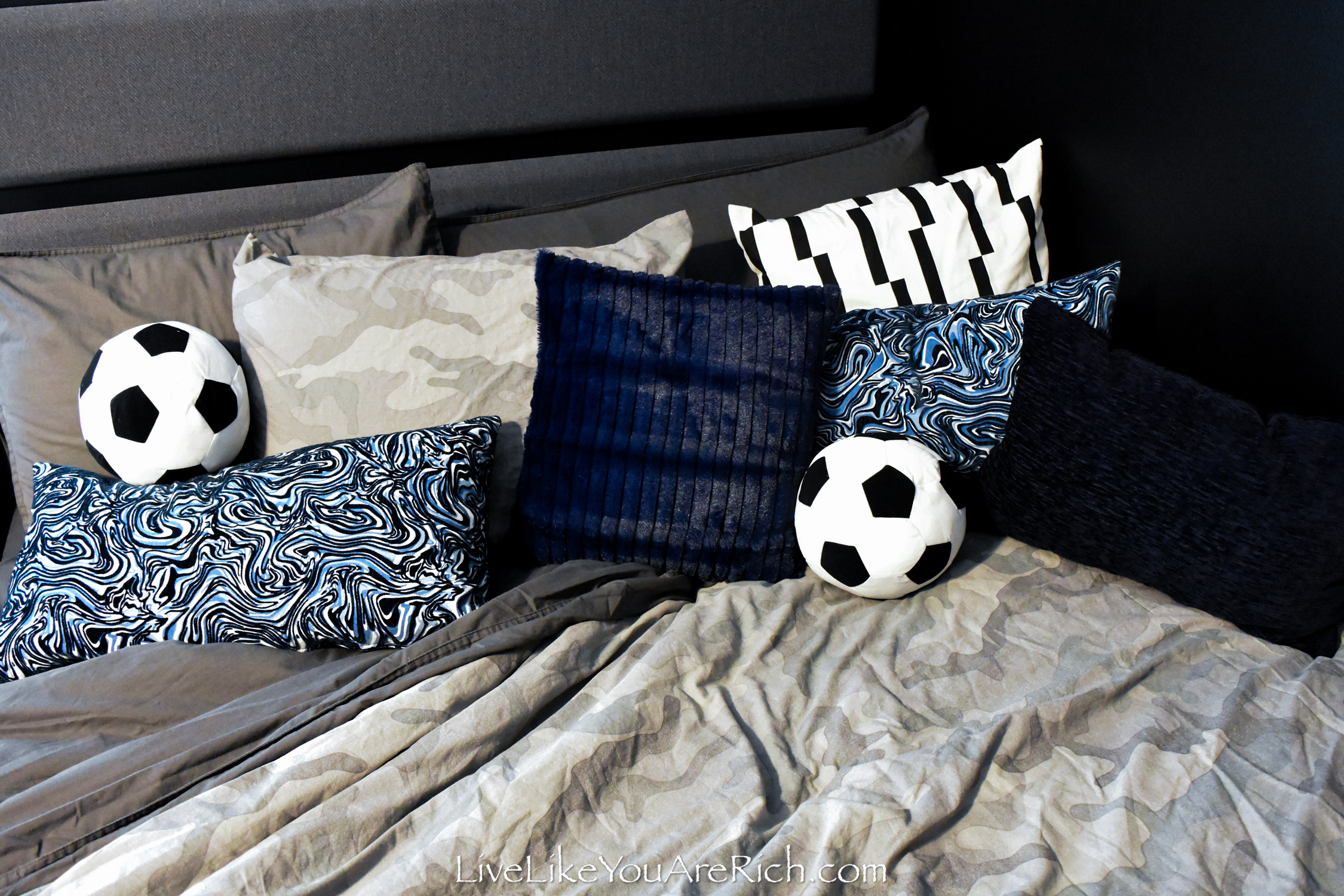 The soccer pillows came from IKEA for $3.50 each = $10.00.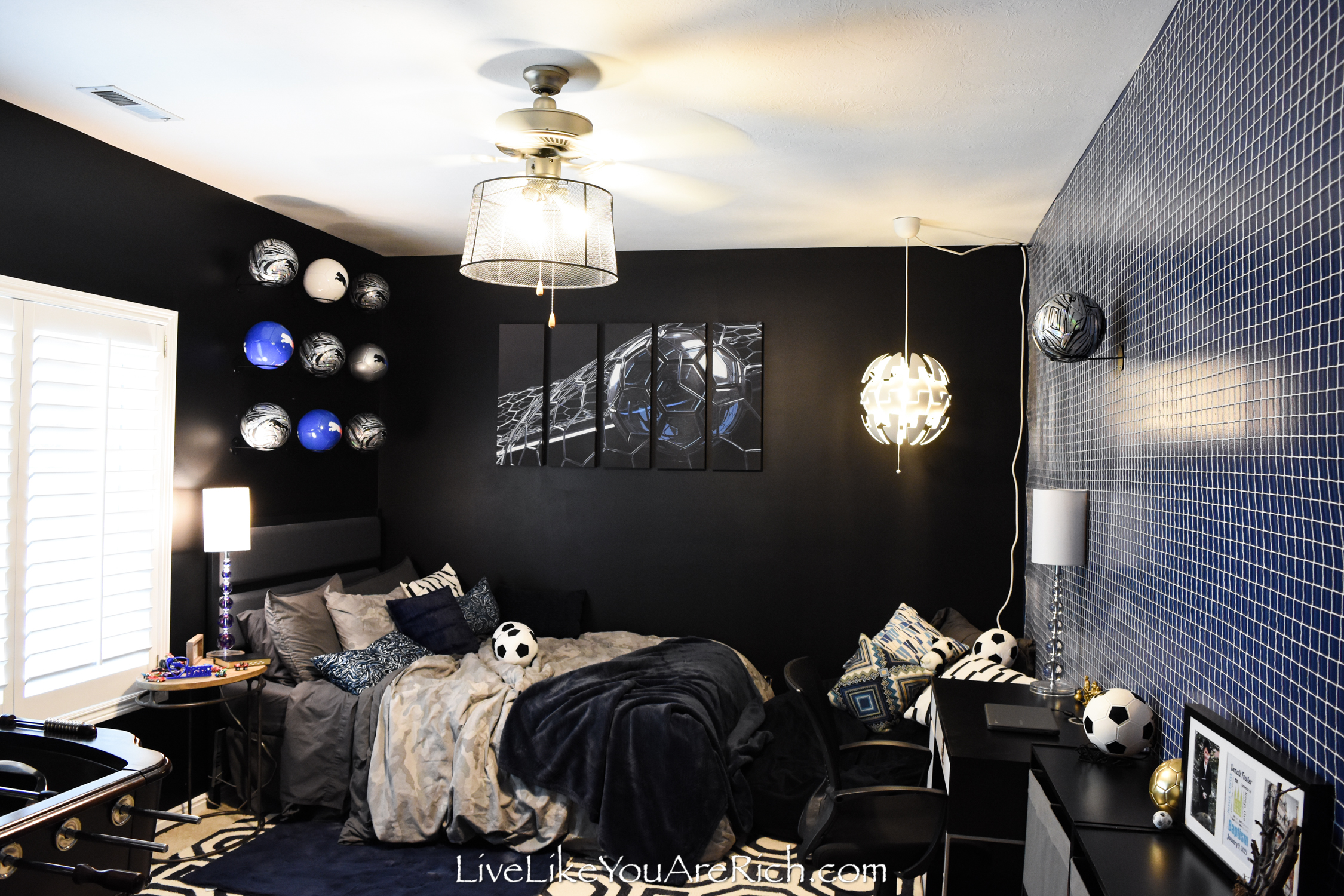 The white and black shams also came from IKEA for $3.99 ea= $8.00. I just stuffed them with pillows I had on hand.
That's it. The best part about this room is how much my son loves it. He has told me 'thank you' multiple times. It makes me so happy how proud of it he is. I'm also so glad I involved him in a lot of the process. He helped me prep and paint it, he helped me hang the net, artwork, and soccer balls.
He helped move in the foosball table, desk, bed, and most of the furniture.
It was such a fun mom-son activity and a great room to plan and decorate.
The total cost to decorate this room was $995.00. So, it came just within my $1,000. budget. We do plan to sell a few of my son's old toys and furniture at a garage sale we will have in a month, but for now, I'm just tallying up what I spent in the past six months in preparation for this room.
Yes, I've been buying and planning this room for the past 6 months. I had it all together and thankfully the room itself was painted and decorated in two days.
It's great when the items you purchase come together in the way you have envisioned.
If you have any questions about any of the items used in my son's Modern Soccer-Themed with Hints of Rocket League Room, please leave them in the comments below.
For other 'rich living tips' please subscribe, like me on Facebook, and follow me on Pinterest and Instagram.