We will be having a baby boy any day now. I wanted to share his nursery with you. I decorated this travel themed boy nursery for him because I love to travel and I hope he has the wanderlust bug as well.

The main theme is travel/mountainous travel and the color scheme is a mixture of blues and neutrals.
This nursery may feel "one-sided" and that is because it shares a room with our master bedroom. To have both the master and the nursery in the same room was a practical decision for us.
The nearest bedroom to ours is a pretty long distance away and I like to have my newborn babies close to me at night. Stumbling through the house and going up and down many stairs to get the baby when he/she needs me multiple times a night is not my idea of convenient or practical.
Plus, my husband is a very deep sleeper so he rarely—if ever— hears the baby cry (lucky him right!).
He is really helpful after work but I willingly take the night shift so he can function at his full-time job.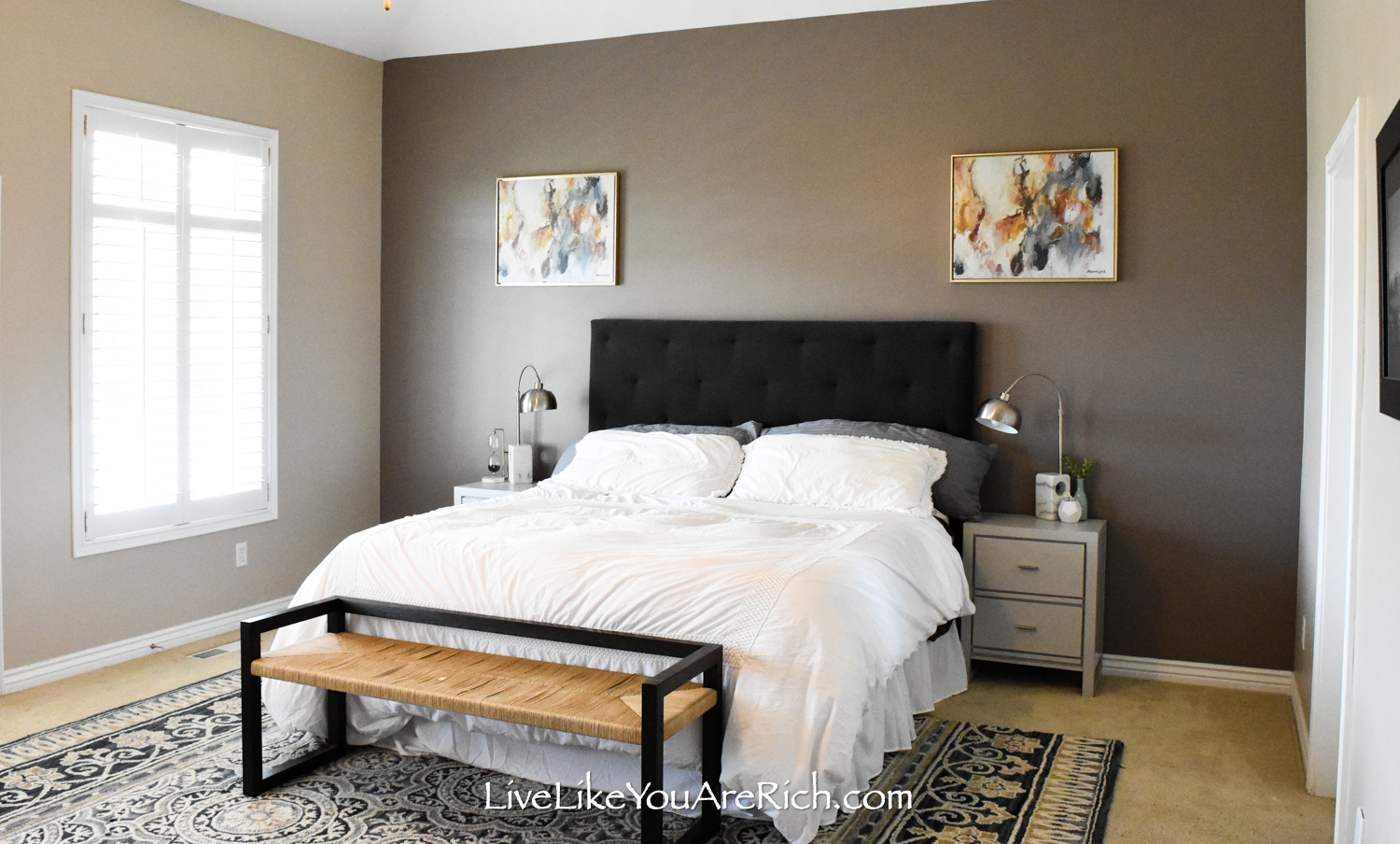 Having the nursery in our room has worked extremely well for our family.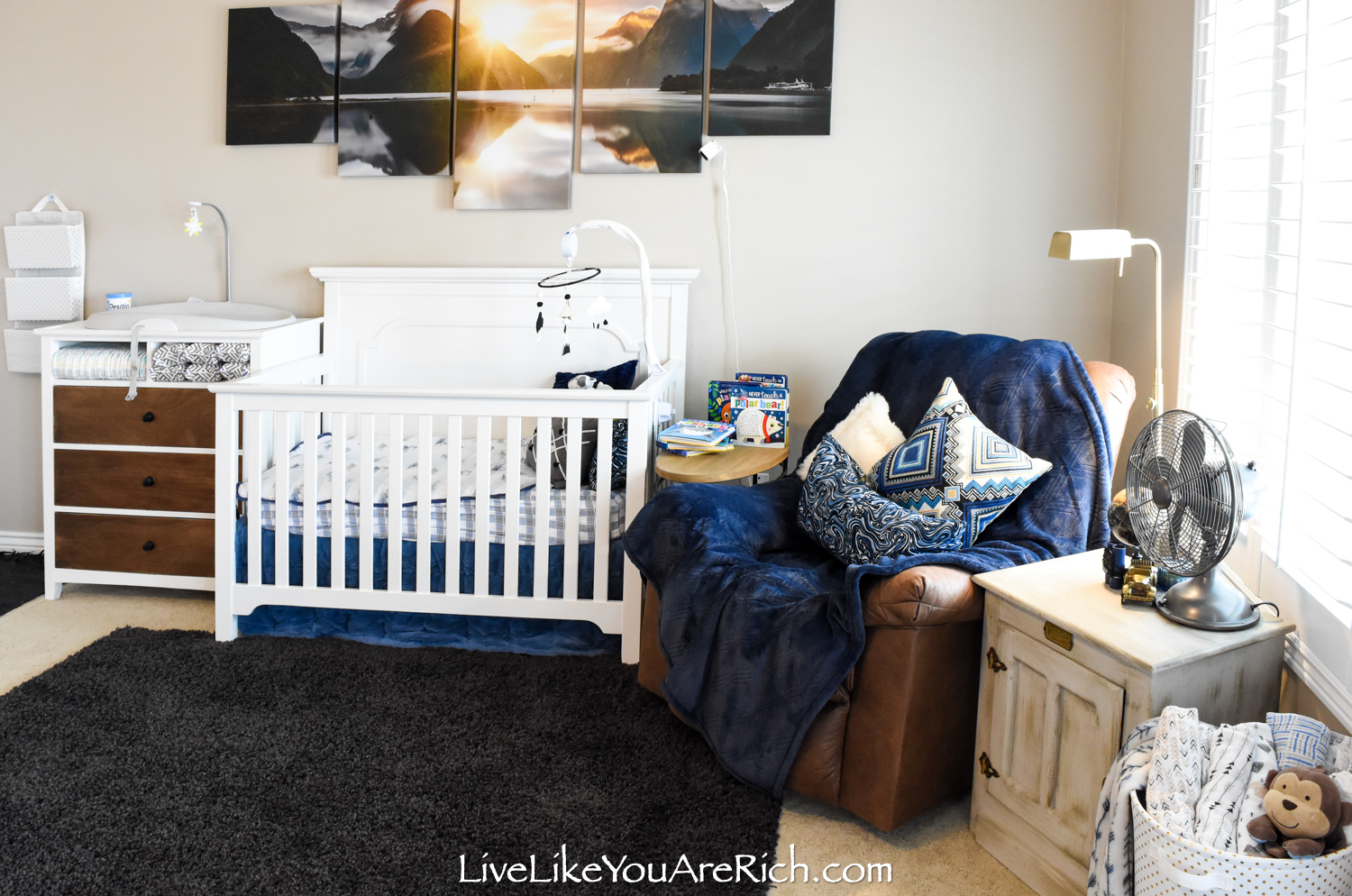 This is the least expensive nursery I've done… It cost a total of $250.00. I used almost everything we already had to decorate it. Below there are links to blog posts on how to decorate a first time nursery for under $1,000.
Why choose a Travel Themed Boy Nursery
As mentioned, I love to travel. When I was 19, I moved to New Zealand to snowboard and travel the North and South Islands. It was a very fun and exciting adventure.
At one point in my travels, I was able to go to Milford Sound. It was so gorgeous it truly was breath-taking!!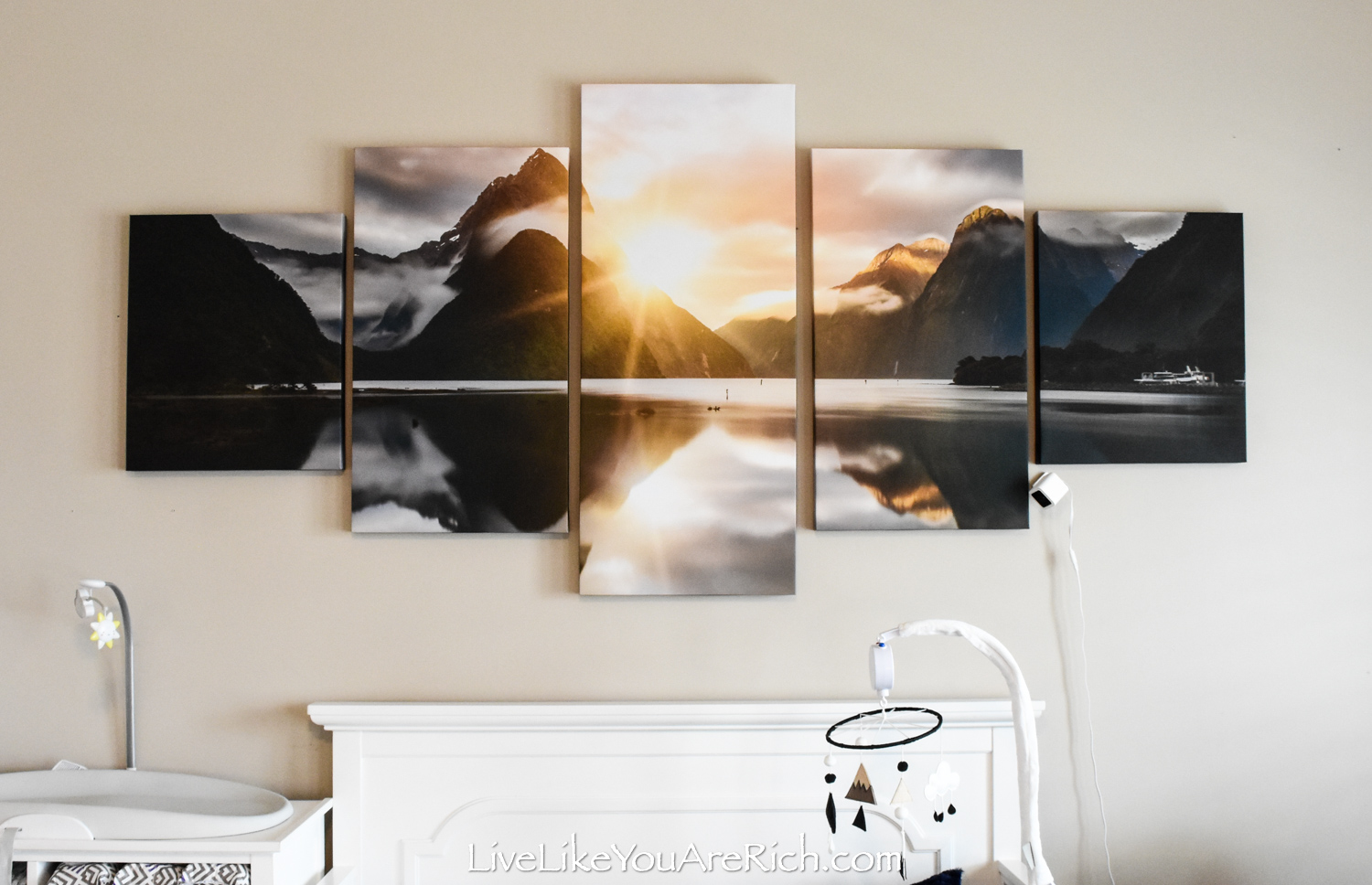 New Zealand on the whole is one of the most scenic places I've been to. I will never forget the beautiful views and especially Milford Sound.
I absolutely LOVE mountains and I love to snowboard which is why some of my favorite places to travel to are cooler mountainous areas: Switzerland, Alaska, New Zealand, Germany, Canada, Utah to name a few.
My first son is named after a mountain; Denali. We will name this son after a mountain/ski resort; Brighton.
So, I was trying to decide what travel or mountain scene or wall art to buy for this nursery. There were so many amazing options I spent hours searching Etsy and retailers online.
The wall is quite large so I was trying to find something that could fill the space without being too expensive.
One day, I found this massive canvas of Milford Sound (92″x42″) on sale. It was gorgeous! That day it was 75% off with free shipping and an additional $25.00 off of a first time purchase discount from Elephant Stock. I ended up getting it for $198.00 shipped.
I'm not being sponsored or paid to say this, but the shipping, packaging, printing, and price were all exceptional. So, if you are in need of wall art, check Elephant Stock out.
It makes me so happy seeing this beautiful photo every day. It is perfect for this room as it combines mountains, travel and is also very sentimental to me.
Well, enough on the wall art…on to the rest of the nursery…
I purchased this wall storage hanger from Target on sale for $4.00.
This storage hanger gives me a place to organize socks, beanies/hats, binkies, windi's, nose frida and other misc items in it.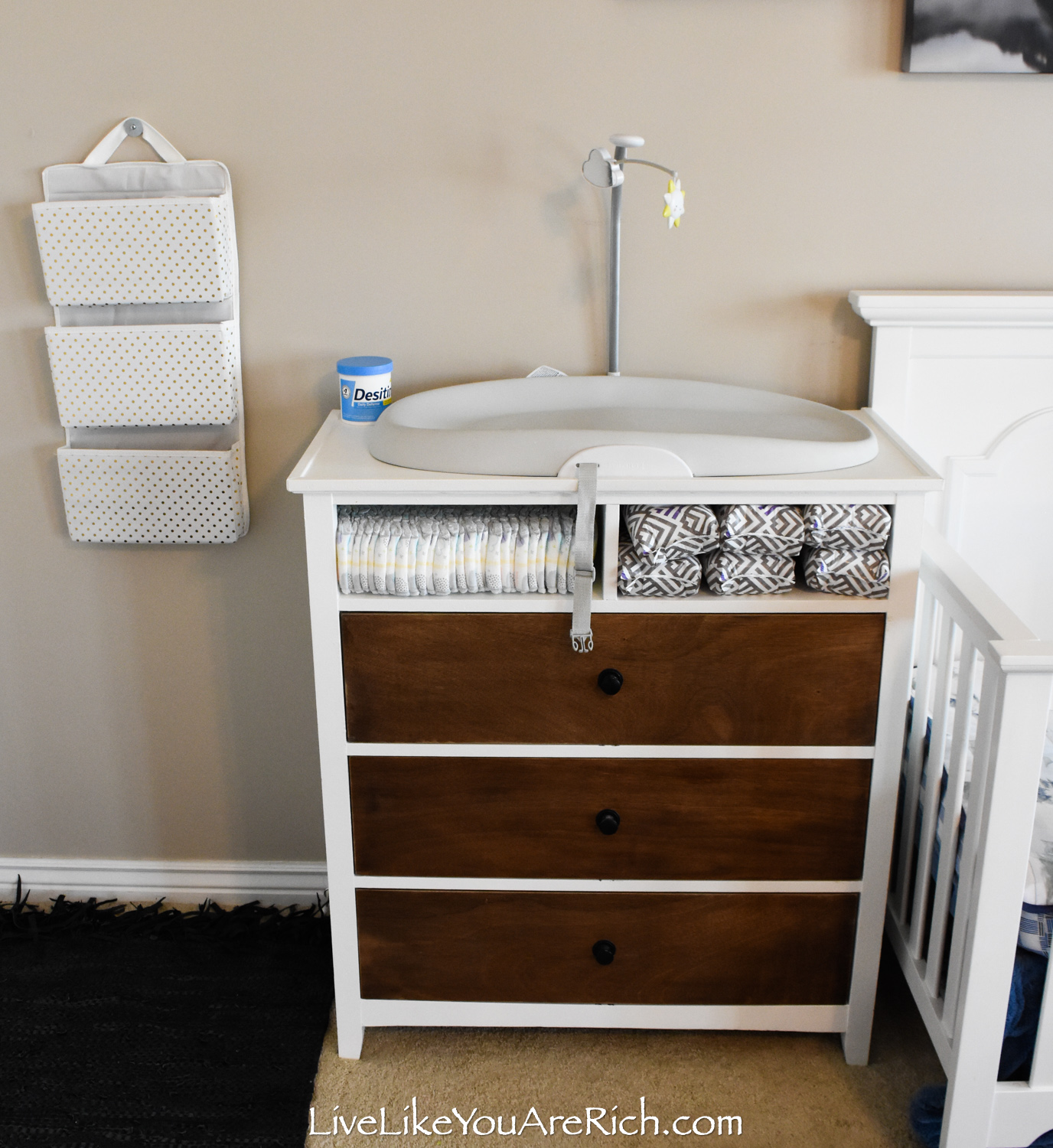 I bought the changing table/dresser from a classified ad for my daughter's nursery. It is super functional.
I love the open shelves for wipes and diapers. I also love the height of this dresser. Both my husband and I are tall and it is nice not to have to bend over.
Tip: When purchasing any furniture to be used as a changing table, measure your changing pad first to be sure it will fit the top.
It's amazing how many dressers and even some changing tables won't fit the newer changing pads the industry is coming out with.
This baby changing pad on this dresser is the best-ever. I highly recommend it. We've been using it for 18 months and it is amazing.
It is warm and soft for the baby, requires no covers, doesn't slip or slide around, has a mobile, and easily wipes clean. It's totally worth it.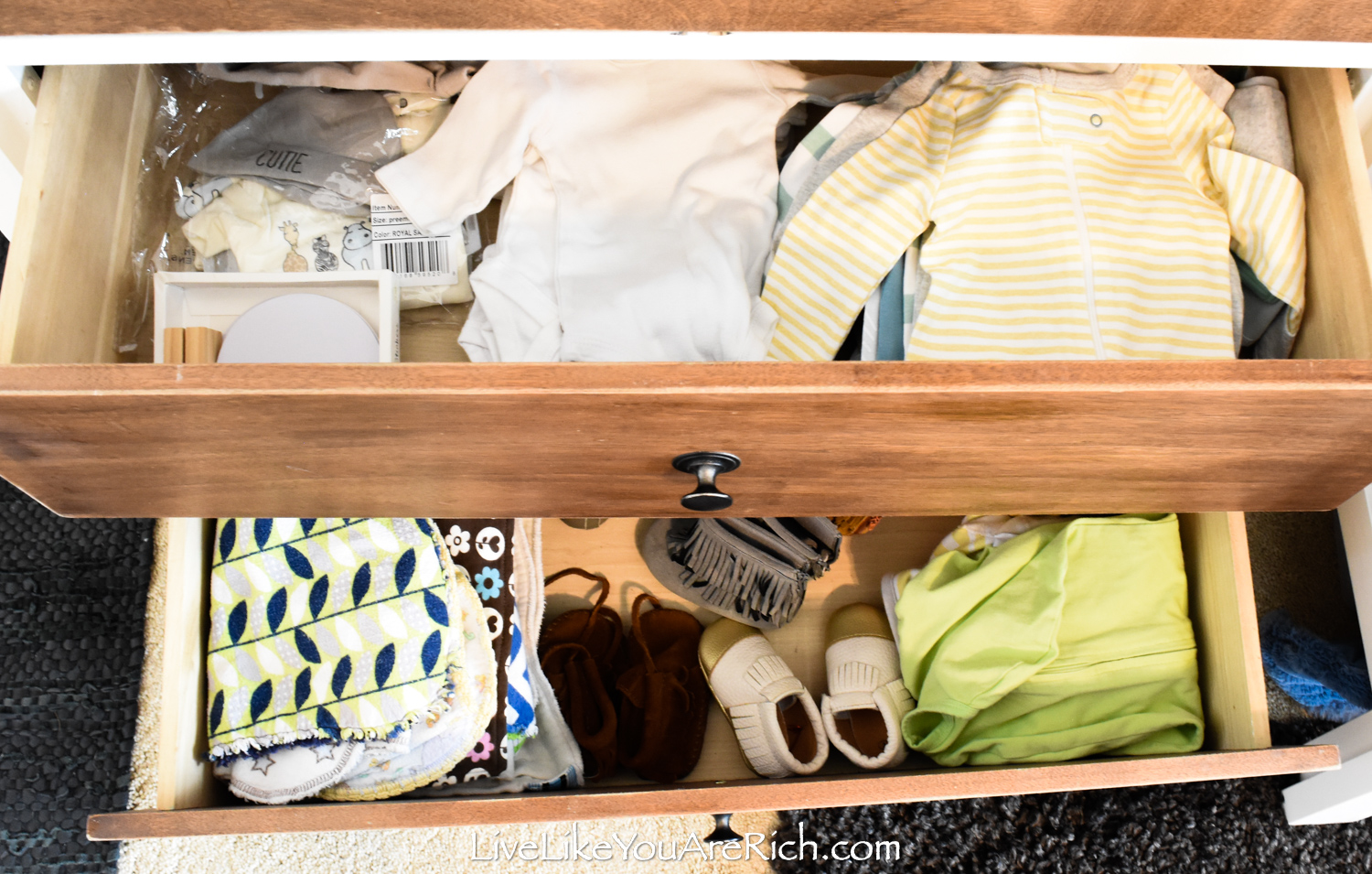 I put my son's clothes, burp cloths, swaddles, shoes, etc. in the bottom two drawers.
I still have some of my daughter's clothes in the top drawer in case she has an accident and needs a new outfit during the day.
She has made the move out of this room/her old nursery into her own room, but we still change her at this changing station. Having a few outfits here when needed is very convenient.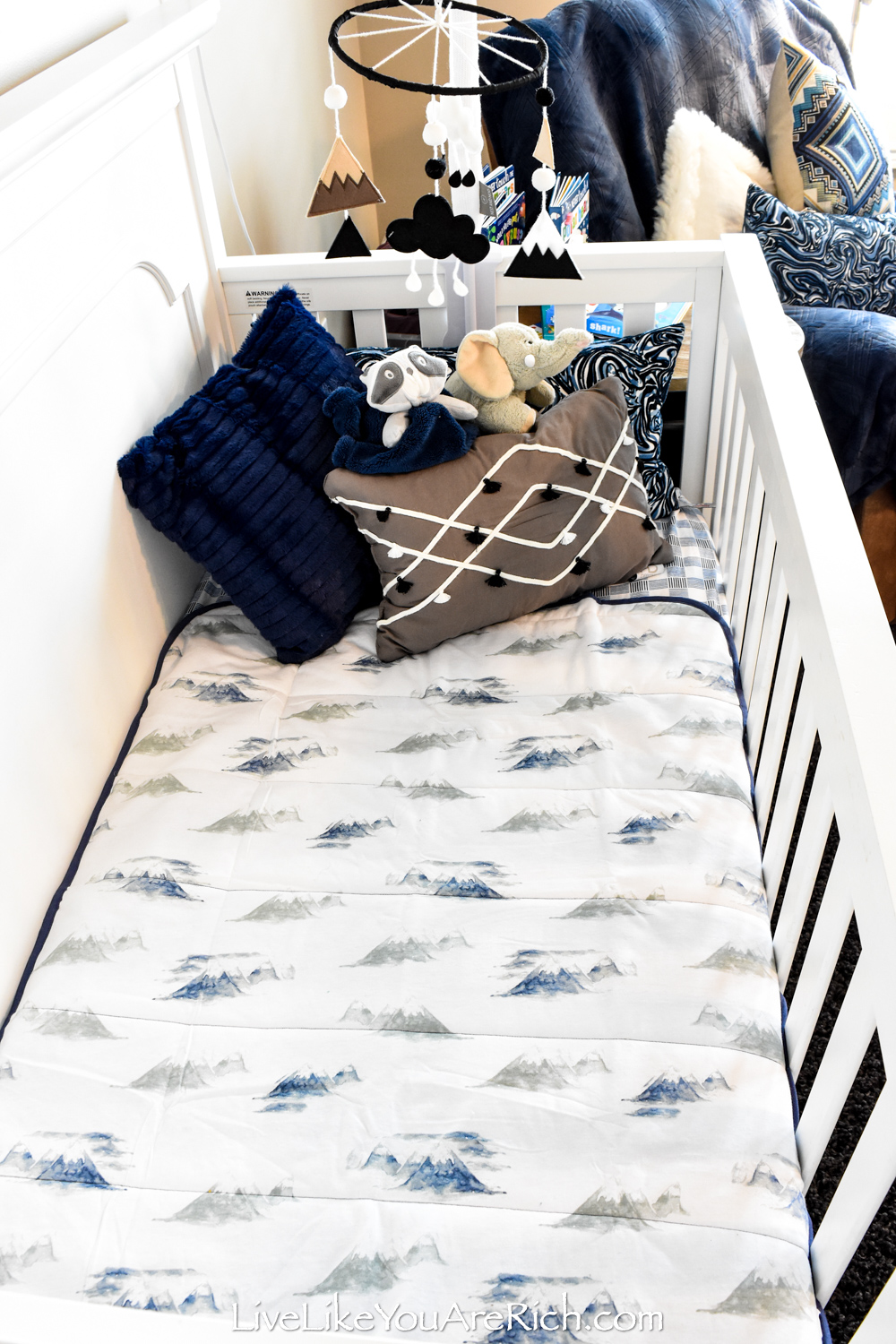 I got the crib for my daughter's nursery and am just reusing it and the mattress for this baby boy.
I found this darling Burt's Bees mountain blanket on Amazon and used my registry discount to get it for $15.00.
All of the pillows in this nursery were bought to decorate/stage a house that we renovated and sold a few years ago.
I also had all of the stuffed animals from previous babies.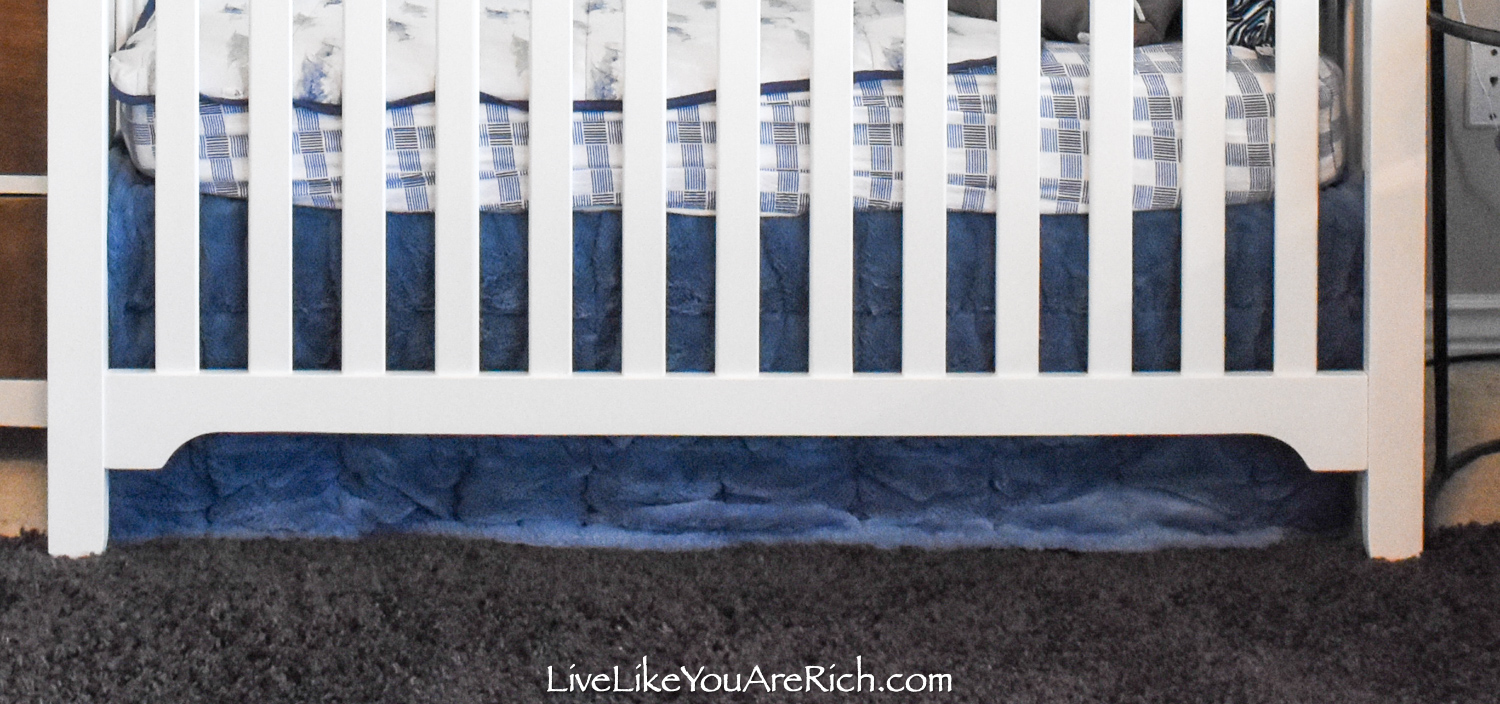 My sister in law gave me a crib sheet she used for her sons. It matches great since it is navy, grey, white, and black.
As for the crib skirt, I got creative to save money on one.
I just laid a thick blue blanket that we had lying around the house where the crib skirt would go and tucked it in the back as well.
The blanket works and looks great as a crib skirt and didn't cost anything additional.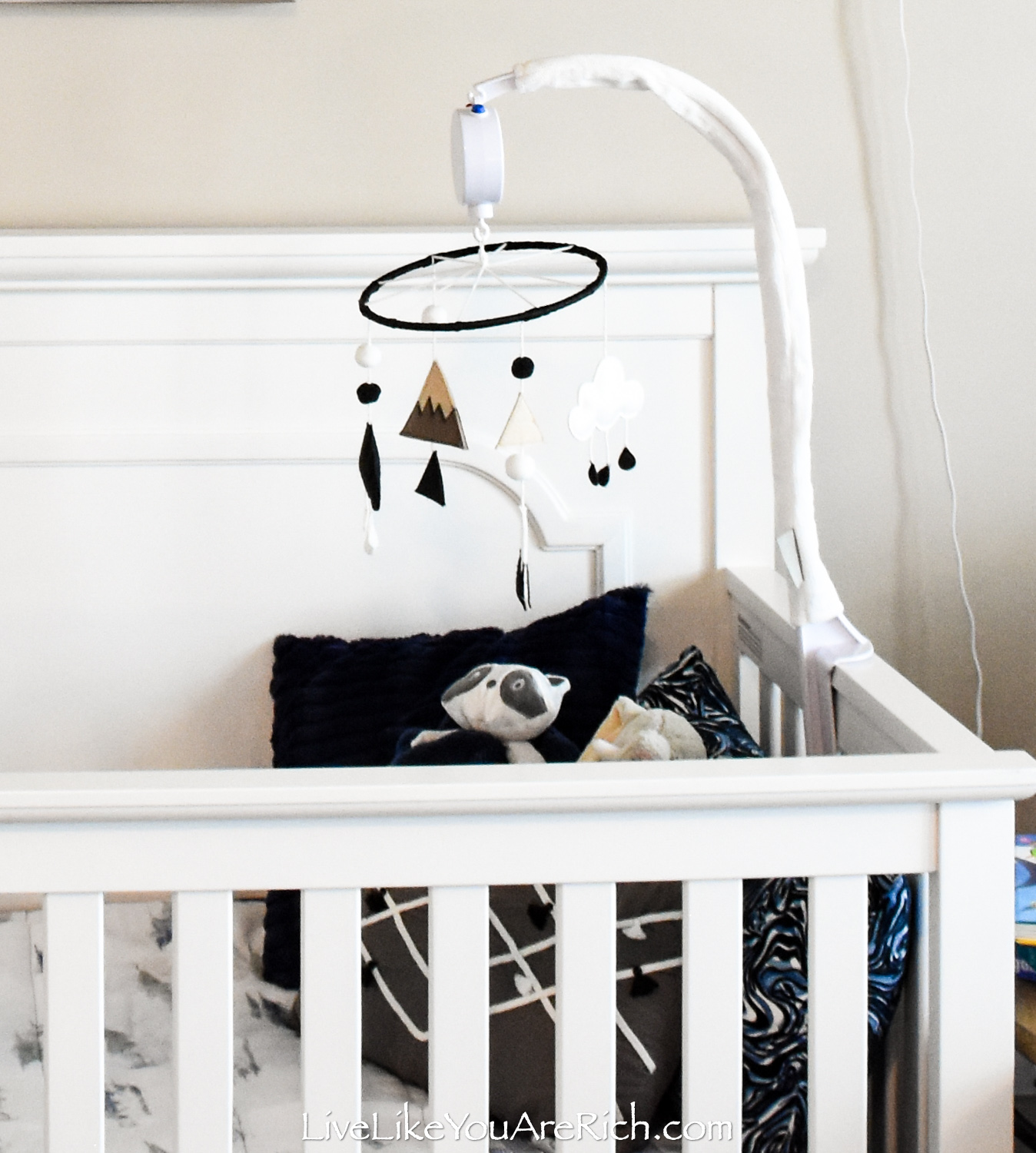 The mountain mobile was purchased from Buy Buy Baby on sale with a coupon for $20.00. I just checked it and it's now about $55. I guess I lucked out on that Black Friday sale and having a coupon.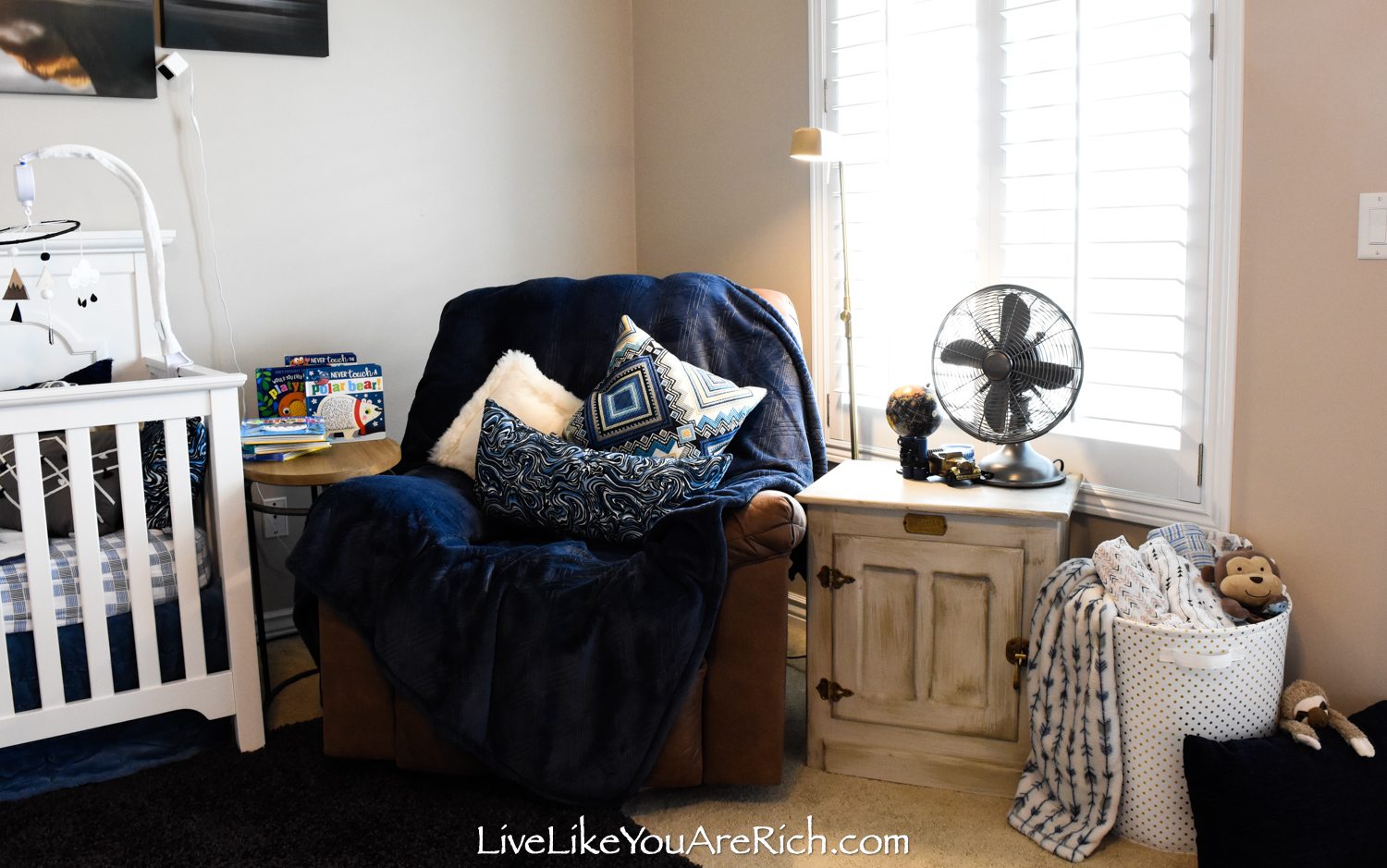 I had both side tables.
This wood/iron table was purchased at World Market 4 years ago for another part of my house. I got a crazy good deal on it then as it was a display model and on sale + coupon. I believe it was under $25.00.
Anyway, I brought it in the nursery to use to set milk bottles, burp cloths, and binkies on while feeding and rocking the baby in the rocker.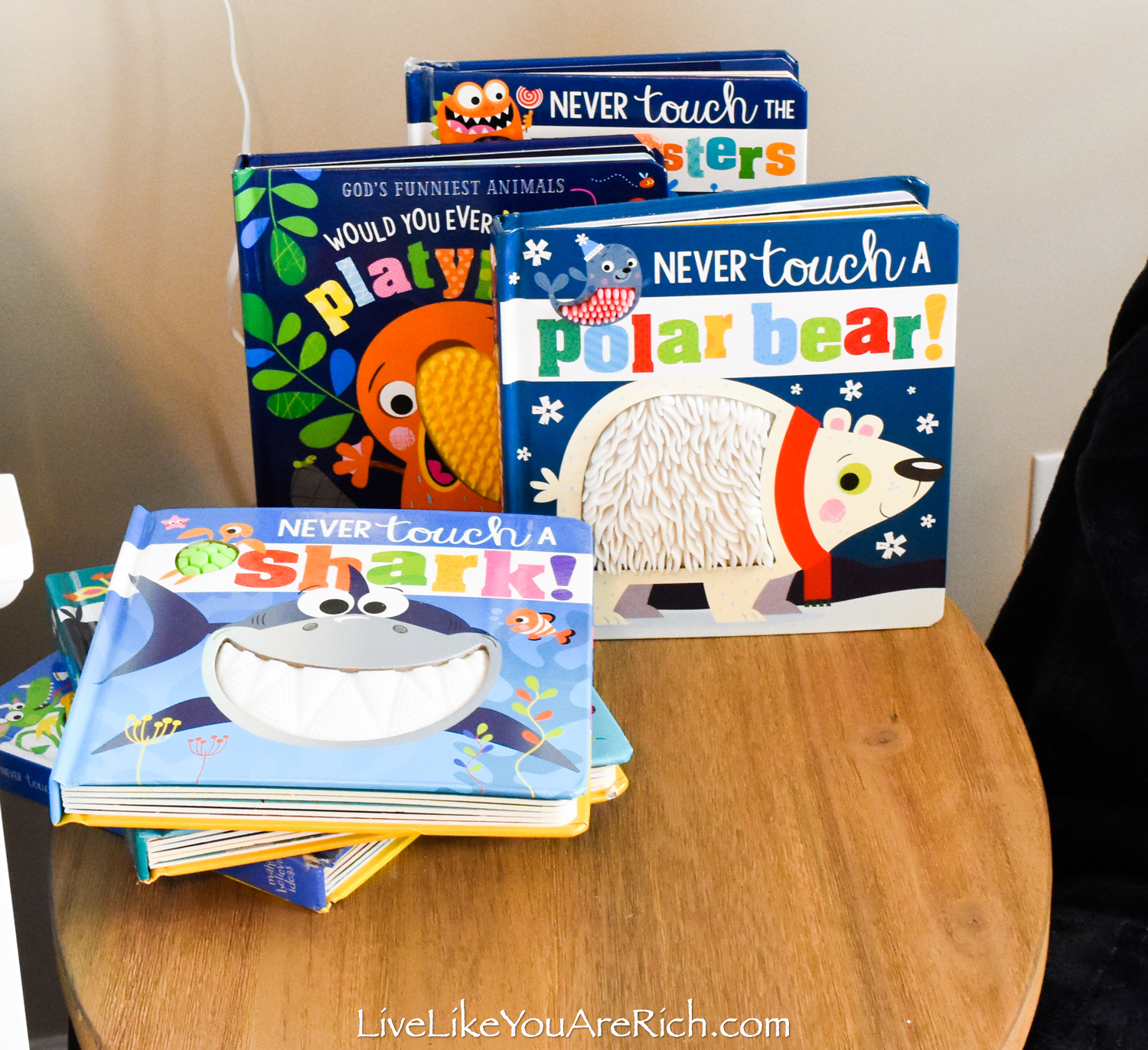 For now, I have some of my daughter's favorite books on it because she likes me to rock and read to her in the recliner.
If you've never read these "Never Touch A" series of books, I highly recommend them!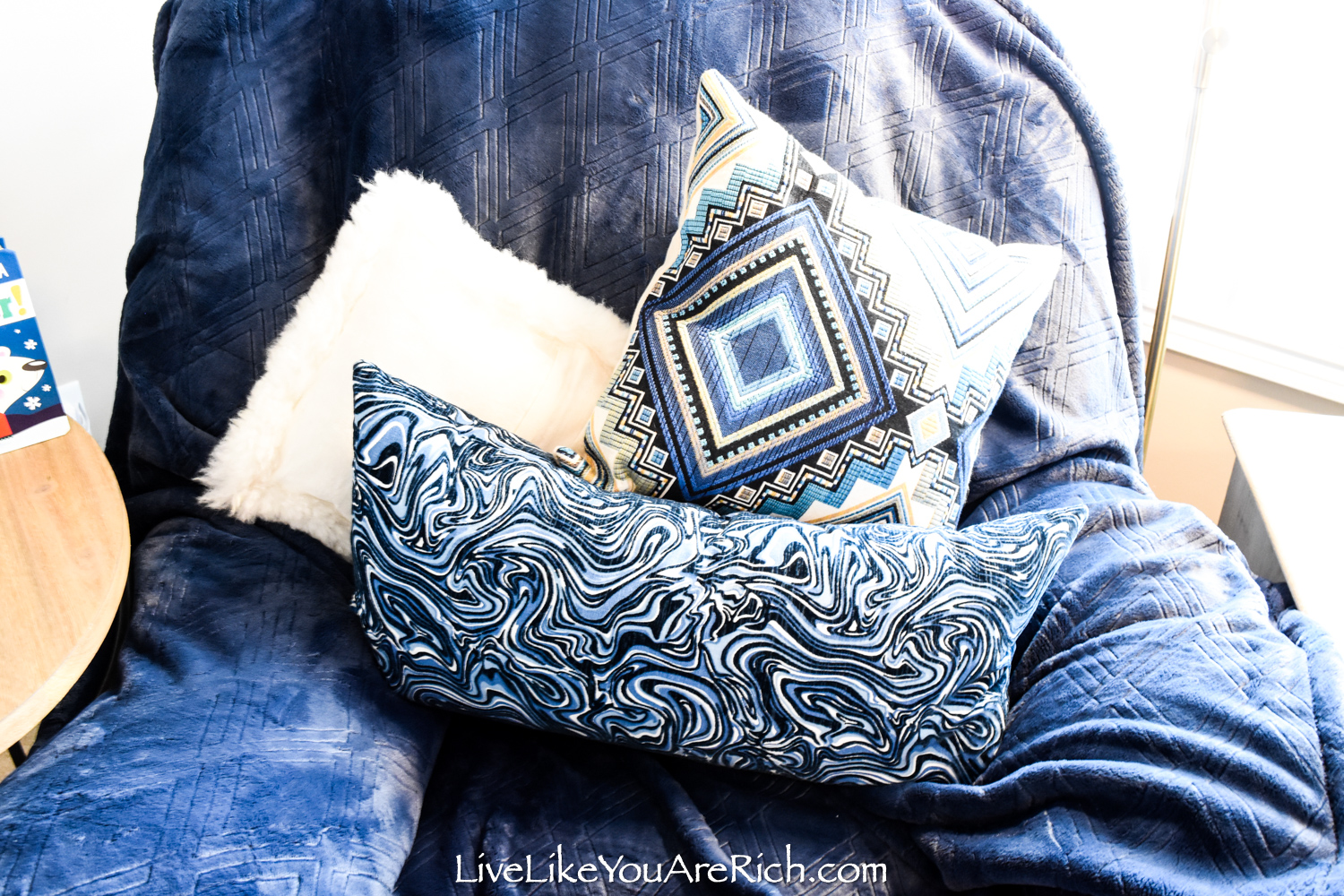 The rocker/recliner was also purchased for my daughter. It is brown and that much brown was just too overwhelming in the room design so I covered it with a Navy blanket I had. I also added pillows I already had.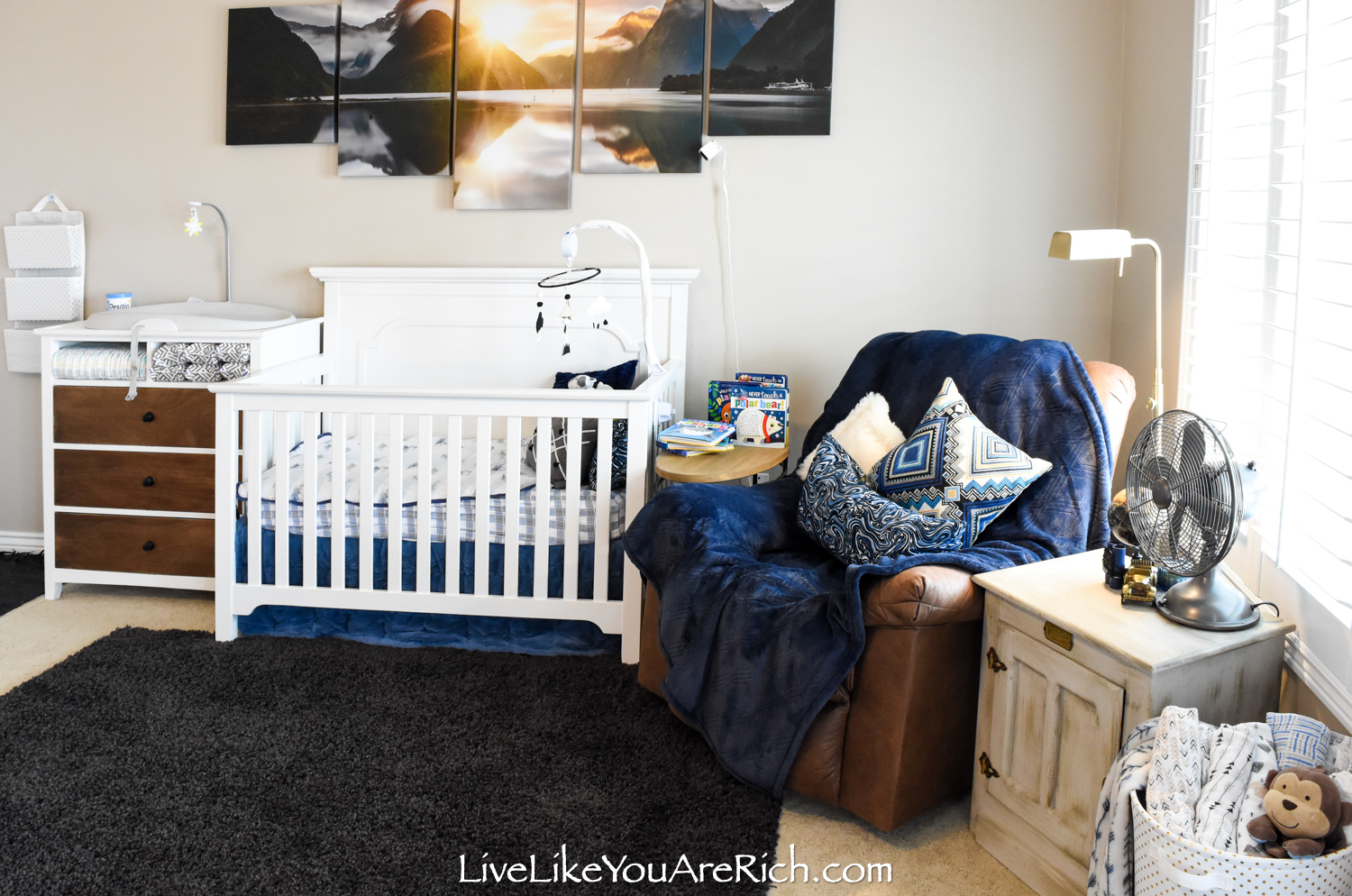 This other side table was also purchased off classifieds for super cheap for staging my husband's last home. It was just in a spare bedroom downstairs so I brought it up. I love its vintage look.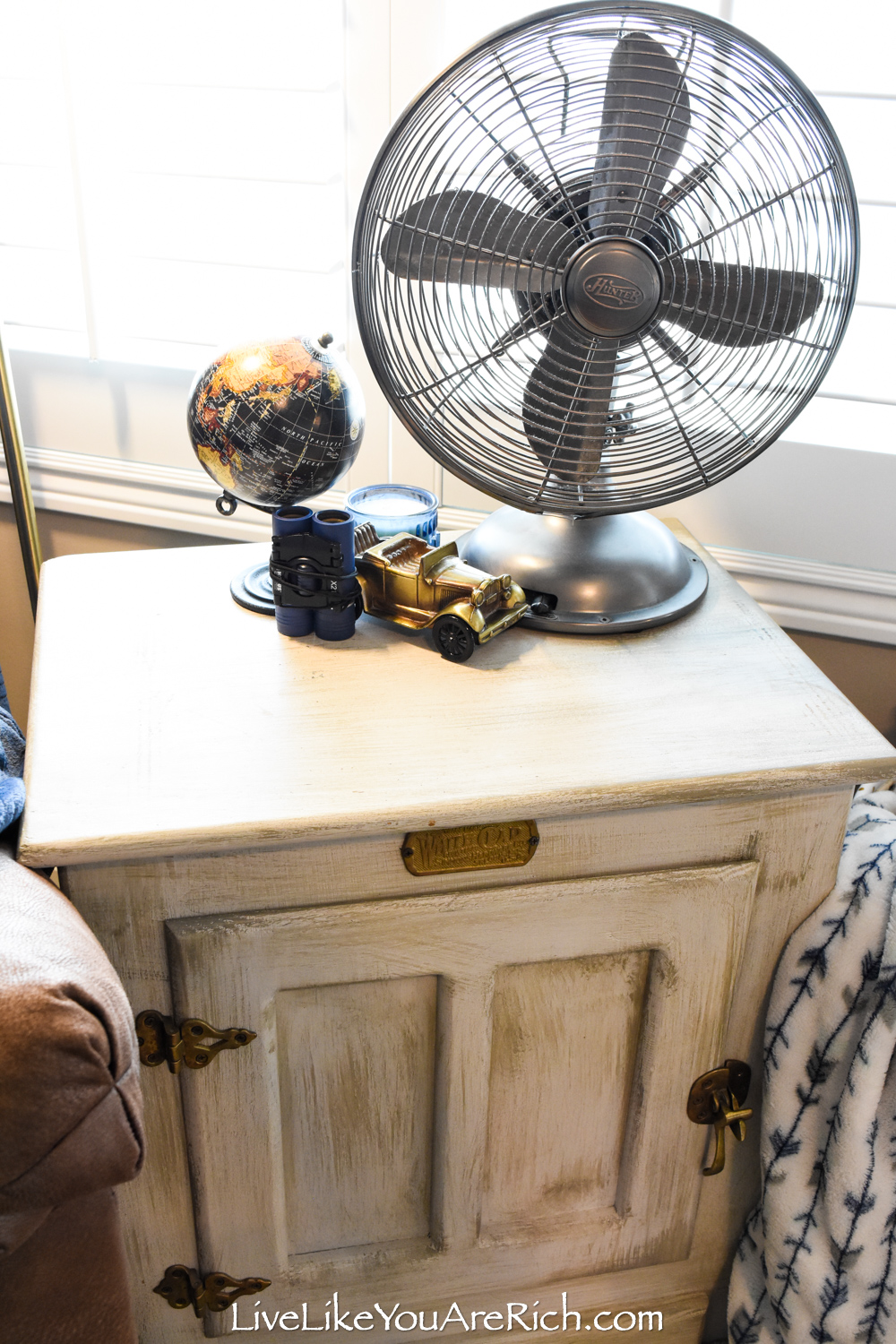 The fan, car, binoculars, globe and candle were also found around the house. I collected these items to put on the side table to represent the travel theme. They all have a vintage feel which goes with the side tables.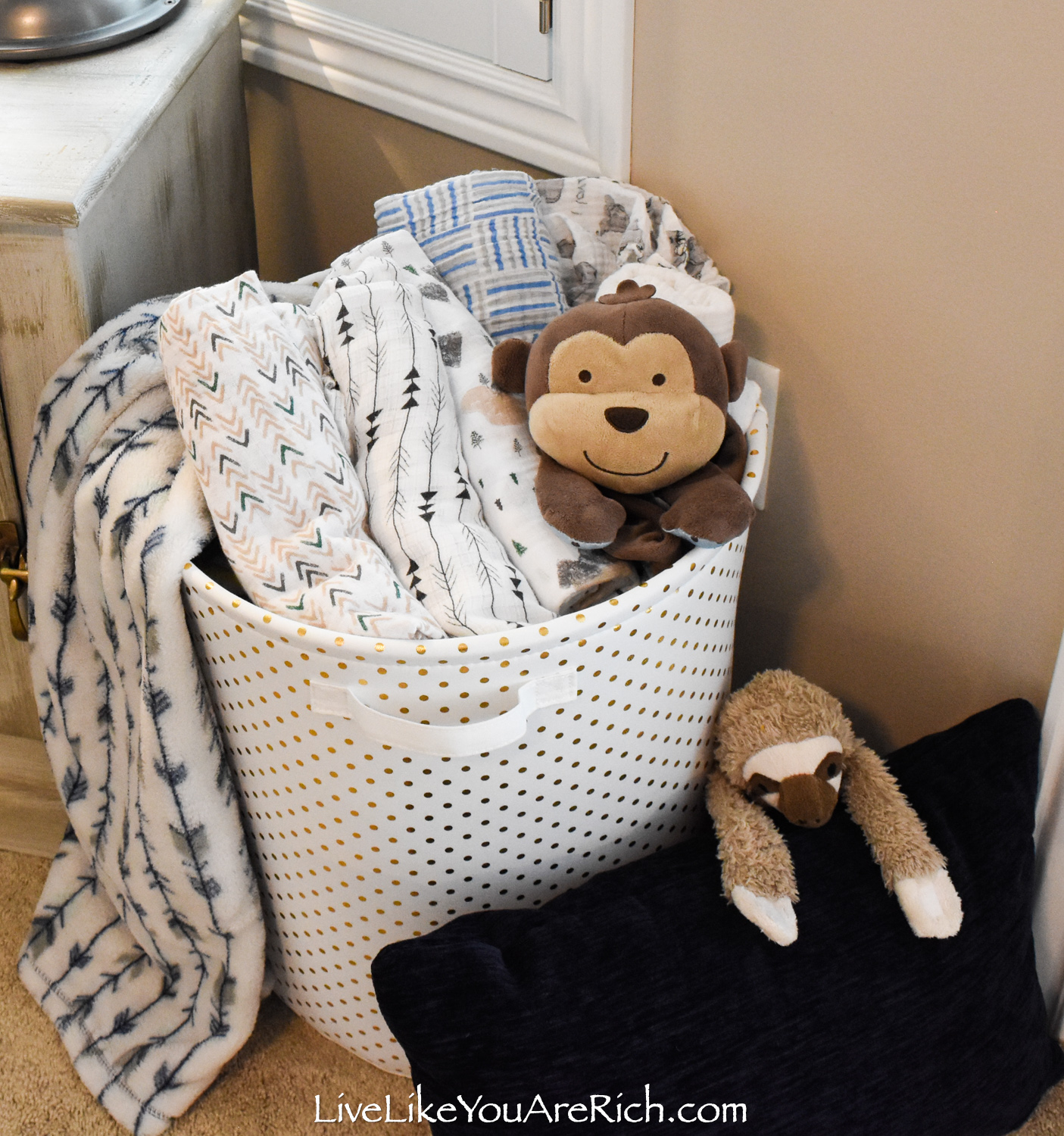 I got this blanket storage bin from Target for $12.00.
I had the blankets from previous babies that I filled it with and was recently gifted a few more.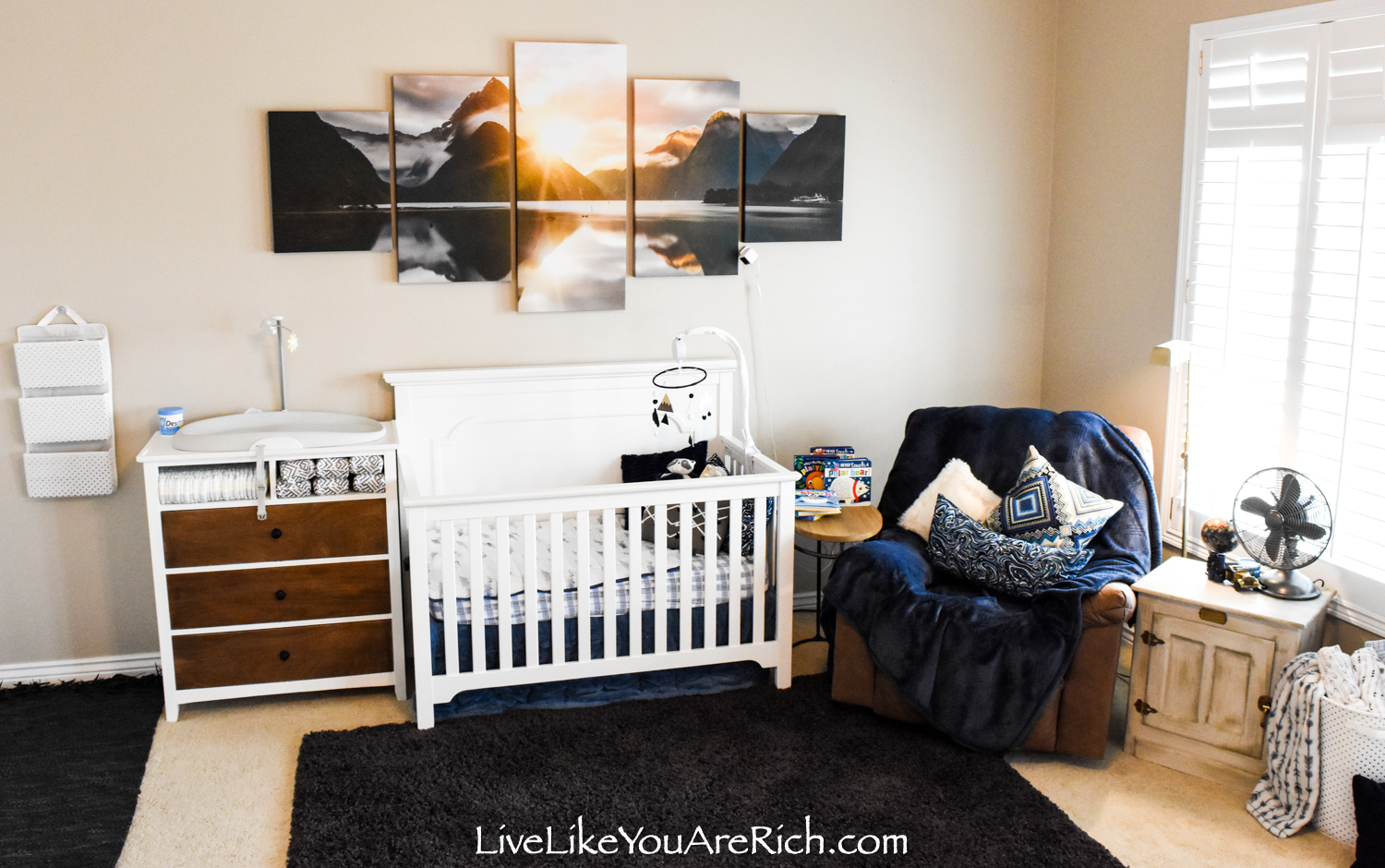 I also had the gold lamp (next to the recliner) and black leather rug from staging a house.
The shag rug came from my front room that we replaced 2 years ago and I was just storing it.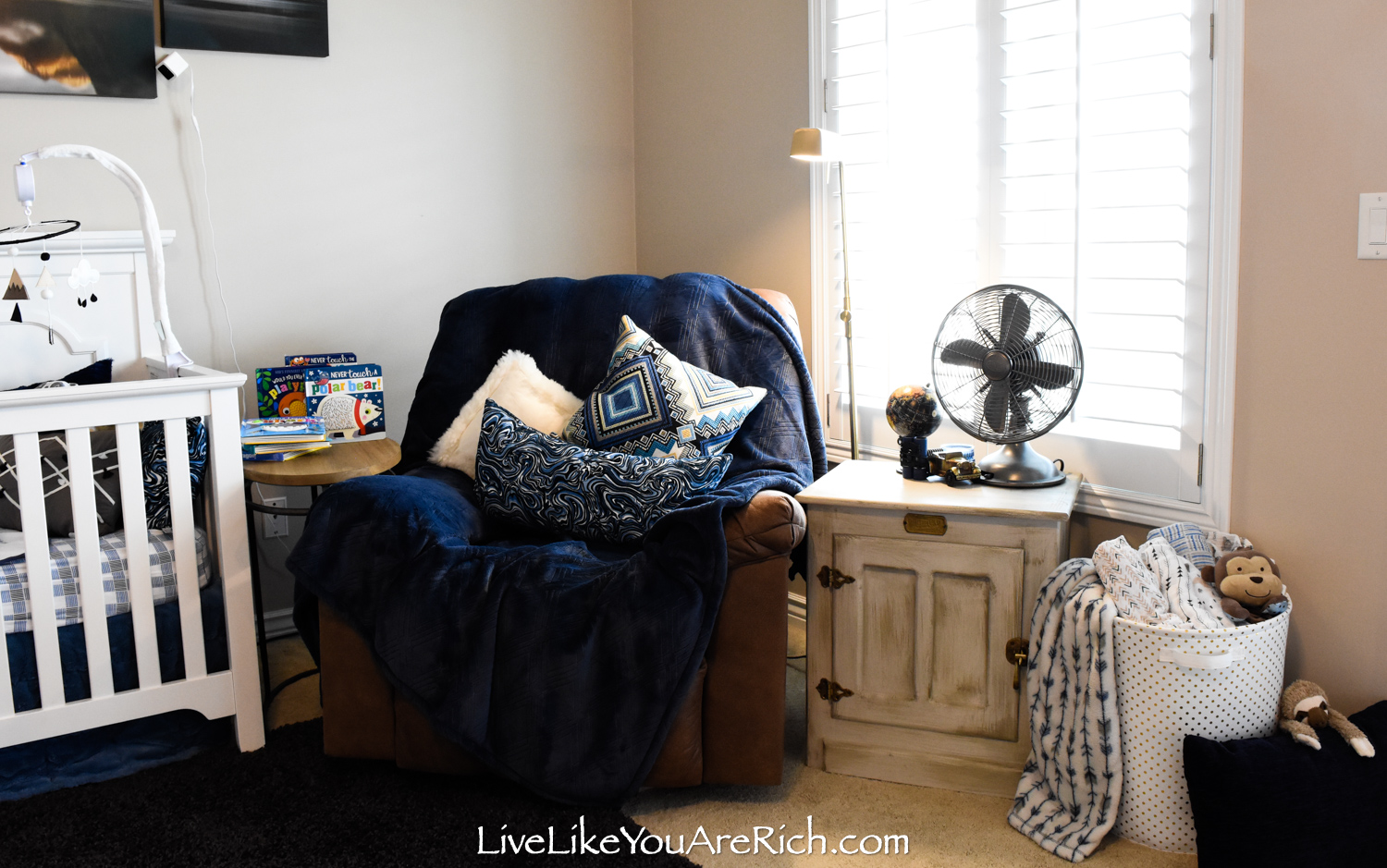 What This Travel Themed Boy Nursery Cost
Total spent: $250.00—Not bad at all.
If you are starting a new nursery, it is going to cost you more than $250.00. The average cost of a first time nursery is about $2,000.00-$5,000.00 (not including boutique/abnormally expensive items).
If you are frugal, it is possible to furnish and decorate a new first time nursery for under $1,000.00.
My first son's nursery cost "from scratch" (I had no baby items), about $500. My 3rd baby's (1st in a new marriage) nursery was also done "from scratch" for $800.00.
Subsequent kids' nurseries will likely not cost as much as you can reuse items.
Hopefully, this travel themed boy nursery post has given you ideas on how to make a functional, cute, and inexpensive travel themed nursery for your little one.

For other 'rich living' and money-saving tips, please subscribe, like me on Facebook, and follow me on Pinterest and Instagram.