I love to make seasonal inexpensive crafts. These DIY Jute Christmas Trees are not only inexpensive, they are very simple to make (children can help assemble them) and they only require 3 supplies.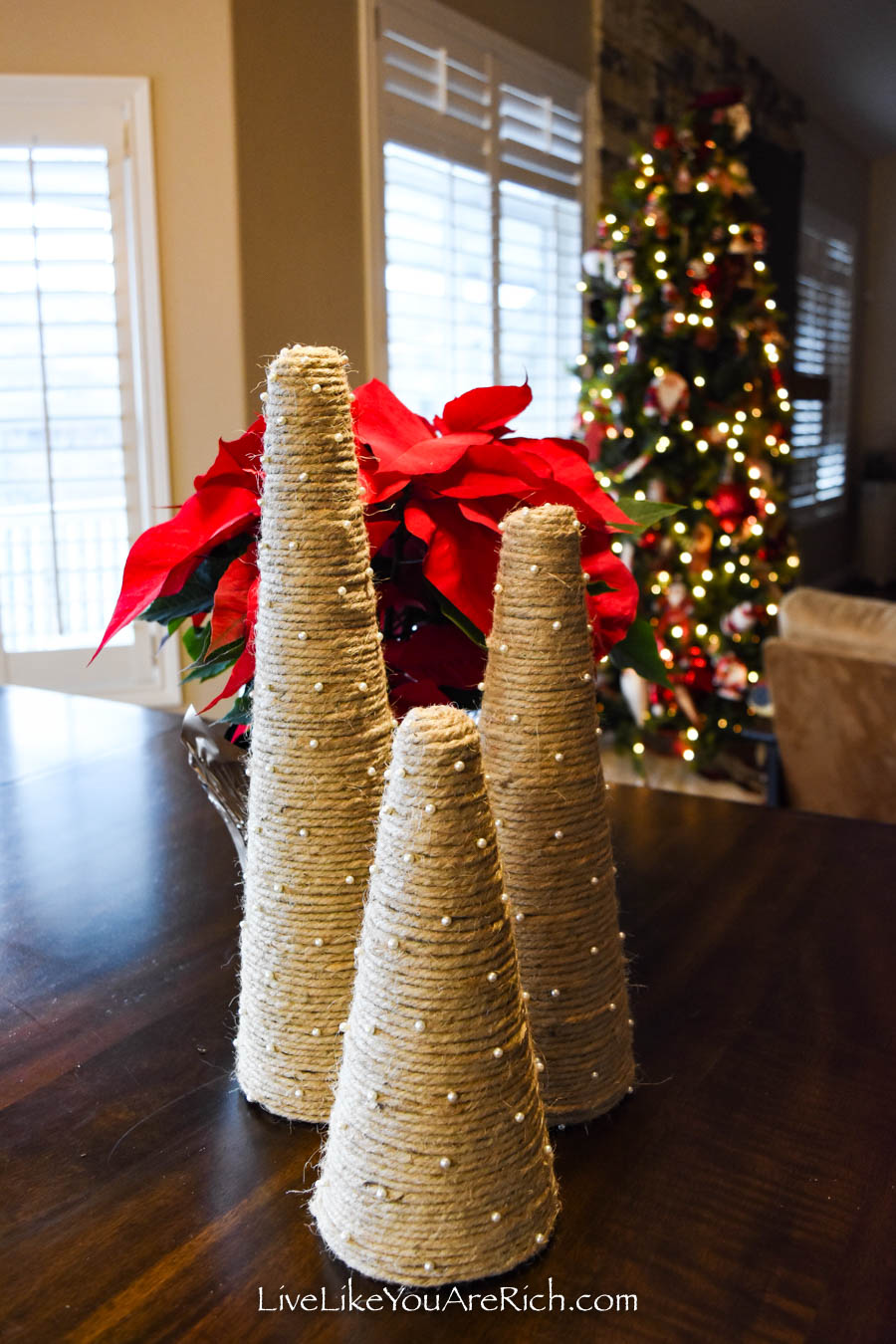 These trees are a great Christmas craft that will last many seasons. They are versatile mix into all kinds of Christmas decor!
I ended up placing ours amongst tall Santas on my mantel.
They look nice in whimsical scenes as well.
They would be great trees to go with my Tale of Three Trees Centerpiece found here. I re-did that centerpiece this year to make a Three Trees piano-scape, they would go great with it.
Maybe next year I will make another set of DIY Jute Christmas Trees for this piano-scape.
Supply List
Set of 3 varied styrofoam cones (Hint- if you buy bulk packs of 3 different sizes for a crafting group this will reduce cost)
pearlized pins (I used about 150 for the 3 trees)
Instructions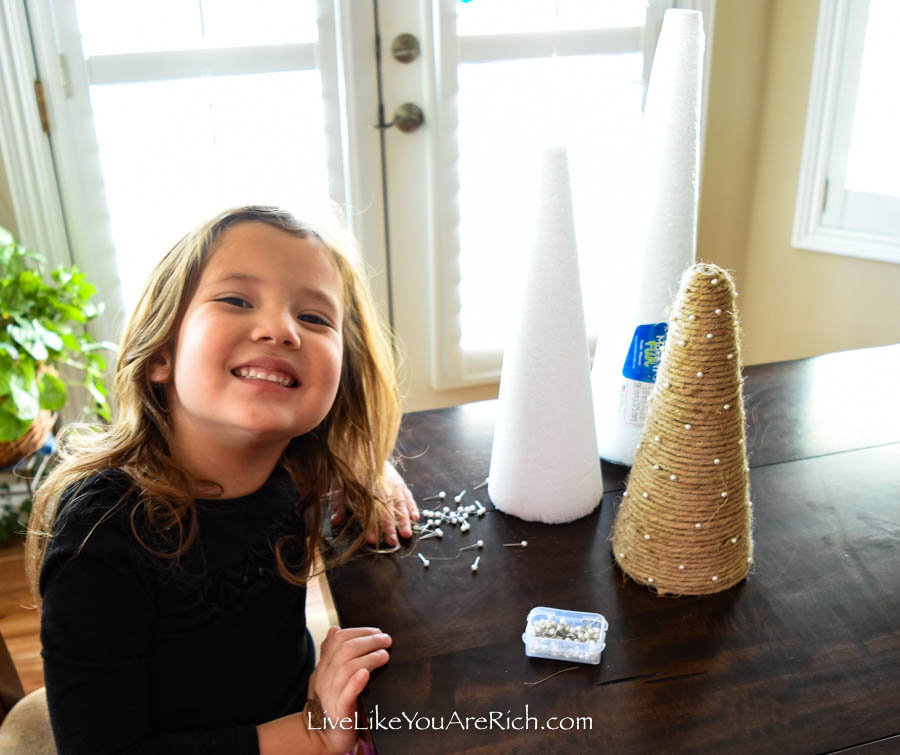 Gather supplies… and children (if they want to help—mine did!)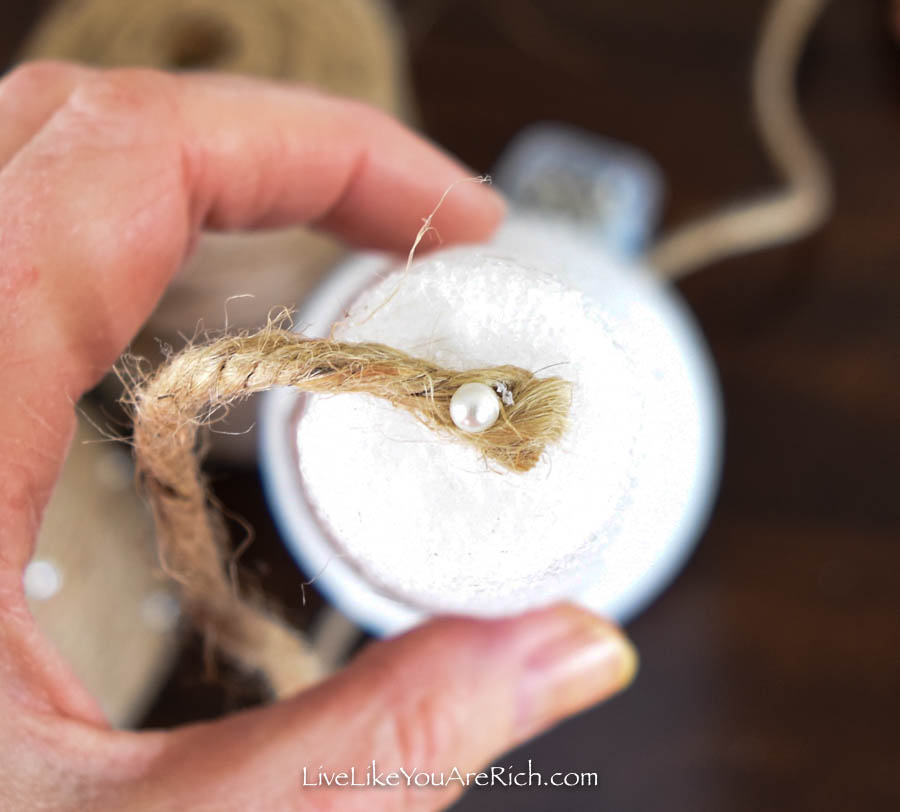 Take the end of the jute twine pin it in the middle to start it on the very top of the styrofoam cone.
Wrap it around the top, pinning as you go.
Wrap the jute around the Christmas tree cone making an even, tight, and close wrap.
Pause every few wraps around the cone to insert a pin into the jute. This will hold it tightly. Stagger the pins so it gets a nice random look.
Note- If you are using long pearlized pins, always pin at a sharp angle down at the top of the tree because if you push it straight it will poke through the other side and likely prick you.
Once you get to the bottom of the tree, you will need to pin the bottom strand every few inches.
You can use a hot or cool gun to start and stop the jute but I found it more simplistic to just use the pins.
The winding and pinning only took us about 10 minutes per tree.
Now your DIY Jute Christmas Trees are complete.
I hope you enjoy these very easy, inexpensive—yet versatile, and timeless DIY Jute Christmas Trees!
Merry Christmas,

For other 'rich living' tips and inexpensive gift ideas, please subscribe, like LiveLikeYouAreRich on Facebook, and follow on Pinterest and Instagram.