The Tale of Three Trees Christmas Centerpiece was inspired by
this book
. If you haven't read it, I highly highly recommend it.
This is my all-time favorite Christmas folktale so I wanted something around my house to remind me of it. The center or mantelpiece is fairly easy to put together and should only take an hour or so. Below you will find step by step instructions and also links when clicked lead to where I purchased everything (a lot of this decoration is pre-bought and pre-made).
1. Take two garland pieces from Hobby Lobby I used number CSWG304 Sku#-5200654 they are 48 inches long. If you can't find them feel free to use something similar like 2 of these garland pieces here. And take three candle stands and wire them all together.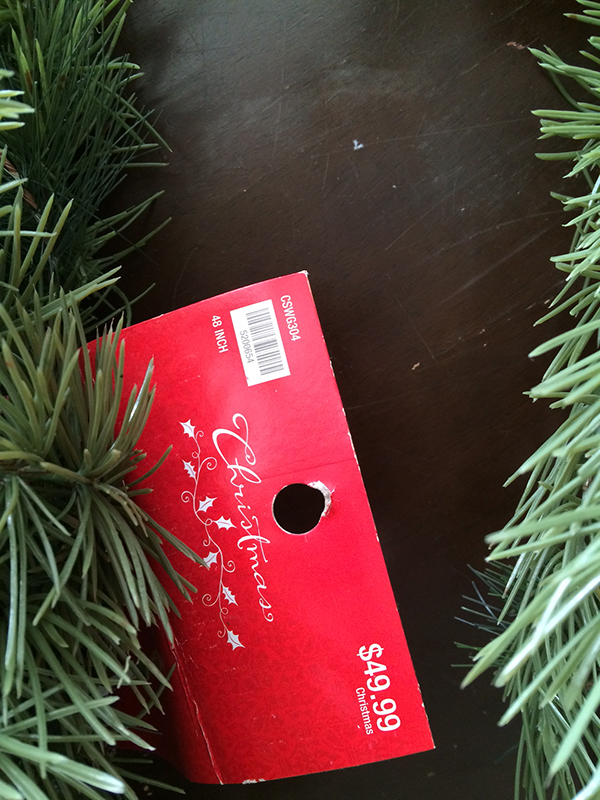 You can use the branches and intertwine them together and also crafting wire to secure them. This only took me a few minutes. The trick is to measure the middle and sides so everything is centered and/or symmetrical.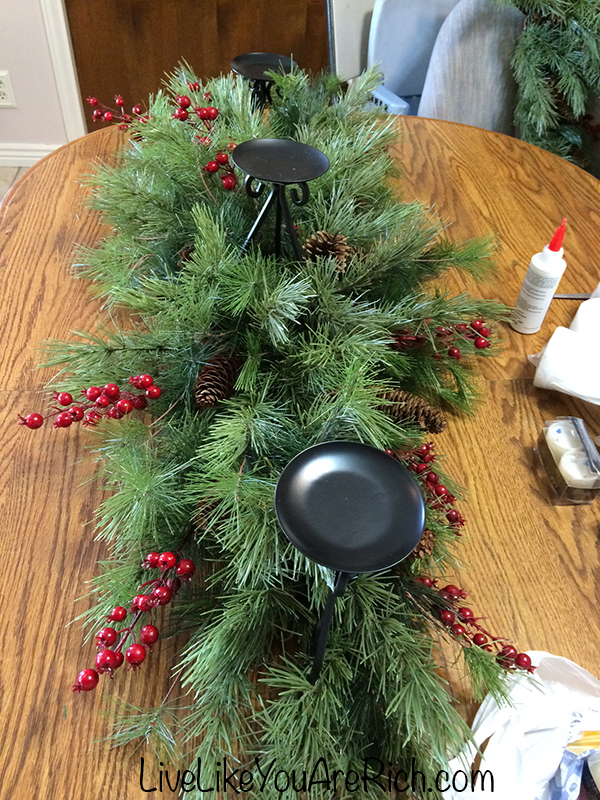 2. Cut the top off a crafting cone and score out the center for the cross.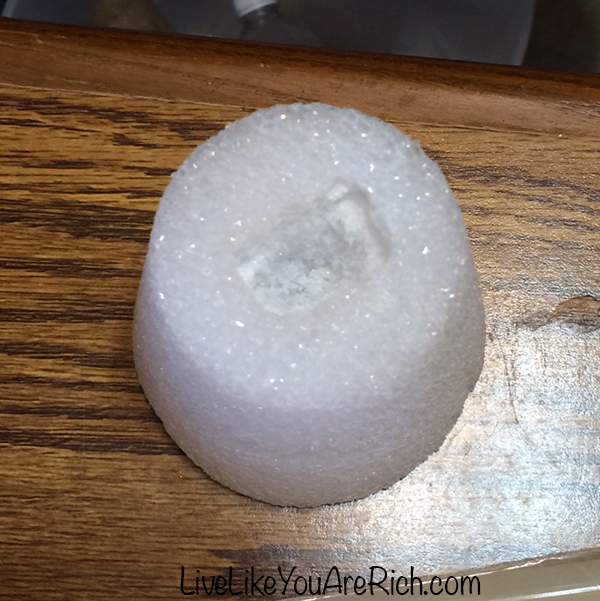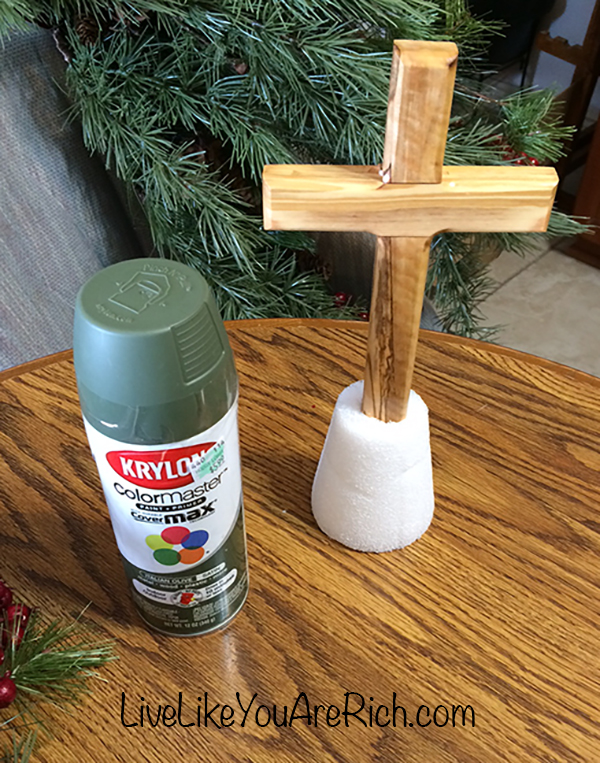 3. Spray paint it with a forest green color I used Krylon Italian Olive and allow it to dry (a few minutes). OR JUST BUY GREEN CRAFT CONES like these.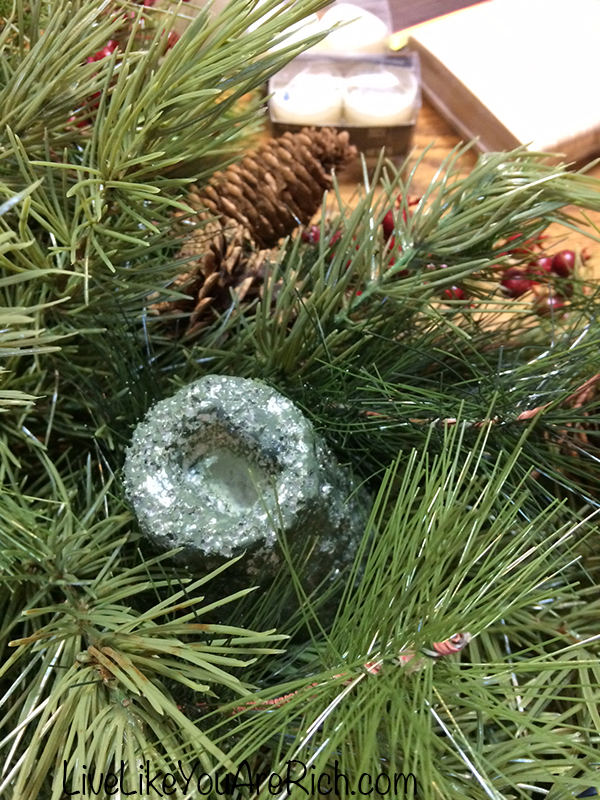 4. Take the base of the cross (the craft cone) and insert it in between a side candle holder and the middle candle holder. Camouflage it as best as you can. Add a bit of glue in and around the inner edges and set the cross in.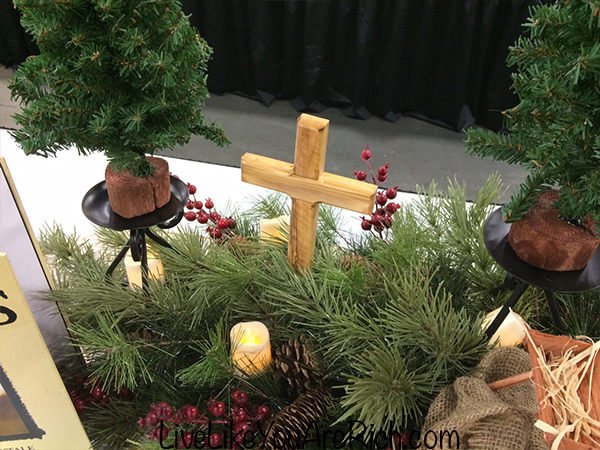 5. Next assemble this ship (purchased here on Amazon). Set it in between the other side candle holder and center candle holder (I did not use the ship stand because the greenery held it well).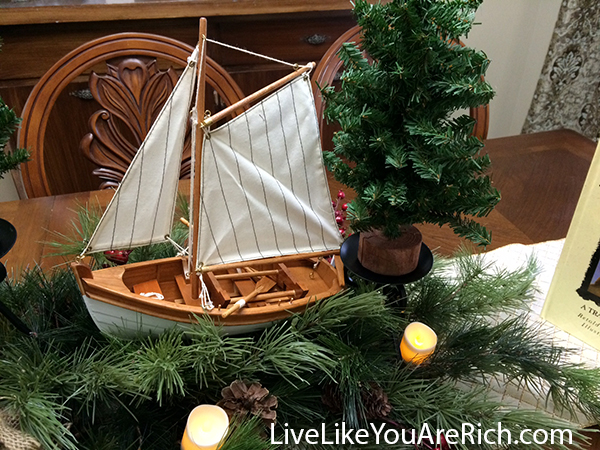 6. Make this small wood manger TUTORIAL HERE. And set it on a bit of burlap (came with the trees) so that it stands out.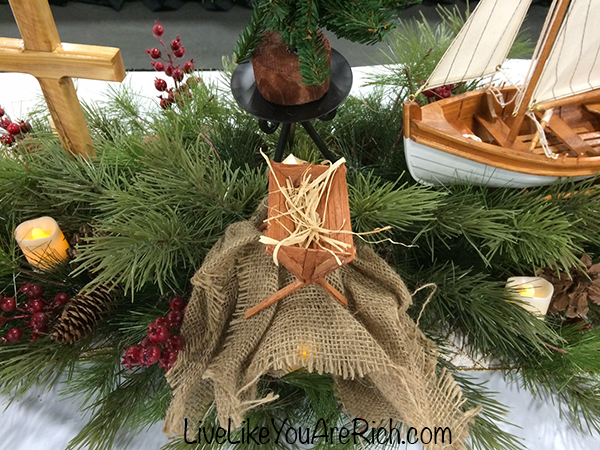 7. Fluff the trees up (separate branches well). Take the burlap off of the tree bases (setting one aside for the manger to sit on). Use these stick on velcro patches and attach the trees to the candle holders with the velcro patches. The Trees can handle about 3 1/2 velcro patches per base. I cut them to size and then stuck them to each other then onto the candle holder firmly to allow the adhesive to adhere. Wait at least a few minutes. When you go to pry them up make sure to do it gentle, as long as you have purchased a high quality velcro they will stick to and stay on the side they are supposed to. I chose to use velcro on the trees so that I can store this centerpiece/mantelpiece easier (in a box) throughout the year.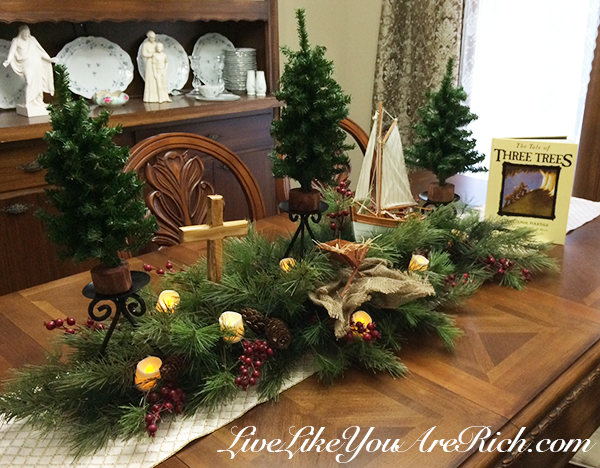 Add LED luminaries/candles to the piece (found here). Put the Tale of Three Trees book next to the mantelpiece, place on a table runner or mantel. Finally, you are finished and you can now enjoy this gorgeous reminder of the life of our Savior throughout the Christmas Season.
Materials You Need:
Candle Holders (2 the same size, 1 slightly taller)
Holy Cross (found here)
Christ's fishing boat (found here)
The wood manger (tutorial here)
Three Small Trees (found here)
2 pieces of garland that can be wired together (found at Hobby Lobby or similar can be found here)
Crafting cone (found here)
LED lights or Christmas lights
The Tale of Three Trees book (optional)
Spray paint (or buy green craft cones)
Glue optional
If you don't buy the trees I linked to, and you want burlap for the manger to sit on you will need a small piece of burlap as well.
Although this decoration is not the cheapest, I will treasure it every Christmas to come. Since the Tale of Three Trees has been beloved for ages, it will always be 'in style'. So many people have been admiring it. So if you create one, it will be a great conversation starter and unique decor item to have for years to come.
Merry Christmas!

For other 'rich living' and D.I.Y. decor tips please subscribe, like me on Facebook, and follow me on Pinterest and Instagram.