Our Elf on the Shelf, Pepper,'s dream was to go riding in one horse open sleigh this Christmas.
Pepper, our creative Elf on the Shelf, made his dream a reality when he saw my daughter's Barbie horse and sleigh.
To make this in Pepper-style, he took a piece of faux fur and hot glued it to the otherwise old gaudy sleigh.
The sleigh was pink and a faded purple with sequins and fake jewels on it.
I have to say that his restoration of it was quite festive and classy.
He even added a wreath to the back of the sleigh.
Pepper left us a note that read, "Dashing through the snow, in a one horse open sleigh… Jingle Bells!!!"
Pepper must have brought jingle bells from his visit to the north pole… that or stole them off one of our Santa dolls.
He had one pair of three jingle bells in one hand and a two in the other.
They were the perfect size for him—isn't it darling?!
He also used bells to adorn the horse.
He braided the horse's mane with ribbon and bells. My daughter had already colored it green and pink with markers. The red ribbon helped cover the pink part of this horse's mane and looks nice too.
He tied a bow on the horse's tail and added bells as well.
The hitching mechanism he created with strong wire also has bells attached to it.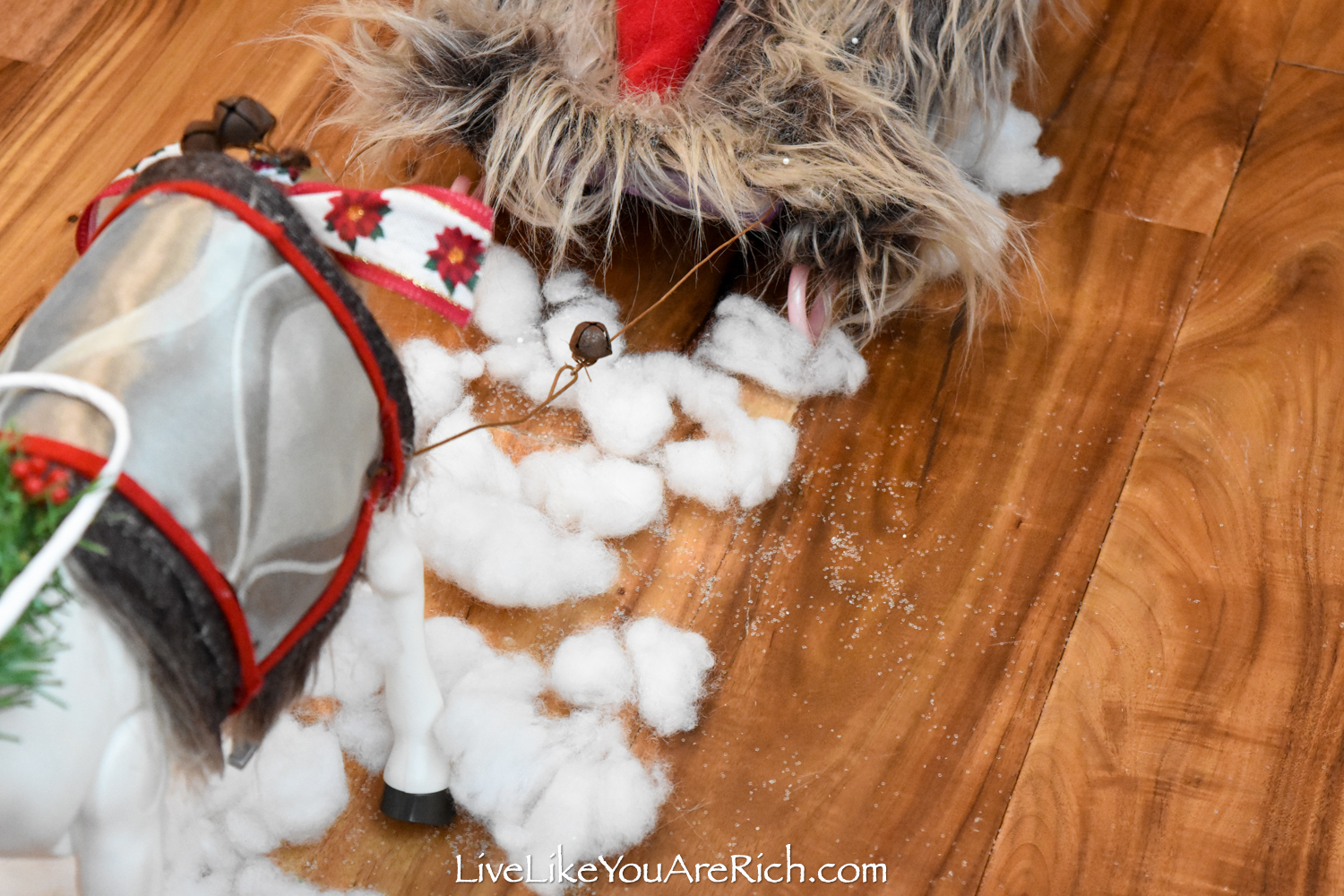 What a fun way to, "jingle all the way".
Pepper stayed warm in the cold winter weather by tucking himself into a custom fur topped blanket. It even had a holly bow.
I noticed that it looks a lot like the Santa hat that is missing from one of my Santa dolls.
I couldn't have asked for a better use of it though!
He also made himself a Russian style fur hat. It looks so warm!
I noticed a pom pom that hangs down off one of our beanies ear muffs was gone. It looks as though the just unstitched a little bit and it fit perfectly as a fur hat!
He also made himself a cute plaid scarf to go with his outfit.
Pepper loves horses and adored his here with a wreath around its neck.
A warm fur numnah/saddle blanket was fitted to the horse to keep her warm too.
Pepper's handmade saddle was made with what looks to be material out of my fabric bin and lined with red felt strips and hot glue.
I noticed my Bath and Body Works paper bag was missing its handles this morning…
The bridle and reins of the horse have a similar resemblance.
You may wonder like I did, where is the rider of this horse? With a saddle and reins it seems as though someone should be mounted atop.
What clever elf doesn't that the horse knows the way to carry the sleigh through white and drifted snow?
So many songs are represented in this cute one horse open sleigh scene!
I can see Jingle Bells, Over the River and Through the Woods, Sleigh Bells Ring, Sleigh Ride, and more.
Do you think of any other Christmas songs when you look at Pepper's display? I'd love to add them to this post so please leave them in the comments below.
Supply List of Items for what I would Guess Pepper Used to make this scene
scarf for doll (piece of Christmas fabric frayed)
2 red sequins
handle of paper bag for reins and bridle
Check out Pepper's other Elf on the Shelf Creations by searching the
main page
of this blog, "Elf on the Shelf". And because the details are sometimes easier to see in video, I recorded each scene and linked to them on each individual blog post.

For other 'rich living' and D.I.Y. decor tips please subscribe, like me on Facebook, and follow me on Pinterest and Instagram.