We all dream of a luxurious vacation home where we can bring our family and friends to make memories for years to come. Unfortunately, luxury homes come at a premium that most of us are not able to afford. But you don't have to give up your dreams of owning a fantastic vacation home. Consider flipping an older cabin into your luxury vacation home.
Cost Benefit
There are many benefits to flipping a home. Everyone always prefers a move-in ready home, which is why finished homes are sold at a premium. But if you buy a fixer-upper and contract out renovations, your end product will still be cheaper than if you had purchased your home already completed. Why is this? Most people don't want the hassle of a renovation. So herein lies your opportunity for instant equity. Putting up with a little dust and construction debris will save you tens of thousands of dollars, and you'll be able to have the vacation home of your dreams.
Tip: Buy cheap, well below your budget and predicted renovation costs. This is so you can afford to update the cabin yet have some financial wiggle room for unexpected costs.
Add Your Own Touch
Flipping an older cabin has its advantages. Most older cabins still have their original finishes intact, which can be a major turnoff for most buyers.
Flipping a cabin gives you the ability to add your own touch to the design. If you want a zero threshold shower to create a spa-like feel in your master bathroom, you can design it. If you prefer lighter kitchen cabinets compared to darker wood, you can select that too.
If you were to purchase an already completed home, you would have to settle for the former owner's tastes. When you flip a home you get to be the one whose opinion matters most.
Tip: Shop at least 4 different places for price and quality comparison on more expensive items such as cabinets, countertops, flooring, etc.
Customize Your Home to Your Needs
Not only are you able to choose the colors, flooring, and finishes that most appeal to you, but you can also customize your home to meet your family's specific needs.
Put in an extra long kitchen peninsula to accommodate more guests at the breakfast bar. Build your own personal dock for enjoying those summer afternoons. Create a custom shelving unit in the garage for your collection of stand-up paddle boards. Create a sleeping room with floor to ceiling bunk beds for all of the cousins.
Tip: Itemize the most important to least important customizations you'd like to make. Start at the top in case your budget won't allow for them all.
You Control the Renovation Budget
When you are the one doing the renovation, you are the one who has control over the spending of the money. You don't have to skimp on quality, but you can skimp on waste.
Controlling the spending means you control the efficiency of your construction process and the quality of your contractors.
You have the say on what needs to be improved, so you can cut costs where you want. Instead of replacing all of the floorings, you might decide a simple carpet steam cleaning will be enough to make the carpets look like new.
Instead of gutting the kitchen you could suggest painting or refacing the cabinets, and a thorough tile and grout cleaning.
You might decide to completely gut the bathroom, but keep the existing claw foot tub to save money and add a touch of design flare.
There are so many ways to save on a renovation, and if you are careful about what you choose to spend your money on, your renovation budget can go much further.
Tip: Get multiple contractors to bid out their work. Often they will give you a lower price or offer to beat out the competition if they know you are shopping around.
Putting up with the inconvenience of a renovation is a small price to pay if it means you can get the luxury vacation home of your dreams within a budget you can afford. Don't settle for someone else's design preferences. Make your vacation home truly your own by customizing it to your family's own needs.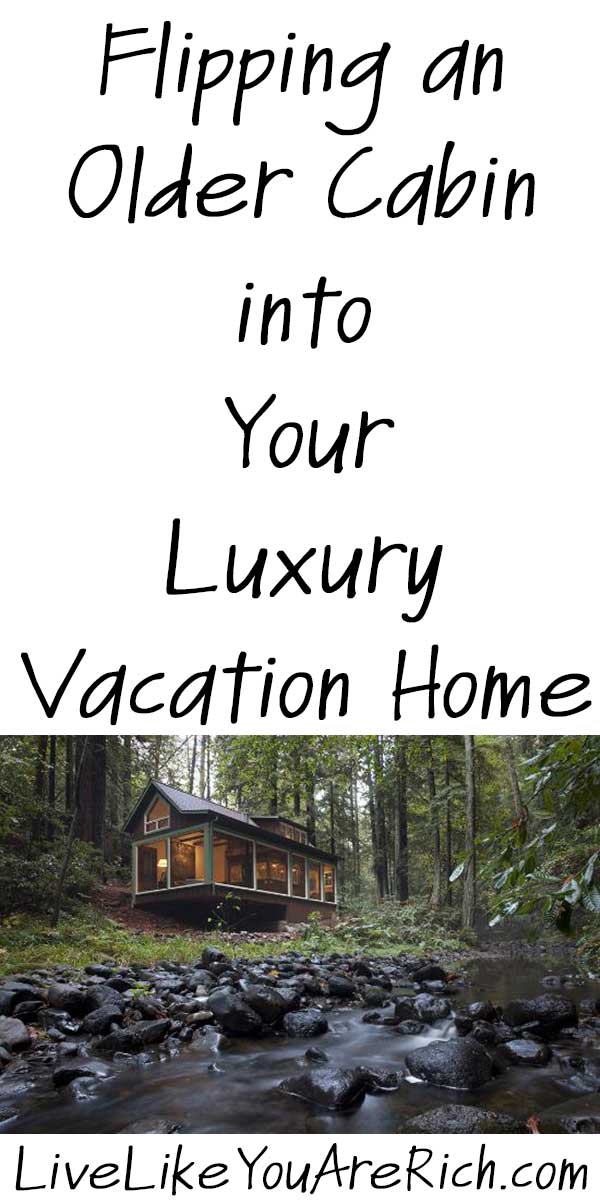 For other 'rich living tips' please subscribe, like me on Facebook, and follow me on Pinterest and Instagram.