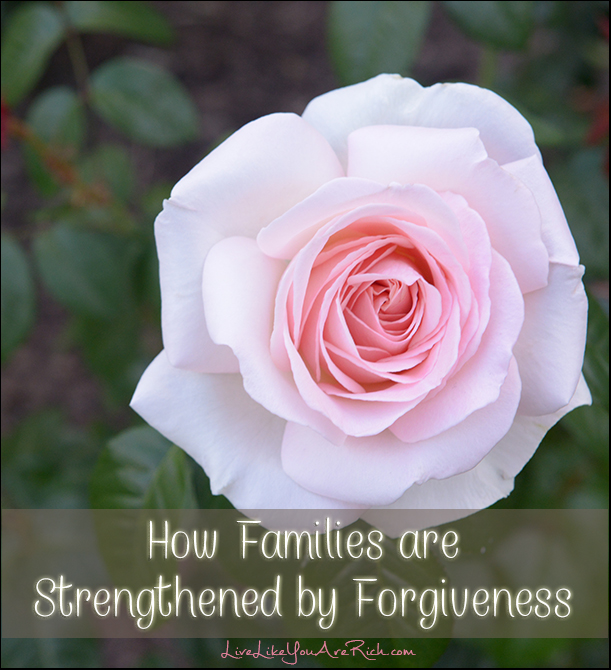 Sitting around, chatting and laughing are things my immediate and extended families enjoy regularly. We also play sports together, support each other's main events, and work on projects we need help on together. We all get along great (usually) and we make a point to get together often. We support and love each other and understand that strong family relationships are one of the greatest blessings this life has to offer.
Is this to say that life has been or is always perfect for us? No, not at all. We have all had our ups and downs. We have had our fights and misunderstandings. But there is one thing we all have in common: We have all forgiven each other at some point for something unkind that the other may have said and/or done.
If any of us had chosen NOT to forgive one another, all our family would have suffered from it. We are all interconnected and by not forgiving we alienate ourselves, our talents, our love, and our support from each other. Holding grudges not only negatively affects others but it really hurts ourselves.
One time I was holding some bad feelings against a family member. It consumed my thoughts and emotions for most of the day, everyday. I couldn't shake the negative feelings. Then I realized that I was doing harm to myself by harboring negative thoughts and feelings consistently. I let it go and forgave this person. I soon felt better and I have mended the family ties. Not only am I a better person inside for it, but this person has blessed my life continually since our ties have been mended. Our family is stronger than before. The act and the bond that forgiveness brings about is very powerful and strengthens relationships.
The Lord has said, "I the Lord will forgive whom I will forgive, but of you it is required that you forgive all man". I truly believe that our Father in Heaven wants us all to forgive each other because he realizes how imperfect we all are and how much we need each others' compassion, mercy, and forgiveness. Imagine if you could never be forgiven for something dumb you may have done…. Horrible right?
We all make mistakes, especially with those who we are around often, like family. A rich life is a life full of strong bonds between family members and friends. The way we achieve strong bonds which bring us joy and happiness is by: forgiving; trying harder to better; and when we fall short, forgiving some more.
As I was sitting in a room with many family members I was thinking about all the ways they have blessed my life and was reminded of how 'rich' I really am. If you focus on the good your family relationships bring into your life and forgive when necessary, you will enjoy a rich family life as well.