In Part 1 (Click here to read) I mentioned that I was able to save $10,516.37 on my baby's first year. Let me clarify. That number was from my list of things that I bought for our first baby. I took what I paid and subtracted it from what I would have paid by just ordering on Amazon.com or purchasing at Walmart; if I used Babies R Us' prices the amount I saved would be even GREATER!
I just wanted to point out that I did not factor in health care expenses, maternity expenses, or other non-baby related expenses. I have made additional posts about how I saved significantly on these items as well. How to save on maternity expenses click here. How to save on pregnancy-related medical bills click here. For a 1st Baby Checklist of items click here.
If you would like to see my list, please subscribe (top left of desktop site, or bottom of article on mobile) and you will get the free money-saving tool as an instant download!
Now here are another 23 unique ways (plus bonus tips) to save on your baby's first year…
1.  Stock up on baby wipes for at least 4 months before the baby arrives. For baby wipes stock up price for me is .03 cent or less per wipe. 
Bonus Tip: You may not agree but my pediatrician told me that when the diaper is just peed in and it's changed fairly quickly I didn't need to use a wipe. I did that and my son never had a diaper rash. It was convenient and saved us 2 wipes every pee change (he is a boy so this may not be good for girls). It has saved us a little less than $70 for the year and it was much more convenient. Amazon mom Subscribe and Save gets you 20% off wipes shipped for free straight to your door. I highly recommend this option. They end up being cheaper than Costco and its hard to get enough coupons to buy wipes in the bulk you need them in.
2.  Stay-at-Home Mom/Dad– Although not working may seem counterproductive to saving money, a stay-at-home-parent actually does contribute a lot of monetary (not to mention emotional) worth to a household. Studies from Forbes.com and Salary.com have shown that a stay-at-home-mom's equal pay would be around $45,00-117,856 a year depending on location!! By working in the home, cleaning, doing the bills, cooking, taking care of the baby/children, shopping (smart/frugally), laundry, and a host of other tasks (including not spending money on commuting, day care, lunches out, work clothes, etc. by having a job), a stay-at-home-mom really does save money. Although the parent may be cutting their salary significantly or off altogether, staying at home will save in so many ways, it is often the least expensive route (whenever possible). Or you could try working a little from home. This is the option that works best for me. Want to stay at home and work? Check out my series Money-Making SAHM's.
3.   If you are going to return to work and need daycare, search around to find the best most economical way. My neighbor is wonderful and has a daycare. It's less than most and has superior care. Although I'm a stay-at-home-mom I had a neighbor girl come in the summer for 4-6 hours a day so I could work from home on some summer projects for my brother's company. I paid her $3.00 an hour. Think outside the box, ask around. If you love one company or individual but they are more than the competition ask them to price match the nearby competitor.  Price matching could save you A LOT of money.
In my book  co-wrote, Living a Rich Life as a Stay-at-Home Mom, my sister and I went into get detail on what numbers to add up to see if working vs. staying at home is more financially affordable. You can buy it for a few dollars on Amazon.com or on my secure order form here.
4.   Check at least 2 places online and 1 offline before you buy new items. All the baby hangers I saw online were over-priced. The cheapest I could find were $0.50 each (on Walmart.com). I was surprised to see them at Walmart for less than .10 cents each. Sometimes you'll find an item that is way over priced either in the store or online and you can find them cheaper elsewhere.
Bonus Tip: If you don't have a good memory (let's face it, pregnancy-brain is a real deal) then make notes of the prices on your 'things to get list' (see my 1st Baby Checklist) and shop around.
Bonus Tip: If the quality is much higher and you are planning on having additional children, buying the better quality may just save you in the long run. Base this decision off of trusted reviews and not brand names (you can find reviews on Amazon.com on just about anything). If you do decide to buy anything online (Amazon, Kohls, Walmart, other big sites always check Ebates.com before ordering.  Rakuten.com earns you cash back on your purchases (sometimes significantly!). Rakuten really is a great way to save an extra 1-10% on your purchases without having to do anything extra.
5.   Borrow items you only need for a short time.  After my son could hold his head up I bathed him in the sink or in the shower with me. After he could sit up I bathed him in the tub. For the first few weeks the baby baths are useful, but after that they just take up space. If you can borrow a baby bath for a month or two then you don't have to buy it or store it. Borrow baby car seats that good family or friends don't need for a year (they expire in about 5-6 years anyway) and any other items you can.
6.  Get a membership to Costco or Sams Club if you are going to formula feed for over a few months. First, make sure that Costco and/or Sam's Club carries the type of formula you chose, and wait to completely decide until you have made sure your baby reacts well to it. Then compare the prices vs. quantity with other local stores. My son was on Similac Sensitive and I bought 2 times the formula at Costco than I could get for the same price at Walmart, and almost 3 times what I could get at Rite Aid. Having a membership has saved me at least $870 in the last 7 months of formula feeding. They also take the $5.00 formula checks the major brand companies send out.
Bonus Tip- Costco and Sam's sell gallons of milk for much less than other food and drug stores. Coupons and sales of milk are difficult to come by. Once your baby goes to full cow's milk you will be buying about 2 gallons a week. Saving $1.50 a gallon= $3.00 and ~ $12.00 a month at Sam's or Costco. Bonus Tip 2: AmazonPrime/AmazonMom/Subscribe and Save allows you to not only get things shipped to your door for free, but to save 20% on them. I wish this had been around/I had known about this option while my son was drinking formula.
7.   Start supplementing cow's milk with formula once you get your pediatrician's approval. Our son was always in the 100 percentile or higher (Navajo babies are known to be big). We were told to start adding milk to his formula (1/4th milk, 3/4th formula) when he was 10 ½ months, at 11 months we went (½ milk, ½ formula), at 11 ½ months (3/4th milk, ¼ formula) and 1 year 100% milk. This saved us at $90.00 on formula and helped my son get used to the milk. 
8.   Price match at Target for Amazon.com items. Often Amazon.com has lower prices but doesn't accept typical manufacture coupons. If you match these prices at Target you can couple the savings with a coupon. Bonus Tip: Babies R Us does price match but they don't allow you to use a coupon with the price match like Target does.
9.   Subscribe to and watch baby discount sites. Often baby discount sites will surprise you! I have found swaddles, books, and clothes for very very low prices even with shipping calculated. At Zulily.com.
Bonus Tip: You can find great savings on diapers online by watching for them and subscribing to AmazonMom.com. Amazon Mom offers 20% off diapers, Free 2 day shipping, and a host of other benefits including Amazon Prime. They also often have manufacturer diaper coupons that you can add to save on your order. In my experience, Amazon Mom is worth the price (you get 3 free months, then it is $79.00/ year) if you are going to order diapers, wipes, and other items off Amazon.com regularly. When they have a sale + coupon + 20% off you are going to get diapers close to stock up price shipped straight to your door. I checked out the prices and they beat out Costco and often beat prices shopping with sales and coupons! Sign up for AmazonMom here.
10.  Make nursery decorations yourself or buy used: I made: the mobiles ($5.00-$7.00 feather mobile),  a big collage ($25.00),  bought a bookshelf ($5.00), a frame ($5.00). I got the nursery set (in pieces it was much cheaper) on clearance. My mom and I bought an extra set of clearance curtains ($10.00) and used it as fabric to sew a baby blanket. I sewed fabric on a $1.00 bumper pad I got used tutorial here.
Nursery 1 (click here) shows tons of ways to save and the second nursery 2 shows even more ways to save on decor! Bonus Tip: Buying fabric on sale with coupons can often but not always be cheaper than a pre-made set on clearance. Check both prices.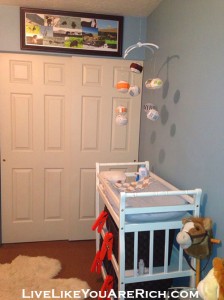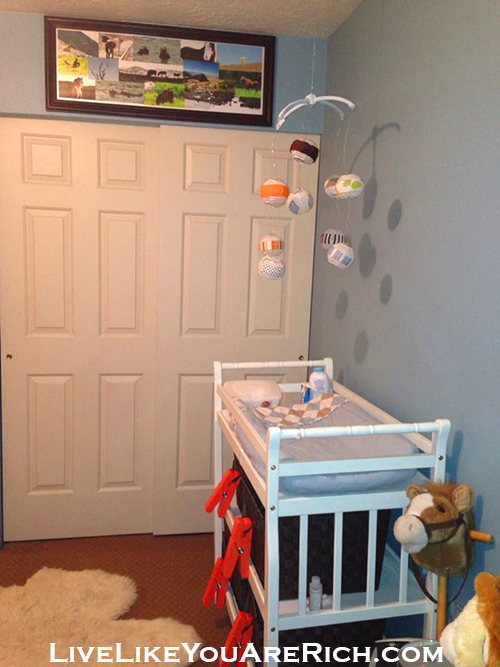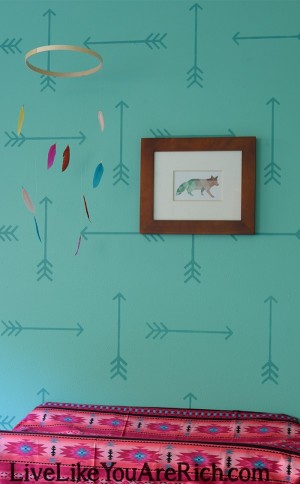 11.  Cloth diaper. If you are wanting to cloth diaper, buy them used or on sale or with coupons.   Hang them in the sun to dry and bleach them naturally and save on energy of the dryer. (I have heard that Sun Baby diapers are the best and the cheapest). Another reader mentioned getting a pattern and sewing your own cloth diapers! That is such a great idea!
12.  Brush up on your laundry skills. In the first year of a baby's life you will be shocked to see how many stains are in your laundry basket. From spit ups, blow outs, throw ups, baby food, snot, and just about anything they can get their hands on will be on their clothes and yours. One thing that was helpful is having a bucket to soak the items in. Once something is badly soiled I'd throw it in our soak bucket with OxyClean and water until I was ready to do a whole load. Then I would pull it output it under running water and spot treat it and wash it. Here's a way that I get stains out before and even after they have dried.  Bonus Tip: If you are ambitious enough and you aren't getting detergent and spot remover at rock bottom prices through couponing, making your own detergent and spot remover can save you money.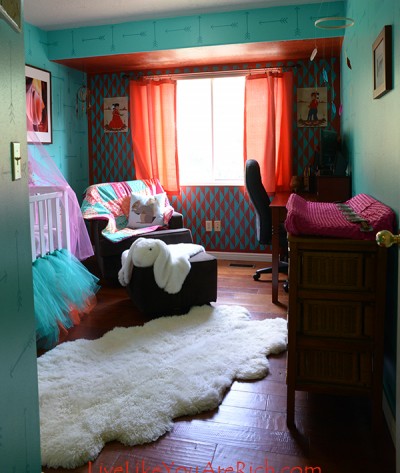 13.  Try non-brand name diapers. Personally, I got such great deals on brand name diapers (on great sales with coupons) that they were much less than the off brand or store brand diapers. My sister told me she tried multiple off brands and didn't like them near as much. I've only tried Kirkland and Luvs and I didn't like them as much at all! But if you'd prefer to use the off brands then stock up when they are priced no more than .20 cents per diaper.
Bonus Tip: I read hundreds -possibly thousands- of reviews on almost every diaper out there. Save yourself time and just try the diaper out on your baby. The reviews were/are so contradictory I felt like I knew less about the diaper after hours of review reading than before. As for my I love Huggies and Pampers.
14.  Watch for kid/baby consignment sales. There is a huge bi-annual Methodist church consignment sale by my house that my friend told me about. There were all types of baby items, books, toys, baby and maternity clothes, etc. there. Goggle your area for baby sales, kid sales, etc. Go early to score the best deals.
15.   Offer to buy things from people who are done having kids. My sister had a nursing pump that was $250.00 new and I offered to buy it from her for $50.00 when she told me that she was, "Done having kids". If someone mentions somewhere in a conversation that they are, "Done having kids" you may want to use this as an opportunity to ask, "Oh that is so great, your kids are so cute. I'm not sure if you would want to sell any of your old baby items that you no longer need or not, but I'm looking for used stuff to buy." If they say they are, you may just end up with some great items and they will have more storage space and money.
16.  Look for sale and coupon deals on bottles, binkies, baby lotions, baby food, etc. and stock up when they are rock bottom deals. I got 16 nice Avent bottles for .50 cents each new. The binkies I bought were all .75 cents each or less, the baby lotions, shampoos, bubble bath etc. were all $1.00 or less and the baby food was .50 or less (check expiration dates on the baby food and buy the ones that have the furthest expiration dates). 
Bonus Tip: Have a few different brands of binkies…babies seem to like/take to certain ones and will just spit out others. Our son loved MAM and would spit out NUK, Avent, & off brand kinds. Other babies do the same but take to a different one. Here is a Beginner's Guide to Couponing.
17. Accept friend joint gifts- If all your friends want to go in on a big gift, accept graciously and ask them to get you something large on your list within their budget.
18. Use a library card for baby movies, sing-a-longs, CDs for white noise, etc. It's free and they get to view new things for variety.
19.   Subscribe to the diaper and baby companies that you like and sign up for rewards online. They usually email you or mail you coupons, checks, or even samples. You can also input codes and get rewards and gifts.
Bonus Tip: You may want to create a separate email account for all of the baby email subscriptions you opt into.
Bonus Tip: Write reviews on the company's websites and send them emails. Companies usually reward reviewers quite well. They will send free products or high value coupons. If you have time, review items for additional savings.
20.  Don't feel like you have to go all out for their first birthday and first Christmas. I got a few gifts for my son used or on a deep discount for both his Birthday and Christmas. It goes without saying but I'll say it anyway, they are babies and won't remember anything. All you need are a few photos of them with a cake or a cupcake to remember this milestone. But if you want to go all out, then party it up.
21.  Sign up for formula checks if you use a specific brand (these can be used at Sams Club and Costco and are run as a check and not as a coupon).
Bonus Tip: Register every address you can. Sign your parents, friends, etc. up. If you use brand formula you will save hundreds by using the free formula checks. I have never once been asked to show ID for these formula checks. I noticed that the formula companies mail the checks out strategically; they sped up the amount of checks I got in the mail if I wasn't redeeming them quickly and then they slowed down the mailings once I had started redeeming them.
Bonus Tip: Look on local classifieds for people who are selling them. I bought $120.00 worth of formula checks off a lady for $20.00 and used every single one of them. Just be sure to use them before they expire! And sell the ones that you are not going to use to make extra money!
22.   Utilize accounts like Shutterfly for free announcements.  Shutterfly and other sites similar to it offer 50 free prints when you sign up. If you design your own announcements for your newborn or his/her first birthday, you can get them practically free!
23.   See what your health insurance covers- Although this tip needs an article written about it all alone (which I will post soon). It is important to mention that often times your insurance covers (and does not cover) baby items that you may not be aware of. Some insurance companies cover/pay for breast pumps. Some cover the diapers, wipes, and other supplies they give you at the hospital. Find out before hand and bring your own stuff if they are going to charge you for it. We took our own wipes, diapers, clothes, binky, breast pump, etc. so that we would not be charged for them. For more information call your insurance provider.
WIC- Some may ask why I didn't include WIC in any of my 46 tips (plus multiple bonus tips) of ways to save…WIC is for a select few that truly need assistance to feed their children. Being on WIC when you can afford to feed your babies and children does not encourage thriftiness, independence, or rich thinking. Unfortunately, a lot of people abuse the system. They actually can afford to feed their babies and let the government do it. Some dishonest people even sell the baby food they have gotten from our tax dollars. If you truly cannot afford to feed your baby then WIC will be another way to provide.
Posts you may like: How to Save While Pregnant, What to Take to the Hospital (embarrassing items no one wants to mention), 11 Pregnancy Tips that Will Save You Thousands, and 17 Must-Have Items That Will Make Your Pregnancy Much More Comfortable .

For other 'rich living tips' and money-saving tips please subscribe, like me on Facebook, and follow me on Pinterest andInstagram.