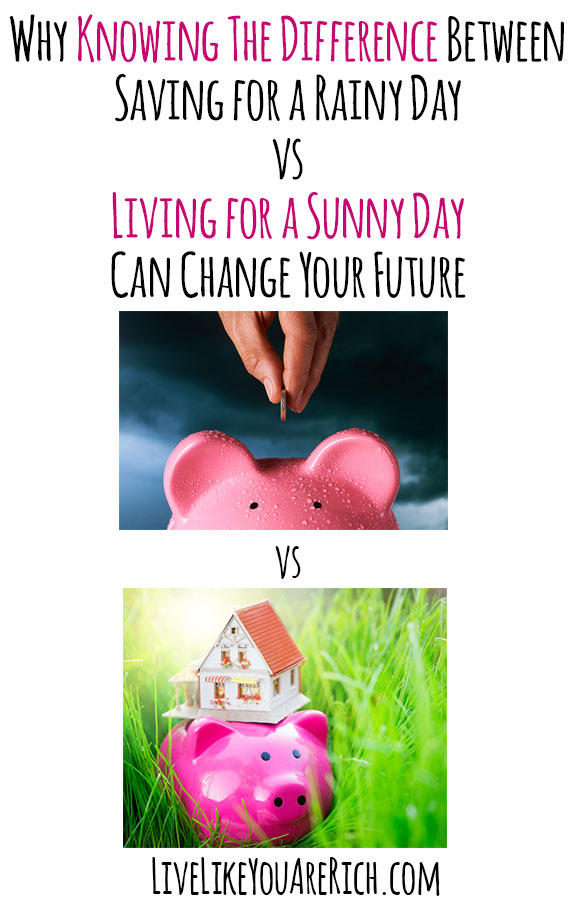 Since I can remember, I've always been told to 'save for a rainy day'. In my mind a rainy day is when the water heater breaks and floods the basement, or when we find out about a roof leak and water damage that needs repair, or when the car suddenly dies. These aren't positive in any regard. Who wants to think about saving for negative things that may or may not happen? Not me.
But there is a positive way to shift our thinking about savings. SunTrust Bank calls it 'living for a sunny day'. When we imagine ourselves with or in the situation we WANT to save for, saving becomes more emotional and we are much more likely to stick with it.
Some examples of how we are living for a sunny day are:
When we moved into our house we did a complete renovation of our home and while we saved thousands (even hundreds of thousands) on it by being frugal, we didn't have enough money to resod our sandy and weed infested yard. These past three years we have done the best we could. We've tried to make our yard look presentable with what we could afford, but the grass has not grown well and the back yard is full of sand and weeds. We have been saving and living for the day when our son can run around in lush green grass, jump on the trampoline, and play for hours while we entertain guests at a backyard BBQ. We have been saving for a yard fit for our family and presentable for the neighborhood. This spring we finally have enough saved to do just that. We are so excited to get our lush green beautiful yard!
We have also been saving to check off one item off our bucket list. We saved money and bought affordable tickets to Alaska in cash so that we could go see the northern lights. Right before our trip the entire family got sick, so we had to cancel everything. We have credit so we know we will make it up there this fall. Imagining seeing the majestic northern lights fueled our desire to save for our bucket list trip.
My dream is to own a Tesla car. They are electric cars that don't use gasoline. They are good for the environment, beautiful, reliable, and ahead of all other cars in technology. The problem? I still have a 13 year old car, my Subaru Impreza that is running well. I try to be frugal and I know that driving cars until they are no longer running is the best way to get value out of a vehicle. Further, Teslas are expensive—like $70k-$100k expensive! At that price they are not practical nor affordable for my family. BUT Tesla has announced that in about two years they will be releasing a new model that should be in the $30k price range. With the frequency that I drive, a Tesla would really save us money on gas in this price range. So I will be living for that sunny day of driving around using free energy (not paying for fuel), going 0-60 in under 6 seconds, and spending time as a family in a sleek and amazing Tesla!
Doesn't living for a sunny day seem so much better than a saving for a rainy one?
As people we both save and spend emotionally. So by creating an emotional image of living for something amazing, i.e. your sunny days, it will encourage you to save and help you not to spend frivolously.
Set goals based on your dreams and picture yourself and loved ones in those dreams. What are you wearing? What smells are in the air? How do you feel? Then, next time you go to buy something, think of you living your sunny day. The image will help you save your money for what you really want vs. spending it on something you only sort of want.
For further support, inspiration, and help to keep you on track living for a sunny day, sign up for the free bi-monthly Shine newsletter from SunTrust Bank here. Shine is a newsletter that is sent out 2 times a month and contains inspiration and advice on everything you need to know to achieve your financial goals and live for a sunny day! Sign up for free here.
Start on your path to saving positively and living for a sunny day.
At SunTrust Bank their purpose is lighting the way to financial well-being. When you feel confident about your money, you can save for your goals and spend knowingly on what matters most to you. They know we all live for the sunny days and want to you help you live yours.
Subscribe to the Shine newsletter and receive inspiration and advice twice a month to help you live for a sunny day. Subscribe here
Want to get your sunny day started now? Visit the SunTrust resource center anytime for help achieving your financial goals.
This is a sponsored conversation written by me on behalf of SunTrust. The opinions and text are all mine.