This week a few bloggers and I are giving away a HUGE WOMEN's Giveaway Gift Package -HIGH VALUE-. Enter on the Rafflecopter below. One winner wins the following 9 prizes:
Silhouette CAMEO®
DREAM IT UP. CUT IT OUT.
The creative possibilities with the new Silhouette CAMEO® are endless. Here are just a few:
Design your own custom apparel
Personalize a party
Give your home decor a signature look
Build 3D prototypes
Cut fabric and save time doing it
Decorate with vinyl decals
Construct a school project
Create custom invitations
Make a stencil
Create unique stamps
TableTrax
Add style to your kitchen with this hand-crafted Table Trax Premium Sliding Lazy Susan. Meals around the table become fun and exciting by being able to easily glide this beautiful Lazy Susan from one end of the table to the other. Not only does it slide back and forth, but it also spins smoothly in place.
The table top comes in a variety of stains, to match virtually any table or furniture you may have. Even if you don't see a style that's matches your table, TableTrax is more than happy to customize one.
Pick Your Plum
"Get it Before Your Neighbor!" Pick Your Plum is a favorite daily deal site among women! Super cute stuff, and always super cheap. New deals are posted every morning at 7am and oftentimes sell out fast. Winner of the giveaway will get to know first-hand how awesome these deals are with their very own grab box with $25+ worth of items! Be prepared to squeal in delight when you open your package.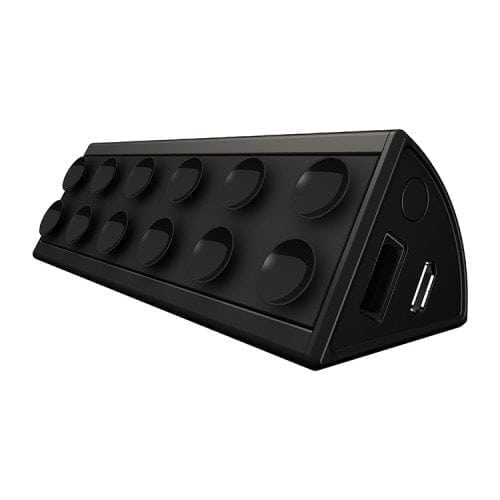 PowerSkin PowerStand
PowerSkin PowerStand's unique wedge shape is an all-inclusive, hands free, viewing stand and portable charger. Small and light weight, the charger suctions right onto the back of most phones and cases, making video and photo viewing easier without draining power.
Need to share a presentation, pictures, watch a video, or even use your camera to apply makeup? PowerStand makes hands free screen viewing easy with the suctioned kick stand and portable charger. No longer worry about Youtube or Netflix videos draining your battery. PowerStand charges your phone lets you easily view the screen without having to hold it.
Bottle Bands
The BottleBand stretches to fit any sized bottle – from a Nalgene to a 16 oz generic bottle. Its one-size-fits all construction can also be tightened by pulling the circular bands apart to fit any hand size.
The BottleBand is also extremely mobile. After you've finished your water, you can throw your disposable bottle away, put the band on your wrist, and run unencumbered.
But the best part about the BottleBand is that it works better and costs less than a $20-30 handheld that can only fit one bottle.
Ninja – 3-in-1 Cooking System
Professional cooking technology for your kitchen! I have one of these AMAZING cooking systems, and I have to say, it is one of my favorite items in the kitchen. It's non-stick, so clean up is super easy, and you can use it as an oven, a slow cooker, or a stove top. I think any slow cooker lover will totally LOVE the Ninja Cooking System. If I had enough money, I'd give one to everyone I know.
Ball Canning (Canning Explorer Kit)
Ball is the leader in providing top of the line supplies for canning. From their innovative FRESHTech Canning System to high quality canning jars, they have you covered for all your canning needs. The Canning Explorer Kit is the perfect idea for anyone who wants to test the waters of canning, and one lucky winner will walk away with it!
Wood Watches by JORD
If you are looking for a unique and beautiful wrist watch, Wood Watches by JORD is a great option. They are designed to take people back to "nature" by eliminating traditional metal and rubber and making their watches with diverse woods all over the world. While they have a variety of styles to choose from, each watch is unique, since no piece of wood is the same.
Total Beauty Shops
If you love makeup, lotions, or fun beauty products, then Total Beauty Collections is where it's at! They have several beauty collections to choose from, but every year for the holidays they do a special collection of beauty products just for the holidays, and the value of the products always far exceeds what you pay for the collection.
Mega Giveaway! Enter Now!
One lucky winner will win ALL OF the Following 9 Items:
RAFFLECOPTER
I hope you win!