I have always loved books and reading. When I was pregnant with my first, I knew reading was something I wanted to start early with my children. I've tried to read with my kids every day for 20-30 minutes a day since they were just a few months old. While I may miss a day or two here and there, we usually end up with a few hours of reading time weekly. As a result, my kids LOVE books.
Even though in general they love books, I've noticed trends in the types they prefer. There are different types of books my kids have loved and haven't loved and it changes based on age. So I wanted to post about what I've found for other new parents. This way, if your children are anything like my kids and many of their friends, you don't waste money on books they won't appreciate until they are older. While this is not a hard and fast list for every kid, I've noticed trends among my kids and their age range, as well as my friends' kids and their age, ranges as well.
Books with count down objects that can be touched and disappear with each page—these are their all time favorites:

Books with finger puppets:

Sparkly books. This one was a surprise, but both of my kids love books with sparkly accents.

Princess Sparkle, Starlight Ballerina, Learn Your Colors, Rainbow Mermaid, etc.


Touch and feel books with different textures–scratchy, soft, etc.

Things That Go, Trucks, First Words, Farm, Are You Ticklish?, Baby Animals, etc.


I replace the batteries when they stop making noise and keep them longer. Safety Tip– The covers need to be screwed on well as button batteries are a potential swallowing hazard for this age group.

Eric Carle Baby Animals, Let's Talk, Noisy Trucks, Quack! Quack!, Construction, Thomas the Train, etc.


Little learning books—hand size books. Little chubby hands love these books. They love to carry them around and are able to turn the pages easily.

Rhythm/singing books: I have them sit on my lap and bounce them up and down to the rhythm of the songs and rhymes and sometimes bounce them really high on certain phrases like "Chica Chica Boom Boom" and they LOVE it!

Interactive books. Driving books, tool books, puzzle books (although the pieces are hard to keep track of, they are a hit):

Slide a door open books. These are different than flap books. I've found that little fingers struggle with flaps and they start being a bigger hit around 1-2 years old. But the doors that simply slide open are easier for younger babies.

Squeaky, squishy, and teething books. Books that are soft and make noises are a definite favorite among this age group.
Little Lost Lamb, Daisy Duck, Sesame Street Teething Book, etc.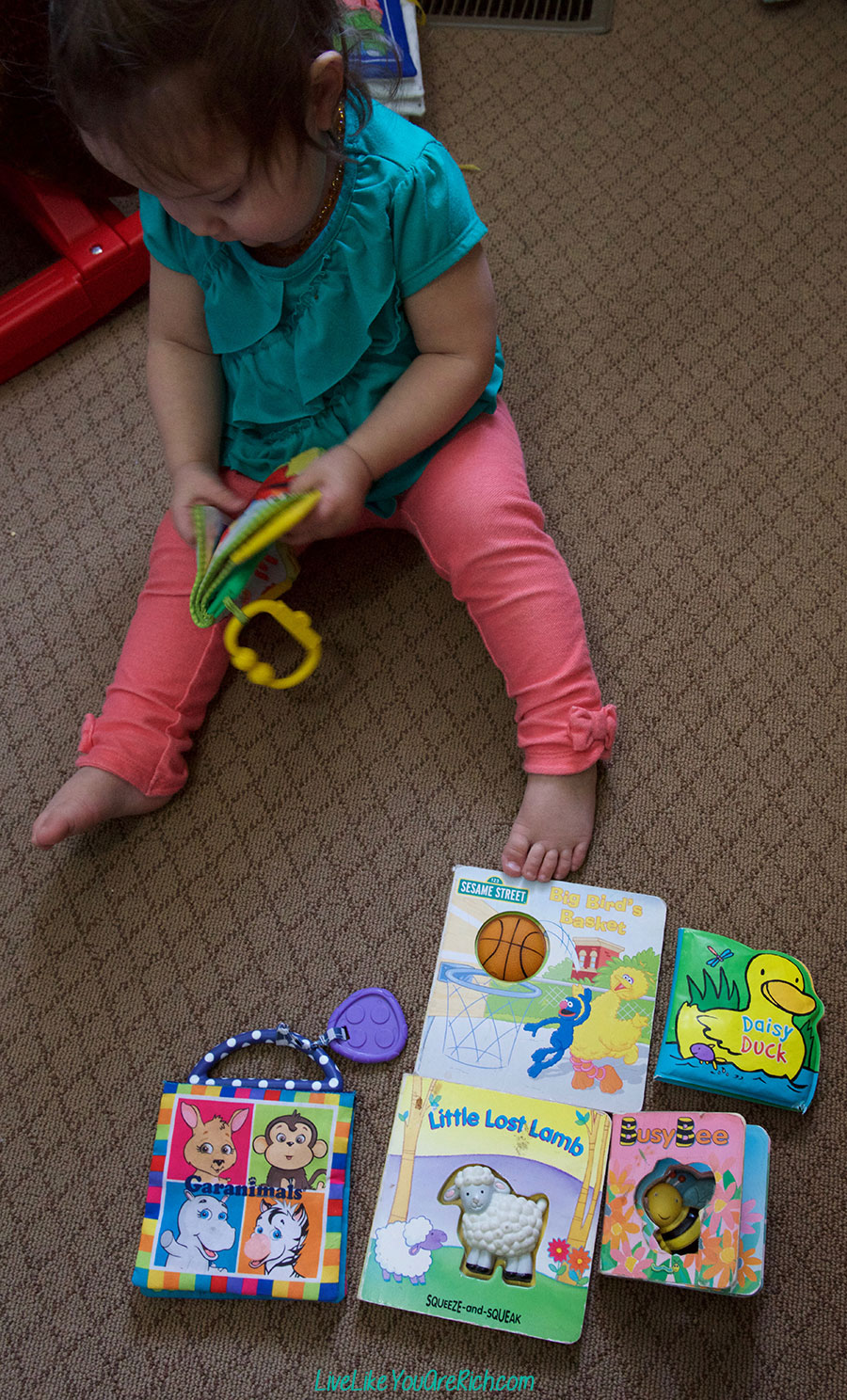 Well those are the best types of books I've found for babies from newborn to one year old.
I hope your children enjoy them as much as mine do!

For other 'rich living' tips and money saving tips, please subscribe, like me on Facebook, and follow me on Pinterest and Instagram.