Shopping online is extremely convenient and usually not only saves me time, it also saves me money. Here are 11 things that I usually always do to save and make money when shopping online…
1- Use a cash back rebate website.
A new one that I've been really impressed with is called Splender. Splender allows you to click on any of 800+ stores in their database and earn a percentage of cash back—at no additional work or effort on your part. All you do is go to Splender.com and join for free. Then you simply search your store you want to shop at and click on it. Once routed to that store's website you can begin shopping and check out like normal.
Splender will allow you to cash out monthly once you have earned $10.00 worth in rewards. You can choose the option of receiving a check or having the money put into your Paypal account.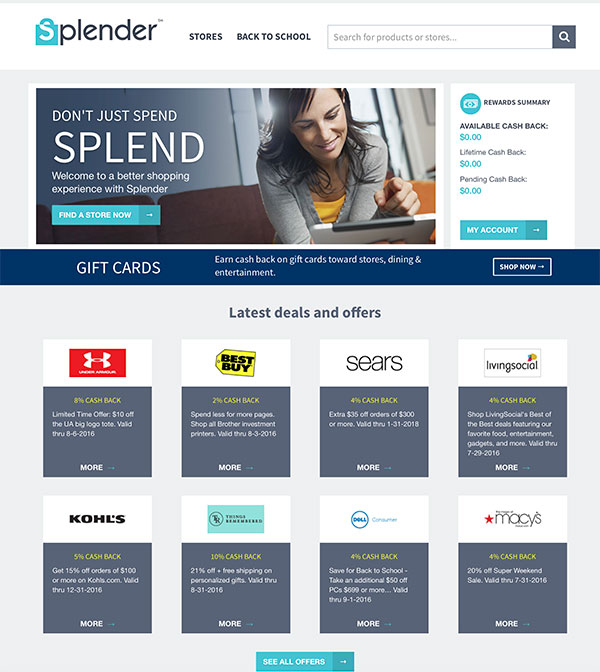 2- Search for coupon codes.
Many times Splender will notify you of available coupon codes of the store you are going to shop at online. Googling the store + coupon code usually yields a few good ones.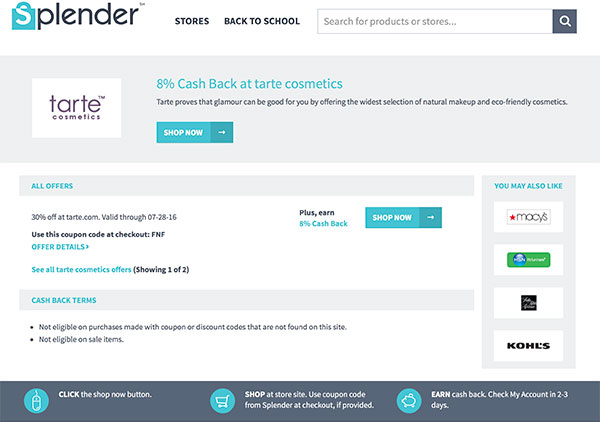 3- Use a cash back credit card on purchases.
I like to use credit cards when shopping online as they are more secure. My credit cards earn me a percentage on each purchase in cash or rewards which is also an added benefit to using them.
4- Shop at discount sites.
I like to shop at Zulily.com. I maximize savings by trying to find what I need on a sale/clearance/discount. I find that many times if I go to Zulily (through Splender), I can find what I'm looking for discounted deeply.
5- Shop sales and clearance items.
Websites are so organized and sophisticated now that it is very easy to find sale and clearance items. I search those first when shopping online.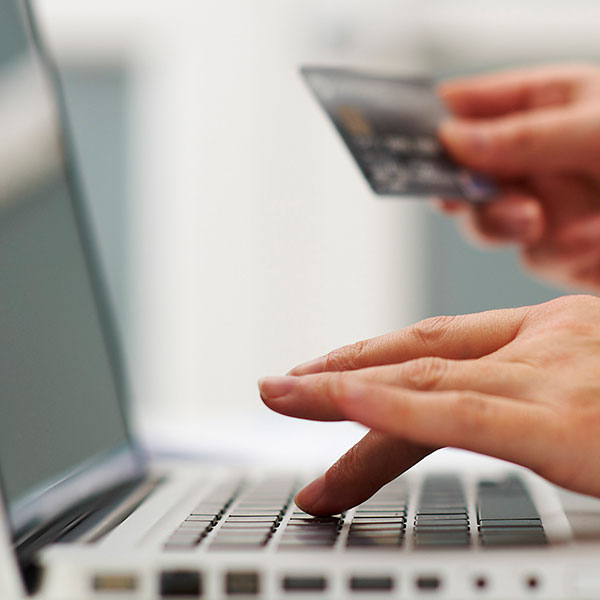 6- Use the stores cash back or reward programs if any are offered.
7- Invite and refer friends if there are any perks in doing so.
When you invite friends to join Splender they pay you $10.00 and your friend $5.00 if/when they make a purchase of $50.00 or more! Just click 'Refer & Earn $10' and email, social share, or post the unique link you are given.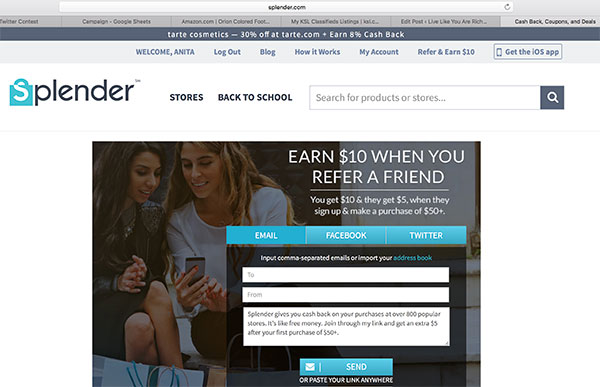 8- Shop at stores that offer free shipping.
You can save a lot if there is a promotion or if the store offers free or low cost shipping.
9- Compare products on a few different sites.
It is wise to compare the same product on a few different online websites (I'd say at least three). Then obviously by the least expensive one.
10- Read online reviews.
I find that reading online reviews carefully allow me to make the best purchasing decision. Buying a quality product that is as stated really does save me a lot of time and money.
11- If shopping around, clear cache/cookies often.
This is especially useful for airline tickets and other products you may check on daily for weeks. By clearing your cache/browsing history, online retailers won't be able to strategically raise the price just for you. Many companies do this because they know you are looking for that item.
As you can see, there are many easy ways to save or make money by shopping online. Splender.com helps to streamline this objective. Sign up for Splender for free here.
Splender

.com is giving away Amazon gift cards this month! Follow @ShopSplender and share on Twitter something you've purchased (or want to purchase using

Splender

.com) using the hashtag #shopsplender.
One lucky winner EVERY day will win a $10 Amazon gift card! For more details visit the official contest page.


For other 'living rich' and money-saving tips, please like me on Facebook and follow me on Pinterest and Instagram.