I love to shop at Smith's Food and Drug Store aka Kroger. There are many reasons why I love to grocery shop at Smith's, but the main one is that the savings opportunities are awesome! There are so many ways to save and many opportunities to get things for FREE. I've never shopped at any other store that offers so many opportunities' as far as freebies and savings.
Here are the ones I've found…
Membership card. It's FREE and they have a ton of benefits associated with having a card. Cardholders get lower prices on many items in the store on any given day. More benefits are listed below.
Digital Coupons. Kroger stores have an EXTENSIVE database of digital coupons that you can load to your rewards card online. I love that I can see which coupons I have loaded and searched for more online—either on my home desktop or in-store via my smartphone. I appreciate that the ecoupons are listed on the receipts so that I can see they were discounted.


Manufacturer coupons (see my couponing tutorial for tips on them). Smith's allows as many manufacturer coupons in a transaction as you have to redeem (check your store's policy to confirm). You can pair these with…

Smiths/Kroger store coupons. As a shopper's cardholder you will receive additional coupons in the mail each month. These are printed out based on your shopping history—which is awesome because they are usually food you'll buy. YOU CAN USE ONE MANUFACTURER COUPON AND ONE STORE COUPON for the same item. It has to be a Kroger/store coupon, it cannot say manufacturer coupon on it in order for two coupons to work. Often they include a few freebies in the coupons they mail to you! Today I got a FREE Haagen Dazs ice cream pint and a FREE salad mix.


Freebie Friday! Every Friday Smith's gives you a FREE item. If you subscribe to their emails they will email you a reminder. If I don't see the email, I just go to the official website and download the coupon for the free item. You usually have to redeem it within 1-3 weeks. I have gotten a lot of free stuff from Smith's this way. Today I got a FREE Lindt truffle Easter egg and a FREE Chiobani flip yogurt (from last week's offer). I've been getting free items for almost a year now. I've gotten a huge variety of free salsa, salad dressing, pasta, peanuts, crackers, candy, dairy, etc.

Apply for the Smith's Rewards Visa® Card which gives you an extra discount on fuel at Kroger Family of Stores fuel centers, AND lets you earn FREE groceries, every time you use it! You will earn/get:

1 point for every qualifying net $1 you spend everywhere Visa® is accepted
2 points for every qualifying net $1 you spend at Banner
3 points for every qualifying net $1 you spend on Kroger Family of Brands products (i.e. Kroger brand, Simple Truth, Private Selection, PSST)Some more of the perks of using this card include: Fuel Savings: As a Smith's REWARDS Visa® cardholder, you'll save an additional 25¢ per gallon of fuel for one year, each time you redeem 100 Fuel Points. This is a fantastic saving for one full year— if you fill up your car weekly, you can see significant savings per gallon using this card (for the first year). Grocery Savings: In addition, when you use your Smith's REWARDS Visa® Card, you earn FREE groceries with rewards checks, sent automatically from Kroger 4 times a year!*Every 1000 rewards points earn $5 in FREE groceries (rewards checks sent quarterly). This can add up to significant savings on your grocery bill!

Clearance sections. It is amazing how many clearance items, last chance/close out items, and managers specials Kroger usually has. Yesterday they had clearance prices on bread, rolls, yogurt, meat, roses, toys, jewelry, etc. A lot of times the manager specials are in one designated area, but sometimes discounted items are left in the fridges and freezers with the normal-priced items to keep cold. Keep your eyes out for them. If you have one, you can use a coupon on these to discount them further or make them FREE


Smith's Fuel Rewards. You can save even more at Smith's at the gas pump with the reward points you've accrued. Often Smith's has 4x's fuel points on certain items which lower the price of the item if you use the fuel rewards. They also do a 4x's on gift cards promotion which saves a lot if you buy gift cards during that time. My uncle often buys Home Depot gift cards when he is renovating homes. He buys them through Smith's and saves on average $1.00 a gallon at Shell or Smith's stations due to the rewards! Of course, Smith's REWARDS Visa® credit card mentioned above will save you even more in fuel rewards as well!


Free produce for kids. Whenever we go shopping at Smith's we swing by the produce section first. They have a place with FREE produce that my kids can pick out and eat as we shop. We usually get free clementine and banana.
Sales. Smith's often has huge sales. Many require you to buy a specific number of specified items (3, 5, or 10) and you get $3.00-$5.00 off (making it a .50 cent-$1.00 savings an item). You need to buy X number of the same item or mix and match. These are AWESOME times to shop at Smith's. You can usually get great stock-up prices—especially if you use a coupon. Watch for these sales and plan to shop and stock-up during them. Tip- During the 5 for $5.00 type sales, I always ask the cashier to print out the receipt and count up the items that apply to be sure I have the correct number of items. Last month when I did this, I was two items short. So I added 2- 0.49 cent pasta and earned the $5.00 off. So I essentially got the pasta FREE plus $4.02 off the total by making sure to ask the cashier to count. I do this every single time they run a number-based sale like this. More often than not, I need to add or subtract items because I didn't realize a handful of items I was buying anyway actually applied to the sale. So always ask before paying. In my experience, the cashiers are just fine to do this.


FREE items with a purchase of other items. You can often get FREE groceries when you purchase other items. This is very common to see in Kroger ads.
Case Lot Sales. I often watch out for and purchase bulk items: sugar, flour, canned fruit, canned veggies, etc. during their case lot sales. I got a bunch of my favorite tuna fish Bumblebee for .74 cents a can which is almost unheard of!
Rain Checks. Kroger/Smith's offers rain checks. Often if they have a sale and everyone else beats you to it, they will give you a rain check so you can get the price they advertised when a new shipment comes in. I really love this feature—esp. during their case lot sales.
Ibotta app. (This is not a Kroger specific app). If you buy an item Ibotta and Kroger are sponsoring, you can receive a refund/payment from Ibotta. The app is user-friendly; just download it and select Grocery and then the Kroger that is near you. You will see what food and items you can get cash back for purchasing. Pairing these with a sale, or another coupon usually makes a great deal. Checkout51– This is another ap (AND website!) like Ibotta. You can use them both together. You buy things and scan the receipt and are given cash back. It's smart to use both of these apps together.
Don't forget to apply for the Kroger's 123 Visa credit card here.

For other 'rich living' and couponing tips, please subscribe, like me on Facebook, and follow me on Pinterest and Instagram.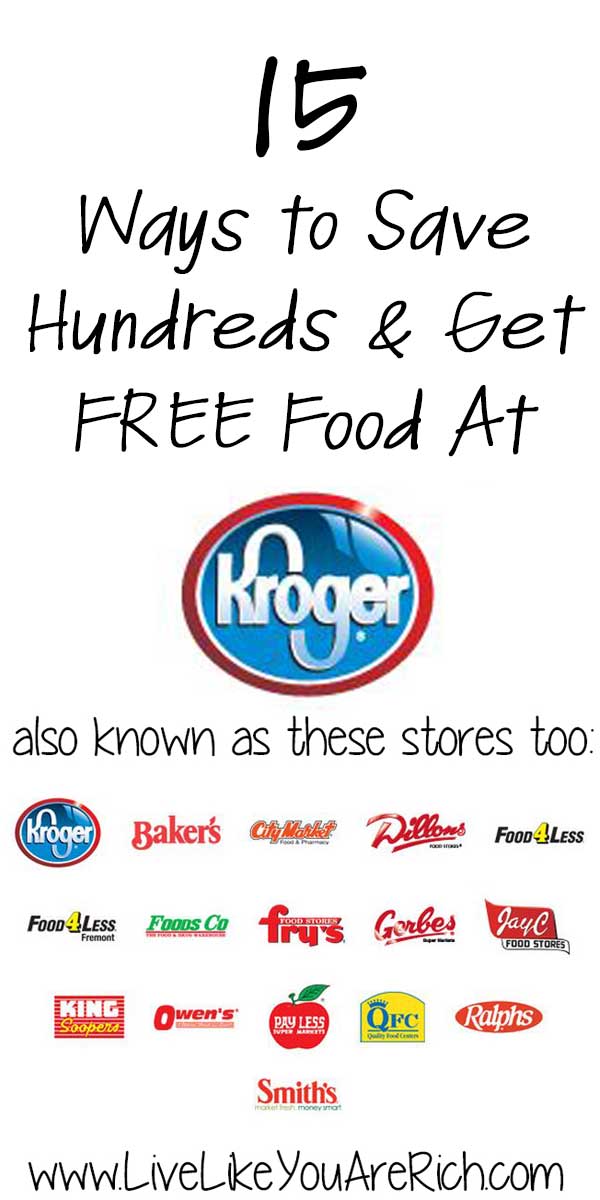 You may also like…