Note- Although I'm now divorced I feel that this information is still pertinent so I'll keep it up.
 The Wedding Industry is worth a whopping $55 BILLION dollars. The average wedding costs the happy couple and/or parents an average of $28,671.00! (honeymoon & engagement rings not included). With the honeymoon and jewelry included the average cost is:$37,698.00! Less people are getting married than ever before (as a nation we are unfortunately at an all time low). Yet, the Wedding Industry is growing! Even when the recession hit the wedding industry still came out doing great. Why? Because studies have found that it is a recession-resistant industry. How? Weddings are typically a one-time IMPORTANT event that people save up for. So they capitalize on it. They inflate prices and squeeze you and/or your parents for every penny they can. I wrote this article to help those who want to beat the wedding industry and save big, yet still enjoy a gorgeous wedding. So below you will find 23 ways to save $27,989.37 on your wedding day, honeymoon, and rings.
On the following 23 ways you will find the average wedding expenses, how much I paid and how much I saved. (I am using numbers of how much these wedding items cost from the Association of Bridal Consultants on a research study done on January 1, 2014).
#1- $178.00 is the average spent (according to the Associations of Bridal Consultants) on hair, make up, manicure and pedicure. One of my good friends did my hair. I paid for a manicure and pedicure but used coupons. And I have been studying makeup for years so I did it myself. To save more you could do it all yourself or have a friend or family do is as well. Total: $70 (including the tip). Savings: $108.00
#2- $1,081.00 Invitations, Stamps, Thank You cards, Save the Date Cards, etc. Unless you can find a very reasonably priced mail house, addressing, stamping, and mailing out your invites and thank you cards yourself will save you money. Also, getting your photograph and cards printed at a place like Costco will save you considerably. For the invitation we did a back to back picture card that I created on Microsoft publisher and had printed so the text/information and photograph were on one card. The biggest mistake I see many people make is that they do not have a high enough resolution file for their photograph or invitations and the copies come out blurry or grainy. Use the highest resolution file (within reason up to 10 gigs) to achieve a professional looking print at a great price. Total for 500 invitations and thank you cards: $850.15 Savings: $230.85
#4- $865.00 Rehearsal dinners, and/or Wedding brunch. These can be done very inexpensively by having them as a potluck style and hosted in a church, large home, backyard, or at a park. If you have it in your budget, you could hold it in a restaurant that offers a discount for large parties. Be sure to negotiate. I have worked in many restaurants so I have come to learn that every banquet price is negotiable.
 A few ideas for saving at a restaurant are: ask them to offer fewer choices and simplify the menu for a price drop. Ask them to discount or give you the banquet room for free if you buy so much in food (or lower this price threshold a little as well).  We just had a dinner at my parents' house with both families (very informal) and discussed the events of the next day. Total: $75.00 Savings: $790.00
#5- $1,341.00 Flowers, reception flowers, boutonnieres, bouquets, and centerpieces. You can order bulk flowers wholesale from Costco, Sam's Club, or Amazon (like these), and make your own bouquets and boutonnieres the day before. If you have any craft skill or know anyone who does, making standard bouquets and boutonnieres is fairly simple. Go to YouTube for instructions. You may want to splurge on having your own bouquet done by a professional. But I just had my friend help and paid her a little for doing it. She got some filler flowers for my bouquet. The centerpieces were the same flowers we ordered in bulk (the Calla lilies from Sam's Club) in beautiful tall vases that we rented at $2.00 a vase. Total: $249.98 Savings: $1,091.02
#6- $2,491.00Wedding planners. Wedding planners are almost never necessary. They can be very useful yes. But with the average planner costing around $2,000+ per wedding it is something that most can do without and come out with a beautiful organized wedding anyway.  With the resources online and all the information out there, if you plan ahead, you can cut the planner. Total $0.00 Savings: $2,491.00
#7-$3,672.00 Reception Location. Use venues that the city, county, non-profit organizations, or churches own (parks, churches, community buildings, gardens, etc.). They are often significantly cheaper to rent or even free if you or a family member is a resident. They are also usually much more lenient about rules such as bringing in your own food (which saves thousands on catering costs). If you or a family member work at a business or hotel that would be a great choice for the venue, talk with the higher ups and negotiate a good deal. We rented out the city and county building which was perfect for holding a reception. There was an area for dancing and wings off to either side for the tables and eating. They allowed us to bring in our own food. It is a gorgeous, huge, castle-like structure that we had all to ourselves. The best part? It was only $600.00 for a Saturday night!!! Total: $600 Savings: $3,072.00
#8- $8,290.00 Reception food, drinks and accessories (including all wedding tips). Cater your own reception. If you can, have close family and friends make and bring the same recipes. Even if you supply them with the ingredients, you will save thousands. My mom bought all of the croissants, grapes, chicken and other ingredients for an awesome chicken salad croissant sandwich and asked my aunts to each make 70 or so. They brought them and my mom laid out fruit trays, nuts, and vegetables. We also had Marie Calendars pies that we bought gift certificates for when they were $7.00 a pie. Everyone had a sandwich, a drink, veggies, fruit, and dessert for under $2.50 a person. 325 attended totaling: $812.50 We also had to rent the linens and bring in tables and chairs costing us $600.00 Total: $1,412.50 Savings: $6,877.50
#9-  $3091.00 Photographs – Engagement session and wedding, CD, album, and enlargements. Photography is one of the most important aspects of a wedding. Don't skimp. Make sure to hire a professional. That said many professionals offer lower cost packages. Perhaps you know a professional that will give you a friends and family discount.  Another option is if you know someone (and this is only if you know the person's photography skill very well) with a great eye and photographing skills, but who does not have top of the line camera gear, you can rent it for them ~$250.00 and get much better quality images for a fraction of the cost of paying a top professional.
But again let me reiterate: You have this one special day to think back on and remember for your entire life. The cake is eaten. The flowers wither away (in most cases), and the dress gets old. Your photographs are the one thing that gets passed down from generation to generation, looked at for decades, and perhaps centuries to come. My sister's soon-to-be in-laws suggested she hire a photographer who was a family friend and who was supposed to be good. She was not very expensive so my sister hired her, never reviewing her past work. She ended up with photos she was not happy with and there is nothing she can do about it now. Don't skimp on photography! I was lucky because my friend is a photographer so she gave us a great deal. My ex-husband is a professional photographer as well so he did my bridals. The cost of renting the equipment for him and traveling to the southwest with my wedding gown did add up, but it was still much less than estimated. Total for engagements, bridal session, enlargements and wedding photographs: $1045.00 Savings: $2,046.00 
#10- $1,152 Videography- Is also very important. You can use many of the tips I stated on the photography section to save in this area. Or if you have a friend you trust, hire them. We had a friend that said he would do it for free if we flew him in. Total: $350.00 Savings: $802.00
#11- $321.00 Wedding sign in book and guest favors. Assign your bridesmaids a job to complete. They are there to support you. You could kindly ask one to create a cute sign in book for guests, another to create a little hair bow for the flower girls, another to manage the guests (telling them what is happening), another few to create inexpensive thank you favors for guests. If any of them throw you a shower I wouldn't ask them to do anything else. It is a lot of work throwing a shower. Delegate the inexpensive tasks. Your bridesmaids will most likely graciously accept.    Total: $0.00 Savings: $321.00
#12-$344.00 Gifts for bridesmaids and parents.  I asked my bridesmaids to vote on a few dresses they loved and that was their gift from me. The dress I found that they voted on was on clearance at Delias for $20.00 each. Choose a common shoe color that everyone has (black, brown, white). This is so they can wear their own favorite already broken-in shoes. This will save you money and will ensure that they are comfortable throughout the day. Neither of our parents were expecting gifts. They knew we didn't have much money to spend. We wrote them heart felt thank you notes and felt like that was sufficient.  Total: $160.00 Savings: $184.00
#13- $386.00 Wedding cake. A nice wedding cake is not that expensive to make (unless you go cake boss style). While I do not recommend making your own if you haven't made wedding cakes before, I do recommend searching out and finding the least expensive wedding cake maker that is skilled. When I was engaged I went to my friend's reception. She had the most gorgeous wedding cake that I had seen. Further, it was the most delicious one I had tasted too. I was super surprised to find that the woman who makes them runs her business out of her house. I set up a meeting and cake tasting with her and was blown away by her skill, her recipes, and most of all her inexpensive prices. A cake to feed 250 guests was less than $200!! Search around go by word of mouth or look on the classifieds for the best deals. Just be sure to taste the cake and see the bakers' work before ordering. To save even more money we used the extra flowers we got from Sams Club to decorate it. Total: $200 (including delivery) Savings: $186.00
#14- $467.00 Decorations for the wedding and reception. Before going elsewhere, spend at least a few hours looking around in a dollar store (Dollar Tree) or stores that are actually inexpensive. You will be absolutely amazed at what you can find and with a little creativity put together. There are amazing centerpieces that can be made, back drops, and favors for a few dollars. Also, keep an eye on groupon.com for awesome deals on decor. Or if you are having a vintage or eclectic style of wedding, become a regular shopper at thrift stores. It's amazing the awesome stuff you will find. If possible, choose a venue that you do not have to decorate extensively in. Something that has built in decor, or an outside venue, both lend itself well to this. You will save on flower arrangements, decorations, and other expenses. We rented tall vases from a rental place for a few dollars each and used the wholesale Cala Lilys as centerpieces. I was going for more of a minimalist theme as that is my style. We also used my bridals enlarged as decoration, the cake, and the food. I was striving for a simplistic look. Total: $70 Savings: $397.00
Here are a few of my most favorite inexpensive wedding decorations: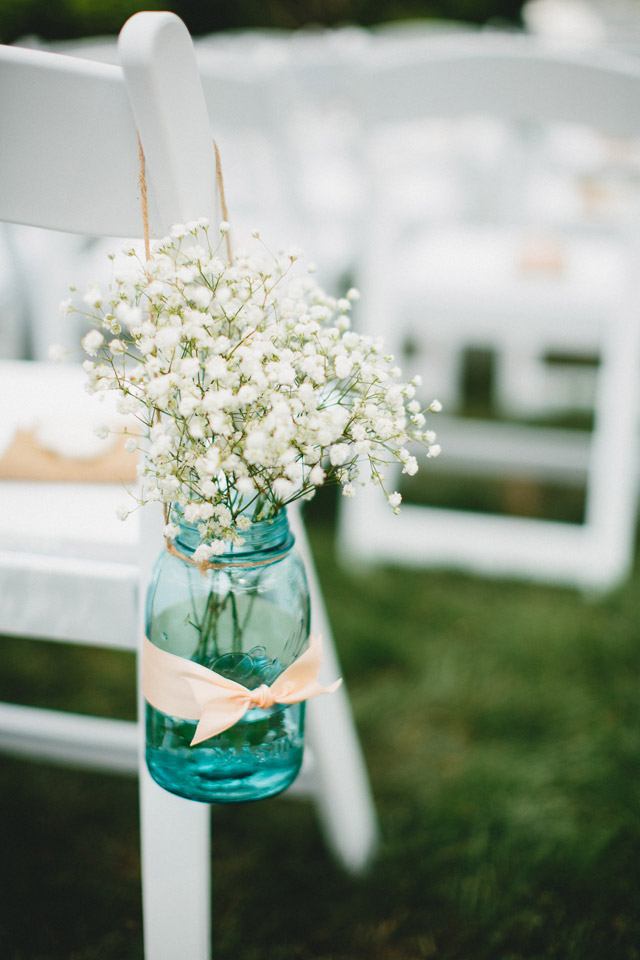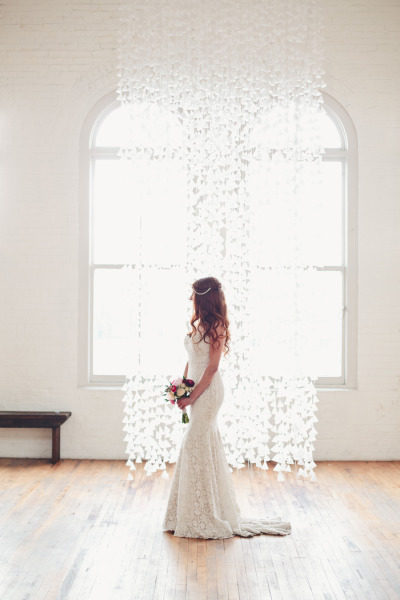 Isn't this wax backdrop lovely? It was only a few dollars to make. Here is another photo of it as well. You can click on these photos to see more photos of it as well.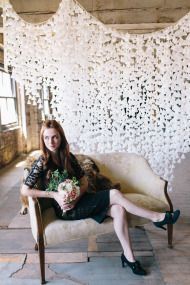 #15- $382.00 Tuxedo rental shoes and accessories. You can rent a Tuxedo and shoes at a reasonable price with the use of a $30.00 off coupon. You can also look on classifieds or even thrift stores for lightly used like-new-tuxedos for possibly even a better deal. His total was $110.00 Savings: $272.00 
#16- $1,300.00 Entertainment. I asked my maid of honor to create a CD of great songs for the back ground music and also the songs that we would dance to. We brought in a nice sound system that a family member owned and didn't have to pay anything for entertainment. You can also ask talented musicians in your family or friend network to perform. Some of my favorite ideas are having violinists, harpists, and/or a pianists playing in the background of more formal weddings. You can pay amateur musicians a lot less than professionals. For a more relaxing and fun wedding you can hire a band or a DJ (which is usually less). Just be sure to look around for the best deals. If you have a big family you can see if any of them have talents they can offer as well. Total: $0.00 Savings: $1,300.00
#17-$1,316.00 Wedding dress, headpiece and veil. Rent or borrow the wedding dress. If you want to buy one, look for major wedding dress sales (especially on Black Friday). Look around and try multiple styles on. Plan and prepare early. The sooner you start looking for a dress, the better deal you can find. I splurged on my dress… I wanted a Maggie Sottero and chose to cut other expenses to have the dress I loved. I did borrow a veil from a friend though. My wedding dress, headpiece etc. cost me $1,500. Total: $1,500. Resulting in a negative  -$184.00.
#18- $4,500.00 Jewelry- We wanted to pay cash for our rings. We didn't want to start our marriage with any debt (In fact, the cash given to us by guests at our wedding paid off the rest of our small student loans!). So we saved up and searched around. I wanted a timeless ring that had a bit of a vintage feel. After going to countless jewelry stores and coming out empty handed we finally found the 'perfect' one used on the classifieds. We met with the lady who was selling it at a trusted Jewelry store. The Jeweler told us all about it and confirmed its worth and value. We bought the ring on Amazon.com for $35.00 which is good because he lost it within a year. He has gone through 4 rings in the 4 years we have been married, so we just keep on buying the inexpensive but nice looking ones for him. We are both about ready to give up on him wearing a ring at all! Total $885.00 Savings $3,615.00 Check out this post on 17 Ways to Save Big on Your Engagement and Wedding Rings

#19- $70.00 Marriage License. This is an average across the board. But ours was total: $55.00 Saved: $15.00
#20- $2,050.00 Ceremony Site and Accessories and transportation. Many ceremonies can take place at the Reception venue as part of the package deal. If yours charges an additional amount you could look into having your ceremony take place at a beautiful park, city garden, beach, and/0r church or temple. We had our ceremony in the LDS Temple so for us it was free. Total $0.00 Savings: $2050.00
#21-$219.00 Ceremony Officiator. Most people don't have the option of a free officiator. If you do, and they have a great reputation for performing the type of ceremony you want to be a part of, then take advantage of their kind offer. If  you don't know anyone ask around for referrals. You want your wedding ceremony to be very special and well thought out. Ask trusted family or friends for a name of an officiator that will do an excellent job. If you like humor, search out an officiator known for his wit. If you like formal, search out an officiator that is very professional and formal in his mannerisms and speech. Give this decision some good thought. For us since we were married inside an LDS temple the officiator gave his service and married us for free. Total: $0.00 Savings: $219.00
#22-$281 .00 Hotel room(s)- If you book your wedding at a hotel make sure to negotiate either a really great room rate OR ask for a free room for the married couple in return for booking with the hotel. Most wedding hotel venues will offer this.
We didn't save a whole lot in this category as we switched hotels last minute. Two days before our wedding our family told us they were all staying at a certain hotel that we had booked for ourselves weeks before. Somehow out of thousands of hotels to choose from we booked the hotel our entire family would be staying at as well. We hurried and found a different one to stay at but didn't have time to get a great deal. It was just a really funny thing.         Total: $250.00 Savings: $31.00
#23-$3,700.00 Honeymoon- There are a lot of ways to save on a honeymoon. From choosing all-inclusive resorts and cruises to signing up for credit cards that offer free flights. See here for a post I did recently on how to get 2 free roundtrip flights. You can also go to a quaint bed and breakfast that offer great deals. Or keep a good eye on Groupon Travel deals. Choosing a National park may also be a great idea because the hiking and most activities can be done very inexpensively or free. To save even more you could see if family or extended family have a time share or vacation house they aren't planning on using during that time. Or just plan your honeymoon for later in the marriage when you can save up for it.
We found a hotel that was having a grand opening in Playa Del Carmen. We paid $450.00 for 8 nights which included breakfast. Paying $60.00 a night was an amazing deal that surpassed the all-inclusive resorts nearby by a long shot. We ate out at local inexpensive restaurants, rented the smallest little tin can of a rental car available and cruised around Mexico happy as can be.
 We went to many of the major ruins, dined in Cancun, swam, sun bathed, went scuba diving, saw turtles and all kinds of fish. We were able to have an 9 day honeymoon for $1,700 (with flights, rental, food, activities, etc.). The best part about it is that we used our tax returns to pay for it resulting in no accumulation of debt. Total: $1,700.00 Savings: $2,000.00
Bonus tips:
 Look at the difference between renting and buying. Sometimes it is actually cheaper to buy fabric and sew table cloths than rent a company to bring them. Not kidding. Sometimes it is cheaper to rent and have someone set up than try to do it yourself. Price check and compare and negotiate.
Pick your priorities. For me it was the dress. I wanted a certain designer dress and was willing to skip out on other things such as a band to have it. Pick what the most important thing to you is and make the rest fit into the budget.
Invite fewer people. For a sit down catered wedding you will save the most amount of money by limiting your guest list. In Utah we have big weddings with lots and lots of guests. This lends itself well to having a budget wedding. People come to the reception, get food, sit with whomever they like, socialize and watch the wedding program or get up and leave before it ends. It is much cheaper to have a reception in this 'come and go as you please' buffet-style format.
Keep it simple. Overdone and elaborate weddings can often come across pompous. Make sure your guests have some form of food, drink, and entertainment (a simple program or traditional wedding events are just fine) and they will be happy. Adding in lots of extras often causes stress on the bride, friends and family. It's important to ENJOY the day. Juggling too many variables makes that more difficult to do.
Nothing is ever perfect. Although my wedding day came pretty close to perfect, there were some things I wished had done better. I.E. my bridals video DVDs weren't burned right; therefore we had big flat screen TVs that had nothing playing. And the horse and carriage we were going to drive away in didn't work out.  Let go of perfect and enjoy your amazing day!

What did you do to save money on your wedding?
For other 'living rich' and money saving tips, please subscribe, like me on Facebook and follow me on Pinterest.
Statistics found here:
http://www.prweb.com/releases/2013/4/prweb10599097.htm
http://www.weddingstats.org/average-cost-of-a-wedding.html